We hope you enjoy these 20 quotes about April to get you in the mood for Spring. The warmer, longer nights are here and the flowers are beginning to bloom. These incredible April quotes will prepare you for the exciting month ahead.
Let these April sayings and quotations about this pretty month make you feel warm and peaceful inside! We hope you enjoy the messages and consider sharing your favorite image on Pinterest.
April Quotes
1. "April is the kindest month. April gets you out of your head and out working in the garden." – Marty Rubin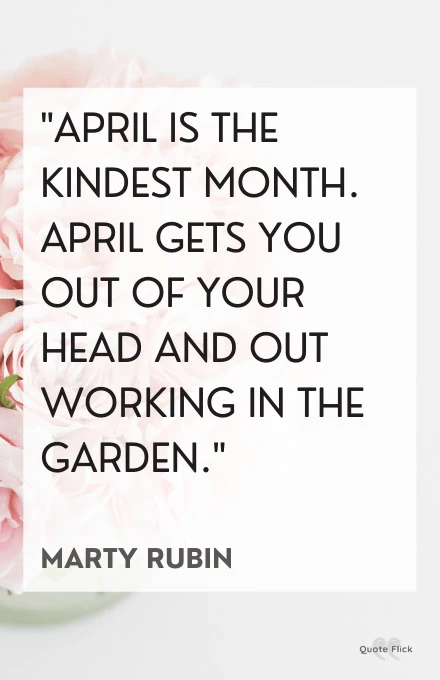 2. "April showers bring forth May flowers." – Proverb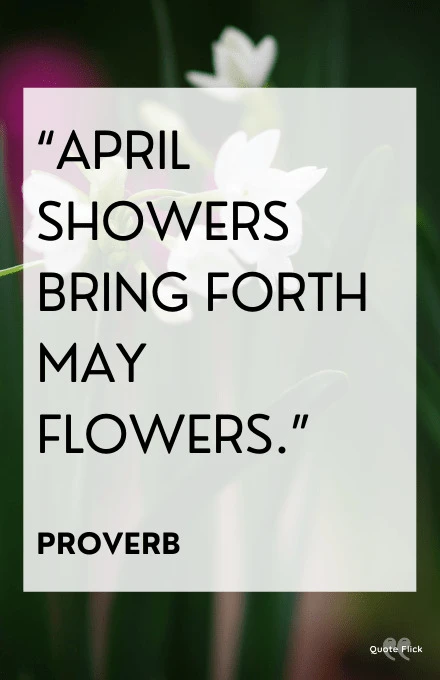 3. "The air soft as that of Seville in April, and so fragrant that it was delicious to breathe it." – Christopher Columbus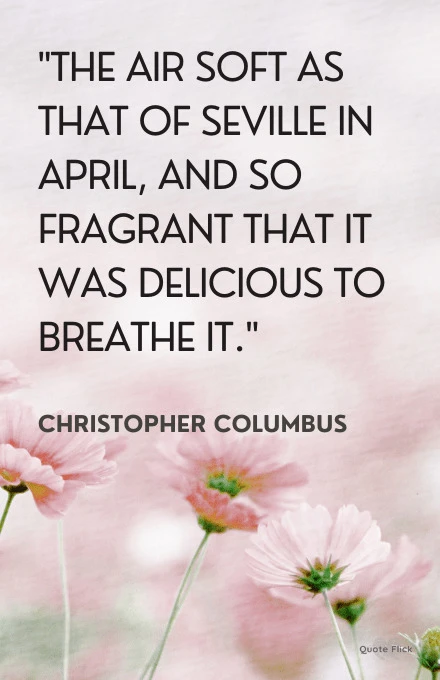 4. "Oh, the lovely fickleness of an April day!" – W. H. Gibson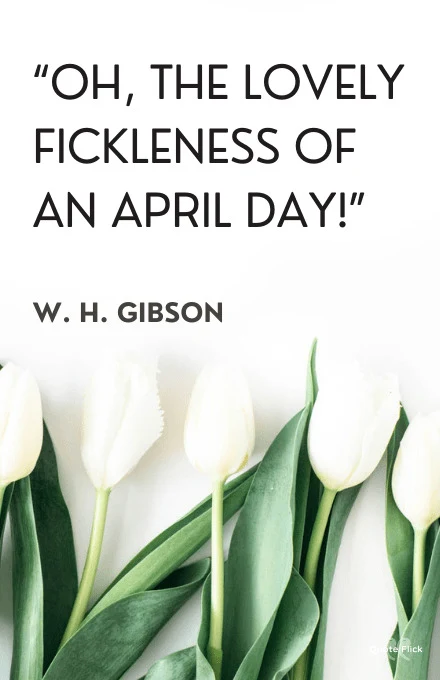 5. "It was a bright cold day in April, and the clocks were striking thirteen." –  George Orwell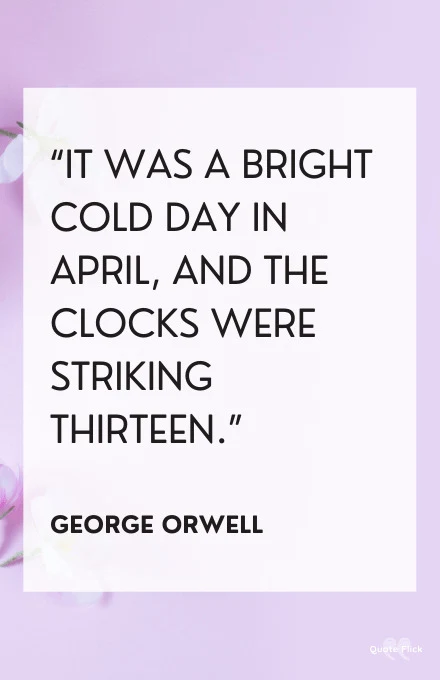 6. "April is a promise that May is bound to keep." – Hal Borland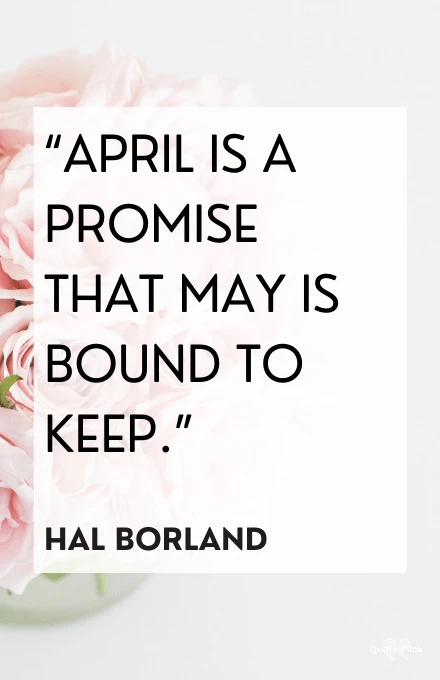 7. "April in Paris, chestnuts in blossom, holiday tables under the trees." ­- E. Y. Harburg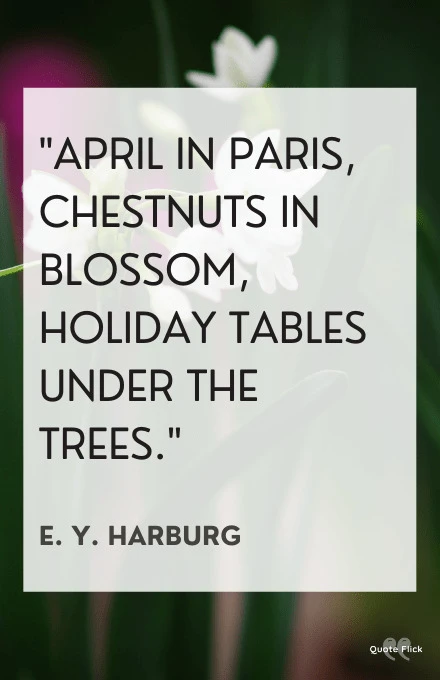 8. "Oh, to be in England now that April's there." – Robert Browning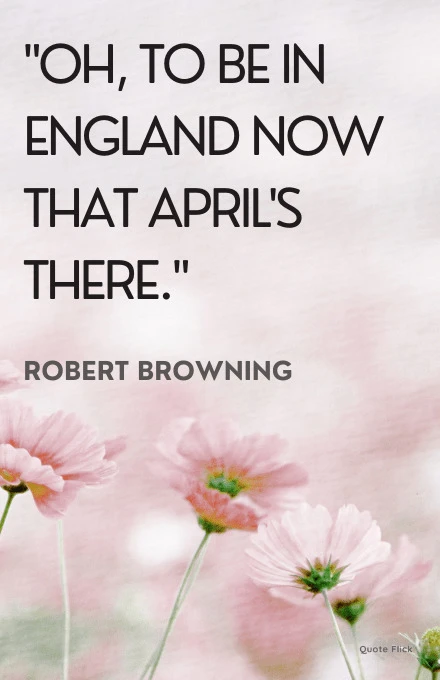 9. "But it is a sort of April-weather life that we lead in this world. A little sunshine is generally the prelude to a storm." ― William Cowper
10. "If April showers should come your way, they bring the flowers that bloom in May." – Buddy de Sylva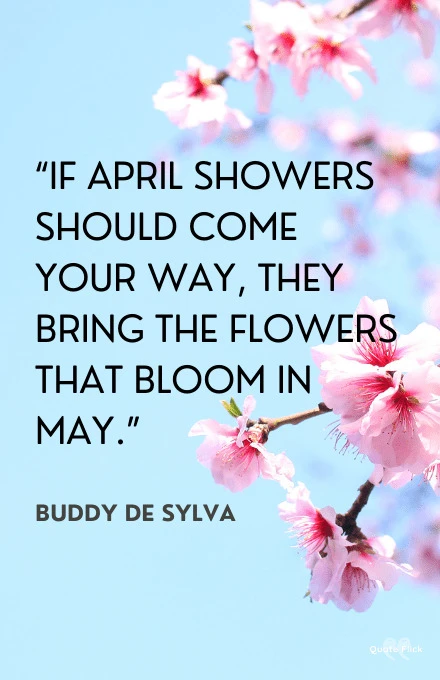 Have you seen our Quotes about October or Quotes About Sunflowers?
11. "April splinters like an ice palace." – Ruth Stone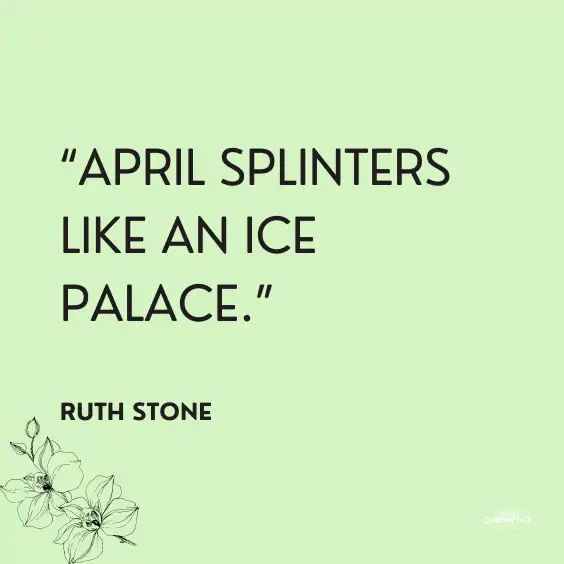 12. "April was just beginning, and after the warm spring day it turned cooler, slightly frosty, and a breath of spring could be felt in the soft, cold air." – Anton Chekov
13. "I shine in tears like the sun in April." – Cyril Tourneur
14. "April prepares her green traffic light and the world thinks, "Go!" – Christopher Morley
15. "Our spring has come at last with the soft laughter of April suns and shadow of April showers." – Byron Caldwell Smith
16. "Shining through tears, like April suns in showers, that labour to overcome the cloud that loads 'em." –Thomas Otway
17. "Long stormy spring-time, wet contentious April, winter chilling the lap of very May. But at length, the season of summer does come." ― Thomas Carlyle
18. "The most beautiful springs are those that come after the most horrible winters!" – Mehmet Murat ildan
19. "Why are people so tired on April 1st? Because they just finished a 31-day March." –  Unknown
20. "April hath put a spirit of youth in everything." – William Shakespeare
Check out Spring Quotes and Summer Quotes
Holly Jaskolka is a certified Emotional Freedom Technique (EFT) practitioner, yoga instructor, and an impassioned advocate for holistic well-being. Fueled by her love for animals and wanderlust, Holly leads a plant-based lifestyle that she complements with immersive travel experiences. When she's not jet-setting to uncover the world's hidden gems, she's empowering individuals to heal emotionally, particularly those grappling with the aftermath of breakups. Connect with Holly on LinkedIn.