This collection of attitude quotes will challenge you to elevate your mindset and take a positive approach to work, life, and challenges. You have the power to shape your life's experience by changing your frame of mind, as you'll see in the iterations below.
If you're looking for a perspective shift, read our 101 quotes on positive attitudes and discover words of wisdom from influential figures, from Albert Einstein to Oprah!
We hope you love reading these quotes as much as we enjoyed collecting them. When you've found your favorite quote and image, please share!
Attitude Quotes
1. "If you don't like something, change it. If you can't change it, change your attitude." – Maya Angelou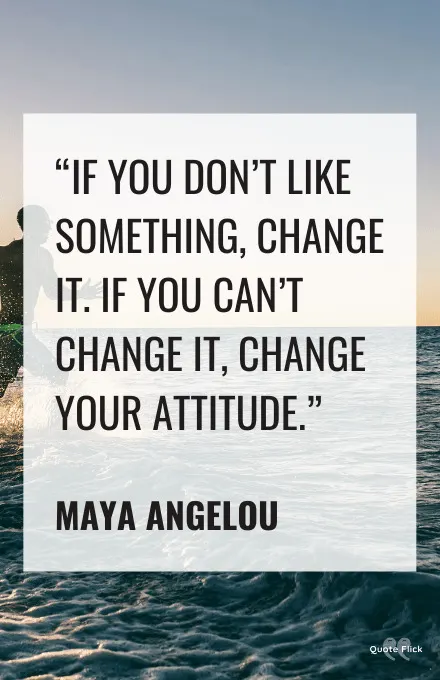 2. "Building a positive attitude begins with having confidence yourself." – Roger Fritz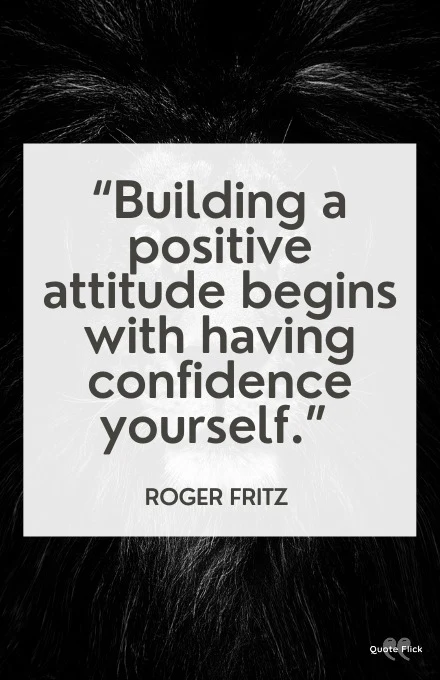 3. "Nobody can be all smiley all the time, but having a good positive attitude isn't something to shrug off." – Yogi Berra
4. "You can often change your circumstances by changing your attitude." – Eleanor Roosevelt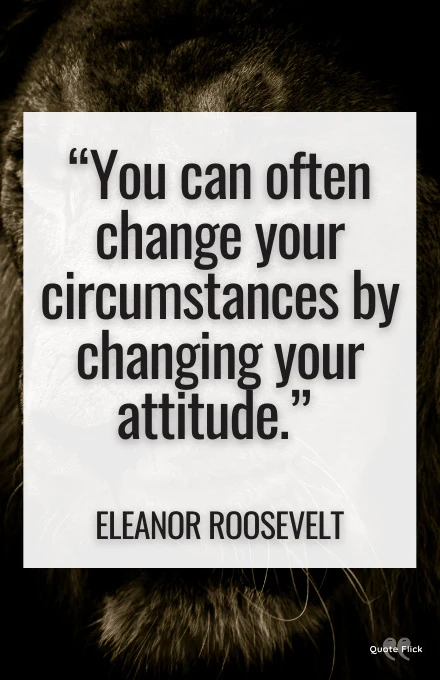 5. "The greatest discovery of all the time is that a person can change his future by merely changing his attitude." – Marie Osmond
You Might Also Like:
6. "Your problem isn't the problem, it's your attitude about the problem." – Ann Brashares
7. "Your attitude, not your aptitude, will determine your altitude." – Zig Ziglar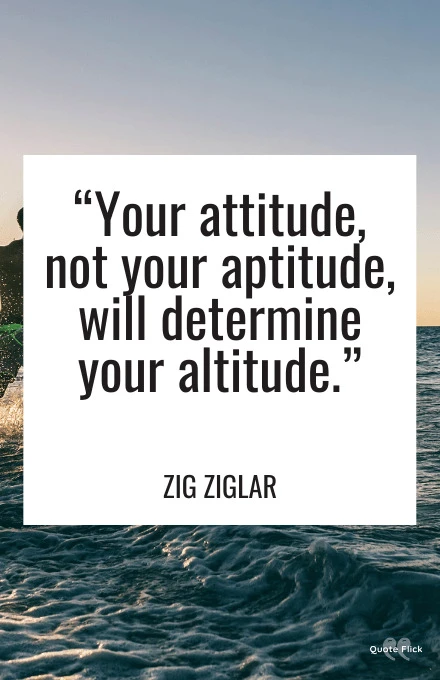 8. "The most effective attitude to adopt is one of supreme acceptance." – Robert Greene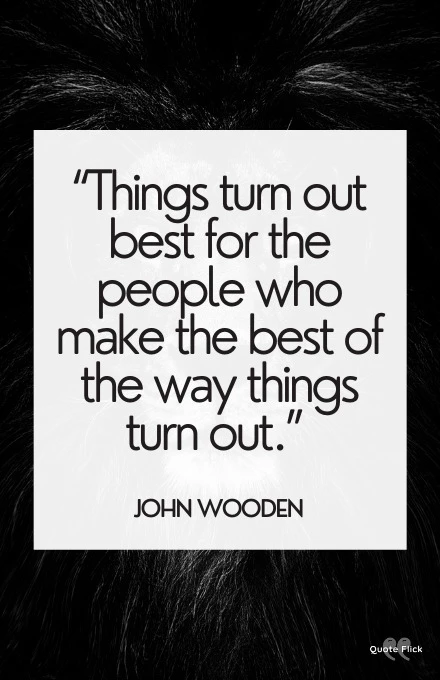 9. "With a positive attitude it is possible to turn situations of failure into success." – Dan Miller
10. "Things turn out best for the people who make the best of the way things turn out." – John Wooden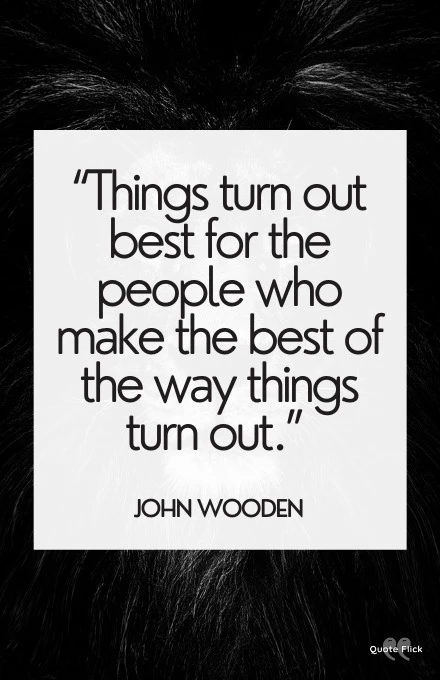 Have you read our Quotes About Determination and Positivity?
11. "Nurture your mind with great thoughts, for you will never go any higher than you think." – Benjamin Disraeli
12. "Preparation + Attitude + Opportunity + Action = Luck." – John C. Maxwell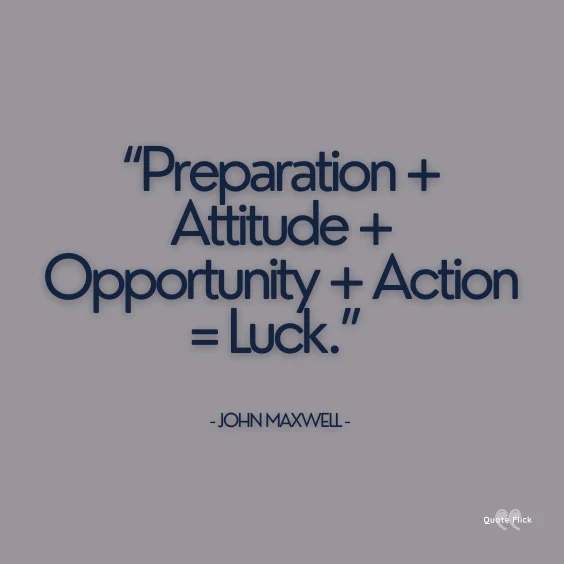 13. "Pessimism never won any battle." – Dwight D. Eisenhower
14. "Count your blessings. Focus on what you've got. Spread the positive vibes." – Jyoti Patel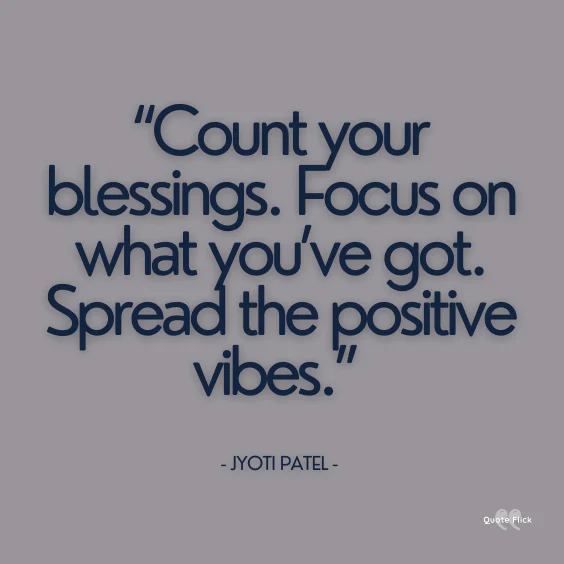 15. "With a positive attitude, the world is your oyster. Without it, your world will be filled with ill fate and unfortunate circumstances." – Lorena Laughlin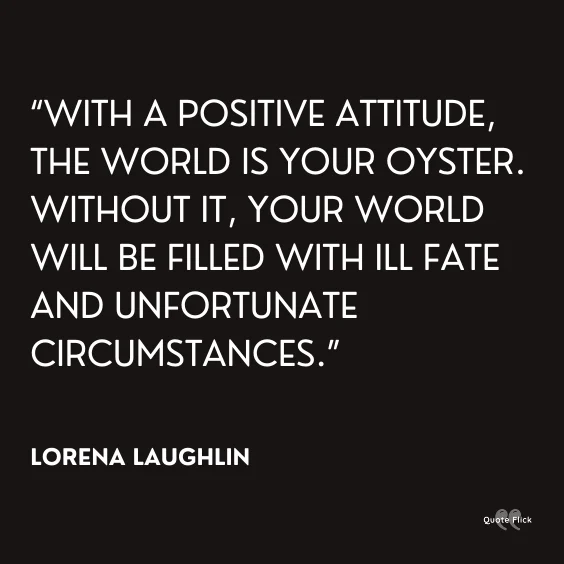 16. "Keep a positive attitude, even if results don't seem to be occurring as quickly as you want them to." – James Thompson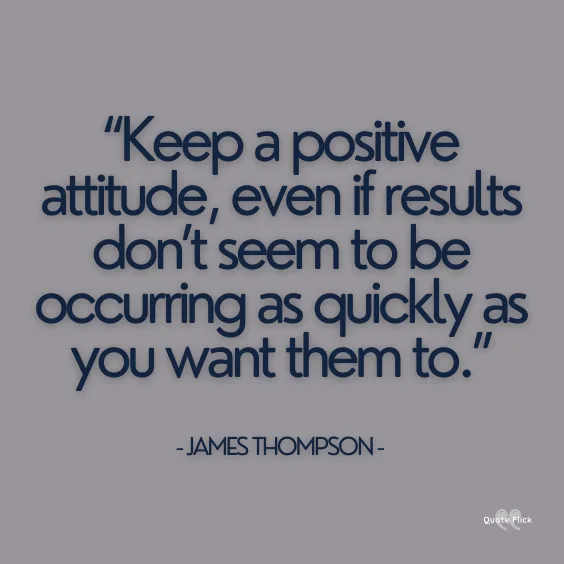 17. "Weakness of attitude becomes weakness of character." – Albert Einstein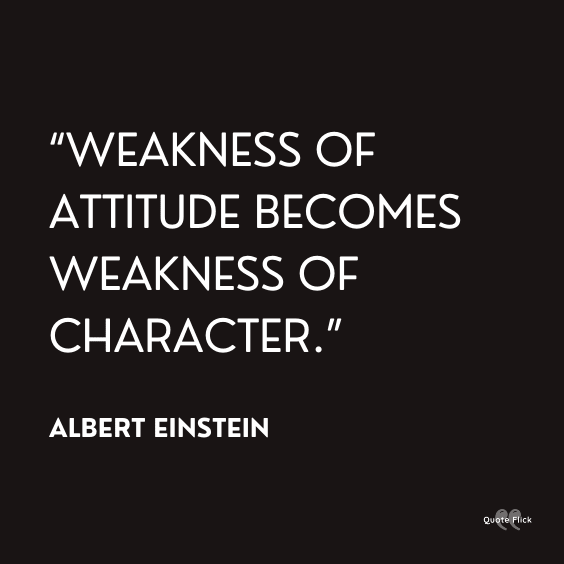 18. "It's not what happens to you, but how you react to it that matters." – Epictetus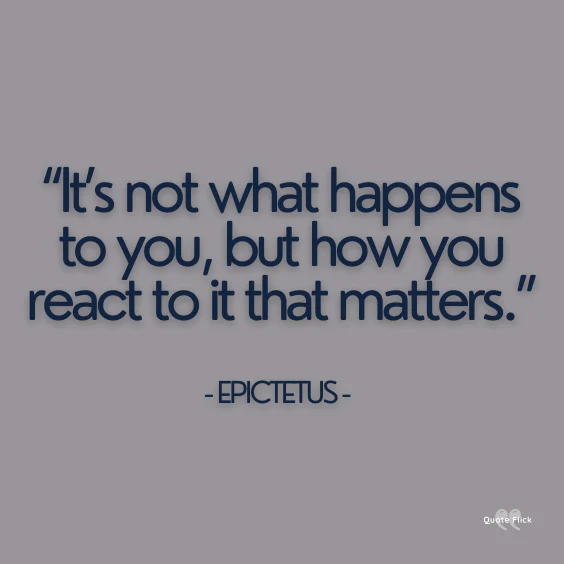 19. "We can complain because rose bushes have thorns, or rejoice because thorns have roses." – Unknown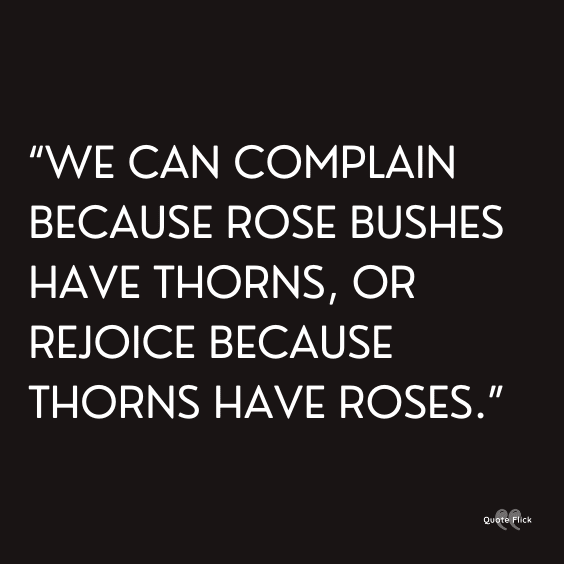 20. "A positive attitude may not solve all our problems but that is the only option we have if we want to get out of problems." – Subodh Gupta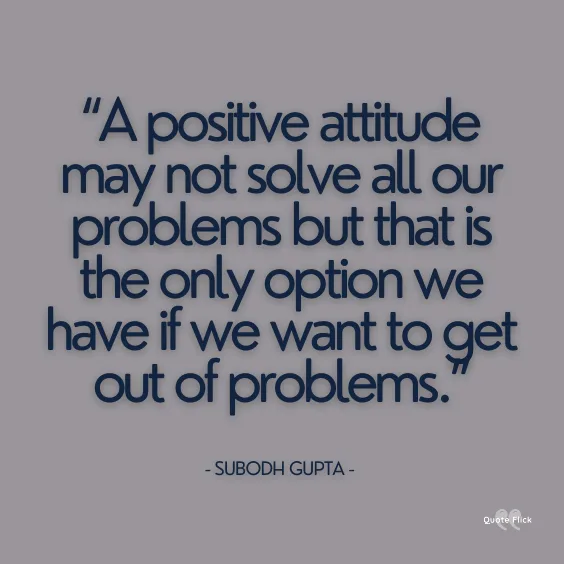 21. "Darkness cannot drive out darkness: only light can do that. Hate cannot drive out hate: only love can do that." – Martin Luther King Jr.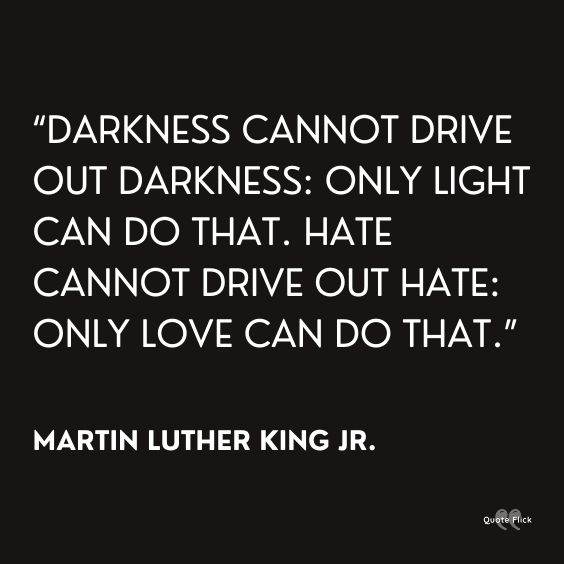 22. "Attitudes are a secret power working twenty-four hours a day, for good or bad. It is of paramount importance that we know how to harness and control this great force." – Irving Berlin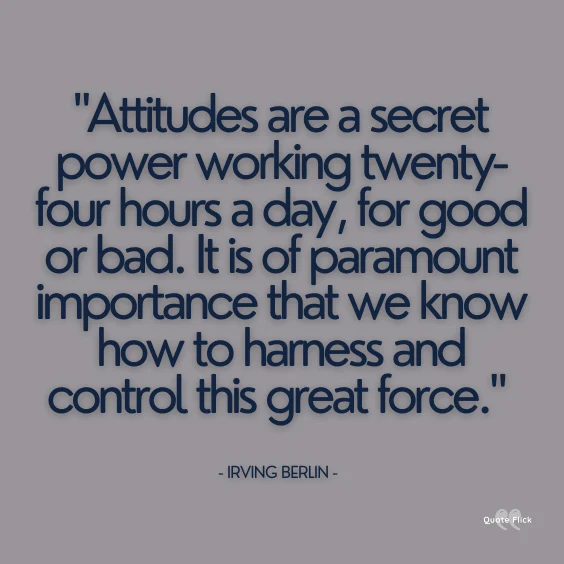 23. "Nurture your mind with great thoughts, for you will never go any higher than you think." – Benjamin Disraeli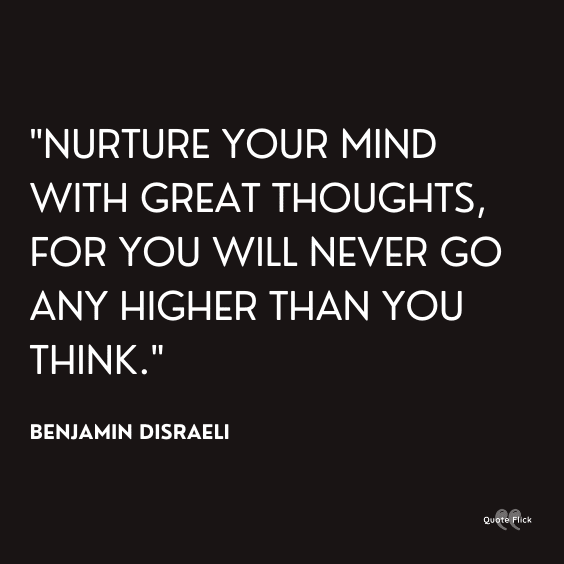 24. "Never forget to smile because a positive attitude will surely motivate you to get back on your feet after you committed a huge mistake." – Norbert Richards
25. "A positive mindset is something every human can work on, and everyone can learn how to enroll in it." – Deeksha Arora
26. "I do not believe in taking the right decision, I take a decision and make it right." – Muhammad Ali Jinnah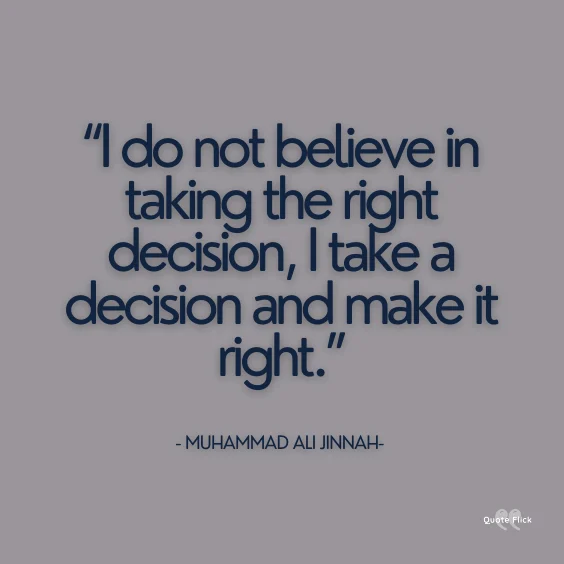 27. "A man sees in the world what he carries in his heart." – Johann Wolfgang von Goethe
28. "Attitude is a little thing that makes a big difference." – Winston Churchill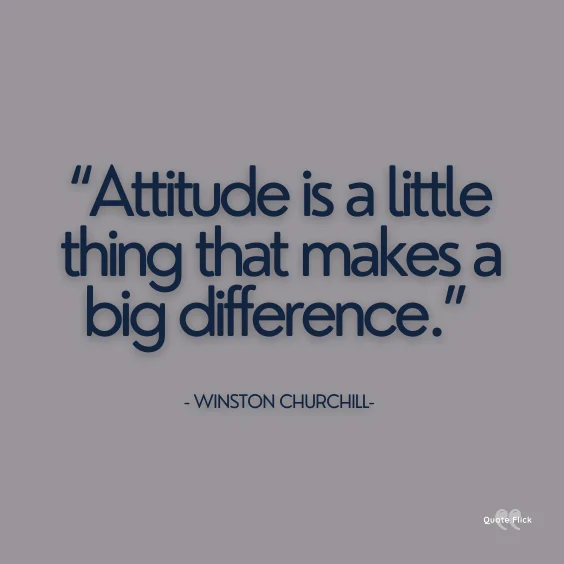 29. "People only see what they are prepared to see." – Ralph Waldo Emerson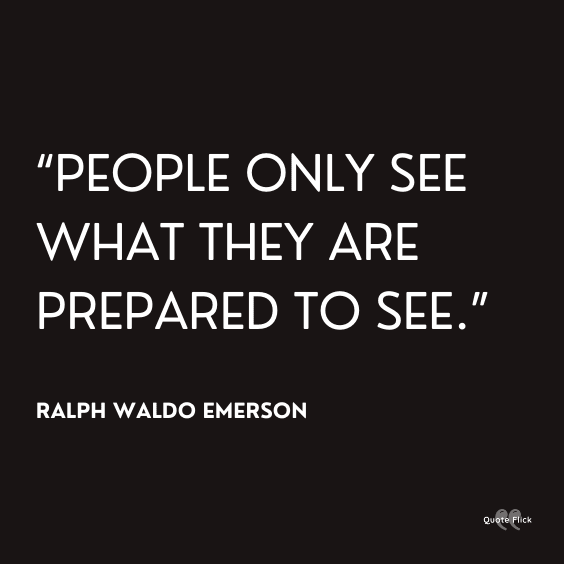 30. "Life is 10% what happens to me and 90% of how I react to it." – John C. Maxwell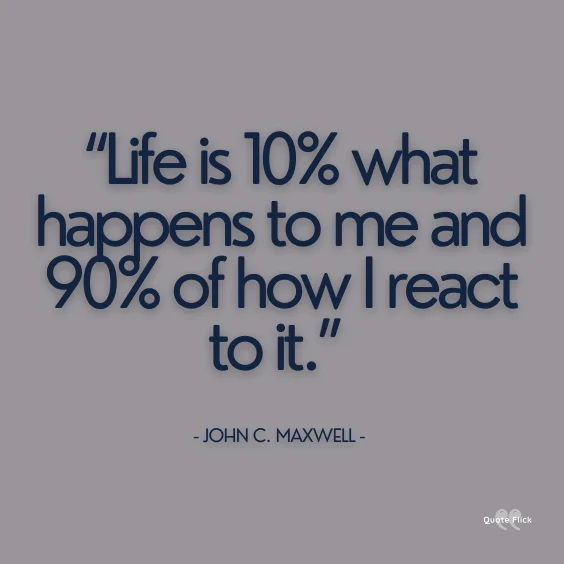 Check out Inspirational Quotes, and Quotes To Live By for more uplift to your day!!
31. "Your attitude can take you forward or your attitude can take you down. The choice is always yours!" – Catherine Pulsifer
32. "Attitude is altitude." – Nick Vujicic
33. "The weak make others feel inferior. The strong make others feel equal." – Maxime Lagacé
34. "To be an overachiever you have to be an over-believer." – Dabo Swinney
35. "Positivity brings about a peace of mind which in turn relaxes your whole being." – Suman Arora
36. "Men do not attract that which they want, but that which they are." – James Allen
37. "We are all in the gutter, but some of us are looking at the stars." – Oscar Wilde
38. "If you are going to achieve excellence in big things, you develop the habit in little matters. Excellence is not an exception, it is a prevailing attitude." – Colin Powell
39. "A quick temper will make a fool of you soon enough." – Bruce Lee
40. "Optimism is the faith that leads to achievement; nothing can be done without hope." – Helen Keller
41. "Attitude is everything, so pick a good one." – Wayne Dyer
42. "A strong positive attitude will create more miracles than any wonder drug." – Patricia Neal
43. "Attitudes are more important than facts." – George MacDonald
44. "If you look the right way, you can see that the whole world is a garden." – Frances Hodgson Burnett
45. "Excellence is not a skill. It is an attitude." – Ralph Marston
46. "To put the world right in order, we must first put the nation in order; to put the nation in order, we must first put the family in order; to put the family in order, we must first cultivate our personal life; we must first set our hearts right." – Confucius
47. "If you have a positive attitude and constantly strive to give your best effort, eventually you will overcome your immediate problems and find you are ready for greater challenges." – Pat Riley
48. "Having a positive mental attitude is asking how something can be done rather than saying it can't be done." – Robert Foster Bennett
49. "Sooner or later, those who win are those who think they can." – Richard Bach
50. "Keep your thoughts positive because your thoughts become your words. Keep your words positive because your words become your behavior. Keep your behavior positive because your behavior becomes your habits. Keep your habits positive because your habits become your values. Keep your values positive because your values become your destiny." – Mahatma Gandhi
51. "The most important decision you make is to be in a good mood." – Voltaire
52. "If opportunity doesn't knock, build a door." – Milton Berle
53. "I always like to look on the optimistic side of life, but I am realistic enough to know that life is a complex matter."  – Walt Disney
54. "Live life to the fullest, and focus on the positive." – Matt Cameron
55. "When one door of happiness closes, another opens; but often we look so long at the closed door that we do not see the one which has been opened for us." – Helen Keller
56. "Keep your face always toward the sunshine —and shadows will fall behind you." – Walt Whitman
57. "The meaning of things lies not in the things themselves, but in our attitude towards them." – Antoine de Saint-Exupery
58. "Whatever happens, take responsibility." – Tony Robbins
59. "Faith is having a positive attitude about what you can do and not worrying at all about what you can't do." – Joyce Meyer
60. "I'm too busy working on my own grass to see if yours is greener."  – Unknown
61. "Never whine, never complain, never try to justify yourself." – Robert Greene
62. "Action springs not from thought, but from a readiness for responsibility." – Dietrich Bonhoeffer
63. "Two things define you: your patience when you have nothing and your attitude when you have everything." – George Bernard Shaw
64. "Being what most people think is realistic is only a way of justifying negative thinking. Go for something great." – Dr. Bob Rotella
65. "No one will hit you harder than life itself. It doesn't matter how hard you hit back. It's about how much you can take, and keep fighting, how much you can suffer and keep moving forward. That's how you win." – Sylvester Stallone
66. "A pessimist is one who makes difficulties of his opportunities and an optimist is one who makes opportunities of his difficulties." – Harry S. Truman
67. "A positive attitude is a person's passport to a better tomorrow." – Jeff Keller
68. "Do not allow negative thoughts to enter your mind for they are weeds that strangle confidence." – Bruce Lee
69. "To be a great champion you must believe you are the best. If you're not, pretend you are." – Muhammad Ali
70. "You're off to great places, today is your day. Your mountain is waiting, so get on your way."  – Dr. Seuss
71. "The greatest discovery of all time is that a person can change his future by merely changing his attitude." – Oprah
72. "We lost because we told ourselves we lost." – Leo Tolstoy
73. "Attitude is more important than the past, than education, than money, than circumstances, than what people do or say. It is more important than appearance, giftedness, or skill." – W. C. Fields
74. "Convince yourself everyday that you are worthy of a good life. Let go of stress, breathe. Stay positive, all is well." – Germany Kent
75. "No one can make you feel inferior without your consent." – Eleanor Roosevelt
76. "If you can change your mind, you can change your life." – William James
77. "An optimist is the human personification of spring." – Susan J. Bissonette
78. "Every day may not be good…but there's something good in every day." – Alice Morse Earle
79. "When you can't change the direction of the wind — adjust your sails." – H. Jackson Brown Jr
80. "There is nothing either good or bad but thinking makes it so." – William Shakespeare
81. "If you do not change direction, you may end up where you are heading." – Lao Tzu
82. "A positive attitude causes a chain reaction of positive thoughts, events and outcomes. It is a catalyst and it sparks extraordinary results." – Wade Boggs
83. "Only I can change my life. No one can do it for me." – Carol Burnett
84. "Every day brings new choices." – Martha Beck
85. "Your aspirations are your possibilities." – Samuel Johnson
86. "Your living is determined not so much by what life brings to you as by the attitude you bring to life; not so much by what happens to you as by the way your mind looks at what happens." – Kahlil Gibran
87. "Attitudes are nothing more than habits of thought." – John C. Maxwell
88. "Opportunity is missed by most people because it is dressed in overalls and looks like work." – Thomas A. Edison
89. "If you think you can't, you're right." – Carol Bartz
90. "I'm a great believer in luck and I find the harder I work, the more I have of it." – Thomas Jefferson
91. "I am not a product of my circumstances. I am a product of my decisions." – Stephen Covey
92. "It's actually cool to be positive and optimistic and idealistic. It's cool to see yourself doing beautiful, great things." – Tom DeLonge
93. "Have a positive attitude toward life. It does not mean that you are unrealistic, but that you know that you can turn around whatever happens in your life. " – Julia Vergara
94. "You are the conductor of your own attitude! Nobody else can compose your thoughts for you." – Larry Hargraves
95. "Attitude is a way of life. We have a choice everyday regarding the attitude we embrace for that day." – Puneet Sharm
96. "Having the positive belief that it will all be OK just means that you hustle and make it work because failure is not even an option in your own mind." – Natalie Massenet
97. "A bad attitude is like a flat tire. You won't get anywhere until you change it." – Unknown
98. "Virtually nothing is impossible in this world if you just put your mind to it and maintain a positive attitude." – Lou Holtz
99. "Know that your success is based entirely on your attitude, your commitment and self-discipline. You are the only person who can generate a new mindset." – Ellen Mensap
100. "The most important thing you'll ever wear is your attitude." – Jeff Moore
101. "Be positive. Your mind is more powerful than you think. What is down in the well comes up in the bucket. Fill yourself with positive things." – Tony Dungy
Holly Jaskolka is a certified Emotional Freedom Technique (EFT) practitioner, yoga instructor, and an impassioned advocate for holistic well-being. Fueled by her love for animals and wanderlust, Holly leads a plant-based lifestyle that she complements with immersive travel experiences. When she's not jet-setting to uncover the world's hidden gems, she's empowering individuals to heal emotionally, particularly those grappling with the aftermath of breakups. Connect with Holly on LinkedIn.