Our 45 meaningful aunt quotes show appreciation for the bond between aunties, nieces, and nephews. We love these kind, happy, and caring words that all describe a unique relationship. We trust that many of these quotes for your aunty will resonate.
As someone who is really close to my Auntie, I loved gathering these beautiful sayings. I hope you love them too. We can use these quotes about the best aunt ever to send on birthdays, Christmas, special occasions, or just because you simply feel like sharing the love.
The special bonds we have with our aunts range from friendships, best friends, advice-givers, huggers, shoulders to cry on, all the way to partner in crime! Show your auntie some love by sending one of our individually designed images on Whatsapp or social media.
We really hope you love these aunts are special quotes!
Best Aunt Quotes
1. "Happiness is a hug from my aunt." – Unknown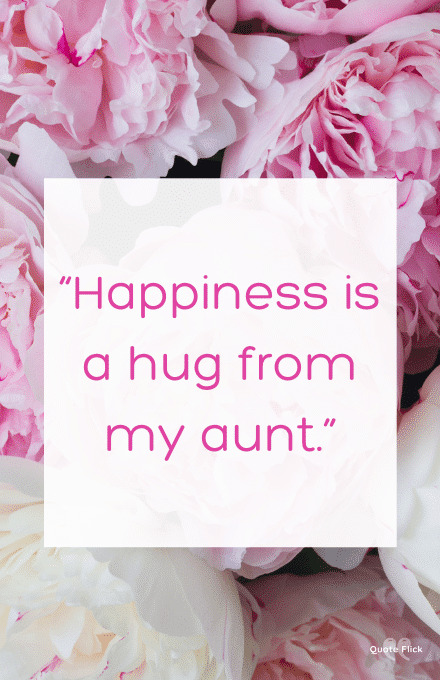 2. "Aunty — a double blessing. You love like a parent and act like a friend." – Unknown.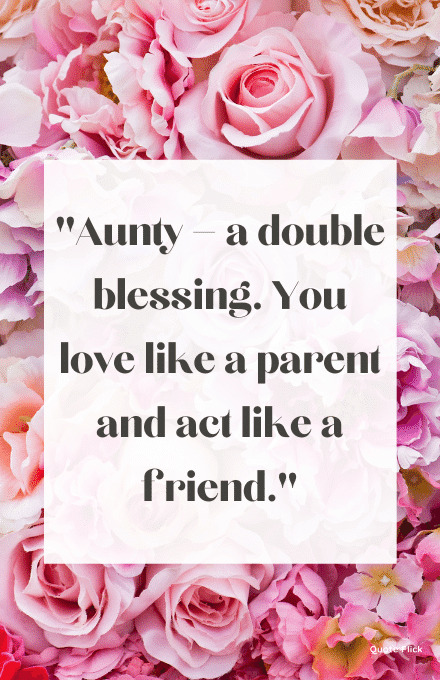 3. "One thing is for certain, an auntie brings a little more wisdom, warmth, and love to every little life that they touch." – Unknown
4. "An aunt is someone special to remember with warmth, think of with pride, and cherish with love." Unknown
5. "My Aunt is the best ever Aunt. She is my friend, my cheerleader, and my shoulder to cry on." – Unknown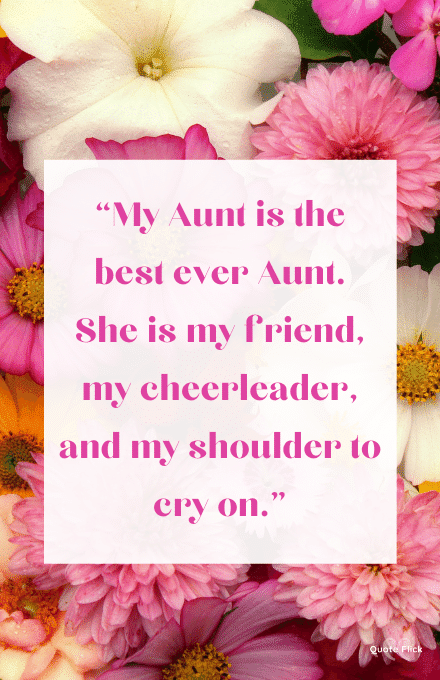 6. "You are the most inspirational Aunt. I admire you." – Unknown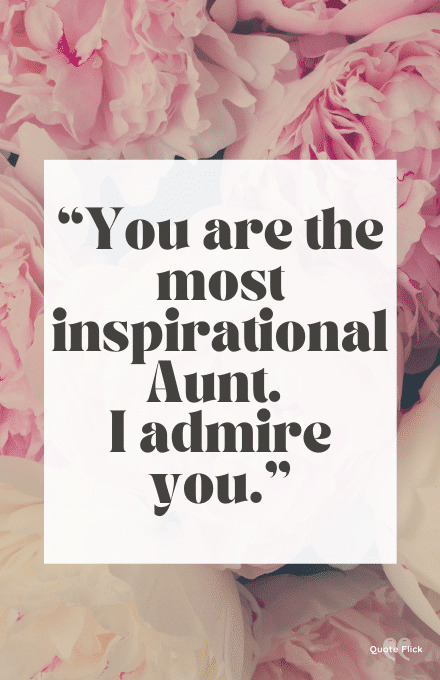 7. "My aunt is a wild, but cute aunt." – Unknown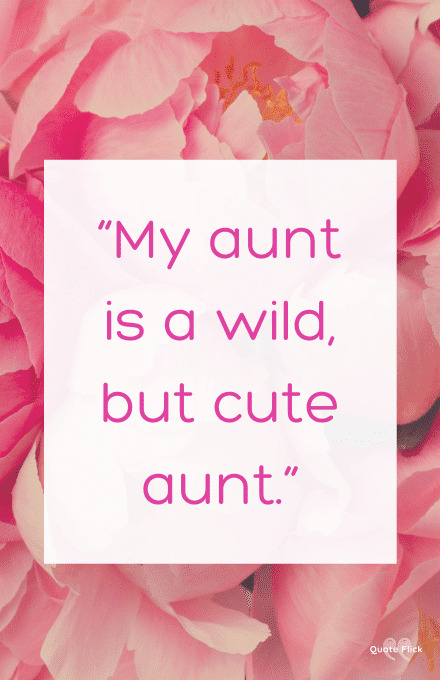 8. "The aunt is the mother's sister, or the father's brother's wife, rather than simply an aunt." – Kory Floyd.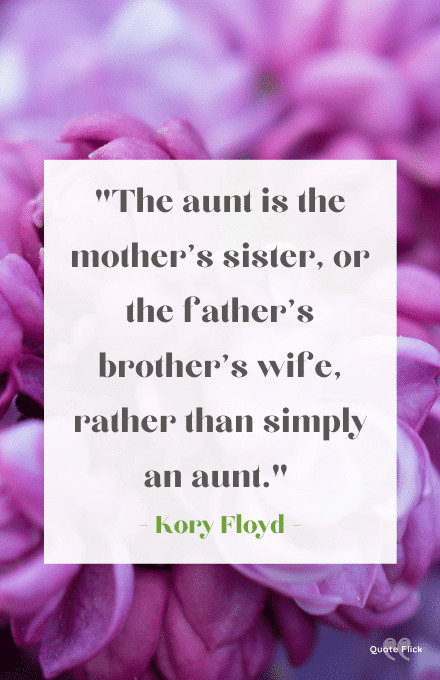 9. "Being a sister is an honor. Being an aunt is priceless." – Unknown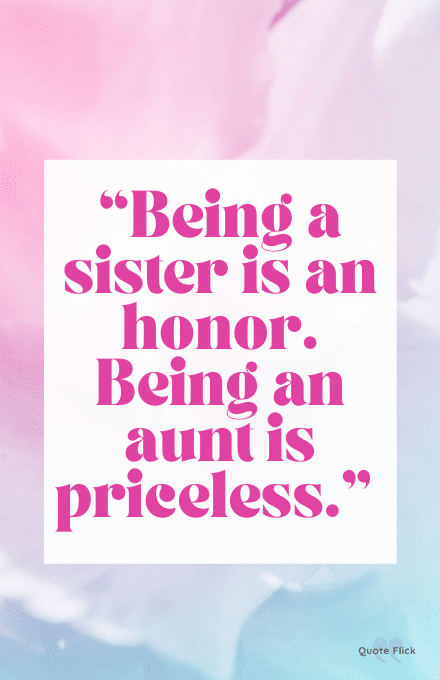 10. "The real ornament of an aunt is her precious niece." – Unknown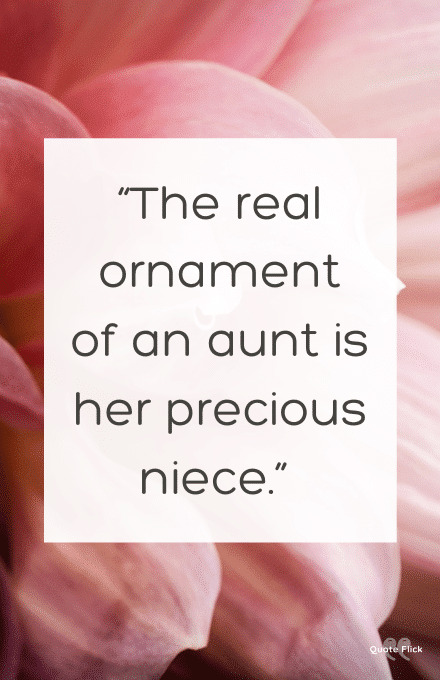 Have you seen our collection of Mother And Daughter Quotes?
11. "Happiness is being an Aunt." – Unknown
12. "Sometimes just being an aunt is pretty fun too. You can play with them for a week or a weekend and give them back to Mom and Dad." – Sue A. Kuba
13. "I am a proud nephew of an awesome aunt!" – Unknown
14. "My aunt has ears that listen, arms that hug and hold, a love that's never-ending, and a heart that's made of gold." – Unknown
15. "I have been called a lot of names in my lifetime, but Aunt is my favorite." – Unknown
16. "Only an aunt can give hugs like a mother, keep secrets like a sister, and share love like a friend." – Unknown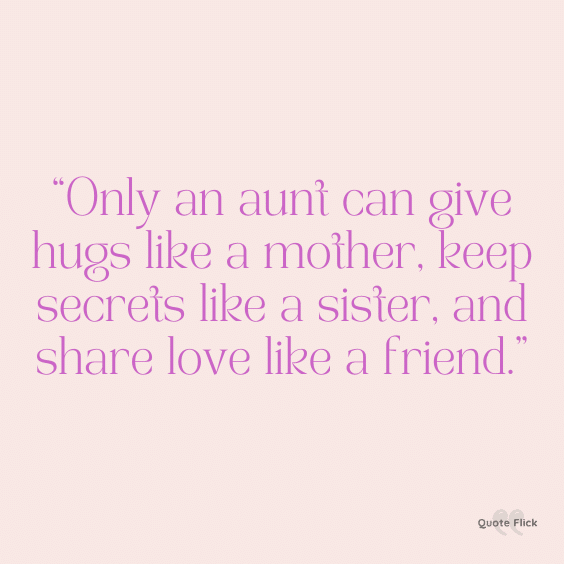 17. "An aunt makes life a little sweeter." – Unknown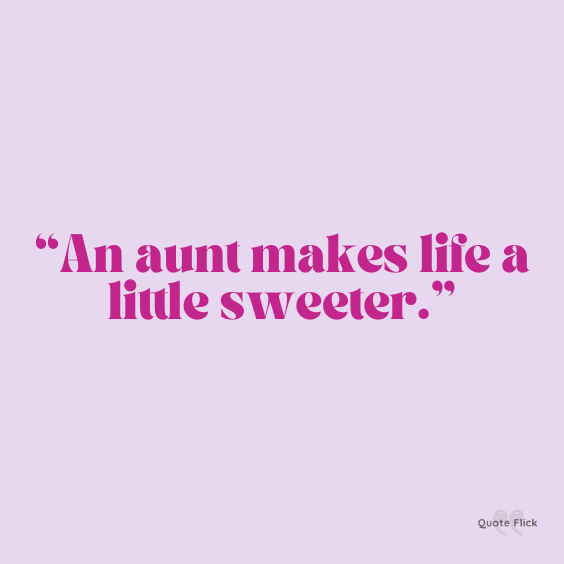 18. "If mom says no, my aunt will say yes." – Unknown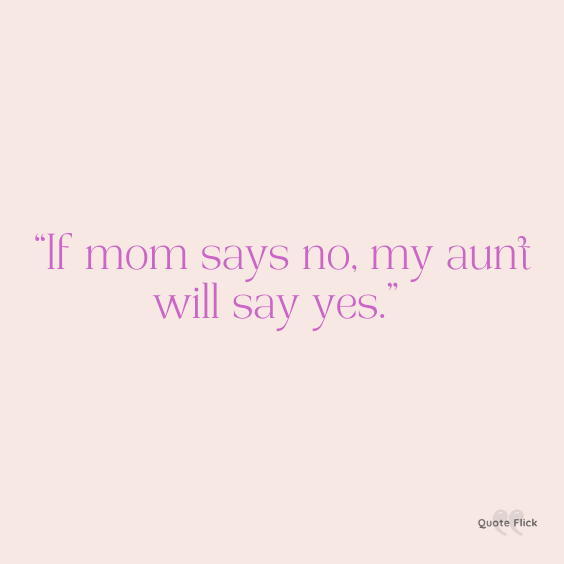 19. "I am single and childless, but I have lots of friends and I am an aunt to three lovely children." – Kate Dicamillo.
20. "If I'm not the best aunt in America, then I don't know what's going on." – Jenny Slate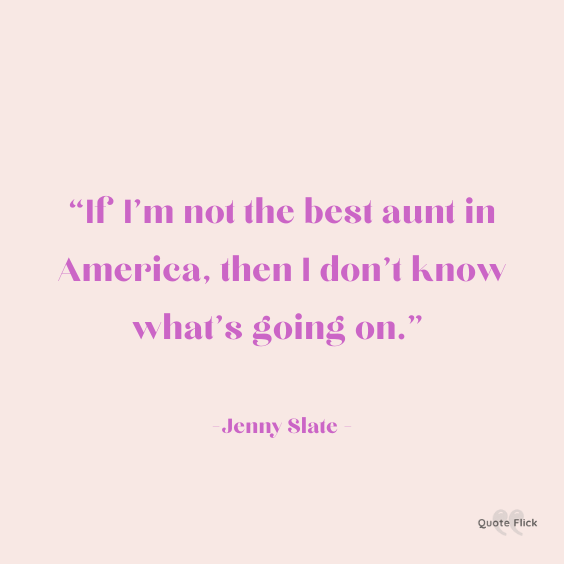 Check out Quotes About Uncles
21. "My sister is so lucky to have me, but I am luckier that she made me an Aunt." – Unknown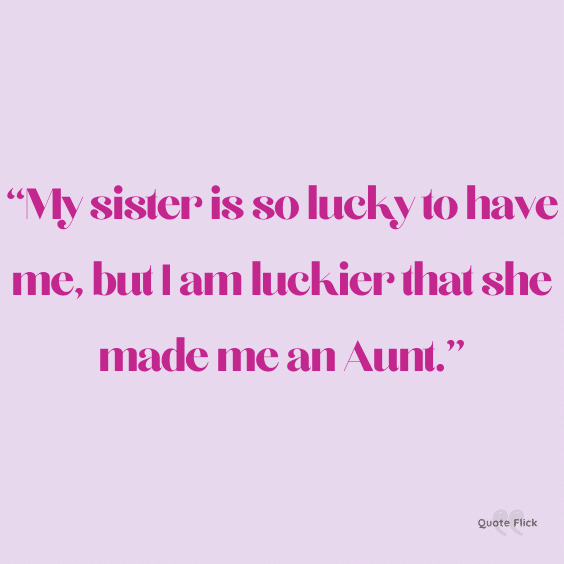 22. "Aunts are the ones who stand beside Moms when nieces and nephews enter the world." – Karen Moore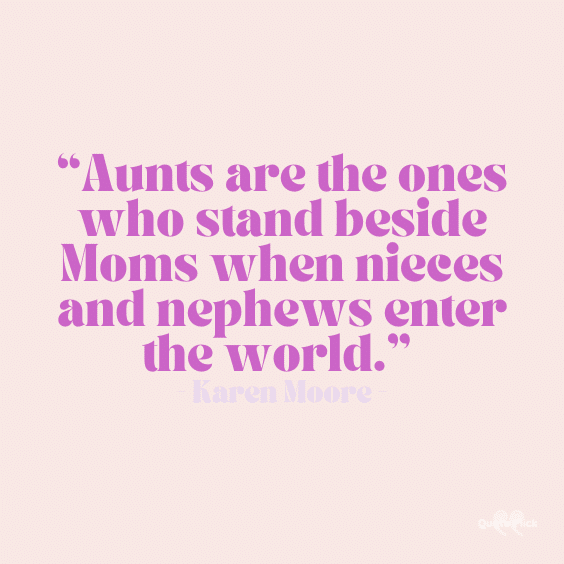 23. "I'd rather be the cool aunt than the authoritative aunt." – Solange Knowles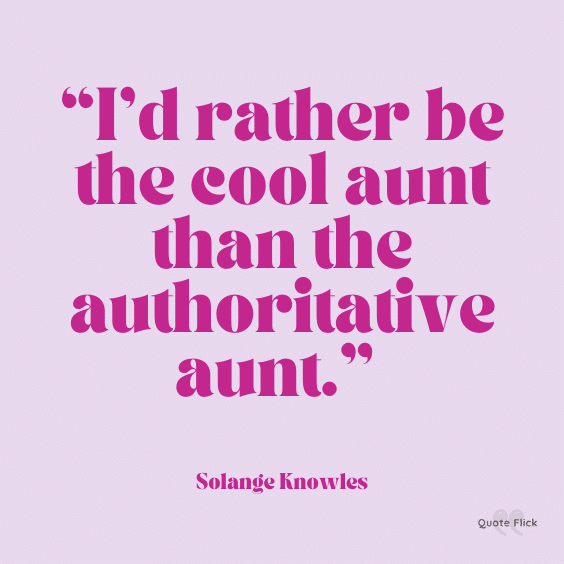 24. "The best aunts aren't substitute parents, they're co-conspirators." – Daryl Gregory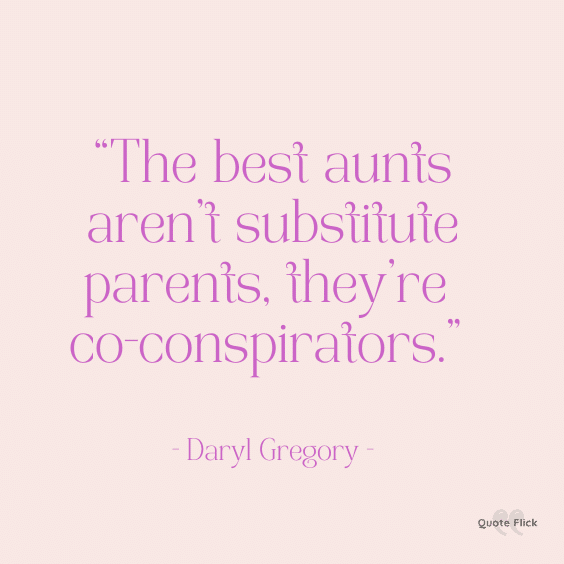 25. "I want to be the coolest aunt in the entire world." – Bailee Madison
26. "I was really lucky that I had an aunt who was very inspiring to me. She was different than anybody in my family on either side." – Geena Davis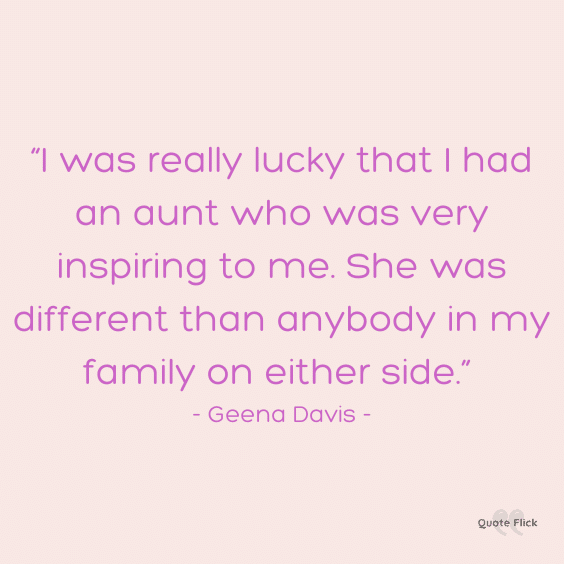 27. "Becoming an auntie and having the opportunity to be in an active role as one, has been an absolutely marvellous opportunity." – Tamara Traeder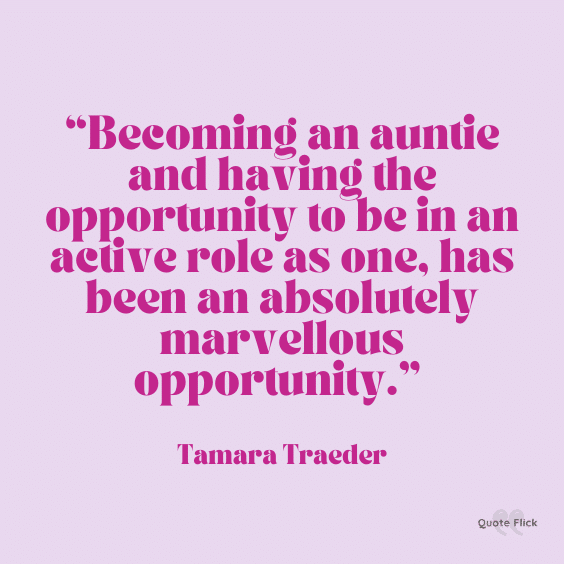 28. "An aunt is someone special to remember with warmth, think of with pride, and cherish with love." – Unknown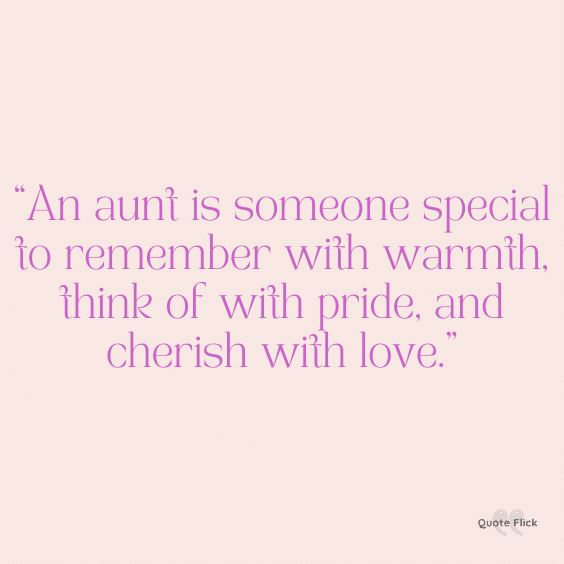 29. "The best days are the days where my nephews and nieces come and spend time with me." – Unknown
30. "Aunts are discreet, a little shy by instinct. They forbear to pry." – Phyllis McGinley
Next: Brother Quotes or Sister Quotes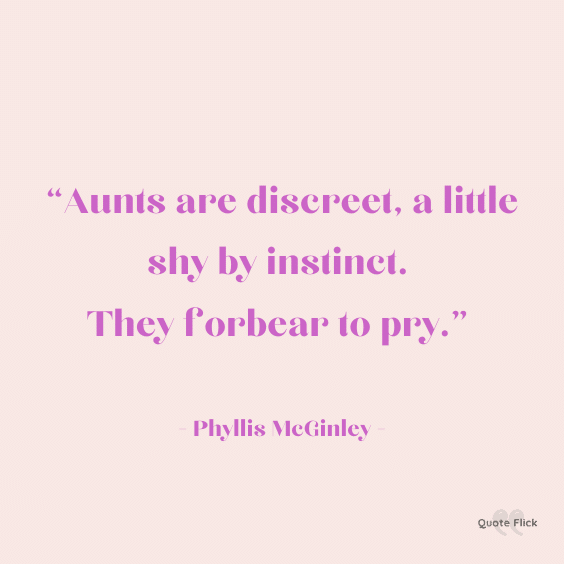 31. "An Aunt is a double blessing. They love you like a parent and act like a friend." – Unknown
32. "Aunts are always offering cake, certainly you couldn't have had enough." – Barry Spacks
33. "An aunt is a safe haven for a child. Someone who will keep your secrets and is always on your side." – Sara Sheridan.
34. "Great sisters get promoted to aunt." – Unknown
35. "Nothing feels so much better than hearing "I love you Auntie"." – Unknown
36. "The pervasiveness of the manner of describing their aunts suggests the importance of situating the aunt within the extended family." – Kory Floyd
37. "My aunt used to call me light bulb head because my head was small at the bottom and bigger at the top. But it was a term of endearment." – Tyra Banks
38. "Cuddles and kisses, cookies and little treats, a day spent with Auntie is always incredibly sweet." – Unknown
39. "Only an aunt can give hugs like a mother, keep secrets like a sister, and share love like a friend." – Unknown
40. "I am forever grateful to my aunt because she taught me that it was okay to chase after my dreams." – Unknown
41. "My children are not royal; they just happen to have the Queen for their aunt." – Princess Margaret
42. "I will forever be thankful to my aunt for all that she has done and my love for her only grows bigger every single day that passes." – Unknown
43. "Aunts offer kids an opportunity to try out ideas that don't chime with their parents and they also demonstrate that people can get on, love each other and live together without necessarily being carbon copies." – Sara Sheridan
44. "My aunt played the piano and I used to sit and listen to it." – Dick Dale
45. "I love my aunt. She always makes my day feel brighter." – Unknown
If you've enjoyed our Aunt Quotes, you will love our Niece Quotes and Nephew Quotes