On this page, we have provided you with 65 meaningful broken heart quotes. In going through these heartbreak quotes, you will hopefully find sayings that you can relate to at this time.
No doubt you are here due to having your heart broken, so sending you much love at this time. We all experience heartbreak at one time or another, so please know that you are not alone, and you will get through this! Most probably stronger!
Quotes on heartbreak can validate your feelings and speak your language. They can be very comforting to see when you feel alone. Phrases that resonate, inspire, and help you to process what you are going through are really helpful.
Maybe you know someone who is suffering heartbreak right now, and you're trying to find the right words to say to them and support them. We are certain you will find inspiration here in these 65 heartfelt quotes.
We hope they help, all our love…
Broken Heart Quotes
Let's begin with the broken heart quotes. Dome describe the feeling of having your heart shattered, some give you uplift, and others hope and advice. We hope you enjoy our selection and find them useful.
1. "A broken heart is the worst. It's like having broken ribs. Nobody can see it, but it hurts every time you breathe." – Unknown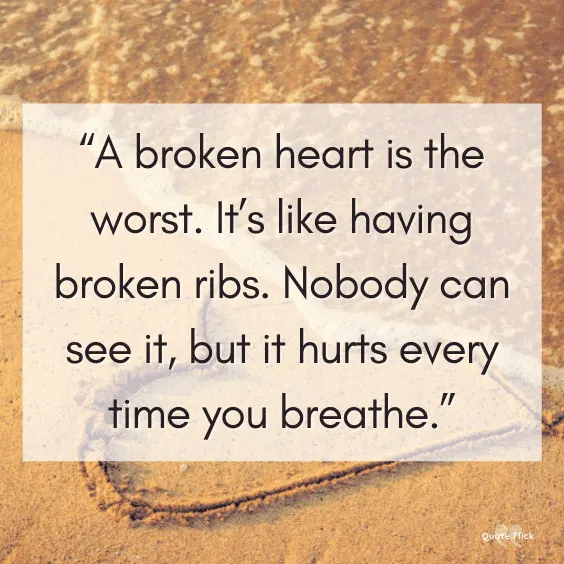 2. "The saddest thing about love is that not only that it cannot last forever, but that heartbreak is soon forgotten." – William Faulkner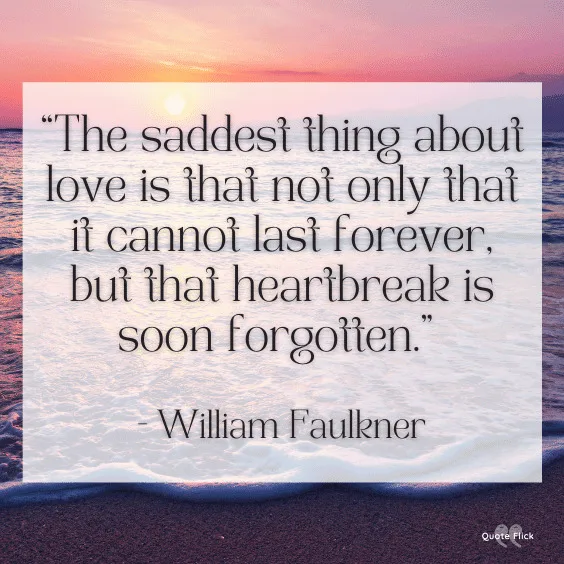 3. "I'd rather love a million times and have my heart broken every time, than hold a permanently empty heart forever." – H.C. Paye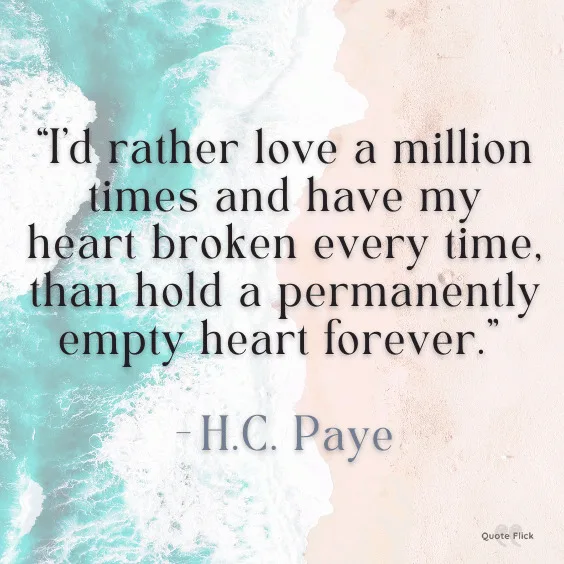 4. "Lonely's a different kind of pain, it doesn't hurt as bad as heartbreak. I preferred it and embraced it 'cause I reckoned it was one or the other." – Kristen Ashley, For You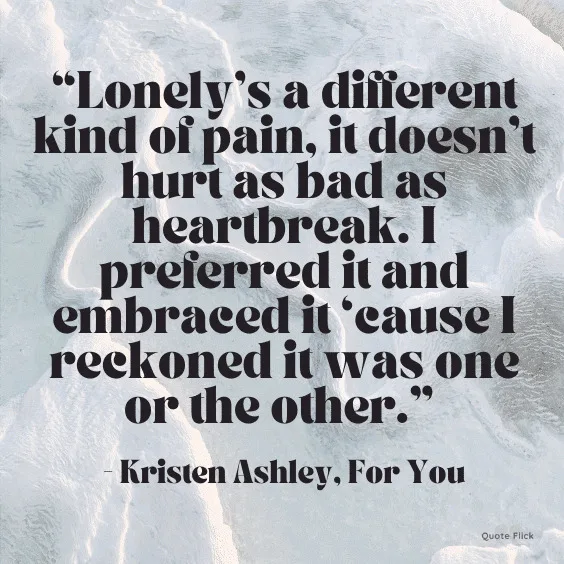 5. "The saddest thing about having a broken heart is that you can't ask the only one person who you know can fix it, to fix it." – Unknown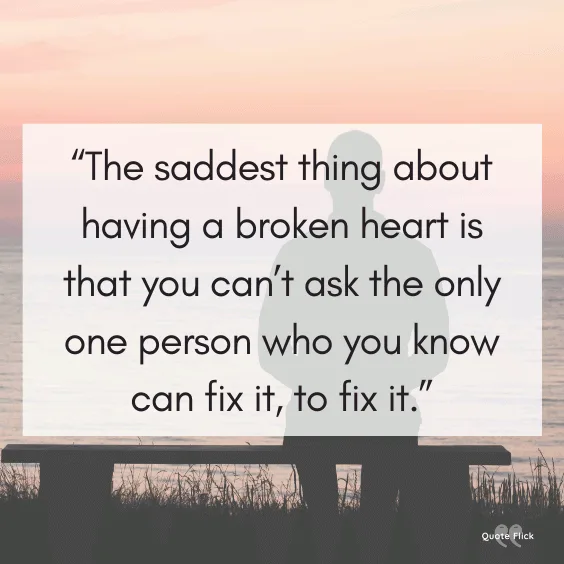 Next:
6. "I'm heartbroken, sad and in pain. It is the worst feeling." – Unknown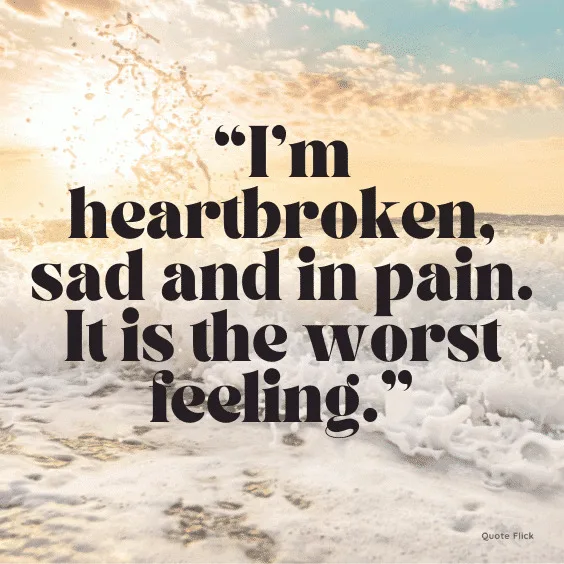 7. "The most sad, and heart breaking thing in the world is not believing you can ever give your heart to anyone else, as it still belongs to the person who broke it." – Unknown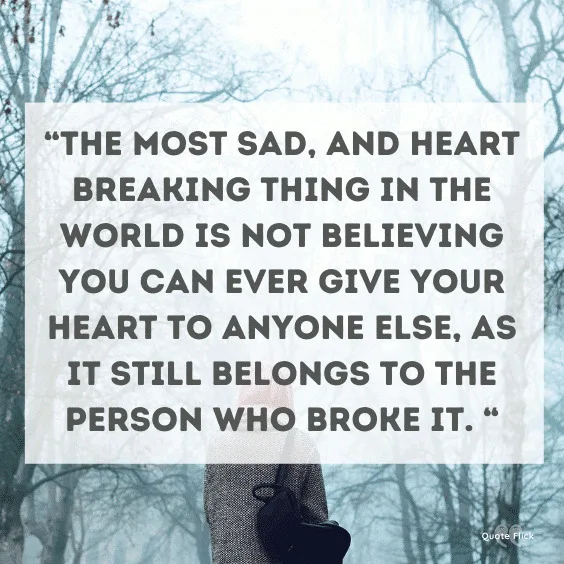 8. "I wish I could hurt your heart the way you hurt mine. The thing is, I love you though, and I would never do that to you." – Unknown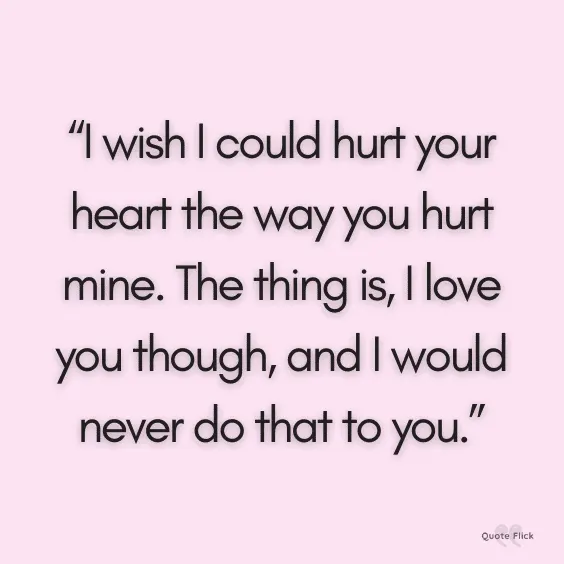 9. "Being broken hearted feels like my soul is being shattered." – Unknown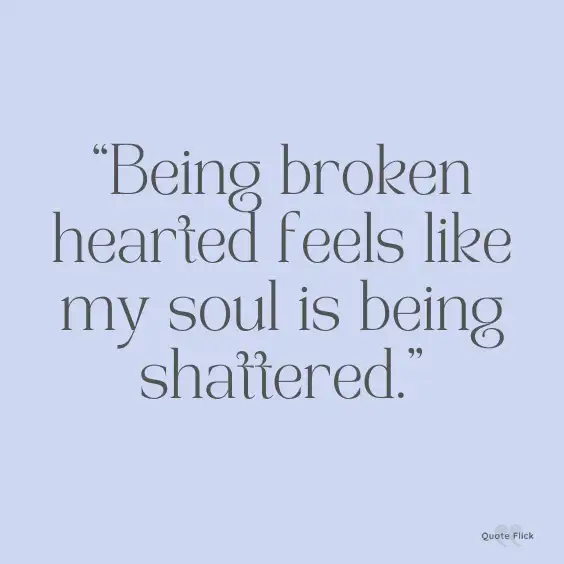 10. "What is heart breaking about our lost love, is the shock. It crept up on me when I was my happiest, and within a second, I felt numb. Its like I'm recovering from shock and losing you." – Unknown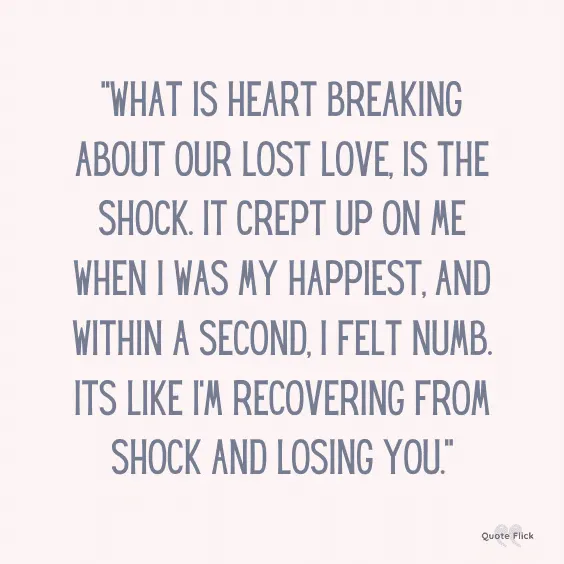 11. "So here's the thing with broken hearts. No matter how you try, the pieces never fit the way they did before." – Ariana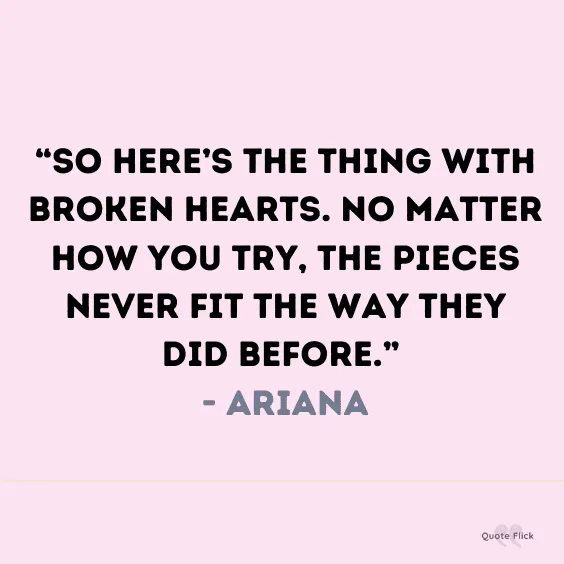 12. "Only time can heal your broken heart. Just as only time can heal his broken arms and legs." – Miss Piggy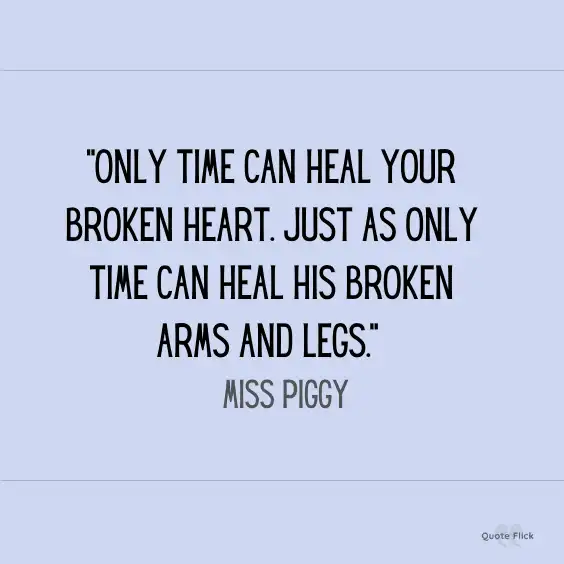 13. "Sadness flies away on the wings of time." – Jean de La Fontaine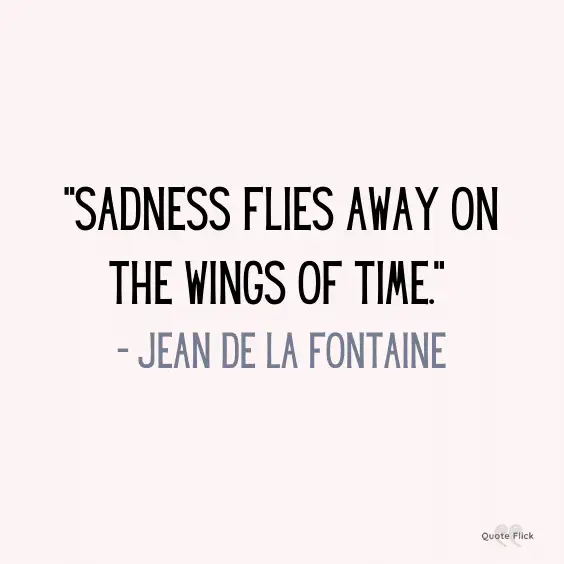 14. "Perhaps someday I'll crawl back home, beaten, defeated. But not as long as I can make stories out of my heartbreak, beauty out of sorrow." – Sylvia Plath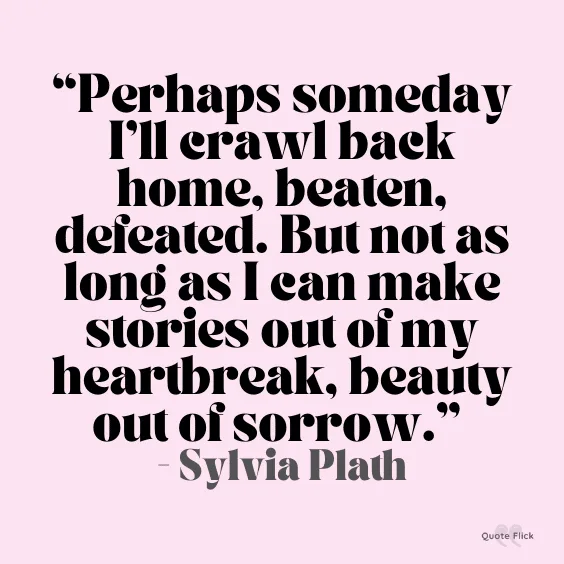 15. "It is the heart that has been pierced that feels the most." – Jocelyn Murray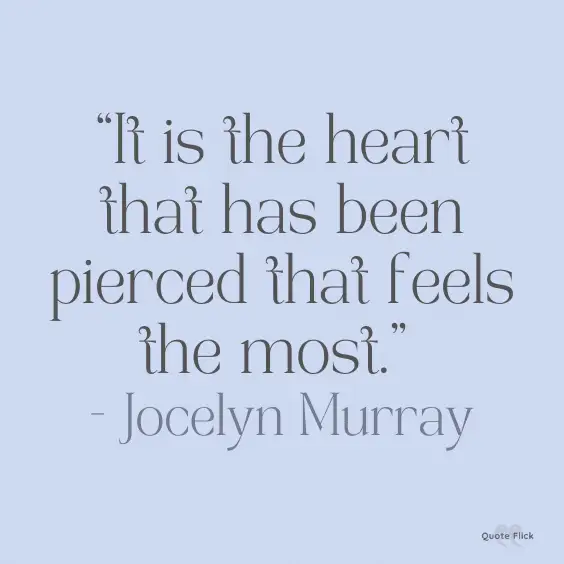 16. "Never allow someone to be your priority while allowing yourself to be their option." – Mark Twain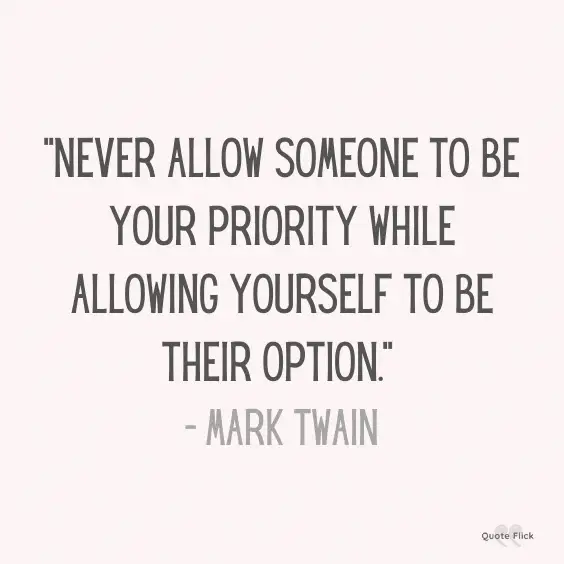 17. "Sometimes good things fall apart so better things can fall together." – Marilyn Monroe
18. "There are many ways of breaking a heart. Stories were full of hearts broken by love, but what really broke a heart was taking away its dream – whatever that dream might be." – Pearl. S Buck
19. "Loving you was like going to war; I never came back the same." – Warsan Shire
20. "Cry. Forgive. Learn. Move on. Let your tears water the seeds of your future happiness." – Steve Maraboli
21. "When your heart is broken, your boats are burned: nothing matters anymore. It is the end of happiness and the beginning of peace." – George Bernard Shaw
22. "When your heart is broken, you plant seeds in the cracks and you pray for rain." – Andrea Gibson
23. "I will never love another. Not like I loved you. I just don't have the love for it again." – Atticus
24. "I gave you my heart, I just didn't expect to get it back in pieces." – Unknown
25. "The scariest thing is that we didn't even have to be together for you to break my heart." — Unknown
26. "With time the pain eases, the body recovers, and the brain figures out new ways to go on." – Federico Chini
27. "I think you are wrong to want a heart. It makes most people unhappy. If you only knew it, you are in luck not to have a heart." – L. Frank Baum, The Wonderful Wizard of Oz
28. "The greatest tragedy of life is not that men perish, but that they cease to love." – W.Somerset Maugham
29. "You can't buy love, but you can pay heavily for it." – Henny Youngman
30. "Hearts will never be practical until they are made unbreakable." – The Tinman in 'The Wizard of Oz'
31. "You don't die from a broken heart. You only wish you did." – Unknown
32. "You will never know true happiness until you have truly loved, and you will never understand what pain really is until you have lost it." – Unknown
33. "Love is never lost. If not reciprocated, it will flow back and soften and purify the heart." – Washington Irving
34. "I won't ever leave you, even though you're always leaving me." – Audrey Niffenegger, The Time Traveler's Wife
35. "You weren't just a star to me. You were my whole damn sky." – Unknown
36. "No matter how bad your heart is broken, the world doesn't stop for your grief." – Faraaz Kazi
37. "You left with my soul in your fists and my heart in your teeth, and I don't want either of them back." – Colleen Hoover
38. "The heart was made to be broken." – Oscar Wilde
39. "Pleasure of love lasts but a moment. Pain of love lasts a lifetime." – Bette Davis
40. "The cure for a broken heart is simple, my lady. A hot bath and a good night's sleep." – Margaret George
41. "I'd rather have a broken arm than a broken heart." – Christie Brinkley
42. "Crying is a way your eyes speak when your mouth can't explain how broken your heart is." – Unknown
43. "I think about you. But I don't say it anymore." – Marguerite Duras, Hiroshima Mon Amour
44. "One day you're going to remember me and how much I loved you… then you're going to hate yourself for letting me go. " – Aubrey Drake Graham
45. "Nothing helps a broken heart like having someone wonderful give you theirs." – Rita Stradling
46. "I don't know why they call it heartbreak. It feels like every other part of my body is broken too." – Terri Guillemets
47. "You flew off with the wings of my heart and left me flightless." – Stelle Atwater
48. "A divorce is like an amputation: You survive it, but there's less of you." – Margaret Atwood
49. "My heart no longer felt as if it belonged to me. It now felt as it had been stolen, torn from my chest by someone who wanted no part of it." – Meredith Taylor, Churning Water
50. "When we are in love, we are convinced nobody else will do. But as time goes, others do do, and often do do, much much better." – Coco J. Ginger
51. "Hearts can break. Yes, hearts can break. Sometimes I think it would be better if we died when they did, but we don't." – Unknown
52. "What a painful thing to taste forever in the eyes of someone who doesn't see the same." – Perry Poetry
53. "The saddest thing is to be a minute to someone when you've made them your eternity." – Sanober Kahn
54. "The heart will break, but broken live on." – Lord Byron
55. "To fall in love is awfully simple, but to fall out of love is simply awful." – Bess Myerson
56. "Courage is the power to let go of the familiar." – Raymond Lindquist
57. "The only thing a boyfriend was good for was a shattered heart." – Becca Fitzpatrick
58. "I wish I were a little girl again because skinned knees are easier to fix than a broken heart." – Julia Roberts
59. "The broken heart. You think you will die, but you keep living, day after day after terrible day." – Charles Dickens
60. "Love that remains longest in your heart is the one that is not returned." – Unknown
61. "For my part, I prefer my heart to be broken. It is so lovely, dawn-kaleidoscopic within the crack." – D.H. Lawrence
62. "Every time your heart is broken, a doorway cracks open to a world full of new beginnings, new opportunities." – Patti Roberts
63. "Hearts are breakable. And I think even when you heal, you're never what you were before" – Cassandra Clare
64. "In three words I can sum up everything I've learned about life: it goes on." – Robert Frost
65. "The human heart is the only thing whose worth increases the more it is broken." – Shakieb Orgunwall