We have gathered 80 of the loveliest brother quotes for you here to send to your big or little brother (or both!). Our quotes about brothers put into words just how much you love them, cherish them, and value their bond!
Brotherly love is interesting, funny, and at times challenging. However, it's always magical, and these phrases describe that perfectly! Bonding with your brothers through life's adventures is a unique experience and we hope this post inspires you to let them know how much you appreciate them.
Having two younger brothers myself who I would consider best friends, I loved writing this. It made me smile and feel lucky to have them by my side. Quotations on brothers are perfect to save, share, or use in greetings cards.
Enjoy!
Best Brother Quotes
1. "We came into the world like brother and brother; And now let's go hand in hand, not one before another." – William Shakespeare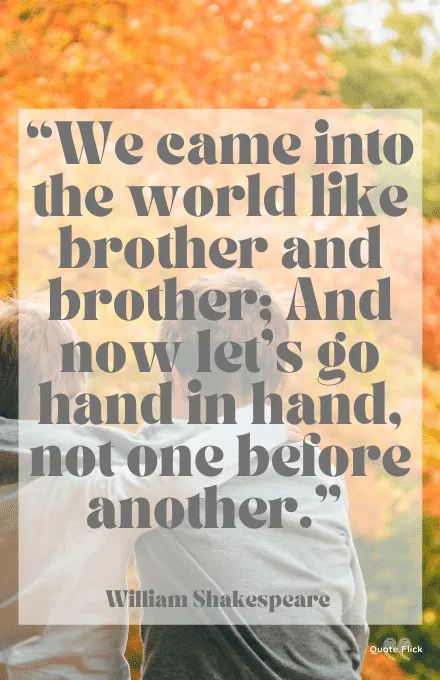 2. "The best thing about brothers is the friendship we have. I can always depend on them to protect me, their sister." – Unknown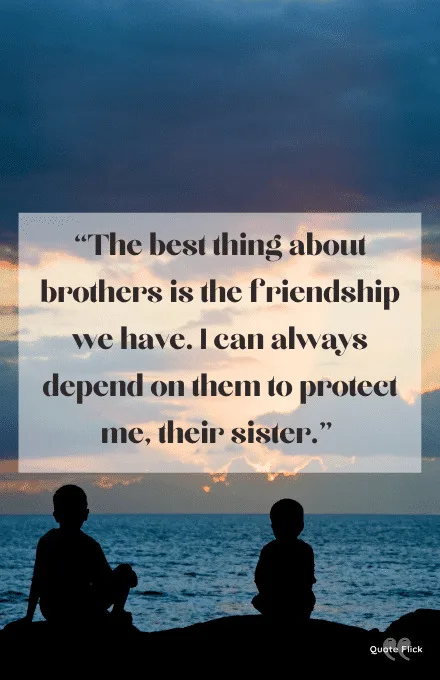 3. " Because brothers don't let each other wander in the dark alone." – Jolene Perry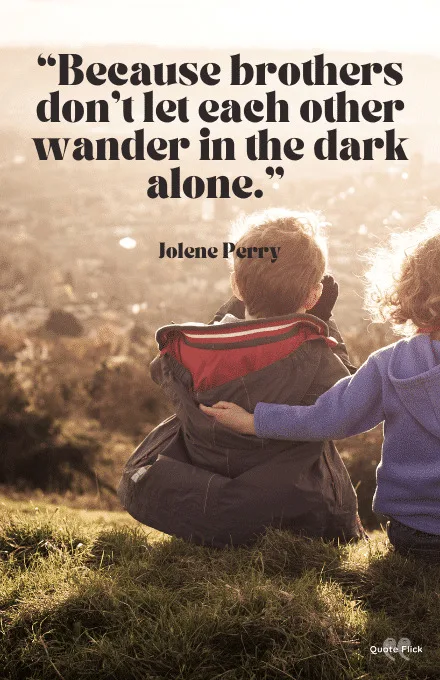 4. "Brothers don't necessarily have to say anything to each other – they can sit in a room and be together and just be completely comfortable with each other." – Leonardo DiCaprio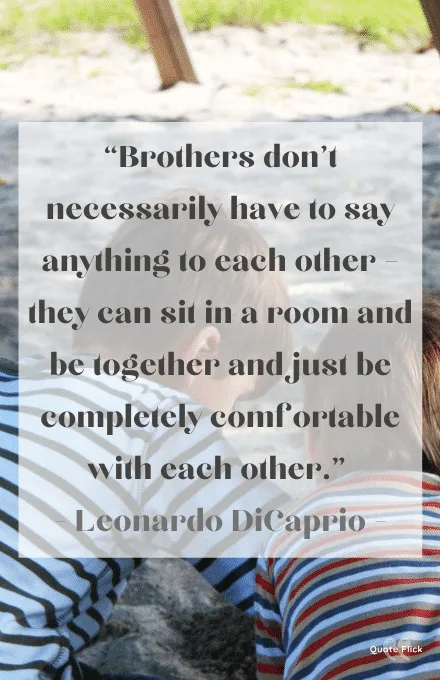 5. "I could write a book on brothers. The blurb would say that no matter what we've been through, from laughter to fighting all in one day, I always feel lucky and grateful to have them." – Unknown
You Might Also Like:
6. "It is an honor to call you my brother. Bonding with you never stops. As we grow older we have new things to grow through and share together." – Unknown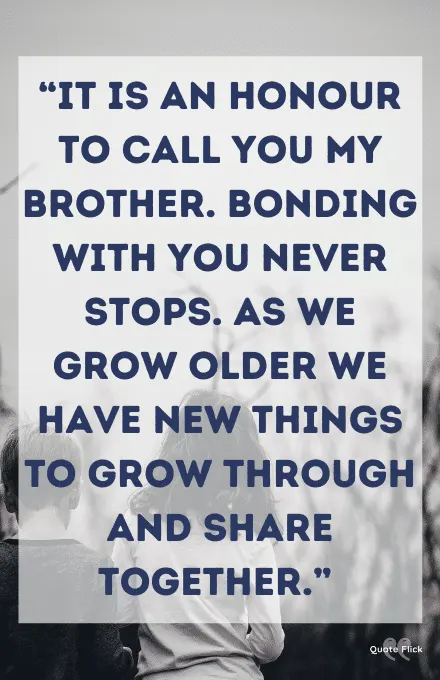 7. "I can always depend on my brothers. They are like 100 different best friends all in one." – Unknown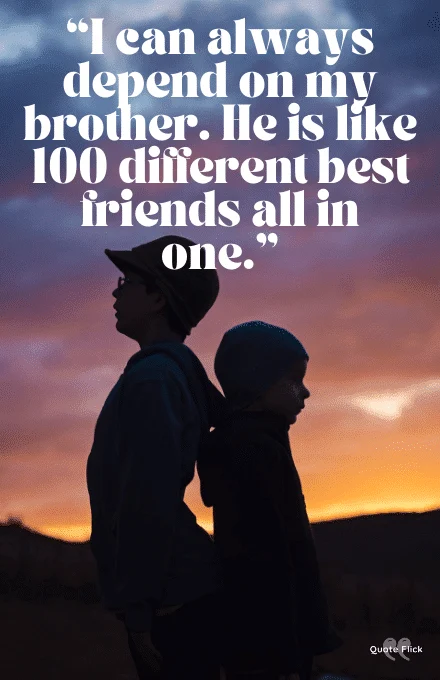 8. "One minute you love your brothers, the next minute you fight and feel like you don't, and before you know it, you love them even more." – – Unknown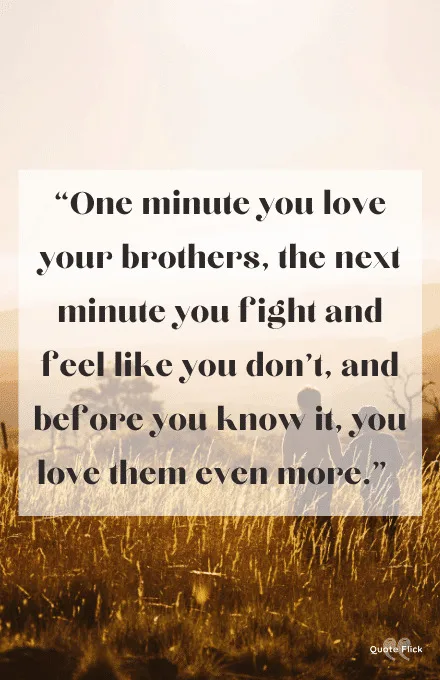 9. "The perfect gift for little brothers is to always have their back no matter what." – – Unknown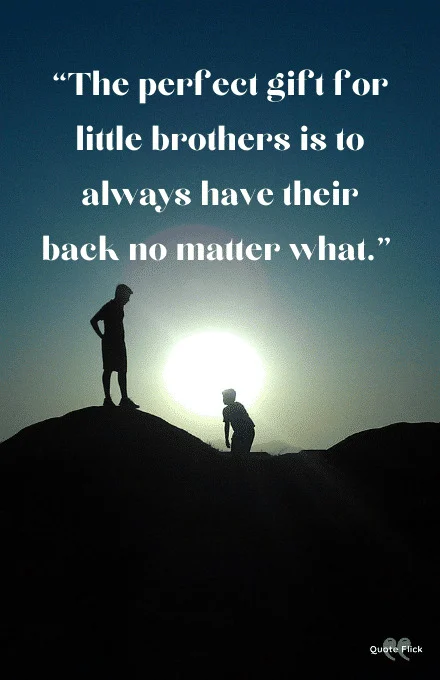 10. "It's a weird thing to say but I feel sorry for anyone who doesn't have big brothers. For big brothers are the best thing ever invented" – Unknown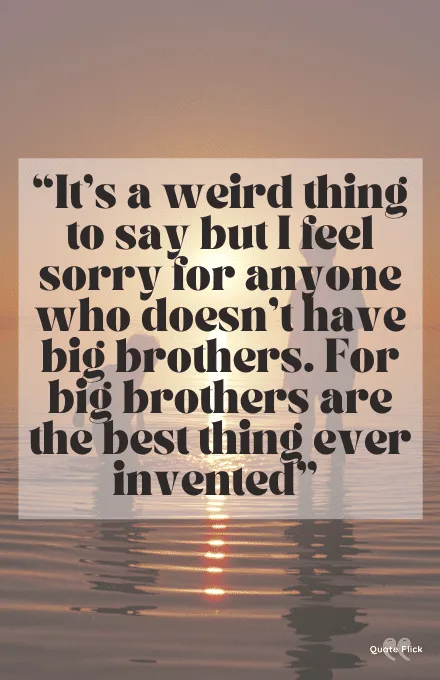 Next:
11. "Nothing makes me smile more than the bond I have with you my brother." – Unknown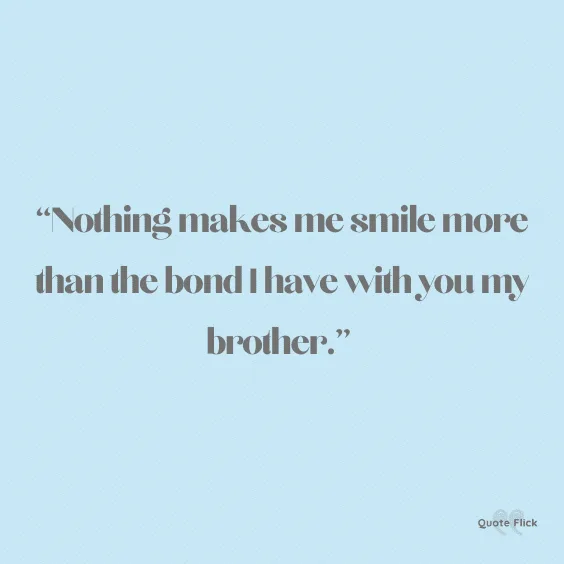 12. "Brothers are what best friends can never be." – Unknown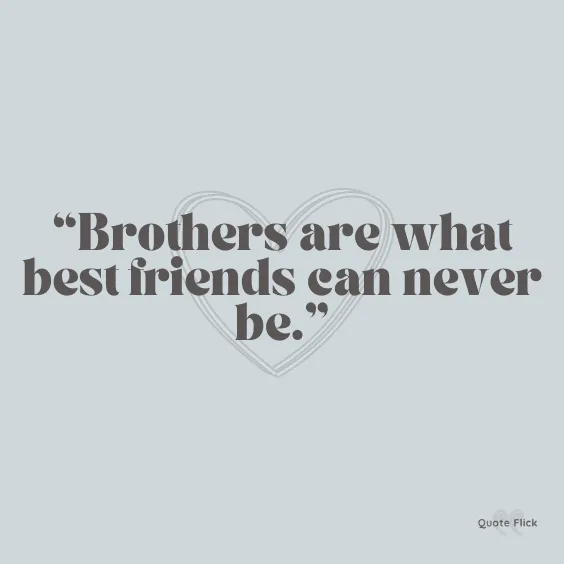 13. "Happiness is having a younger brother who is taller than you." – Unknown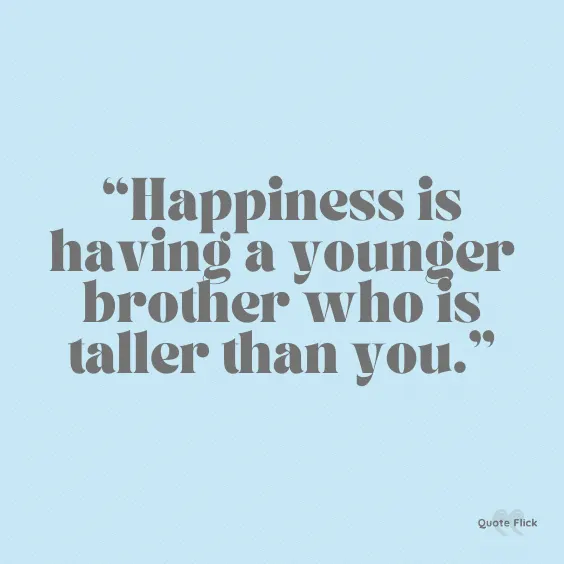 14. "Who needs superheroes when you have a brother." – Unknown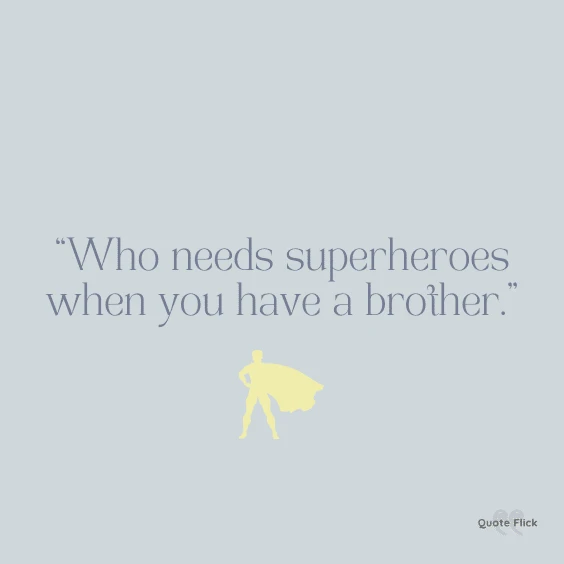 15. "There is a little boy inside the man who is my brother… Oh, how I hated that little boy. And how I love him too." – Anna Quindlen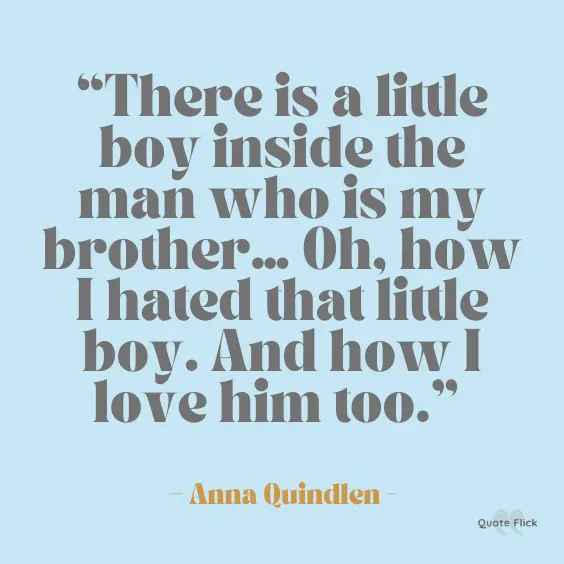 16. "I always fight with my brother. This is our way of saying "I love you" – Unknown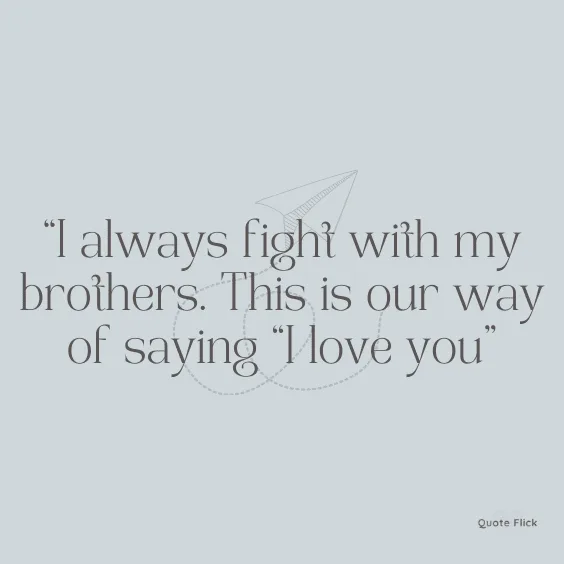 17. "I always love my big brothers even when we get catty and I don't feel like I do!" – Unknown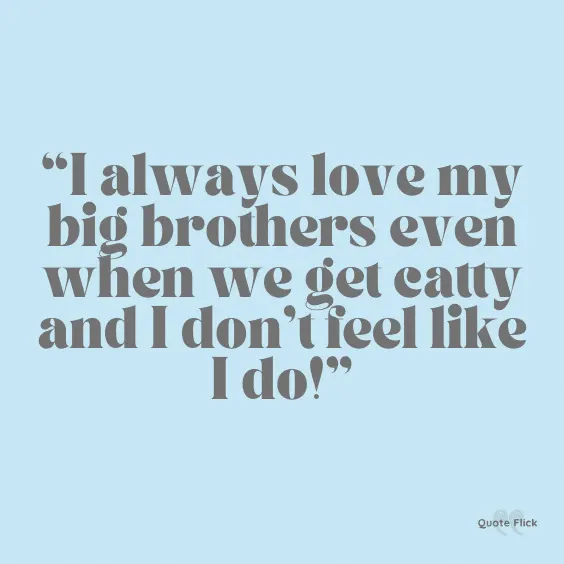 18. "Little brothers always want to be like their older brothers" – Unknown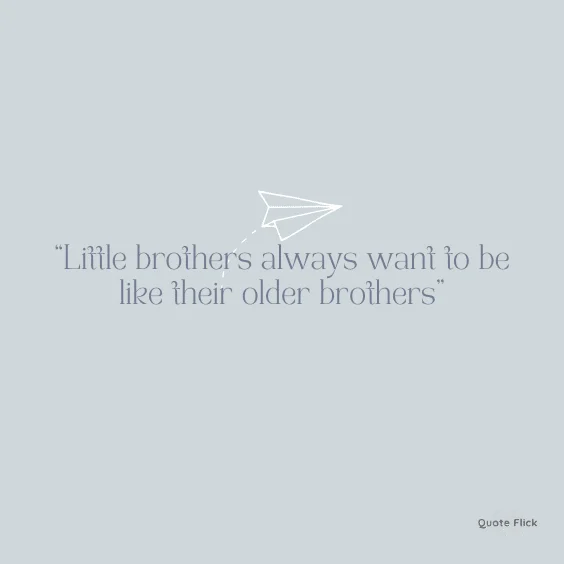 19. "Life is fun with a big bro." – Unknown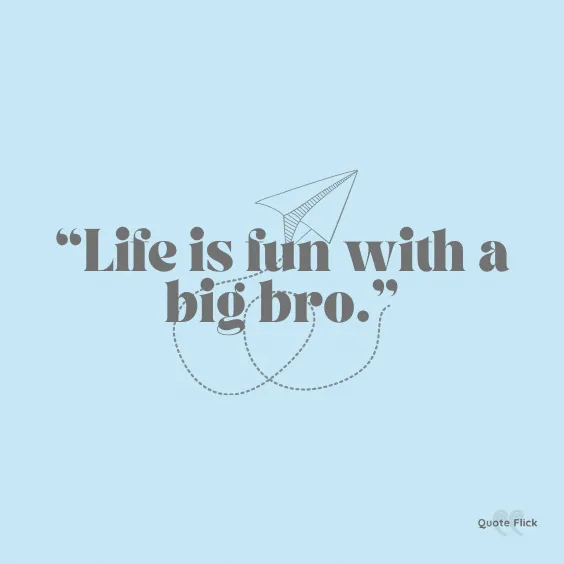 20. "I'm always there for my younger brothers, and I always have two younger best friends." – Unknown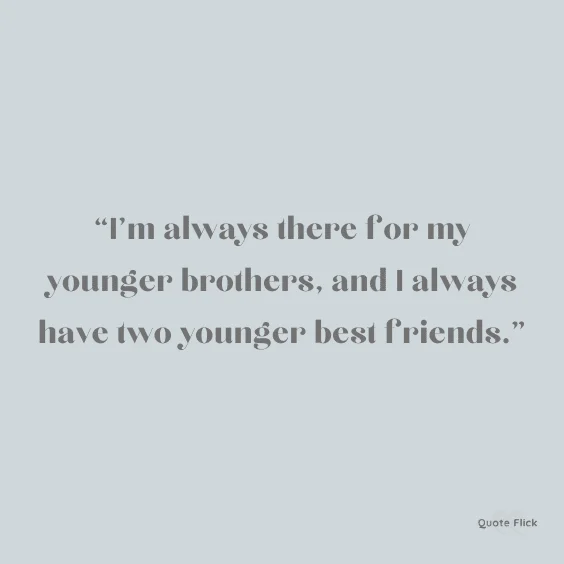 21. "Ambitious. Caring. Positive. Strong. Helpful. Awesome. Reliable. Because I have a brother, I will always have a friend." Unknown
22. "When my younger brother was born I wanted to be there for him and inspire him. Now he is there for me and inspires me." – Unknown
23. "I smile because you're my brother. I laugh because there's nothing you can do about it!" – Unknown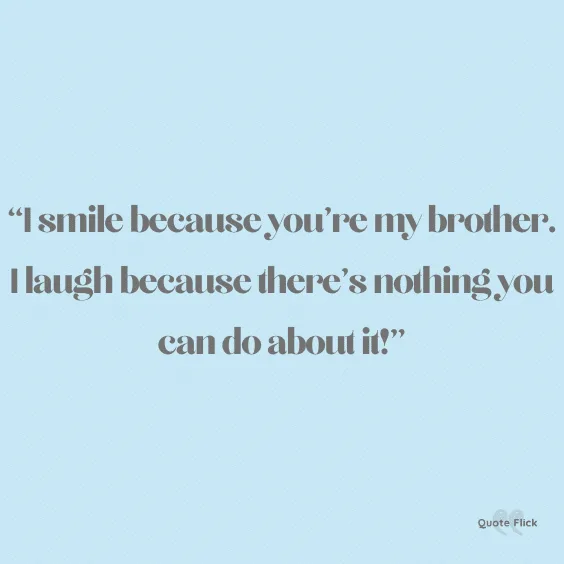 24. "Dear Bro, I'm not just lucky, I'm blessed to have you in my life." – Unknown
25. "Sometimes being a brother is even better than being a superhero." – Marc Brown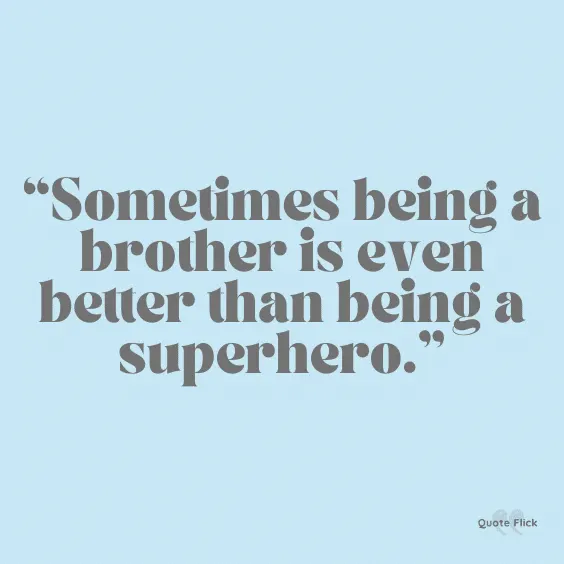 26. "A friend is a brother who was once a bother." – Unknown
27. "Everyone knows that if you've got a brother, you're going to fight." Liam Gallagher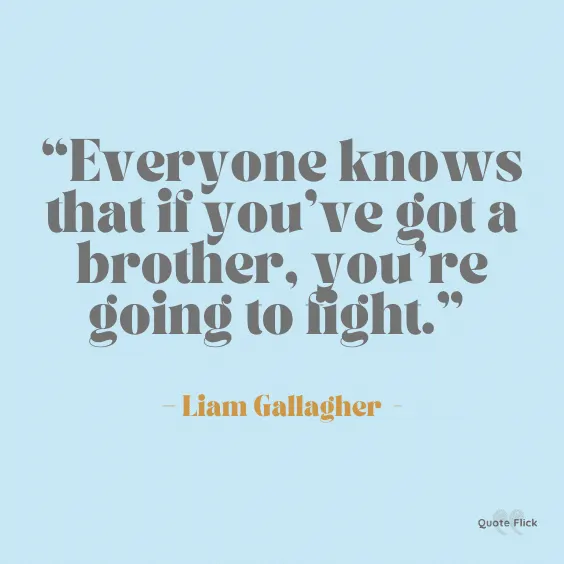 28. "The happiest days of my youth were when my brother and I would run through the woods and feel quite safe." – Rachel Weisz
29. "My brother may not always be at my side, but he is always in my heart." – Unknown
30. "It takes two men to make one brother." – Israel Zangwill
31. "There's no other love like the love for a brother. There's no other love like the love from a brother." – Unknown
32. "Your brother will never say he loves you. But he loves you more thane anyone else in the world." – Unknown
33. "What strange creatures brothers are!" – Jane Austen
34. "Brothers are playmates in the beginning and best friends for life."
35. "I have an angel watching over me and i call him brother." – Unknown
36. "A brother is a gift to the heart, a friend to the spirit." – Unknown
37. "We have flown the air like birds and swum the sea like fishes, but have yet to learn the simple act of walking the earth like brothers." – Martin Luther King, Jr.
38. "Being sister and brother means being there for each other."
39. "Dear Brother "No one has ever made me as happy as you. Being at your side is so amazing that I want to be together for eternity." Unknown
40. "Being his real brother I could feel I live in his shadows, but I never have and I do not now. I live in his glow." – Michael Morpurgo
41. "Sometimes being a brother is even better than being a superhero." – Marc Brown
42. "The highlight of my childhood was making my brother laugh so hard that food came out his nose." –Garrison Keillor
43. "A brother is a friend god gave you; a friend is a brother your heart chose for you."
44. "It was nice growing up with someone like you – someone to lean on, someone to count on… someone to tell on!" – Unknown
45. "If I could pick the best brother, I would pick you!"
46. "I can get another husband but never another brother." – Corsican Proverb
47. "Being his real brother I could feel I live in his shadows, but I never have and I do not now. I live in his glow." – Unknown
48. "Brothers and sisters are as close as hands and feet." – Vietnamese Proverb
49. "I'm the oldest, I make the rules. I'm in the middle, I'm the reason we have rules. I'm the youngest the rules don't apply to me." Unknown.
50. "Brother a person who is there when you need him, someone who picks you up when you fall, a person who sticks up for you when no one else will, a brother is always a friend." – Unknown
51. "Our brothers and sisters are there with us from the dawn of our personal stories to the inevitable dusk." – Susan Scarf Merrell
52. "She had always wanted a brother. And she had one now. Sebastian. It was like always wanting a puppy and being a hellhound instead." – Cassandra Clare
53. "My brother is one of my true heroes. Steady and sober where I am impulsive and emotional." – Unknown
54. "Mum used to say we were the same soul split in two and walking around on four legs. It seems unnatural being born together and then dying apart." – Melodie Ramone
55. "Brothers are children of the same parents, each of whom is perfectly normal until they get together." – Sam Levenson
56. "There is no love like the love for a brother. There is no love like the love from a brother." – Astrid Alauda
57. "Home is wherever my brothers are." – Unknown
58. "Of all the toys I have to play with, I'd choose my brothers and day." – Unknown
59. "The best way to get a puppy is to beg for a baby brother – and they'll settle for a puppy every time." – Winston Pendelton
60. "What brothers say to tease their sisters has nothing to do with what they really think of them." – Esther Friesner
61. "Brotherhood means… I will always come for you no matter the cost." – Unknown

62. "Brother and sister, together as friends, ready to face whatever life sends. Joy and laughter or tears and strife, holding hands tightly as we dance through life." – Suzie Huitt
63. "I grew up with a younger brother, so I can get pretty rowdy." – Sarah Wynter
64. "I think people that have a brother or sister don't realize how lucky they are. Sure, they fight a lot, but to know that there's always somebody there, somebody that's family." – Trey Parker
65. "I grew up with six brothers. That's how I learned to dance – waiting for the bathroom." –Bob Hope
66. "Brothers and sisters separated by distance joined by love." – Chuck Danes
67. When brothers agree, no fortress is so strong as their common life. – Antisthenes
68. "Some people don't believe in heroes. But they haven't met my brother." – Unknown
69. "Siblings are the people we practice on, the people who teach us about fairness and cooperation and kindness and caring quite often the hard way." – Pamela Dugdale
70. "There's no-buddy like my brother." – Unknown

71. "Brother: a person who's there when you need him, someone who picks you up when you fall, a person who sticks up for you when no one else will, a brother is always a friend. – Unknown
72. "All men were made by the Great Spirit Chief. They are all brothers." – Chief Joseph
73. "I can't work with my brother without laughing." – Dick van Dyke
74. "My brother has the best sister in the world!" – Unknown
75. "The best thing about having four big brothers is you always have someone to do something for you." — Chloe Moretz

76. "I had a brother who was my savior, made my childhood bearable." – Maurice Sendak
77. "You are the world's okay-est brother!" – Unknown
78. "A brother is a gift to the heart, a friend to the spirit." – Unknown
79. "I love my brother. He is simply amazing and I just couldn't imagine my life without him." – Unknown
80. "We didn't even realize we were making memories, we just knew we were having fun." – Winnie the Pooh