We hope you enjoy this incredible collection of the best cloud quotes. Sometimes the weather is overcast. But there is no need to feel down just because it's a cloudy day. There are brighter days ahead!
This collection of quotes about clouds will remind you to look past the weather and embrace all that life has to offer.
Let's jump right into this awesome list of cloudy skies quotes!
Cloud Quotes
1. "The cloud never comes from the quarter of the horizon from which we watch for it." – Elizabeth Gaskell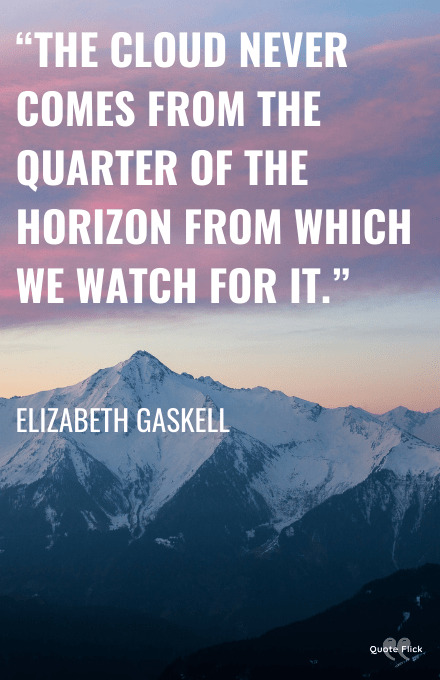 2. "Clouds signify the veil of the most high." – Honore de Balzac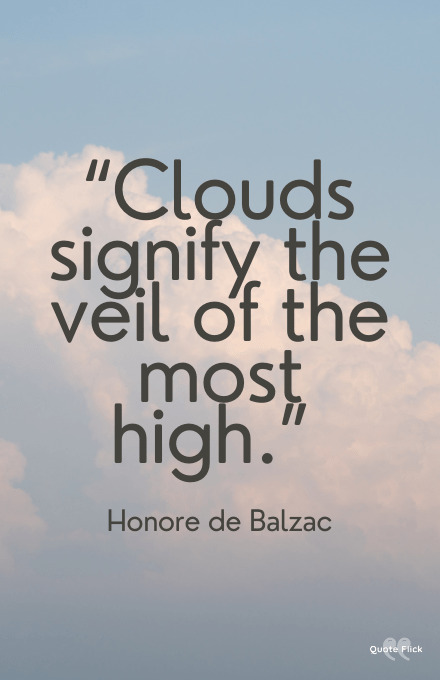 3. "Even when clouds grow thick, the sun still pours its light earthward." – Mark Nepo
4. "Clouds come floating into my life, no longer to carry rain or usher storm, but to add color to my sunset sky." – Rabindranath Tagore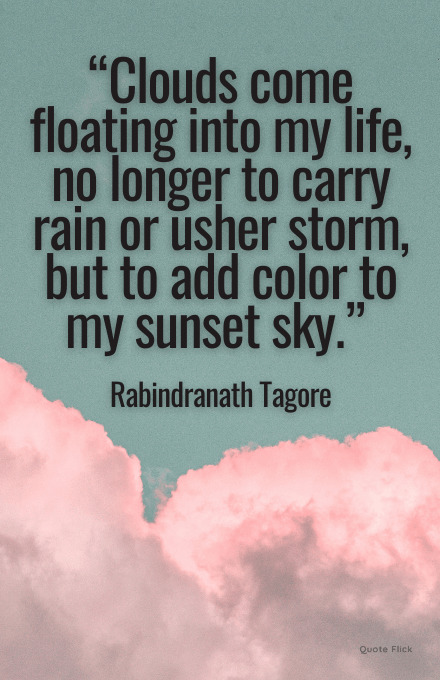 5. "Above the cloud with its shadow is the star with its light. Above all things reverence thyself." – Pythagoras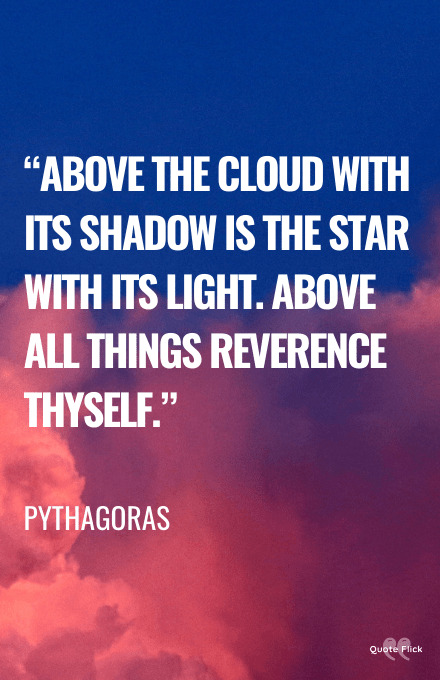 Next: Rainy Day Quotes
6. "Feelings come and go like clouds in a windy sky. Conscious breathing is my anchor." – Nhat Hanh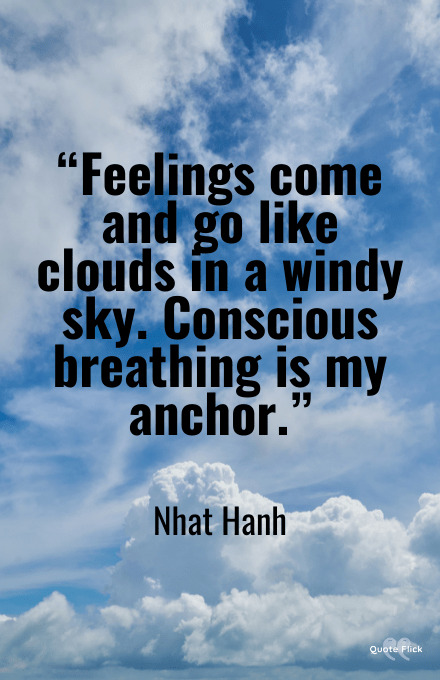 7. "Clouds float in the same pattern only once." – Wayne Shorter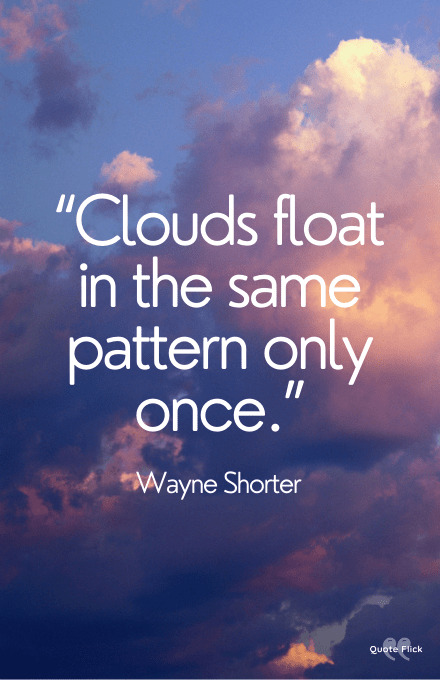 8. "Clouds are on top for a reason. They float so high because they refuse to carry any burden!" – Jasleen Kaur Gumber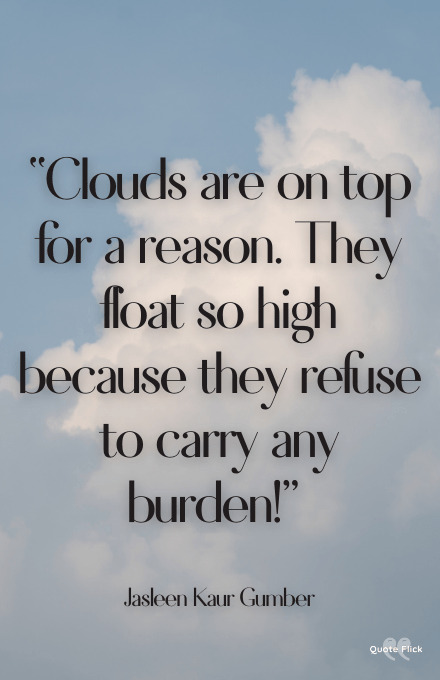 9. "Watch the clouds. They will teach you about the world of form." – Eckhart Tolle
10. "Look for the Sunlight through the Clouds." – Gordon B. Hinckley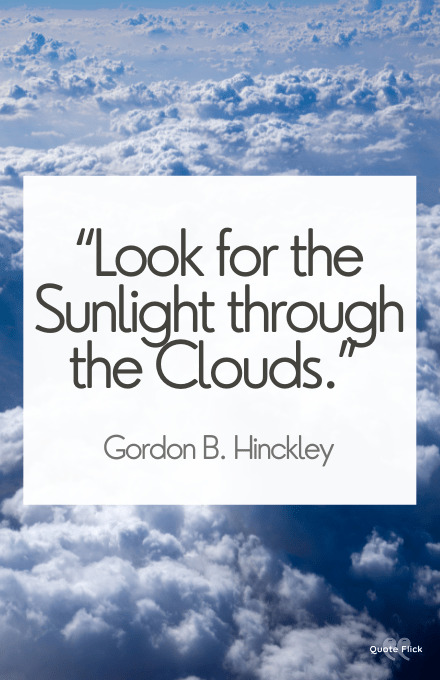 Next: Rainbow Quotes
11. "We all should rise, above the clouds of ignorance, narrowness, and selfishness." – Booker T. Washington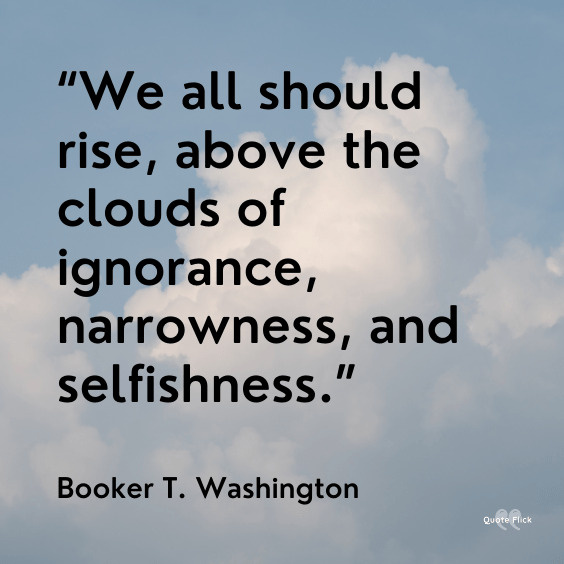 12. "The sun always shines above the clouds." – Unknown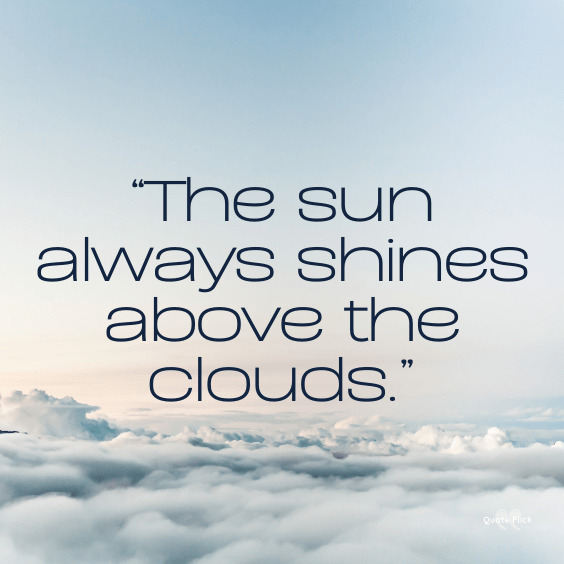 13. "Kindred objects kindred thoughts inspire, As summer clouds flash forth electric fire." – Samuel Rogers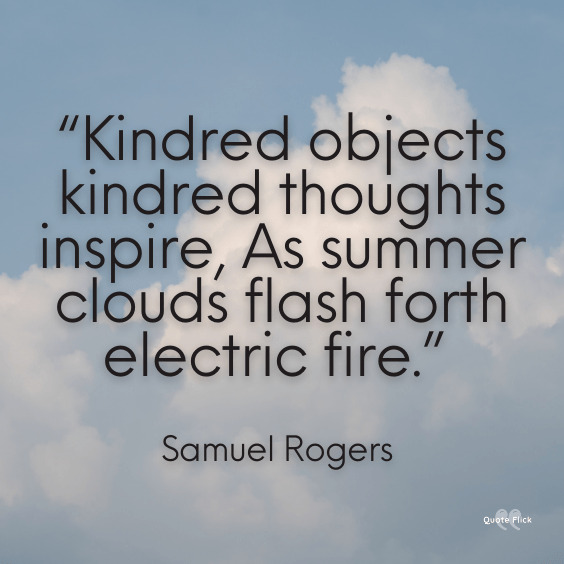 14. "When I do not walk in the clouds I walk as though I were lost." – Antonio Porchia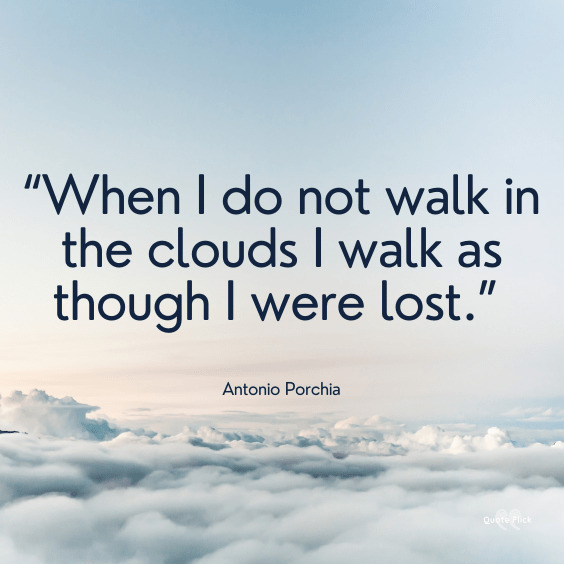 15. "Dark clouds become heaven's flowers when kissed by light." – Rabindranath Tagore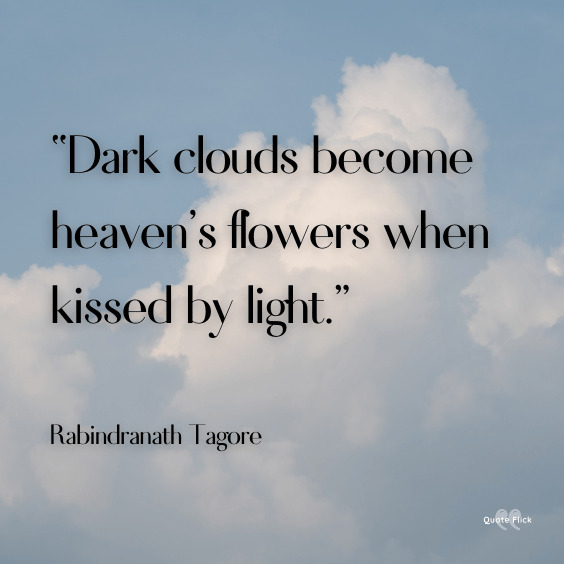 Next: Sunshine Quotes
16. "Gray skies are just clouds passing over." – Duke Ellington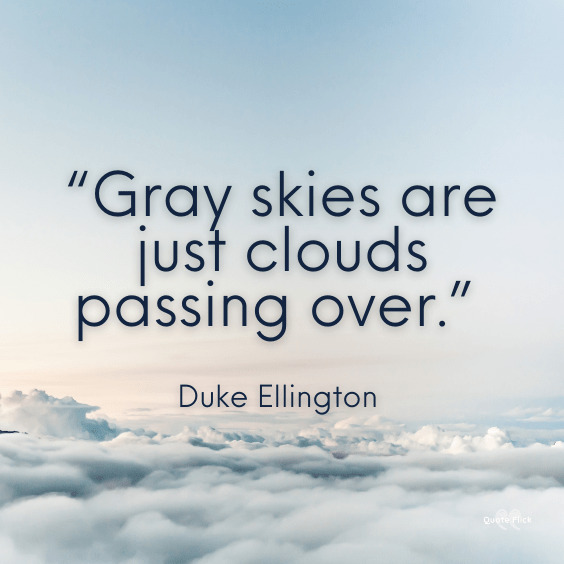 17. "Why do I love clouds? Because you can't save a cloud like you can save a leaf or a flower or a rock – clouds are now." – Terri Guillemets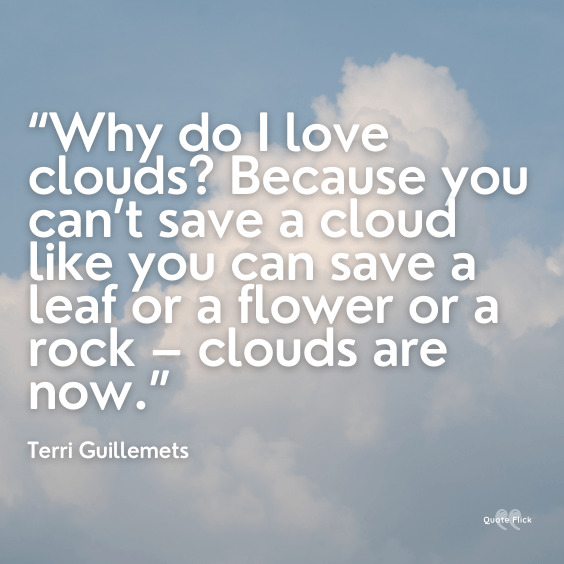 18. "Clouds come floating into my life, no longer to carry rain or usher storm, but to add color to my sunset sky." – Rabindranath Tagore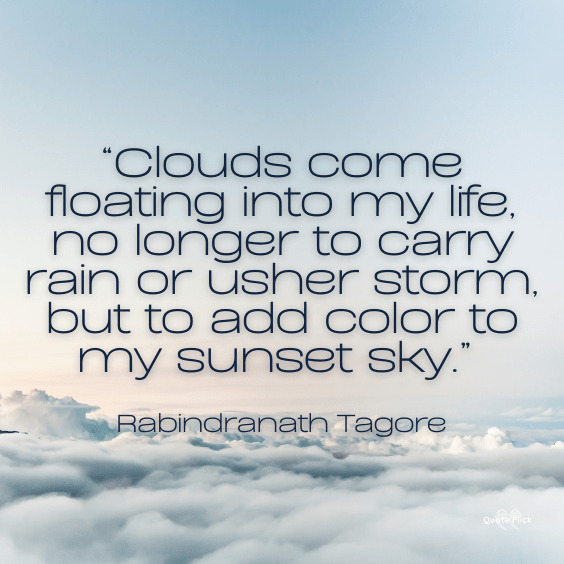 19. "My experiences remind me that it's those black clouds that make the blue skies even more beautiful." – Kelly Clarkson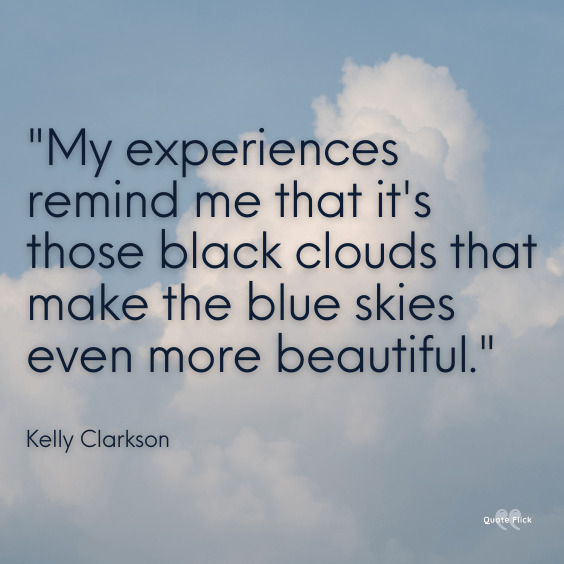 20. "Happiness and sorrow are twins, let them come and go like clouds." – Yogaswami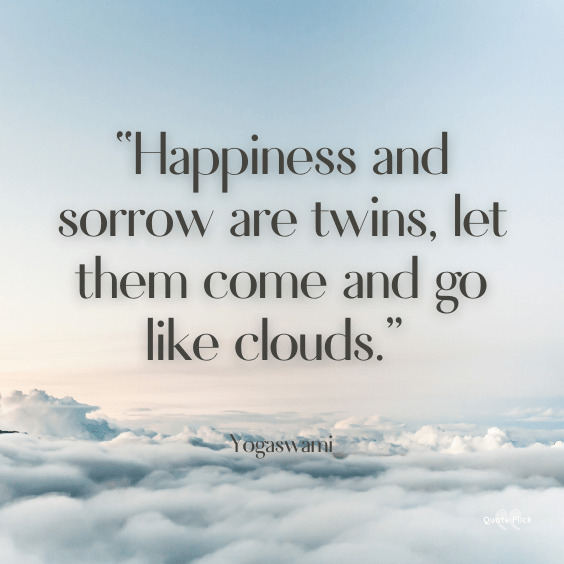 21. "Behind every dark cloud there is an every-shining sun. Just wait. In time, the cloud will pass." – Marianne Williamson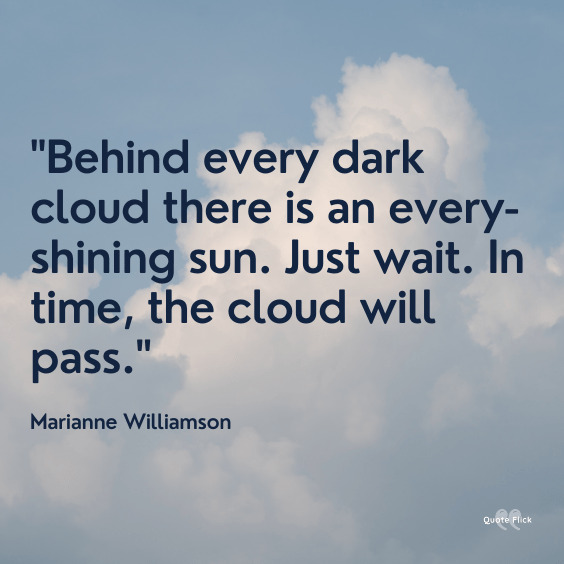 22. "I live there…Far above the song-filled clouds, where the dewdrops touch my skin so bareI live there." – Sanober Khan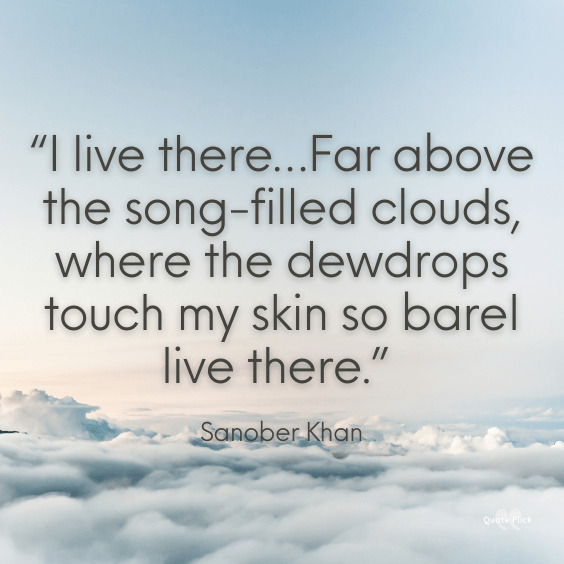 23. "A cloudy day is no match for a sunny disposition." – William Arthur Ward
24. "Happiness is like a cloud, staying up there whether rain or shine." – Unknown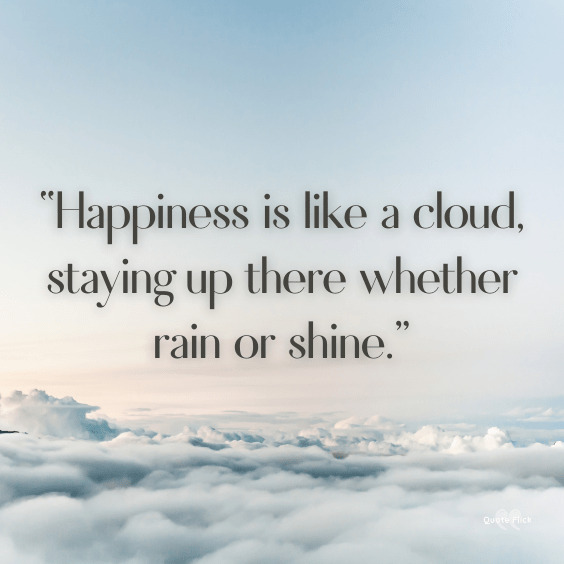 25. "There is divinity in the clouds." – Lailah Gifty Akita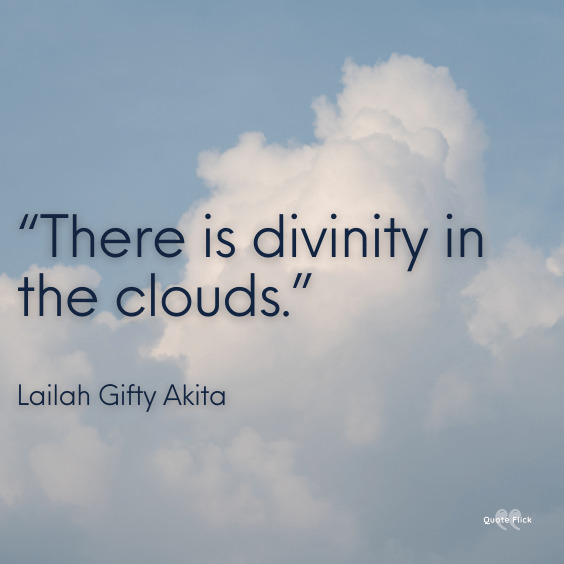 Next: Sunrise Quotes
26. "The sky, a perfect empty canvas, offers clouds nonetheless. They shift and drift and beg interpretation… such is the nature of art." – Jeb Dickerson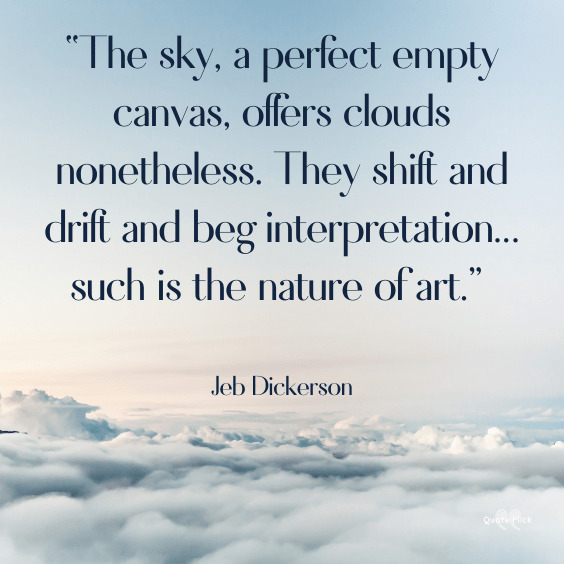 27. "You must not blame me if I do talk to the clouds." – Henry Thoreau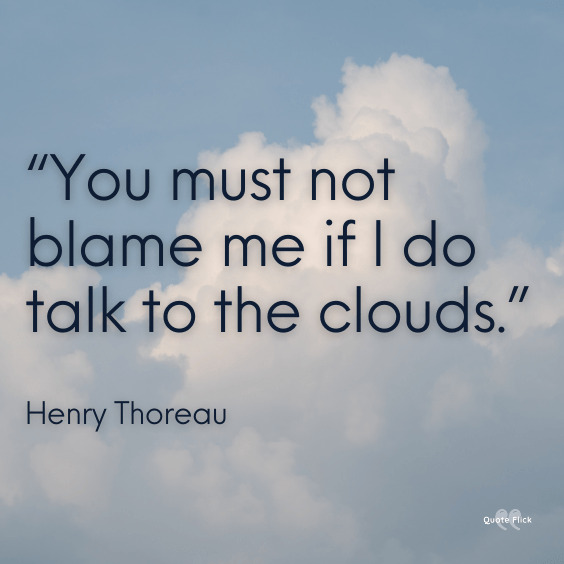 28. "We have chased away the clouds, the sky is all 'rose." – Francois Hollande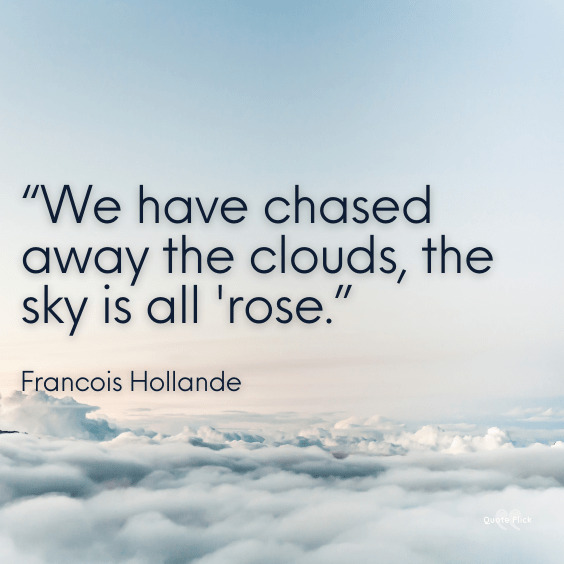 29. "The clouds, – the only birds that never sleep." – Victor Hugo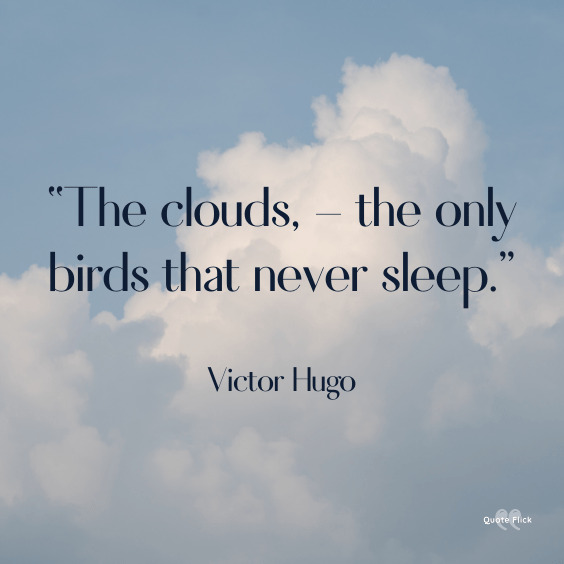 30. "If clouds are blocking the sun, there will always be a silver lining that reminds me to keep on trying." – Matthew Quick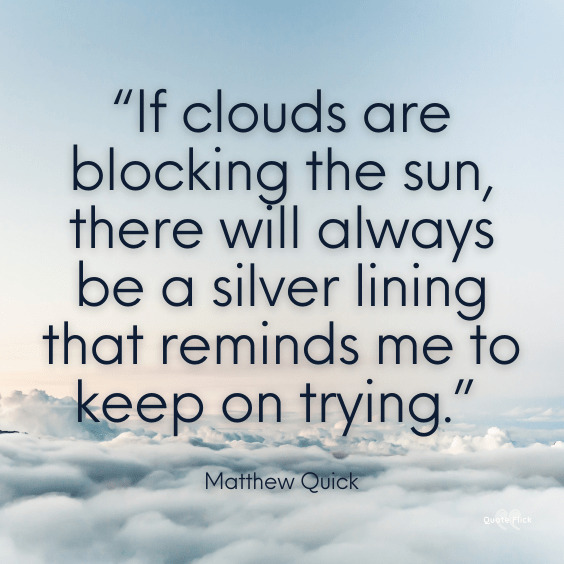 Next: Wind Quotes
31. "The cloud never comes from the quarter of the horizon from which we watch for it." – Elizabeth Gaskell
32. "Clouds signify the veil of the most high." – Honore de Balzac
33. "Even when clouds grow thick, the sun still pours its light earthward." – Mark Nepo
34. "Clouds come floating into my life, no longer to carry rain or usher storm, but to add color to my sunset sky." – Rabindranath Tagore
35. "Above the cloud with its shadow is the star with its light. Above all things reverence thyself." – Pythagoras
36. "Feelings come and go like clouds in a windy sky. Conscious breathing is my anchor." – Nhat Hanh
37. "Clouds float in the same pattern only once." – Wayne Shorter
38. "Clouds are on top for a reason. They float so high because they refuse to carry any burden!" – Jasleen Kaur Gumber
39. "Watch the clouds. They will teach you about the world of form." – Eckhart Tolle
40. "Look for the Sunlight through the Clouds." – Gordon B. Hinckley
41. "We all should rise, above the clouds of ignorance, narrowness, and selfishness." – Booker T. Washington
42. "The sun always shines above the clouds." – Unknown
43. "Kindred objects kindred thoughts inspire, As summer clouds flash forth electric fire." – Samuel Rogers
44. "When I do not walk in the clouds I walk as though I were lost." – Antonio Porchia
45. "Dark clouds become heaven's flowers when kissed by light." – Rabindranath Tagore
46. "Dark clouds become heaven's flowers when kissed by light." ― Rabindranath Tagore
47. "Why do I love clouds? Because you can't save a cloud like you can save a leaf or a flower or a rock – clouds are now." – Terri Guillemets
48. "Clouds come floating into my life, no longer to carry rain or usher storm, but to add color to my sunset sky." – Rabindranath Tagore
49. "My experiences remind me that it's those black clouds that make the blue skies even more beautiful." – Kelly Clarkson
50. "Happiness and sorrow are twins, let them come and go like clouds." – Yogaswami
51. "Behind every dark cloud there is an every-shining sun. Just wait. In time, the cloud will pass." – Marianne Williamson
52. "I live there…Far above the song-filled clouds, where the dewdrops touch my skin so bareI live there." – Sanober Khan
53. "A cloudy day is no match for a sunny disposition." – William Arthur Ward
54. "Happiness is like a cloud, staying up there whether rain or shine." – Unknown
55. "There is divinity in the clouds." – Lailah Gifty Akita
56. "The sky, a perfect empty canvas, offers clouds nonetheless. They shift and drift and beg interpretation… such is the nature of art." – Jeb Dickerson
57. "You must not blame me if I do talk to the clouds." – Henry Thoreau
58. "We have chased away the clouds, the sky is all 'rose." – Francois Hollande
59. "The clouds, – the only birds that never sleep." – Victor Hugo
60. "If clouds are blocking the sun, there will always be a silver lining that reminds me to keep on trying." – Matthew Quick
61. "Who cares about the clouds when we're together? Just sing a song and bring the sunny weather." Dale Evans
62. "Clouds are like boogers hanging on the nostrils of the moon." – Robin Williams
63. "He has his head in the clouds. He must live in a skyscraper." – Ljupka Cvetanova
64. "I can be jubilant one moment and pensive the next, and a cloud could go by and make that happen." – Bob Dylan
65. "The sun always shines above the clouds." –  Paul F. Davis
66. "A Dream is where a boy can swim in the deepest oceans and fly over the highest clouds." – J. K. Rowling
67. "Try to be a rainbow in someone's cloud." – Maya Angelou
68. "All of us have a place in history. Mine is clouds." – Richard Broutigan
69. "The sun always shines above the clouds." – Paul F. Davis
70. "God writes the Gospel not in the Bible alone, but also on trees, and in the flowers and clouds and stars." – Martin Luther
71. "Yesterday I inhaled a cloud, and immediately my eyes started raining." – Jarod Kintz
72. "God is a cloud from which rain fell." – Dejan Stojanovic
73. "There are no rules of architecture for a castle in the clouds." – Gilbert K. Chesterton
74. "Clouds are fascinating to paint because they are the only element in a landscape that possesses free movement." – John F. Carlson
75. "Behind every cloud is another cloud." – Judy Garland
76. "You are the sky. The clouds are what happens, what comes and goes." – Eckhart Tolle
77. "Who can leap the world's ties and sit with me among white clouds?"- Jack Kerouac
78. "Clouds on clouds, in volumes driven, curtain round the vault of heaven." – Thomas Love Peacock
79. "Clouds are no deterrent. Clouds intensify the drama, trap and shape the light." – Don DeLillo
80. "Clouds can never hide the sun forever; so don't complain about clouds but never forget to welcome the sun." – Debasish Mridha
81. "A cloudless plain blue sky is like a flowerless garden." – Terri Guillemets