If you're searching for words of wisdom about the wonderful art of cooking, look no further! These 45 cooking quotes and sayings are just what you need to feel inspired in the kitchen.
Pouring your heart and soul into creating a mouth-watering meal made from delicious ingredients brings so much joy! Cooking is like therapy – it's that sacred time in the kitchen, when the air is filled with divine smells, and culinary creations are shared with the people you love.
For more food for thought, read on to discover quotes about cooking from the heart by famous chefs, cooks, and inspirational people. Enjoy!
Cooking Quotes
1. "Real cooking is more about following your heart than following recipes." – Unknown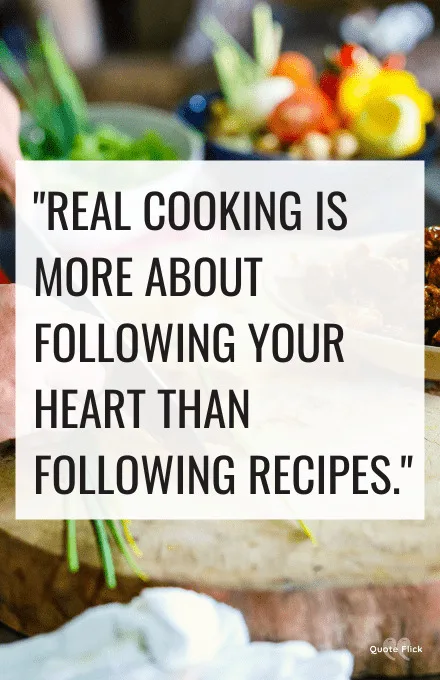 2. "No one is born a great cook, one learns by doing." – Julia Child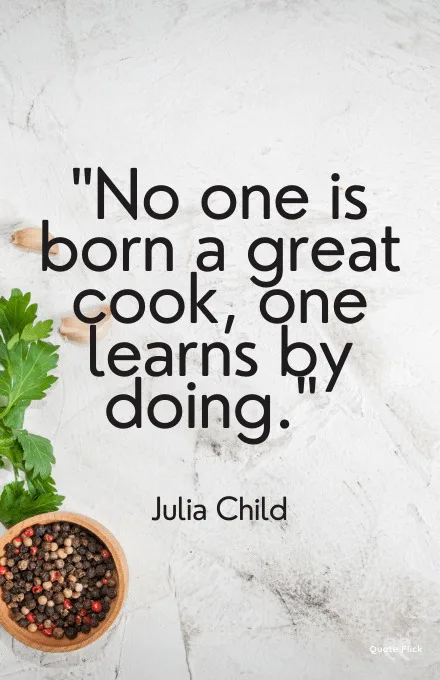 3. "Cooking is about passion, so it may look slightly temperamental in a way that it's too assertive to the naked eye." – Gordon Ramsay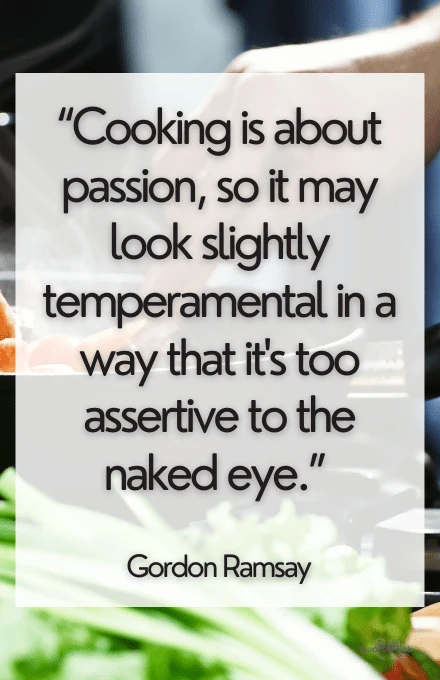 4. "Cooking is like snow skiing: If you don't fall at least 10 times, then you're not skiing hard enough." Guy Fieri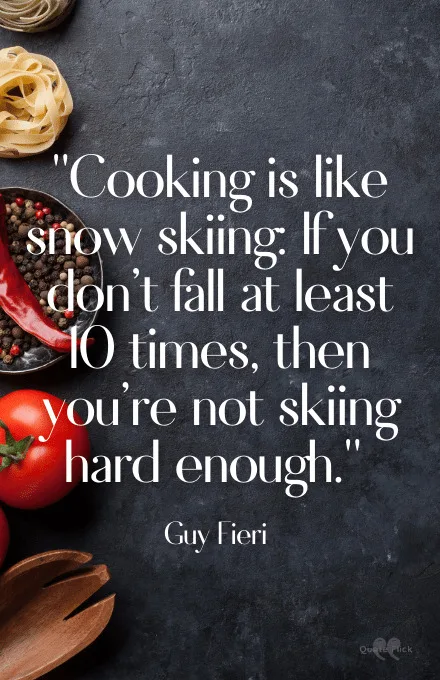 5. "You don't come into cooking to get rich." – Gordon Ramsay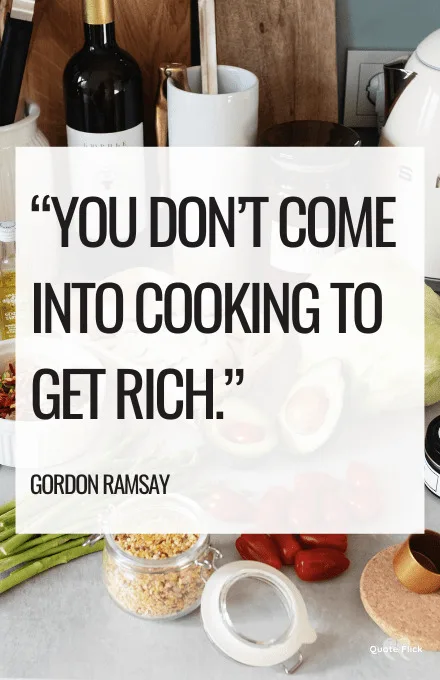 You Might Also Like:
6. "I love cooking. Not for myself alone. Cooking is about giving." – Christine Lagarde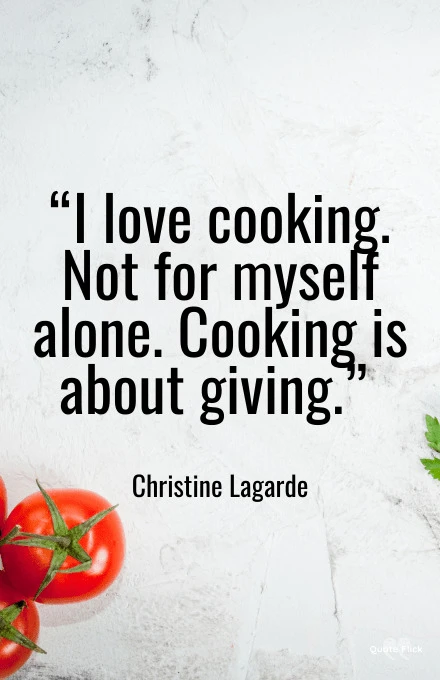 7. "Cooking is like love. It should be entered into with abandon or not at all." – Harriet Van Horne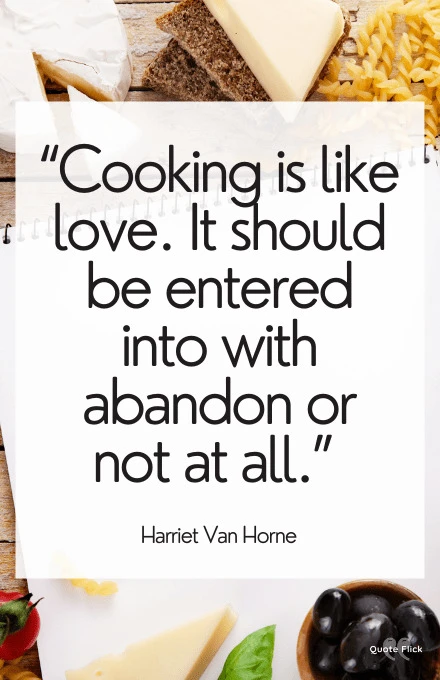 8. "For me, cooking is very connected to my family and friends" – Trisha Yearwood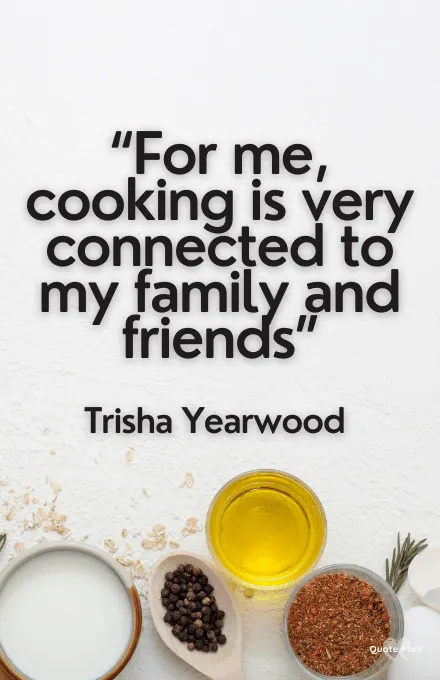 9. "Cooking is the art of adjustment." – Jacques Pepin
10. "I don't like gourmet cooking or this cooking or that cooking. I like good cooking" – James Beard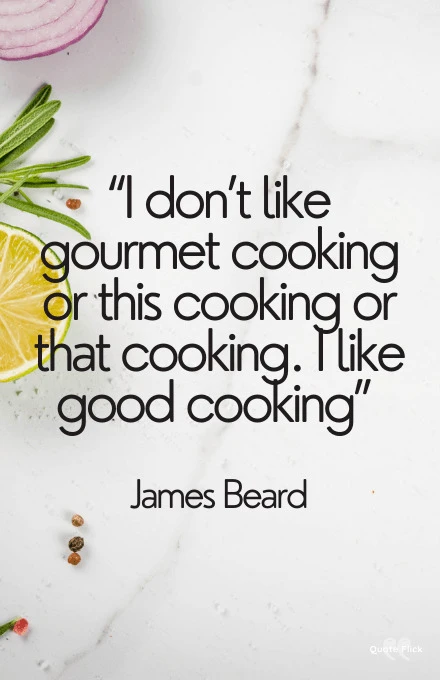 You Might Also Like:
11. "Cooking done with care is an act of love." – Craig Claiborne
12. "If you're not the one cooking, stay out of the way and compliment the chef." – Michael Strahan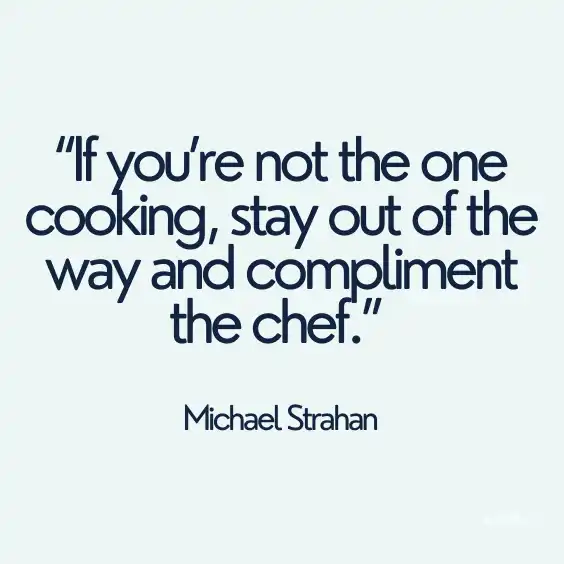 13. "I lived my whole life in the kitchen. Not only that, but it's the passion, it's the love for cooking and food. It's dictated my entire life – every aspect of it." – Grant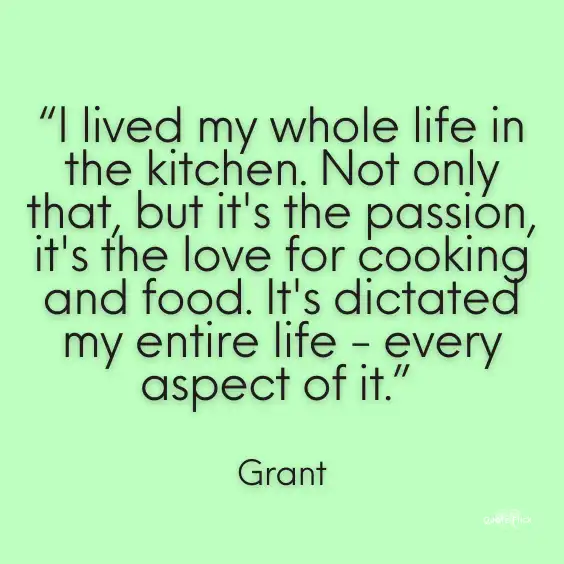 14. "In cooking, as in all the arts, simplicity is the sign of perfection." – Curnonsky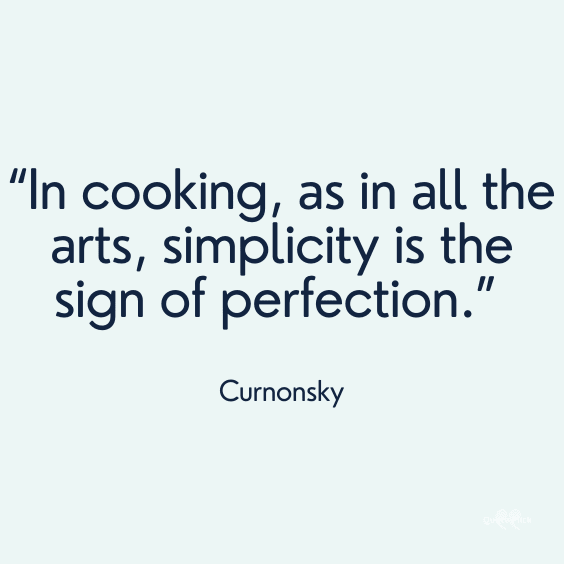 15. "Cooking is like making love, you do it well, or you do not do it at all." – Harriet Van Horne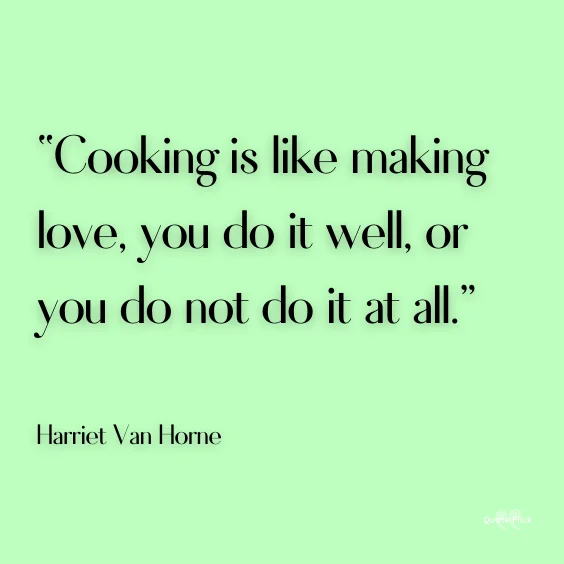 16. "A recipe has no soul. You, as the cook, must bring soul to the recipe." – Thomas Keller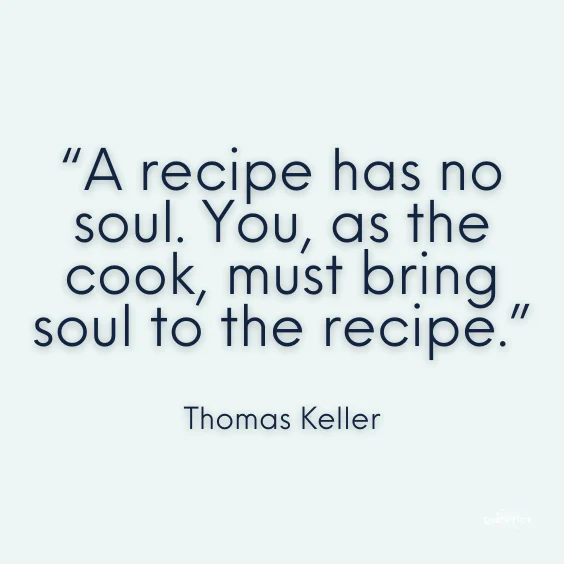 17. "Oh, I adore to cook. It makes me feel so mindless in a worthwhile way." – Truman Capote
18. "The most indispensable ingredient of all good home cooking: love for those you are cooking for" – Sophia Loren
19. "Cooking is the most succulent of human pleasures." – Sylvia Townsend Warner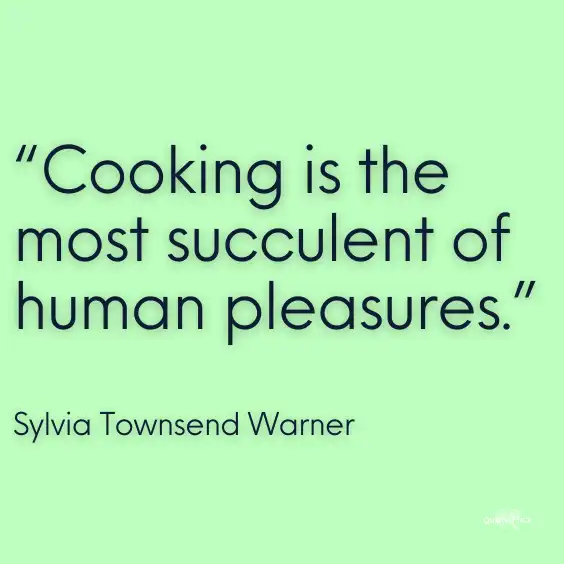 20. "Approach love and cooking with reckless abandon." – H. Jackson Brown
21. "Cookery is become an art, a noble science; cooks are gentlemen." – Robert Burton
22. "Cooking is great, but the meal that has been prepared for you with love is the best." – Stephen Richards
23. "Cooking certain dishes, like roast pork, reminds me of my mother." – Maya Angelou
24. "Cooking is like love. It should be entered into with abandon or not at all." – Harriet Van Horne
25. "I feel a recipe is only a theme, which an intelligent cook can play each time with a variation." – Madam Benoit
26. "I will pursue my passion of cooking every day until my hands fall off and I lose all sense of smell and taste." – Nicole Trunfio
27. "The history of cooking is my passion, and cooking is my passion." – José Andrés
28. "I still love football, though, and I think cooking is like football. It's not a job, it's a passion. When you become good at it, it's a dream job and financially you need never to worry. Ever." – Gordon Ramsay
29. "In the abstract art of cooking, ingredients trump appliances, passion supersedes expertise, creativity triumphs over technique, spontaneity inspires invention, and wine makes even the worst culinary disaster taste delicious." – Bob Blumer
30. "Cooking is like painting or writing a song. Just as there are only so many notes or colors, there are only so many flavors – it's how you combine them that sets you apart." – Wolfgang Puck
31. "Cooking with kids is not just about ingredients, recipes, and cooking. It's about harnessing imagination, empowerment, and creativity." – Guy Fieri
32. "What my mother believed about cooking is that if you worked hard and prospered, someone else would do it for you" – Nora Ephron
33. "You don't need a silver fork to eat good food." – Paul Prudhomme
34. "In the childhood memories of every good cook, there's a large kitchen, a warm stove, a simmering pot and a mom."– Barbara Costikyan
35. "Tomatoes and oregano make it Italian, wine and tarragon make it French, sour cream makes it Russian, lemon and cinnamon make it Greek, soy sauce makes it Chinese, garlic makes it good." – Alice May Brock
36. "Cooking and shopping for food brings rhythm and meaning to our lives." – Alice Waters
37. "A recipe has no soul. You, as the cook, must bring soul to the recipe." – Thomas Keller
38. "One cannot think well, love well, sleep well if one has not dined well." – Virginia Woolf
39. "We all eat, and it would be a sad waste of opportunity to eat badly." – Anna Thomas
40. "The greatest dishes are very simple." – Auguste Escoffier
41. "Cooking demands attention, patience, and, above all, a respect for the gifts of the earth." – Judith B Jones
42. "Cooking is at once one of the simplest and most gratifying of the arts, but to cook well, one must love and respect food." – Craig Claiborne
43. "Kitchens are hard environments and they form incredibly strong characters." – Gordon Ramsay
44. "The discovery of a new dish does more for the happiness of mankind than the discovery of a star." – Anthelme Brillat-Savarin
45. "Tis an ill cook that cannot lick his own fingers." – William Shakespeare