Are you looking for words to help motivate you and take a leap of faith outside of your comfort zone? If you're looking for some great quotes about courage, you've come to the right place!
Read on to discover how being brave and standing up for what you believe can transform your life. Afterall, they say that life begins on the other side of fear! We're certain these messages and phrases will uplift and inspire you.
Please share your favorite image with your loved ones or on Pinterest!
Courage Quotes
1. "Courage is doing what you're afraid to do. There can be no courage unless you're scared" – Eddie Rickenbacker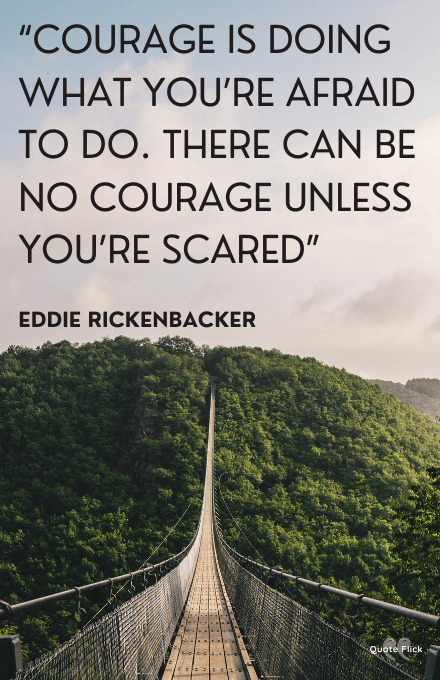 2. "Courage is to never let your actions be influenced by your fears" – Arthur Koestler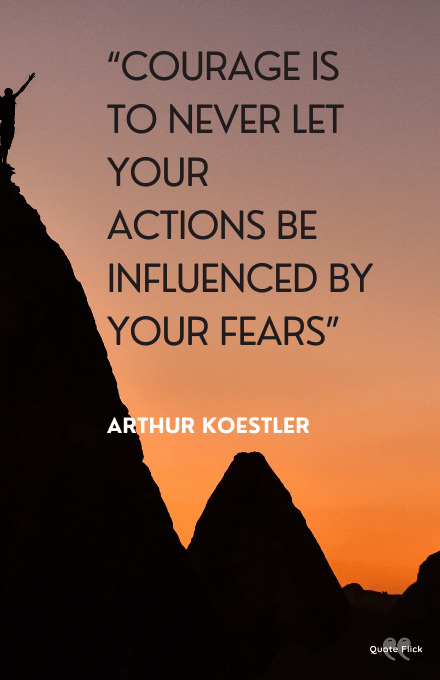 3. "Courage is the price that life exacts for granting peace."- Amelia Earhart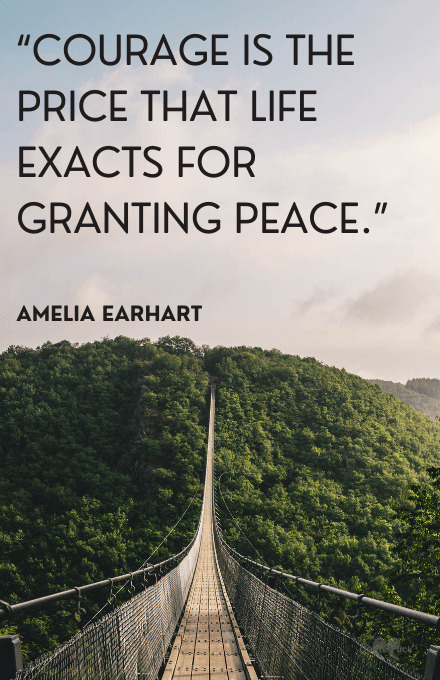 4. "Life shrinks or expands in proportion to one's courage."- Anais Nin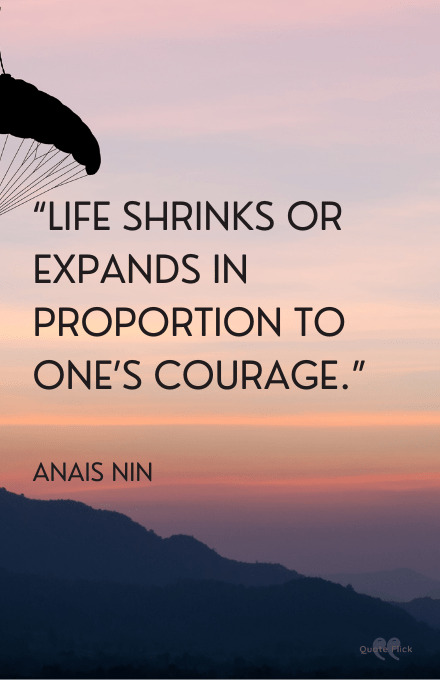 5. "Man cannot discover new oceans unless he has the courage to lose sight of the shore."- Andre Gide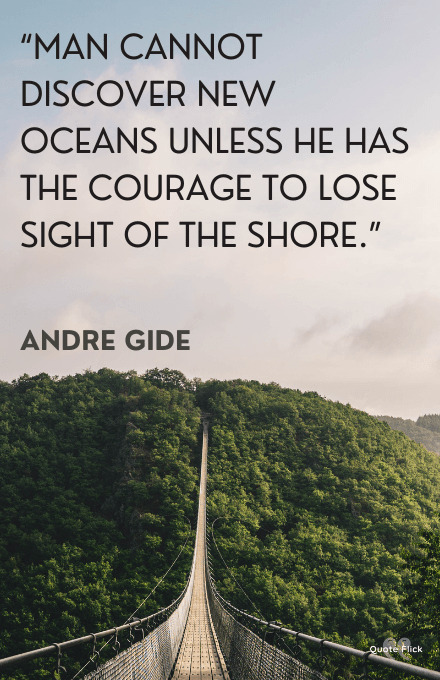 You Might Also Like:
6. "He who is not courageous enough to take risks will accomplish nothing in life" – Muhammad Ali
7. "Courage is grace under pressure." – Ernest Hemingway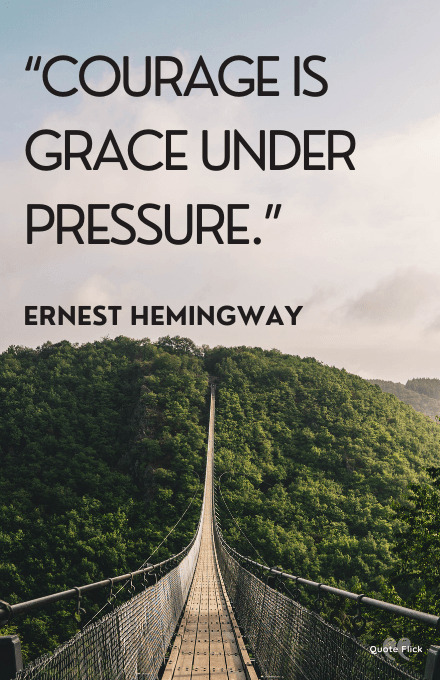 8. "Courage is resistance to fear, mastery of fear; not the absence of fear" – Mark Twain
9. "Courage has the hands to help you fight your fears." – Matshona Dhliwayo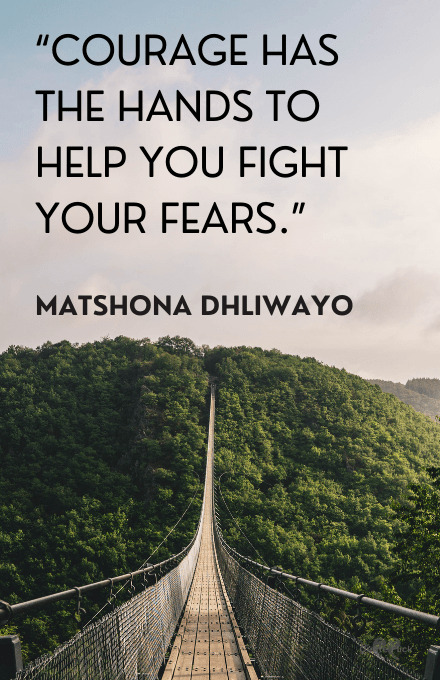 10. "Courage isn't having the strength to go on – it is going on when you don't have strength" – Napoléon Bonaparte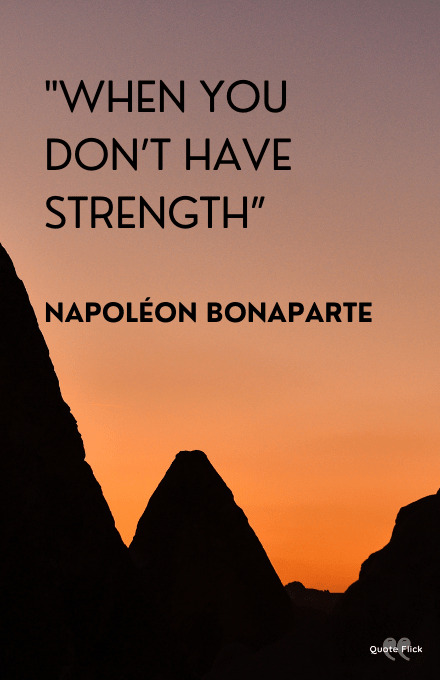 Enjoying these quotes? Read Quotes To Live By
11. "Real courage is when you know you're licked before you begin, but you begin anyway and see it through no matter what." – Harper Lee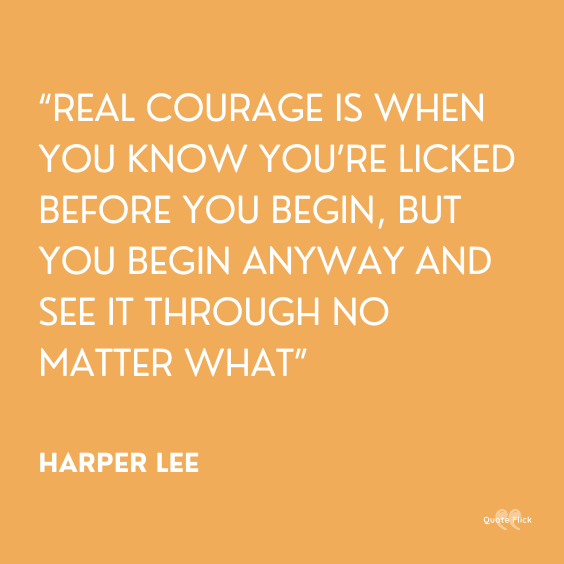 12. "Courage is not having the strength to go on; it is going on when you don't have the strength" – Teddy Roosevelt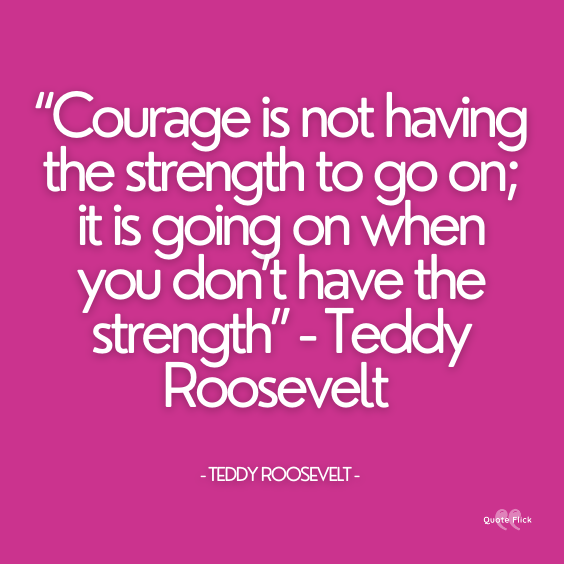 13. "Twenty years from now, you will be more disappointed by the things that you didn't do than by the ones you did do. So, throw off the bowlines. Sail away from the safe harbor. Catch the trade winds in your sails. Explore. Dream. Discover." – Mark Twain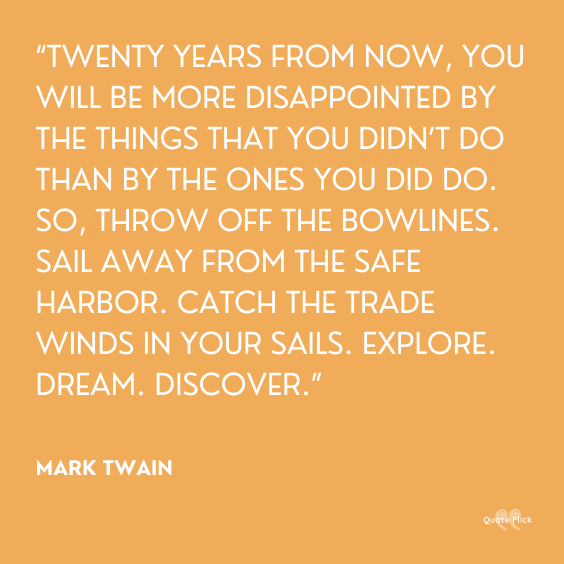 14. "Men make history and not the other way around. In periods where there is no leadership, society stands still. Progress occurs when courageous, skillful leaders seize the opportunity to change things for the better" – Harry S. Truman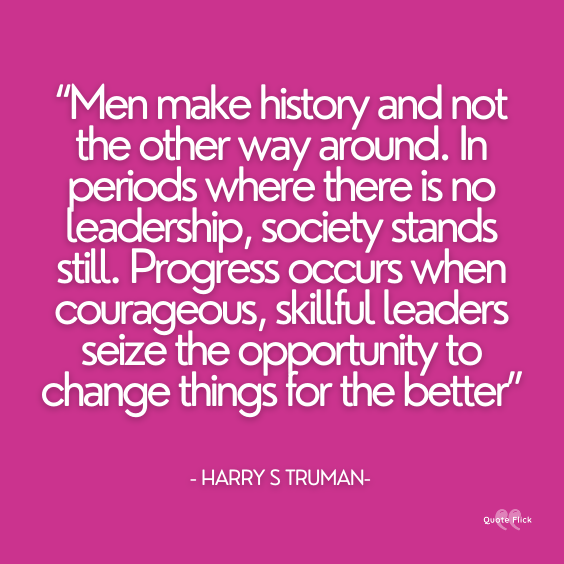 15. "Without courage, wisdom bears no fruit." – Baltasar Gracian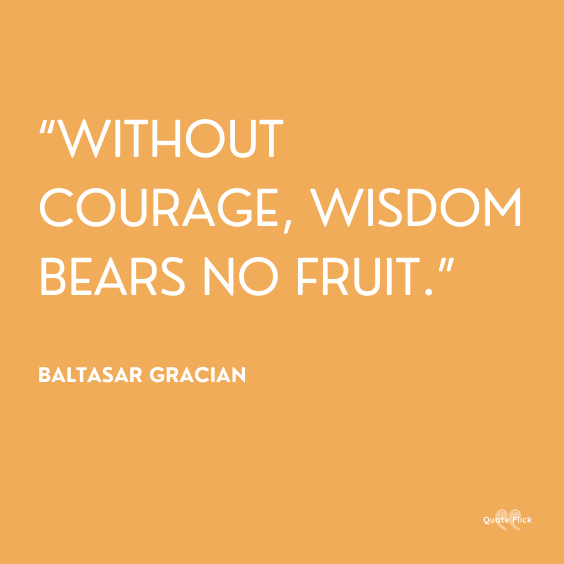 16. "The courage to be is the courage to accept oneself, despite being unacceptable." – Paul Tillich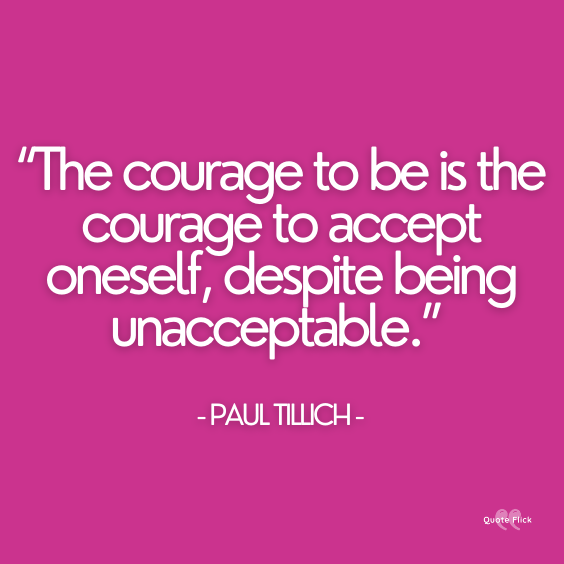 17. "The secret to happiness is freedom… And the secret to freedom is courage." –  Thucydides
18. "Be brave to stand for what you believe in even if you stand alone." – Roy T. Bennett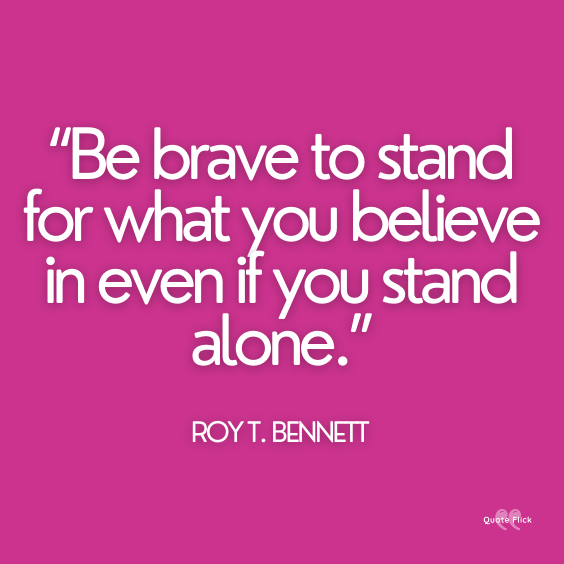 19. "Courage is what it takes to stand up and speak; courage is also what it takes to sit down and listen." – Winston Churchill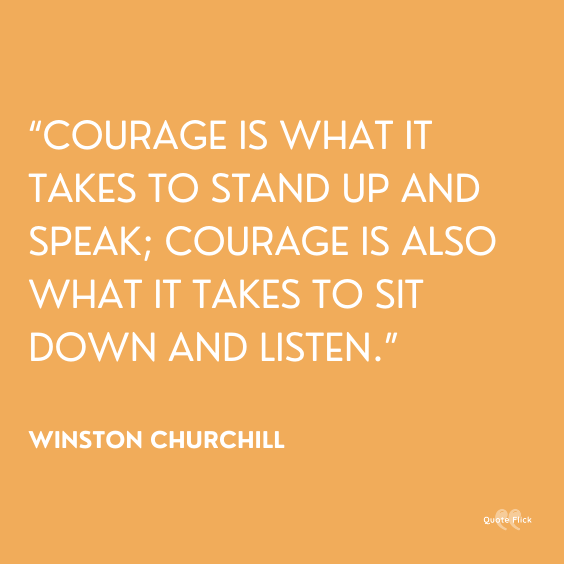 When things in your life change, you may need extra courage – check out our Quotes About Change to help you through.
20. "Being deeply loved by someone gives you strength while loving someone deeply gives you courage." – Lao Tzu
21. "Courage is the most important of all the virtues because, without courage, you can't practice any other virtue consistently." – Maya Angelou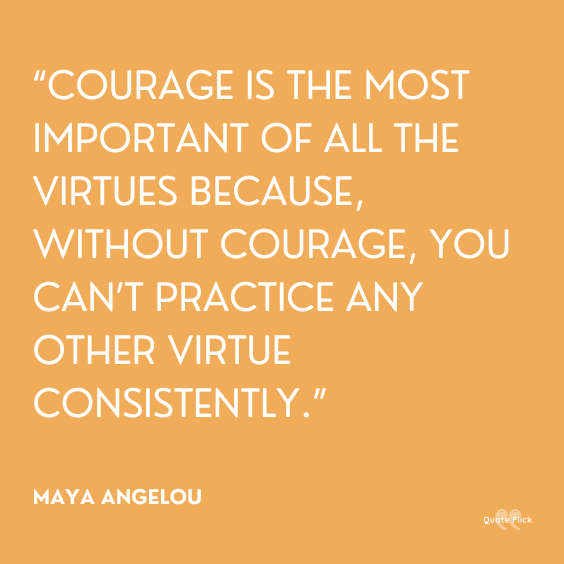 22. "At least three times every day take a moment and ask yourself what is important. Have the wisdom and the courage to build your life around your answer." –  Lee Jampolsky
23. "Success is not final, failure is not fatal: it is the courage to continue that counts." – Winston Churchill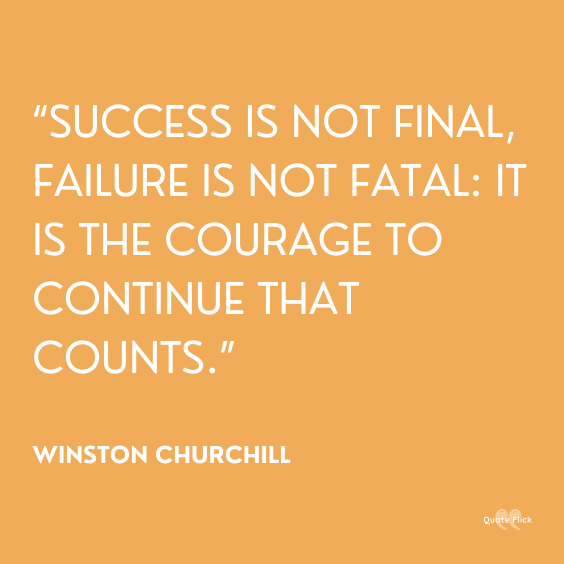 24. "It takes a great deal of bravery to stand up to our enemies, but just as much to stand up to our friends." – J.K. Rowling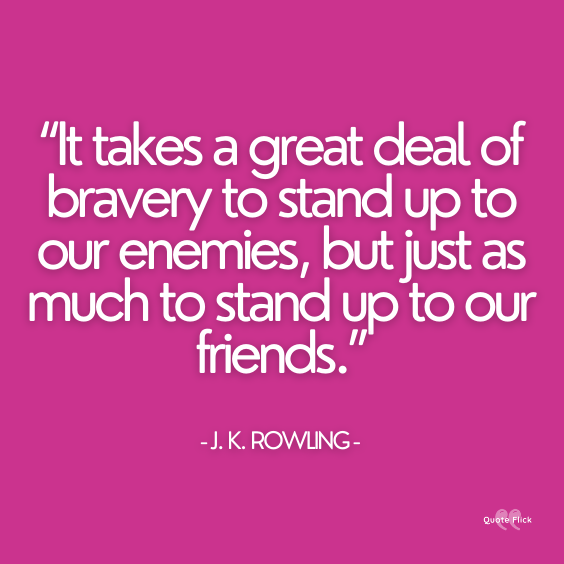 25. "Never bend your head. Always hold it high. Look the world straight in the eye." – Helen Keller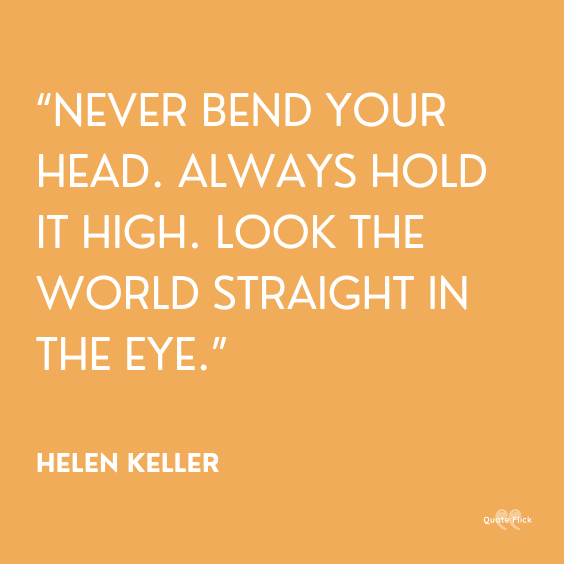 26. "People say to me all the time, 'You have no fear.' I tell them, 'No, that's not true. I'm scared all the time. You have to have fear in order to have courage. I'm a courageous person because I'm a scared person." – Ronda Rousey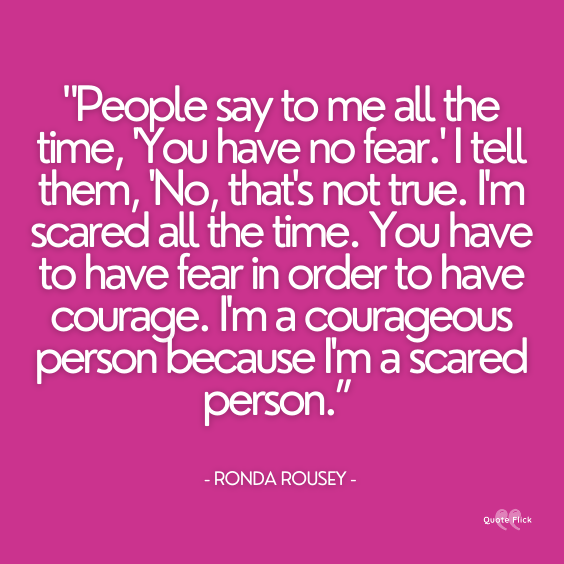 27. "Only be you strong, and very courageous, then you will make your way prosperous, and then you will have good success." – Joshua 1:7-8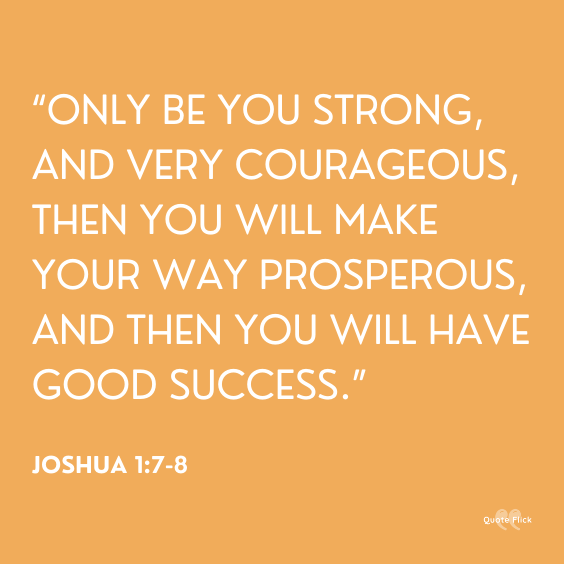 28. "Everyone has talent. What is rare is the courage to follow the talent to the dark place where it leads." – Erica Jong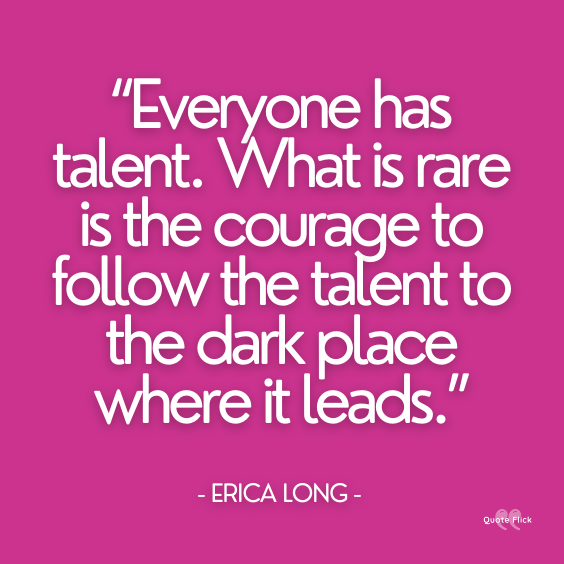 29. "Jump, and you will find out how to unfold your wings as you fall." – Ray Bradbury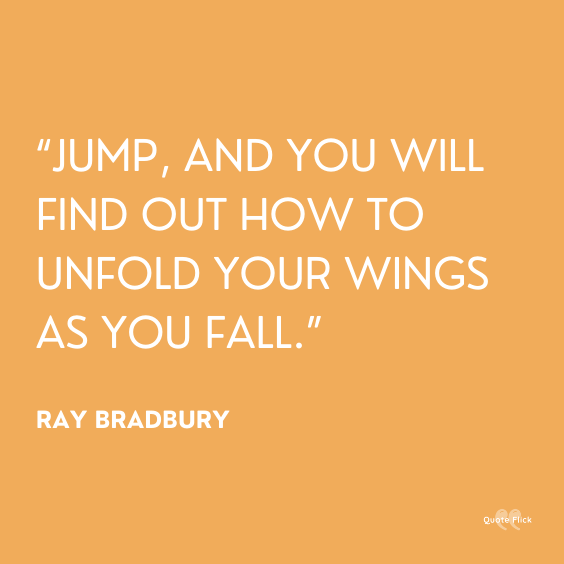 30. "It's okay to feel scared, at times. Just make sure that your courage is stronger than your fear." –Tarang Sinha
Have you seen our Do It Now Quotes? Also, if our quote collection making you feel courageous, check out Lead By Example Quotes and teach others to do the same!
31. "The most courageous act is still to think for yourself. Aloud." – Coco Chanel
32. "Courage results when one's convictions are bigger than one's fear" – Orrin Woodward
33. "It takes courage to grow up and become who you really are." – E.E. Cummings
34. "Inaction breeds doubt and fear. Action breeds confidence and courage. If you want to conquer fear, do not sit home and think about it. Go out and get busy." – Dale Carnegie
35. "Either you decide to stay in the shallow end of the pool or you go out in the ocean" – Christopher Reeve
36. "The greatest test of courage on the earth is to bear defeat without losing heart." – R. G. Ingersoll
37. "Courageous people do not fear forgiving, for the sake of peace." – Nelson Mandela
38. "I nodded, pretending to be a hundred times more courageous than I felt. But that was the thing about courage. Sometimes you had to fake it to feel it." –  Lisa Tawn Bergren
39. "We have a powerful potential in our youth, and we must have the courage to change old ideas and practices so that we may direct their power toward good ends." – Mary McLeod Bethune
40. "Self-validation is an art of self-discovery with courage." – Prashant Tajane
41. "Each smallest act of kindness, reverberates across great distances and spans of time –affecting lives unknown to the one whose generous spirit, was the source of this good echo. Because kindness is passed on and grows each time it's passed until a simple courtesy becomes an act of selfless courage, years later, and far away. Likewise, each small meanness, each expression of hatred, each act of evil." – Dean Koontz
42. "It's better to cross the line and suffer the consequences than to just stare at the line for the rest of your life." – Paulo Coelho
43. "You have to really be courageous about your instincts and your ideas. Otherwise, you'll just knuckle under, and things that might have been memorable will be lost. – Francis Ford Coppola
44. "If you fail anywhere along the line, it will take away your confidence. You must make yourself succeed every time. You must do the thing you think you cannot do." – Eleanor Roosevelt
45. "It takes a lot of courage to show your dreams to someone else." – Erma Bombeck
46. "The opposite of courage is not cowardice, it is conformity. Even a dead fish can go with the flow." – Jim Hightower
47. "A better future is forged by people of courage, determination, and persistence; not by those who wait for the government to create jobs and provide houses and transport and all the other essentials for modern living." – Nicky Verd
48. "Remember that when you leave this earth, you can take with you nothing that you have received – only what you have given: a full heart, enriched by honest service, love, sacrifice and courage." – Francis of Assisi
49. "Bran thought about it. 'Can a man still be brave if he's afraid?' 'That is the only time a man can be brave,' his father told him." – George R.R. Martin
50. "It is not the strength of the body that counts, but the strength of the spirit." – J.R.R. Tolkien
51. "I'm grateful to God for His bountiful gifts… He gave me courage and faith in myself" – Loretta Young
52. "I love the man that can smile in trouble, that can gather strength from distress, and grow brave by reflections." – Thomas Paine
53. "Courage is looking fear right in the eye and saying, 'Get the hell out of my way, I've got things to do." – Unknown
54. "It takes a lot of courage to release the familiar and seemingly secure, to embrace the new. But there is no real security in what is no longer meaningful. There is more security in the adventurous and exciting, for in movement there is life, and in change there is power." – Alan Cohen
55. "Tough change leaders remain immovable in times of intense pressure. They are resilient, not giving up hope in the presence of adversity." – Dele Ola
56. "You will never do anything in this world without courage. It is the greatest quality of the mind next to honor." – Aristotle
57. "Above all, be the heroine of your life, not the victim." – Nora Ephron
58. "Courage isn't absence of fear, it is the awareness that something else is important" – The 7 Habits of Highly Effective People
59. "It is better to be hated for what you are than to be loved for what you are not." – André Gide
60. "Bravery is a complicated thing to describe. You can't say it's three feet long and two feet wide and that it weighs four hundred pounds or that it's colored bright blue or that it sounds like a piano or that it smells like roses. It's a quality, not a thing." – Mickey Mantle
61. "If you could get up the courage to begin, you dare to succeed." – David Viscott
62. "If you are lucky enough to find a way of life you love, you have to find the courage to live it." – John Irving
63. "Fate loves the fearless – especially with pesto." – John Alejandro King
64. "Sometimes, making the wrong choice is better than making no choice. You have the courage to go forward, that is rare. A person who stands at the fork, unable to pick, will never get anywhere." – Terry Goodkind
65. "There is a stubbornness about me that never can bear to be frightened at the will of others. My courage always rises at every attempt to intimidate me." – Jane Austen
66. "The only courage that matters is the kind that gets you from one moment to the next" – Mignon McLaughlin
67. "Have the courage to be who you are, not what people expect you to be." – David Goggins
68. "Failure is unimportant. It takes courage to make a fool of yourself." –  Charlie Chaplin
69. "Fight hard when you are down; die hard—determine at least to do—and you won't die at all." – James H. West
70. "You can have the courage to climb the mountain, swim the lakes, go on a raft to the other side of the Atlantic or Pacific. That, any fool can do, but the courage to be on your own, to stand on your two solid feet, is something which cannot be given by somebody." – U.G. Krishnamurti
71. "And even feigned, courage is a lifeline." – Ivy G. Shadrick
72. "I learned that courage was not the absence of fear, but the triumph over it. The brave man is not he who does not feel afraid, but he who conquers that fear." – Nelson Mandela
73. "Scared is what you're feeling. Brave is what you're doing." – Emma Donoghue
74. "When you pass through the waters, I will be with you; and through the rivers, they shall not overwhelm you; when you walk through fire you shall not be burned, and the flame shall not consume you." – Isaiah 43:2
75. "People with courage and character always seem sinister to the rest." –  Hermann Hesse
76. "Courage is not limited to the battlefield or the Indianapolis 500 or bravely catching a thief in your house. The real tests of courage are much quieter. They are the inner tests, like remaining faithful when nobody's looking, like enduring pain when the room is empty, like standing alone when you're misunderstood." – Charles Swindoll
77. "Be strong now because things will get better. It might be stormy now but it can't rain forever." – Hailee
78. "Bravery is being the only one who knows you're afraid." – Franklin P. Jones
79. "Tell a determined woman that she can't or that she won't. And she'll show you that she can and that she will." –  Mitta Xinindlu
80. "I'll repeat something you might consider tattooing on your forehead: What we fear doing most is usually what we most need to do." –Tim Ferriss
81. "Courage is found in unlikely places." – J.R.R. Tolkien
82. "To be courageous is to do what's right even in the face of impossible odds" – David Litwack
83. "Be strong, and let your heart take courage, all you who wait for the LORD!" – Psalm 31:24
84. "It is only necessary to have courage, for strength without self-confidence is useless." – Giacomo Casanova
85. "Never let the fear of striking out get in your way." – Babe Ruth
86. "Nothing is always there. Not courage, not joy, not hate or hope, or anything else. We find courage, lose it, sometimes misplace it for years, and sometimes live in its grace for a while." – Jonathan Mayberry
87. "Courage is not simply one of the virtues, but the form of every virtue at the testing point." – C. S. Lewis
88. "My unwavering courage, strength and gratitude shows me the path of my desired life." – Purvi Raniga
89. "The secret of freedom, courage." – Thucydides
90. "All happiness depends on courage and work." – Honoré de Balzac