These 40 quotes about coworkers show us that when most of your adult life is spent in a workplace, friendship amongst colleagues makes a happier experience. Some of us see our coworkers as a family; this is a fantastic experience. Enjoy these quotations, sayings, and phrases about your awesome colleagues!
These incredible quotes about work-family will be sure to make everyone in the office smile. Simply choose your favorite colleague quotes from the list and share them with your group!
Teamwork really does make the dream work and so if you are lucky to have office friends that you have formed a connection with, then embrace it and share the love! Why not email your favorite coworker quotes around the office and cheer your colleagues up!
Quotes About Coworkers
1. "What I love most about my job is my amazing coworkers." – Unknown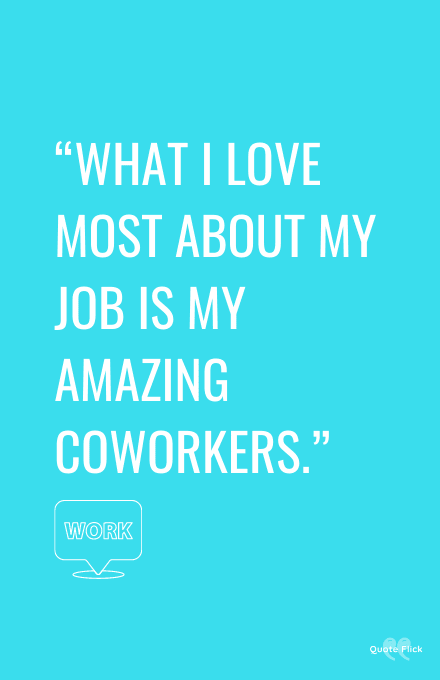 2. "Less of a coworker, more of a friend; you are the reason I love coming to work every day." – Unknown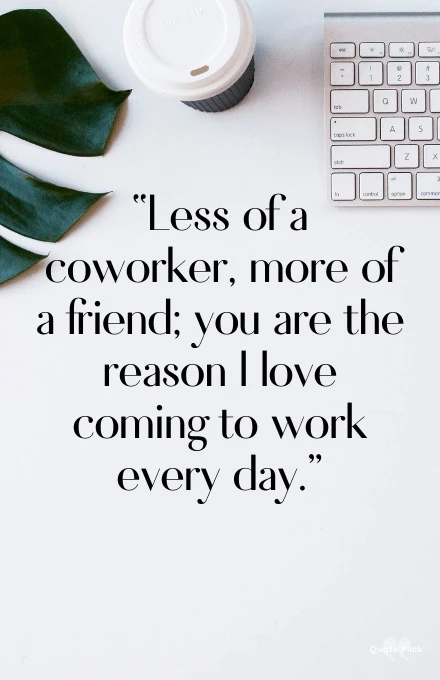 3. "Motivation comes from working on things we care about. It also comes from working with people we care about." – Sheryl Sandberg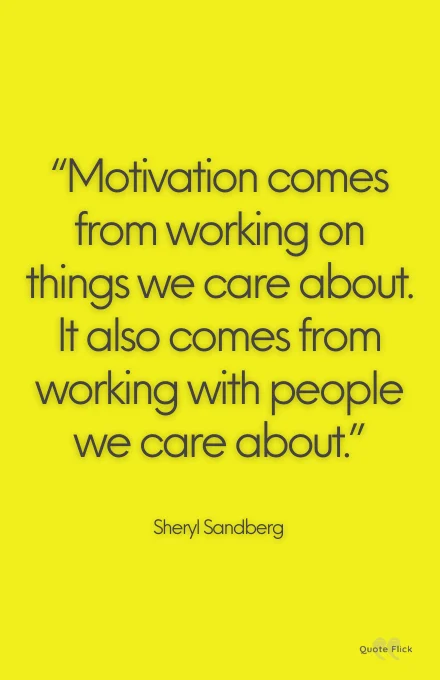 4. "Chance made us colleagues. Fun and laughter made us friends."- Unknown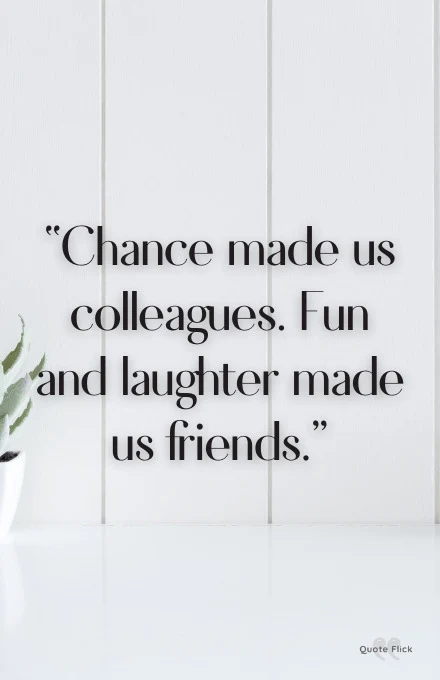 5. "The only thing good about my job is my coworkers." – Unknown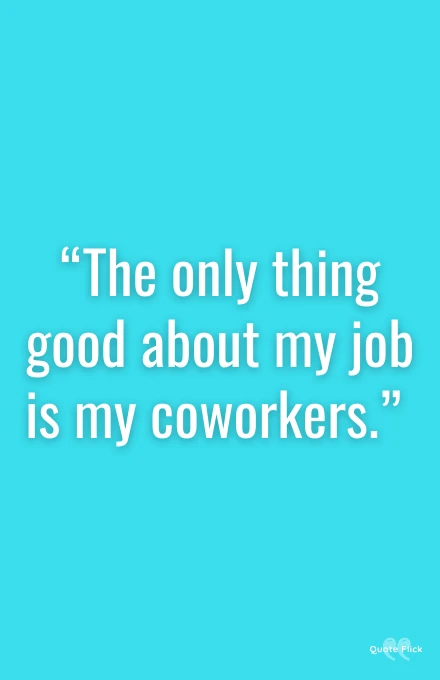 6. "When I speak with people who love their jobs and have vital friendships at work, they always talk about how their workgroup is like a family." – Tom Rath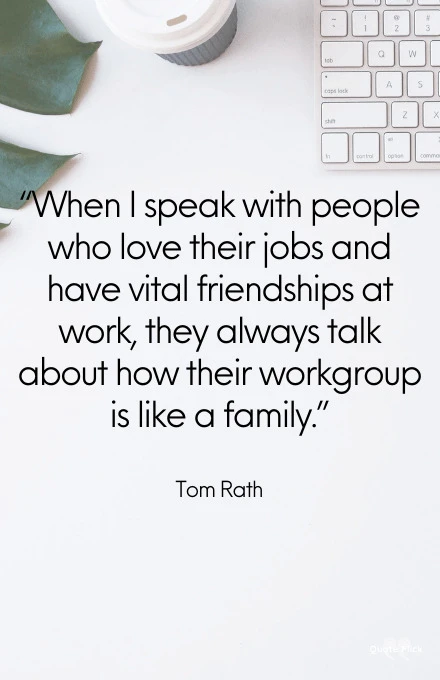 7. "I don't see any of my colleagues as rivals. I don't think our generation needs to do that. We are a chilled out lot, and we should all be happy." – Shahid Kapoor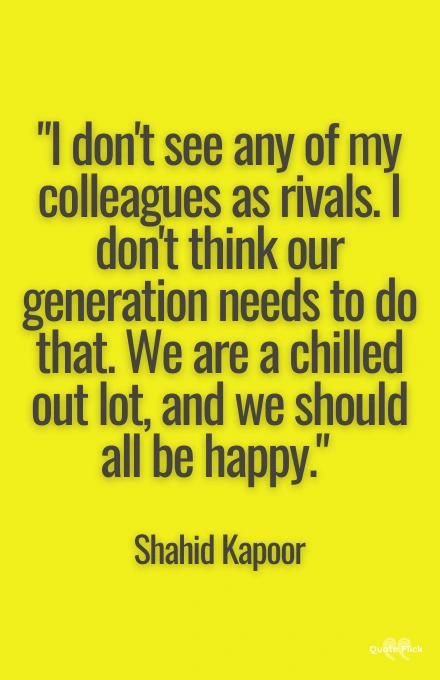 8. "Less like a colleague, more like a friend." – Unknown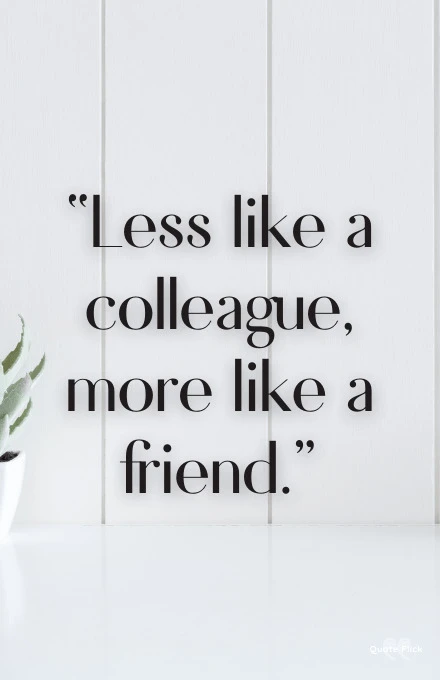 9. "What I love most about my work is my work friends — they are the bomb!" – Unknown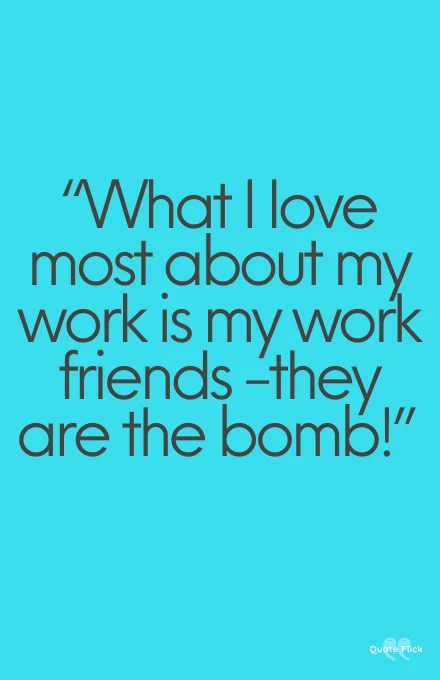 10. "I love my coworkers more than I love my job." – Unknown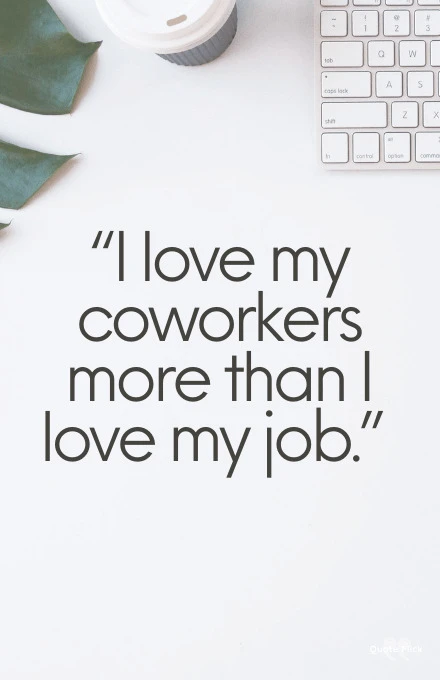 Take a look at Work Ethic Quotes and Teamwork Quotes
11. "I wish we worked together so we could hate the same coworkers." – Unknown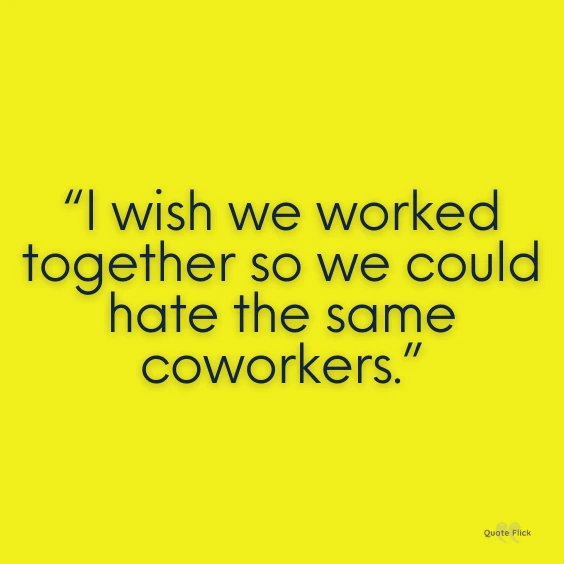 12. "People are more likely to remember the great social interaction they had with a colleague than the great meeting they both attended." – Ron Garan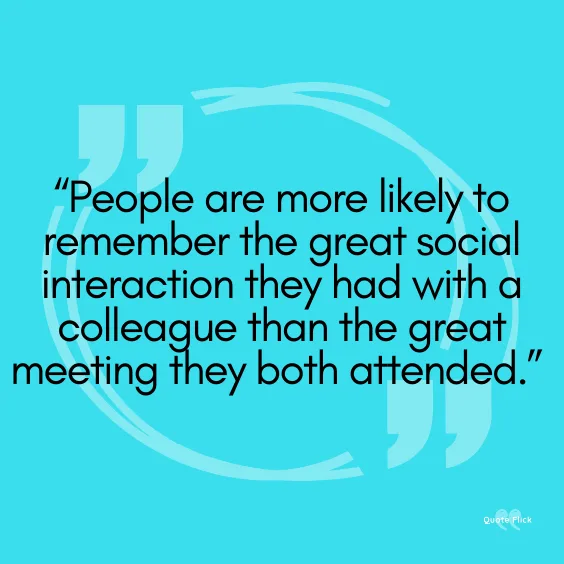 13. "I never face Monday morning blues because of fun colleagues like you. Thank you!" – Unknown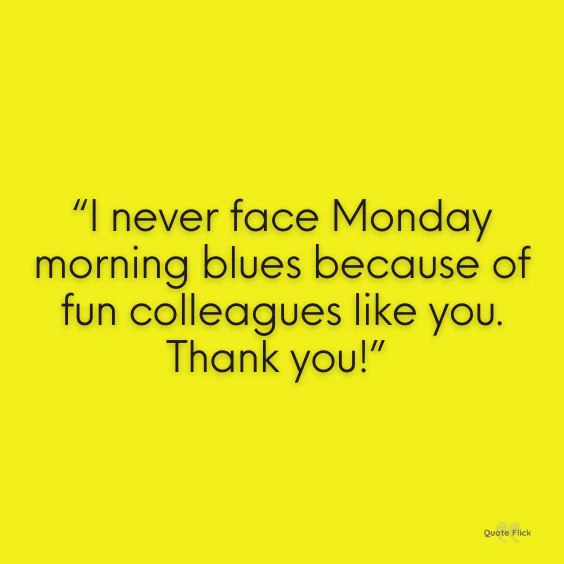 Trying to break the ice with a new co-worker? Check out these topics to talk about to start incredible conversations!
14. "The best coworker is a friend, a teammate, a sounding board and a shoulder to cry on." – Unknown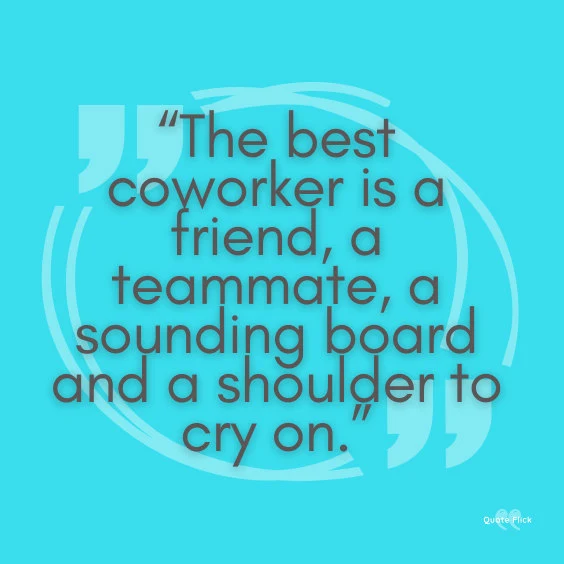 15. "Nothing is better than having a great friend to work with, so you can vent to each other to make the day go faster." – Unknown
Next: Value of Time Quotes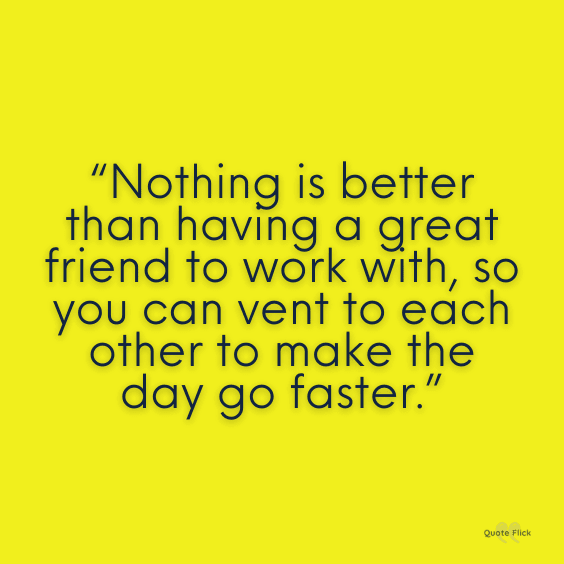 16. "Great colleagues are those who make work seem like play." – Unknown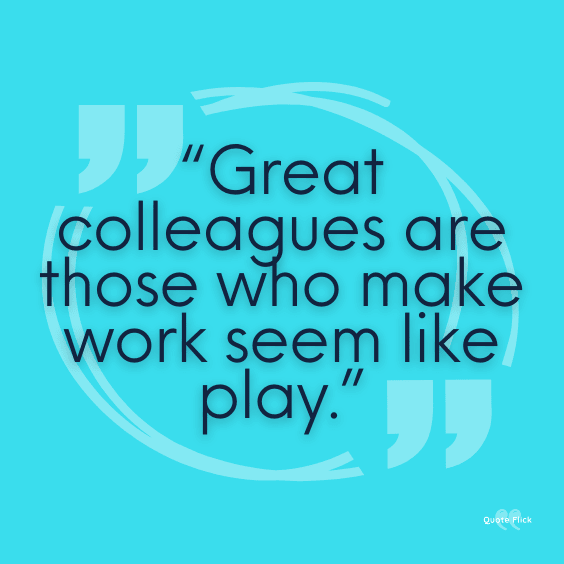 17. "We work as a team, we all know that we is better than me, that's why I love my coworkers." – Unknown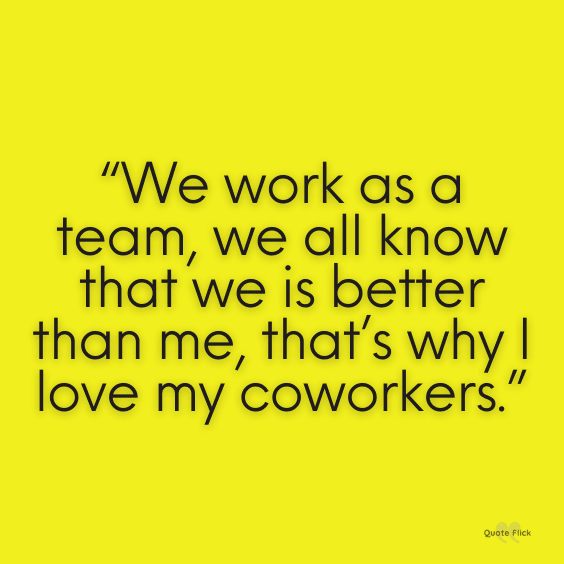 18. "Great coworkers are those who understand team goals are more important than individual egos." – Unknown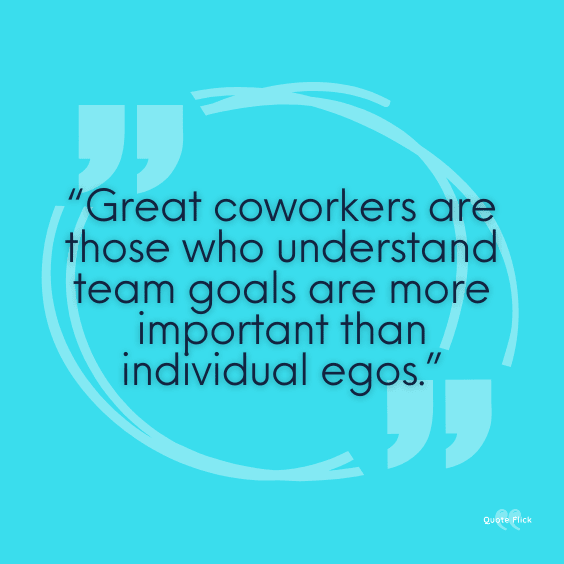 19. "Happiness is having coworkers who understand and support you." – Unknown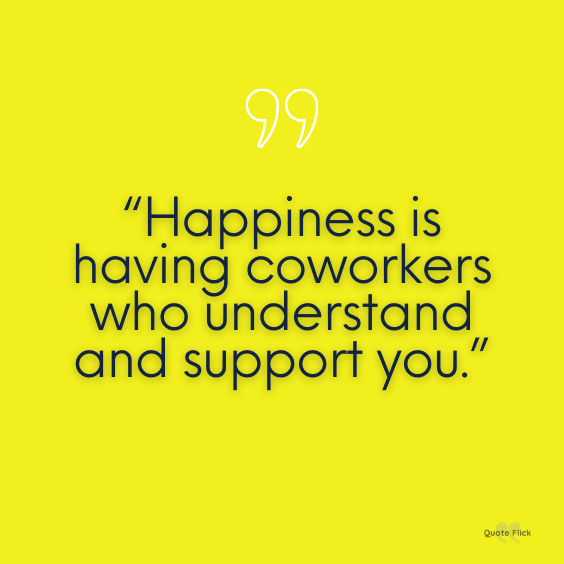 20. "Chance made us colleagues, our craziness made us friends." – Unknown
Next: Work-Life Balance Quotes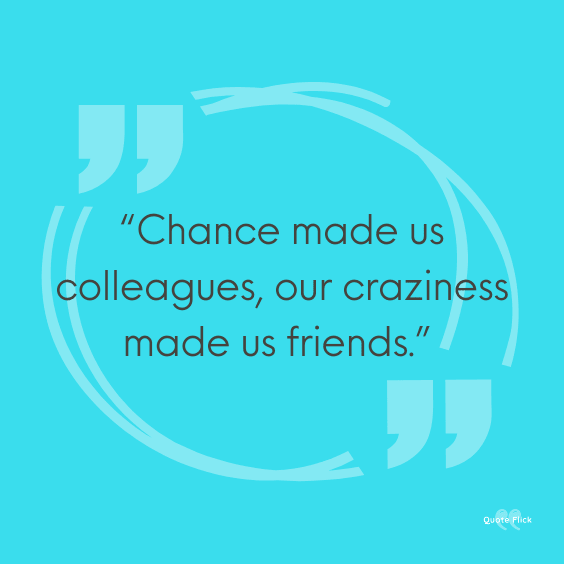 21. "Time for reflection with colleagues is for me a lifesaver; it's not just a nice thing to do if you have the time. It's the only way you can survive."- Margaret J. Wheatly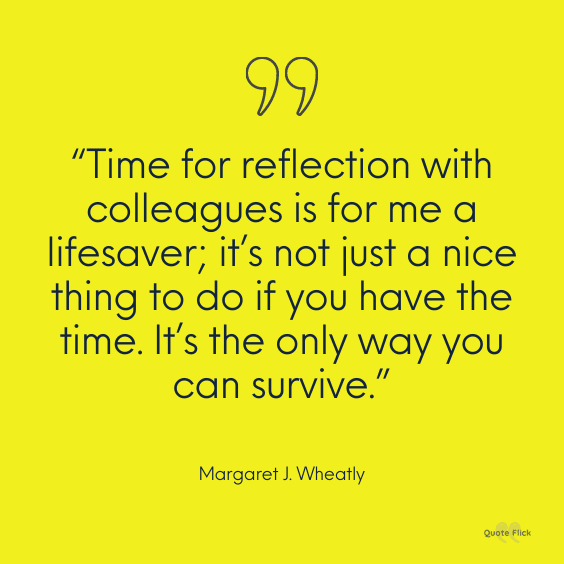 22. "Talent wins games, but teamwork and intelligence win championships". – Michael Jordan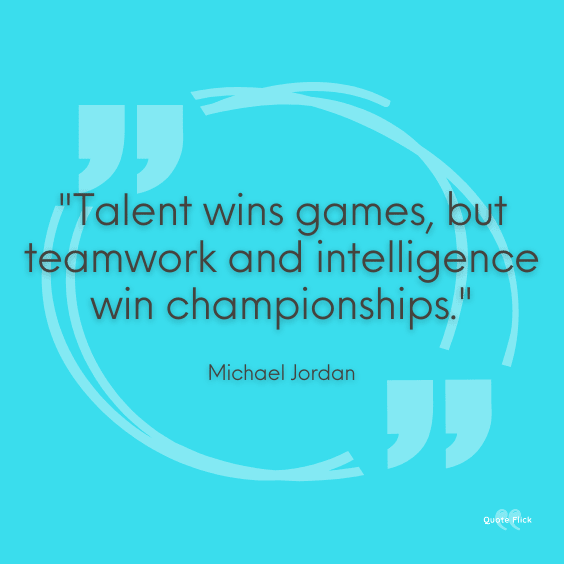 23. "I would totally hang out with you even if we weren't paid." – Unknown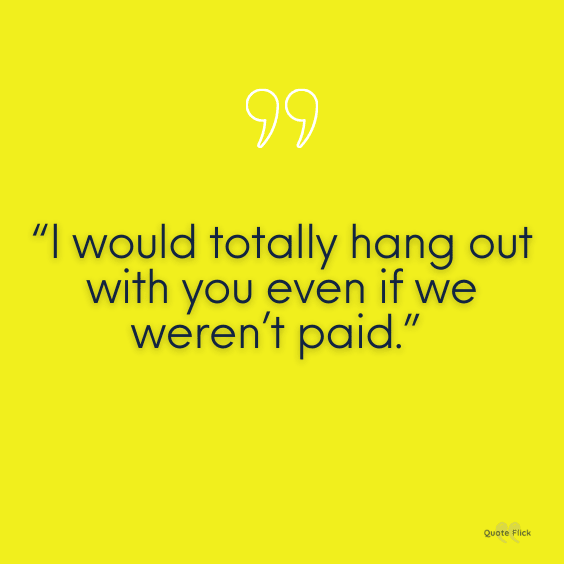 24. "Awesome coworkers — they are the only reason you regret having to call in sick to work." – Unknown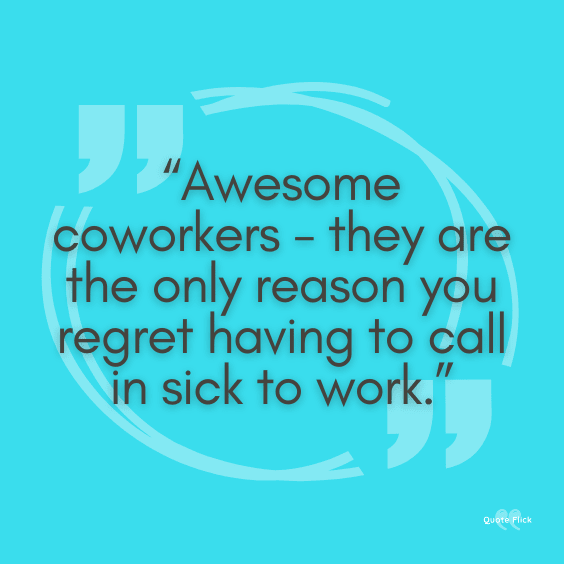 25. "The only thing that has helped us manage through all the projects in the office is our friendship. Thank you for always being there for me, dear colleagues." – Unknown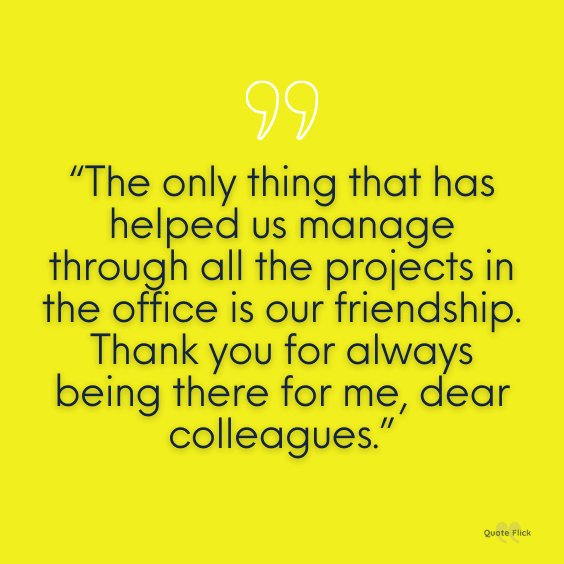 26. "Thanks for being not just a great colleague but a better friend." – Unknown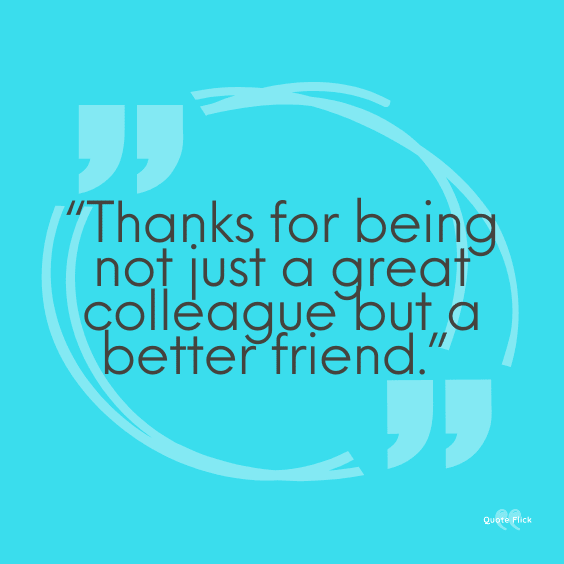 27. "When I speak with people who love their jobs and have vital friendships at work, they always talk about how their workgroup is like a family." – Tom Rath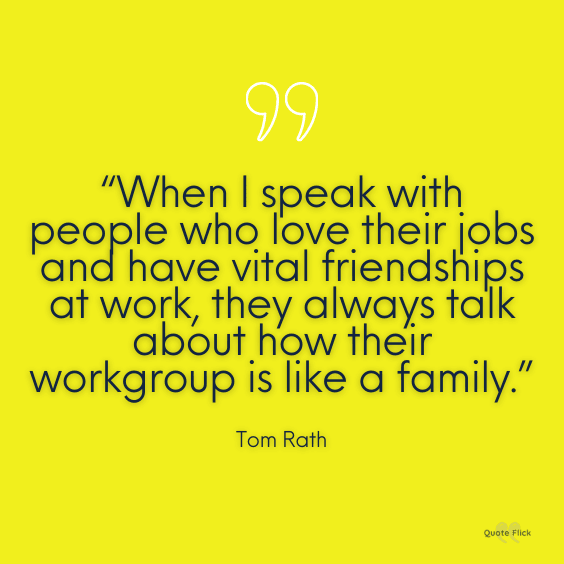 28. "The best managers encourage friendships in the workplace by creating the conditions under which such relationships thrive." – Unknown
29. "I always say I'm not going to work; I'm going to play with my friends."– Brian Tyree Henry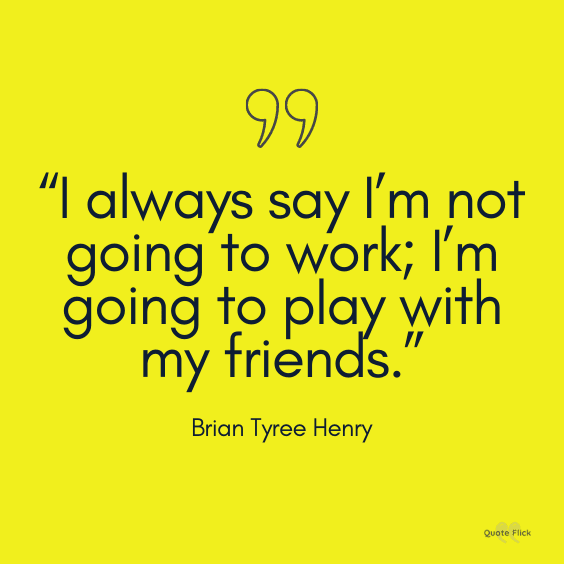 30. "When compared to those who don't, employees who have best friends at work identify significantly higher levels of healthy stress management." – Unknown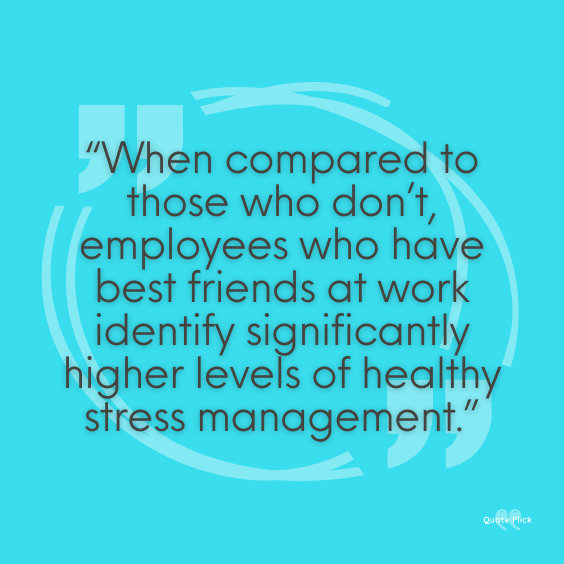 Have you seen our collection of Quotes About Bosses?
31. "There is no such thing as a self-made man. You will reach your goals only with the help of others." – George Shinn
32. "Having a friend at work will make you hate your job less." – Unknown
33. "Coming together is beginning, staying together is progress, and working together is success." – Henry Ford
34. "Dear Colleague, I am glad that we are friends now. I hope our friendship bond gets stronger and better during our work tenure."
35. "A friend is someone who knows the song in your heart and can sing it back to you when you have forgotten the words. Lucky to have you as my friend. You are the best co-worker I have ever known."
36. "When you have that respect from your teammates, it makes it a lot more comfortable."  – LeBron James
37. "Having a friend in the workplace will make your day brighter." – Unknown
38. "None of us is as smart as all of us." – Ken Blanchard
39. "A truly great coworker is hard to find, difficult to part with, and impossible to forget!" – Unknown
40. "The pleasure we found in working together made us exceptionally patient; it is much easier to strive for perfection when you are never bored."- Daniel Kahneman
Check out Great Work Quotes
Holly Jaskolka is a certified Emotional Freedom Technique (EFT) practitioner, yoga instructor, and an impassioned advocate for holistic well-being. Fueled by her love for animals and wanderlust, Holly leads a plant-based lifestyle that she complements with immersive travel experiences. When she's not jet-setting to uncover the world's hidden gems, she's empowering individuals to heal emotionally, particularly those grappling with the aftermath of breakups. Connect with Holly on LinkedIn.