These 60 stunning desert quotes describe the mystery, vastness, and beauty found in the endless open space. We know that you will love and be inspired by these phrases, sayings, and quotes about the desert. Most of them are perfect for Instagram captions!
This article includes a comprehensive list of desert slogans to help you fully comprehend the wonders you have witnessed while out on your adventures! There are desert sayings for every situation in this blog post.
If you love our image creations, please consider pinning your favorite one to Pinterest, as it helps us hugely! Let's go!
Desert Quotes
1. "If a flower can flourish in the desert, you can flourish anywhere."- Matshona Dhliwayo
2. "When you're in the desert, you look into infinity…It makes you feel terribly small, and also in a strange way, quite big." – David Lean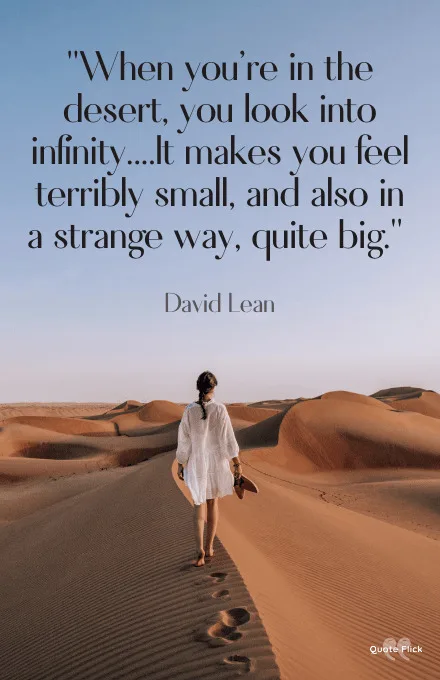 3. "I have this personal affinity for the desert. I am fascinated by the desert. I love it. – Erika Slezak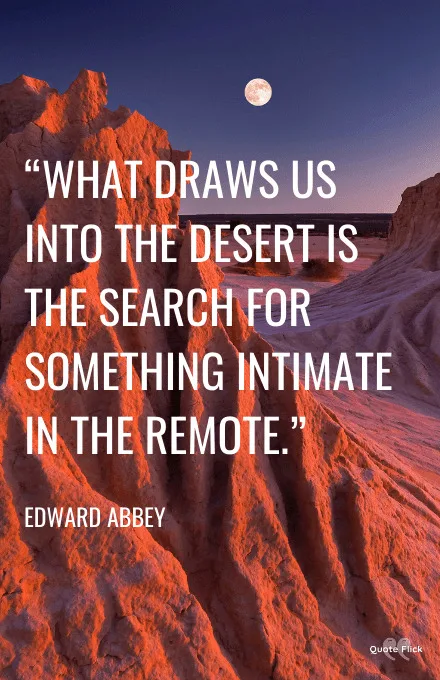 4. "The desert is a capricious lady, and sometimes she drives men crazy." – Paulo Coelho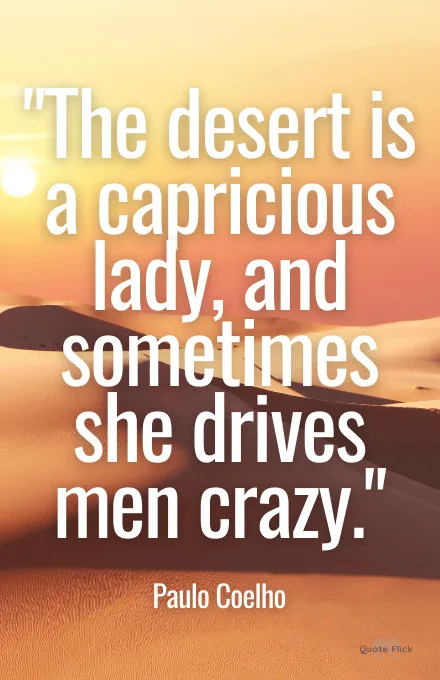 5. "What draws us into the desert is the search for something intimate in the remote." – Edward Abbey
Next: Mountain Quotes
6. "A forest is a mystery but the desert is truth. Life pared to the bone." – Keith Miller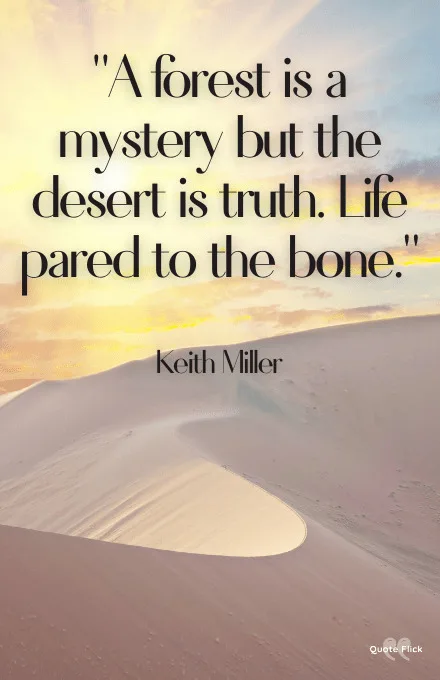 7. "Magic of the shadows can best be seen in the deserts." – Mehmet Murat Ildan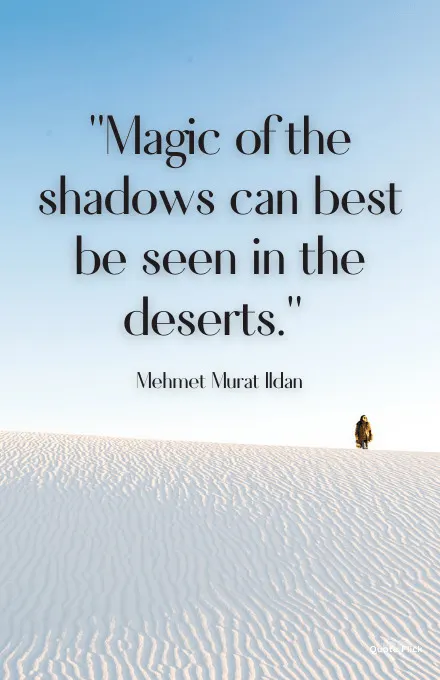 8. "The desert, when the sun comes up. I couldn't tell where heaven stopped and the Earth began." – Tom Hanks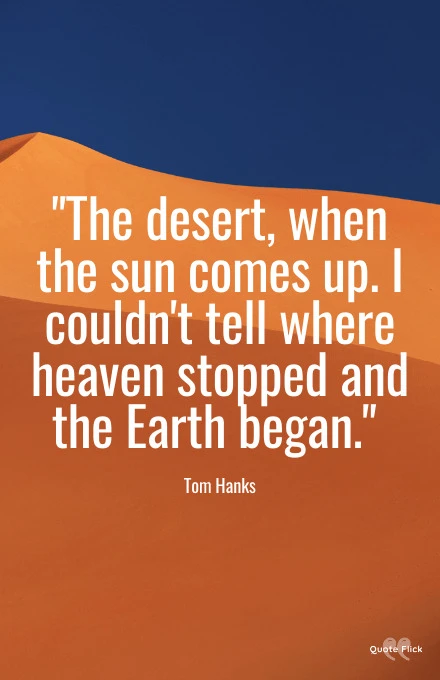 9. "I love the desert and its incomparable sense of space." – Robyn Davidson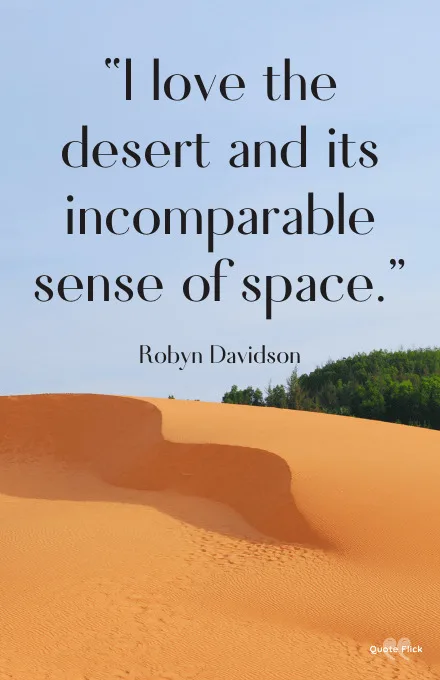 10. "In the desert, the line between life and death is sharp and quick." – Brian Herbert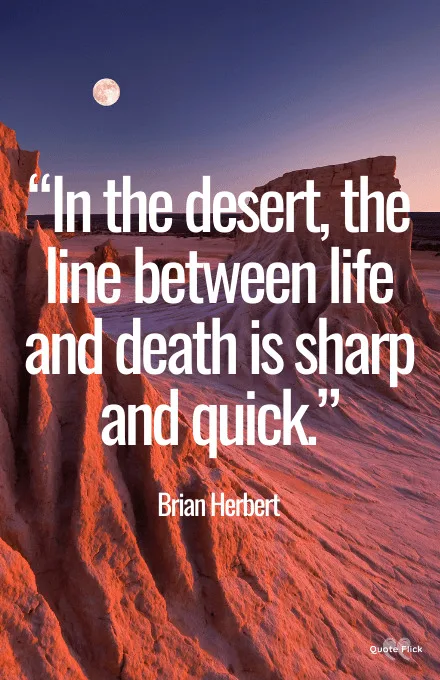 Next: Ocean Quotes
11. "The desert tells a different story every time one ventures on it." – Robert Edison Fulton JR
12. "What makes the desert beautiful is that somewhere it hides a well."- Antoine de Saint
13. "Full many a flower is born to blush unseen and waste its sweetness on the desert air." – Paul Hoffman
14. "But in the desert, in the pure clean atmosphere, in the silence – there you can find yourself." – Father Dioscuros
15. "All you have to do is contemplate a simple grain of sand, and you will see in it all the marvels of creation."- Paulo Coelho
Next: Wind Quotes
16. "What draws us into the desert is the search for something intimate in the remote." – Edward Abbey
17. "In the empire of desert, water is the king and shadow is the queen." – Mehmet Murat ildan
18. "Life is dry as a desert…lest you find the oasis of love." – Tanu Vermani
19. "A desert is a place without expectation." – Nadine Gordimer
20. "The desert is an ideal illusion of a blank slate – so much mystery in endless layers is hidden underneath its bright, pseudo-sterile surface." – Vera Nazarian
21. "I don't look like a desert person because I stay indoors most of the day and fool around at night. That's what the desert animals do – they don't have a tan either." – Don Van Vliet
22. "I bought a cactus. A week later it died. And I got depressed, because I thought, Damn. I am less nurturing than a desert." – Demetri Martin
23. "The desert is a natural extension of the inner silence of the body." – Jean Baudrillard
24. "Anything less than the desert was a dream." – Kameron Hurley
25. "Noontime here is like a drug. The light is psychedelic, the dry electric air narcotic. To me the desert is stimulating, exciting, exacting" – Edward Abbey
26. "Let the desert wind cool your aching head. Let the weight of the world drift away instead" – Beck
27. "I left a piece of my soul that will always rightfully belong in the desert." – M.B. Dallocchio
28. "You should not see the desert simply as some faraway place of little rain. There are many forms of thirst." – William Langewiesche
29. "This creed of the desert seemed inexpressible in words, and indeed in thought." – T. E. Lawrence
30. "Deserts look beautiful and green fields look beautiful too. Nature is genius because it knows how to look beautiful in every way." – Mehmet Murat Ildan
31. "The desert surrounds your every step and you walk forever a thirsty man." – Christopher Pike
32. "The desert sharpened the sweet ache of his longing, amplified it, gave shape to it in sere geology and clean slant of light." – Jon Krakauer
33. "What makes the desert beautiful is that somewhere it hides a well." – Antoine de Saint-Exupery
34. "We all have our own deserts. That may not be the same as my desert, but we all have to cross them to find a purpose in life and be free." – Yeonmi Park
35. "A desert is a place without expectation."- Nadine Gordimer
36. "The true call of the desert, of the mountains, or the sea, is their silence – free of the networks of dead speech." – Freya Stark
37. "The desert is a natural extension of the inner silence of the body." – Jean Baudrillard
38. "Anything less than the desert was a dream."- Kameron Hurley
39. "You can't fight the desert… you have to ride with it." – Louis L'Amour
40. "Nothing is all bad. There are very beautiful flowers in the desert amidst the spikes and thorns. Just don't let them take over. In the garden of love, there is little room for prickly things." – Kate McGahan
41. "Like water in the desert is wisdom to the soul."- Edward Counsel
42. "Desert, in general, is a very good place to find yourself. Or lose yourself." – Maynard James Keenan
43. "The sand doesn't care if you're made of flesh or stone." – Joaquin Lowe
44. "A rose in a desert can only survive on its strength, not its beauty."- Matshona Dhliwayo
45. "You should not see the desert simply as some faraway place of little rain. There are many forms of thirst." – William Langewiesche
46. "I will fill myself with the desert and the sky. I will be stone and stars, unchanging and strong and safe. The desert is complete; it is spare and alone, but perfect in its solitude. I will be the desert." – Kiersten White
47. "So it always is: when you escape to a desert the silence shouts in your ear." – Graham Greene
48. "I have this personal affinity for the desert. I am fascinated by the desert. I love it." – Erika Slezak
49. "Sunshine all the time makes a desert." – Arab proverb
50. "The desert shatters the soul's arrogance and leaves body and soul crying out in thirst and hunger. In the desert we trust God or die." – Dan B. Allender
51. "If you sing of beauty though alone in the heart of the desert you will have an audience." ~ Khalil Gibran
52. "If the desert is holy, it is because it is a forgotten place that allows us to remember the sacred. Perhaps that is why every pilgrimage to the desert is a pilgrimage to the self. There is no place to hide and so we are found." – Terry Tempest Williams
53. "Night comes to the desert all at once, as if someone turned off the light." – Joyce Carol Oates
54. "Nothing the desert produces expresses it better than the unhappy growth of the tree yuccas." – Mary Hunter Austin
55. "Water is a desert's gold." – Matshona Dhliwayo
56. "There were no lies here. All fancies fled away. That's what happened in all deserts. It was just you, and what you believed." – Terry Pratchett
57. "What makes the desert beautiful is that somewhere it hides a well." – Antoine de Saint
58. "If the desert is holy, it is because it is a forgotten place that allows us to remember the sacred. Perhaps that is why every pilgrimage to the desert is a pilgrimage to the self. There is no place to hide and so we are found." – Terry Tempest Williams
59. "Out in the desert what doesn't kill you just pisses you off and will probably kill you the next time." – James Anderson
60. "Within two hours of where I live, you have mountains and desert locations. I like the natural elements that abstract into light, texture, shape, and shadow." ― Herb Ritts
You Might Also Like: