When times are hard and you can't find the energy to carry on, use these 50 motivational endurance quotes for inspiration!
Pushing through, enduring the tiredness, and going where you haven't gone before are all part of being successful. With these quotes about endurance and perseverance, we trust you will power on!
Please consider sharing your favorite image on your social media channels if you like what you see! We hope you endure these endurance sayings until the end!
Endurance Quotes
1. "Endurance is patience concentrated." – Thomas Carlyle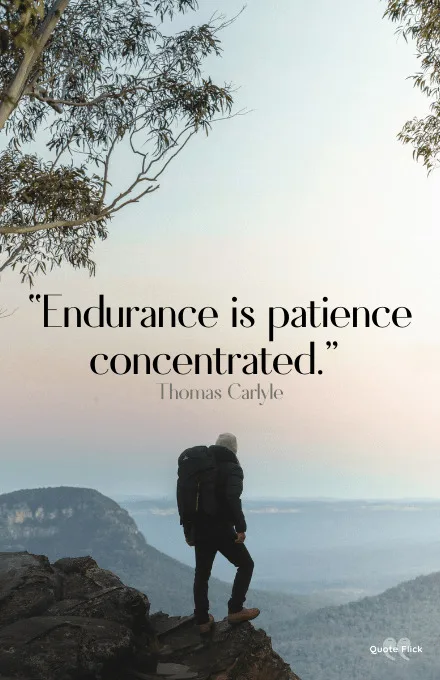 2. "Sorrow and silence are strong, and patient endurance is godlike." – Henry Wadsworth Longfellow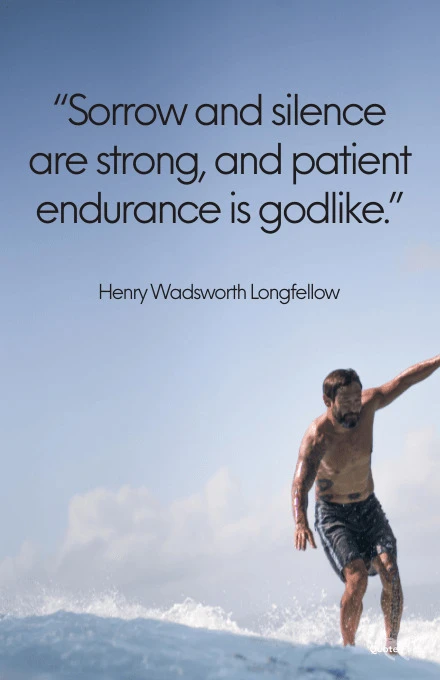 3. "Scars are not signs of weakness, they are signs of survival and endurance." – Rodney A. Winters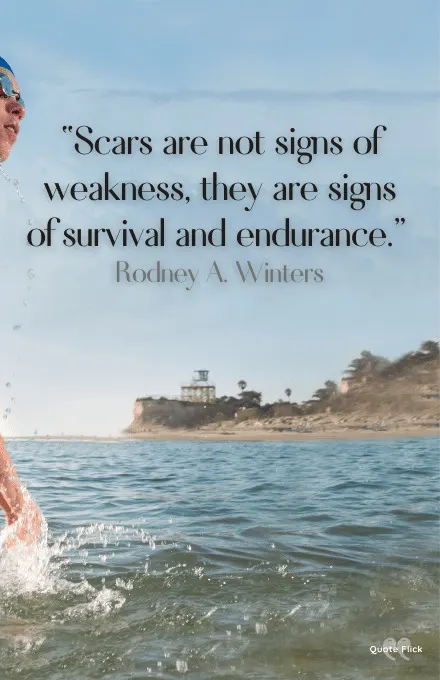 4. "Endurance is one of the most difficult disciplines, but it is to the one who endures that the final victory comes." – Unknown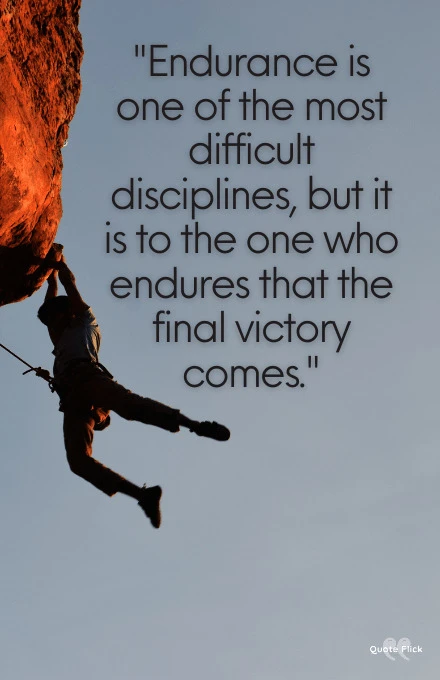 5. "Life may try to knock you down but be persistent with your passions – cultivate grit, resilience, tenacity, and endurance. Success will come." – Amit Ray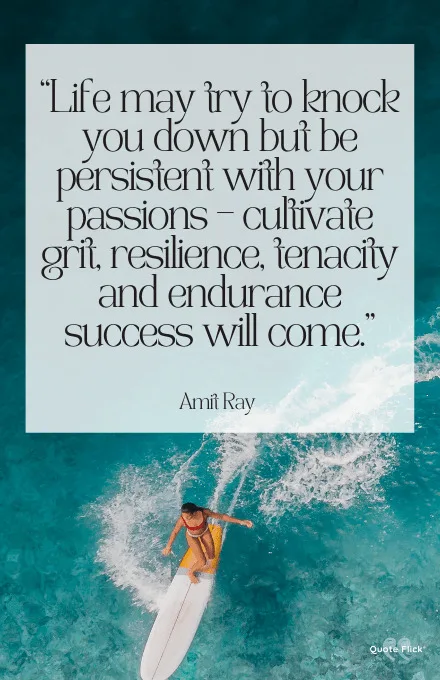 6. "Prolonged endurance tames the bold." – Unknown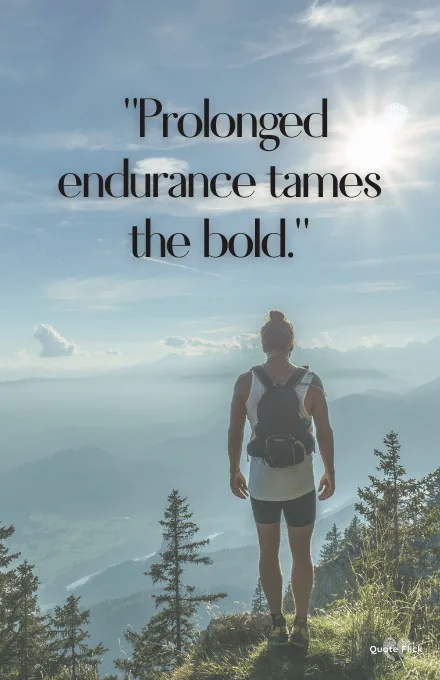 7. "Does anybody really think that they didn't get what they had because they didn't have the talent or the strength or the endurance or the commitment?" – Nelson Mandela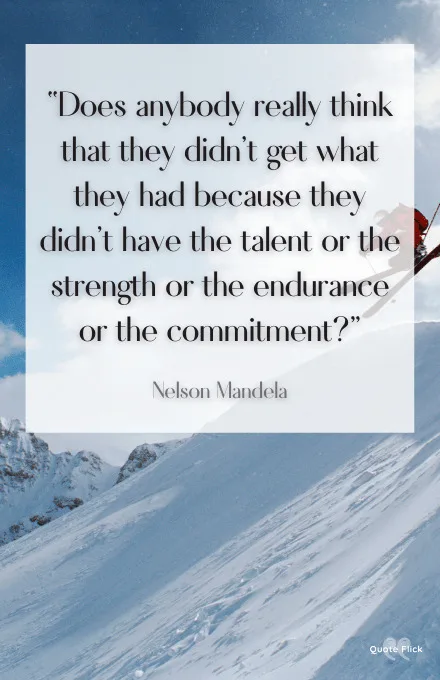 8. "Heroism is endurance for one moment more." – George F. Kennan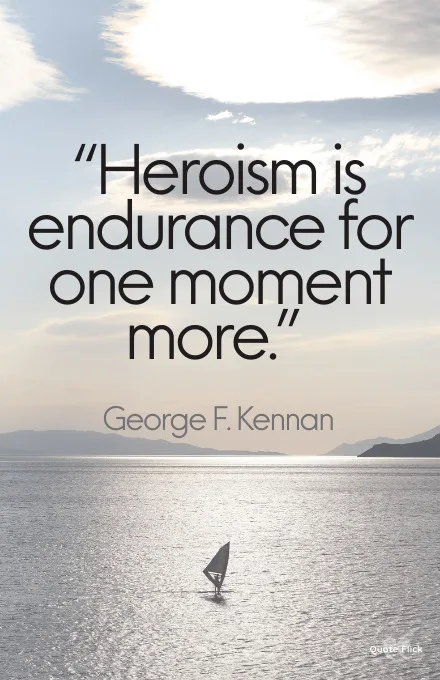 9. "Endurance is one of the most difficult disciplines, but it is to the one who endures that the final victory comes." – Gautama Buddha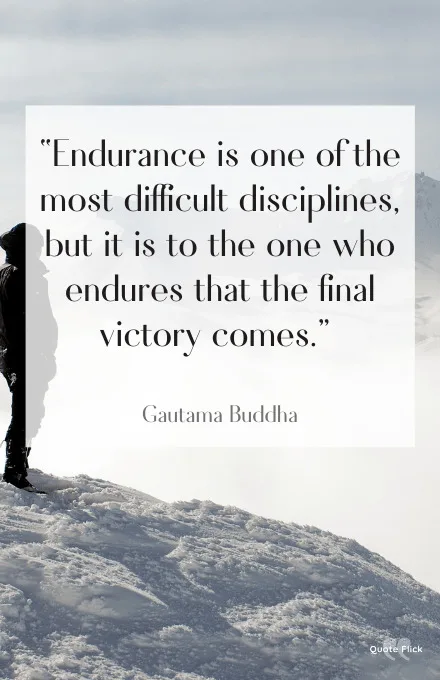 10. "Do you have the talent?" is rarely the question. "Do you have the guts to finish?" is the real question." – Orrin Woodward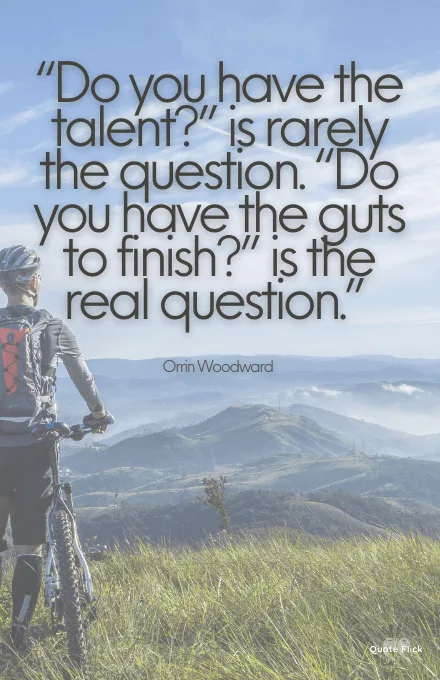 You Might Also Like:
11. "Nobody who ever gave his best regretted it." – George Halas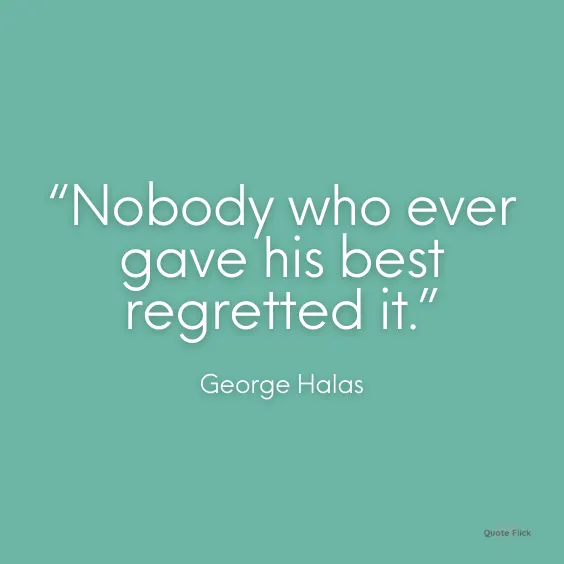 12. "Perseverance is more than endurance. It is endurance combined with absolute assurance and certainty that what we are looking for is going to happen." – Oswald Chambers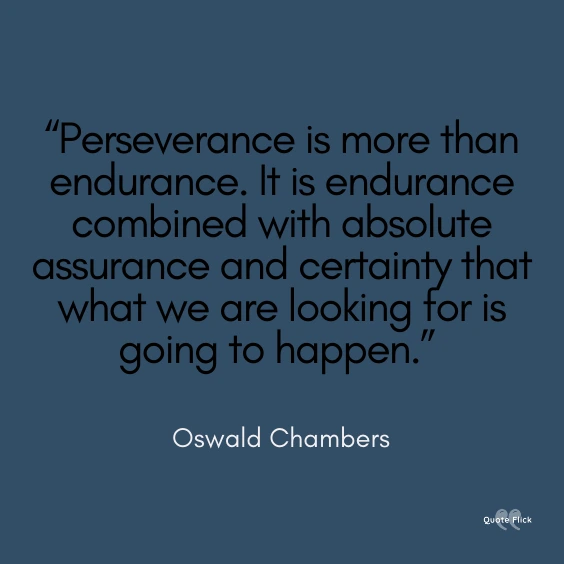 13. "Right now, it's just a matter of getting my strength and endurance back. So far, no setbacks." – Kip Wells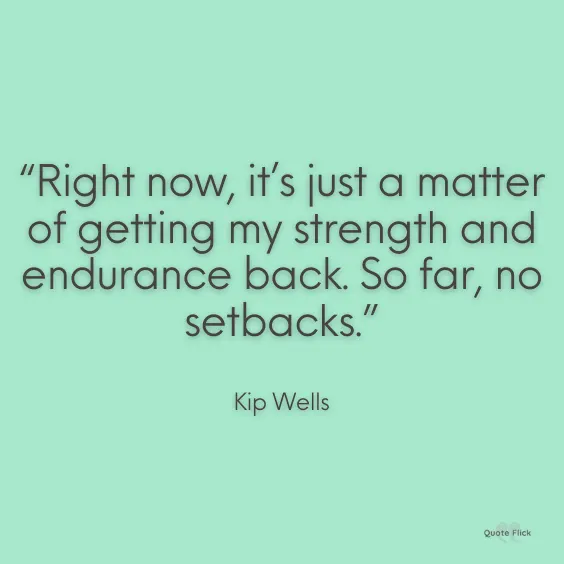 14. "Unless you have courage, a courage that keeps you going, always going, no matter what happens, there is no certainty of success. It is really an endurance race." – Henry Ford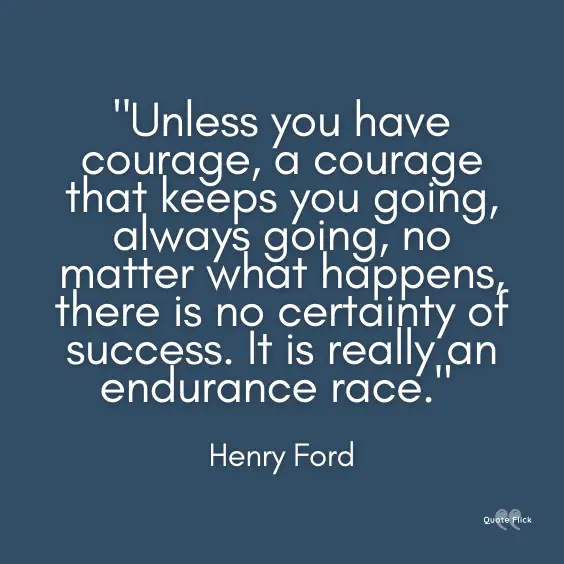 15. "Love endures only when the lovers love many things together and not merely each other." – Walter J Lippmann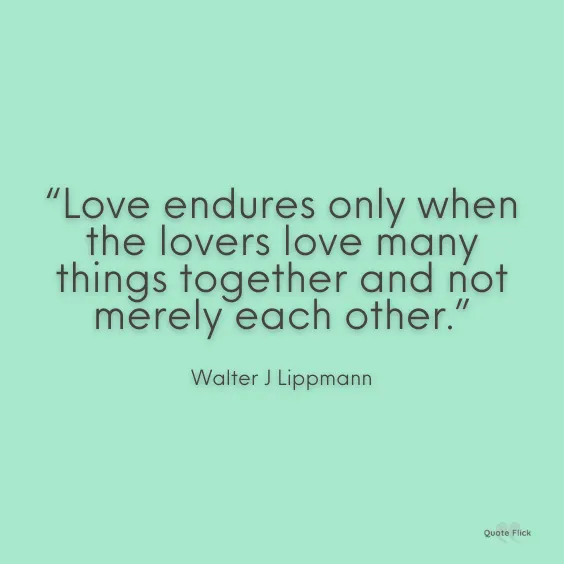 16. "Endurance pierces marble." – Moroccan Proverb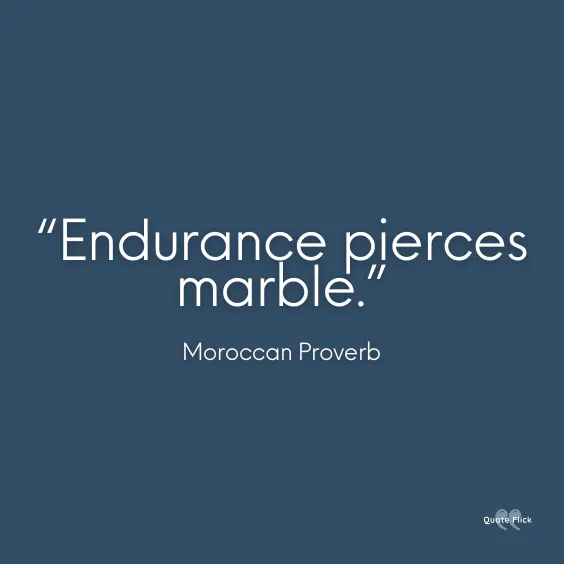 17. "Come what may, all bad fortune is to be conquered by endurance." – Virgil
18. "I think that enduring, committed love between a married couple, along with raising children, is the noblest act anyone can aspire to. It is not written about very much." – Nicholas Sparks
19. "Mental stamina – determination – is a quality of the mind shattered by fatigue. But physical stamina – endurance – is built upon fatigue." – Len Smith
20. "Sports do not build character. They reveal it." – Heywood Broun
21. "Prolonged endurance tames the bold." – Lord Byron
22. "Endurance is not just the ability to bear a hard thing, but to turn it into glory." – William Barclay
23. "The amount of endurance you develop is determined by the amount of stress you're willing to overcome." – Unknown
24. "Go the extra mile, it's never crowded." – Unknown
25. "Not in achievement, but in endurance, of the human soul, does it show its divine grandeur and its alliance with the infinite." – Edwin Hubbel Chapin
26. "By endurance we conquer." – Ernest Shackleton
27. "When you've got something to prove, there's nothing greater than a challenge." – Terry Bradshaw
28. "I know quite certainly that I myself have no special talent; curiosity, obsession, and dogged endurance, combined with self-criticism have brought me to my ideas." – Albert Einstein
29. "We should not give up and we should not allow the problem to defeat us." – Dr. A. P. J. Abdul Kalam
30. "Endurance is the crowning quality, and patience all the passion of great hearts." – James Russell Lowell
Have you seen our collection of Quotes To Live By and Quotes That Make You Think?
32. "Nothing endures but personal qualities." – Walt Whitman
33. "Most people never run far enough on their first wind to find out they've got a second." – Unknown
34. "Endurance is a key indicator of spiritual fitness." – Alistair Begg
35. "I believe that anyone can conquer fear by doing the things he fears to do, provided he keeps doing them until he gets a record of successful experience behind him." – Eleanor Roosevelt
36. "By showing hunger, deprivation, starvation, and brutality, as well as endurance and nobility, documentaries inform, prod our memories, even stir us to action. Such films do battle for our very soul." – Theodore Bikel
37. "I've learned that something constructive comes from every defeat." – Tom Landry
38. "Children's talent to endure stems from their ignorance of alternatives." – Maya Angelou
39. "I am the bent, but not broken. I am the power of the thunderstorm. I am the beauty in the beast. I am the strength of weakness. I am the confidence in the midst of doubt. I am Her!" – Kierra C.T. Banks
40. "During times of persistent hardship is when the warrior learns the most about his fortitude." – Bohdi Sanders
41. "Endurance and to be able to endure is the first lesson a child should learn because it's the one they will most need to know." – Jean Jacques Rousseau
42. "A champion is someone who gets up when he can't." – Jack Dempsey
43. "The secret of endurance is to remember that your pain is temporary but your reward will be eternal." – Rick Warren
44. "Nothing endures but personal qualities" – Unknown
45. "The winners in life treat their body as if it were a magnificent spacecraft that gives them the finest transportation and endurance for their lives." ~ Denis Waitley
46. "He who is not courageous enough to take risks will accomplish nothing in life." – Muhammad Ali
47. "There is a strength of quiet endurance as significant of courage as the most daring feats of prowess." ~ Henry Theodore Tuckerman
48. "I've gotten very good at scheduling my life, scheduling the scene and preparing myself for knowing, saving the energy, consuming the energy, knowing when to go for it, and having the available reserves to be able to do that. You have to think about that, because it's endurance." – Tom Cruise
49. "In the wild struggle for existence, we want to have something that endures, and so we fill our minds with rubbish and facts, in the silly hope of keeping our place." – Oscar Wilde
50. "Not in achievement, but in endurance, of the human soul, does it show its divine grandeur and its alliance with the infinite." – Edwin Hubbel Chapin
You might also like Proactiveness Quotes and Be Yourself Quotes