Sometimes, things just do not feel alright, but these 50 Quotes remind us that even in the darkest times, everything will be OK. Life moves in waves, ups and downs, highs and lows, and we don't always feel fine. But the quotations we have collected for you here give you hope that it will eventually be alright!
We hope you enjoy this comprehensive collection of everything will be okay quotes. Feel free to browse them at your convenience.
The sun will shine again, you are strong enough to get through challenges and feel OK again! Use these I will be OK quotes to help you through this difficult time. We hope you love the sayings, please share your favorite image on Pinterest as it supports us greatly!
Remember… It's going to be okay.
Everything Will Be OK Quotes
1. "Everything will be okay in the end. If it's not okay, it's not the end." – John Lennon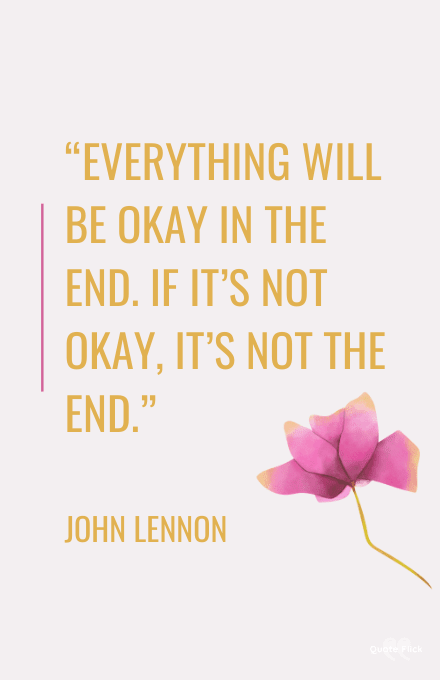 2. "You don't have to see it now, but trust that it'll be OK." – Unknown
3. "Feeling unsure and lost is part of your path. Don't avoid it. See what those feelings are showing you and use it. Take a breath. You'll be okay. Even if you don't feel okay all the time." – Unknown
4. "Even if things aren't the way you imagined, everything will be fine. It will be better than fine." – Unknown
5. "You don't feel it right now, and that's OK. But everything is going to be alright." – Unknown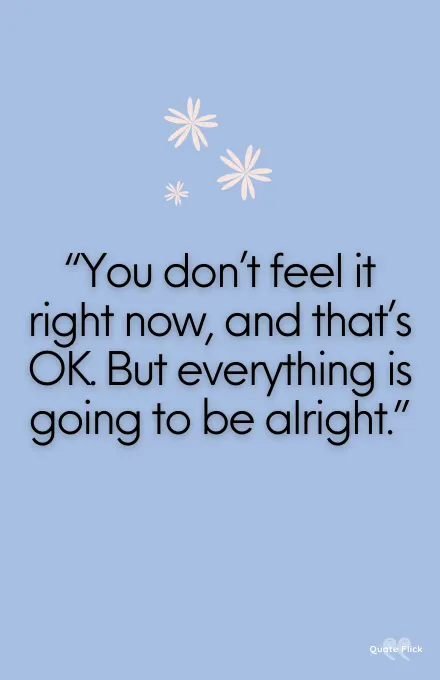 6. "It doesn't feel it today. But everything's gonna be OKAY." – Unknown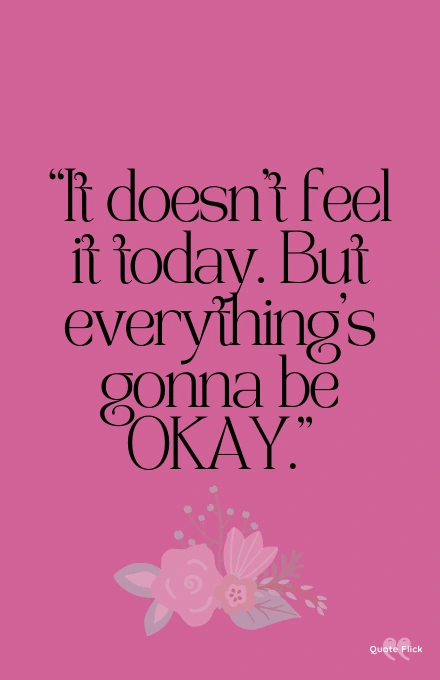 7. "I've been hurt but I'll be okay. I've been lied to but I'll trust again. I've been heartbroken but I can still love." – Unknown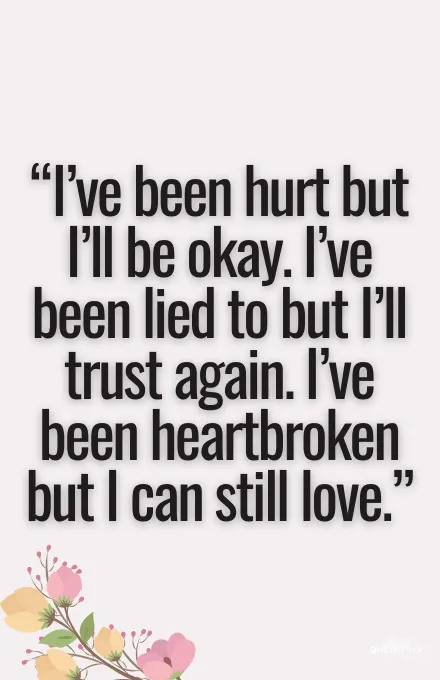 8. "You're stronger than you give yourself credit for. You're more powerful than you ever know. You've got this. It's gonna be OK." – Unknown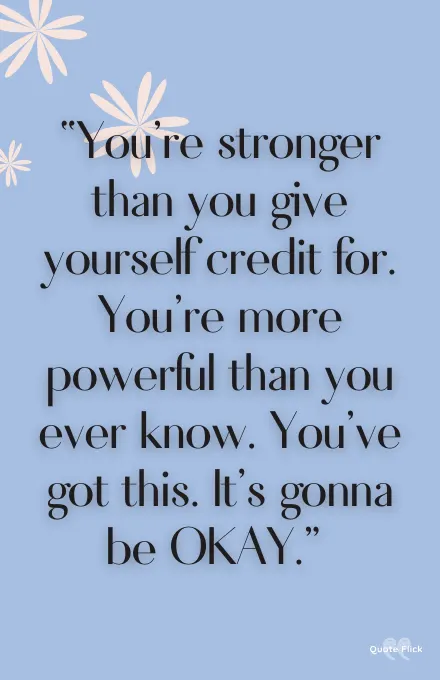 9. "I've always known, in the darkest moments, that if you believe, every single thing is gonna be alright." – Unknown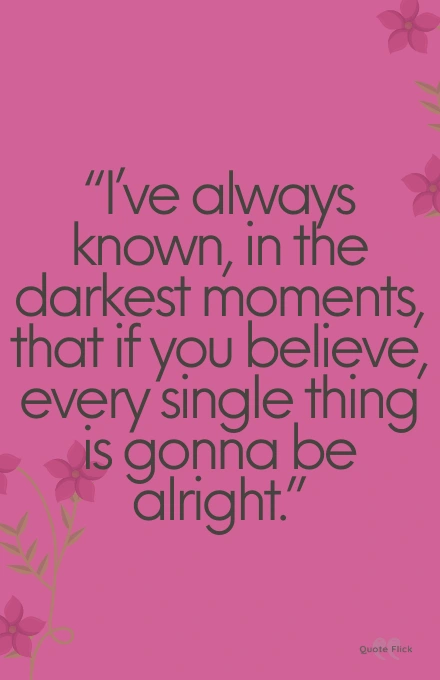 10. "Don't worry. This isn't it. It will get better. I'm here. Everything will be alright. I promise." – Unknown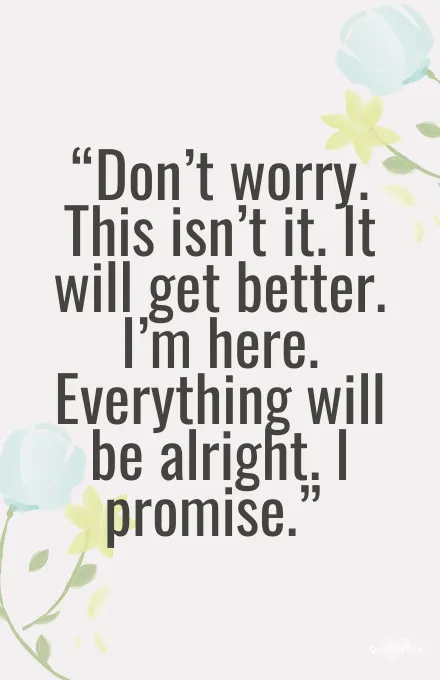 Why not take a look at Quotes To Live By and Determination Quotes for an extra boost
11. "Sometimes life gets weird. Hang in there. It gets better." – Tanner Patrick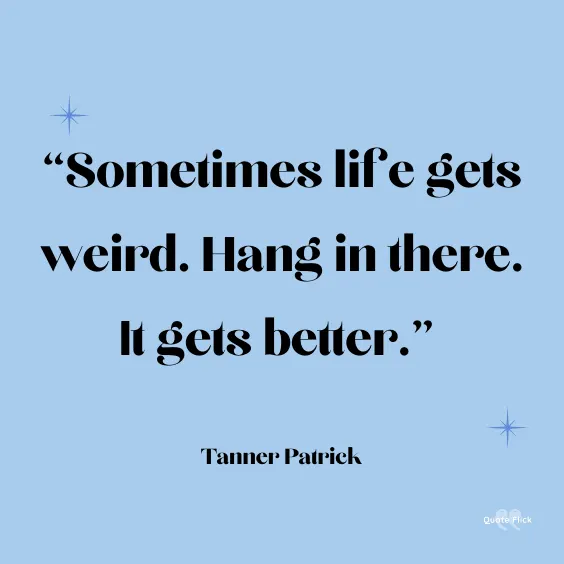 12. "Keep breathing everything will be okay." – Unknown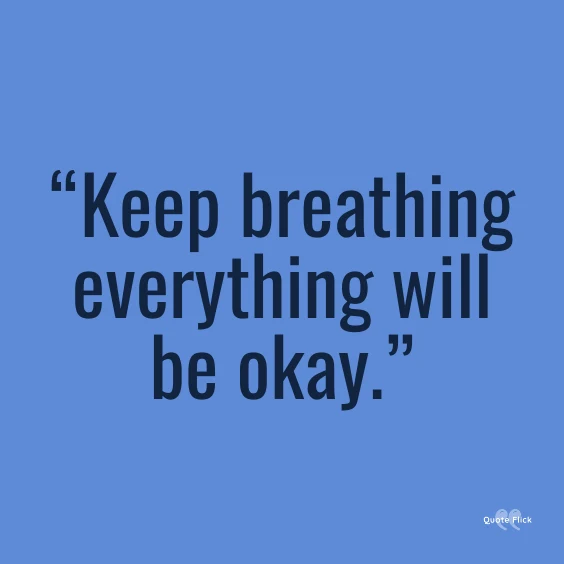 13. "I'll be alright, one day, someday." – Unknown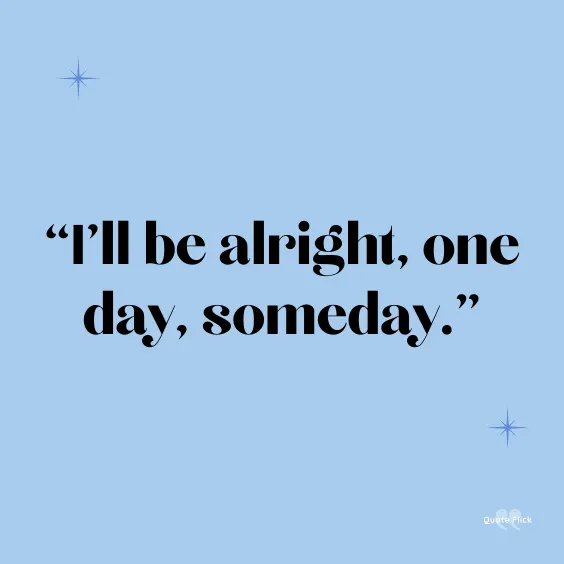 14. "It feels like darkness now. But the only way is up. It will feel like sunshine soon, it's really gonna be alright." – Unknown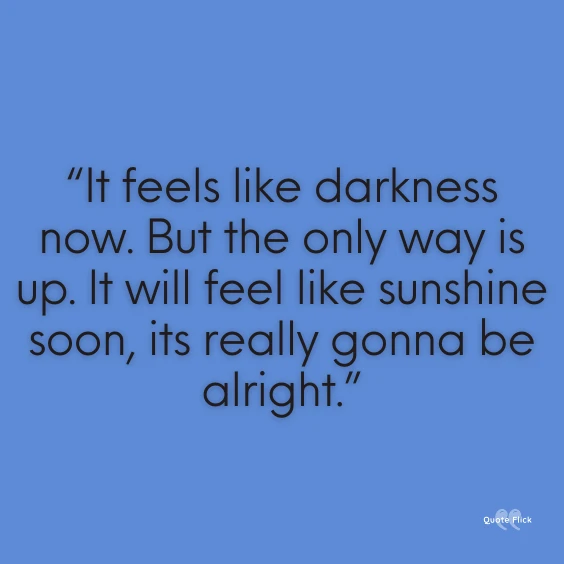 15. "I have hope in tomorrow. I have hope everything will be okay one day." – Unknown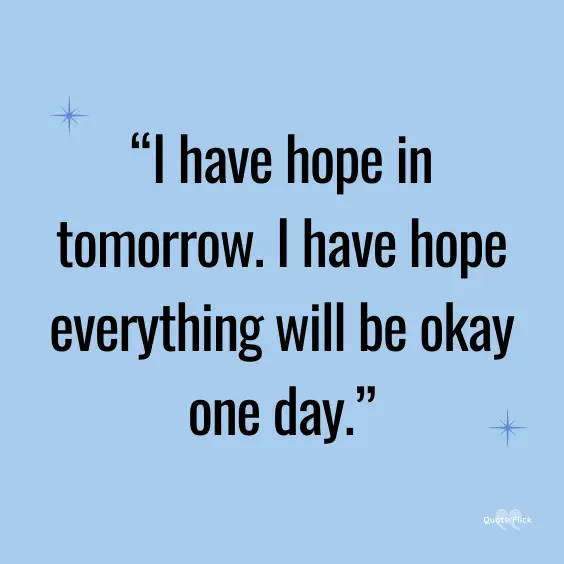 16. "I'm a warrior, I'm worthy of wonderful things. I'm gonna be ok." – Unknown
17. "You can't calm the storm, so stop trying. What you can do is calm yourself. The storm will pass." – Unknown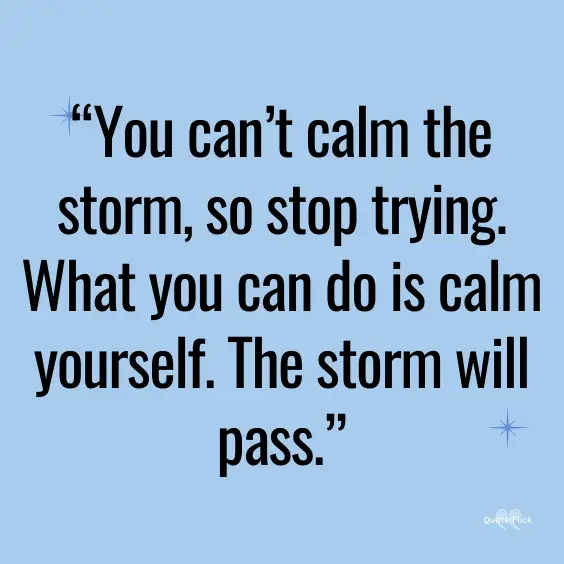 18. "All you have to do is smile and everything will work out in the best way." – Unknown
19. "It's ok to be sad. You don't owe anyone a performance of being ok when you feel like you're falling apart." – Unknown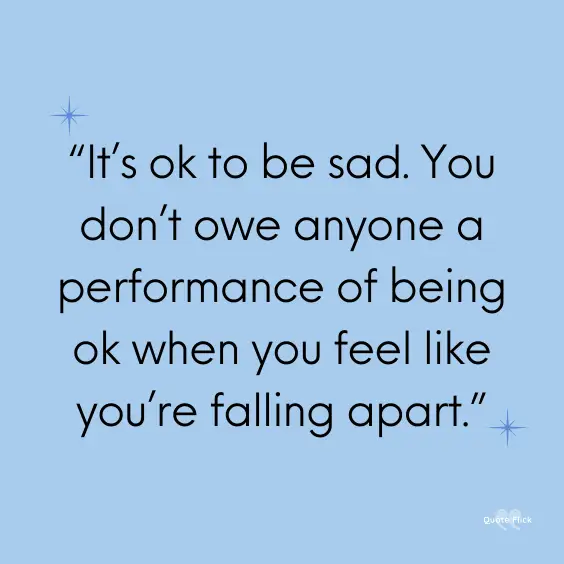 20. "The worst part about being strong is that no one ever asks you if you are okay." – Unknown
Loving these so far? We trust that you will also love Patience Quotes and Courage Quotes
21. "One day you will see light at the end of the tunnel and realize that it was all worth it!" – Unknown
22. "You'll heal, you'll let go, you'll be ok." – Unknown
23. "In three words I can sum up everything I've learned about life: it goes on." – Robert Frost
24. "Sometimes you need to relax and remind yourself that you are doing the best you can and everything is going to turn out just fine." – Unknown
25. "I'm sure everything will be ok. But I prefer it to be awesome." – Unknown
---
You Might Also Like
---
26. "I hope everything is ok. I'm always here any time of night or day." – Unknown
27. "I know in my deepest heart of hearts that I will be fine." – Unknown
28. "Stay focused, hold trust and keep moving forward. You will get there my friend." – Brian Benson
29. "Always remember: if you're going through hell, keep going." – Winston Churchill
30. "None of us know what might happen even the next minute, yet still, we go forward. Because we trust. Because we have Faith." – Paulo Coelho
Take a look at our Words of Encouragement Quotes
31. "Do your part and the rest will fall into place." – Unknown
32. "Promise me you'll always remember: You're braver than you believe and stronger than you seem, and smarter than you think." – A. A. Milne
33. "Some days there won't be a song in your heart. Sing anyway." – Emory Austin
34. "Turn your weakness into your richness." – Erol Ozan
35. "Tides don't last forever and when they go, they leave behind beautiful seashells." – Unknown
36. "Even in the worst of situations – even when it seems no one in the world appreciates you – as long as you have hope, everything can get better." ― Chris Colfer
37. "The struggles we endure today will be the 'good old days' we laugh about tomorrow." – Aaron Lauritsen
38. "Always remember, nothing is as bad as it seems."– Helen Fielding
39. "Even the darkest night will end and the sun will rise again." – Victor Hugo
40. "Morning will come, it has no choice." ― Marty Rubin
41. "Sometimes the best you can do is not think, not wonder, just breathe and have faith everything will work out for the best." – Unknown
42. "Good things are coming down the road, just don't stop walking." – Unknown
43. What happened is for the good, what is happening is for the good and what will happen is for the good. So relax and let go." – Unkown
44. "The struggles we endure today will be the 'good old days' we laugh about tomorrow." – Aaron Lauritsen
45. "Having a bad day? You just have to work through it. You just hang in there." – Unknown
46. "Don't give up when dark times come. The more storms you face in life, the stronger you'll be. Hold on. Your greater is coming." – Germany Kent
47. "Sometimes you just have to fight the tears, keep smiling, and say everything will be okay." – Unknown
48. "There's always more to life than we expect, even in our darkest hours." – Unkown
49. "Everybody goes through difficult times, but it is those who push through those difficult times who will eventually become successful in life. Don't give up, because this too shall pass."– Jeanette Coron
50. "You can do it. You are brave and you are loved."― Tracy Holczer