Here are 51 fall quotes to get you feeling cozy for the changing season. These quotations and phrases will get you ready for cool air, crunchy leaves under your feet, and warm sweaters! Autumn really is a lovely time of the year!
Please consider sharing your favorite image on Pinterest if you love our work! This supports us greatly!
Fall Quotes
1. "And all at once, summer collapsed into fall."- Oscar Wilde
2. "Autumn is a second spring when every leaf is a flower." – Albert Camus
3. "In Heaven, it is always autumn." – John Donne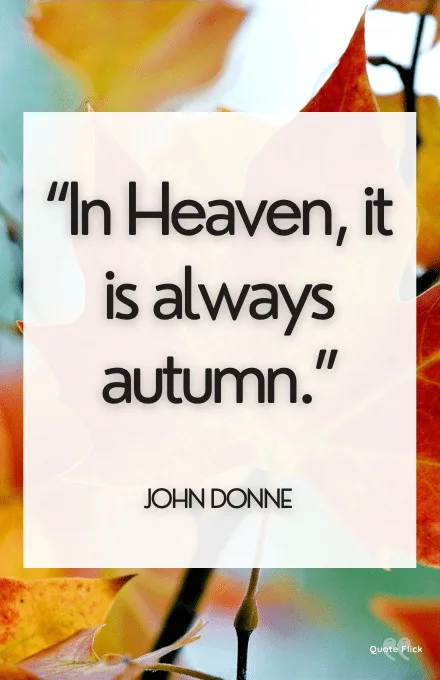 4. "I'm so glad I live in a world where there are Octobers." – L.M. Montgomery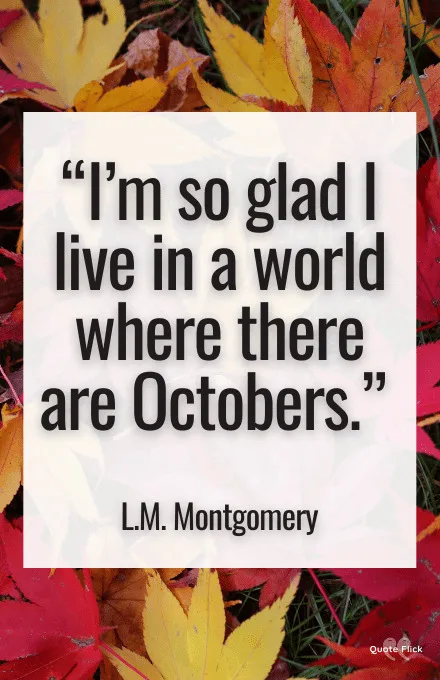 5. "The leaves fall, the wind blows, and the farm country slowly changes from the summer cottons into its winter wools." – Henry Beston
You Might Also Like:
6. "It's time to love…it's fall! Fall in love." – Unknown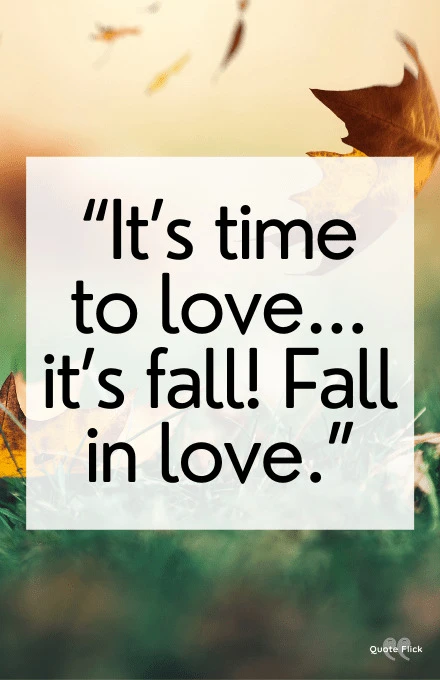 7. "Every leaf speaks bliss to me, fluttering from the autumn tree." – Emily Brontë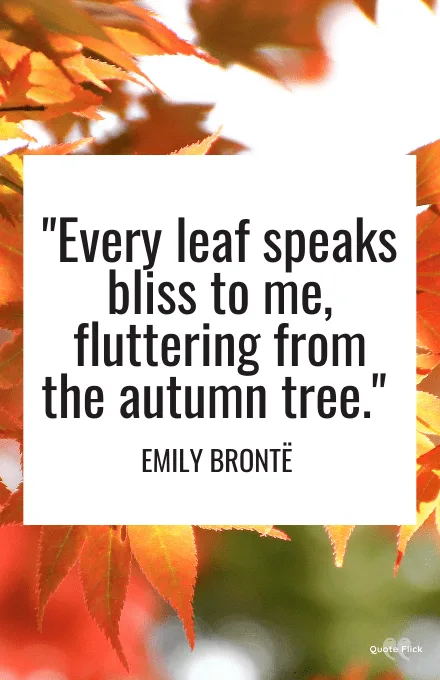 8. "Fall has always been my favorite season. The time when everything bursts with its last beauty, as if nature had been saving up all year for the grand finale." – Lauren DeStefano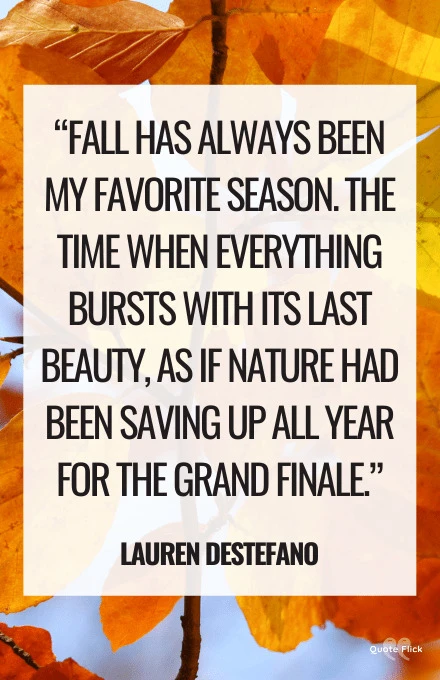 9. "Autumn seemed to arrive suddenly that year. The morning of the first September was crisp and golden as an apple." – J.K. Rowling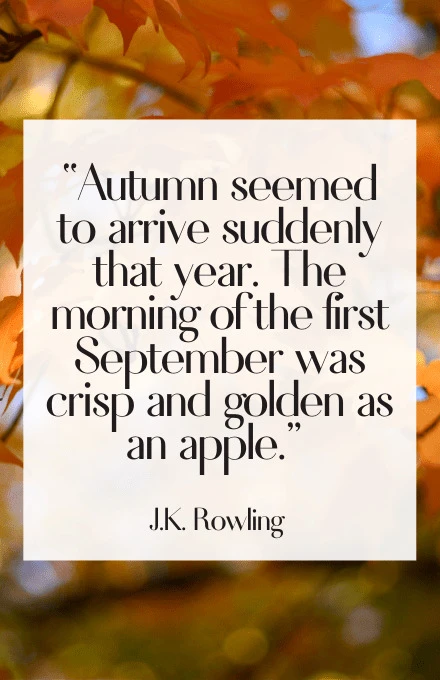 10. "Love the trees until their leaves fall off, then encourage them to try again next year." – Chad Sugg
You Might Also Like:
11. "Is not this a true autumn day? Just the still melancholy that I love—that makes life and nature harmonize." – George Eliot
12. "I notice that Autumn is more the season of the soul than of nature." – Friedrich Nietzsche
13. "Autumn lingered on as if fond of its own perfection." – Winston Graham, Ross Poldark
14. "Autumn…the year's last, loveliest smile." – John Howard Bryant
15. "As long as autumn lasts, I shall not have hands, canvas, and colors enough to paint the beautiful things I see." —Vincent van Gogh
16. "Don't you love New York in the fall? It makes me want to buy school supplies. I would send you a bouquet of newly sharpened pencils if I knew your name and address." – Nora Ephron
17. "Autumn carries more gold in its pocket than all the other seasons." – Jim Bishop
18. "There is a harmony in autumn, and a luster in its sky, which through the summer is not heard or seen, as if it could not be, as if it had not been!" – Percy Bysshe Shelley
19. "Anyone who thinks fallen leaves are dead has never watched them dancing on a windy day." – Shira Tamir
20. "Days decrease, / And autumn grows, autumn in everything." – Robert Browning
21. "Winter is an etching, spring a watercolor, summer an oil painting and autumn a mosaic of them all." – Stanley Horowitz
22 "There is something incredibly nostalgic and significant about the annual cascade of autumn leaves." – Joe L. Wheeler
23. "Autumn has arrived. I hear it in the whispering of leaves." – Anujj Elviis
24. "The tints of autumn…a mighty flower garden blossoming under the spell of the enchanter, frost." – John Greenleaf Whittier
25. "She looked like autumn when leaves turned and fruit ripened." – Sarah Addison Allen
26. "If a year was tucked inside of a clock, then autumn would be the magic hour" – Victoria Erickson
27. "Use what you have, use what the world gives you. Use the first day of fall: bright flame before winter's deadness; harvest; orange, gold, amber; cool nights and the smell of fire." – Shauna Niequist
28. "I loved autumn, the one season of the year that God seemed to have put there just for the beauty of it." – Lee Maynard
29. "Life starts all over again when it gets crisp in the fall." – F. Scott Fitzgerald
30. "Is not this a true autumn day? Just the still melancholy that I love – that makes life and nature harmonize." – George Eliot
31. "Two sounds of autumn are unmistakable…the hurrying rustle of crisp leaves blown along the street…by a gusty wind, and the gabble of a flock of migrating geese." – Hal Borland
32. "Autumn was her happiest season." – Harper Lee
33. "No spring nor summer beauty hath such grace as I have seen in one autumnal face." –  John Donne
34. "I was drinking in the surroundings: air so crisp you could snap it with your fingers and greens in every lush shade imaginable offset by autumnal flashes of red and yellow." – Wendy Delsol
35. "Summer dashed off, her sundress flowing with greens; while Autumn slipped into a gown with jeweled seams." —Angie Weiland-Crosby
36. "When everything looks like a magical oil painting, you know you are in autumn!" – Mehmet Murat ildan
37. "Autumn would come to this place of welcome, this place I would know to be home. Autumn would come and the air would grow cool, dry and magic, as it does that time of the year." – Henry Rollins
38. "Listen! The wind is rising, and the air is wild with leaves, / We have had our summer evenings, now for October eves!" – Humbert Wolfe
39. "Autumn is my spring!" – August Strindberg
40. "As leaves cover the forest floor in a carpet of vibrant rusts, orange and gold, autumn proves that sometimes death too can be a beautiful thing." – Nikita Gill
41. "It was like autumn, looking at her. It was like driving up north to see the colors." – Jeffrey Eugenides
42. "Another fall, another turned page: there was something of jubilee in that annual autumnal beginning, as if last year's mistakes had been wiped clean by summer" – Wallace Stegner
43. "The heart of Autumn must have broken here and poured its treasure out upon the leaves." – Charlotte Bates
44. "The leaves are changing; I feel poetry in the air." – Laura Jaworski
45. "It was a beautiful bright autumn day, with air like cider and a sky so blue you could drown in it." – Diana Gabaldon
46. "Autumn whispered to the wind, "I fall; but always rise again." – Angie Weiland-Crosby
47. "The heat of autumn is different from the heat of summer. One ripens apples, the other turns them to cider." – Jane Hirshfield
48. "Autumn is the mellower season, and what we lose in flowers we more than gain in fruits." – Samuel Butler
49. "A wind has blown the rain away and blown the sky away and all the leaves away, and the trees stand. I think I, too, have known autumn too long." – E.E. Cummings
50. "The smell of burning firewood and the molding of organic, earthy substances reminded her of jumping wildly into the enormous leaf piles of autumns past and she suddenly wished that it was appropriate for someone her age to do such a thing." – Abby Slovin
51. "Autumn that year painted the countryside in vivid shades of scarlet, saffron, and russet, and the days were clear and crisp under the harvest skies." – Sharon Kay Penman
Holly Jaskolka is a certified Emotional Freedom Technique (EFT) practitioner, yoga instructor, and an impassioned advocate for holistic well-being. Fueled by her love for animals and wanderlust, Holly leads a plant-based lifestyle that she complements with immersive travel experiences. When she's not jet-setting to uncover the world's hidden gems, she's empowering individuals to heal emotionally, particularly those grappling with the aftermath of breakups. Connect with Holly on LinkedIn.