If you love trees and walking through the woods, you will adore these 80 forest quotes. These phrases highlight the magnificence, beauty, and vastness that forests provide.
Many sayings outline the importance of conserving our planet's lungs and caring for the environment. If you need some peace from the chaos of the world, walking in the forest is a perfect thing to do to reconnect with nature and yourself.
We hope you enjoy this comprehensive collection of quotes about the woods. Simply browse the list of quotes about forests and choose your favorite!
Enjoy the following sayings, and feel free to share them with loved ones. Thank you for supporting our work!
Forest Quotes
1. "He who has no dreams, let him go to a beautiful forest to have many." – Mehmet Murat Ildan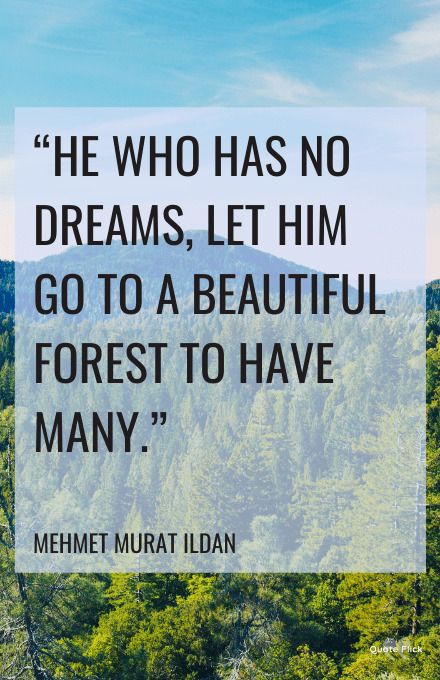 2. "Let's take our hearts for a walk in the woods & listen to the magic whispers of old trees." – Unknown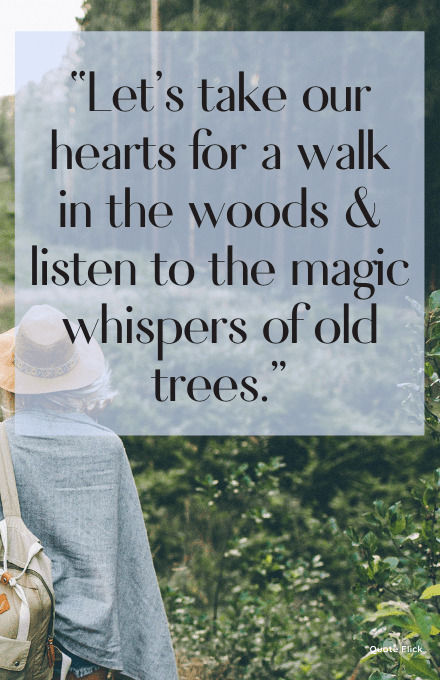 3. "Nothing is more beautiful than the loveliness of woods before sunrise." – George Washington Carver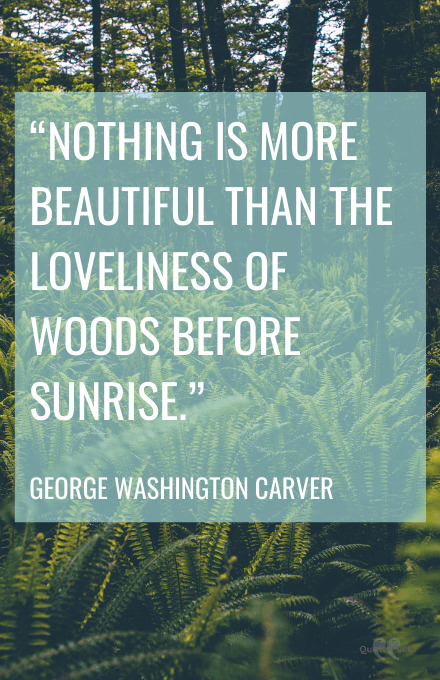 4. "I took a walk in the woods and came out taller than the trees." – Henry David Thoreau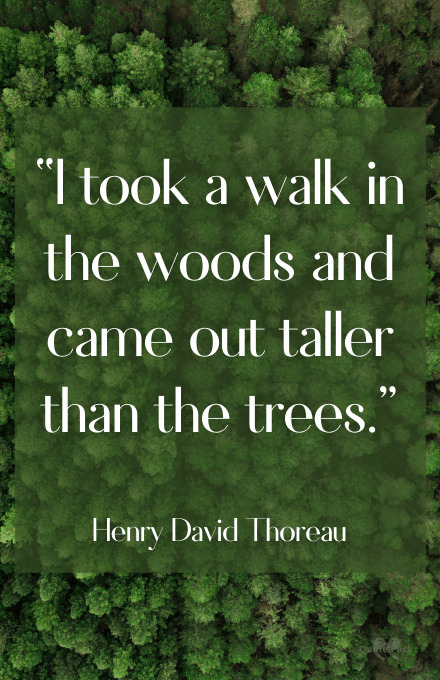 5. "And into the forest I go, to lose my mind and find my soul." – John Muir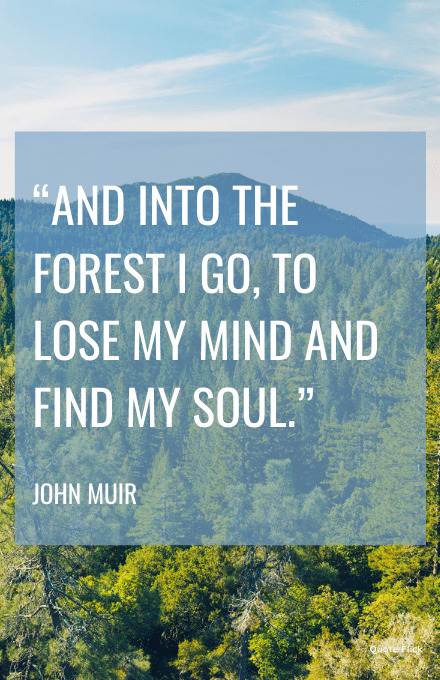 Next: Leaf Quotes
6. "A nation that destroys its soils destroys itself. Forests are the lungs of our land, purifying the air and giving fresh strength to our people." – Franklin D. Roosevelt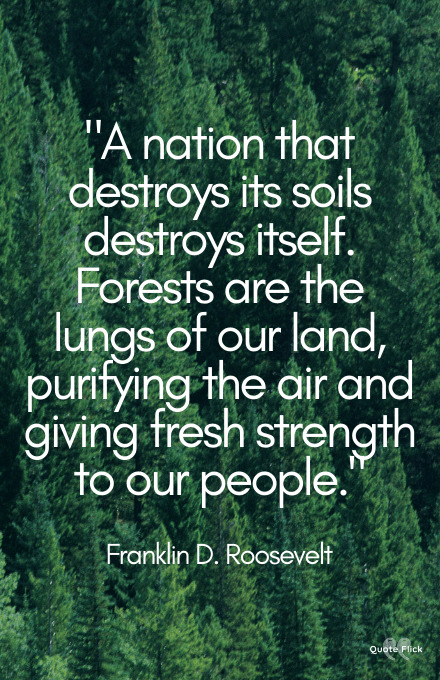 7. "I found far more answers in the woods than I ever did in the city." – Mary Davis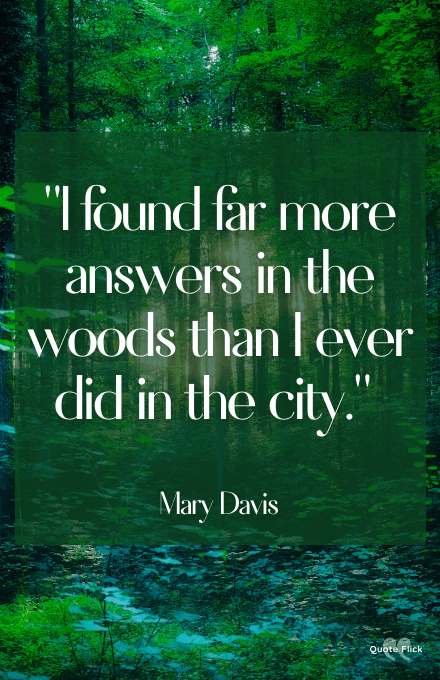 8. "No one who loves the woods stays on the path." – Millie Florence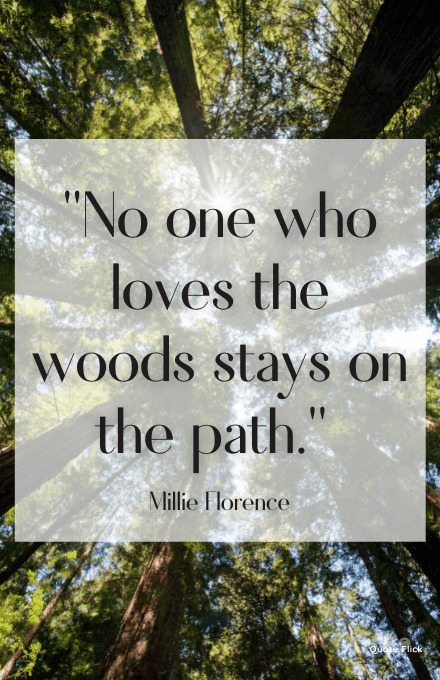 9. "If you go to a desert, you will hear this mysterious voice: Be wise, protect your forests!" – Mehmet Murat Ildan
10. "The forest is filled with magic and secrets." – Unknown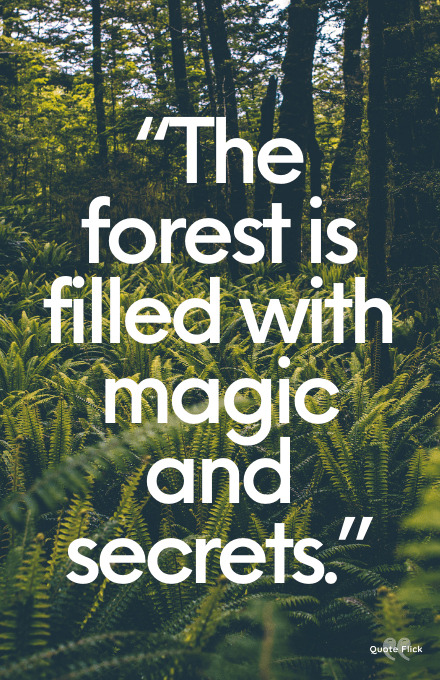 Next: Butterfly Quotes
11. "The clearest way into the universe is through a forest wilderness." – John Muir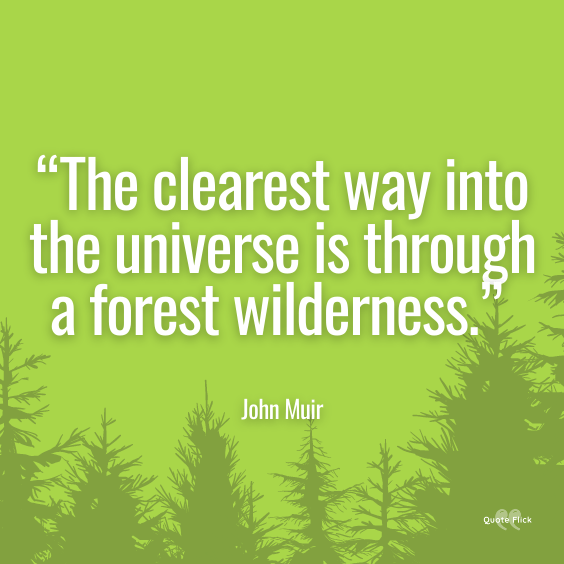 12. "A rainy day is the perfect time for a walk in the woods." –  Rachel Carson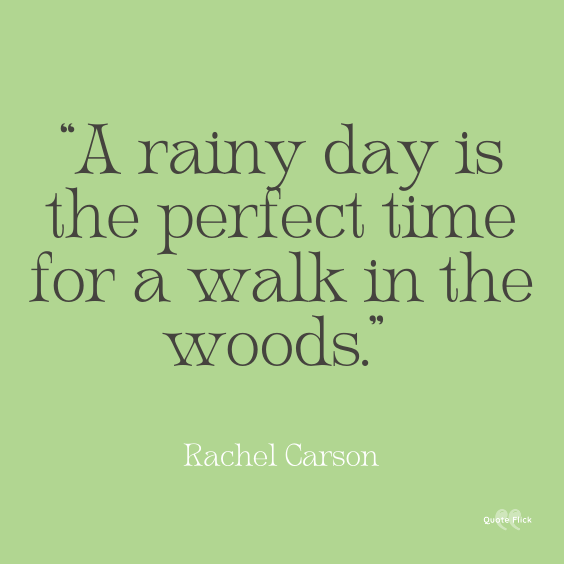 13. "I took off my shoes and walked into the woods. I felt lost and found with every step I took." – Unknown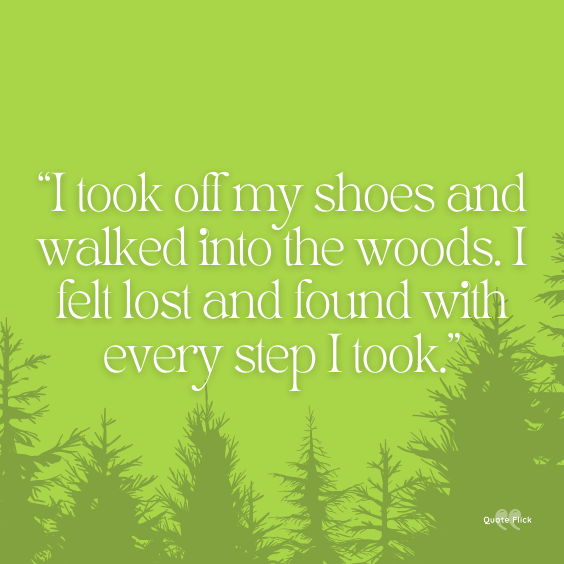 14. "Let's take our hearts for a walk in the woods and listen to the magic of the old trees." – Unknown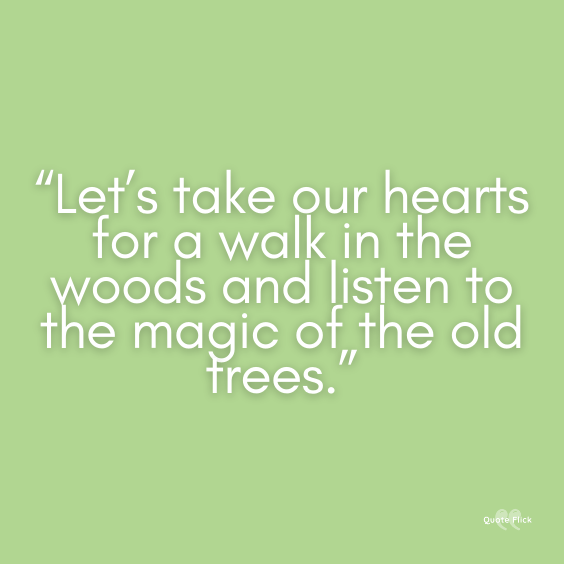 15. "What we are doing to the forests of the words is but a mirror reflection  of what we are doing to ourselves and to one another." – Mahatma Gandhi
Next: Sunshine Quotes
16. "And into the forest I go, to lose my mind and find my soul." – John Muir
17. "In a world of constant change and streaming technology, I find solace in the forest where a tree remains a tree." – Angie Welland Crosby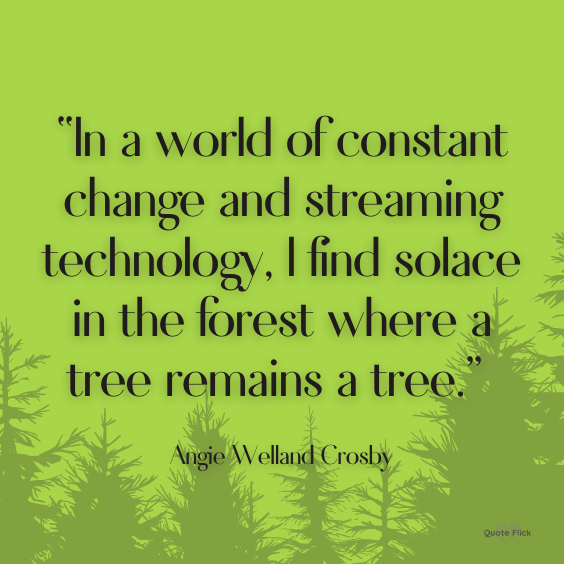 18. "If man doesn't learn to treat the oceans and the rain forest with respect, man will become extinct." – Peter Benchley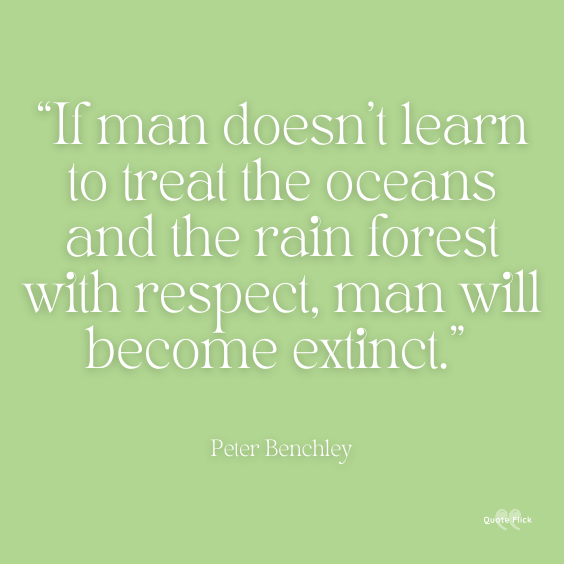 19. "There is no Wi-Fi in the forest, but I promise you will find a better connection." – Unknown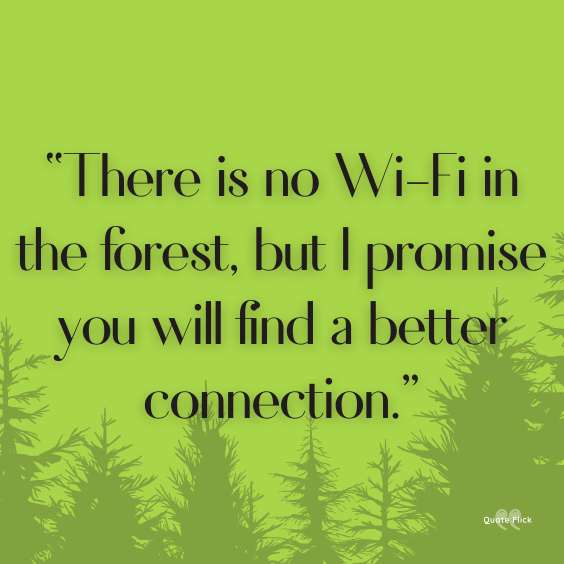 20. "Leave the beaten track occasionally and dive into the woods. You will be certain to find something you have never seen before." – Alexander Graham Bell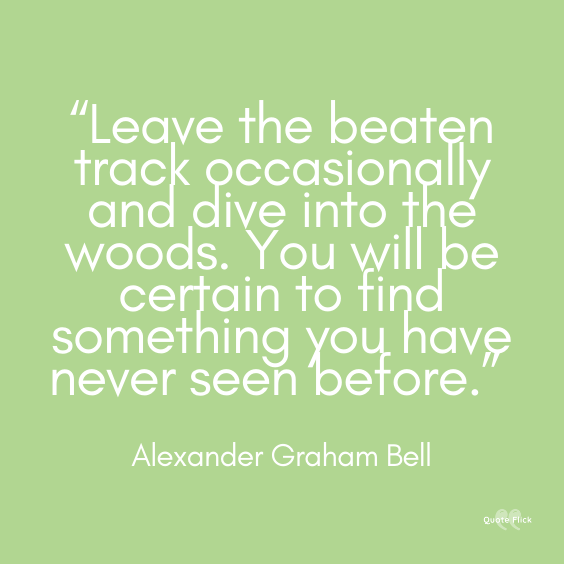 Next: Mountain Quotes
21. "In the woods, we return to reason and faith." – Ralph Waldo Emerson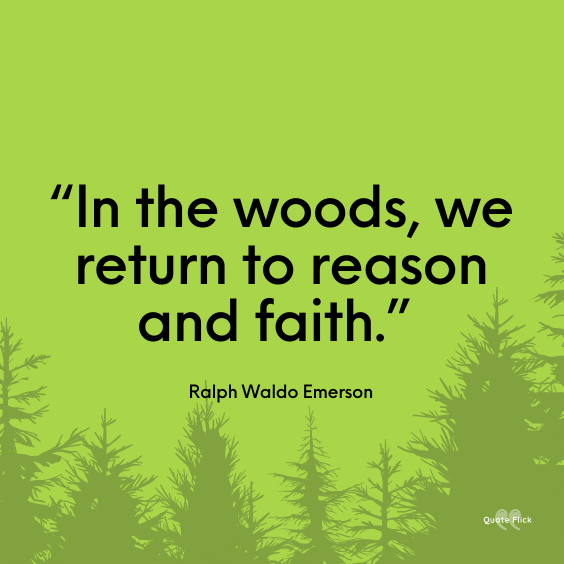 22. "The death of the forest is the end of our life." – Dorothy Stang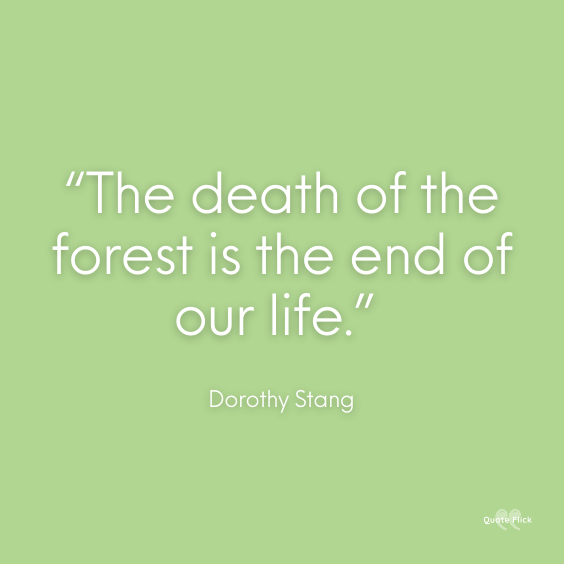 23. "Finland is officially the world's happiest country. It is also 75 percent forest. I believe these facts are related." – Matt Haig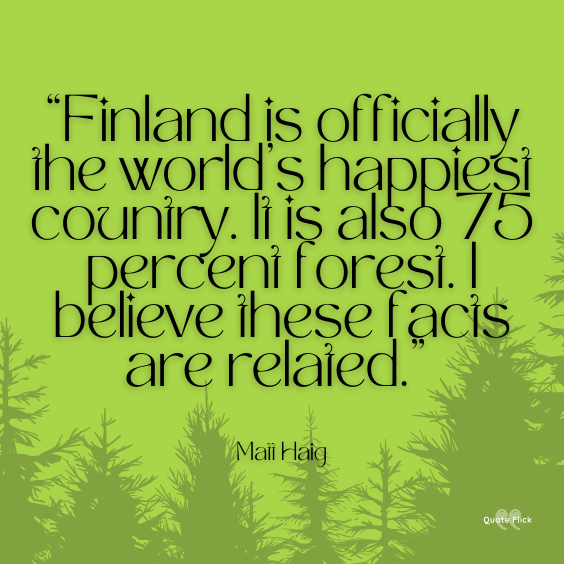 24. "You can walk in a dream while you are awake: Just walk  in the misty morning of a forest." – Mehmet Murat Ildan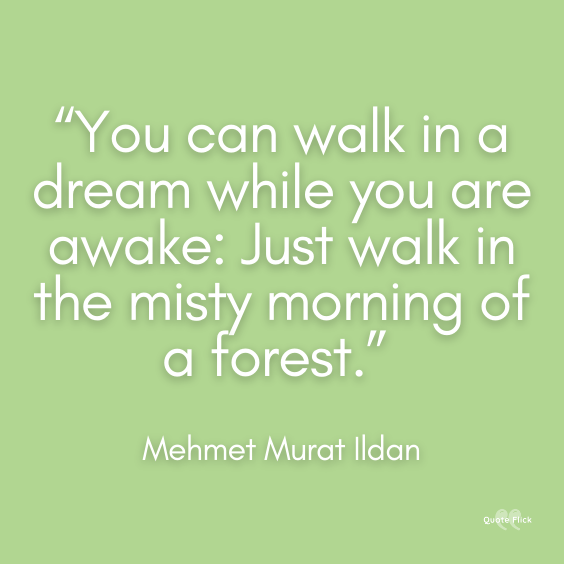 25. "Come to the woods, for here is rest. There is no repose like that of the green deep woods. Sleep in forgetfulness of all ill." – John Muir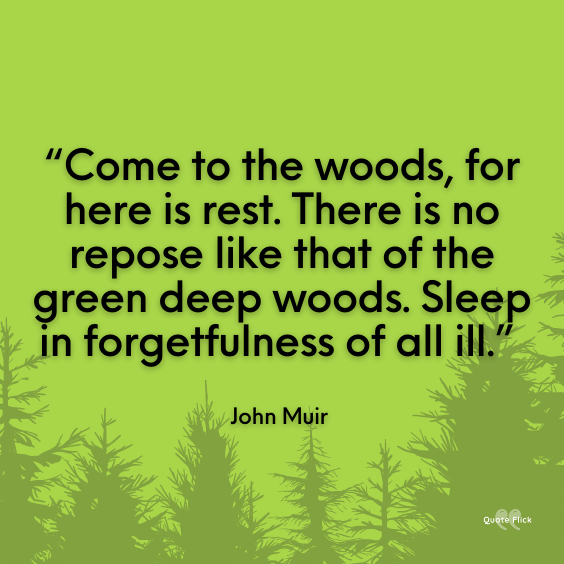 Next: Rain Quotes
26. "Forests are the world's air-conditioning system – the lungs of the planet. And we are on the verge of switching it off." – Prince Charles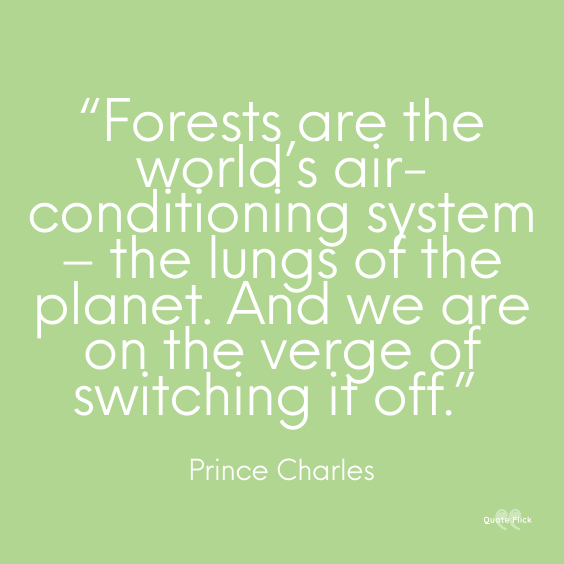 27. "The  art of forest bathing is the art of connecting with nature through our senses." – Dr. Li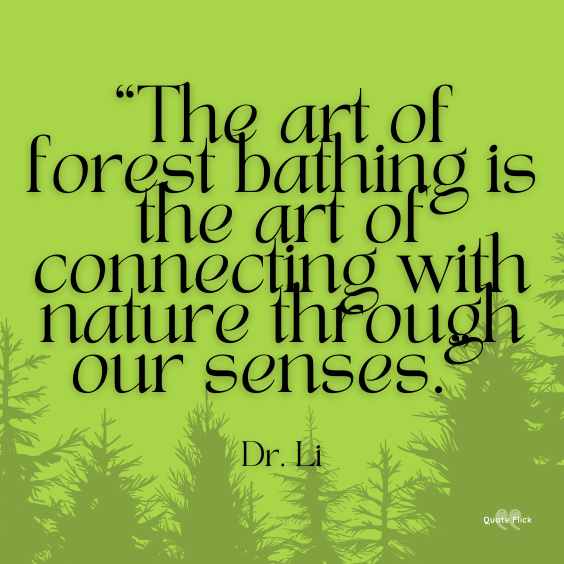 28. "But I'll tell you what hermits realize. If you go off into a far, far forest and get very quiet, you'll come to understand that you're connected with everything." – Alan Watts
29. "The woods are lovely, dark, and deep. But I have promises to keep, and miles to go before I sleep." – Robert Frost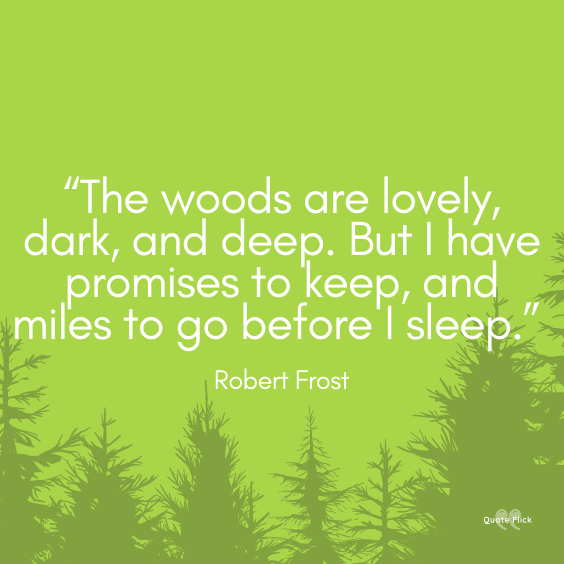 30. "When we walk into a grove of trees or under an open sky the magic of nature takes over and the heaviness of life lifts a little." – Natassia Cassinero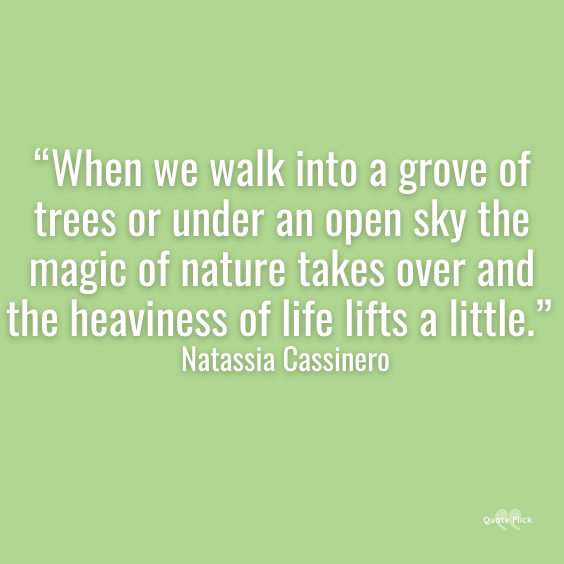 31. "Each summer's night the woods abound with sounds. And I always thought how wonderful it was that nature sings even when it's asleep." – Craig D. Lounsbrough 
32. "My roots are in the depths of the woods." – Galle
33. "A people without children would face a hopeless future; a country without trees is almost as helpless." – Theodore Roosevelt 
34. "The mountains, the forest, and the sea render men savage; they develop the fierce, but yet do not destroy the human." – Victor Hugo
35. "A house you can rebuild; a bridge you can restring; a washed-out road you can fill in. But there is nothing you can do about a tree but mourn." – Louise Dickinson Rich
36. "A forest is a living thing like a human body…each part dependent on all the other parts." – Louis L'Amour
37. "Knowing trees, I understand the meaning of patience. Knowing grass, I can appreciate persistence." – Hal Borland
38. "These woods are where silence has come to lick its wounds." – Samantha Hunt
39. "A nation that destroys its soils destroys itself. Forests are the lungs of our land, purifying the air and giving fresh strength to our people." – Franklin D. Roosevelt
40. "The strongest oak of the forest is not the one that is protected from the storm and hidden from the sun. It's the one that stands in the open where it is compelled to struggle for its existence against the winds and rains and the scorching sun." – Napoleon Hill
41. "A forest bird never wants a cage." – Henrik Ibsen
42. "Earth and sky, woods and fields, lakes and rivers, the mountain and the sea, are excellent schoolmasters, and teach some of us more than we can ever learn from books." – John Lubbock 
43. "A rose started off a bud, a bird started off an egg, and a forest started off a seed." – Unknown
44. "Endangered forests are being slaughtered for toilet paper." – Daphne Zuniga 
45. "A forest ecology is a delicate one. If the forest perishes, its fauna may go with it. The athshean word for world is also the word for forest." – Ursula K. Le Guin
46. "A forest shares a history which each tree remembers even after it has been felled."– Anne Michaels
47. "The tree which moves some to tears of joy is in the eyes of others only a green thing that stands in the way." – William Blake
48. A few minutes ago every tree was excited, bowing to the roaring storm, waving, swirling, tossing their branches in glorious enthusiasm like worship. But though to the outer ear these trees are now silent, their songs never cease. Every hidden cell is throbbing with music and life, every fiber thrilling like harp strings, while incense is ever flowing from the balsam bells and leaves. No wonder the hills and groves were God's first temples, and the more they are cut down and hewn into cathedrals and churches, the farther off and dimmer seems the Lord himself."– John Muir
49. "The forest is a quiet place if only the best birds sing."  – Kay Johnson
50. "A grove of giant redwoods or sequoias should be kept just as we keep a great or beautiful cathedral." – Theodore Roosevelt 
51. "In the depths of a Forest secluded and wild / The night voices whisper in passionate numbers." – Henry Kendall
52. "Nothing is more beautiful than the loveliness of the woods before sunrise." – George Washington Carver
53. "Maintaining healthy forests is essential to those who make a living from the land and for those of us who use them for recreational purposes." – Cathy McMorris Rodgers
54. "In some mysterious way woods have never seemed to me to be static things. In physical terms, I move through them; yet in metaphysical ones, they seem to move through me."
– John Fowles
55. "Every time I have some moment on a seashore, or in the mountains, or sometimes in a quiet forest, I think this is why the environment has to be preserved." – Bill Bradley
56. "If you walk into a forest – you hear all kinds of subtle sounds – but underneath there is an all-pervasive silence." – Eckhart Tolle
57. "To the artist, the forest is an asylum of peace and dancing shadows." – John F. Carlson
58. "Forest is the best port of the wise man!" – Mehmet Murat ildan
59. "Our forests are not for toilet paper. They are worth more standing than cut. That deserves to be defended, not only by native peoples but also by environmentalists." – Winona LaDuke
60. "There is a serene and settled majesty to woodland scenery that enters into the soul and delights and elevates it, and fills it with noble inclinations." – Washington Irving
61. "But more impressive than the facts and figures as to height, width, age, etc., are the entrancing beauty and tranquility that pervade the forest, the feelings of peace, awe and reverence that it inspires." – George MacDonald 
62. "Forests are places where we can get back in touch with our inner selves, where we can walk on soft ground, breathe in natural scents, taste berries, listen to the leaves crackling – all the senses are awakened in the subdued light and stress melts away like snow in the snow." – Pierre Lieutaghi
63. "I grew up in a forest. It's like a room. It's protected. Like a cathedral… it is a place between heaven and earth." – Anselm Kiefer
64. "Chimpanzees, gorillas, orangutans have been living for hundreds of thousands of years in their forest, living fantastic lives, never overpopulating, never destroying the forest. I would say that they have been in a way more successful than us as far as being in harmony with the environment." – Jane Goodall 
65. "Every forest branch moves differently in the breeze, but as they sway they connect at the roots." – Rumi
66. "Forests, lakes, and rivers, clouds and winds, stars and flowers, stupendous glaciers and crystal snowflakes – every form of animate or inanimate existence, leaves its impress upon the soul of man." – Orison Swett Marden 
67. "Glorious are the woods in their latest gold and crimson. Yet our full-leaved willows are in their freshest green. Such a kindly autumn, so mercifully dealing. With the growths of summer, I never yet have seen." – William Cullen Bryant
68. "How do I explain the woods? For to do so using sturdy and manageable terms such as biodiversity or environment or ecosystem might suit a scientific framework. But such terms miss the mystery of life merging in a million different forms that all unify in a glorious tapestry so complete and utterly perfect that not to be stunned is to be dead in spirit. And therefore we might consider the fact that the woods make us alive in spirit when the definitions of men would kill life by enslaving it to definition." – Craig D. Lounsbrough
69. "Nevertheless most of the evergreen forests of the north must always remain the home of wild animals and trappers, a backward region in which it is easy for a great fur company to maintain a practical monopoly." – Ellsworth Huntington
70. "I find my soul in forests…" – Kedar Dhepe 
71. "I drank the silence of God from a spring in the woods." – Georg Trakl 
72. "Nature is pleased with simplicity. And nature is no dummy." – Isaac Newton
73. "Most people know that forests are the lungs of our planet, literally playing a critical role in every breath we take. And that they're also home to incredible animals like the orangutan and elephant, which will go extinct if we keep cutting down their forests." ~ Chris Noth
74. "I feel a great regard for trees; they represent age and beauty and the miracles of life and growth." – Louise Dickinson Rich 
75. "Deforestation is changing our climate, harming people and the natural world. We must, and can, reverse this trend." – Jane Goodall
76. "I frequently tramped eight or ten miles through the deepest snow to keep an appointment with a beech tree, or a yellow birch, or an old acquaintance among the pines." – Henry David Thoreau
77. "Do not be very upright in your dealings for you would see by going to the forest that straight trees are cut down while crooked ones are left standing." – Chanakya
78. "You cannot protect the environment unless you empower people, you inform them, and you help them understand that these resources are their own, that they must protect them." – Wangari Maathai
79. "In my deepest troubles, I frequently would wrench myself from the persons around me and retire to some secluded part of our noble forests." – John James Audubon
80. "If the day comes when our descendants can venture with wonder into chestnut forests, we will have gained back more than a perfect tree. We will have gained a new reason for hope." – Susan Freinkel