You've made it through the week and landed on Friday, the most celebrated day of the week. To mark the occasion, we've collected here 61 uplifting Friday quotes. They're sure to give you the inspiration to get through to the weekend!
As you'll see in these happy Friday quotes, there is much emphasis on getting Monday to Thursday out of the way. But in an ideal world, we would be making the most of each day and some of the phrases highlight the importance of that too!
If you're always waiting for the weekend, these Friday motivational quotes will bring you some humor, encouragement, and happiness. Let's lighten the tone and get you excited about your plans and time off work!
It can be sometimes hard to find the energy to get out of bed on the last morning of the week. Have a browse of these Friday inspirational quotes to get you jumping out of bed to seize the day! You've got this!
With lovely colorful images to share, you'll be cheerleading your friends and colleagues on too.
Best Friday Quotes
Here we go with the best Friday quotes you will find, all in one place. Reading these words will uplift, inspire and encourage you to have your best Friday yet!
1. "May today be the Fridayest Friday that ever Fridayed." – Unknown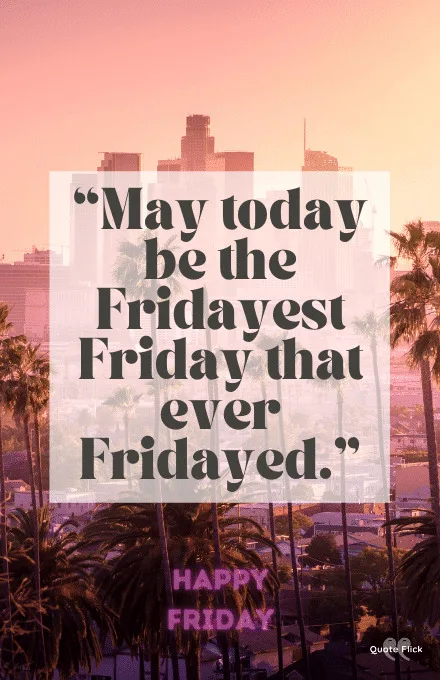 2. "Happy Friday you beautiful human." – J.York.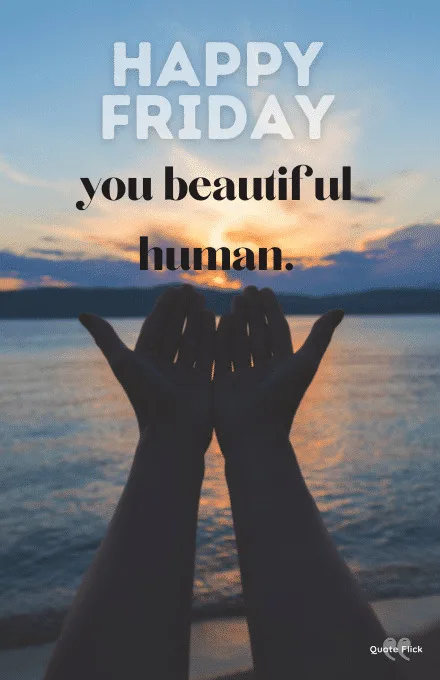 3. "If Friday is the motivational factor to your week, maybe its time to switch up your Monday-Thursday!" – Unknown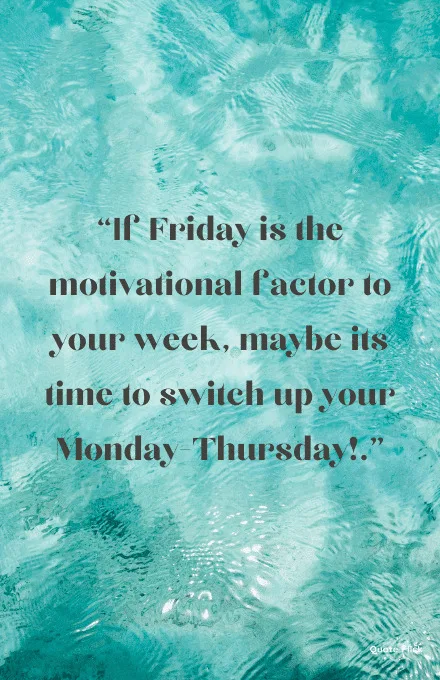 4. "I do believe that Friday is the most inspirational day." – Unknown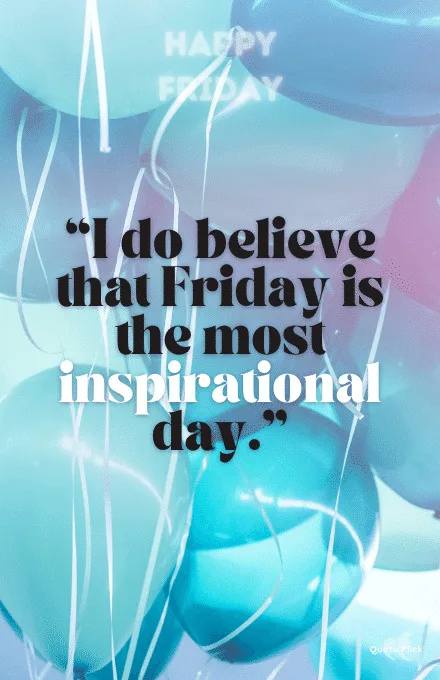 5. "It's Friday morning mankind! Good vibe, don't frown and let the monster see you smile!" – Napz Cherub Pellazo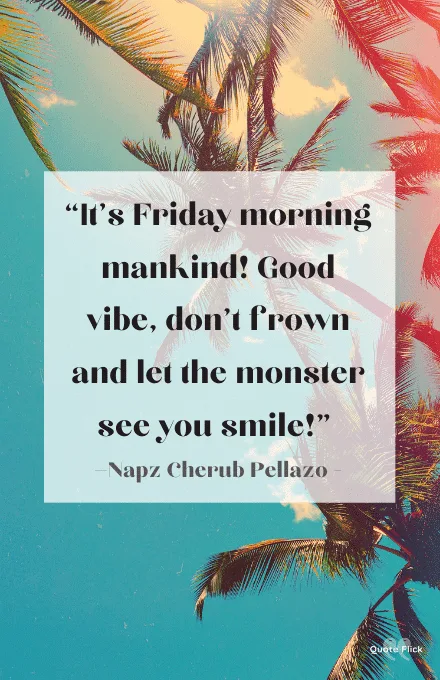 Next:
6. "Everything is funny on a Friday!" – Unknown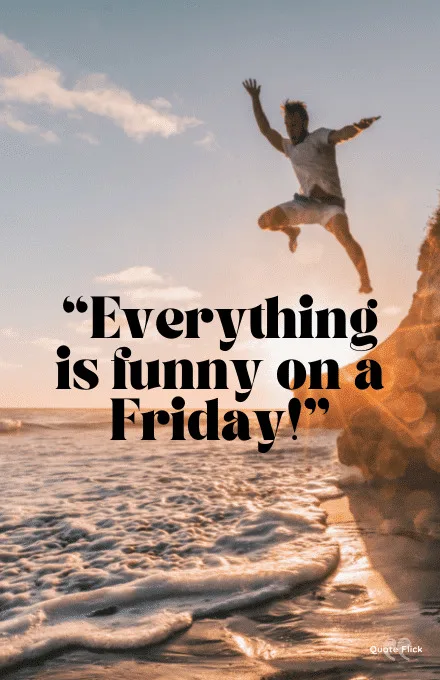 7. "There is a funny day called Friday, where time seems to stand still between 9am and 4pm." – Unknown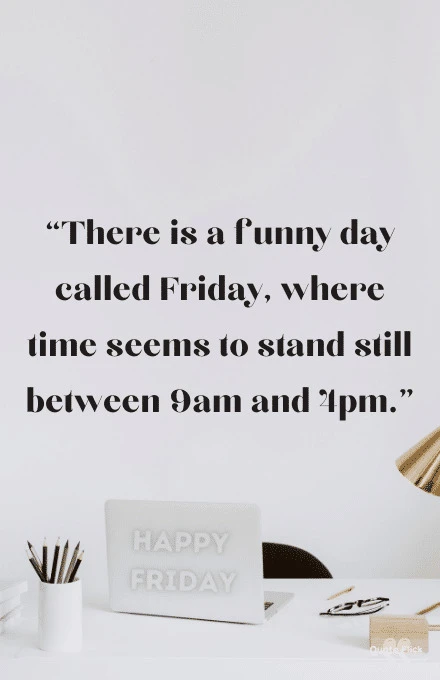 8. "The best thing about Friday is the whole day." – Unknown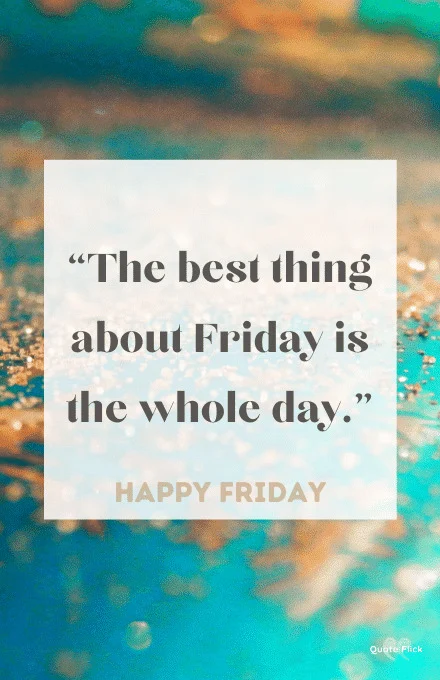 9. "Friday is my second favorite F word. Food is my first" – Unknown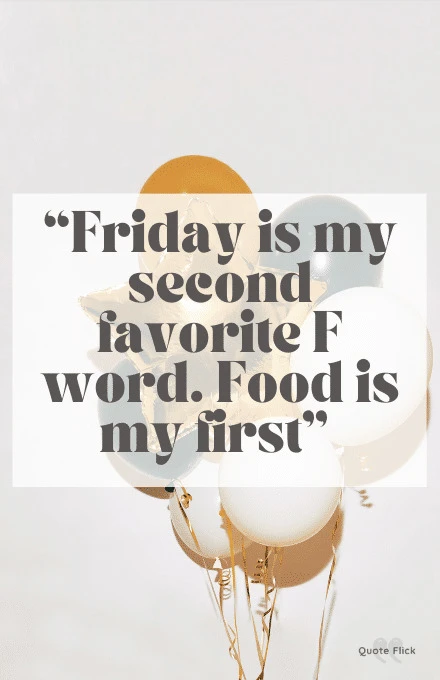 10. "Friday is magical, beautiful, happy, funny, lovely… can you tell it's my favorite day!?" – Unknown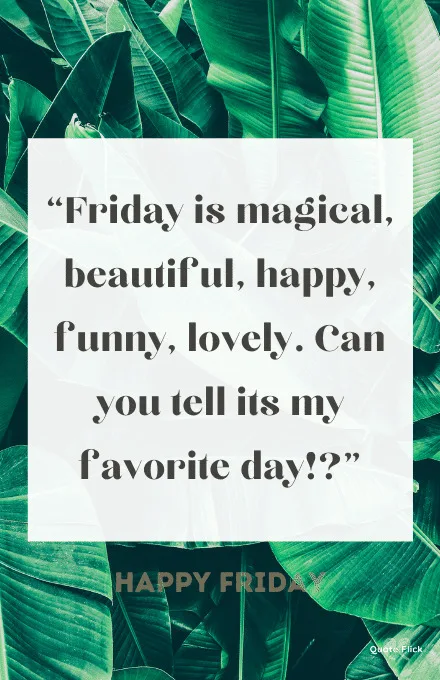 Next:
11. "I try hard every week to make Monday to Thursday as light, but mutter TGIF each Friday without fail!" – Unknown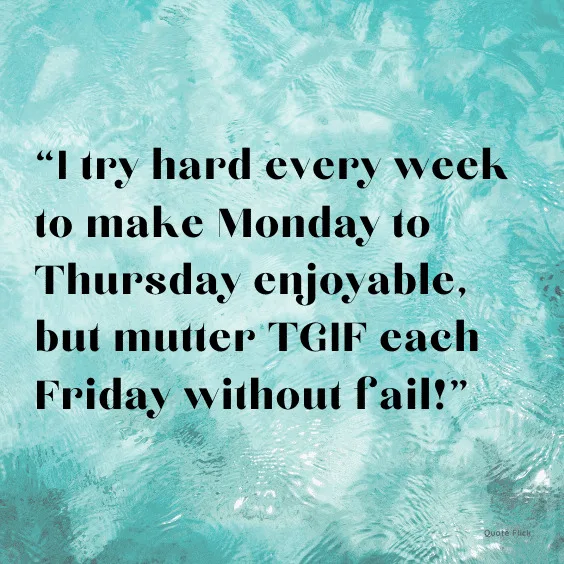 12. "Tuesday would be cuter if it were FRIDAY." – Unknown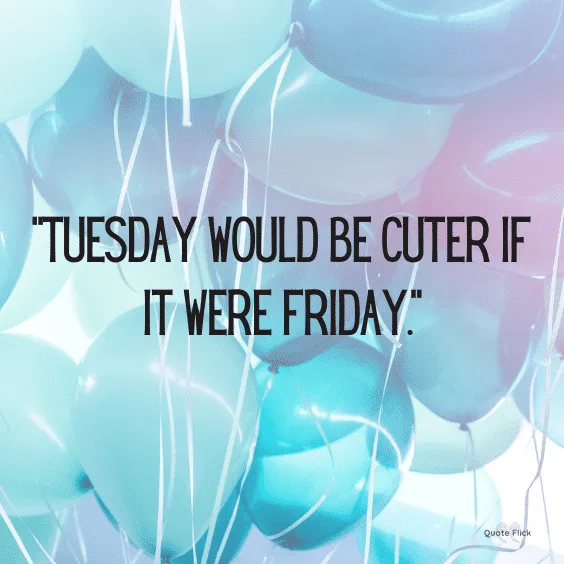 13. "I am instantly more positive on a Friday." – Unknown
14. "Monday through to Thursday, mustn't be filled with images of Friday. Make each day your most wonderful day." – Unknown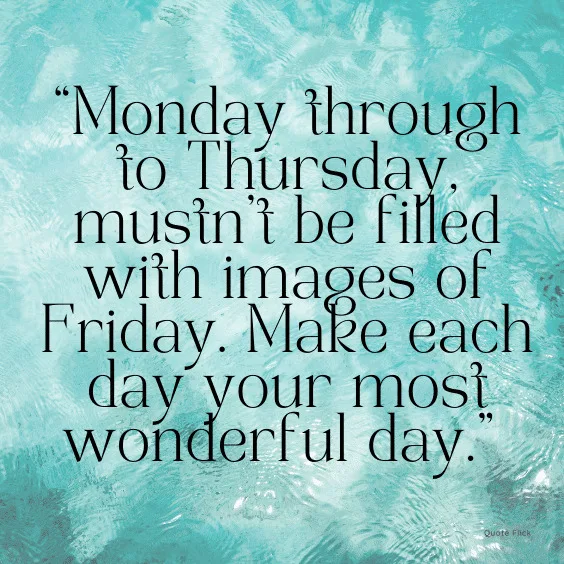 15. "A word of encouragement for Thursday…its Friday tomorrow!" – Unknown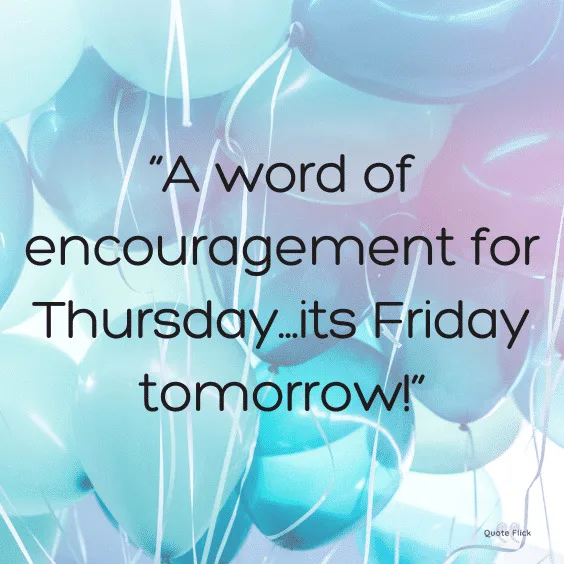 Next:
16. "FRIDAY. Make each day of the week like Friday and your life will take on new enthusiasm." – Byron Pulsifer
17. "Coffee in hand, sparkle in my eye, smile on my face yep, it's Friday." – Unknown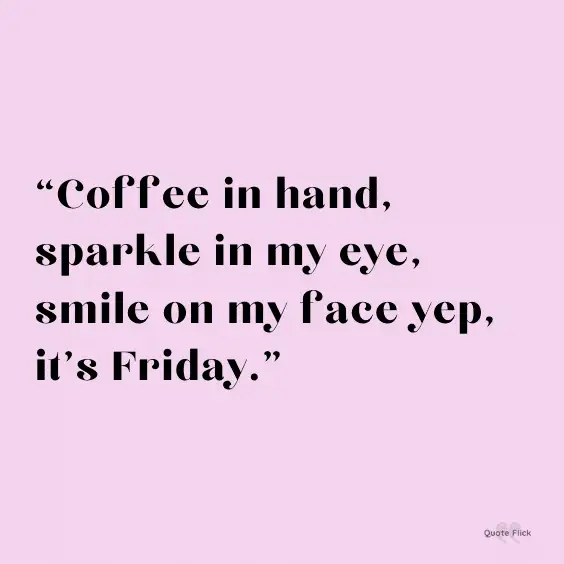 18. "This Friday, finish your work and be done. Look forward to the weekend and have some fun!" – Kate Summers
19. "Music always sounds better on Friday." – Lou Brutus
20. "Friday is about hanging out with friends, having fun." Rebecca Black
21. "Happy Thursday! Sorry, but I'm saving my "WOO HOO!" for Friday." – Unknown
22. "It's 4:58 on Friday afternoon. Do you know where your margarita is?" – Amy Neftzger
23. "Friday is like a superhero that always arrives just in time to stop me from savagely beating one of my coworkers with a keyboard." – Rico
24. "Stop waiting for Friday, for summer, for someone to fall in love with you, for life. Happiness is achieved when you stop waiting for it and make the most of the moment you are in now." – Unknown
25. "Things people say: It's Friday! Things self-employed people say: It's Friday?" – Unknown
26. "Friday afternoon feels like heaven." – El Fuego
27. "If my boss knew how unproductive I am on Fridays, he wouldn't want me here either." — James Johnson
28. "If showing up in a robe and tiara with a box of wine is wrong, then maybe I don't fully comprehend how Casual Friday actually works!" – Unknown
29. "Friday is a day to finish your goals for the week. It is a day to celebrate that which you set out to accomplish at the beginning of the week." – Byron Pulsifer
30. "I don't work on Fridays, I make appearances." – Unknown
31. "Its always difficult to keep Fridays confined within themselves… they tend to spill over…" – Parag Tipnis
32. "If my boss knew how unproductive I am on Fridays, he wouldn't want me here either." – James Johnson
33. "Friday. The golden child of the weekdays. The superhero of the workweek. The welcome wagon to the weekend." – Unknown
34. "People wait all week for Friday, all year for summer, all life for happiness." – Raimonda. B
35. "I have never in my life found myself in a situation where I've stopped work and said, 'Thank God it's Friday.' But weekends are special even if your schedule is all over the place. Something tells you the weekend has arrived and you can indulge yourself a bit." – Helen Mirren
36. Oh! It's Friday again. Share the love that was missing during the week. In a worthy moment of peace and bliss. – S. O'Sade
37. "It's Friday! Time to go make stories for Monday." – Unknown
38. "Happy Friday! Here's to all of us who made it through another week of faking adulthood." – Nanea Hoffman
39. "Although I understand that all days are equal with 24 hours each, most of us agree that Friday is the longest day of the week and Sunday the shortest!" – D.S. Mixell
40. "Life is beautiful, especially on Friday!" – Unknown
41. "Hands up if you're ready to do something you'll regret this weekend. Go forth! You have my blessing." — Florence Welch
42. "Dear Monday. Just hand me Friday and nobody gets hurt." – Unknown
43. "Without Friday, the weekend would be half over already." – Anthony T. Hincks
44. "I always give 100% at work: 13% Monday, 22% Tuesday, 26% Wednesday,, 35% Thursday, 4% Friday." – Unknown
45. "It's Friday. I'm alive. I'm breathing. I'm living. I'm blessed. Life is good." – Unknown
46. "Dear Radio Stations, please do not play Katy Perry's "Friday Night" Monday morning at 8 AM during my drive to work." – ­Unknown
47. "Tuesday just called and wants to know what happened to Friday!!" – Neil Leckman
48. "I am instantly 70% nicer after 3 pm on Fridays." – Unknown
49."Friday sees more smiles than any other day of the workweek!"— Kate Summers
50. "Every Friday, I like to high-five myself for getting through another week on little more than caffeine, willpower, and inappropriate humor." – Nanea Hoffman
51. "Make a Friday a day to celebrate work well done that you can be proud of knowing that you just didn't put in the time to the next paycheck." — Byron Pulsifer
52. "I wanna be your Friday night sweet ride. Summertime sunshine barefoot in the moonlight."
53. "FRIDAY NIGHT! I have a date, with my bed…We're totally going to sleep together!" – Unknown

54. "Dear Friday, I'm so glad we are back together. I'm sorry you had to see me with Mon-Thurs, but I swear I was thinking of you the whole time." – Unknown
55. "Stop waiting for Friday, for summer, for someone to fall in love with you, for life. Happiness is achieved when you stop waiting for it and make the most of the moment you are in now." – Unknown
56. "FRI-NALLY" – Unknown
57. "Employers are at their happiest on Mondays. Employees are at their happiest on Fridays." —Mokokoma Mokhonoana
58. "Tonight's forecast, 99% chance of wine." – Unknown
59. "Although I understand that all days are equal with 24 hours each, most of us agree that Friday is the longest day of the week and Sunday the shortest." – D.S. Mixell
60. "When you leave work on Friday, leave work. Don't let technology follow you throughout your weekend (answering text messages and emails) take a break you will be more refreshed to begin the workweek if you have had a break." – Catherine Pulsifer
61. "I do like escapism. Like going to the movies on Friday night and seeing something fun." – Charlie Kaufman
62. "It's Friday night. Time to be a hero and rescue some wine trapped in a bottle." – Unknown
63. "Thursday doesn't even count as a day, it's just the thing that's blocking Friday." – Unknown
64. "On a Friday night, I like to go out because my friends, who have been working normal hours, just want to let go after a stressful week at work." — Douglas Booth
65. "Love and Life begins on Fridays." – Unknown
66. "When you start to do the things that you truly love, it wouldn't matter whether it is Monday or Friday; you would be so excited to wake up each morning to work on your passions." – Edmond Mbiakading
67. "Fridays are the hardest in some ways: you're so close to freedom." – Lauren Oliver
68. "Although I understand that all days are equal with 24 hours each, most of us agree that Friday is the longest day of the week and Sunday the shortest." — D.S. Mixel
69. "Youth is like a long weekend on Friday night. Middle age is like a long weekend on Monday afternoon." – Richard Nelson Bolles
70. "I love Fridays like Kanye loves Kanye." – Unknown
71. "There's just one legitimate synonym for Friday: Boom Shakalaka." – Unknown