If you're looking for inspirational words to use for giving praise to a hard-working employee or team, look no further. These 30 great job quotes have you covered. Telling someone what amazing work they have done is so important in the workplace.
This collection of good work quotes and upbeat phrases will help you do so with ease. Simply choose your favorite from our list and send it to someone to remind them that they're doing a good job.
Consider sharing your favorite awesome job quotes via email with your team, letting them know what excellent work they have done! Enjoy!
Great Job Quotes
1. Well! This is just a great job! I appreciate your effort and dedication. Thank you!
2. Thank you for doing a good job here, I want you to know how much I value your effort, I can't thank you enough.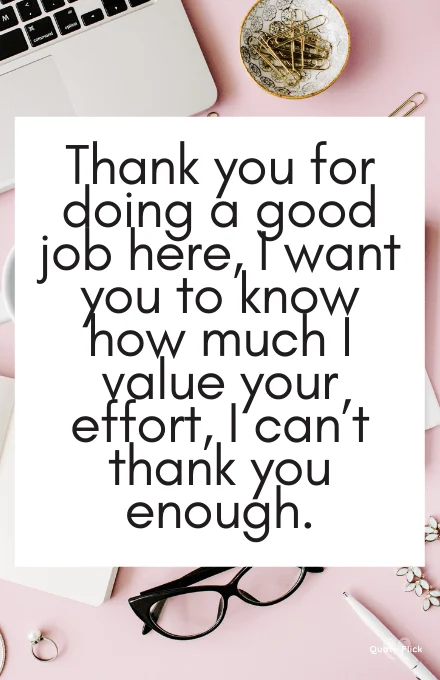 3. The work you are doing is incredible, we all notice that you're doing a great job and are confident in your abilities!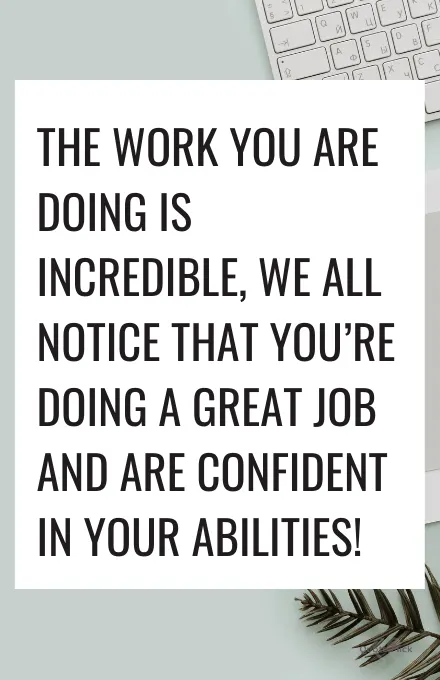 4. I'm very pleased with your effort, it isn't unnoticed what a good job you are doing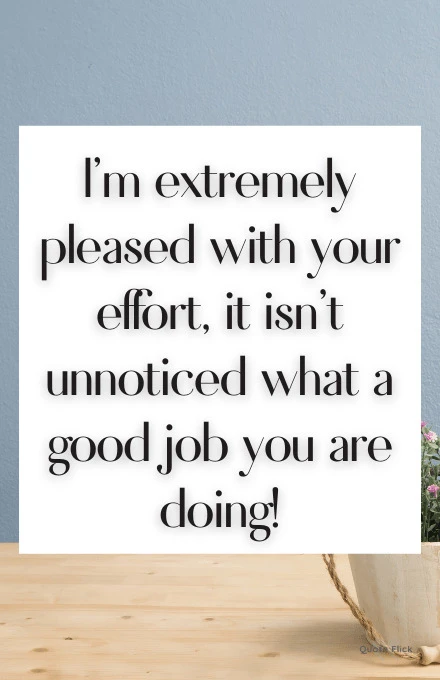 5. Good job, I love your work and how you go above and beyond in all you do!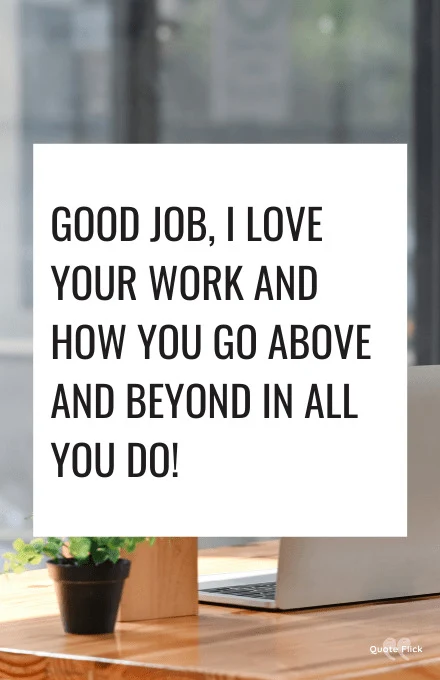 You Might Also Like:
6. Absolutely perfect, I knew I could rely on you to do such a good job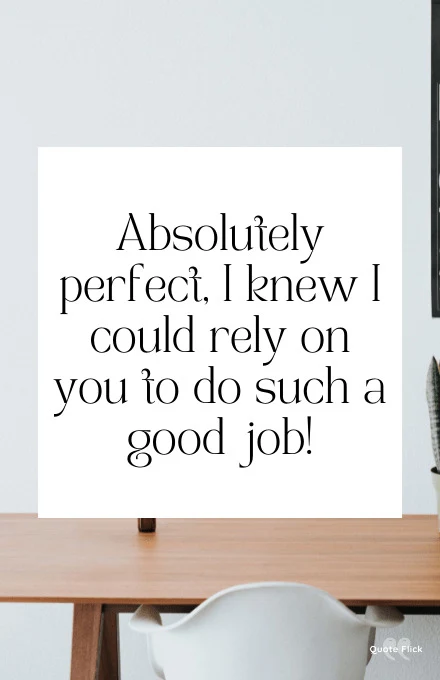 7. What an awesome job! Wow, I can't thank you enough!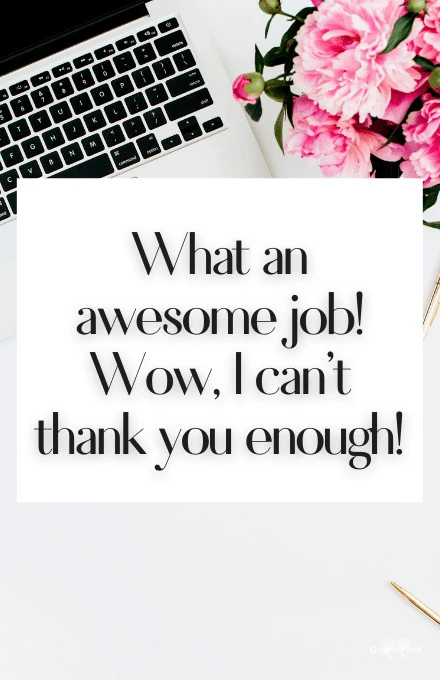 8. Thank you for all that you do, I hope you know what a good job you are doing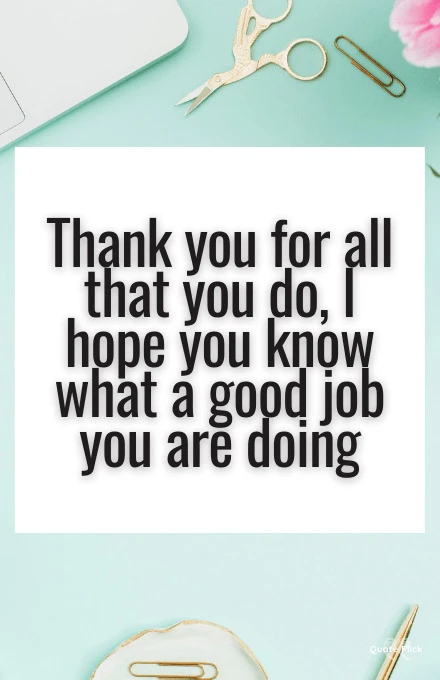 9. I really like and appreciate what you're doing here, this is incredible, keep up the good work!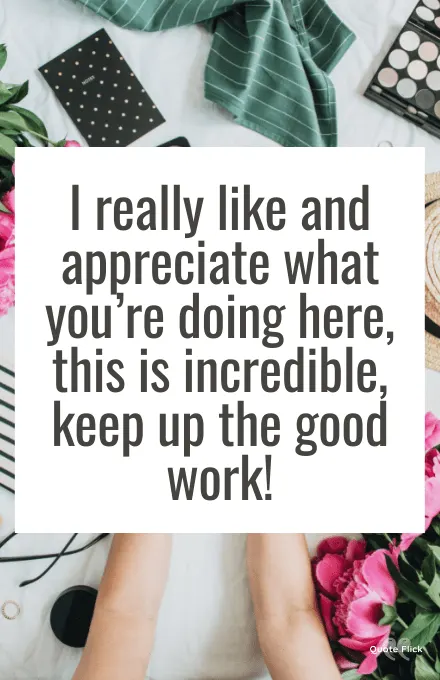 10. Thank you, my wonderful employee, for being such a star, you've excelled. I can always rely on your for good work!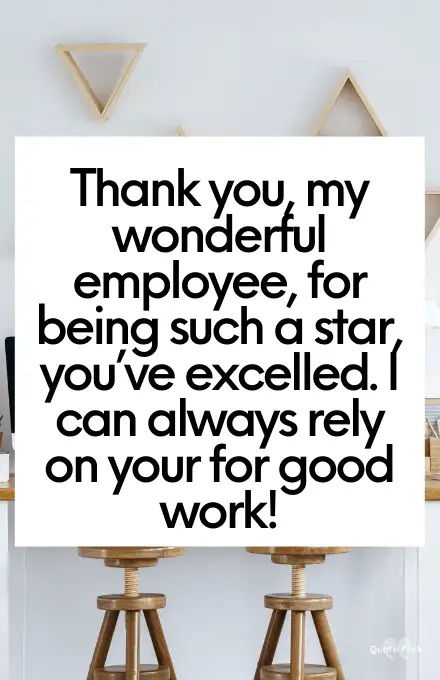 Next: Appreciation Quotes About Bosses
11. Your work is amazing, I can tell you live for it, your passion really shines through
12. Nice job! Really fantastic, thank you!
13. You really stand out from the crowd, keep it up, this is a great job!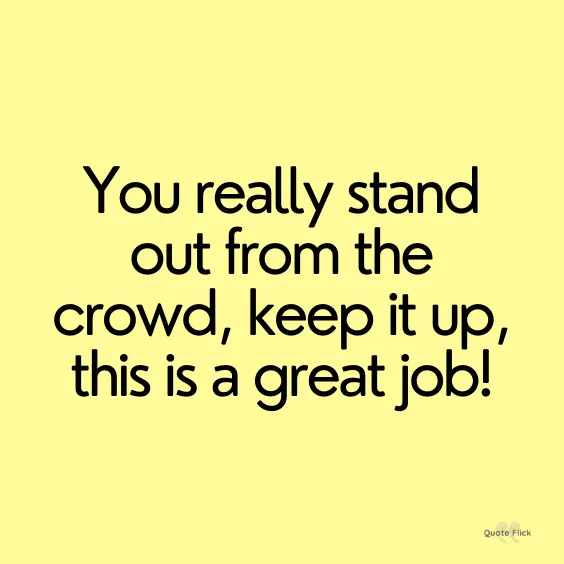 14. You've made an impossible task look possible, and with such ease. I really appreciate your dedication and the excellent work you do.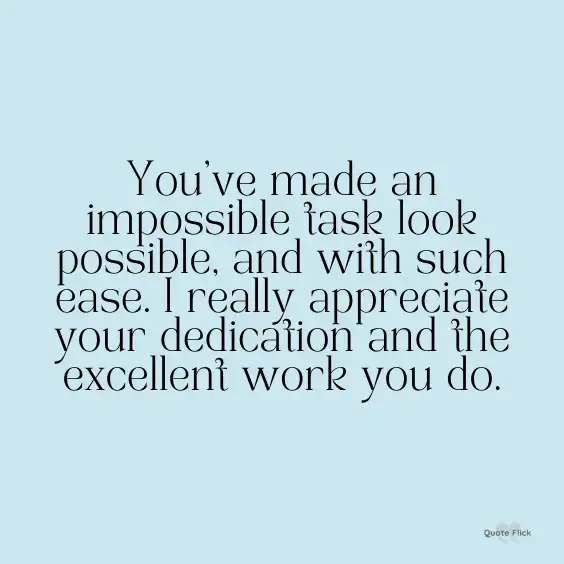 15. Always showing up on time, always focused, no excuses. Your work ethic is excellent. A really great job!
Next: Value of Time Quotes
16. You deserve a big congratulations, you've done a great job!
17. A well-earned congratulations are in order, this is just a really awesome job and I couldn't have asked for anything more. Thank you
18. You have done more than a great job, you've surpassed my expectations and truly excelled!
19. Your work is just fantastic. Keep it up, you are all amazing!
20. Unreal! Good job team! This work is unbelievable!
21. What a great job team! A million times thank you!
22. Whilst others have been finding problems, you have focused only on solutions and this is why you have achieved so much and done such a great job!
23. Opportunities will be coming your way in plenty, as you have done such a good job!
24. It doesn't matter how many hours you work, the work you put into your hours is just amazing. Great job!
25. You've pushed yourself, you've helped others, you've been a great team, thank you!
26. You are a team and a half. Just amaze me with the results you produce. Great job team!
27. I'd like to take this opportunity to say a huge thank you for everything that you do!
28. You meet and exceed my expectations every time, you've yet again done great work!
29. What I love about having you as an employee, is the good work that you produce consistently but also your energy in the workplace, always bringing it!
30. Thank you for your great work, you really are an incredible human being!
You Might Also Like: Inspirational Quotes
Holly Jaskolka is a certified Emotional Freedom Technique (EFT) practitioner, yoga instructor, and an impassioned advocate for holistic well-being. Fueled by her love for animals and wanderlust, Holly leads a plant-based lifestyle that she complements with immersive travel experiences. When she's not jet-setting to uncover the world's hidden gems, she's empowering individuals to heal emotionally, particularly those grappling with the aftermath of breakups. Connect with Holly on LinkedIn.