This collection of beautiful hope quotes will uplift your spirits and help you to see light even through the darkest of times. Even though life has challenges, we must always have hope, and faith that things will get better, and these quotations will help you to remain hopeful. There are also lovely phrases about not giving up on your hopes and dreams!
We are hopeful that you will love reading them; please share your favorite on Pinterest as this helps us so much!
1. "Hope is being able to see that there is light despite all of the darkness." – Desmond Tutu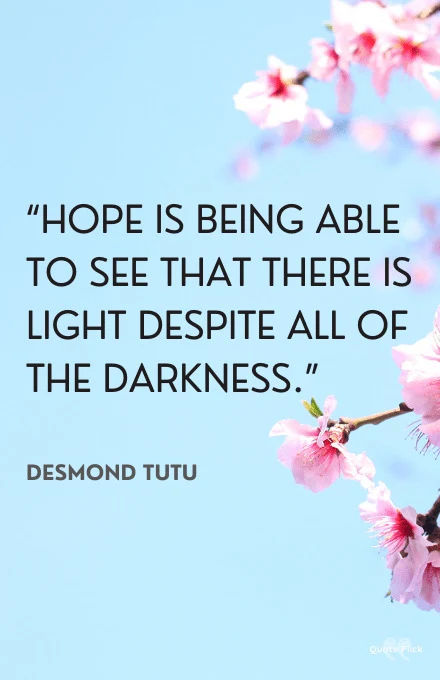 2. "Once you choose hope, anything's possible." – Christopher Reeve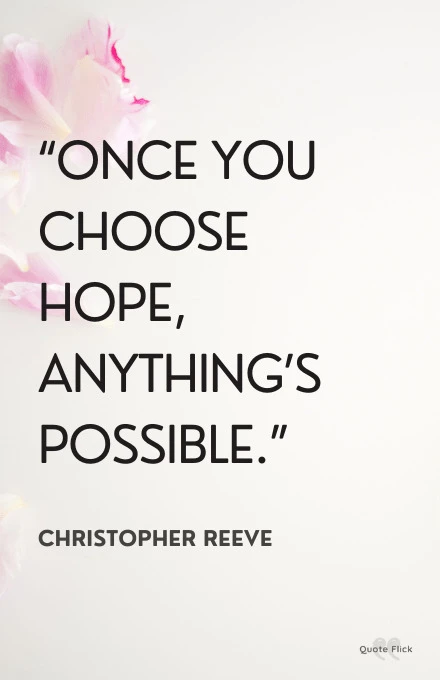 3. "Where there is no vision, there is no hope." – George Washington Carver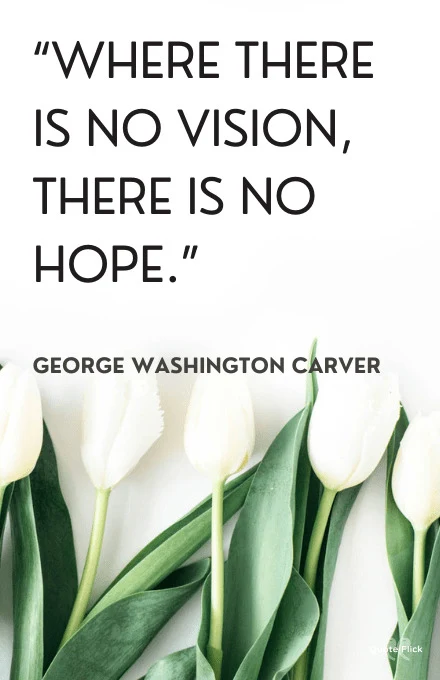 4. "I find hope in the darkest of days, and focus in the brightest. I do not judge the universe." – Dalai Lama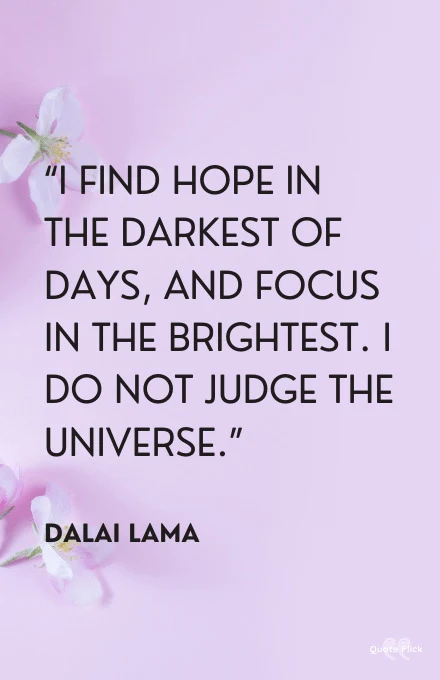 5. "Hopeful, we are halfway to where we want to go; hopeless, we are lost forever." – Lao Tzu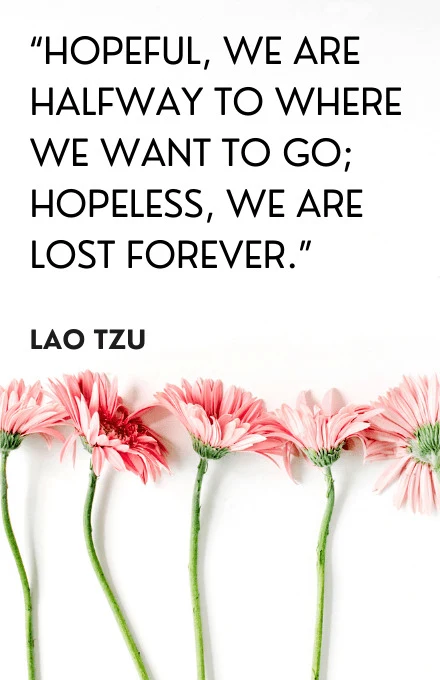 6. "Hope is a good thing, maybe even the best of things, and good things never die." – Andy Dufresne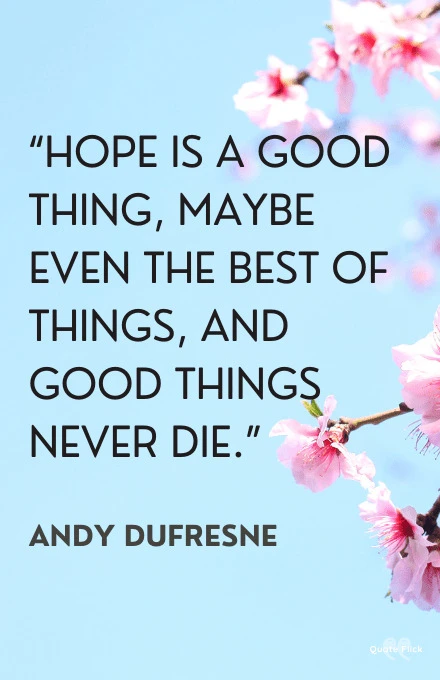 7. "Hope is a waking dream." – Aristotle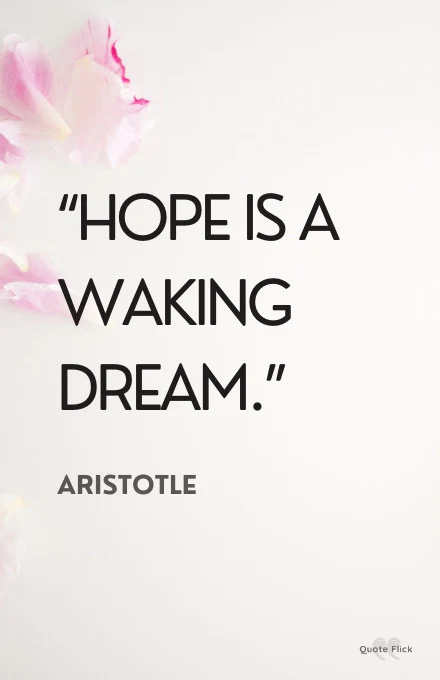 8. "Hope is the only bee that makes honey without flowers." – Robert Green Ingersoll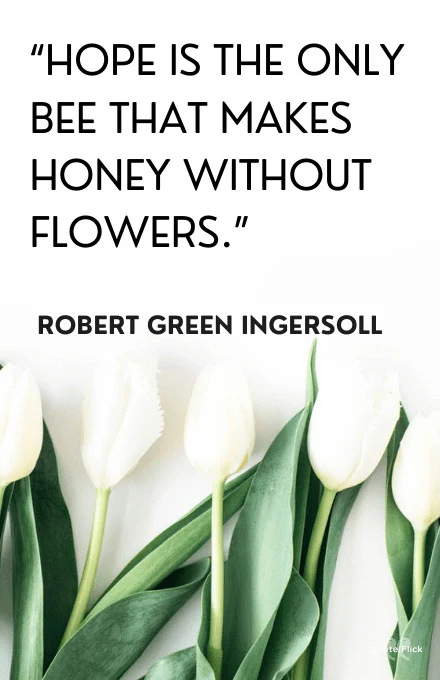 9. "It is because of hope that you suffer. It is through hope that you'll change things." – Maxine Lagacé
10. "May your choices reflect your hopes, not your fears." – Nelson Mandela
11. "I hope life isn't a joke, because I don't get it!." – Unknown
12. "Hope smiles from the threshold of the year to come, whispering 'it will be happier'" – Alfred Tennyson
13. "Hope is the companion of power, and mother of success; for who so hopes strongly has within him the gift of miracles." – Samuel Smiles
14. "They say a person needs just three things to be truly happy in this world: someone to love, something to do, and something to hope for." – Tom Bodett
15. "A good teacher can inspire hope, ignite the imagination, and instill a love of learning." – Brad Henry
16. "Learn from yesterday, live for today, hope for tomorrow. The important things is not to stop questioning." – Albert Einstein
17. "I want to lead people toward finding hope through the purity and healing power of metal." – David Draiman
18. "I wake up every morning believing today is going to be better than yesterday." – Will Smith
19. "Courage is like love; it must have hope for nourishment." – Napoleon Bonaparte
20. "Plant seeds of happiness, hope, success, and love; it will all come back to you in abundance. This is the law of nature." – Steve Maraboli
21. "The darkest hours are just before dawn." – English Proverb
22. "Optimism is the faith that leads to achievement. Nothing can be done without hope and confidence." – Hellen Keller
23. "Learn from yesterday, live for today, hope for tomorrow." – Unknown
24. "If I'm going to have hope, I'm going to have to learn to endure disappointment." – Sharon Weil
25. "We must accept finite disappointment, but never lose infinite hope." – Martin Luther King Jr
26. "HOPE: Hold on pain ends." – Unknown
27. "Let your hopes not your hurts, shape your future." – Robert H. Schuller
28. "Hope is the thing with feathers that perches in the soul and sings the tune without the words and never stops at all." – Emily Dickenson
29. "Hope never abandons you, you abandon it." – Georg Weinberg
30. "Walk on with hope in your heart, and you'll never walk alone." – Shah Rukh Khan
31. "The capacity for hope is the most significant fact of life. It provides human beings with a sense of destination and the energy to get started." – Norman Cousins
32. "Your hopes, dreams and aspirations are legitimate. They are trying to take you airborne, above the clouds, above the storms, if you only let them." – William James
33. "Hope lies in dreams, in imagination, and in the courage of those who dare to make dreams into reality." – Jonas Salk
34. "I don't think of all the misery, but of the beauty that still remains." – Anne Frank
35. "I think it's a mistake to ever look for hope outside of one's self." – Arthur Miller
36. "Hope is the feeling we have that the feeling we have is not permanent." ~ Mignon McLaughlin
37. "Most of the important things in the world have been accomplished by people who have kept on trying when there seemed to be no hope at all." – Dale Carnegie
38. "Hope sees the invisible, feels the intangible, and achieves the impossible." – Helen Keller
39. "Hope is a renewable option: If you run out of it at the end of the day, you get to start over in the morning." – Barbara Kingsolver
40. "Hope is like peace. It is not a gift from God. It is a gift only we can give one another." – Elie Wiesel
41. "Do not spoil what you have by desiring what you have not; remember that what you now have was once among the things you only hoped for." – Epicurus
42. "Every time you stand up for an ideal, you send forth a tiny ripple of hope." – Robert Kennedy
43. "He who has health, has hope; and he who has hope, has everything." – Thomas Carlyle
44. "But what we call our despair is often only the painful eagerness of unfed hope." –George Eliot
45. "Hope is like a road in the country; there was never a road, but when many people walk on it, the road comes into existence." – Lin Yutang
46. "If you lose hope, somehow you lose the vitality that keeps moving, you lose that courage to be, that quality that helps you go on in spite of it all. And so today I still have a dream." – Martin Luther King, Jr.
47. "Every area of trouble gives out a ray of hope, and the one unchangeable certainty is that nothing is certain or unchangeable." – John F. Kennedy
48. "Hope is like the sun, which, as we journey toward it, casts the shadow of our burden behind us." – Samuel Smiles
49. "Each time a man stands up for an ideal or acts to improve the lot of others or strikes out against injustice, he sends forth a tiny ripple of hope." – Robert Kennedy
50. "A successful man is one who can lay a firm foundation with the bricks others have thrown at him." – David Brinkley
51. "To hope means to be ready at every moment for that which is not yet born, and yet not become desperate if there is no birth in our lifetime." – Erich Fromm
52. "Hope means hoping when things are hopeless, or it is no virtue at all… As long as matters are really hopeful, hope is mere flattery or platitude; it is only when everything is hopeless that hope begins to be a strength." – Gilbert K. Chesterton
53. "To be hopeful in bad times is based on the fact that human history is not only of cruelty, but also of compassion, sacrifice, courage, kindness. If we see only the worst, it destroys our capacity to do something. If we remember those times and places where people have behaved magnificently, this gives us the energy to act. And if we do act, in however small a way, we don't have to wait for some grand Utopian future. The future is an infinite succession of presents, and to live now as we think human beings should live, in defiance of all that is bad around us, is itself a marvelous victory." – Howard Zinn
54. "If we were logical, the future would be bleak, indeed. But we are more than logical. We are human beings, and we have faith, and we have hope, and we can work." – Jacques Yves Cousteau
55. "We should not let our fears hold us back from pursuing our hopes." – John F. Kennedy