Do you love spending time in the kitchen, with the smell of something delicious simmering on the stove as you get ready to spend time enjoying food together with loved ones? If so, this collection of 40 homely kitchen quotes and sayings will be right up your alley.
Kitchen isn't just a place to cook; it's the heart of the home, the place of childhood memories and where everyone ends up at a party. Read on to discover more reflections on the best room of the home!
If you enjoy reading these quotes about the kitchen, please share your favourite image on Pinterest!
Kitchen Quotes
1. "A kitchen without a knife is not a kitchen." – Masaharu Morimoto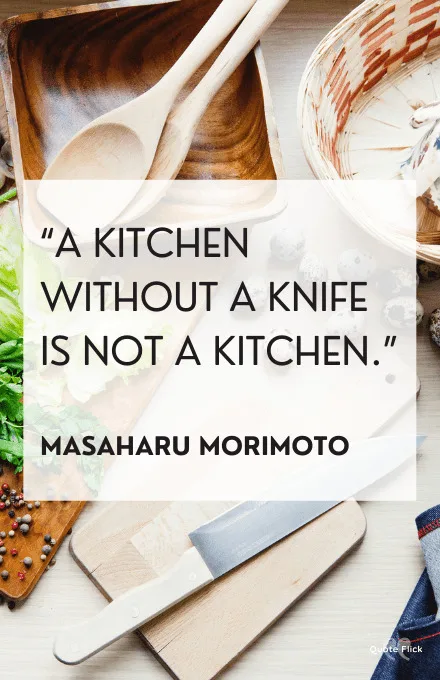 2. "In the childhood memories of every good cook, there's a large kitchen, a warm stove, a simmering pot and a mom." – Barbara Costikyan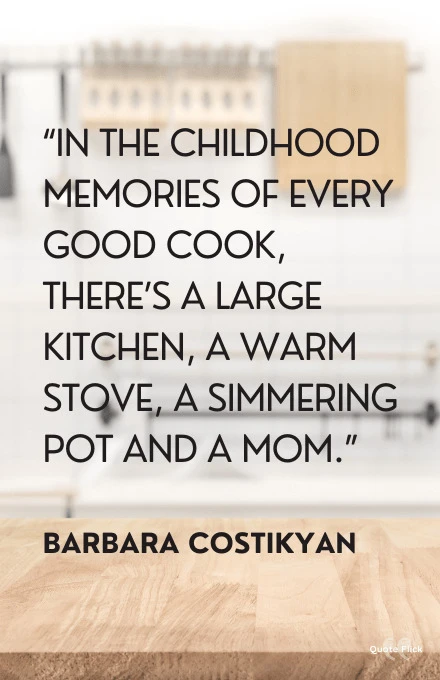 3. "Afterwards, they always had tea in the kitchen, much the nicest room in the house." – Flora Thompson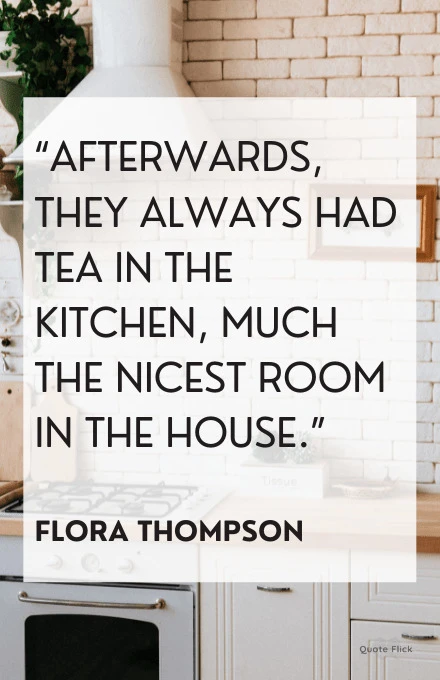 4. "I got all my boyhood in vanilla winter waves around the kitchen stove." –  Jack Kerouac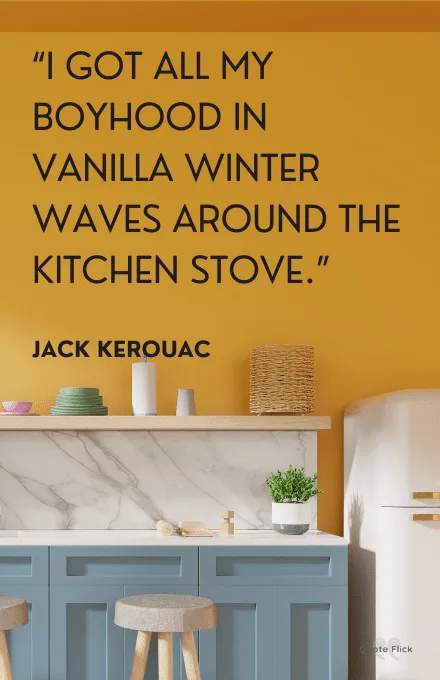 5. "Happiness is a small house, with a big kitchen." – Alfred Hitchcock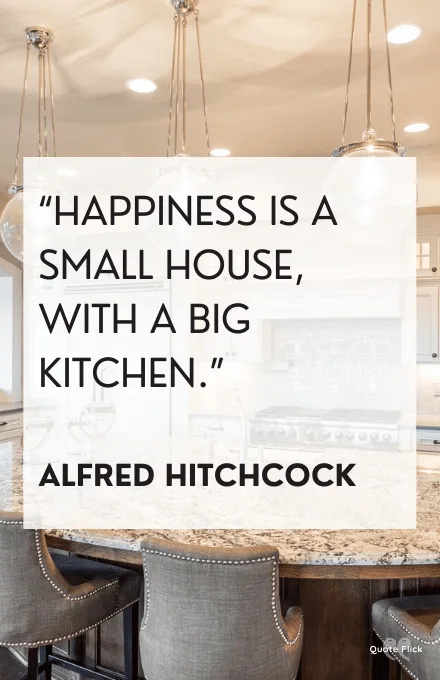 You Might Also Like:
6. "Everything happens in the kitchen. Life happens in the kitchen." – Andrew Zimmern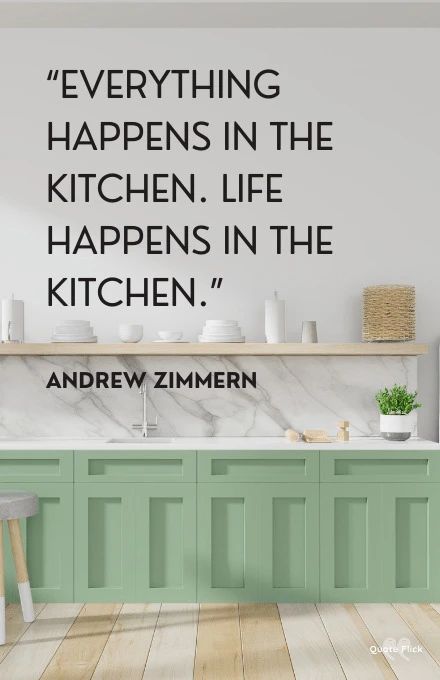 7. "If you can organize your kitchen, you can organize your life." – Louis Parrish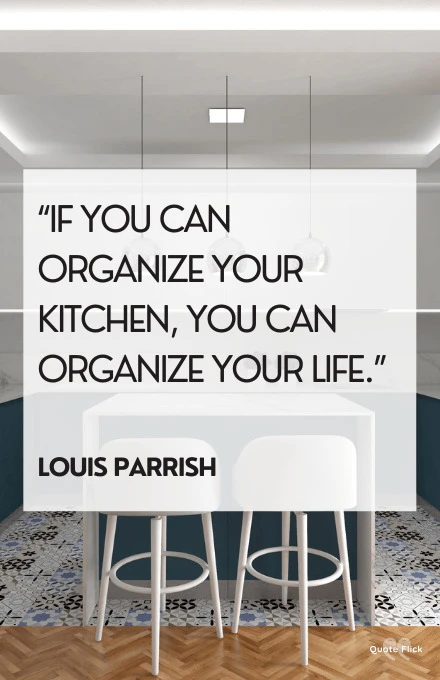 8. "Nights alone in my yellow kitchen, I made myself a hot chocolate. I missed my mother. In my window, maple leaves rusted, young fall blooming." – Aspen Matis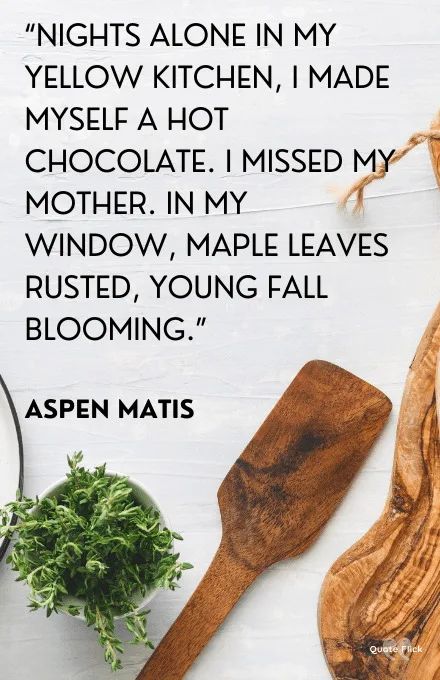 9. "I've been my mom's kitchen helper since I was a little kid." – Taylor Swift
10. "In the 'kitchen of your life', you have a choice as to what ingredients you want to use to build yourself up." – Selorm Betepe Alfred
Have you checked out Thanksgiving Quotes?
11. "The kitchen really is the castle itself. This is where we spend our happiest moments and where we find the joy of being a family." – Mario Batali
12. "The best way to get anybody's attention is dinner. I have good kitchen skills and good grocery shopping skills." – Al Roker
13. "The kitchen is where you put all the ingredients together. No matter what you do in life, you have to have a plan and put it together." – Yo Gotti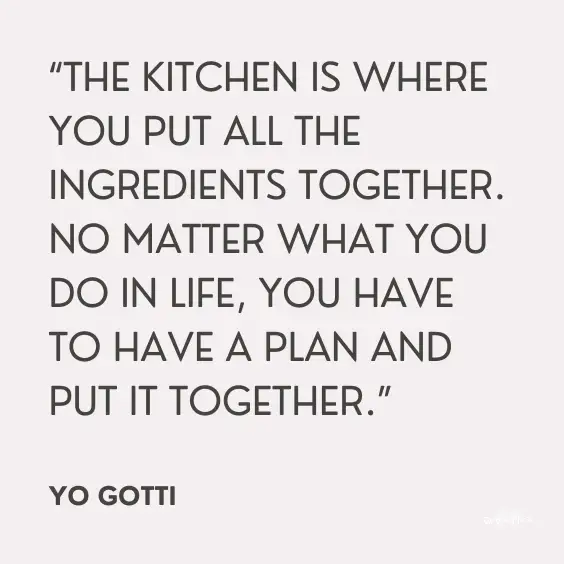 14. "Lucy settled into August's kitchen as if they were a family." – Susan Richards Shreve
15. "The kitchen is the heart of every home, for the most part. It evokes memories of your family history." – Debi Mazar
16. "You won't learn to swim on the kitchen floor." – Irish Proverbs
17. "The more you know, the more you can create. There's no end to imagination in the kitchen" – Julia Child
18. "I always feel like the editing room is like coming into the kitchen. What kind of a meal do you make from there? It can be anything." – Brit Marling
19. "Baking is how you start kids at cooking in the kitchen. It's fun whether it's baking bread or cookies. With baking, you have to be exact when it comes to ingredients." – Sandra Lee
20. "My kitchen looks like the one from my childhood – very homey, with a little bit of Alice in Wonderland!" – Paris Hilton
21. "As our friends and families hover in the kitchen let's remember they are hungering for more than physical food. I believe the light in a home shines brightest in the kitchen. Let Your Light Shine!" – Mary Jo Montanye
22. "My happy place is you teaching me how to dance in the kitchen at two in the morning." – Lidia Longorio
23. "The kitchen is a place of adventure and entirely fun, not drudgery. I can't think of anything better to do with family and friends than to be together to create something." – Ted Allen
24. "The kitchen is a pharmacy; whereas, it is also a poison-room; it depends on you that, what you make of it?" – Ehsan Sehgal
25. "The love the whole process of making them, just out in the kitchen together making pancakes on a Sunday morning." – Ronda Rousey
26. "Best way to get rid of kitchen odors: Eat out." – Phyllis Diller
27. "I have been in Sorrow's kitchen and licked out all the pots. Then I have stood on the peaky mountain wrapped in rainbows, with a harp and sword in my hands." – Zora Neale Hurston
28. "On the good days, my mother would haul out the ukulele and we'd sit around the kitchen table – it was a cardboard table with a linoleum top – and sing." – Carol Burnett
29. "Everything in here was clean and bright, warm and cosy. What a joy it is in life when you happen to have a clean, warm kitchen." – Olga Tokarczuk
30. "Kitchens should be designed around what's truly important – fun, food, and life." – Daniel Boulud
31. "Let the abundance and vibrancy of a whole-foods lifestyle fill your kitchen, and may you live each day without fear and with the ability to achieve anything you desire." – Alaena Haber
32. "I think a lot of people think being in the kitchen is being really serious, and especially that baking is very serious, very straitlaced. For me, it's about figuring out your voice, finding your personality, and getting in the kitchen to explore." – Christina Tosi
33. "My kitchen is a mystical place, a kind of temple for me. It is a place where the surfaces seem to have significance, where the sounds and odors carry meaning that transfers from the past and bridges to the future." – Pearl Bailey
34. "God bless my kitchen as your own where I love to be Bless me as I prepare food for my family and friends" – Catherine Pulsifer
35. "The kitchen is the most important place in any house. Visit your family, and that's where you'll end up. Got to a party, that's where everyone congregates." – Michelle Dockery
36. "If you can't stand the heat, get out of the kitchen." – Harry S. Truman
37. "Good food and a warm kitchen is what makes a house a home." – Rachael Ray
38. "I train my chefs completely different from anyone else. My young girls and guys, when they come to the kitchen, the first thing they get is a blindfold. They get blindfolded and they get sat down at the chef's table… Unless they can identify what they're tasting, they don't get to cook it." – Gordon Ramsay
39. "The kitchen is the great laboratory of the household and much of the 'weal and woe' as far as regards bodily health, depends on the nature of the preparations concocted within its walls." – Isabella Beeton
40. "The kitchen may be the heart of the home, but it is also the place that naturally attracts the most clutter and mess." – Brette Sember
Holly Jaskolka is a certified Emotional Freedom Technique (EFT) practitioner, yoga instructor, and an impassioned advocate for holistic well-being. Fueled by her love for animals and wanderlust, Holly leads a plant-based lifestyle that she complements with immersive travel experiences. When she's not jet-setting to uncover the world's hidden gems, she's empowering individuals to heal emotionally, particularly those grappling with the aftermath of breakups. Connect with Holly on LinkedIn.