For an ultimate confidence boost and words of wisdom that encourage you to value yourself, these 75 know your worth quotes are just perfect! Know that you are worthy, and nobody else needs to validate it is so important for your self-esteem, and these sayings and quotations are very inspiring. You are worthy of everything you desire!
Read on, enjoy and please share your favorite image on Pinterest as this supports us greatly!
1. "Until you know your worth you'll continue to seek other people's approval just to feel good about yourself." – Sonya Parker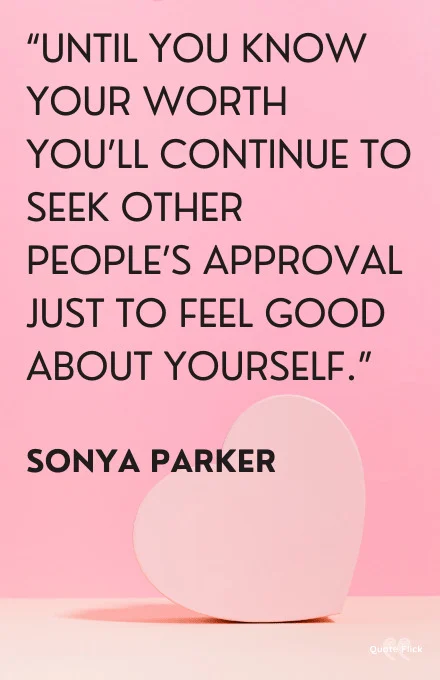 2. "Know your worth, hold your own power, be you." – Morgan Harper Nichols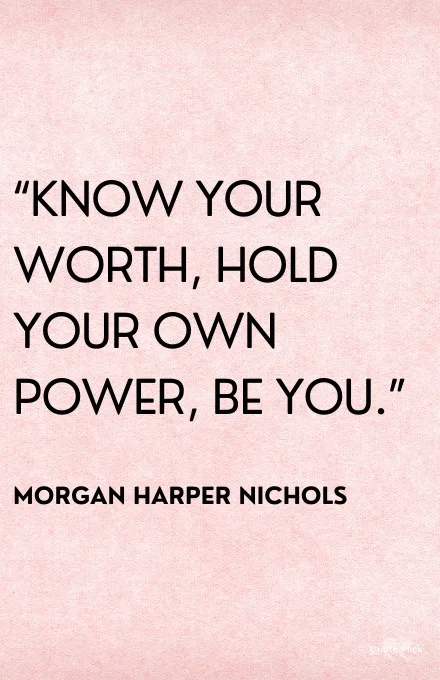 3. "Self-worth comes from one thing – thinking that you are worthy." – Wayne Dyer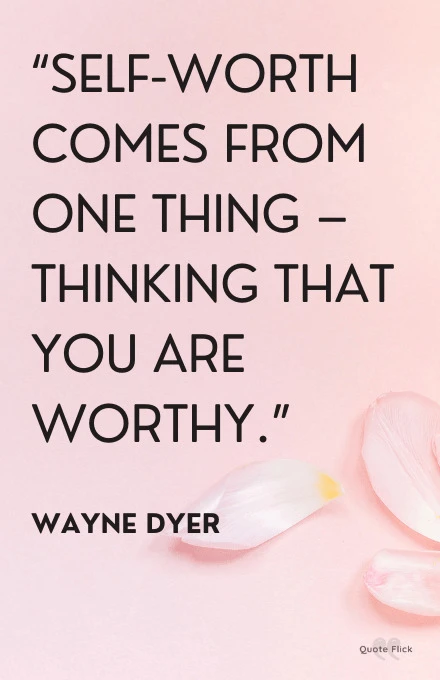 4. "You have to know that you are good enough and worth it. Once you master belief in yourself no one can steal that love from you." – Unknown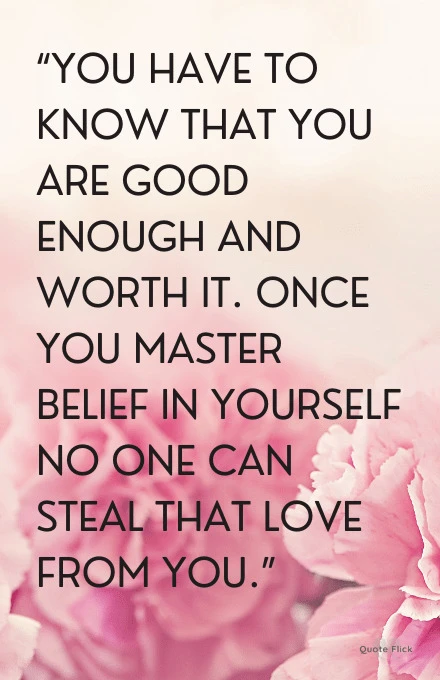 5. "You're worth it all." – Unknown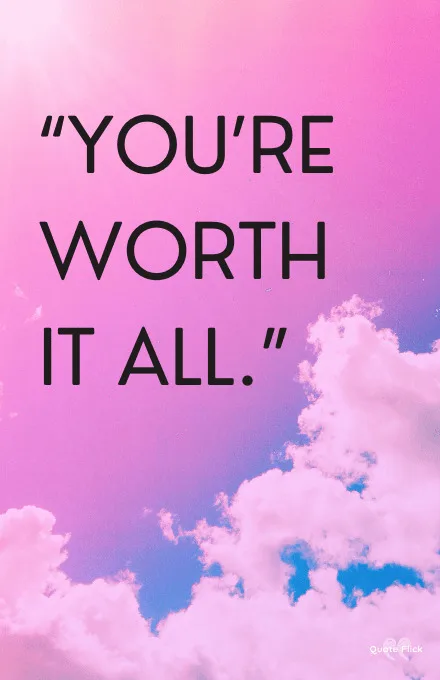 6. "When you know your worth, no one can make you feel worthless." – Unknown
7. "Know your worth, then add value." – Unknown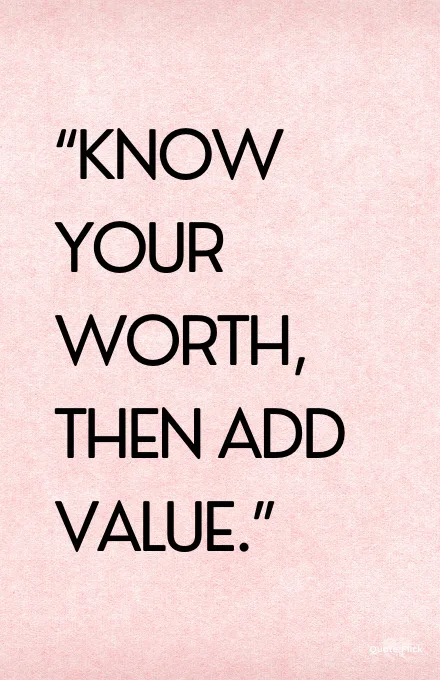 8. "Your self-worth is determined by you. You don't have to depend on someone to tll you who you are." – Unknown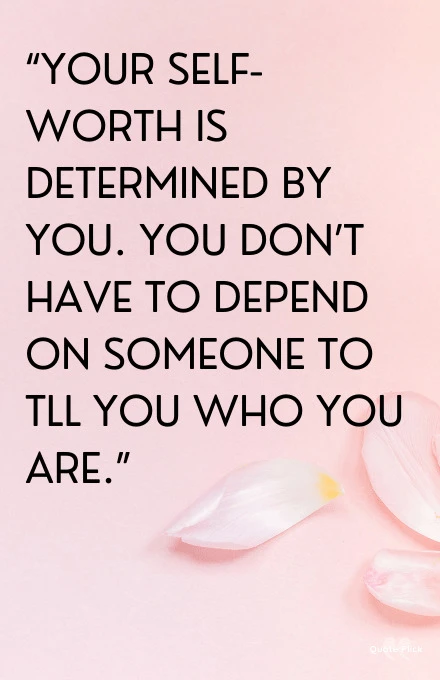 9. "You are beautiful, you are worth it and you are irreplaceable. Don't ever forget that." – Unknown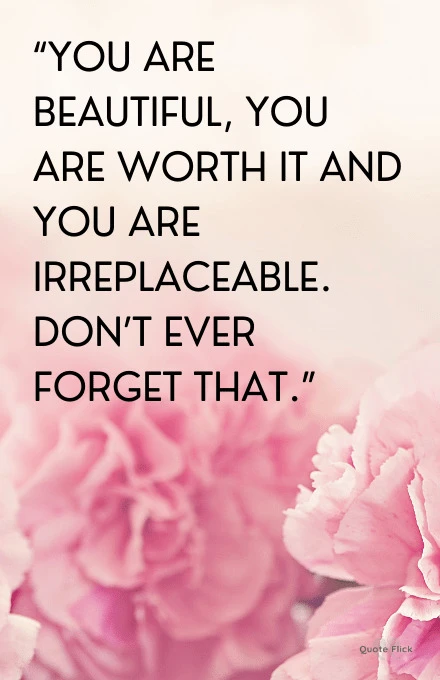 10. "Know your value so people can respect your worth." – Unknown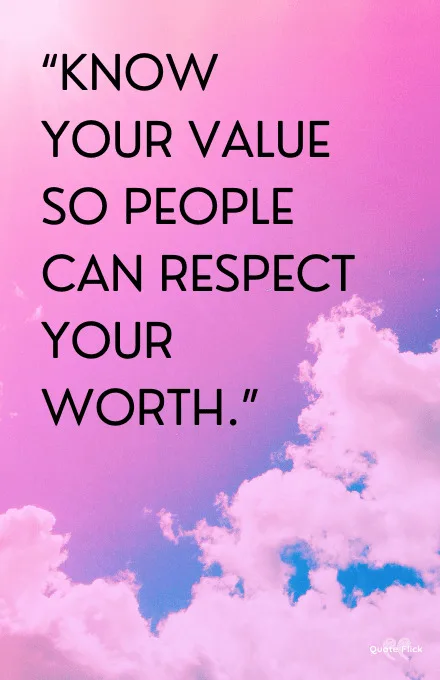 11. "If you want to improve your self-worth, stop giving other people the calculator." – Tim Fargo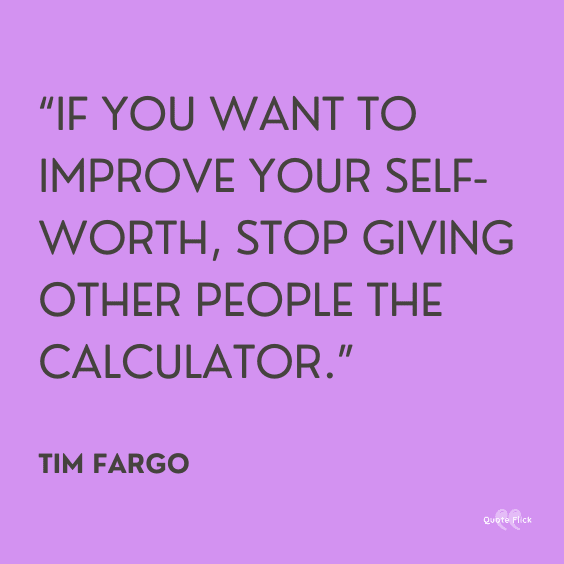 12. "I know my strengths, my qualities, and I know what I am worth." – Unknown
13. "It is difficult to make a man miserable while he feels worthy of himself and claims kindred to the great God who made him."- Abraham Lincoln
14. "Do not undervalue what you are ultimately worth because you are at a momentary disadvantage."- Sherry Thomas
15. "I am worth something, and I will be big." – Unknown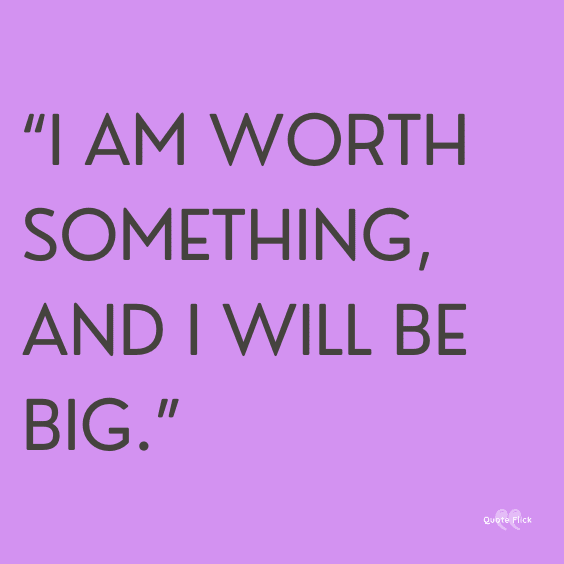 16. "Sometimes the hardest part of the journey is believing you're worthy of the trip." – Glenn Beck
17. "You are the only person on earth who can use your ability." – Zig Ziglar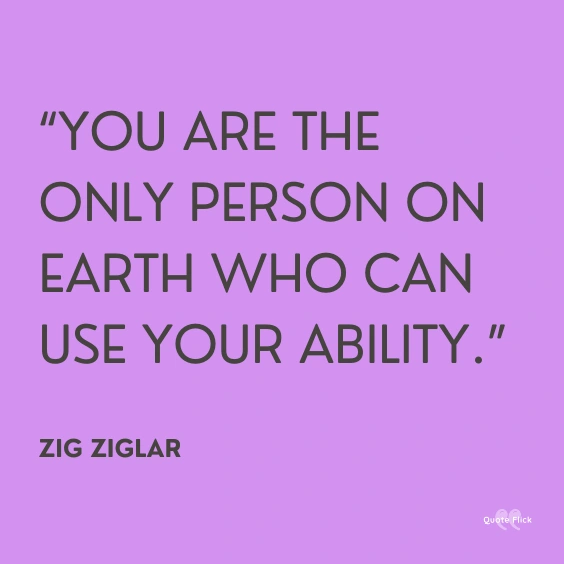 18. "No one can make you feel inferior without your consent." – Eleanor Roosevelt
19. "Strong people have a strong sense of self-worth and self-awareness; they don't need the approval of others." – Roy T. Bennett
20. "It is confidence in our bodies, minds, and spirits that allows us to keep looking for new adventures."— Oprah Winfrey
21. "We are what we believe we are." – C.S. Lewis
22. "Love yourself first and everything else falls into line. You really have to love yourself to get anything done in this world."– Lucille Ball
23. "Never seek your importance through the standards of the world. Know your worth." – Unknown
24. "Know yourself. Know your worth." – Drake
25. "You accepted less because you thought a little was better than nothing. Always know your worth." – Unknown
26. "I had to learn to value myself before I could expect to be valued by othrs." – Kay Hooper
27. "You are worthy of being chosen, fought for, and loved. Remember that." – Mark Groves
28. "Your value does not decrease based on somebody's inability to see your worth." – Unknown
29. "If you don't know your own value, somebody will tell you your value, and it'll be less than you're worth." – Bernard Hopkins
30. "A man cannot be comfortable without his own approval."— Mark Twain
31. "With realization of one's own potential and self-confidence in one's ability, one can build a better world." – Dalai Lama
32. "Because one believes in oneself, one doesn't try to convince others. Because one is content with oneself, one doesn't need others' approval. Because one accepts oneself, the whole world accepts him or her."― Lao Tzu
33. "Always be yourself and have faith in yourself. Do not go out and look for a successful personality and try to duplicate it."— Bruce Lee
34. "Know your worth. People always act like they're doing more for you than you're doing for them." – Kanye West
35. "Believe in yourself! Have faith in your abilities! Without humble but reasonable confidence in your own powers you cannot be successful or happy." – Norman Vincent Peale
36. "Women must learn to find self-worth within themselves, not through others. It is important to carve out a place just for you." – Georgette Mosbacher
37. "Each time we face our fear, we gain strength, courage, and confidence in the doing." – Theodore Roosevelt
38. "Two things you will never have to chase: True friends & true love." – Mandy Hale
39. "You attract what you believe what you're worth." – Unknown
40. "You gotta overvalue yourself some time." – Unknown
41. "Be with a person who treats you like their crown, proudly honoring you infront of the world. Not with someone who treats you like a trophy, secured for their sense of achievement." – Henna Sohail
42. "She understood her worth which made her powerful. The world gravely needed a hero so she became one. No superpowers really, just a strong woman who took no nonsense from anyone." – Rabdall Core
43. "Never forget how rare you are." – Unknown
44. "Chasing a person doesn't give you value or build values in you. You earn your value by chasing morality and practicing dignity." – Shannon L. Alder
45. "Life is too short to waste any amount of time on wondering what other people think about you. In the first place, if they had better things going on in their lives, they wouldn't have the time to sit around and talk about you. What's important to me is not others' opinions of me, but what's important to me is my opinion of myself." ― C. JoyBell C.
46. "Don't let your past dictate who you are. Let it be the lesson that strengthens the person you will become." – Unknown
47. "If you wish to achieve worthwhile things in your personal and career life, you must become a worthwhile person in your own self-development."- Brian Tracy
48. "It's not what others think, it's what you think about yourself that counts."- Unknown
49. "Self-love, self-respect, self-worth…there is a reason they all start with 'self'. You cannot find them in anyone else." – Unknown
50. "If you're following your dreams, you're doing something you love and that you believe in yourself for." – McKayla Maroney
51. "Don't be satisfied with stories, how things have gone with others. Unfold your own myth." — Rumi
52. "There is nothing so rewarding as to make people realize that they are worthwhile in this world." – Bob Anderson
53. "Never be bullied into silence. Never allow yourself to be made a victim. Accept no one's definition of your life, but define yourself."– Harvey Fierstein
54. "When you understand that your self-worth is not determined by your net-worth, then you'll have financial freedom." – Suze Orman
55. "Maturity is learning to walk away from people and situations that threaten your peace of mind, self-respect, values, morals or self-worth." – Unknown
56. "Sometimes all you have to do is forget what you feel and remember what you deserve."- Unknown
57. "Your net worth can fluctuate, but your self-worth should only appreciate." – Chris Gardner
58. "The moment you feel like you have to prove your worth to someone is the moment to absolutely and utterly walk away."- Unknown
59. "Low self-esteem is like driving through life with the handbrake on." – Maxwell Maltz
60. "We are the brightest Star of our sky though we often fail to notice our own brilliance in the presence of others' light." ― E.L.Blade
61. "The price tag that you put on your soul will determine the people and circumstances in which you find yourself." – Shannon Alder
62. "You need to love yourself. Love yourself so much to the point that your energy and aura rejects anyone who doesn't know your worth." – Billy Chapata
63. "Don't settle for mediocrity. Take a chance. Take a risk. Find that passion. Know what you're really worth." – Unknown
64. "When your self-worth goes up, your net worth goes up with it." – Mark Victor Hansen
65. "Too many people overvalue what they are not and undervalue what they are." – Malcolm S. Forbes
66. "Never settle. Know your worth."- Unknown
67. "Once you know your worth, no one can make you feel worthless." – Rashida Rowe
68. "All that matters is that you know your worth. If they don't know your worth realize that it's OKAY because they aren't meant for you anyway." – Sonya Parker
69. "Be with people who know your worth, you don't need too many people to be happy, just a few real ones who appreciate you for who you are." – Unknown
70. "Never settle for a life that is less than the one you are capable of living." – ATGW
71. "Don't go back to less, just because you're too impatient to wait for more." – Unknown
72. "When you start loving yourself and respecting your time and energy, things will change. Get to know your worth, and your value will go up." – Germany Kent
73. "To double your net worth, double your self-worth. Because you will never exceed the height of your self-image." – Robin Sharma
74. "Being brave enough to be alone frees you up to invite people into your life because you want them and not because you need them."― Mandy Hale
75. "A person's worth in this world is estimated according to the value they put on themselves." – Jean De La Bruyère
Holly Jaskolka is a certified Emotional Freedom Technique (EFT) practitioner, yoga instructor, and an impassioned advocate for holistic well-being. Fueled by her love for animals and wanderlust, Holly leads a plant-based lifestyle that she complements with immersive travel experiences. When she's not jet-setting to uncover the world's hidden gems, she's empowering individuals to heal emotionally, particularly those grappling with the aftermath of breakups. Connect with Holly on LinkedIn.