If you're looking for words of wisdom on the abilities of a great leader, then we've got you covered with our collection of over 20 inspiring lead by example quotes!
Taken from a range of incredible leaders like Albert Einstein and Mahatma Gandhi; these quotes about leading by example will inspire you to show others the way. Read on, get motivated, and be the change you want to see in the world.
If you enjoy these quotes and sayings, share your favorite quote with your loved ones and spread the motivation! Enjoy!
Lead By Example Quotes
1. "Nothing so conclusively proves a man's ability to lead others, as what he does from day to day to lead himself." – Thomas J. Watson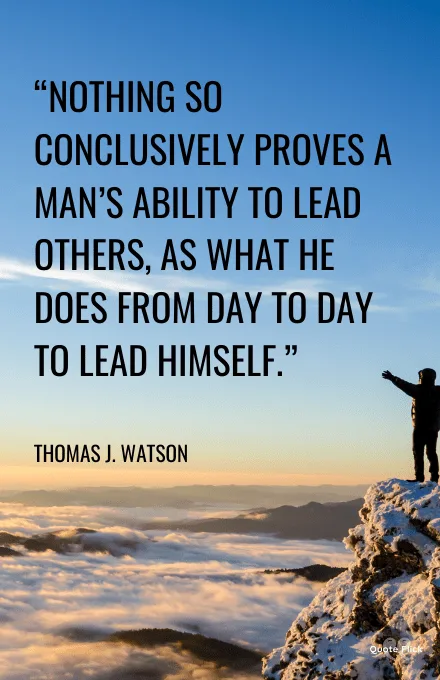 2. "The world is changed by your example not your opinion." – Paul Coelho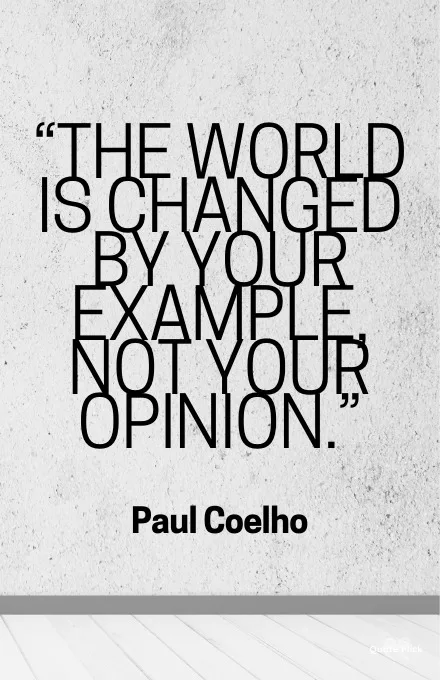 3. "The three most important ways to lead people are:… by example… by example… by example." – Albert Schweitzer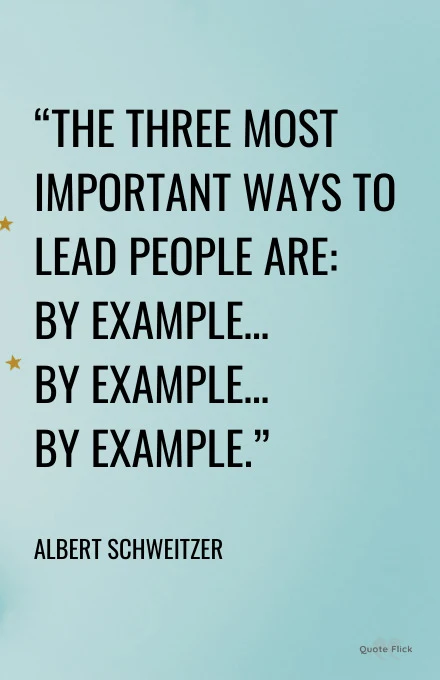 4. "Make it your business to draw out the best in others by being an exemplar yourself." – Epictetus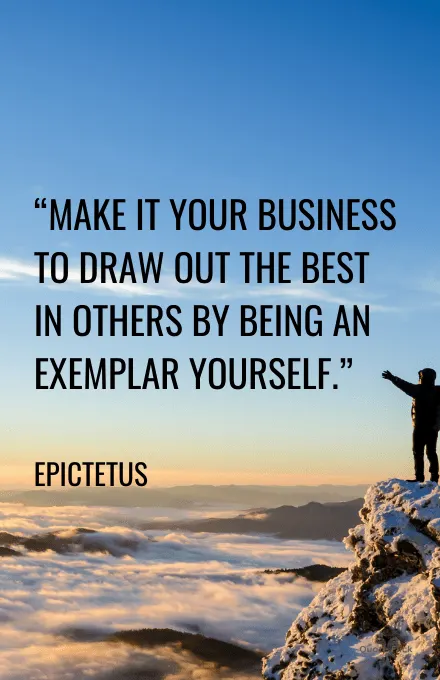 5. "Actions, not words, are the ultimate results of leadership." – Bill Owens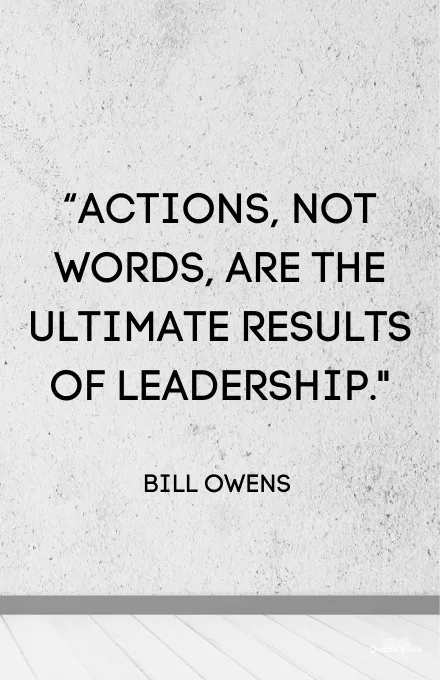 You Might Also Like:
6. "Setting an example is not the main means of influencing others, it is the only means." – Albert Einstein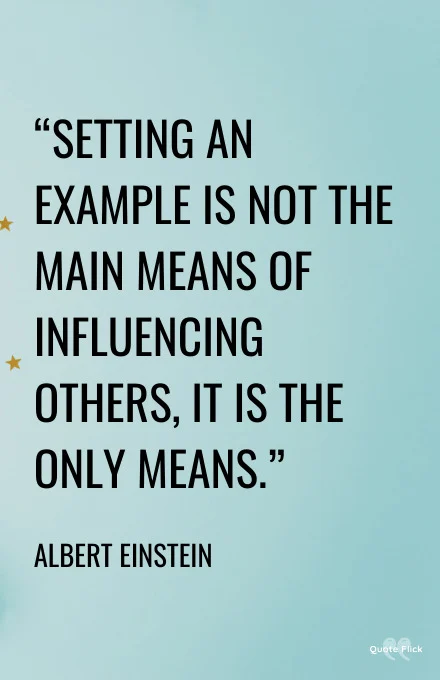 7. "An ounce of practice is worth more than tons of preaching." – Mahatma Gandhi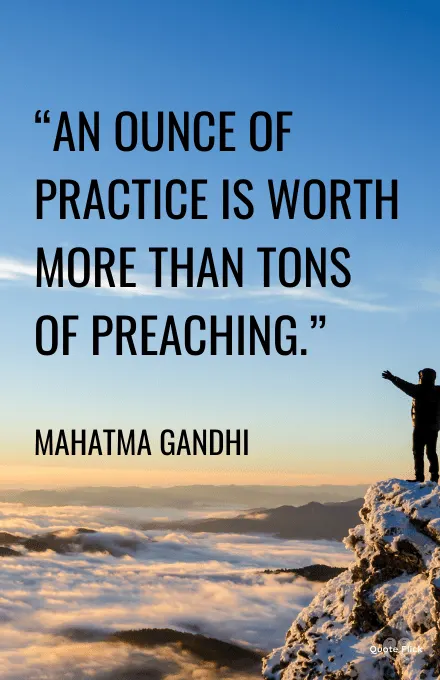 8. "You don't lead by lip service, you lead by example." – Jim Leyland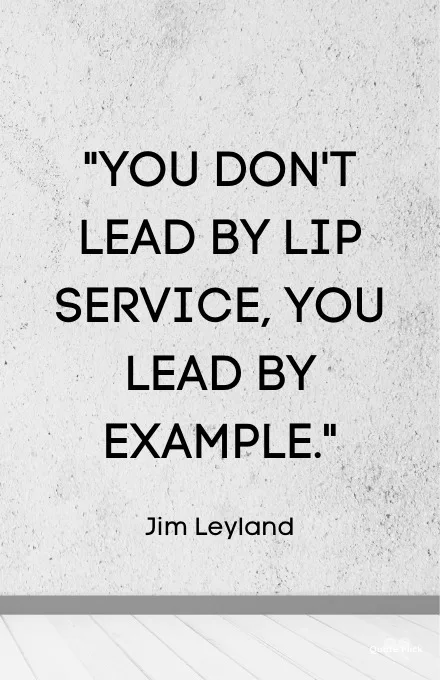 9. "Be the change you want to see in the world." – Mahatma Gandhi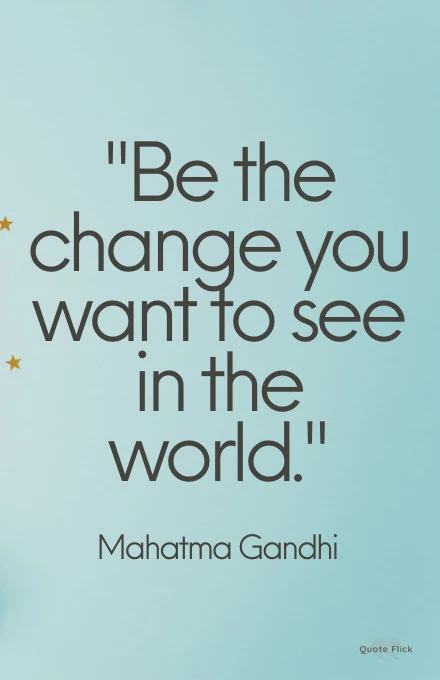 10. "What you are speaks so loudly, I can't hear what you are saying." – Ralph Waldo Emerson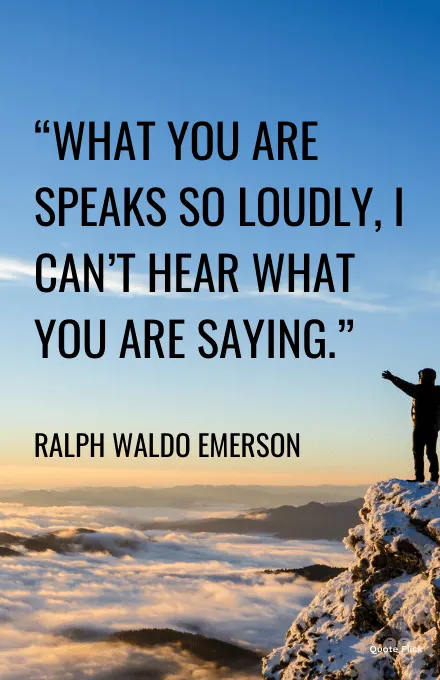 Check out Confidence Quotes and Actions Speak Louder Than Words Quotes
11. "Never separate the life you live from the words you speak." – Paul Wellstone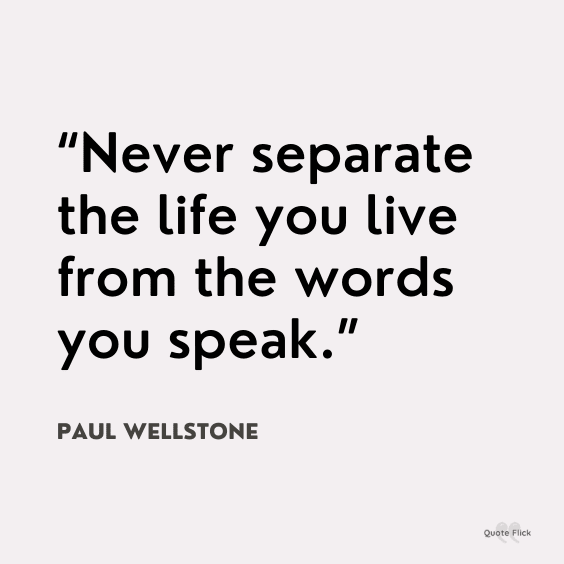 12. "Courage is contagious. When a brave man takes a stand, the spines of others stiffen." – Billy Graham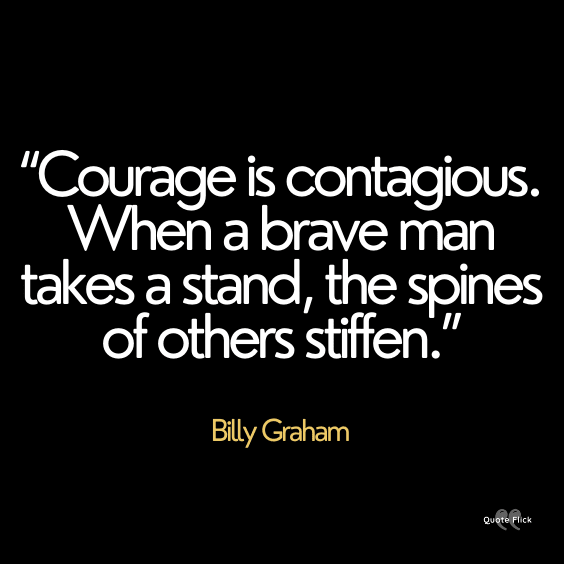 13. "People naturally follow leaders stronger than themselves." – John C. Maxwell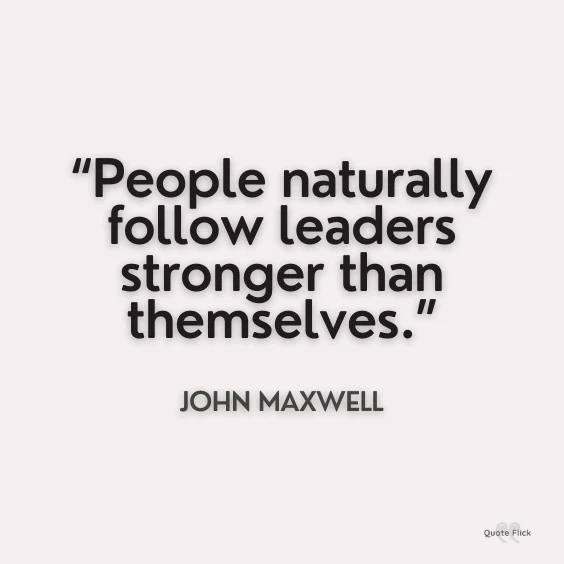 14. "The real power of a leader is in the number of minds he can reach, hearts he can touch, souls he can move, and lives he can change."  – Matshona Dhliwayo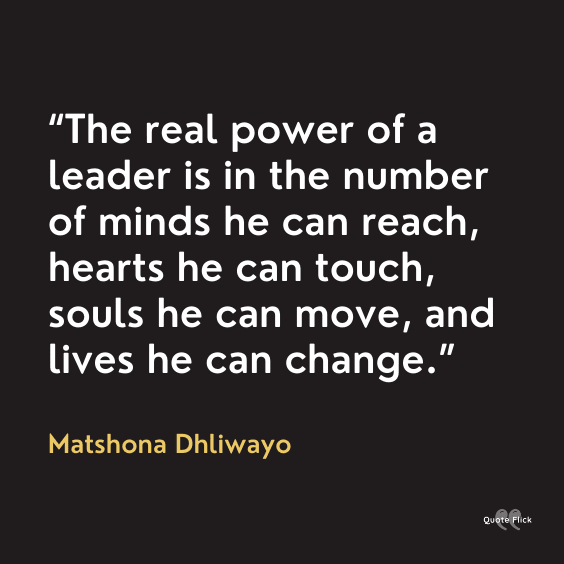 15. "I challenge you to make your life a masterpiece. I challenge you to join the ranks of those people who live what they teach, who walk their talk." – Tony Robbins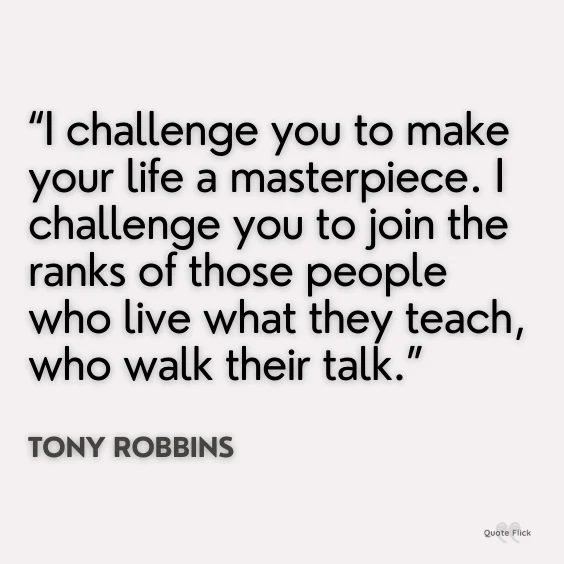 16. "Always do everything you ask of those you command." – General George S. Patton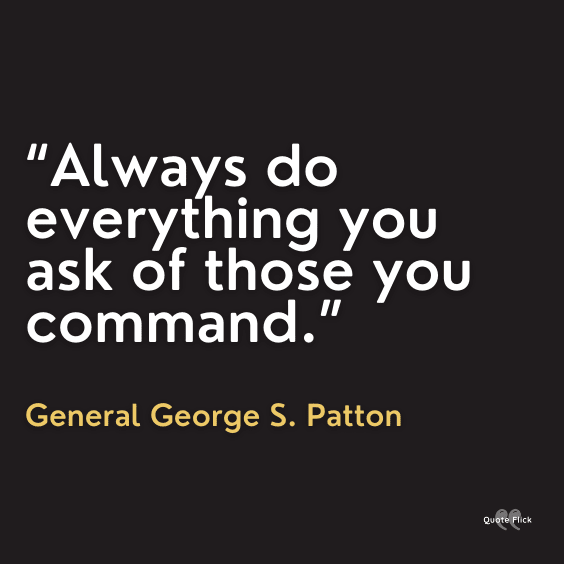 17. "A superior man is modest in his speech, but exceeds in his actions." – Confucius
18. "Leadership is not position or a title; it's action and example." – Cory Booker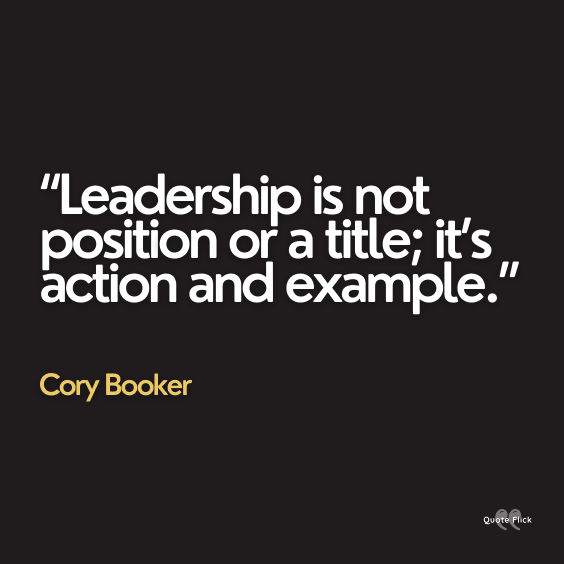 19. "We are defined by what we do repeatedly, therefore excellence is a habit, not an act." – Aristotle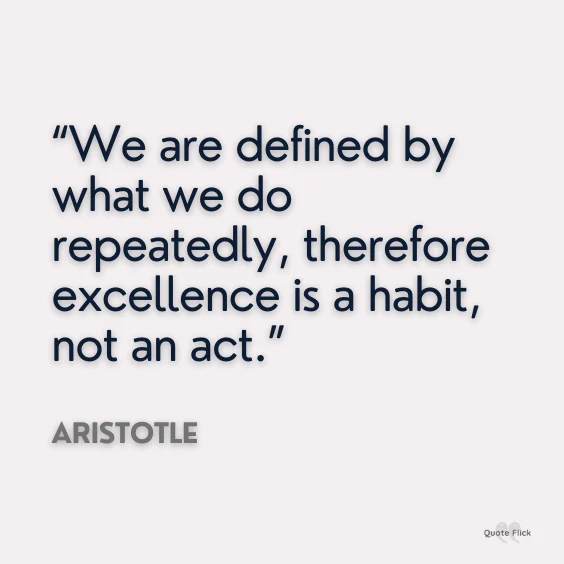 20. "The quality of a leader is reflected in the standards they set for themselves." – Ray Kroc
21. "In leadership, the way up is down. Serve before you get served" – Bangambiki Habyarimana
22. "People may teach what they know, but they reproduce what they are." – John C. Maxwell
23. "Change the world by your example, not your opinion."  – Paul Coelho
24. "Waste no more time arguing about what a good man should be. Be one." – Marcus Aurelius
25. "The challenge of leadership is to be strong, but not rude; be kind, but not weak; be bold, but not bully; be thoughtful, but not lazy; be humble, but not timid; be proud, but not arrogant; have humor but without folly." – Jim Rohn
Holly Jaskolka is a certified Emotional Freedom Technique (EFT) practitioner, yoga instructor, and an impassioned advocate for holistic well-being. Fueled by her love for animals and wanderlust, Holly leads a plant-based lifestyle that she complements with immersive travel experiences. When she's not jet-setting to uncover the world's hidden gems, she's empowering individuals to heal emotionally, particularly those grappling with the aftermath of breakups. Connect with Holly on LinkedIn.