Here we have for you a list of the most gorgeous I love my husband quotes. If you're thinking "I love my husband, but I don't know how to tell him in words", then this article is for you!
Here you will find 60 of the most romantic and beautiful quotes for your husband from his wife to show him how much you love him. You could use the messages in a greeting card, or even download the images and send him a sweet WhatsApp when you are missing him.
When you're feeling so happy, but the words just won't come out right, use these love quotes for your husband to get inspiration. Keep the romance alive by reminding him just how special he is to you.
Your spouse will love to receive a loving recognition of how much you adore him. Read ahead and choose a sweet love message for your husband. Let your spouse know how incredible he is. This article is full of lovable words for husbands!
Best Husband Quotes
"Home is where my husband is." – Unknown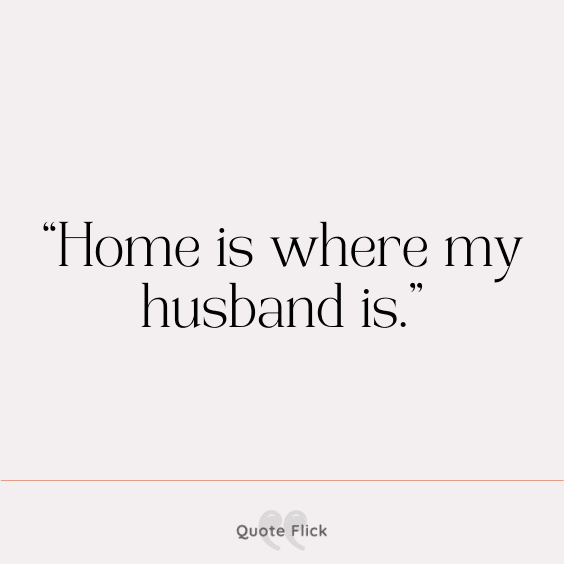 2. "In the middle of life's challenges, my love for my husband is my breath of fresh air." – Unknown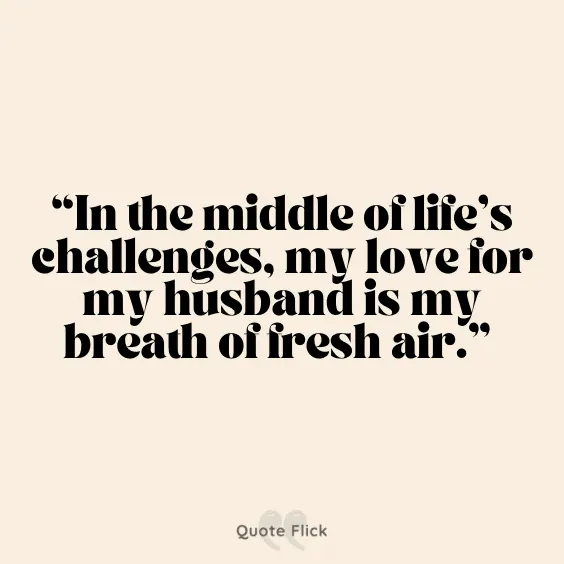 3. "I love my husband very much. I knew it was real true love because I felt like I could be myself around that person. Your true, true innermost authentic self, the stuff you don't let anyone else see, if you can be that way with that person, I think that that's real love." – Idina Menzel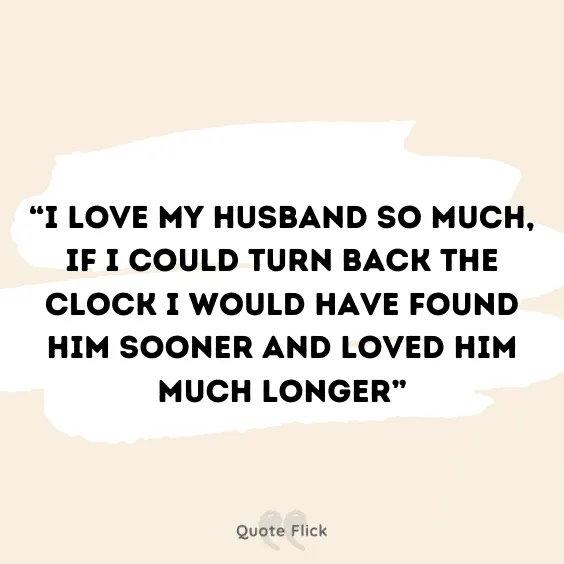 4. "I love my husband very much. I knew it was real true love because I felt like I could be myself around that person. Your true, true innermost authentic self, the stuff you don't let anyone else see, if you can be that way with that person, I think that that's real love." – Idina Menzel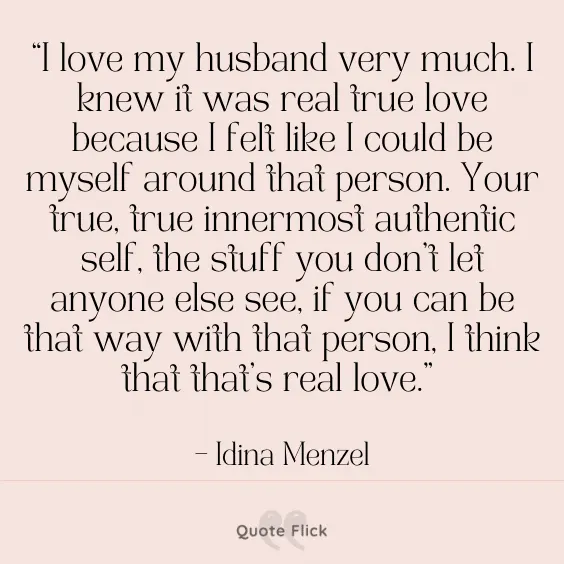 5. "Husband and wife relationships are like the relationship of Tom and Jerry. Though they are teasing and fighting, but can't live without each other." – Unknown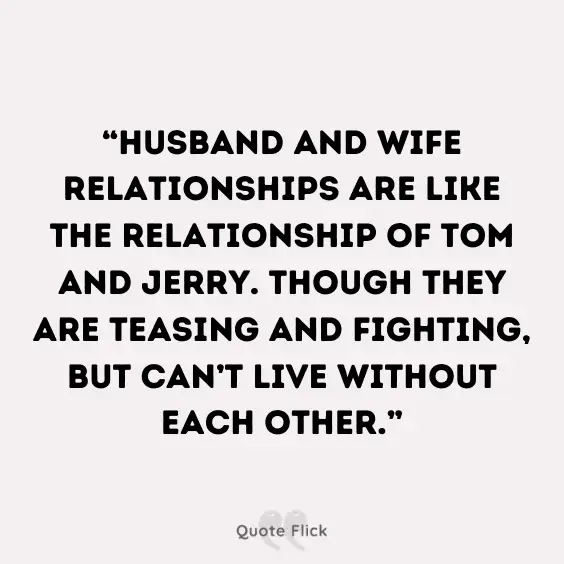 You Might Also Like:
6. "Every day with my husband is another day in paradise." – Unknown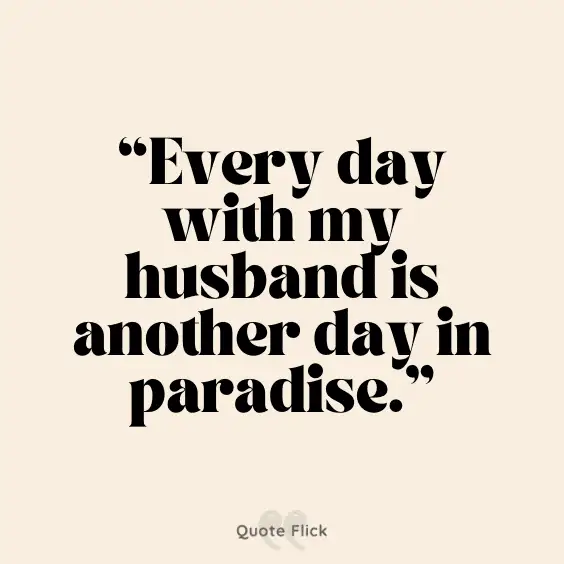 7. "The best thing life has brought to me is you. Thank you for being my husband all the way." – Unknown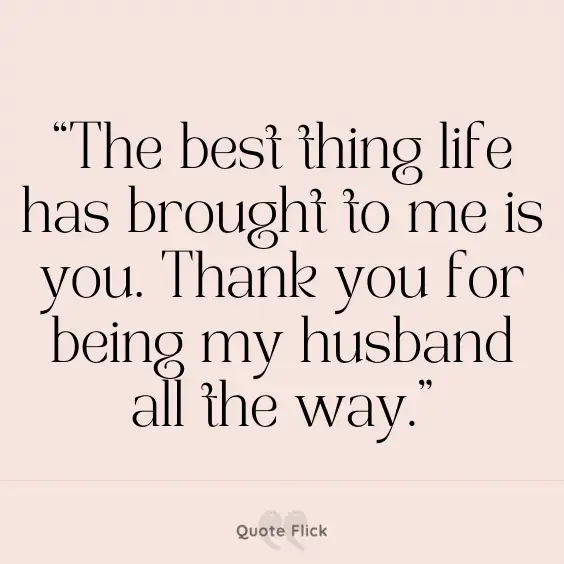 8. "I am so lucky that you are now my husband. I will love you always and forever. Each day is stronger. Love from your wife." – Unknown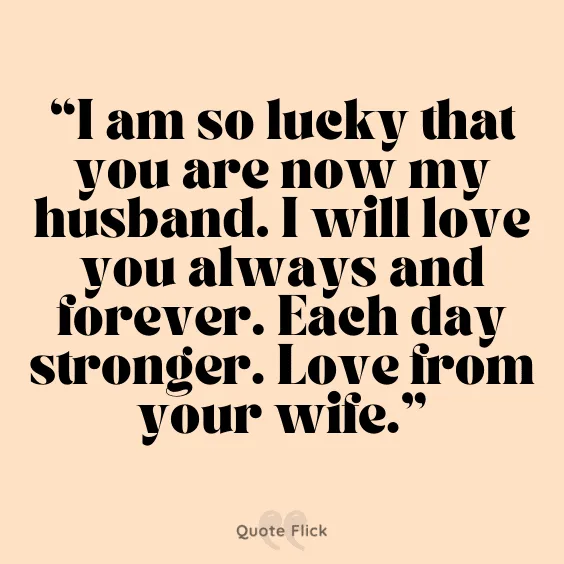 9. "I can do without a morning cup of coffee, but not without cuddling my handsome hubby." – Unknown
10. "Every day of being your wife feels so romantic. I live for you, my sweet husband." – Unknown
11. "My heart is where my husband is." – Unknown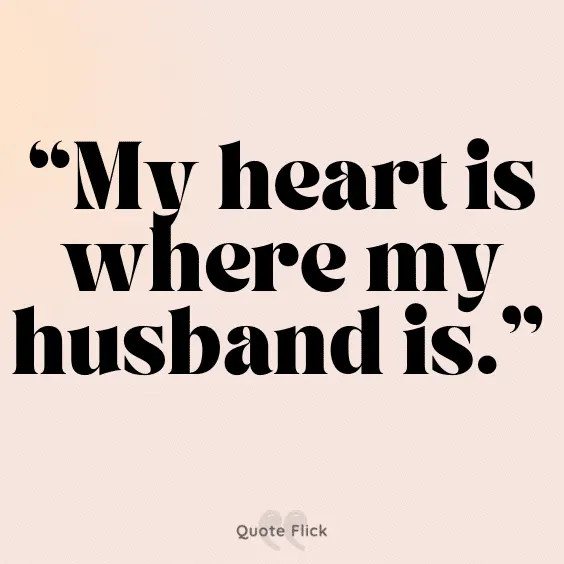 12. "I trust you, but not because you are my husband. The reason I trust you is that you are the epitome of everything that a man should be." – Unknown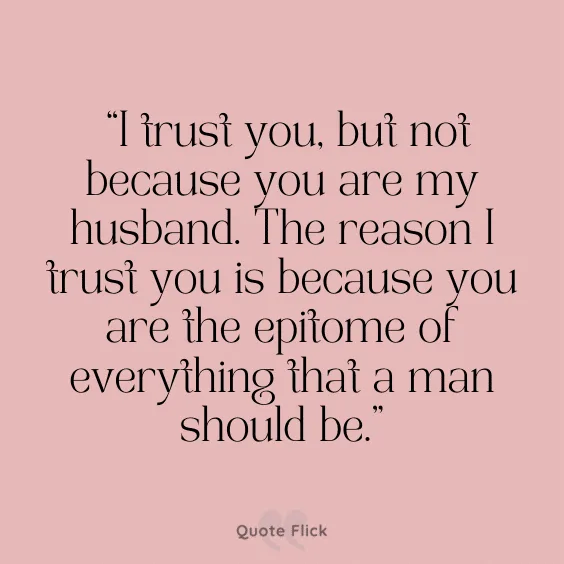 13. "My husband is where my love story begins." – Unknown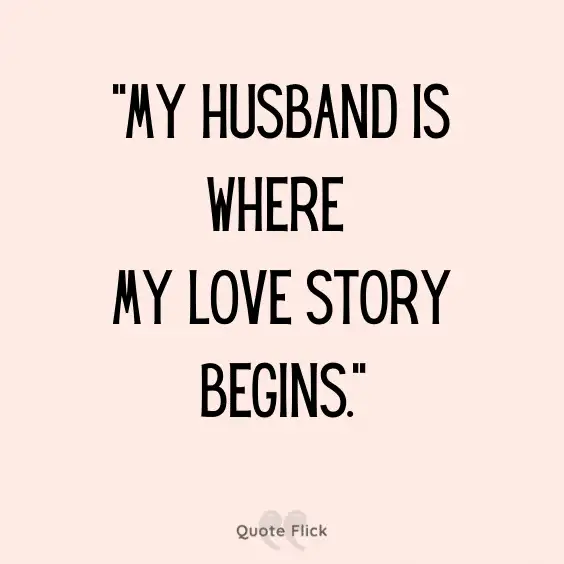 14. "Thanks to my wonderful husband, love is all I need." Unknown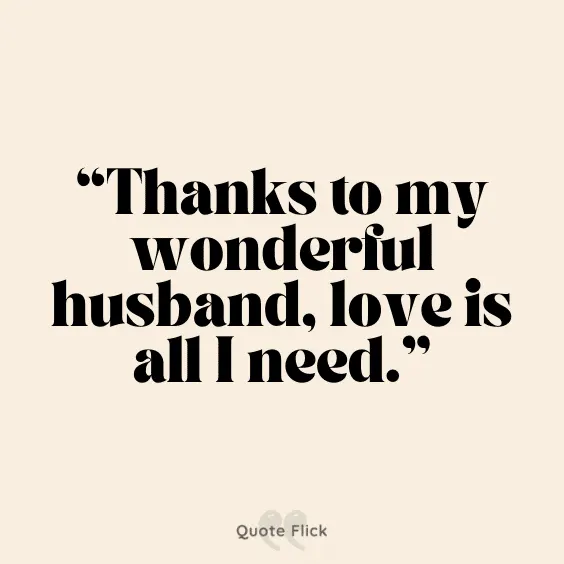 15. "I love you my husband, the man who makes life and love wonderful." – Unknown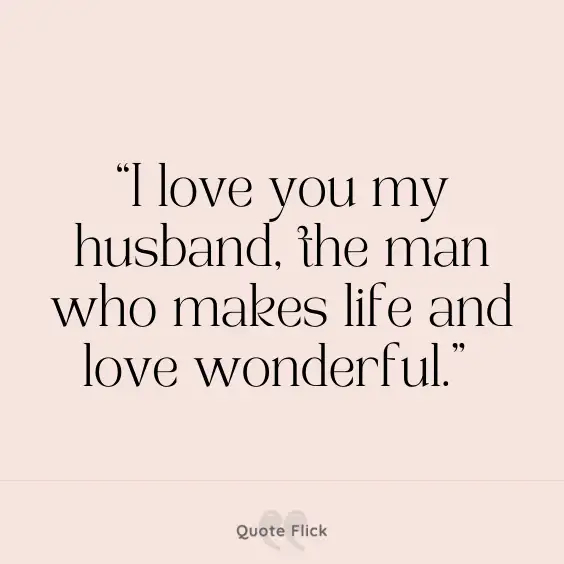 You Might Also Like:
16. "I love you not because of who you are, but because of who I am when I am with you."– Roy Croft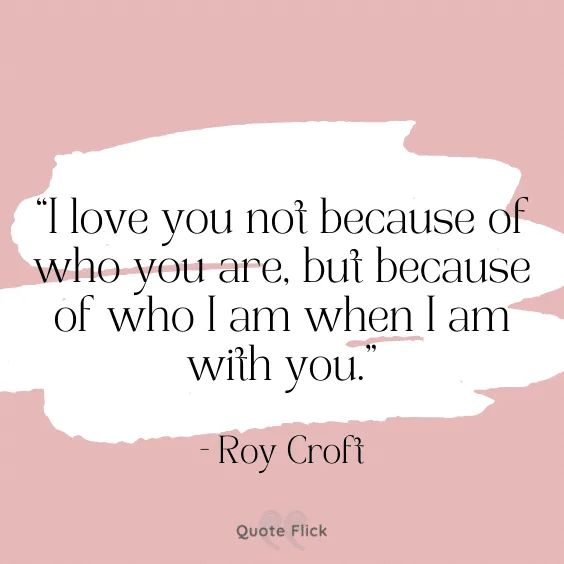 17. "My life best achievement is that I get to be with a man like you every day!" – Unknown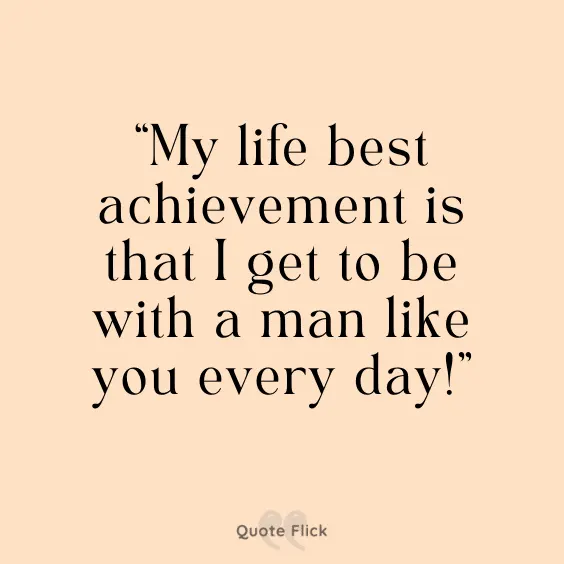 18. "You are truly a one-in-a-million husband and I couldn't feel more like I won the marriage lottery!" – Unknown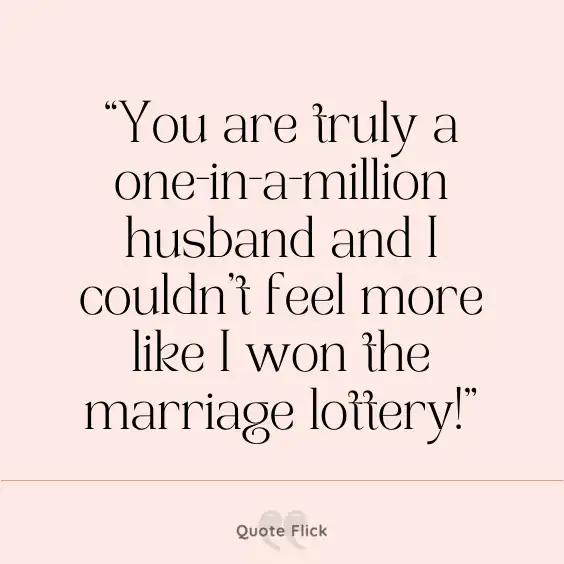 19. "One important thing I would like to tell you is that.. you are my favorite! I love you." – Unknown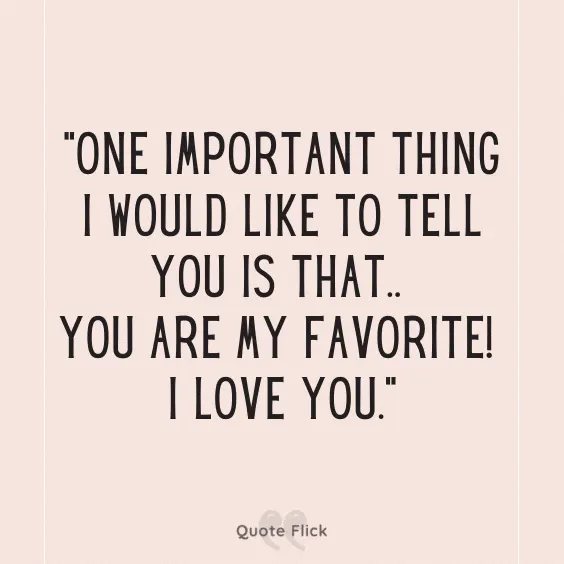 20. "Thank you for being you… for sharing your love with me, for inspiring me to accept myself, for helping me see the unique beauty in imperfection, for showing me that love is something you do, something not just to be said but also to be shown." – Unknown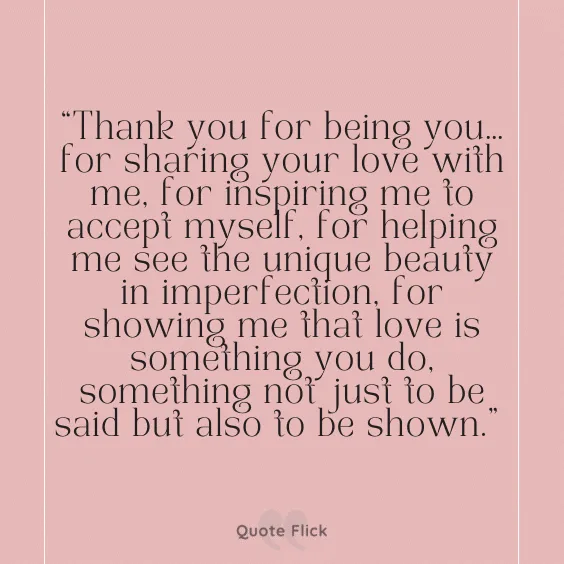 21. "The minute I heard my first love story I started looking for you, not knowing how blind that was. Lovers don't finally meet somewhere. They're in each other all along." – Unknown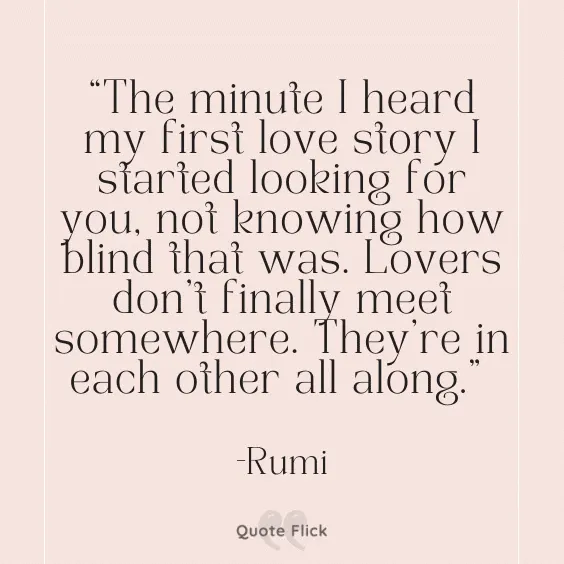 22. "Our love sings with passion and sensation. Our marriage hinges on care and affection. I love you!" – Unknown
23. "When I saw you I fell in love, and you smiled because you knew." – William Shakespeare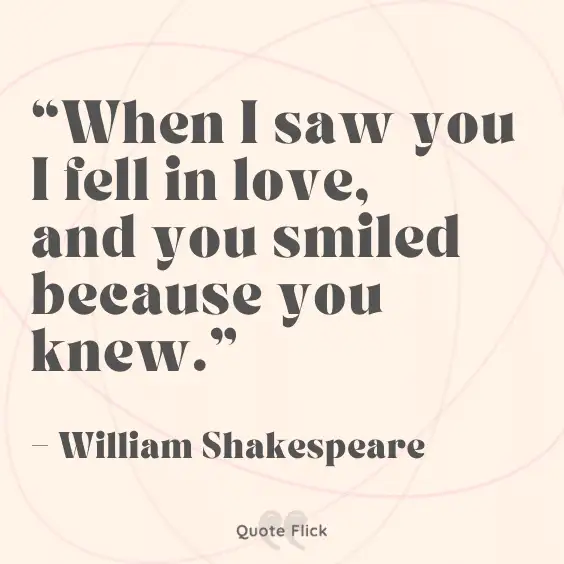 24. "No relationship is ever perfect and I know I'm far from perfect but as long as you're willing to try I'm willing to stay through anything." – Unknown
25. "By loving you, I've added something wonderful to the world." – Unknown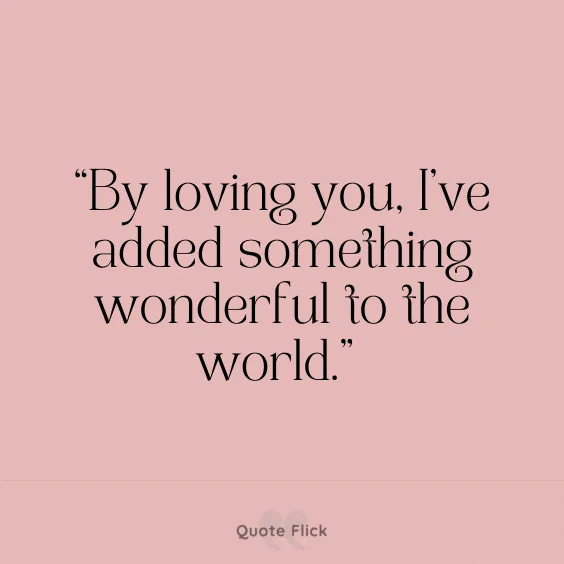 Next: Trust Quotes or You Are Amazing Quotes
26. "I love how you take care of me. How you keep working to be a better man. Even on days, I fail to be a better woman." – Unknown
27. "I love being my husband's wife." – Julianna Margulies
28. "Every love story is beautiful but ours is my favorite." – Unknown
29. "I want to be your last everything." – Unknown
30. "I look at you and I'm home. I see nothing worse than to be without you because with you my soul feels complete, you are the other half of me and I love you. You are my home no matter where that is." – Unknown
31. "Words can't explain how much I love you, my husband. Loving you is a wonderful experience." – Unknown
32. "Each time I look at you, I just smile to myself and think, 'I certainly could not have done better.' You are perfect the way you are. I love you, my husband!" – Unknown
33. "You are my always & forever. My happily ever after. My soulmate. My best friend. My dream come true. My one & only. My shoulder to lean on. My heart to melt into. My husband. My everything. For always!" – Unknown
34. "I want to inspire my husband. I want him to look at me and say: because of you I didn't give up." – Unknown
35. "There is a madness in loving you, a lack of reason that makes it feel so flawless."– Leo Christopher
36. "How amazing to have you my loving husband, you respect me, love me never get bored of hearing all the things that go on in my head." – Unknown
37. "No matter how much I say I love my husband, I always love him more, I will keep loving him more." – Unknown
38. "Thank you for always being my rainbow after a storm." – Unknown
39. "You have no idea how good it feels to wake up every morning knowing you are mine and I am yours."- Unknown
40. "What I love about my husband is that he really allows me to be the best person I can." – Georgina Chapman
41. "Husbands too, deserve to be spoiled. Told they are handsome. Told their efforts are appreciated and should also be made to feel secure. If he is doing his best to treat you like a queen, do your best to treat him as a King. His need to feel loved and appreciated is REAL." – Unknown
42. "I ask myself every day… How did I get so lucky to marry my best friend in this world." – Unknown
43. "I am who I am because of you. We may have our challenges, our stumbles and our disagreements, but as long as we are still together and love one another, nothing else matters." – Unknown
44. "Baby I'm yours and I'll be yours until the stars fall from the sky, until the rivers all run dry. In other words, until I die." – Unknown
45. "You are the only person with whom I can be ME because you are the only person who loves me for what I am and not what I can be." – Unknown
46. "Silence has a voice; I know this because it screams when you are away." – Tyler Knott
47. "I love you as high as I can reach, as far as I can see, to infinity and beyond. From this day to our final days, you are mine and I am yours." – Unknown
48. "When I first met you, I honestly didn't know you were gonna be this important to me."- Unknown
49. "I love you without knowing how, or when, or from where. I love you simply, without problems or pride." – Pablo Neruda
50. "The only thing better than having you for a hubby, is our children having you for a daddy." – Unknown
51. "With my hubby, it was love at first sight. It was love at the hundredth sight and the thousandth sight too. True love is falling in love with the same person over and over again." – Unknown
52. "Yes, I do depend on a man. My husband and I are a team. He depends on me and I depend on him. We support each other. That's how marriage is supposed to work." – Unknown
53. "He's more myself than I am. Whatever our souls are made of, his and mine are the same." – Emily Brante
54. "Every single day that I spend being your wife, I realize how lucky I am to live with the sweetest husband. I love our life." – Unknown
55. "You are the sweetest husband. Every beat of my heart belongs to you." – Unknown
56. "My only wish is that you could see yourself through my eyes. Only then could you realize just how much you mean to me and how much I love you. You are, and always will be, my everything." – Unknown
57. "I love you, and I will love you until I die, and if there's a life after that, I'll love you then." – Cassandra Clare
58. "His arms are strong enough, to hold every fear, every beautifully broken piece of me. This man doesn't just make me feel complete, he completes me." – S. Marie
59. "You are always the reason for my happiness, my world, and the love of my life." – Unknown
60. "Some people believe that marriages are dicey. We exhibit that marriage does not end the love but nurtures it every day. I admit that the affection you have for me never ceases to amaze me. I adore you!" – Unknown