Looking for quotes about November? We've got you covered with these sweet November quotes that remind us just what a beautiful time of year this is!
It's the month of Thanksgiving, Christmas is just around the corner, and the landscape is colored with gorgeous oranges, reds, and gold. The cool, frosty nights have arrived and summer is a fading memory.
Read our November quotes to discover more reflections of this autumnal month – including November love quotes, November motivational quotes, and sayings.
As always, if you love our quotes – share them on Pinterest!
November Quotes
1. "Fallen leaves lying on the grass in the November sun bring more happiness than the daffodils." – Cyril Connolly
2. "November's sky is chill and drear, November's leaf is red and sear." – Walter Scott
3. "Some of the days in November carry the whole memory of summer as a fire opal carries the color of moon rise." – Gladys Taber
4. "Spring is brown; summer, green; autumn, yellow; winter, white; November, gray." – Henry David Thoreau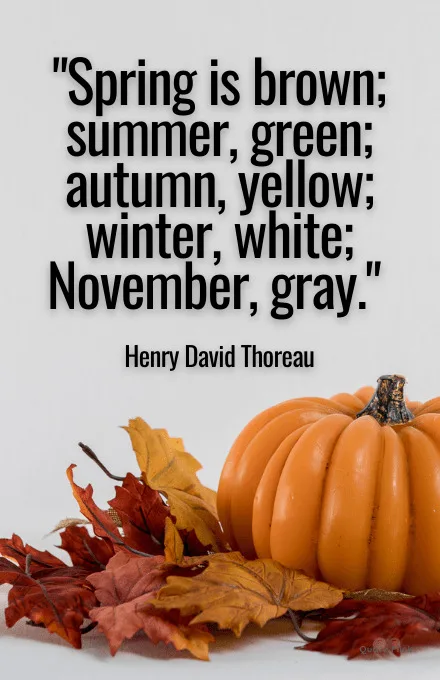 5. "In November you begin to know how long the winter will be." – Martha Gellhorn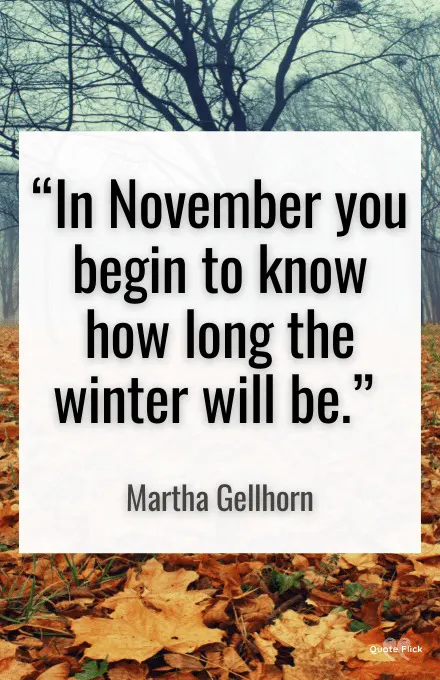 You Might Also Like:
6. "Welcome sweet November, the season of senses and my favorite month of all." – Gregory F. Lenz
7. "No shade, no shine, no butterflies, no bees, no fruits, no flowers, no leaves, no birds—November!" –Thomas Hood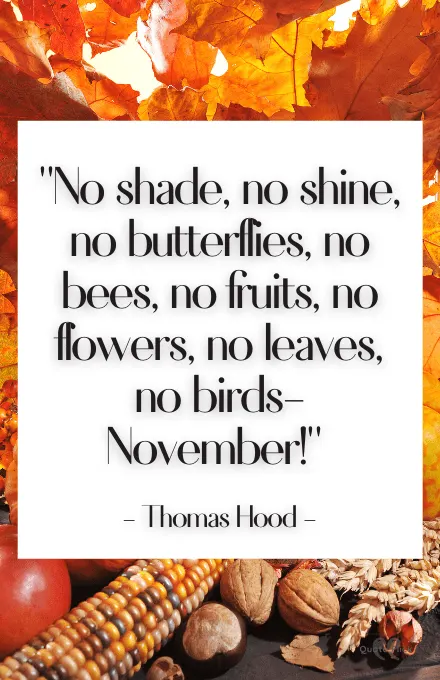 8. "The month of November makes me feel that life is passing more quickly. In an effort to slow it down, I try to fill the hours more meaningfully." – Henry Rollins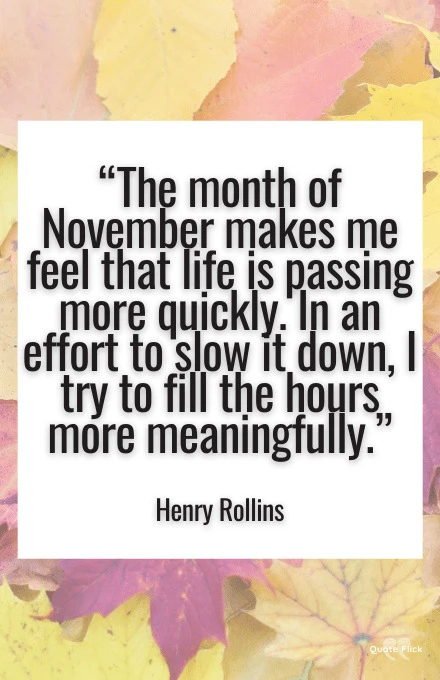 9. "November is usually such a disagreeable month… as if the year had suddenly found out she was growing old and could do nothing but weep and fret over it." – Anne Shirley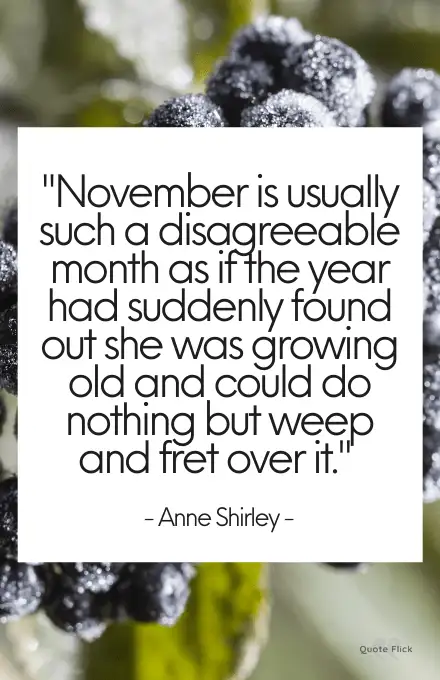 10. "In November, the trees are standing all sticks and bones. Without their leaves, how lovely they are, spreading their arms like dancers. They know it is time to be still." – Cynthia Rylant
Have you checked out our collection of Fall Quotes and Thanksgiving Quotes?
11. "November at its best—with a sort of delightful menace in the air." – Anne Bosworth Greene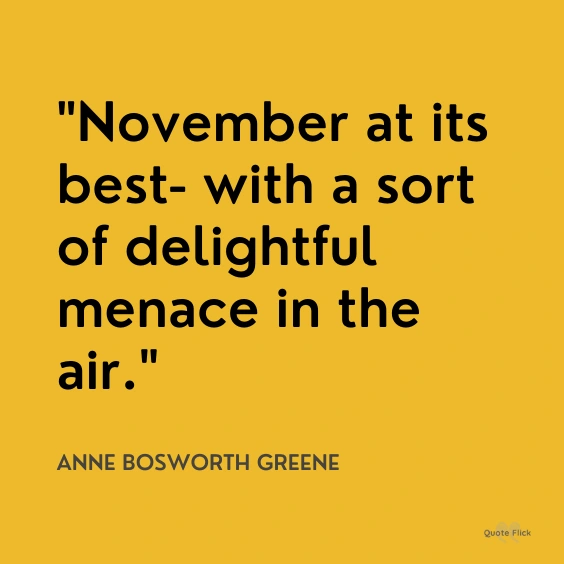 12. "November always seems to me the Norway of the year." – Emily Dickinson
13. "May your heart and mind be open enough to receive the blessings of the new month. Happy November." – Unknown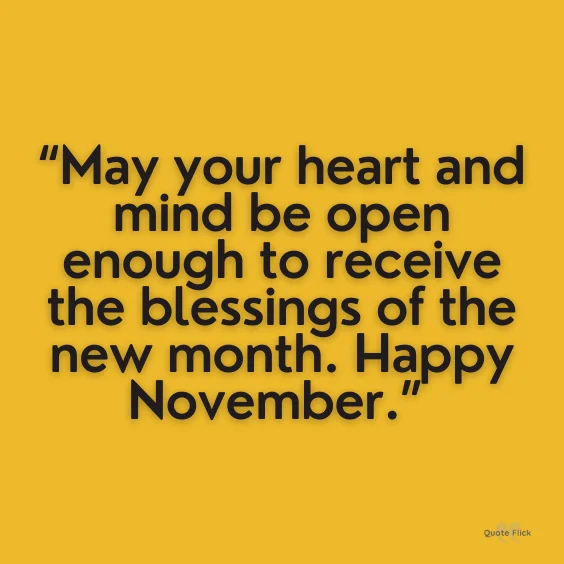 14. "In November, the smell of food is different. It is an orange smell. A squash and pumpkin smell. It tastes like cinnamon and can fill up a house in the morning… Food is better in November than any other time of the year." – Cynthia Rylant
15. "Let's welcome November, a month filled with gratitude." – Unknown
16. "November Night. Listen…With faint dry sound, Like steps of passing ghosts, The leaves, frost-crisp'd, break from the trees, And fall." – Adelaide Crapsey
17. "Whenever it is a damp, drizzly November in my soul, I shall recall the memory of warm, sunny, late summer afternoons like this one, and be comforted greatly." – Peggy Toney Horton
18. "It looked like the world was covered in a cobbler crust of brown sugar and cinnamon." – Sarah Addison Allen
19. "In January we start saving money, getting out of credit card debt, funding our retirement accounts, and we're doing wonderful. Then, every single year like clockwork, starting in November, all of you fall into this trap that says, 'I have to buy this gift'." – Suze Orman
20. "November: The last month of autumn, but the beginning of a new adventure; time to take a risk and do the unexpected." – Unknown
Have you read our collection of Winter Quotes
21. "November's sky is chill and drear, November's leaf is red and sear." – Sir Walter Scott
22. "So dull and dark are the November days. The lazy mist high up the evening curled, And now the morn quite hides in smoke and haze; The place we occupy seems all the world." – John Clare
23. "Welcome sweet November, the season of senses and my favorite month of all." – Gregory F. Lenz
24. "November is the month to remind us to be thankful for the many positive things happening in our life." – Unknown
25. "I love November rain." – Unknown
Holly Jaskolka is a certified Emotional Freedom Technique (EFT) practitioner, yoga instructor, and an impassioned advocate for holistic well-being. Fueled by her love for animals and wanderlust, Holly leads a plant-based lifestyle that she complements with immersive travel experiences. When she's not jet-setting to uncover the world's hidden gems, she's empowering individuals to heal emotionally, particularly those grappling with the aftermath of breakups. Connect with Holly on LinkedIn.