Want to get in the mood for October and the beginning of the Fall season? Read our collection of inspirational quotes about October to remember why there's so much to love about this wonderful month!
The seasons are changing, the leaves are falling and the days are crisp and cool. It's time to start getting cozy indoors, savoring those pumpkin lattes, and looking forward to Halloween.
These October quotes are a lovely way to deepen your appreciation for this beautiful month, and contemplate the beauty of nature as it changes!
Enjoy these October sayings and if you love our work, share your favorite image on Pinterest!
October Quotes
1. "Ah, September! You are the doorway to the season that awakens my soul… but I must confess that I love you only because you are a prelude to my beloved October." – Peggy Toney Horton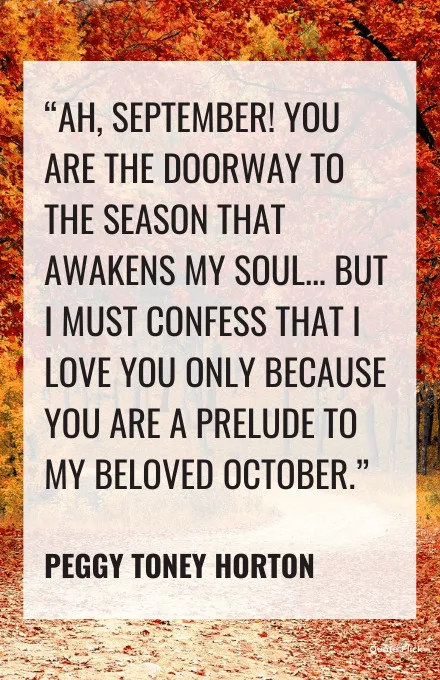 2. "October is the opal month of the year. It is the month of glory, of ripeness. It is the picture-month." – Henry Ward Beecher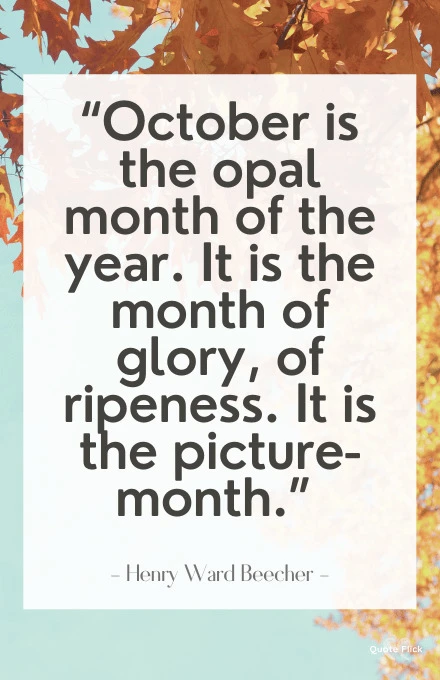 3. "My favorite color is October." – Unknown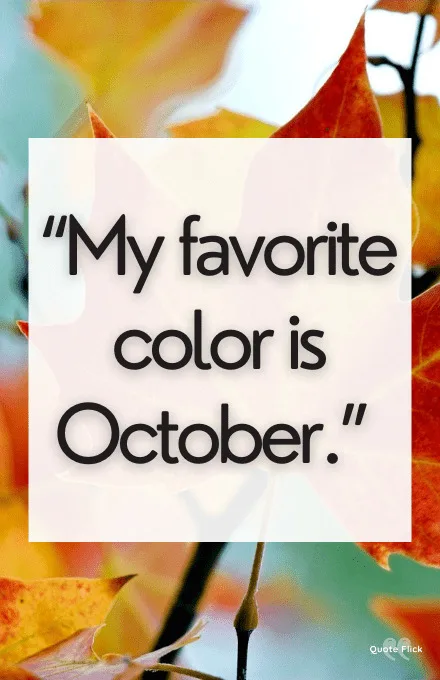 4. "October is a hallelujah! reverberating in my body year-round…" – John Nichols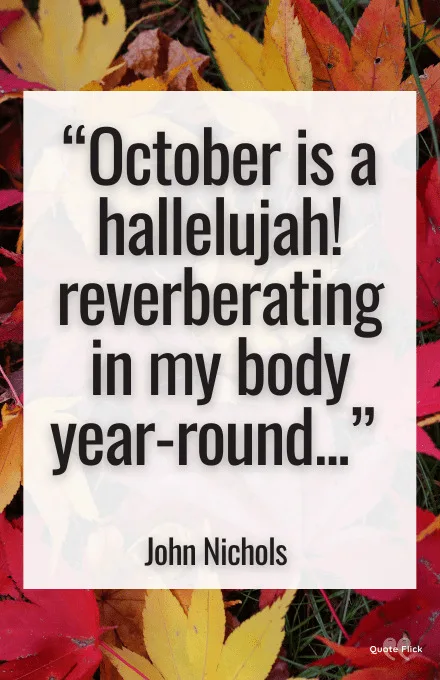 5. "I have been younger in October than in all the months of spring." – W. S. Merwin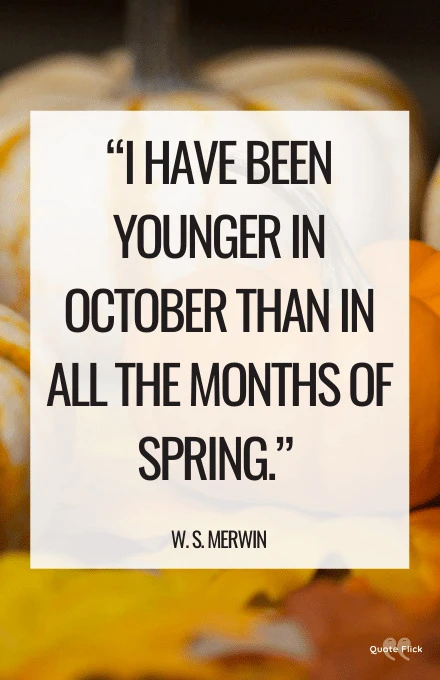 You Might Also Like:
6. "The trees are in their autumn beauty, The woodland paths are dry, Under the October twilight the water Mirrors a still sky." – William Butler Yeats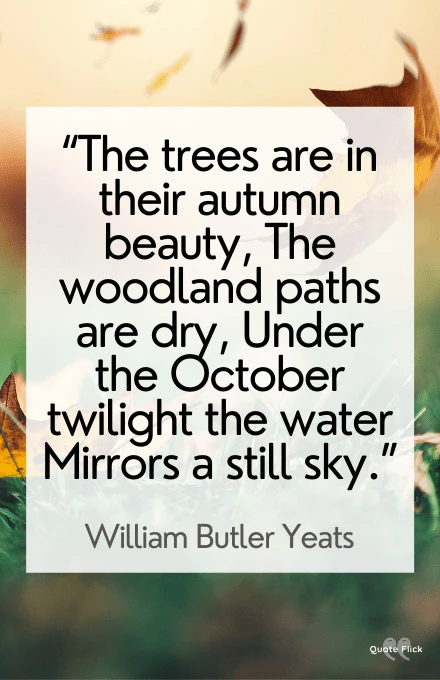 7. "The clear light that belongs to October was making the landscape radiant." – Florence Bone
8. "October was always the least dependable of months … full of ghosts and shadows." – Joy Fielding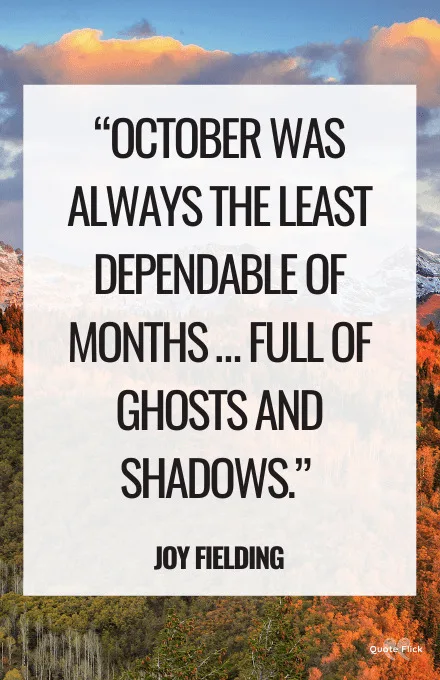 9. "October is a symphony of permanence and change." – Bonaro W. Overstreet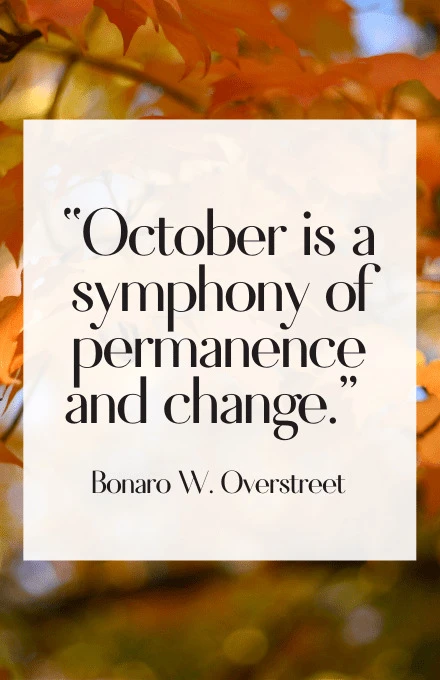 10. "October is about trees revealing colors they've hidden all year. People have an October as well." – JM Storm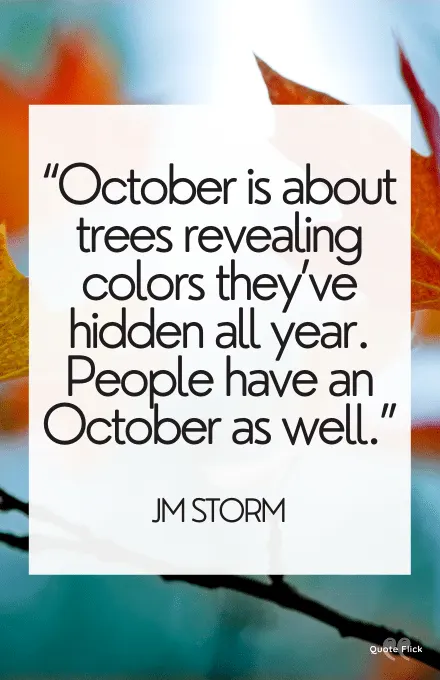 Have you read our Fall Quotes or Quotes About Leaves?
11. "Let's spark up October and make it better than September."  – Unknown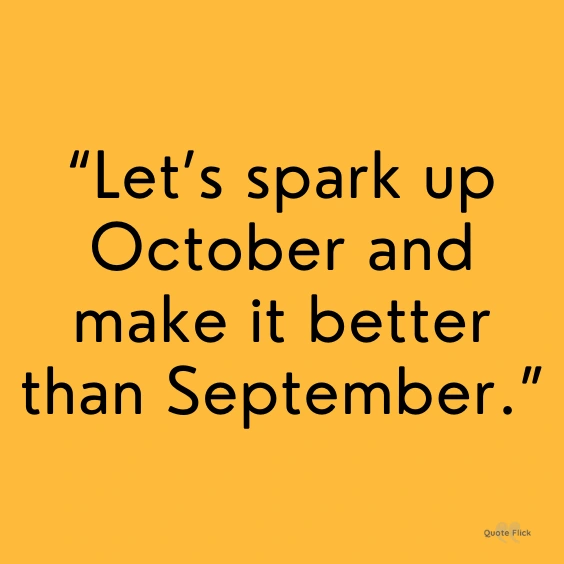 12. "Of all the seasons, autumn offers the most to man and requires the least of him." – Hal Borland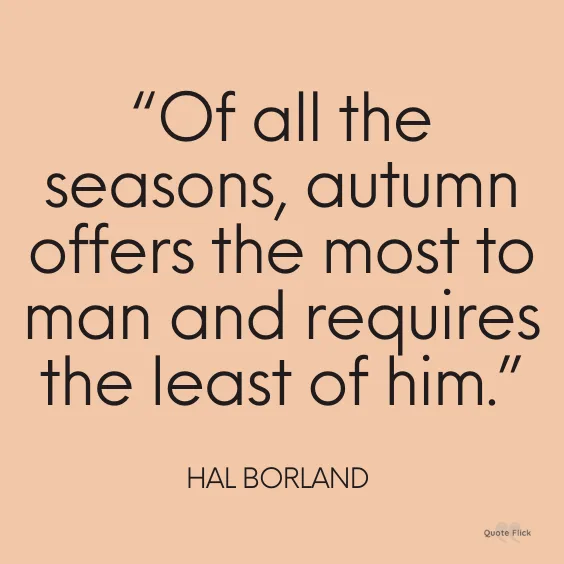 13. "It must be October, the trees are falling away and showing their true colors." – Charmaine J. Forde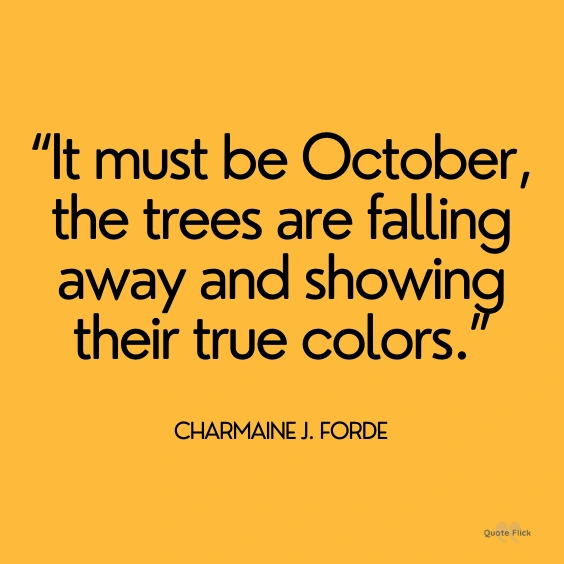 14. "The trees are about to show us how lovely it is to let the dead things go." – Unknown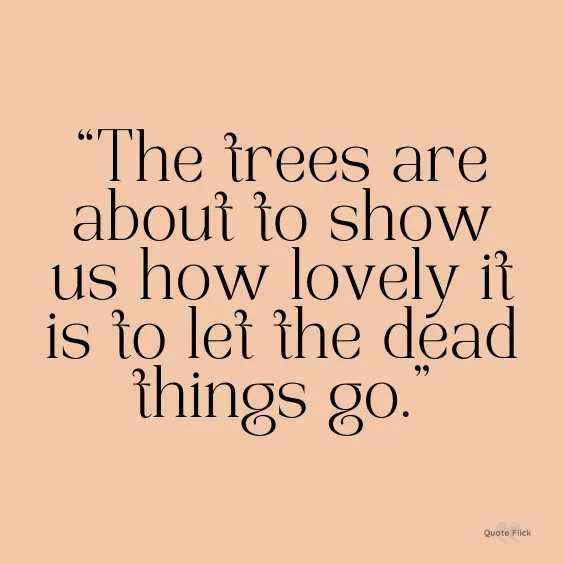 15. "He loved October. Had always loved it. There was something sad and beautiful about it—the ending and beginning of things." – Jacqueline Woodson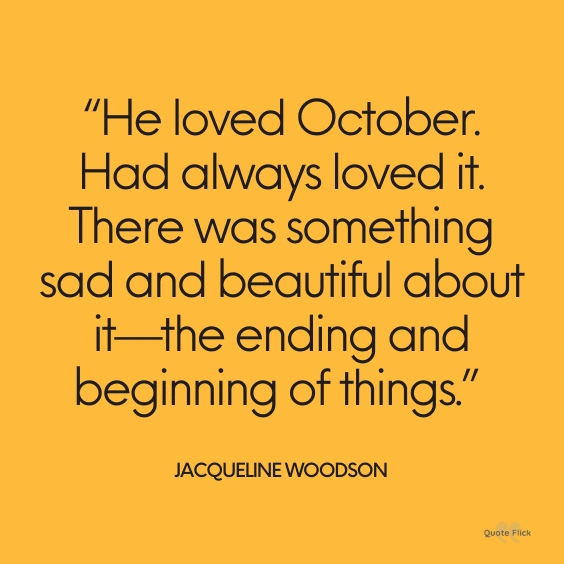 16. "O hushed October morning mild. Thy leaves have ripened to the fall; Tomorrow's wind, if it be wild. Should waste them all." – Robert Frost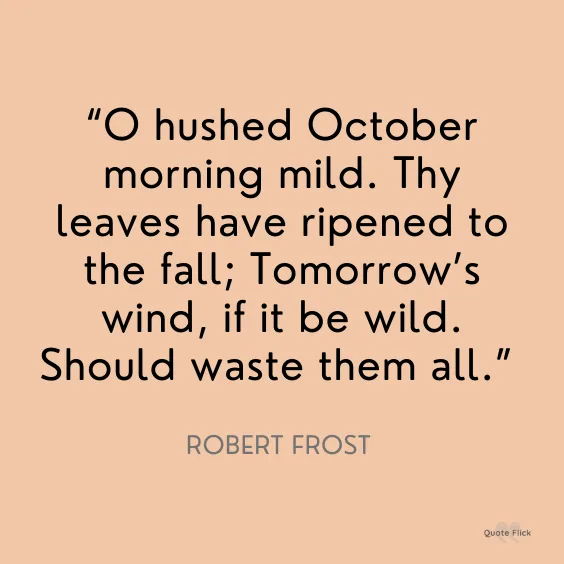 17. "In October any wonderful unexpected thing might be possible." – Elizabeth George Speare
18. "The end of the summer is not the end of the world. Here's to October…" – A.A. Milne
19. "Autumn is a second spring when every leaf is a flower." – Albert Camus
20. "I wish that every day was Saturday and every month was October." – Charmaine J. Forde
21. "I'm so glad I live in a world where there are Octobers." – Anne Of Green Gables
22. "Autumn carries more gold in its pocket than all the other seasons." – Jim Bishop
23. "Autumn is the time of year when Mother Nature says, look how easy, how healthy and how beautiful letting go can be." – Toni Sorenson
24. "In the entire circle of the year there are no days so delightful as those of a fine October." – Alexander Smith
25. "Bittersweet October. The mellow, messy, leaf-kicking, perfect pause between the opposing miseries of summer and winter." – Unknown
26. "October's poplars are flaming torches lighting the way to Winter." – Nova Bair
27. "You ought to know that October is the first Spring month."  – Karel Capek
28. "Life starts all over again when it gets crisp in the fall." – F. Scott Fitzgerald
29. "October is the month for painted leaves. Their rich glow now flashes round the world. As fruits and leaves and the and the day itself acquire a bright tint just before they fall, so the year near its setting. October is its sunset sky; November the later twilight." – Henry David Thoreau
30. "Outside, a gusty October breeze was combining leaves from the trees and sending them across her backyard in colorful skitters." – Stephen King
Holly Jaskolka is a certified Emotional Freedom Technique (EFT) practitioner, yoga instructor, and an impassioned advocate for holistic well-being. Fueled by her love for animals and wanderlust, Holly leads a plant-based lifestyle that she complements with immersive travel experiences. When she's not jet-setting to uncover the world's hidden gems, she's empowering individuals to heal emotionally, particularly those grappling with the aftermath of breakups. Connect with Holly on LinkedIn.