If you're looking for the perfect one liner about life quotes, we've got you covered! These 80 funny one-liners about life provide some light-hearted lessons on life's adventure. These witty one-liners show the joys, struggles, ironies, and peculiarities of existence, reminding us to find humor even in the most mundane situations.
So, get ready to be entertained, tickled, and perhaps even surprised by the insights hidden within these carefully crafted one-liners on life. We hope that these quotes and sayings bring a smile to your face, evoke a sense of connection, and remind you that life is best experienced with a healthy dose of laughter!
We appreciate any shares on Pinterest if you love these quotes! Enjoy!
One Liners About Life
1. "The meaning of life is to give life meaning." – Ken Hudgins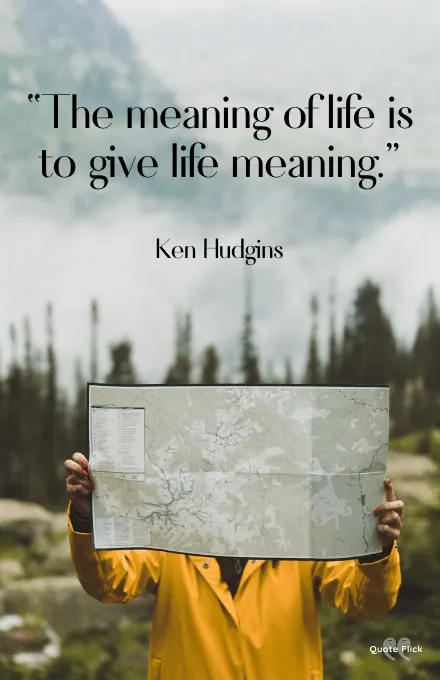 2. "Don't take life so seriously, you will not get out alive." – Elbert Hubbard
3. "I wanna be 14 again and ruin my life differently, I have new ideas." – Unknown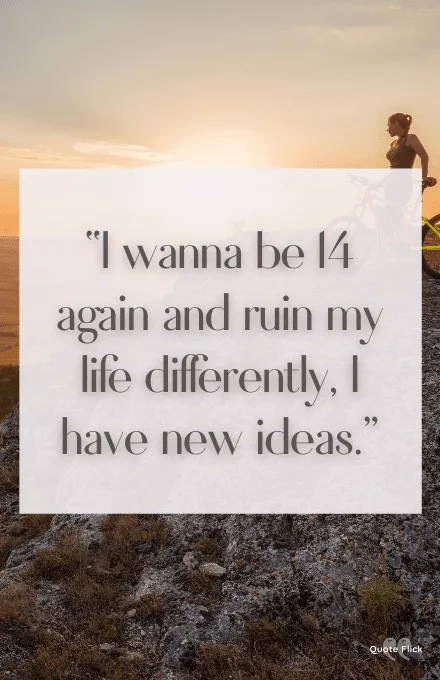 4. "Life really does begin at forty. Up until then, you are just doing research." – Carl Gustav Jung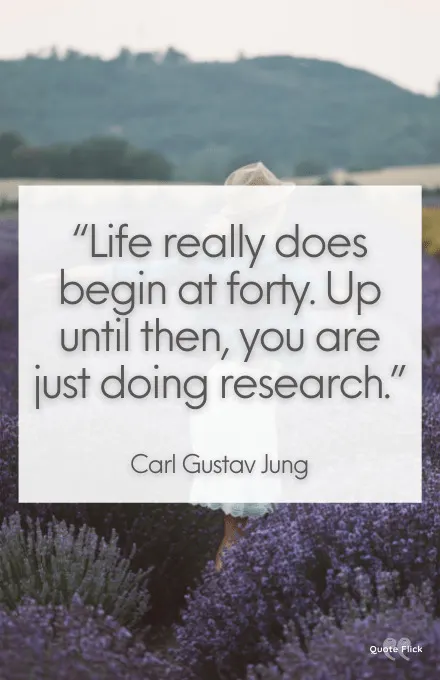 5. "Life without coffee is like something without something…sorry, I haven't had any coffee yet." – Unknown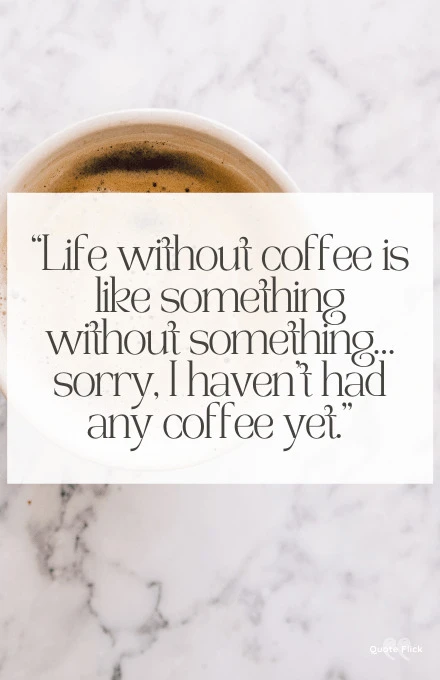 You Might Also Like:
6. "People without self-awareness go through life simply reacting out of habit." – John C. Allen
7. "Honestly, I don't play an active role in my life anymore…things just happen and I'm like, 'oh is this what we're doing now?' OK" – Unknown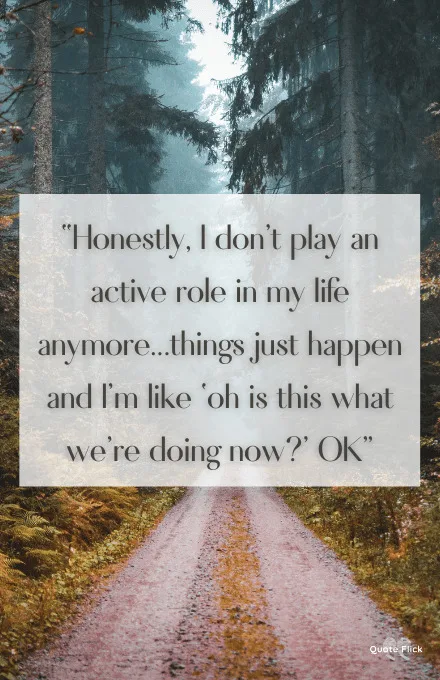 8. "Can all your worries add a single moment to your life?" – Jesus, Matthew 6:27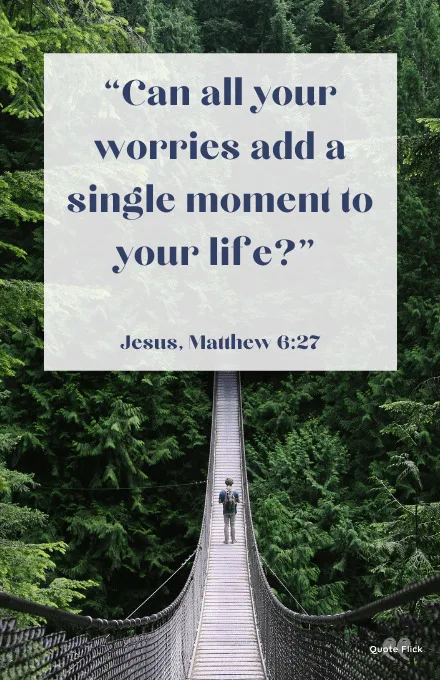 9. "Life is a question and how we live it is our answer." – Gary Keller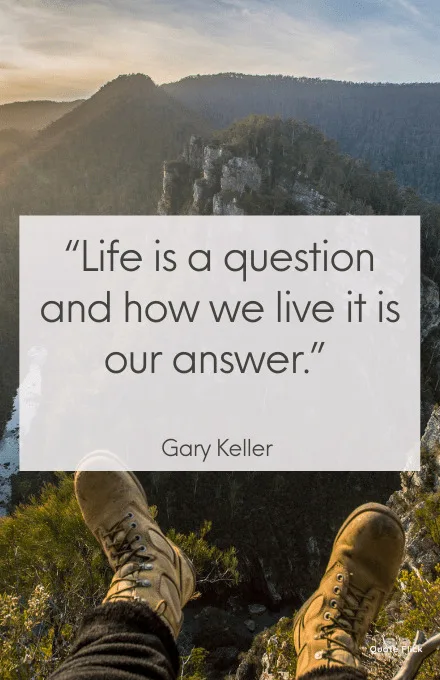 10. "A clean house is a sign of a misspent life." – Unknown
You Might Also Like:
11. "Life is too short to be serious all the time. So, if you can't laugh at yourself, call me…I'll laugh at you." – Unknown
12. "Your life is your message." – Gandhi
13. "The adventure of life is to learn. The purpose of life is to grow. The nature of life is to change." – William Arthur Ward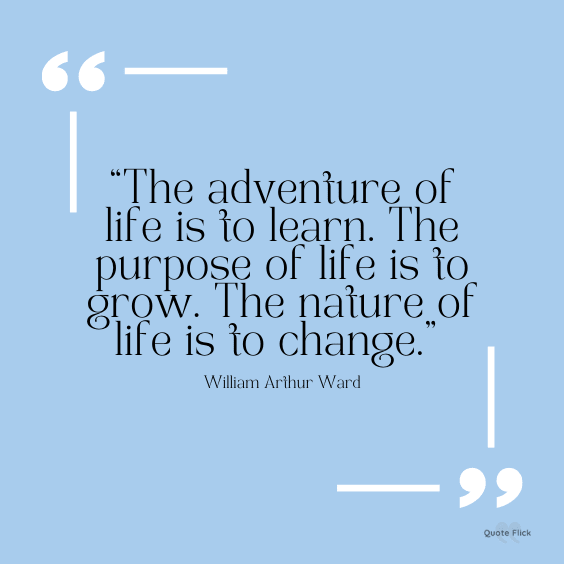 14. "When you love people and have a desire to make a profound, positive impact upon the world, then you will have accomplished the meaning of life." – Sasha Azevedo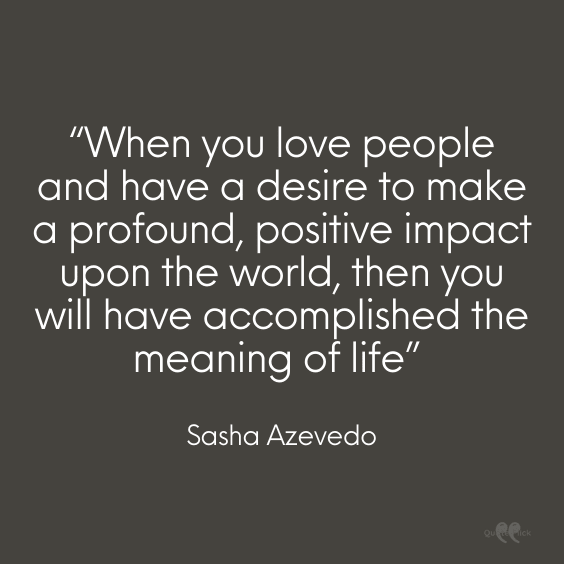 15. "Wanting to be someone else, is a waste of who you are." – Kurt Cobain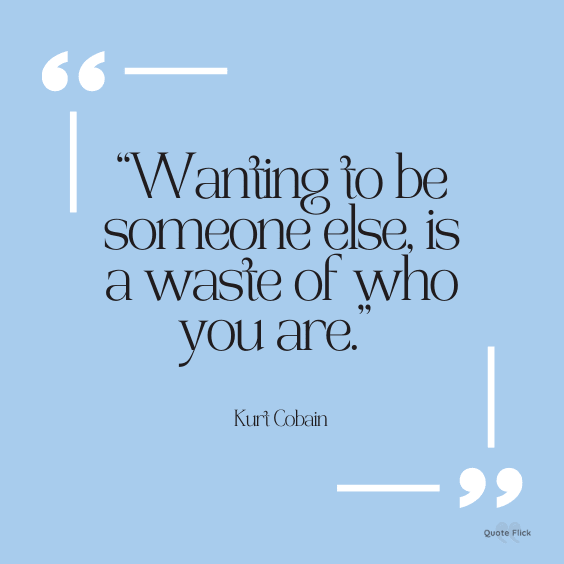 16. "Seven days without laughter makes one weak." – Mort Walker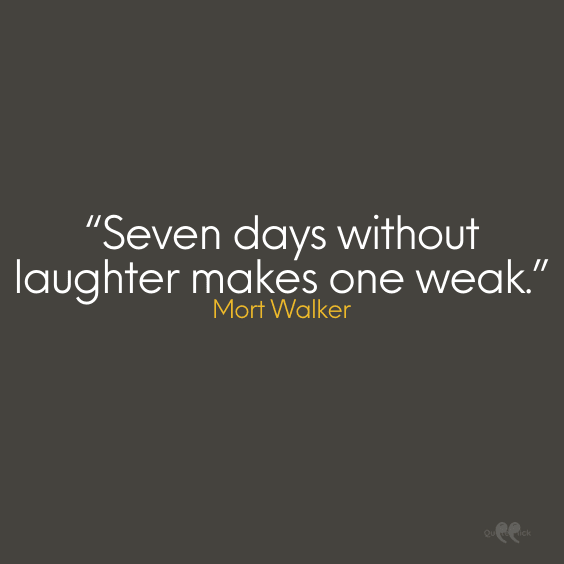 17. "Life is not a fairy tale, if you lose your shoe at midnight, you're drunk." – Unknown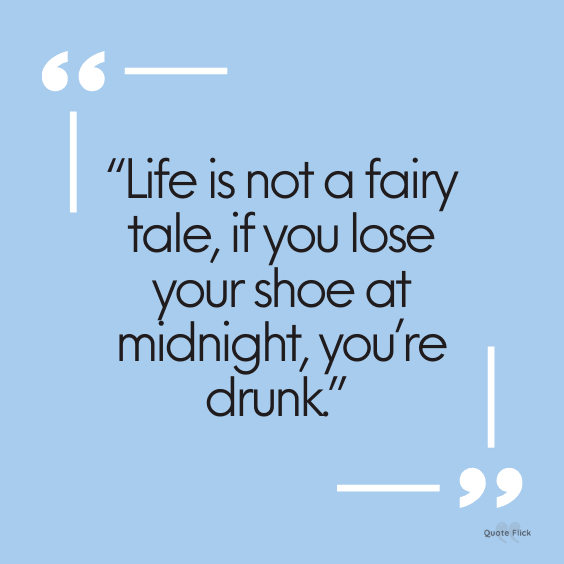 18. "No one is you and that is your superpower." – Unknown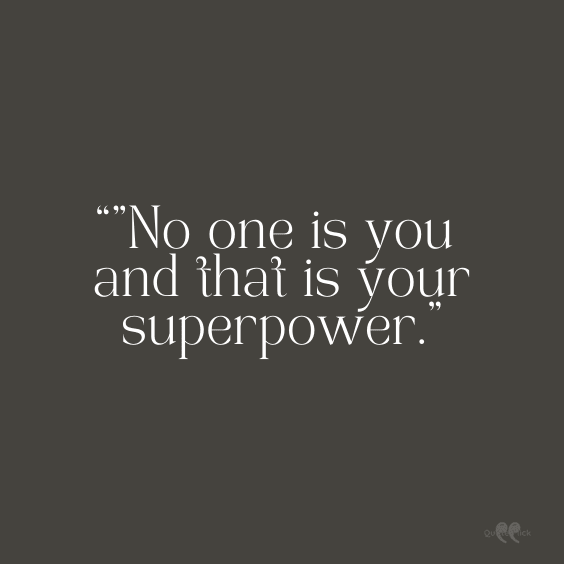 19. "The way I see it, if you want the rainbow, you gotta put up with the rain." – Dolly Parton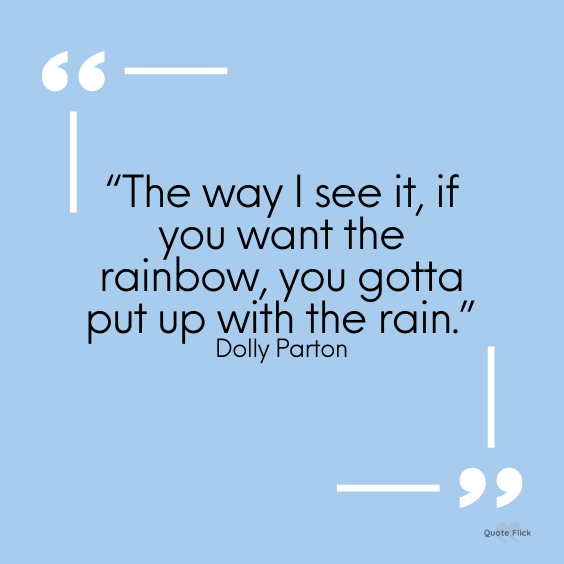 20. "By the time you learn the rule of life, you're too old to play the game." – Unknown
21. "The desire to live a purposeful life, I truly believe, resides in all humans." – Paulo Braga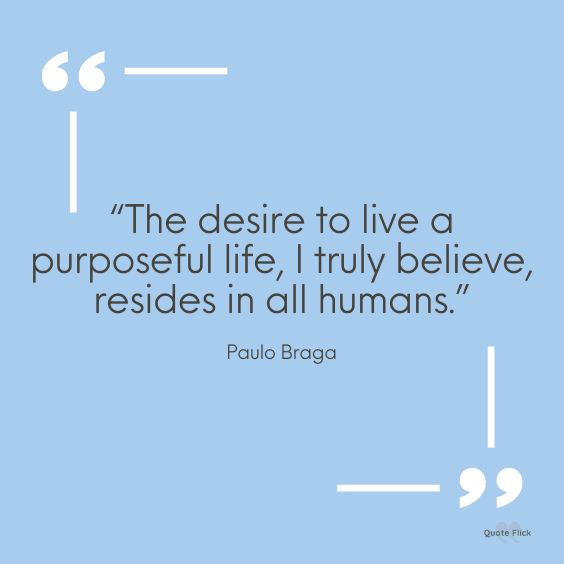 22. "Love the life you live. Live the life you love." – Bob Marley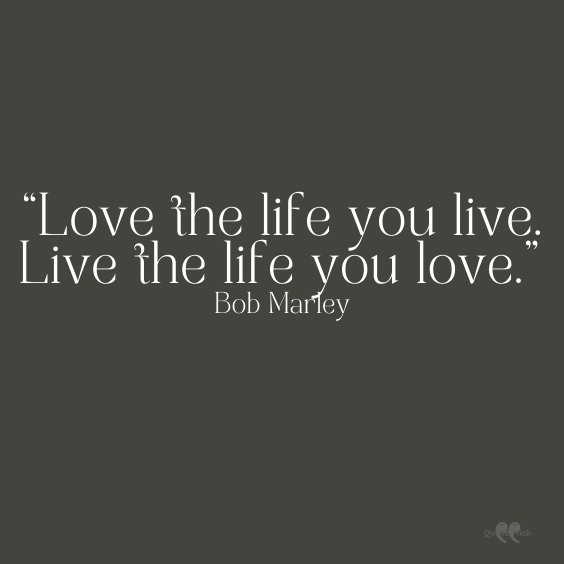 23. "Life is not a problem to be solved, but a reality to be experienced." – Soren Kierkegaard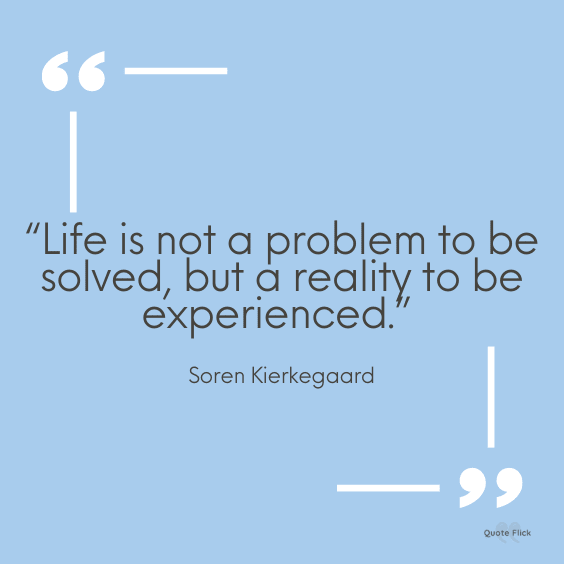 24. "Everything that we do today determines how we're going to live life tomorrow." – Martin Dasko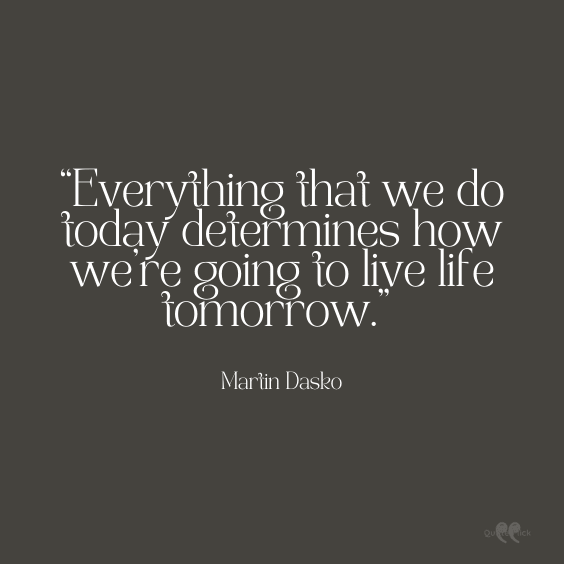 25. "Time decides who you meet in life, your heart decides who you want in your life, and your behavior decides who stays in your life." – Unknown
26. "We can do anything we want to if we stick to it long enough." – Helen Keller
27. "He who is brave is free." – Seneca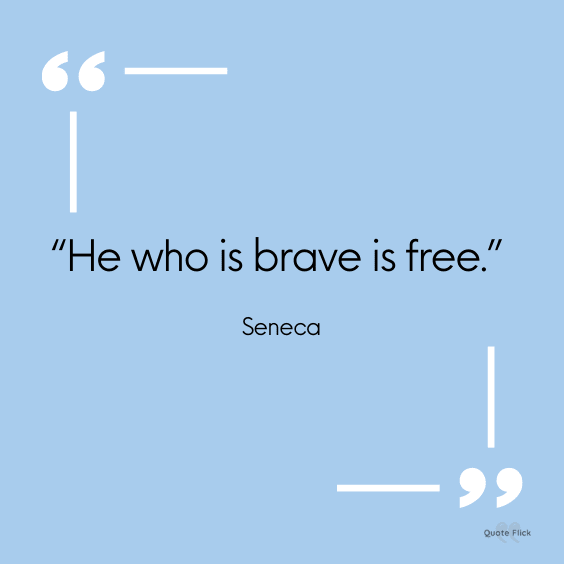 28. "We never really grow up we only learn how to act in public." – Unknown
29. "Happiness is waking up, looking at the clock and finding that you still have two hours left to sleep." ― Charles M. Schultz
30. "Life is an adventure and getting wherever you are going is half the fun." – Unknown
31. "Mornings contain the secret to an extraordinarily successful life." – Hal Elrod
32. "Go forth on your path, as it exists only through your walking." – Augustine of Hippo
33. "Life is a long lesson in humility." – J.M. Barrie
34. "Be nice to your kids. They'll choose your nursing home." – Unknown
35. "Look for opportunities in every change in your life." – Meir Liraz
36. "Solitary trees, if they grow at all, grow strong." – Winston Churchill
37. "The fastest road to meaning and success: choose one thing and go all-in." – Maxime Lagac
38. "The secret to life is to love who you are – warts and all." – David DeNotaris
39. "Always be sincere, even if you don't mean it." – Unknown
40. "Life becomes easier when you learn to accept the apology you never got." – R. Brault
41. "Now that I made it weird, I'm going to make my exit" – Unknown
42. "Life is accepting what is and working from that." – Gloria Naylor
43. "Talk is cheap because supply exceeds demand." – Unknown
44. "Persist while others are quitting." – William Arthur Ward
45. "When life gives you lemons, squirt someone in the eye." – Cathy Guisewite
46. "The more you love the least deserving on your list, the more your life will change." – Mike Dooley
47. "Happiness depends upon ourselves." – Aristotle
48. "We live in a society where pizza gets to your house before the police." – Unknown
49. "Turn your wounds into wisdom." – Oprah
50. "….the best teachers educate young people for life, not school." – Ira Socol
51. "Artificial intelligence is no match for natural stupidity" – Unknown
52. "Little decisions you make alter your life, but they rarely do so all at once." – Janet Springer
53. "He who smiles in a crisis has found someone to blame" – Unknown
54 "Change the game, don't let the game change you." – Macklemore "There is no life as complete as the life that is lived by choice." – Shad Helmstetter
55. "I asked God for a bike, but I know God doesn't work that way. So I stole a bike and asked for forgiveness." – Emo Philips
56. "A woman has got to love a bad man once or twice in her life, to be thankful for a good one." ― Marjorie Kinnan Rawlings
57. "Model – that is, live – the behavior you want others to practice." – Mario Morino
58. "Logic is the art of going wrong with confidence." – Morris Kline
59. "If I'm gonna tell a real story, I'm gonna start with my name." – Kendrick Lamar
60. "A bad habit has a unique detrimental effect on your life." – Richard D. Rawlings
61. "The best things in life are free but you still have to pay shipping" – Unknown
62. "Tough times never last but tough people do." – Robert H. Schiuller
63. "May your choices reflect your hopes, not your fears." – Nelson Mandela
64. "Everything you can imagine is real." – Pablo Picasso
65. "God must love stupid people because he made so many of them." – Unknown
66. "Problems are not stop signs, they are guidelines." – Robert H. Schiuller
67. "My job is secure. No one else wants it." – Unknown
68. "Impossible is for the unwilling." – John Keats
69. "The quickest way to double your money is to fold it in half and put it back in your pocket." – Unknown
70. "Take my advice — I'm not using it." – Unknown
71. "Water is the most essential element in life because without it you can't make coffee." – Karen Salmansohn
72. "Change the world by being yourself." – Amy Poehler
73. "Dream as if you'll live forever, live as if you'll die today." – James Dean
74. "A happy soul is the best shield for a cruel world." – Atticus
75. "Do not walk behind me, for I may not lead. Do not walk ahead of me, for I may not follow. Do not walk beside me, either. Just leave me alone!" – Unknown
76. "One day the people that don't even believe in you will tell everyone how they met you." – Johnny Depp
77. "Let the beauty of what you love be what you do." – Rumi
78. "If I want your opinion, I'll ask you to fill out the necessary forms" – Unknown
79. "Every moment is a fresh beginning." – T.S Eliot
80. "Reality is wrong, dreams are for real." – Tupac
Holly Jaskolka is a certified Emotional Freedom Technique (EFT) practitioner, yoga instructor, and an impassioned advocate for holistic well-being. Fueled by her love for animals and wanderlust, Holly leads a plant-based lifestyle that she complements with immersive travel experiences. When she's not jet-setting to uncover the world's hidden gems, she's empowering individuals to heal emotionally, particularly those grappling with the aftermath of breakups. Connect with Holly on LinkedIn.