Getting older, growing up, moving through challenges that we meet along the way can be an adventure and an isolating experience all in one! These 45 growing up quotes highlight some of the things we experience as we move through life, and are here to help you to feel supported and validated.
We compiled this collection of quotes about growing up to uplift you through life's bumps in the road. Growing up doesn't have to be serious or scary, but you're not abnormal for feeling like it is, or feeling stuck! We're all in this thing called life together, and so here we are sharing some love and humor.
We hope that the funny quotes about growing up, help you to feel ok with the messiness that can happen as we grow old. Share the love with your friends and family, it really supports us! If you have Pinterest and see an image you love, please consider us for a pin! Enjoy!
1. "If growing up is the process of creating ideas and dreams about what life should be, then maturity is letting go again." – Mary Beth Danielson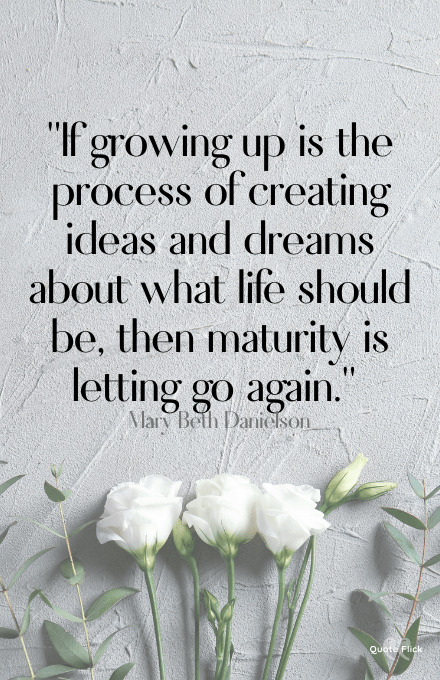 2. "Growing up is losing some illusions, in order to acquire others." – Virginia Woolf
3. "It takes courage to grow up and become who you really are." – E.E. Cummings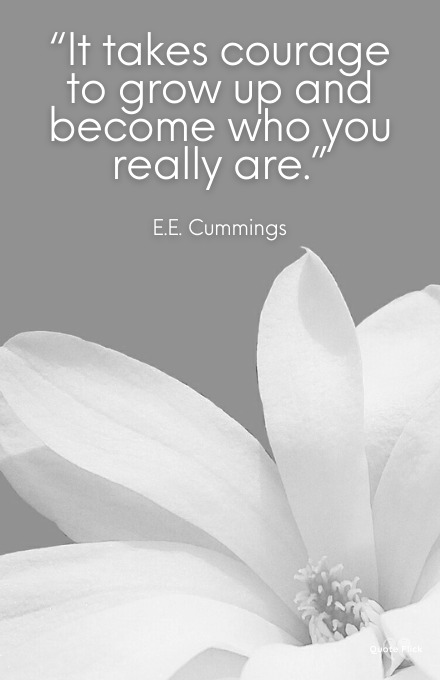 4. "Growing old is mandatory. Growing up is optional." – Chili Davis
5. "Even though you're growing up, you should never stop having fun." – Nina Dobrev
6. "When you grow up you realize why Peter Pan never wanted to grow up." – Unknown
7. "You know your children are growing up when they stop asking you where they came from and refuse to tell you where they're going." – P. J. O'Rourke
8. "You must pay the penalty of growing up. You must leave fairyland behind you." – L.M. Montgomery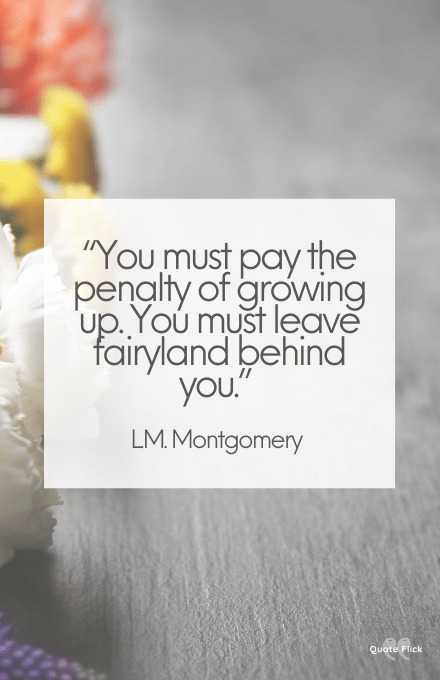 9. "Who says we have to grow up?" – Walt Disney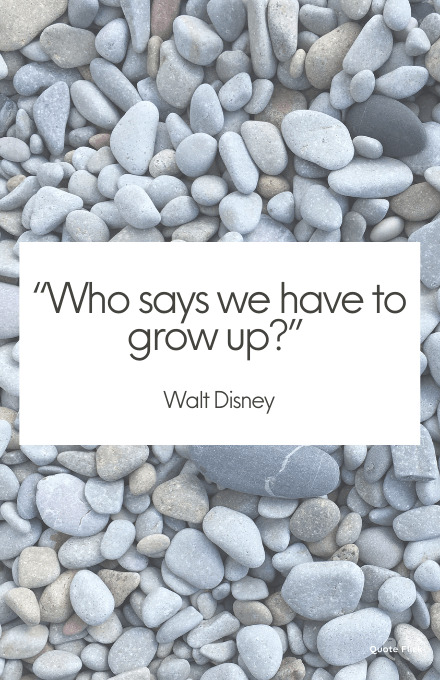 10. "I make mistakes growing up. I'm not perfect; I'm not a robot." – Justin Bieber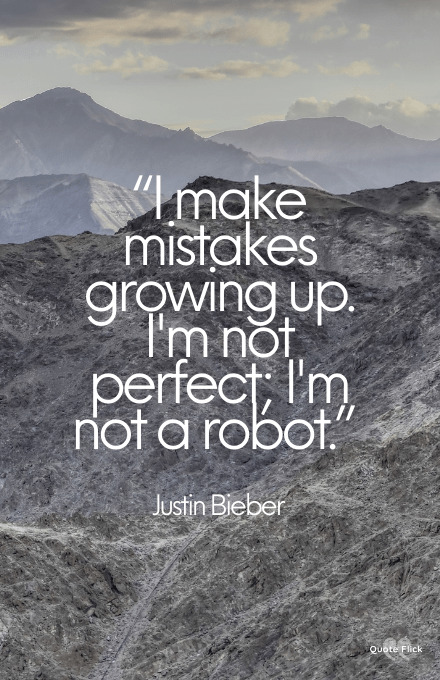 You might also like Kids Growing Up Quotes
11. "Growing up is hard, love. Otherwise, everyone would do it." – Kim Harrison
12. "If growing up means it would be beneath my dignity to climb a tree, I'll never grow up, never grow up, never grow up! Not me!" – J.M. Barrie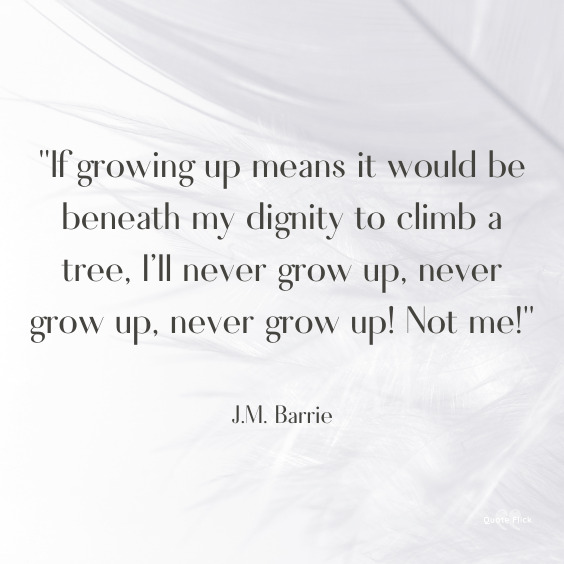 13. "Maturity is a high price to pay for growing up." — Tom Stoppard
14. "Even though you're growing up, you should never stop having fun." – Nina Dobrev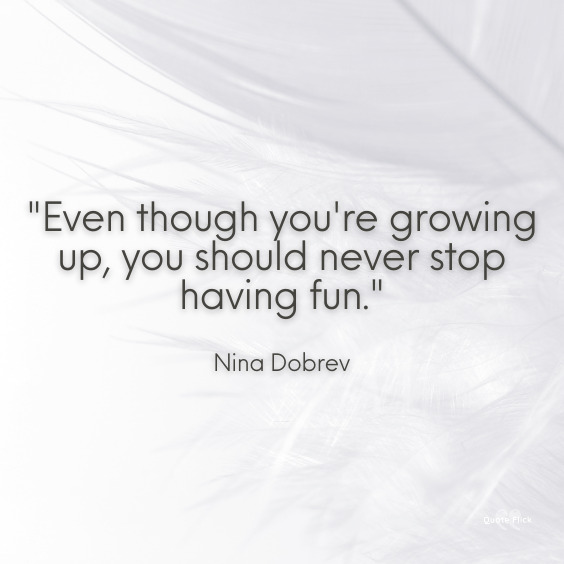 15. "For, after all, you do grow up, you do outgrow your ideals, which turn to dust and ashes, which are shattered into fragments; and if you have no other life, you just have to build one up out of these fragments." – Fyodor Dostoyevsky
16. "You can't stop your children from growing up, but you can be present so you don't miss your children going up." – Unknown
17. "Discover your mind, discover your soul. Learn your heart, learn to grow." – Unknown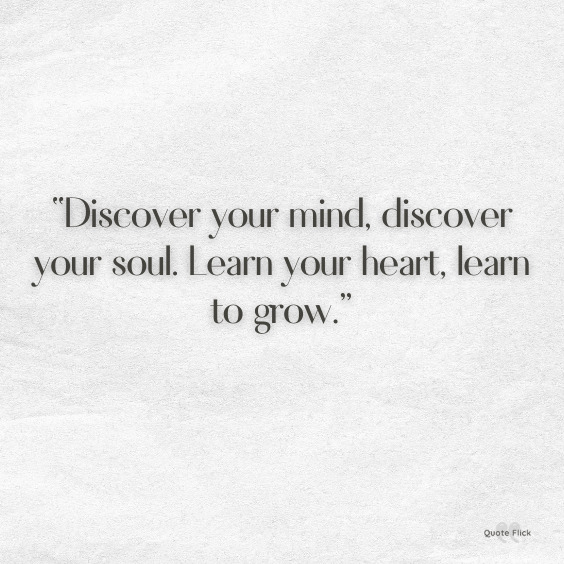 18. "Being an adult is the dumbest thing I have ever done." – Unknown
19. "I've found that growing up means being honest. About what I want. What I need. What I feel. Who I am." – Unknown
20. "Cleaning your house while your kids are still growing up is like shoveling the walk before it stops snowing." – Phyliss Diller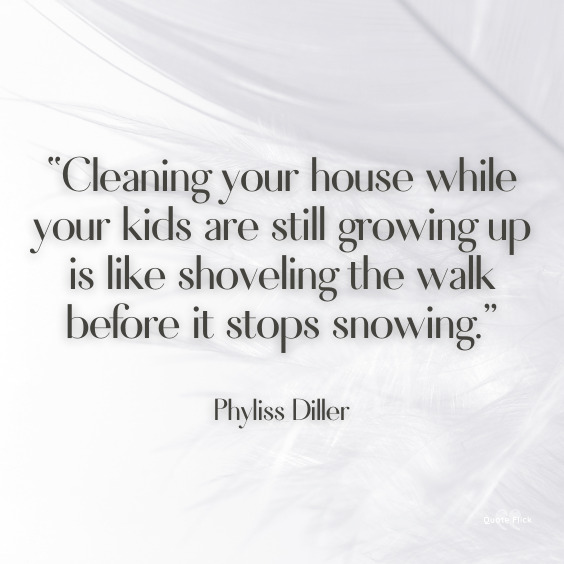 21. "Sometimes you have to grow up before you appreciate how you grew up." – Daniel Black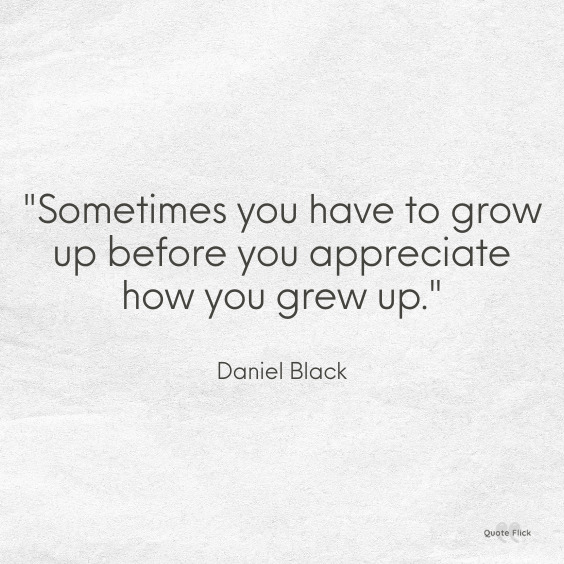 22. "Growing up, we are told many things; one being, you can do anything. But somewhere between child and adult, things change." – Julie Hebert
23. "You need not be sorry for her. She was one of the kind that likes to grow up. In the end, she grew up of her own free will a day quicker than the other girls." – J.M. Barrie, Peter Pan
24. "Don't grow up, it's a trap." – Unknown
25. "We never really grow up, we only learn how to act in public." – Bryan White
26. "I think she is growing up, and so begins to dream dreams, and have hopes and fears and fidgets, without knowing why or being able to explain them." – Louisa May Alcott
27. "I know that in my past I was young and irresponsible – but that's what growing up is. You learn from your mistakes." – Lindsay Lohan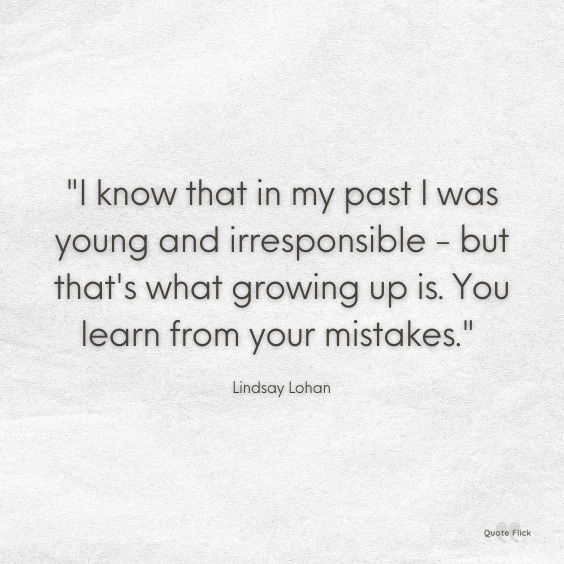 28. "You don't stop laughing when you grow old, you grow old when you stop laughing." – George Bernard Shaw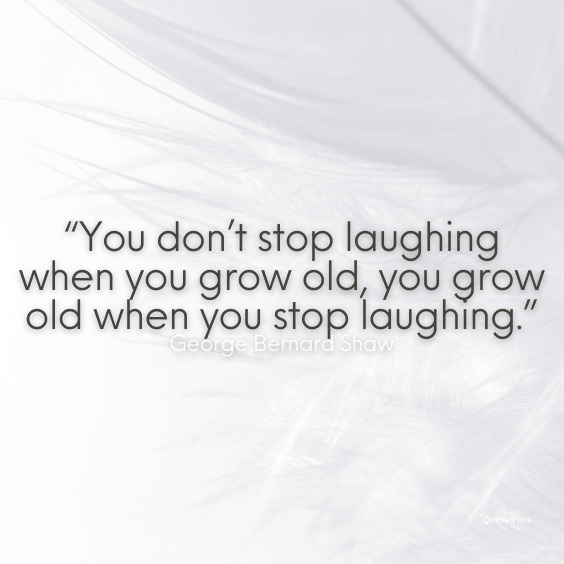 29. "You grow up the day you have your first real laugh – at yourself." – Ethel Barrymore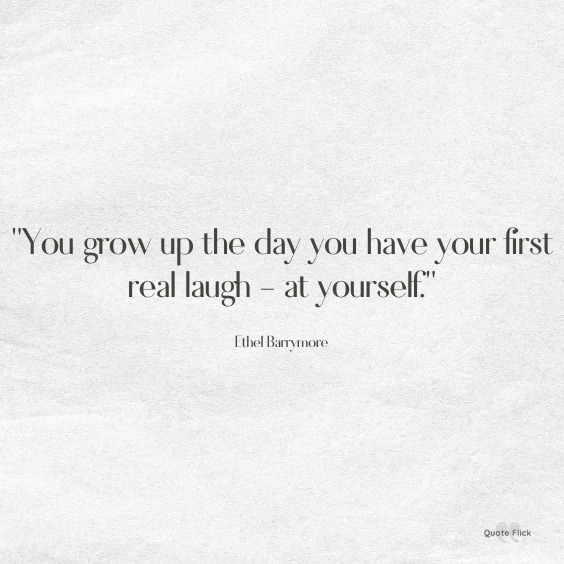 30. "Growing up, I have discovered over time, is rather like housework, never finished." – Lois McMaster Bujold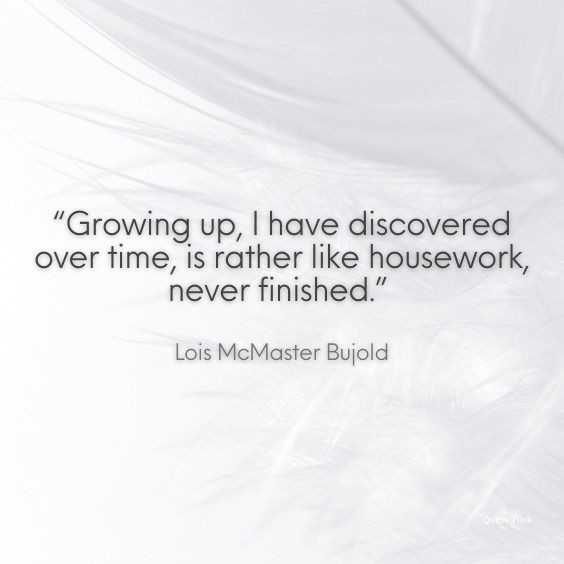 Check out Quotes About Old Friends and Quotes About Change
31. "Growing up is never easy. You hold on to things that were. You wonder what's to come. But that night, I think we knew it was time to let go of what had been, and look ahead to what would be. Other days. New days. Days to come. The thing is, we didn't have to hate each other for getting older. We just had to forgive ourselves… for growing up." – The Wonder Years  
32. "Part of growing up is just taking what you learn from that and moving on and not taking it to heart." – Beverley Mitchell
33. "That's one of the things we learn as we grow older, how to forgive. It comes easier at forty than it did at twenty." – L.M. Montgomery
34. One of the oddest things about being grown-up was looking back at something you thought you knew and finding out the truth of it was completely different from what you had always believed. – Patricia Briggs
35. "Age is a necessary but insufficient requirement for growing up. There are immature old people, and there are appropriately mature young people." – Henry Cloud
36. "Don't grow old to give up and don't give up growing up." – Bernard Kelvin Clive
37. "You are growing into consciousness, and my wish for you is that you feel no need to constrict yourself to make other people comfortable." – Ta-Nehisi Coates
38. "When we are children we seldom think of the future. This innocence leaves us free to enjoy ourselves as few adults can. The day we fret about the future is the day we leave our childhood behind." – Patrick Rothfuss
39. "Growing old is unavoidable, but never growing up is possible. I believe you can retain certain things from your childhood if you protect them — certain traits, certain places where you don't let the world go." — Martin Luther King, Jr.
40. "Most people don't really grow up. What they do is grow old, they grow tiresome even and self-righteous maybe, for it is very hard to grow." – Larry Chang
41. "We grow neither better nor worse as we get old, but more like ourselves." – May Lamberton Becker
42. "If you're gonna screw up, do it while you're young. Older you get, the harder it is to bounce back." – Winston Groom
43. "Most people don't grow up. Most people age. They find parking spaces, honor their credit cards, get married, have children, and call that maturity. What that is, is aging." – Maya Angelou
44. "I had a lot of growing up to do. A lot of times, I learned the hard way." –  Allen Iverson
45. "Everyone thinks you make mistakes when you're young. But I don't think we make any fewer when we're grown up." – Jodi Picoult