Here we have 55 quotes about a lost friend to help you grieve and support you through the experience. Friends eath Quotes might sound grim, but they are here to help you cope and reflect; losing a friend is a really traumatic experience.
When friends pass away, spending time with loved ones is important, as is finding comfort and doing lots of self-care, and we hope these quotes will help too. Friends passing away quotes are here to bring you comfort and validate your thoughts.
We begin with 30 quotations on the death of a friend, and then we move on to 25 lost a friend quotes. These lost friendship quotes and sayings are more specifically about the loss of a friendship that isn't due to a death.
Sometimes friendships come to a natural end and even though it can be a much-needed parting, it can still feel upsetting. We hope these quotes help you.
Quotes About The Death of a Friend
We begin with 30 Quotes about lost friends. These quotes describe how it feels when friends pass away and also offer words of comfort and advice. If you are grieving the death of a friend, give yourself plenty of time to feel whatever is coming up.
1. "A lost friend causes a heartache unimaginable. A physical pain that you cannot describe. And an empty space that you don't want to fill." – Unknown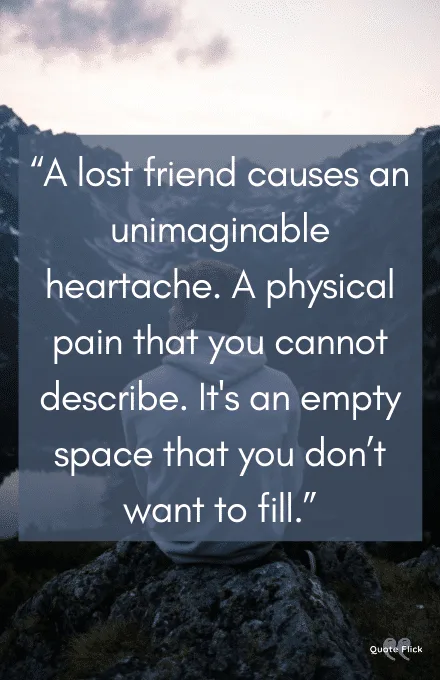 2. "I cannot accept your death, for you will always be my friend." – Unknown
3. "The loss of a friend is the greatest of losses" – Publilius Syrus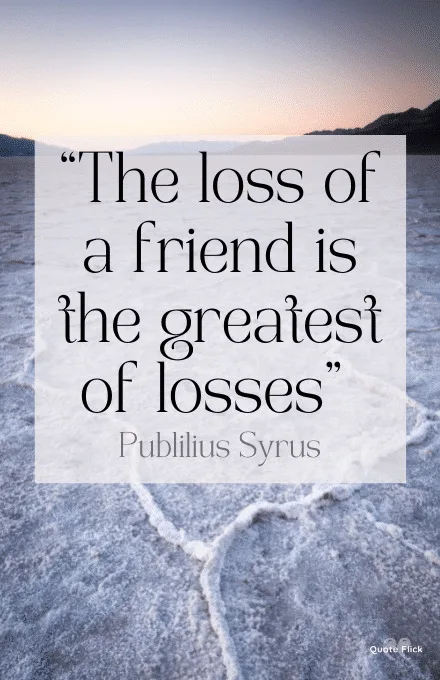 4. "The bond between friends cannot be broken by chance; no interval of time or space can destroy it. Not even death itself can part true friends" – John Cassian
5. "When friends pass away, hold their memories tight, and their loved ones tighter." – Unknown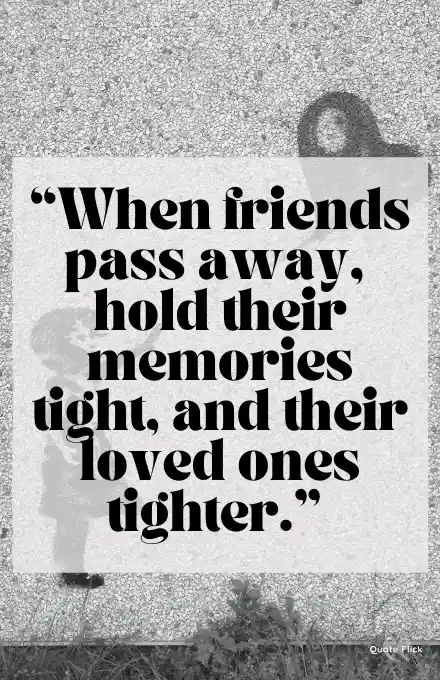 6. "Upon my friends passing away. Life seemed to get so strange. I began to feel guilty that I wasn't inviting them to things, or calling them any more. Guilt like I can't describe." – Unknown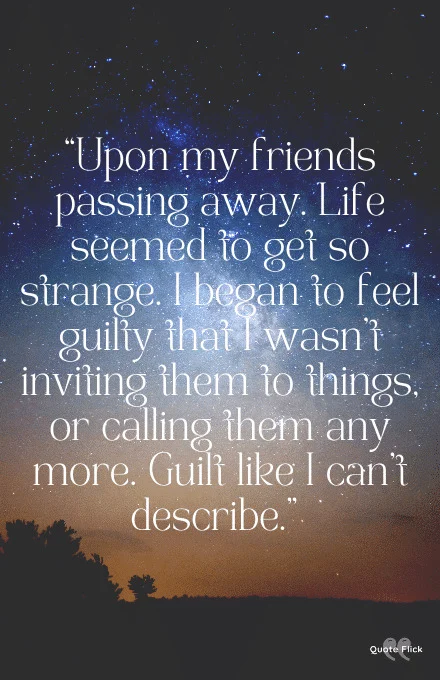 7. "If you have friends who have passed away. You will know the heartache, the pain and the sadness. But you will also have the gift of their death teaching you to make the most of each of your moments before you see them again." – Unknown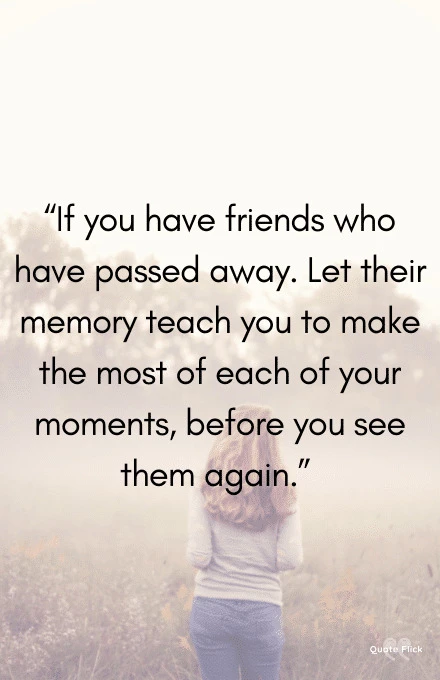 8. "The death of a friend is equivalent to the loss of a limb." – German Proverb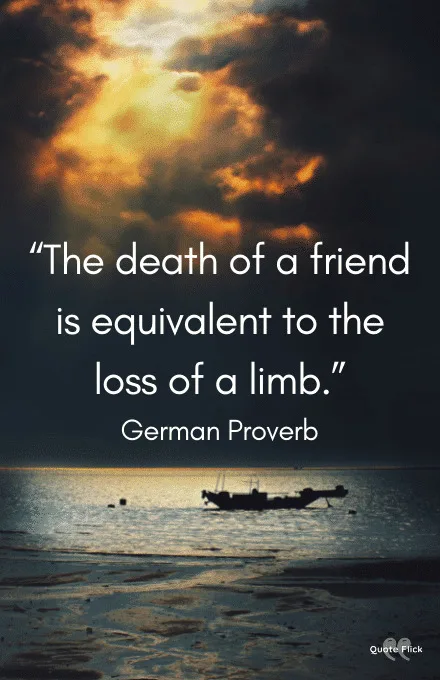 9. "Losing your friend who you told everything to, feels so confusing and messy and wrong." – Unknown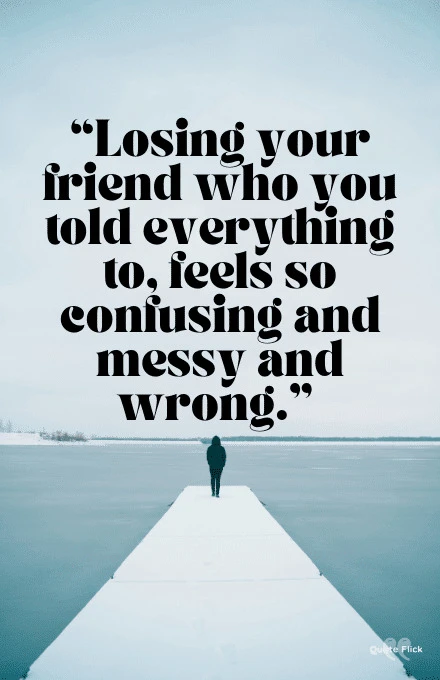 10. "We can't feel the loss of a friend until they are apart from us." – Unknown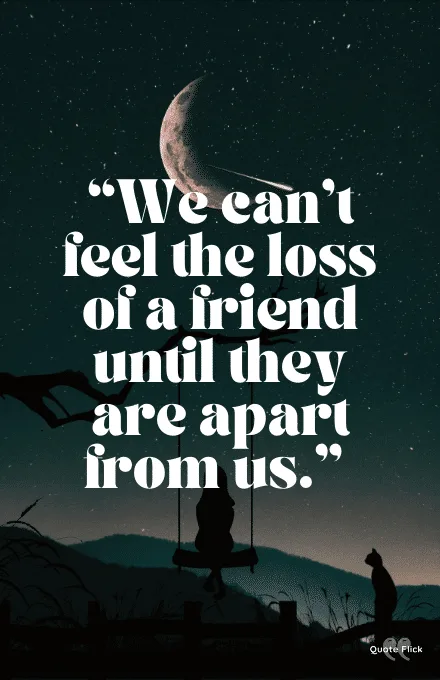 11. "We all lose friends.. we lose them in death, to distance and over time. But even though they may be lost, hope is not. The key is to keep them in your heart, and when the time is right, you can pick up the friendship right where you left off. Even the lost find their way home when you leave the light on." – Amy Marie Walz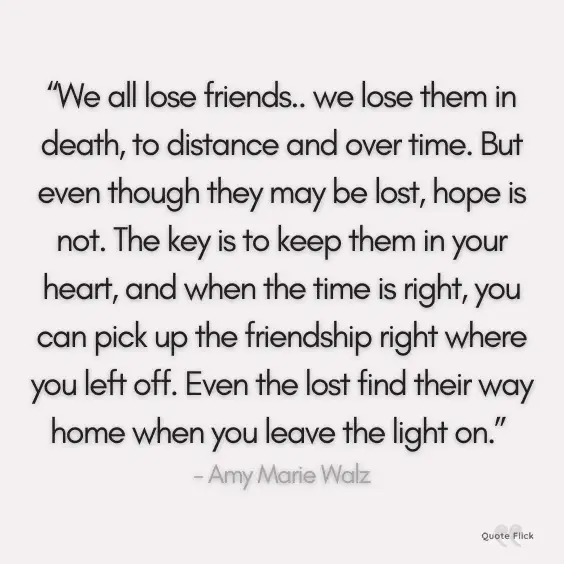 12. "When a close friend unexpectedly leaves us, a piece of our heart is forever broken." – Chris Lumpkin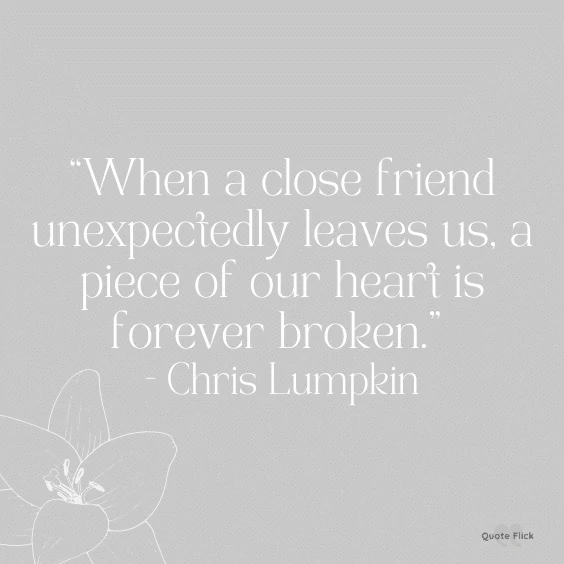 13. "On the death of a friend, we should consider that the fates through confidence have devolved on us the task of a double living, that we have henceforth to fulfill the promise of our friend's life also, in our own, to the world." – Henry David Thoreau
14. "Life without a friend is like death without a witness" – John Ray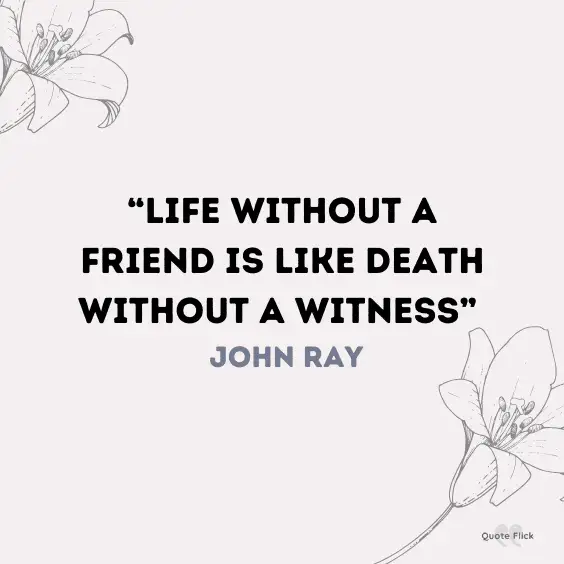 15. "This passion, and the death of a dear friend, would go near to make a man look sad" – William Shakespeare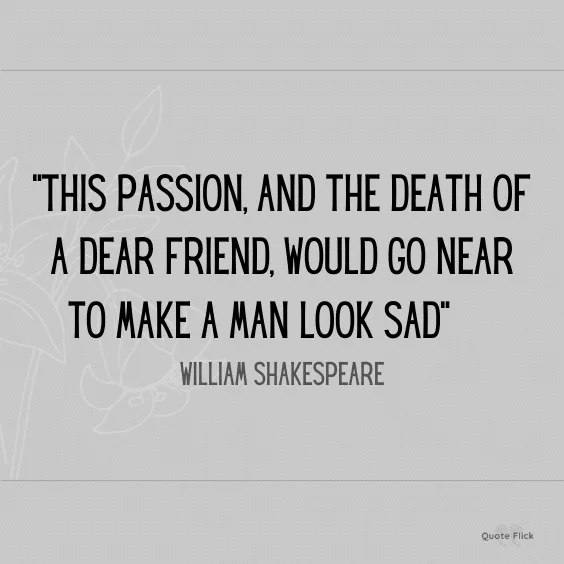 16. "You cannot stop loving your friend because he's dead, especially if he was better than anyone alive, you know?" —J.D. Salinger,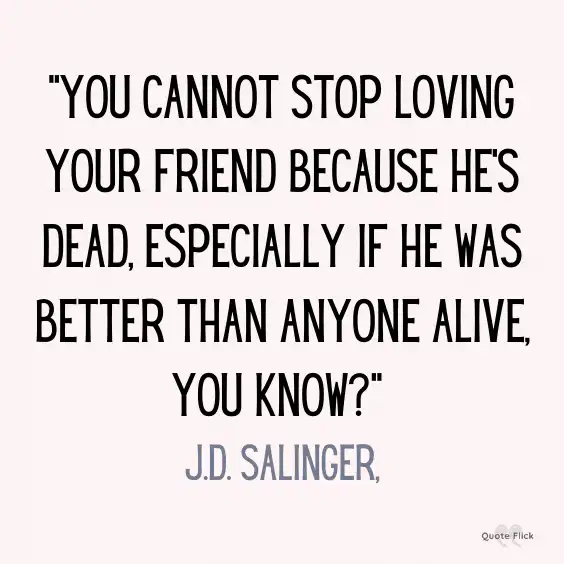 17. "One of the difficult things about growing older is that you start losing so many friends. On the other hand, the older you get, the less time you have to wait until you see them again." ― Ron Brackin
18. "Tell your friend that in his death, a part of you dies and goes with him. Wherever he goes, you also go. He will not be alone" – Jiddu Krishnamurti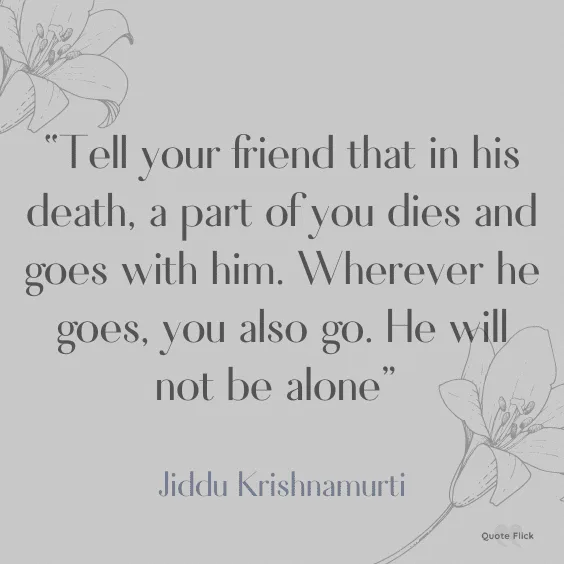 19. "Life is hard to bear when a best friend is just not there." – Unknown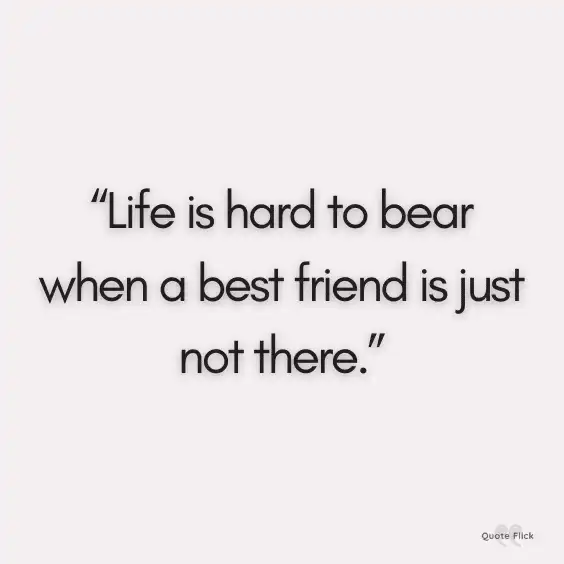 20. "While we are mourning the loss of our friend, others are rejoicing to meet him behind the veil" – John Taylor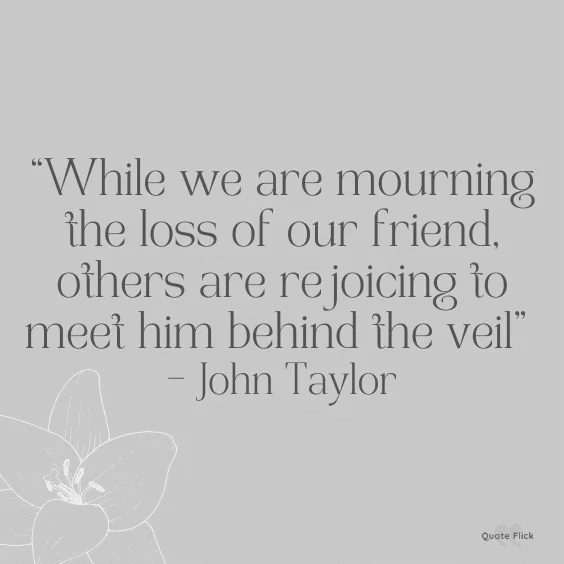 21. "The comfort of having a friend may be taken away, but not that of having had one." –Seneca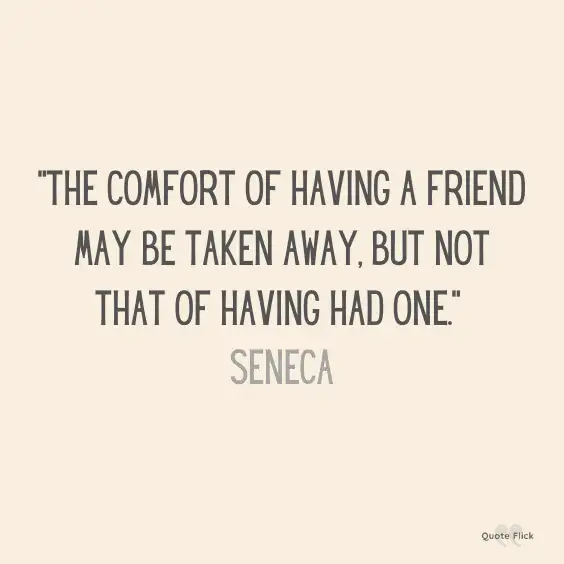 22. "Every deceased friend is a magnet drawing us into another world" – Eliza Cook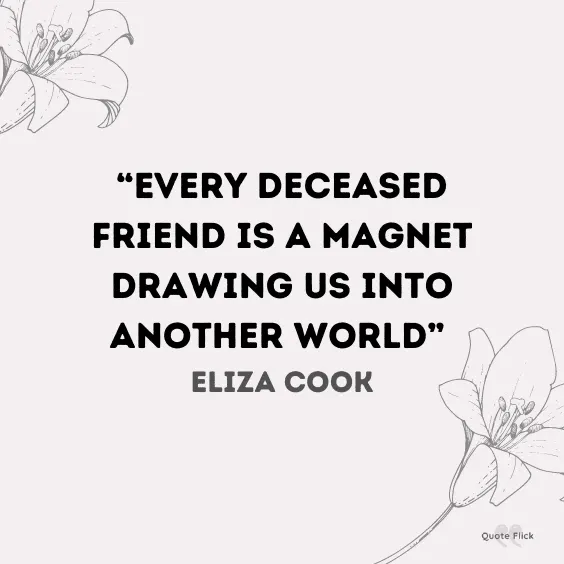 23. "Death is as casual- and often as unexpected- as birth. It is as difficult to define grief as joy. Each is finite. Each will fade" – Jim Bishop
24. "Death ends a life, not a relationship" – Jack Lemmon
25. Death leaves a heartache no one can heal, love leaves a memory no one can steal. – Richard Puz
26. "Your lost friends are not dead, but gone before, / Advanced a stage or two upon that road / Which you must travel in the steps they trod." – Aristophanes
27. "When someone you love becomes a memory, that memory becomes a treasure" – Unknown
28. "What we have once enjoyed deeply we can never lose. All that we love deeply becomes a part of us." – Helen Keller
29. "Be grateful every second of every day that you get to spend with the people you love. Life is so very precious" – Mandy Hale
30. "When one has lost a friend one's eyes should be neither dry nor streaming. Tears, yes, there should be, but not lamentation." – Seneca
Quotes About The Loss of a Friendship
These 25 lost a friendship quotes are here to help you to process the ending of a relationship with a friend. It can be hard to let go, but the thing is, sometimes people are just not meant to be in your life full time and that is OK.
We hope these lost friendship quotes and sayings provide you will comfort and support to help you through the loss of a friendship.
31. "When we have lost a friendship, sometimes it helps to accept the fact that some people only enter your life as a temporary happiness." – Unknown
32. "True friendship is like sound health; the value of it is seldom known until it is lost." – Charles Caleb Colton
33. "Sometimes the loss of a friendship is needed. We can outgrow one another, and neither must suffer when it is time to say goodbye. We can still wish one another happiness." – Unknown
34. "A special friend is hard to find, hard to lose, and impossible to forget." –Unknown
35. "I told God Protect me from enemies and I started losing friends." – Unknown
36. "You can gain a friend in a year, but lose a friend in a minute." – Unknown
37. "In the end, we will remember not the words of our enemies, but the silence of our friends." – Martin Luther King, Jr.
38. "Due to success, I started losing friends." – Ace Hood
39. "Friends are forever, you might lose them but you'll never forget them." – Unknown
40. "Everyone leaves footprints in your memory, but the ones that leave footprints in your heart are the ones you will truly remember." – Nicholas Sperling
41. "Some people are going to leave, but that's not the end of your story. That's the end of their part in your story." – Unknown
42. "Remembering all our memories, and it's times like these that I miss you most, remembering when we were so close." – Unknown
43. "But fate ordains that dearest friends must part."- Edward Young
44. "When your friends are gone and you only can look at pictures, then remember, that times and people change but that memories stay forever." – C.M.
45. "The problem with having friends was that you might lose them. Or they might get hurt." – Gwenda Bond
46. "Ever has it been that love knows not its own depth until the hour of separation."
– Khalil Gibran
47. "Don't be dismayed at goodbyes. A farewell is necessary before you can meet again. And meeting again, after moments or lifetime, is certain for those, who are friends." – Richard Bach
48. "Sometimes we lose friends for whose loss our regret is greater than our grief and others for whom our grief is greater than our regret." – Francois de la Rochefoucauld
49. "Make as many friends as you can, but don't build your life on them alone. It's an unstable foundation." – Unknown
50. "Moving on is simple, what you leave behind that makes it difficult." – Unknown
51. "We are neither on good terms or bad. We are no longer anything." – Unknown
52. "Lovers have a right to betray you friends don't." – Judy Holliday
53. "You meet people who forget you. You forget people you meet. But sometimes you meet those people you can't forget. Those are your friends."
– Unknown
54. "I don't think of all the misery, but of all the beauty that remains" – Anne Frank
55. "True friendship can afford true knowledge. It does not depend on darkness and ignorance." –  Henry David Thoreau
Holly Jaskolka is a certified Emotional Freedom Technique (EFT) practitioner, yoga instructor, and an impassioned advocate for holistic well-being. Fueled by her love for animals and wanderlust, Holly leads a plant-based lifestyle that she complements with immersive travel experiences. When she's not jet-setting to uncover the world's hidden gems, she's empowering individuals to heal emotionally, particularly those grappling with the aftermath of breakups. Connect with Holly on LinkedIn.