We've collected the most uplifting smile quotes to brighten up your day. The physical act of smiling has been shown to boost your mood, relieve stress, and even improve your health. It's a universal action, no matter what language you speak!
A smile can cheer you up, spread positivity and help others feel great – so read on to discover over 100 quotes about smiling that will make you beam with happiness.
Remember, smiles are infectious – so share your favorite smile quote on Pinterest to spread the joy!
Quotes About Smiling
1. "Use your smile to change the world; don't let the world change your smile." – Chinese Proverb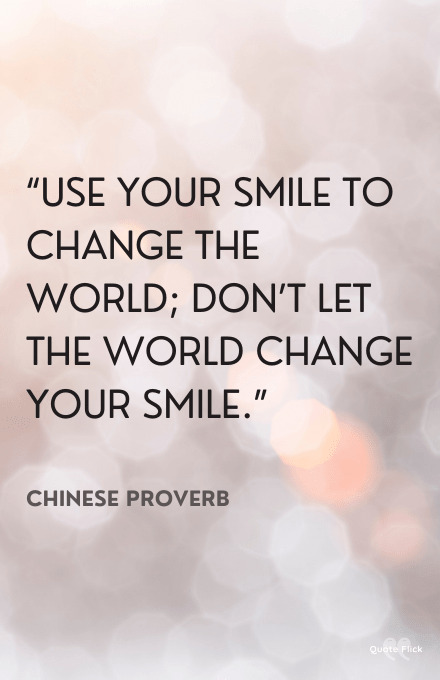 2. "Smile more. Smiling can make you and others happy."- Roy T. Bennett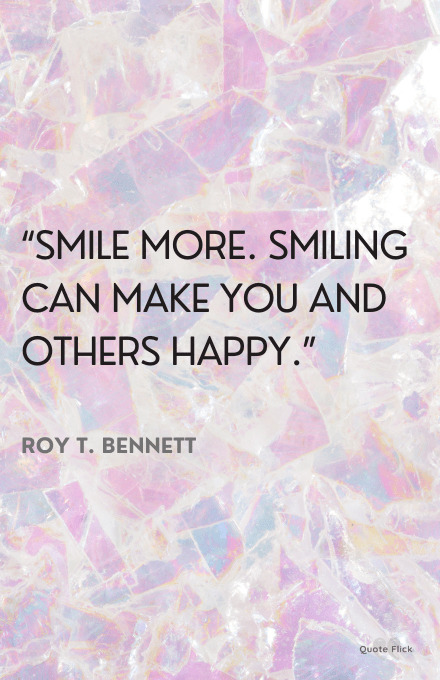 3. "A smiling face is a beautiful face. A smiling heart is a happy heart." – Dr. T.P. Chia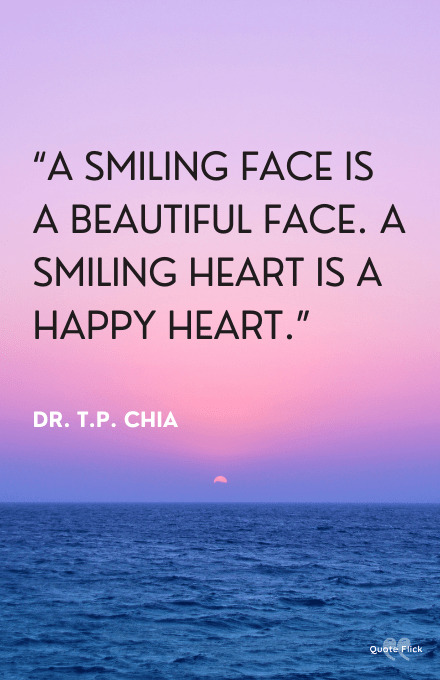 4. "Nothing shakes the smiling heart." – Santosh Kalwar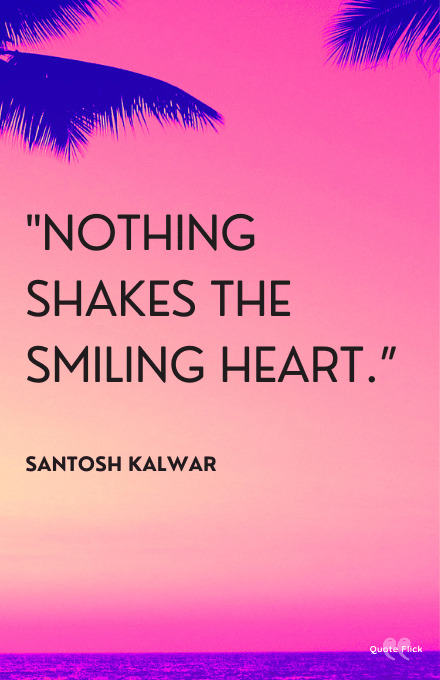 5. "Colors are the smiles of nature." – Leigh Hunt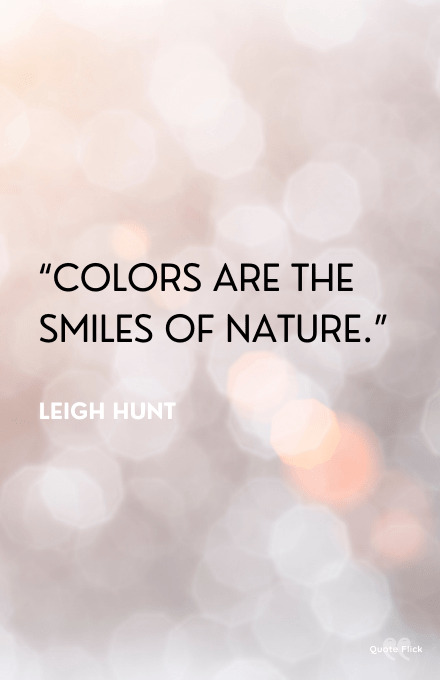 You Might Also Like:
6. "Sometimes I smile so big, I get scared that my face is gonna explode." – Demi Lovato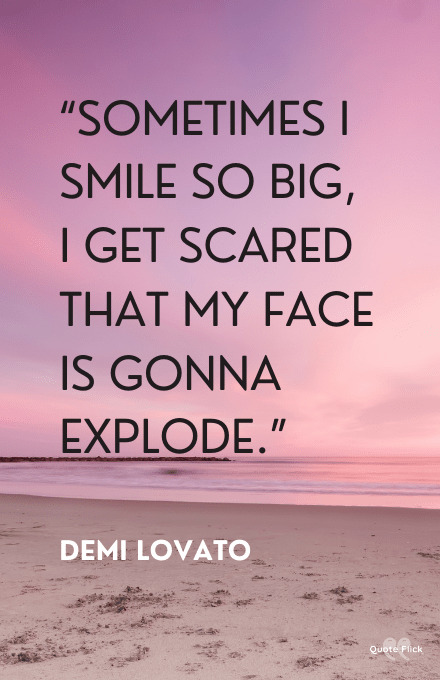 7. "Everyone smiles in the same language" – George Carlin
8. "If you have only one smile in you, give it to the people you love." – Maya Angelou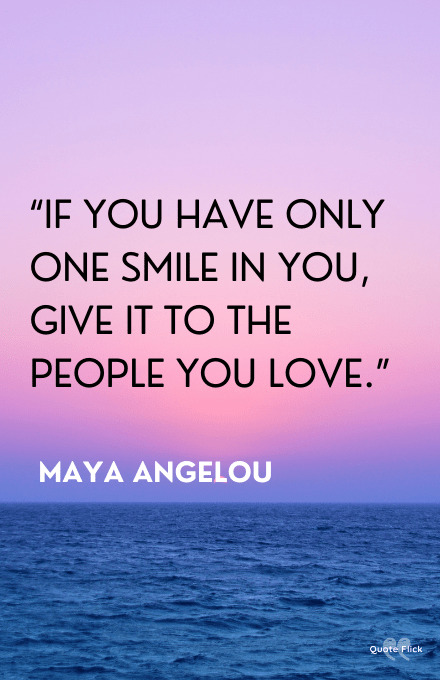 9. "Today, give a stranger one of your smiles. It might be the only sunshine he sees all day." – H. Jackson Brown Jr.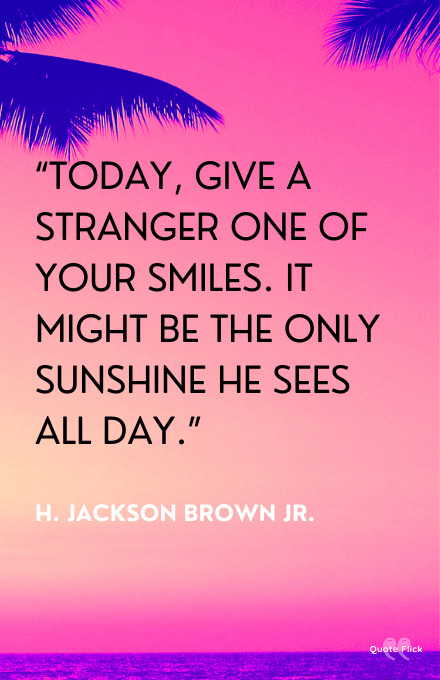 10. "The greatest self is a peaceful smile, that always sees the world smiling back." – Bryant H. McGill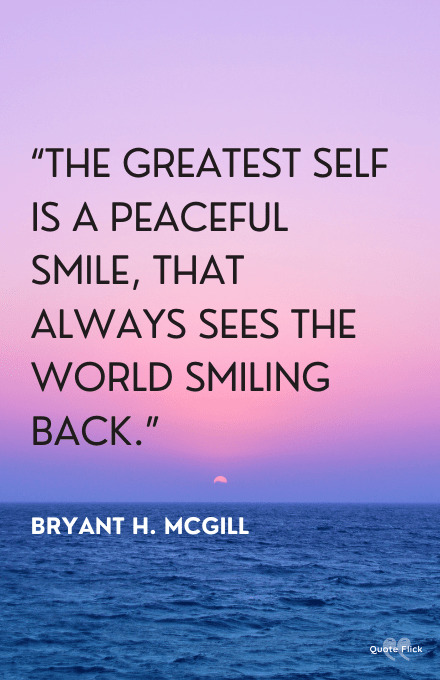 You Might Also Like:
11. "Let us always meet each other with a smile, for the smile is the beginning of love." – Mother Teresa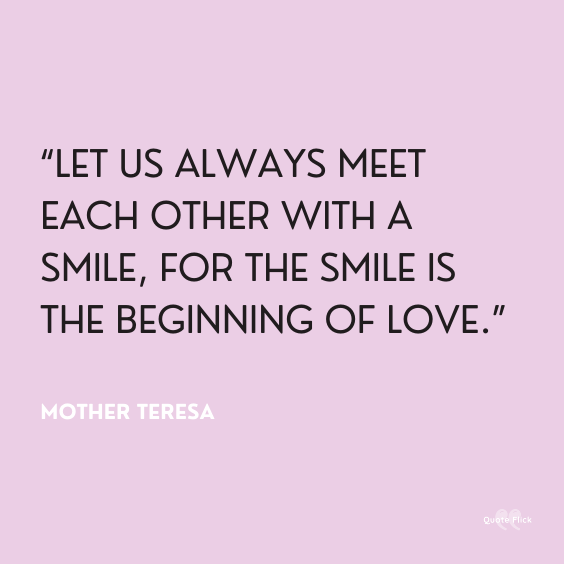 12. "When I saw you I fell in love, and you smiled because you knew." – William Shakespeare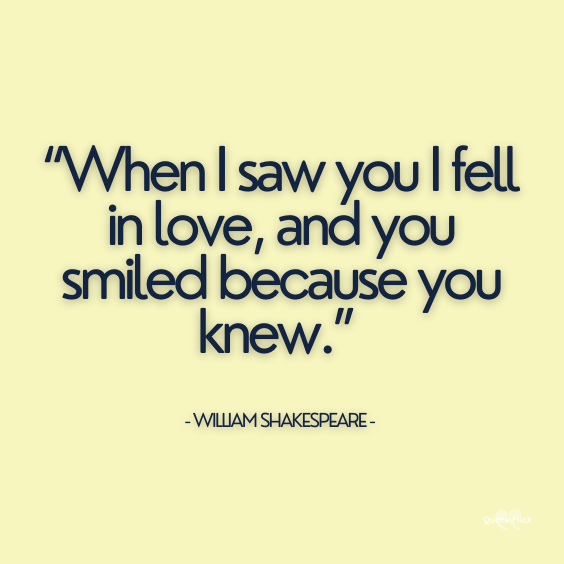 13. "Your smiley face is what I look forward to seeing each day." – Unknown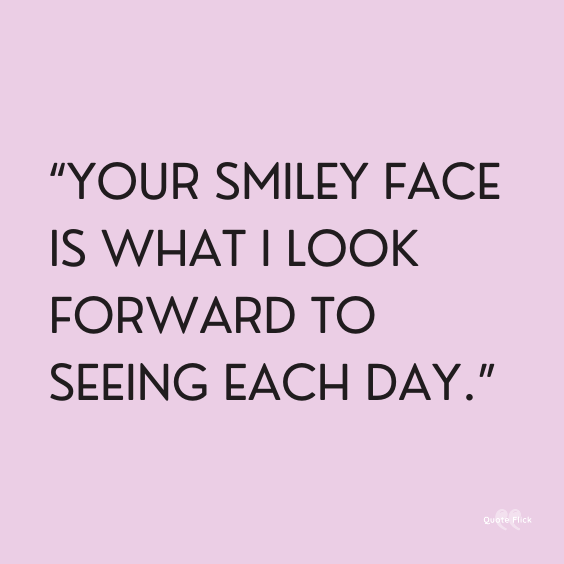 14. "Peace begins with a smile." – Mother Teresa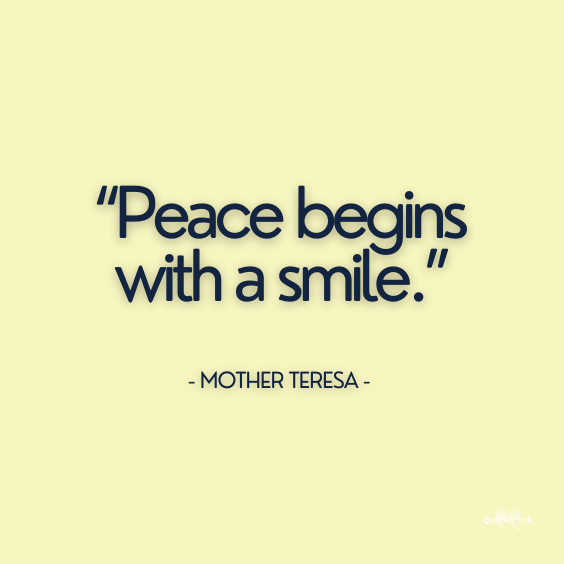 15. "I'm finally smiling for me again." – Unknown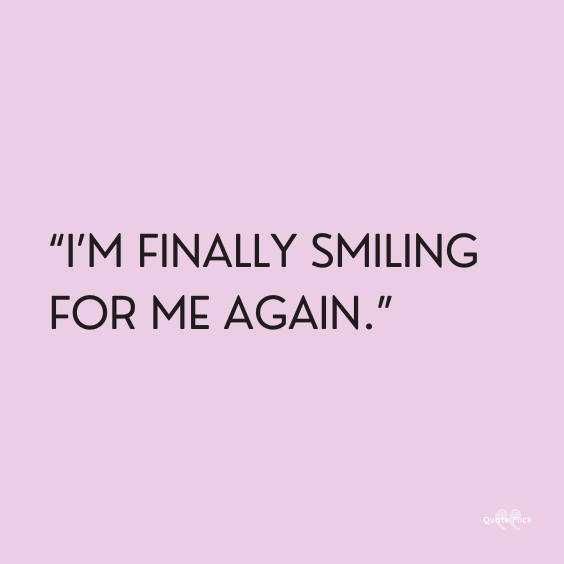 16. "Your simple smile can lighten the darkest places." – Steve Maraboli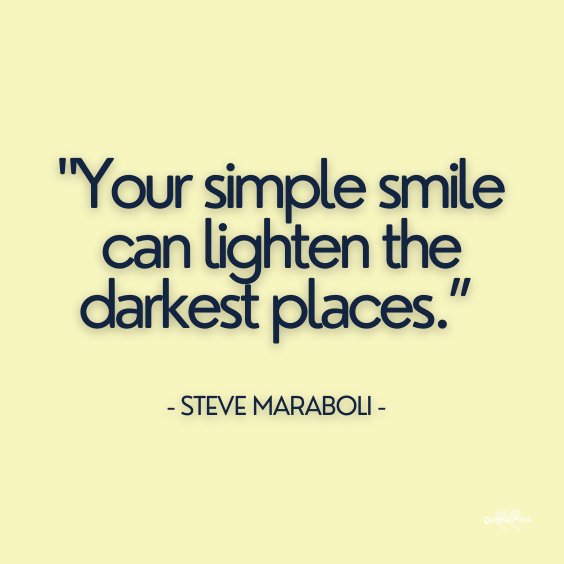 17. "Nothing you wear is more important than your smile." – Connie Stevens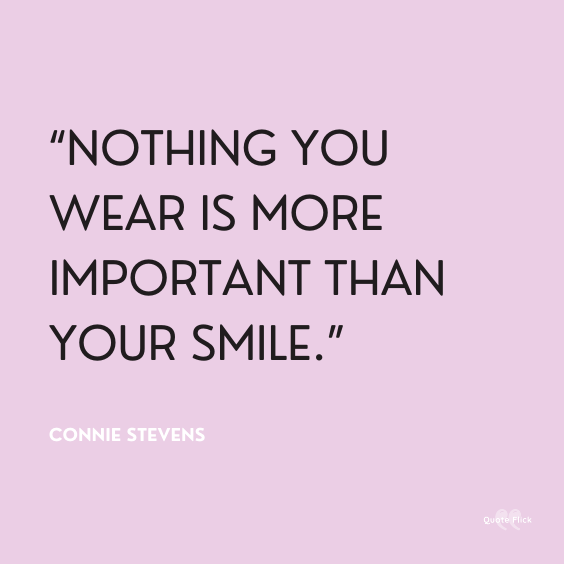 18. "The greatest self is a peaceful smile, that always sees the world smiling back." – Bryant H. McGill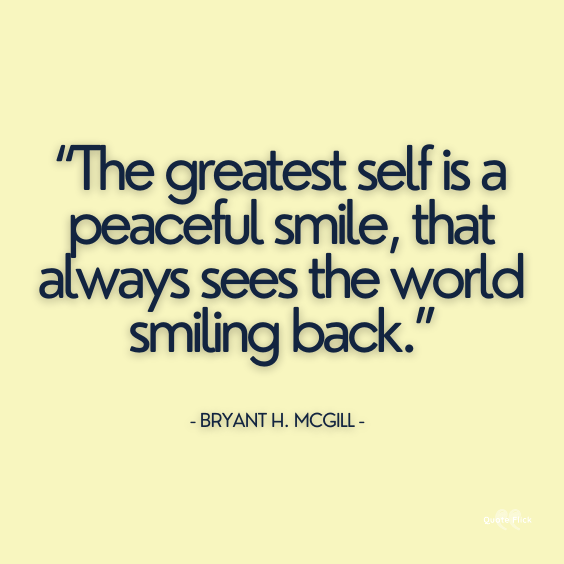 19. "Smile. Your eyes sparkle when you do." – Unknown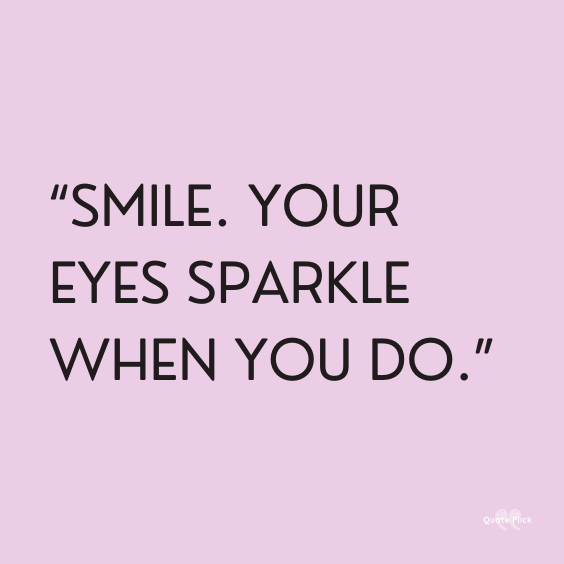 20. "A smile is happiness you'll find right under your nose." – Unknown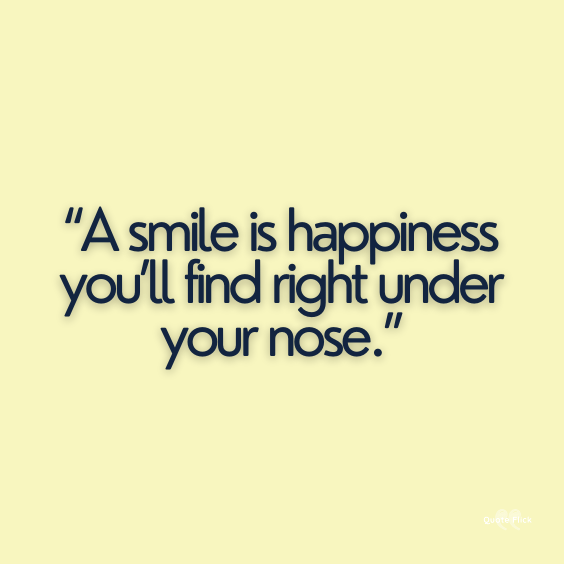 21. "Keep smiling, because life is a beautiful thing, and there's so much to smile about." – Marilyn Monroe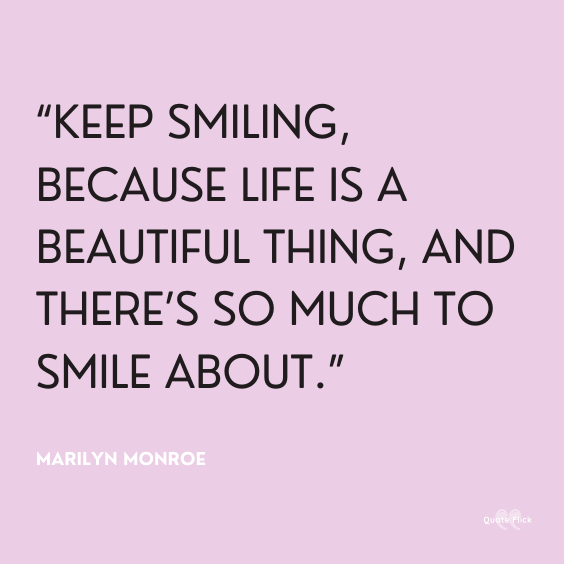 22. "The people who make you smile from just seeing them, those are my favorite people." – Koi Fresco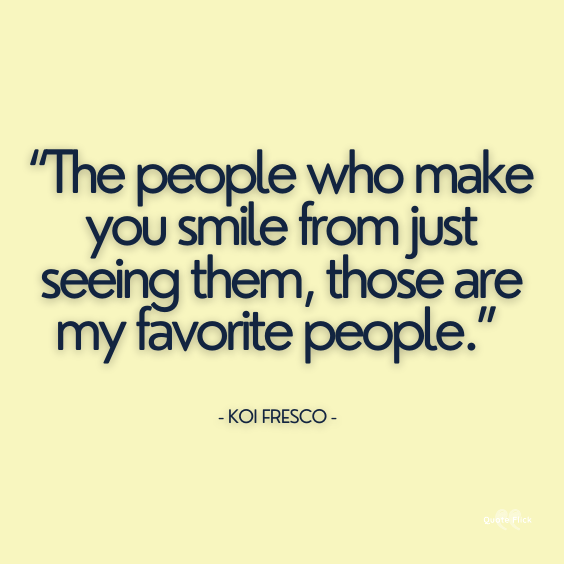 23. "I was smiling yesterday, I am smiling today and I will smile tomorrow. Simply because life is too short to cry for anything." – Santosh Kalwar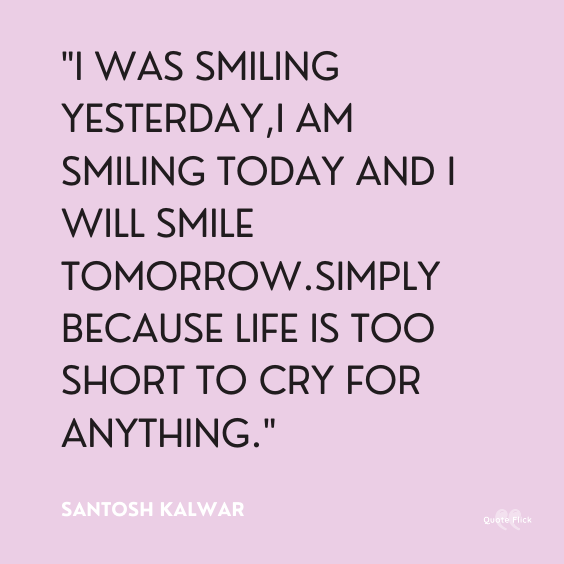 24. "Nothing shakes the smiling heart." – Santosh Kalwar
25. "Smile if it kills you. The physiology of smiling diffuses a lot of anger and angst. It makes your body and soul feel better." – Tom Peters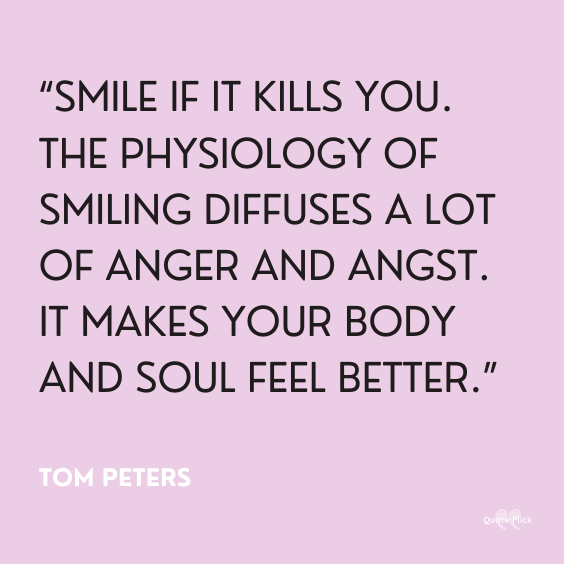 26. "Just smiling at someone walking down the street can make the person's day. It's all about paying it forward." – Mariska Hargitay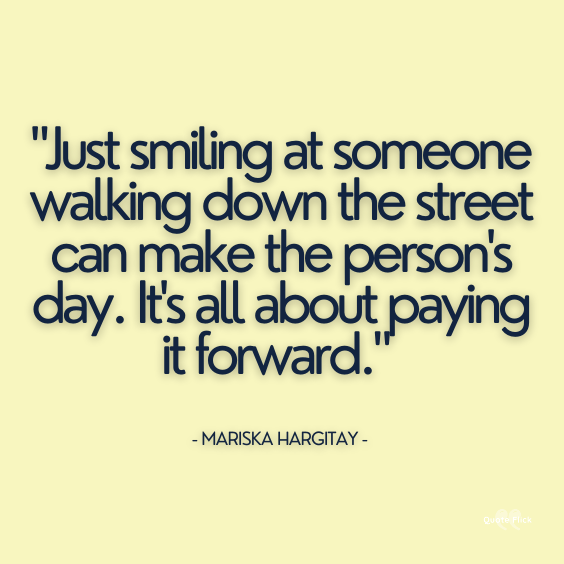 27. "When a new day begins, dare to smile gratefully." – Steve Maraboli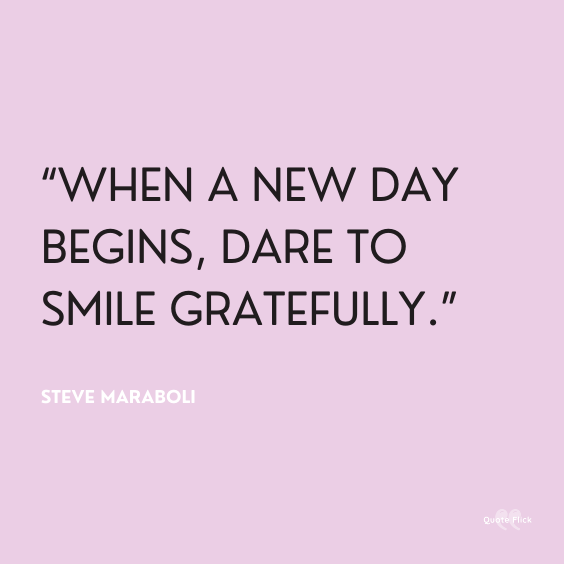 28. "The real man smiles in trouble, gathers strength from distress, and grows brave by reflection." – Thomas Paine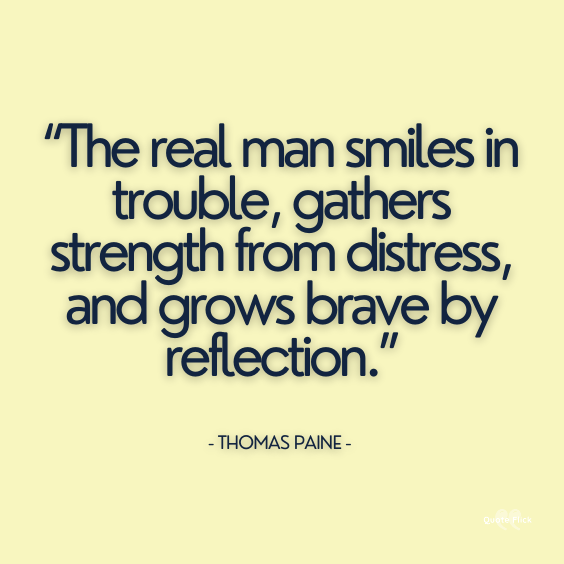 29. "Because of your smile, you make life more beautiful." – Thich Nhat Hanh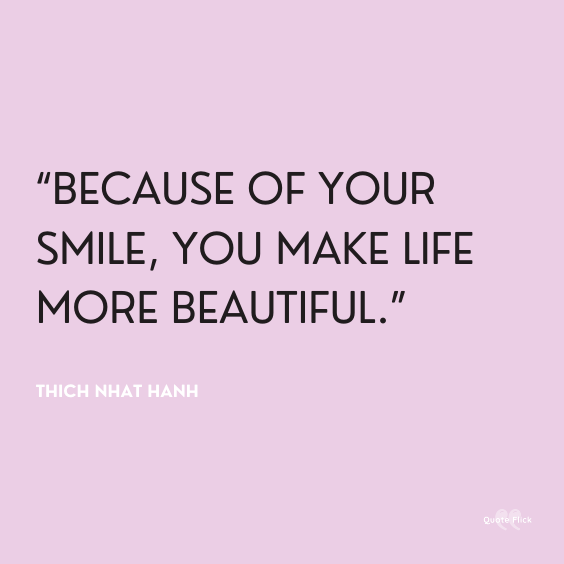 30. "I love those who can smile in trouble." – Leonardo da Vinci
31. "The robbed that smiles, steals something from the thief." – William Shakespeare
32. "When things are difficult, smile by faith. Don't wait until you feel better." – Joel Osteen
33. "Maman told me that every time you smile, a very tiny bit of the smile stays stuck to your face, so as you get older and older your face starts to show all the tiny bits of all your smiles and you look like you are smiling all the time, even when you are just thinking about what to have for breakfast. She said, also, that if you frown a lot then the frown sticks to your face instead. That way when you are old you have a very frowny face and look cross all the time and people are scared of you." – Claire King
34. "Smile, it is the key that fits the lock of everybody's heart." – Anthony J D'Angelo
35. "If you see someone without a smile, give them one of yours." – Unknown
36. "If you're not using your smile, you're like a man with a million dollars in the bank and no checkbook." – Les Giblin
37. "Smile! It increases your face value." – Robert Harling
38. "Smile, smile, smile at your mind as often as possible. Your smiling will considerably reduce your mind's tearing tension." – Sri Chinmoy
39. "A smile confuses an approaching frown." – Unknown
40. "A smile is a facelift that's in everyone's price range!" ​– Tom Wilson
41. "Few things in the world are more powerful than a positive push. A smile. A world of optimism and hope. A 'you can do it' when things are tough." ​– Richard M. Devos
42. "Every day is a new beginning. Take a deep breath, smile and start again." – Unknown
43. "Smile big. Laugh often. Never take this life for granted." – Unknown
44. "A warm smile is the universal language of kindness." ​– William Arthur Ward
45. "Your smile brightens the lives of all who see it. To someone who has seen a dozen people frown, scowl or turn their faces away, your smile is like the sun breaking through the clouds." – Dale Carnegie
46. "Smile, it is the key that fits the lock of everybody's heart." – Anthony J. D'Angelo
47. "Making one person smile can change the world. Maybe not the whole world, but their world." – Unknown
48. "Smile, breathe and go slowly." – Thich Nhat Hanh
49. "If you smile when you are alone, then you really mean it." – Andy Rooney
50. "If I can see pain in your eyes then share with me your tears. If I can see joy in your eyes then share with me your smile." – Santosh Kalwar
51. "How can you feel bad and smile simultaneously?" – Maxime Lagacé
52. "Smile in the mirror. Do that every morning and you'll start to see a big difference in your life." – Yoko Ono
53. "I have many problems in life. But my lips don't know that. They always smile." – Charlie Chaplin
54. "Count your age by friends, not years. Count your life by smiles, not tears." – John Lennon
55. "Smile is a good reply to the dark world." – Mehmet Murat Ildan
56. "Smile. Be open and welcoming." – Ephraim Buchwald
57. "Be the living expression of God's kindness; kindness in your face, kindness in your eyes, kindness in your smile." – Mother Teresa
58. "Just for today, smile a little more. Just for today, ask someone how he or she is really doing. Just for today, remember, while some may have it better than you do, there are others whom definitely have it worse than you! Just for today, just let go, just for today…" – James A. Murphy
59. "A gentle word, a kind look, a good-natured smile can work wonders and accomplish miracles." – William Hazlitt
60. "The flower in the vase smiles, but no longer laughs." – Malcolm De Chazal
61. "Your wrinkles either show that you're nasty, cranky, and senile, or that you're always smiling." – Carlos Santana
62. "Nostalgia paints a smile on the stony face of the past." – Mason Cooley
63. "Smiling is confusing, she thought. This is why I don't do it." – Rainbow Rowell
64. "Man becomes truly free when his is able to overcome the fear of judgment and that of falling behind. Because only then is he able to set aside his pride, learn from mistakes, and keep a his smile no matter what." – Patricio Telman Chincocolo
65. "The value of a smile… It costs nothing, but creates much. It enriches those who receive, without impoverishing those who give. It happens in a flash and the memory of it sometimes lasts forever. None are so rich they can get along without it, and none so poor but are richer for its benefits. It creates happiness in the home, fosters good will in a business, and is the countersign of friends." – Dale Carnegie
66. "Smile, it's free therapy." – Douglas Horton
67. "Remember to smile." – Nelson Mandela
68. "Wear a smile and have friends; wear a scowl and have wrinkles." – George Eliot
69. "Life is like a mirror. Smile at it and it smiles back at you." – Peace Pilgrim
70. "A smile remains the most inexpensive gift I can bestow on anyone and yet its powers can vanquish kingdoms." – Og Mandino
71. "The source of a true smile is an awakened mind." – Thich Nhat Hanh
72. "A smile doesn't always stand for a perfect life." – Faraaz Kazi
73. "Before you put on a frown, make absolutely sure there are no smiles available." –  Jim Beggs
74. "One smile speaks louder than a hundred words."- Abhijit Naskar
75. "My worst day, I'm just going to try and smile." – Iman Shumpert
76. "It's important to maintain an attractive smile as you age. A lighter, less beige, more white tooth color is key, but no Chiclets." – Evelyn Lauder
77. "When I look out at the people and they look at me and they're smiling, then I know that I'm loved. That is the time when I have no worries, no problems." – Etta James
78. "I love life and I love to smile … you can never smile too much." – Sophie Hinch
79. "Smile is the sunshine of the soul." – Lailah Gifty Akita
80. "Focus on giving smiles away and you will always discover that your own smiles will always be in great supply!" – Joyce Meyer
81. "A smile is something you can give away and still keep." – Unknown
82. "A face that cannot smile is like a bud that cannot blossom and dries up on the stalk." – Henry Ward Beecher
83. "Sometimes we're gonna have our bad days, but we must continue to work to be great. Keep smiling. It looks beautiful on you." – Demi Lovato
84. "The muscles used to make a smile actually send a biochemical message to our nervous system that it is safe to relax the flight of freeze response." – Tara Brach
85. "She wrote love with her smile and magic with her eyes." – Giovannie de Sadeleer
86. "Love truly, laugh uncontrollably, and never regret anything that makes you smile." – James Dean
87. "I add a smile to everything I wear and that has worked great for me." – Unknown
88. "Get out of bed forcing a smile. You may not smile because you are cheerful; but if you will force yourself to smile you'll . . . be cheerful because you smile." – Kenneth Goode
89. "A friendly word, a pleasant smile. Help someone feel his day's worthwhile." – Catherine Pulsifer
90. "I'll smile for today. I won't cry over yesterday's mistakes and I won't fret over the uncertainty of tomorrow. I'll smile because I've made it this far. Will you smile with me?" – Jem Downing & Jacob Moneaux, Journey
91. "A smile vanquishes loneliness, if only for a fleeting moment." – Terri Guillemets
92. "Smiling is one of our greatest defense mechanisms." – Asa Don Brown
93. "Smile, and let the world wonder why." – Minnie Mouse 
94. "It was only a sunny smile, and little it cost in the giving, but like morning light it scattered the night and made the day worth living." – F. Scott Fitzgerald
95. "Smiling resets your mood." – Joel Osteen
96. "Smile baby girl, the world is full of uncertain miles." – Goitsemang Mvula
97. "Be the living expression of God's kindness; kindness in your face, kindness in your eyes, kindness in your smile." – Mother Teresa
98. "Gratitude paints little smiley faces on everything it touches." – Richelle E. Goodrich
99. "Beauty is power; a smile is its sword." – John Ray
100. "Sweetest smile is made saddest tear-drop." – Edwin Arnold
101. "Anyone can smile on their best day. I like to meet a man who can smile on his WORST." – Lauren Graham
102. "Don't take the ego too seriously. When you detect egoic behavior in yourself, smile. At times you may even laugh." – Eckhart Tolle
103. "If you have only one smile in you, give it to the people you love. Don't be surly at home, then go out in the street and start grinning 'Good morning' at total strangers." – Maya Angelou 
104. "The living should smile, for the dead cannot." – George R.R. Martin
105. "We have a lamp inside us. The oil of that lamp is our breathing, our steps, and our peaceful smile. Our practice is to light up the lamp." – Thich Nhat Hanh