You might be someone who likes to stay indoors on a wet day, and if so, these 68 rain quotes are for you. Reading through our selection of rainy day quotes whilst waiting for the storm to pass, will bring you little drops of happiness.
If you love to be outside as it drizzles or pours, our quotes about rain will inspire and uplift you. In the cold and rainy season, we can always find fun and something to smile about. We hope to make you smile today.
Read through these quotes about a rainy day, share, save or send to friends.
We hope you love them as much as we enjoyed collecting them!
Best Rain Quotes For A Rainy Day
1. "A little rain each day will fill the rivers to overflowing." – Liberian Proverb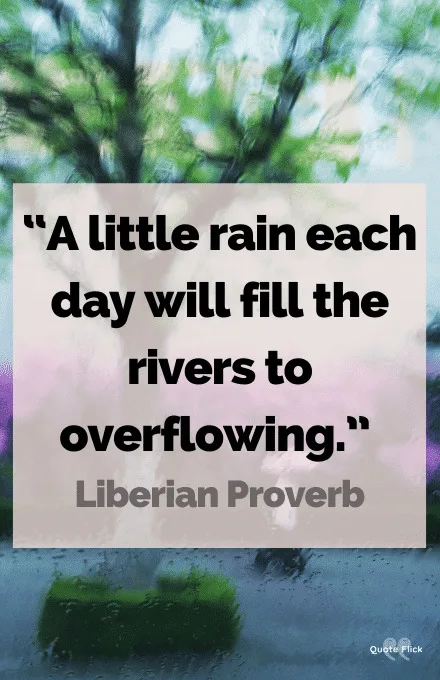 2. "Life is not about waiting for the storm to pass. It's about learning to dance in the rain". – Unknown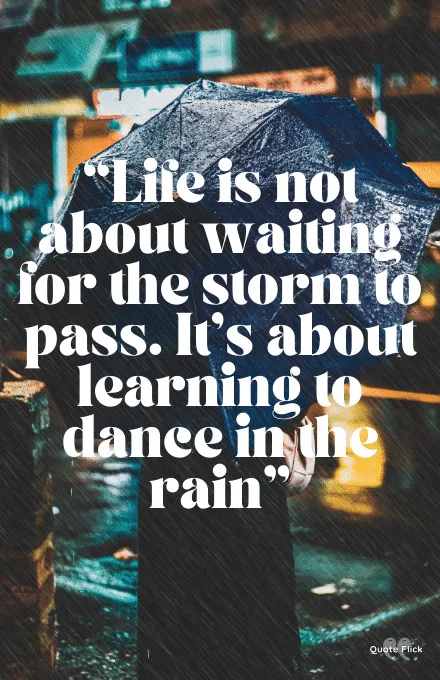 3. "A rainy day is a perfect time for a walk in the woods" – Rachel Carson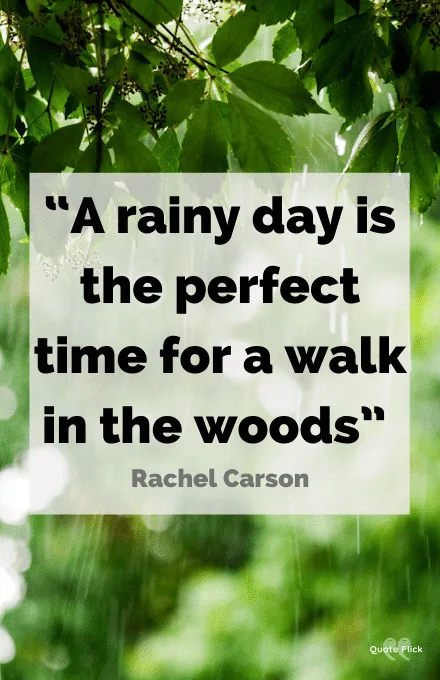 4. "I always feel sorry for people who think more about a rainy day ahead than sunshine today." – Rae Foley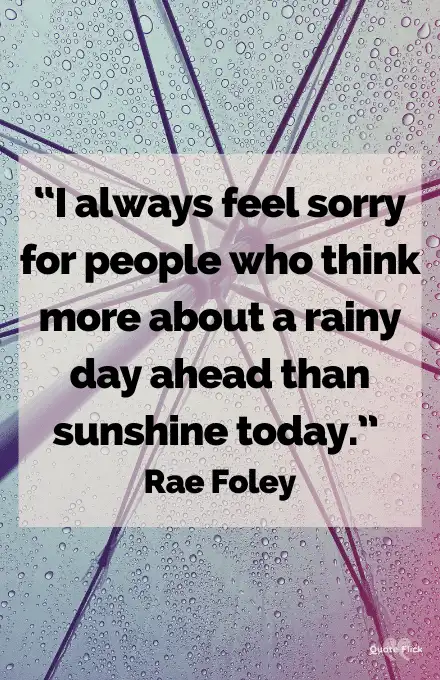 5. "The nicest thing about the rain is that it always stops. Eventually." – Eeyore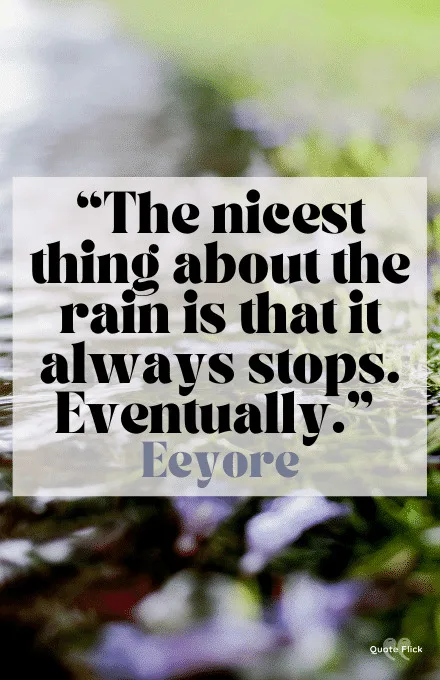 You Might Also Like: Wind Quotes or Cloud Quotes
6. "What I love about rain is the fresh outdoorsy smell it leaves." – Unknown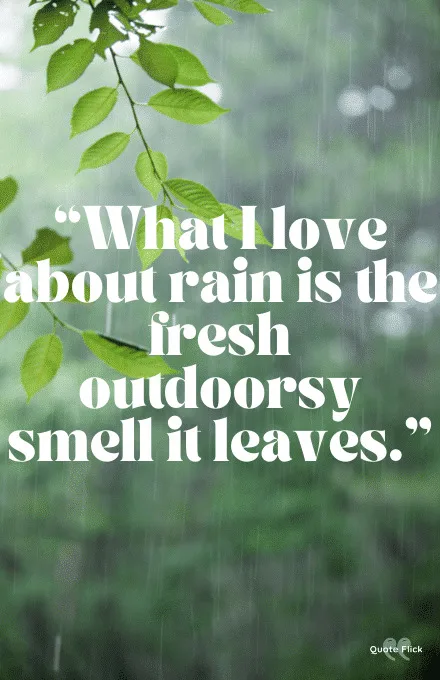 7. "I don't mind if it carries on raining when I have work to do, it keeps me productive." – Unknown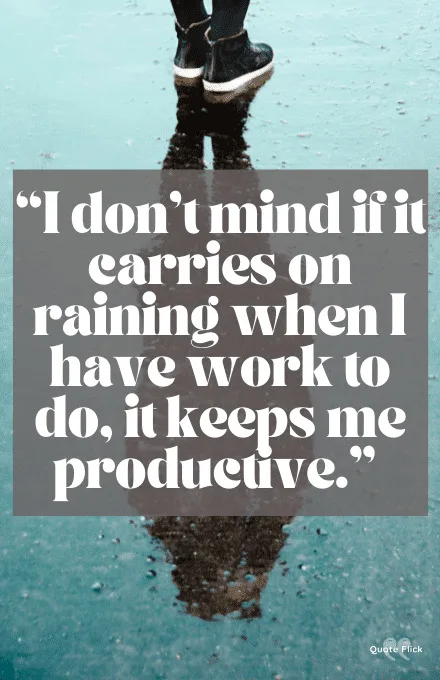 8. "Rainfall is the perfect sound for someone who loves to read." – Unknown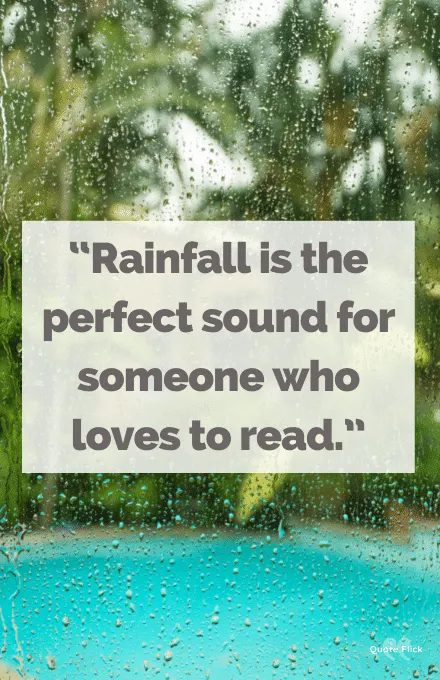 9. "What I love about a rainy day is how healing it can be." – Unknown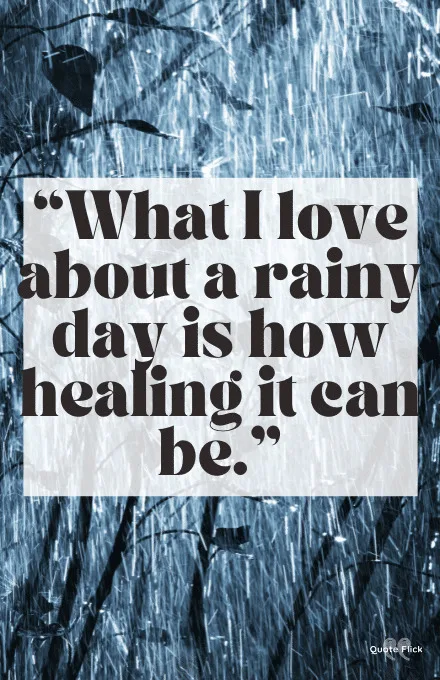 10. "One thing a mother must always save for a rainy day is patience." – Unknown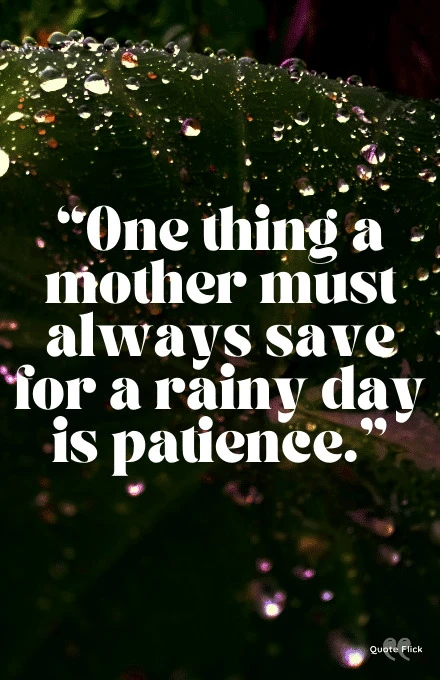 Next: Rainbow Quotes or River Quotes
11. "Sunshine is delicious, rain is refreshing, wind braces us up, snow is exhilarating; there is really no such thing as bad weather, only different kinds of good weather." – John Ruskin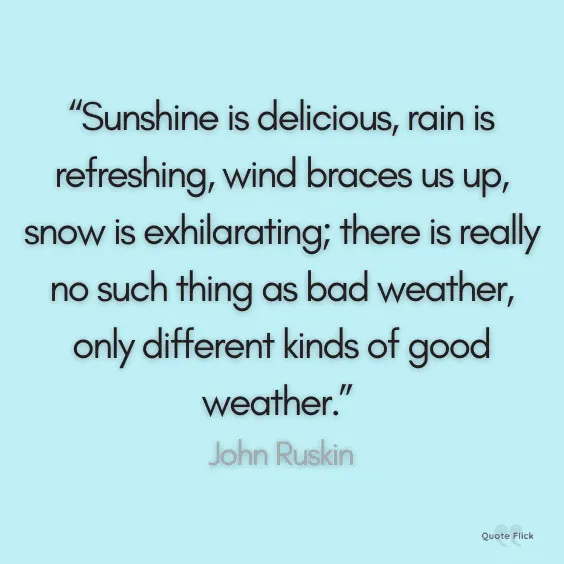 12. If the rain spoils our picnic, but saves a farmer's crop, who are we to say it shouldn't rain? – Tom Barrett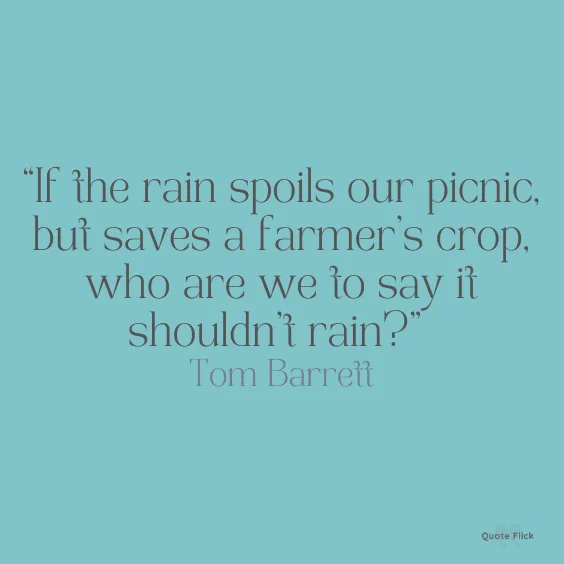 13. "Anyone who says sunshine brings happiness has never danced in the rain."
– Unknown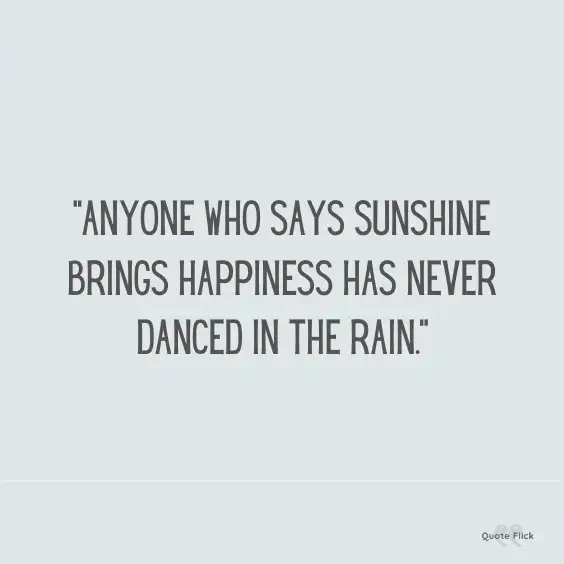 14. "The best thing one can do when it's raining is to let it rain." – Henry Wadsworth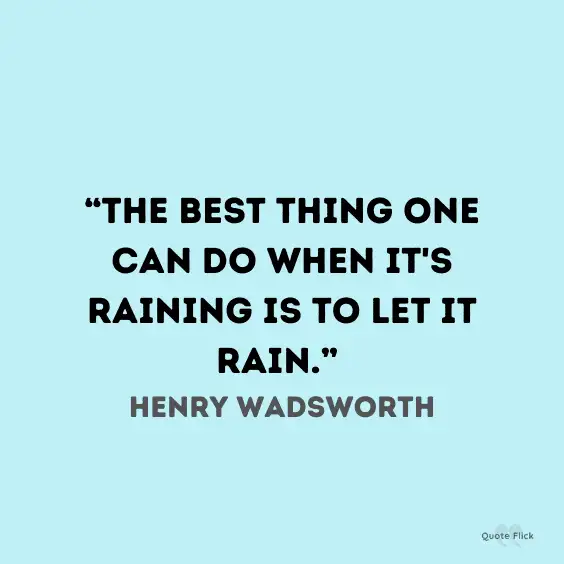 15. "Rainy days should be spent at home with a cup of tea and a good book." – Bill Watterson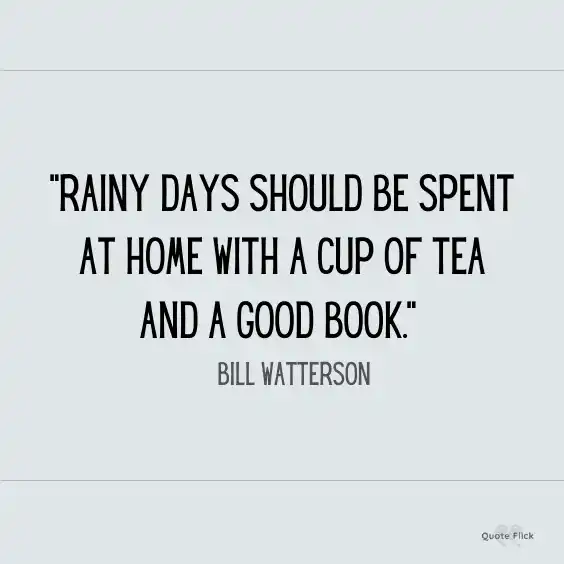 Next: Ocean Quotes or Desert Quotes
16. "Rain is grace; rain is the sky descending to the earth; without rain, there would be no life." – John Updike
17. "Clouds come floating into my life, no longer to carry rain or usher storm but to add color to my sunset sky." – Rabindranath Tagore
18. "The rain is famous for falling on the just and unjust alike, but if I had the management of such affairs I would rain softly and sweetly on the just, but if I caught a sample of the unjust outdoors I would drown him." – Mark Twain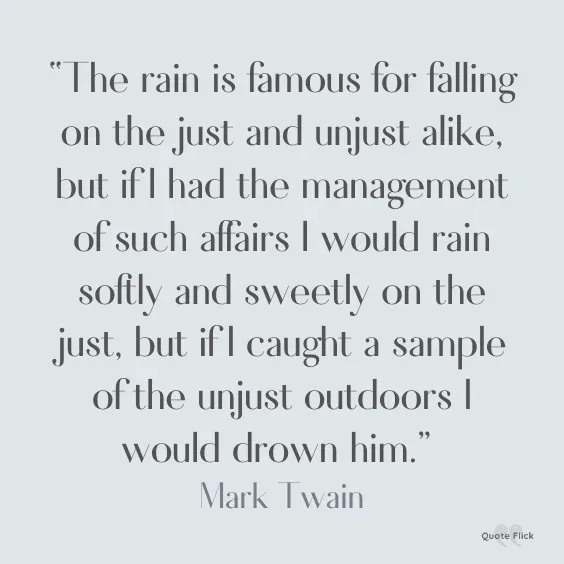 19. "God is good for everybody. The sun shines on good people and bad people, and it rains on both, too. God doesn't choose rain only for bad people." – Mariano Rivera
20. "I don't know why, but rain comes into my head the minute I think of my childhood." Dhanush Childhood
Next: Mountain Quotes or Forest Quotes
21. "Everybody wants happiness, nobody wants pain, but you can't have a rainbow without a little rain." – Unknown
22. "I think rain is as necessary to the mind as to vegetation. My very thoughts become thirsty, and crave the moisture." – John Burroughs
23. "All was silent as before, all silent save the dripping rain." – Henry Wadsworth Longfellow
24. "The rain began again. It fell heavily, easily, with no meaning or intention but the fulfillment of its own nature, which was to fall and fall." – Helen Garner
25. "The rain plays a little sleep song on our roof at night And I love the rain." – Langston Hughes
Next: Waterfall Quotes or Sunflower Quotes
26. "I want to believe that life isn't full of darkness. Even if storms come to pass, the sun will shine again. No matter how painful and hard the rain may beat down on me." – Akito Sohma
27. "And when it rains on your parade, look up rather than down. Without the rain, there would be no rainbow." – Gilbert K.
28. "A single gentle rain makes the grass many shades greener." – Henry David Thoreau
29. "Some people walk in the rain, others just get wet." – Roger Miller
30. "The rain didn't make things messy. People did that all on their own." – Barbara Delinsky
31. "For as the rain and the snow come down from heaven and do not return there but water the earth, making it bring forth and sprout, giving seed to the sower and bread to the eater" – Isaiah 55:10
32. "It's the rain that fills the rivers, not the dew." – Sri Lankan Proverb
33. "I always like walking in the rain, so no one can see me crying." – Charlie Chaplin
34. "I cry in the rain, so nobody will notice my tears". – Caroline
35. "Rain is grace; rain is the sky condescending to the earth; without rain, there would be no life." – John Updike
36. "You pray for rain, you gotta deal with the mud too. That's a part of it." – Denzel Washington
37. "The best thing one can do when it's raining is to let it rain." – Henry Wadsworth Longfellow
38. "I'll never let you see, the way my broken heart is hurting me, I've got my pride and know how to hide all my sorrow and pain, I'll do my crying in the rain…"– Howard Greenfield
39. "Rain is not only drops of water. It's the love of sky for earth. They never meet each other but send love this way." – Unknown
40. "Let the rain kiss you. Let the rain beat upon your head with silver liquid drops. Let the rain sing you a lullaby." – Langston Hughes
41. "I love the smell of rain, and I love the sound of the ocean waves." – Amy Purdy
42. "Sometimes we should express our gratitude for the small and simple things like the scent of the rain, the taste of your favorite food, or the sound of a loved one's voice." – Joseph B. Wirthlin
43. "Rain showers my spirit and waters my soul." – Emily Logan Decens
44. "True, the sun and the wind inspire. But the rain has an edge. Who, after all, dreams of dancing in dust? Or kissing in the bright sun?" – Cynthia Barnett
45. "Do not be angry with the rain; it simply does not know how to fall upwards." – Vladimir Nabokov
46. "The way I see it, if you want the rainbow, you gotta put up with the rain." – Dolly Parton
47. "Remember that every drop of rain that falls bears into the bosom of the earth a quality of beautiful fertility." – George Henry Lewes
48. "Being soaked alone is cold. Being soaked with your best friend is an adventure." – Emily Wing Smith
49. "Tears of joy are like the summer rain drops pierced by sunbeams." – Hosea Ballou
50. "Clouds come floating into my life, no longer to carry rain or usher storm, but to add color to my sunset sky." – Rabindranath Tagore
51. "I always like walking in the rain, so no one can see me crying." – Charlie Chaplin
52. "Many a man curses the rain that falls upon his head, and knows not that it brings abundance to drive away the hunger." – Saint Basil
53. "The sound of the rain needs no translation." – Alan Watts
54. "I believe in running through the rain and crashing into the person you love and having your lips bleed on each other." – Billy Bob Thornton
55. "Life is full of beauty. Notice it. Notice the bumble bee, the small child, and the smiling faces. Smell the rain, and feel the wind. Live your life to the fullest potential, and fight for your dreams." – Ashley Smith
56. "For as the rain and the snow come down from heaven and do not return there but water the earth, making it bring forth and sprout, giving seed to the sower and bread to the eater." – Isaiah 55:10
57. "Let the rain kiss you, Let the rain beat upon your head with silver liquid drops, Let the rain sing you a lullaby." – Langston Hughes
58. "I love the rain. It's my favorite weather." – Kristen Wiig
59. "The best thing one can do when it's raining is to let it rain." – Henry Wadsworth Longfellow
60. "Do not, on a rainy day, ask your child what he feels like doing, because I assure you that what he feels like doing, you won't feel like watching."
– Fran Lebowitz
61. "Rain hangs about the place, like a friendly ghost. if it's not coming down in delicate droplets, then it's in buckets; and if neither, it tends to lurk suspiciously in the atmosphere." Barbara Acton-Bond
62. "Healing rain is a real touch from God. It could be physical healing or emotional or whatever." – Michael W. Smith
63. "Raise your words, not your voice. It is rain that grows flowers, not thunder." – Rumi
64. "Many a man curses the rain that falls upon his head, and knows not that it brings abundance to drive away the hunger." – Saint Basil
65. "I yearn for flowers that bend with the wind and rain." – Tso Ssu
66. "Rain is good for vegetables, and for the animals who eat those vegetables, and for the animals who eat those animals." – Samuel Johnson
67. "Any party which takes credit for the rain must not be surprised if its opponents blame it for the drought." – Dwight Morrow
68. "The drop of rain maketh a hole in the stone, not by violence, but by oft falling." – Hugh Latimer