Rainbows are nature's way of telling us that beauty can be formed in the stormiest weather. These rainbow quotes highlight that beauty! We can apply this to our life, in that opportunity can be found during a challenging time.
Without the rain, a rainbow literally wouldn't be possible. If you're looking for some brightness, color, or inspiration on a gloomy day, enjoy these quotes about rainbows!
Phrases about rainbows are perfect for use as captions. Please feel free to use your favorite. Why not share a rainbow image with a loved one or on Pinterest? Enjoy!
Rainbow Quotes
1. "Try to be a rainbow in someone's cloud." – Maya Angelou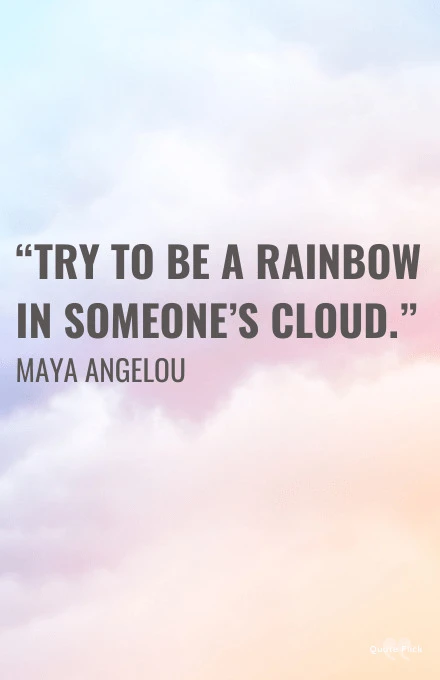 2. "Life throws challenges and every challenge comes with rainbows and lights to conquer it." – Amit Ray
3. "Dare to love yourself as if you were a rainbow with gold at both ends." – Aberjhani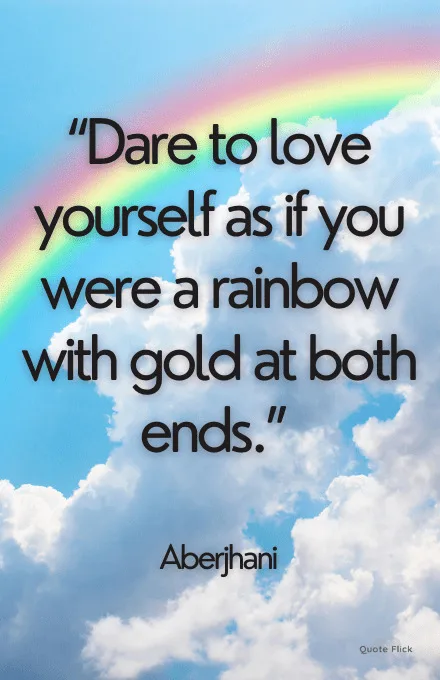 4. "The greater the storm, the brighter the rainbow."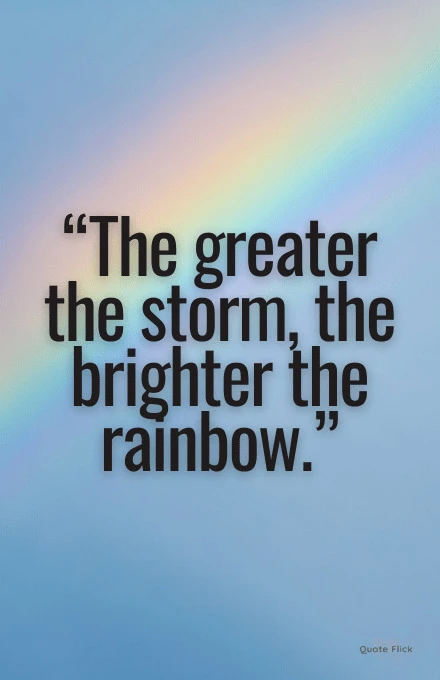 5. "If your dream is at the end of a rainbow you'll never reach it." – Richie Norton
Next: Sunshine Quotes
6. "Rainbows are made of small raindrops. Happy lives are made from acts of kindness." – Amit Ray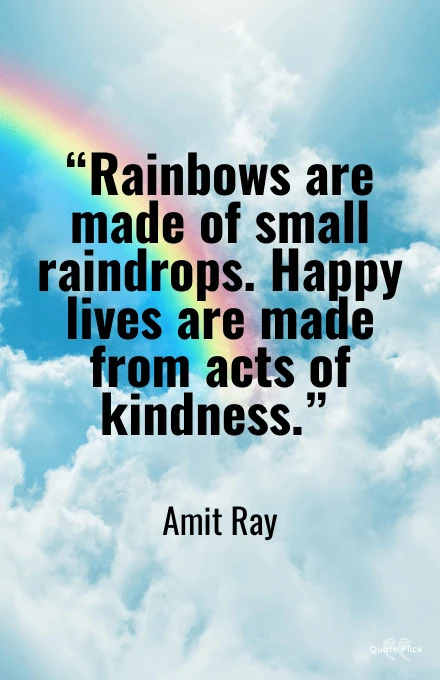 7. "You can be the most beautiful person in the world and everybody sees light and rainbows when they look at you, but if you yourself don't know it, all of that doesn't even matter." – C. Joybell C.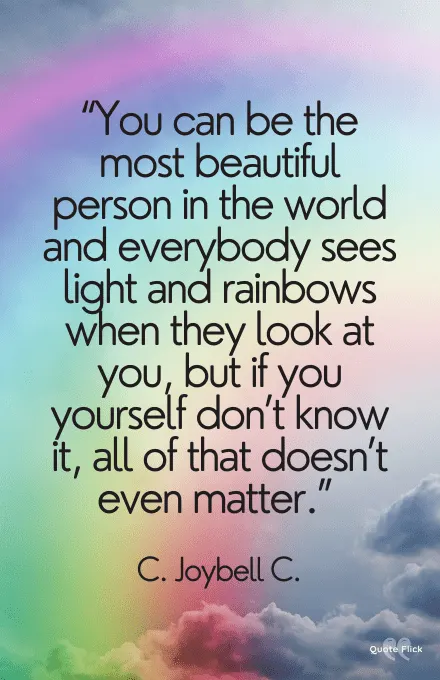 8. "There can be no rainbow without a cloud and a storm." – John H. Vincent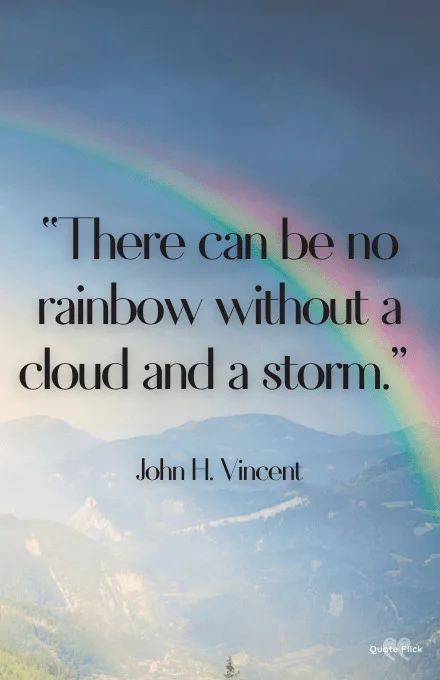 9. "You are a rainbow of possibilities." – Unknown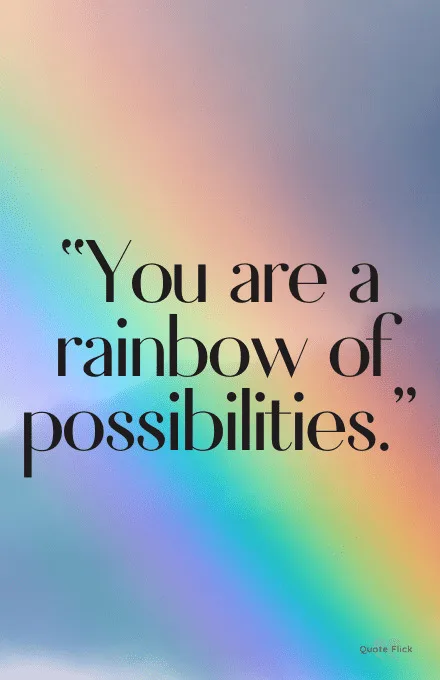 10. "Where does the rainbow end, in your soul or on the horizon?" – Pablo Neruda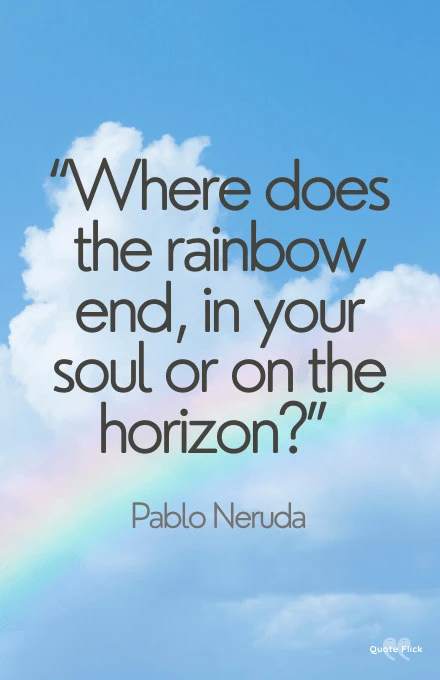 If you are loving these rainbow quotations so far, be sure to check out Quotes About Rain.
11. "I kind of view everybody like a rainbow. Everybody on the planet has all the colors of the rainbow inside." – Alexia Fast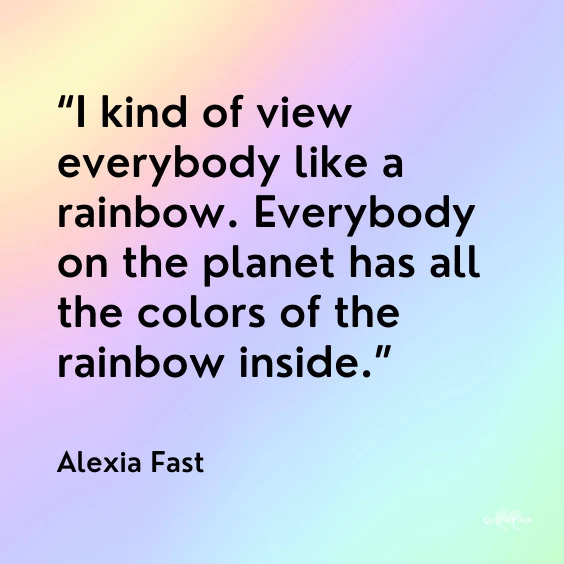 12. "Count your rainbows, not your thunderstorms." – Alyssa Knight
13. "When the morning gathers the rainbow, want you to know I'm a rainbow too." – Bob Marley
14. "Every time you see a rainbow, every time you watch the sunset, and every time you remember a dream – they're all little glimpses into what's beyond our world." – Kevin A. Kuhn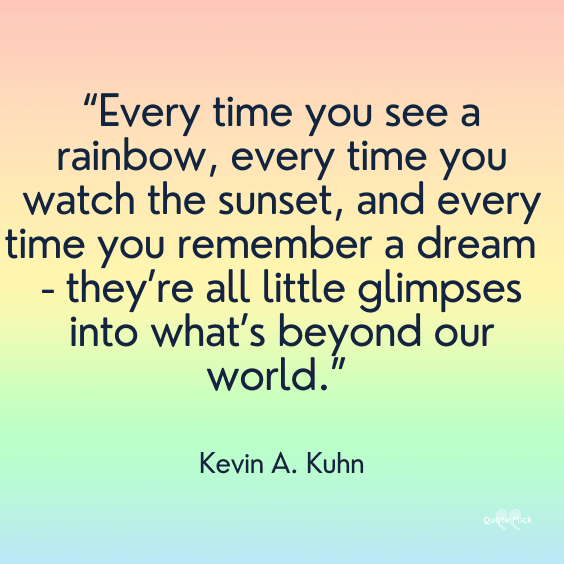 15. "In life, you either choose to sing a rainbow, or you don't. Keep singing." – Kathleen Long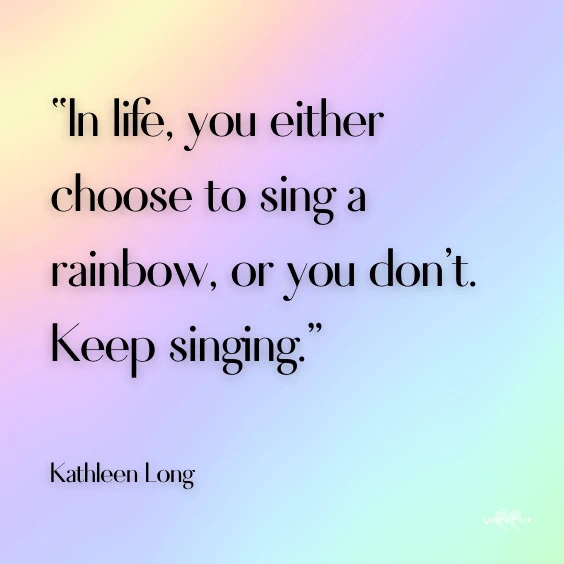 You Might Also Like:
16. "When it rains, look for rainbows, when it's dark look for stars." – Oscar Wilde
17. "It's when you follow the rain clouds that you find out where the rainbows are hiding." – Anthony T. Hincks
18. "My teacher asked about my favorite color. … I said 'Rainbow'…. and I was punished to stand out of my class." – Saket Assertive
19. "The way I see it, if you want the rainbow, you gotta put up with the rain." – Dolly Parton
20. "We are rainbows, me and you. Every color, every hue." – Miley Cyrus
21. "You're a rainbow in a sometimes dark world." – Tamara Bundy
22. "I'll paint rainbows all over your blues." – Jonathan Sebastian
23. "Shine your soul with the same egoless humility as the rainbow and no matter where you go in this world or the next, love will find you, attend you, and bless you." – Aberjhani
24. "There will always be darkness. There will always be more rain after the storm has ceased. But we need to search for the rainbow between those moments." – K. Weikel
25. "Love can form a double rainbow connecting two hearts." – Tom Baker
26. "One can enjoy a rainbow without necessarily forgetting the forces that made it." – Mark Twain
27. "Love is colorful like a rainbow' fill your life with all its shades." – Unknown
28. "Somewhere over the rainbow, skies are blue, and the dreams that you dare to dream really do come true." – E.Y. Young
29. "Once you learn to listen and hear the notes clearly, then you will see the rainbow." – Todd Crawshaw
30. "Why would I spend my life chasing rainbows when I can be still and see them in their full beauty." – Rasheed Ogunlaru
31. "If you want to enjoy the rainbow, be prepared to endure the storm." — Warren Wendel Wiersbe
32. "When you look at the world, the world isn't just one palette. It's a beautiful rainbow, and why not have someone to represent that rainbow?" – Joan Smalls
33. "If you have ever followed a rainbow to its end, it leads you to the ground on which you are standing." — Alan Cohen
34. "When thunderstorms roll in, you make a choice to either succumb with tears to the gloomy downpour or smile and look for rainbows." – Richelle E. Goodrich
35. "Look at the rainbow, it is made up of different colors, yet they do not split, because they know how beautiful they are when they stick together." – Michael Bassey Johnson
36. "Have faith in your dreams and someday your rainbow will come shining through. No matter how your heart is grieving, if you keep believing, the dream that you wish will come true." – Gilbert K. Chesterton
37. "There's always been a rainbow hanging over your head." – Kacey Musgraves
38. "Facing our problems, first, and living by the seat of the pants, and opening ourselves to the world can turn life into a captivating journey on a sparkling rainbow." – Erik Pevernagie
39. "We are all part of the same rainbow. We are all reflections of each other. As unique and diverse as we are in character and skills, the source of all creation is as multidimensional as we are." – Suzy Kassem
40. "Life can be a storm, but your hope is a rainbow and your friends and family are the gold." – Steve Maraboli
41. "When there is love in the heart, there are rainbows in the eyes, which cover every black cloud with gorgeous hues." – Henry Ward Beecher
42. "You'll never find a rainbow if you're looking down." – Charlie Chaplin
43. "You are the rainbow that adds color to my gray skies." – Avijeet Das
44. "If you want to see a rainbow you have to learn to see the rain." – Paulo Coelho
45. "A woman is like the color of the rainbow, very colorful and so beautiful." – Gift Gugu Mona
46. "Know that rainbows and butterflies are God's gift to your joy." – Jonathan Lockwood Huie
47. "I don't want a rainbow… Rainbows have too many colors and none of them receive the appreciation they deserve… I'd prefer a fading red or a striking golden, a shimmery silver or a sober blue… Ruling the sunset sky alone!" – Debalina Haldar
48. "We will continue to chase rainbows unless we recognize that they are rainbows and there is no pot of gold at the end of them." – Diane Ravitch
49. "It's a good thing that when God created the rainbow he didn't consult a decorator or he would still be picking colors." – Sam Levenson
50. "And when it rains on your parade, look up rather than down. Without the rain, there would be no rainbow." – G. K. Chesterton
Holly Jaskolka is a certified Emotional Freedom Technique (EFT) practitioner, yoga instructor, and an impassioned advocate for holistic well-being. Fueled by her love for animals and wanderlust, Holly leads a plant-based lifestyle that she complements with immersive travel experiences. When she's not jet-setting to uncover the world's hidden gems, she's empowering individuals to heal emotionally, particularly those grappling with the aftermath of breakups. Connect with Holly on LinkedIn.