If you're looking for quotes about treating your girl right, you've come to the right place – these respect women quotes are a must-read! The quest for equality between the sexes has come a long way – but there's still work to do!
Read on to discover powerful quotes about respecting women by inspirational figures such as Michelle Obama and Prince Harry – and reflect on how to give the women and girls in your life the appreciation they deserve.
If you enjoy these sayings and phrases about treating your girl, wife, or female colleagues and friends with love and kindness then please share your favorite respect women quote on Pinterest!
Respect Woman Quotes
1. "Love and respect women." – Giuseppe Mazzini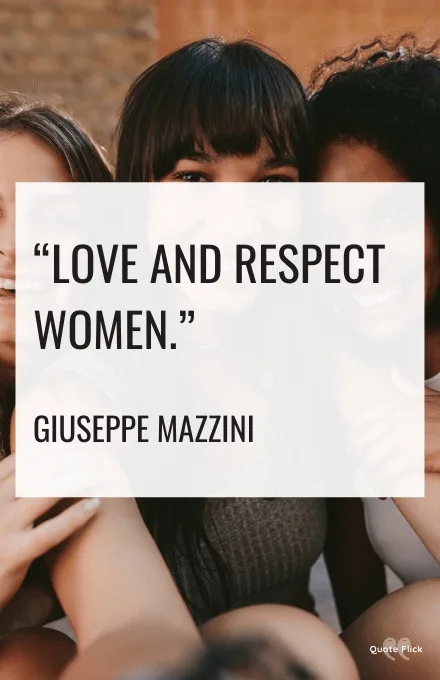 2. "A man never so beautifully shows his own strength as when he respects a woman's softness." – Douglas William Jerrold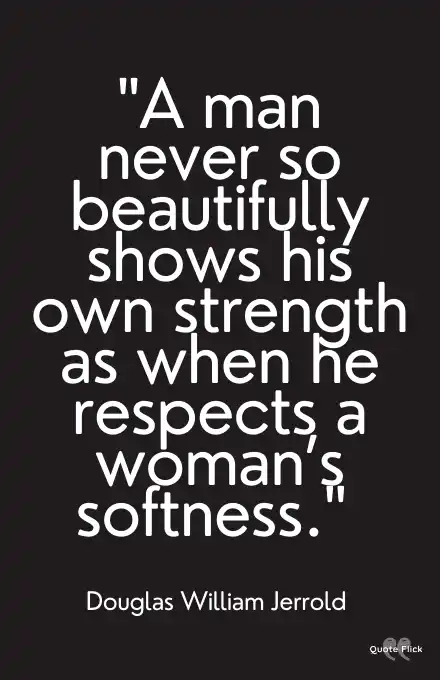 3. "Men who love their mothers treat women wonderfully. And they have enormous respect for women." – Ellen Barkin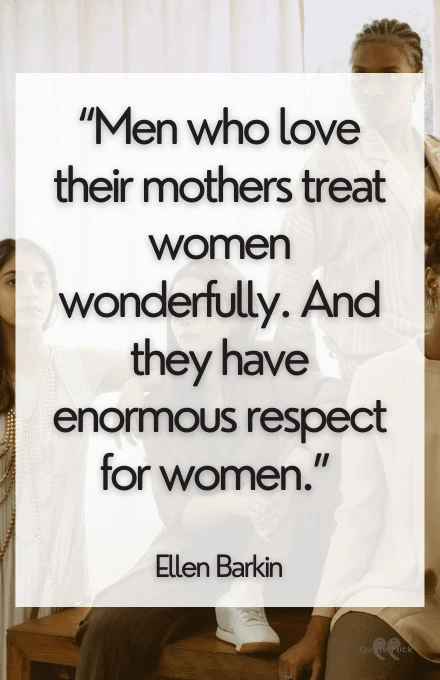 4. "The measure of any society is how it treats its women and girls." – Michelle Obama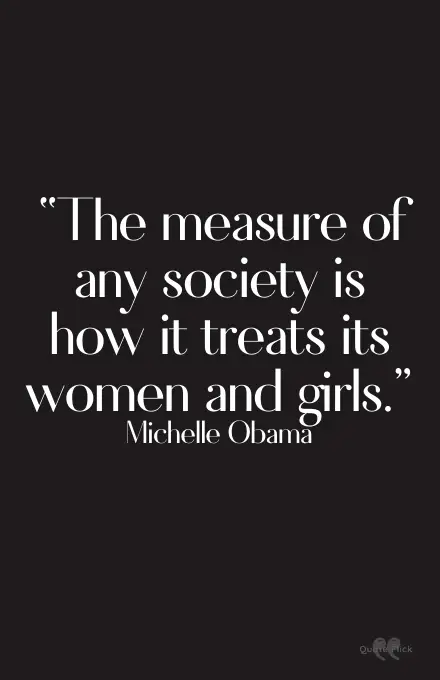 5. "When people respect someone as a person, they admire her. When they respect her as a friend, they love her. When they respect her as a leader, they follow her." – John C. Maxwell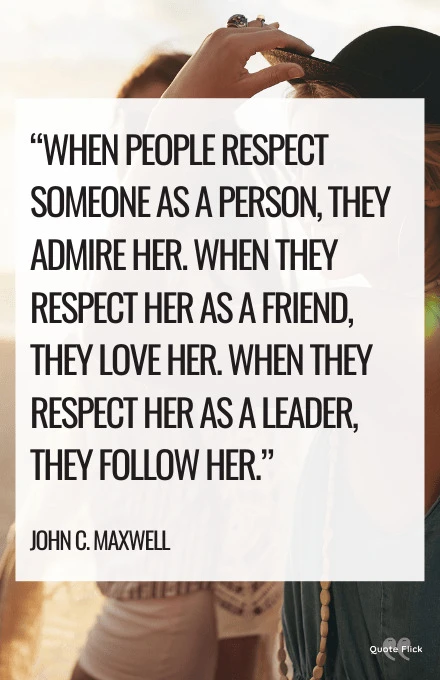 You Might Also Like:
6. "No man succeeds without a good woman behind him. Wife or mother, if it is both, he is twice blessed indeed." – Godfrey Winn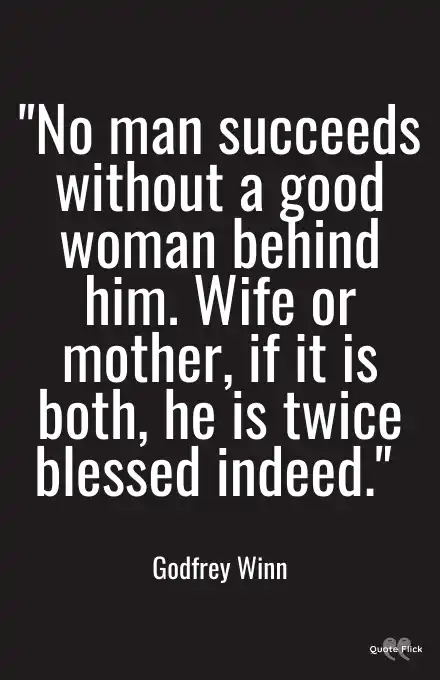 7. "A gentleman respects every woman in his life. If you can't respect your own mother, forget about respecting your girlfriend." – James Merrow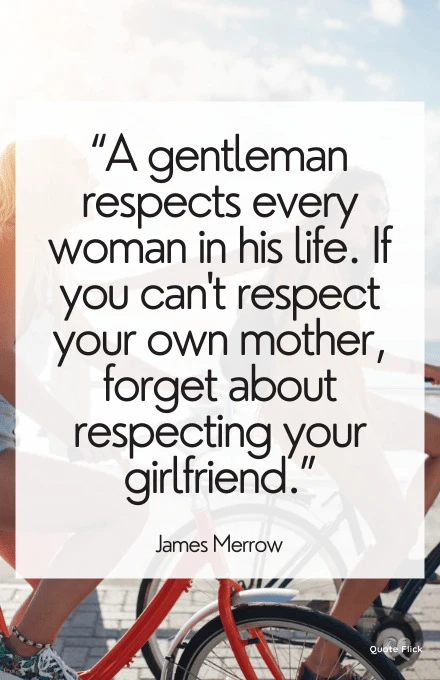 8. "Call me old fashioned but I believe that respecting women is one of the most important things to uphold in life." – Unknown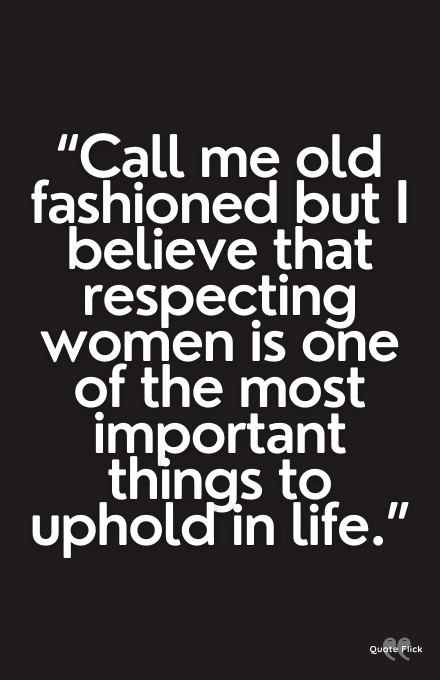 9. "The truth is, a man can choose to objectify a woman whether she's wearing a bikini or a burqa. We don't stop lust by covering up the female form; we stop lust by teaching men to treat women as human beings worthy of respect." – Rachel Held Evans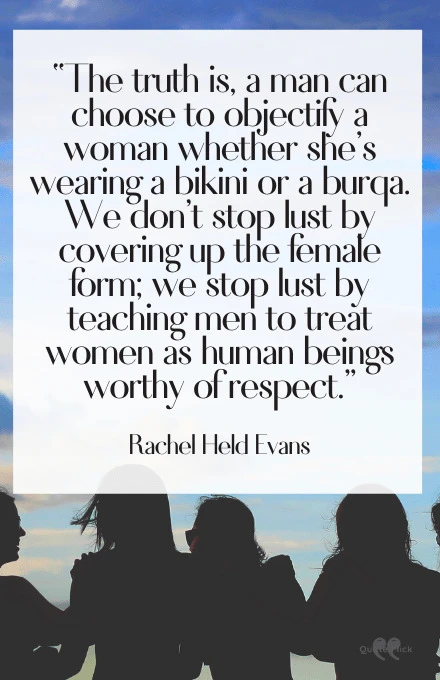 10. "A real man knows how to respect a woman. Because he knows the feeling if someone would disrespect his mother." – Unknown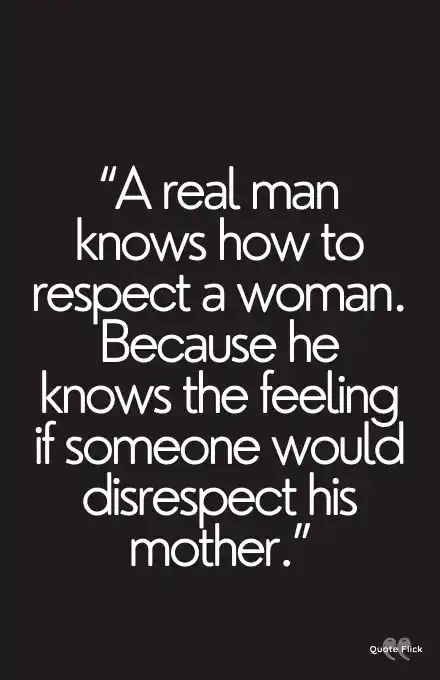 You Might Also Like:
11. "Either treat your girl right or sit back and watch someone else do it." – Unknown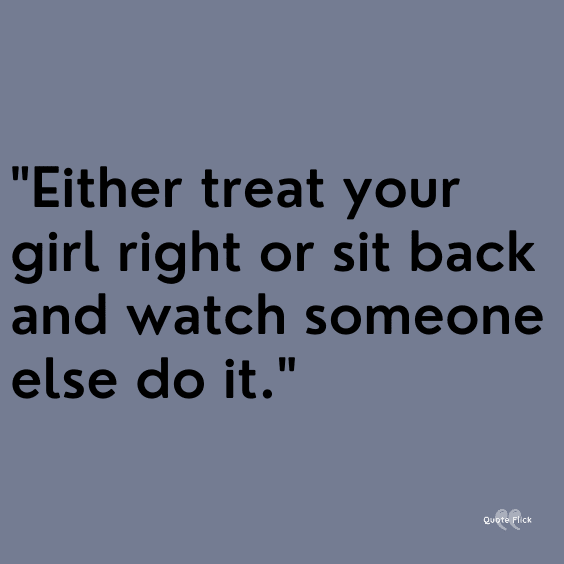 12. "Men who love their mothers treat women wonderfully. And they have enormous respect for women." – Ellen Barkin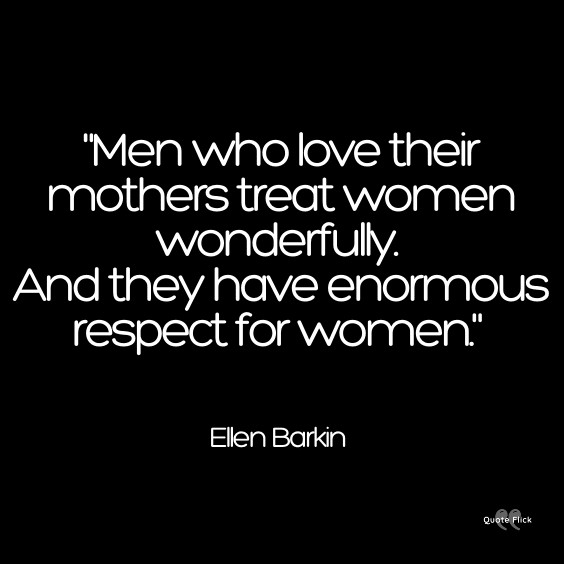 13. "Love her, hold her, respect her." – Unknown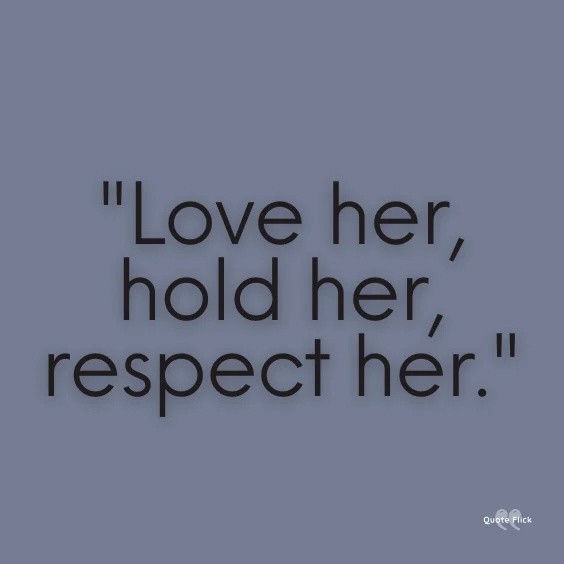 14. "Respecting a woman is the best way to tell her how beautiful she is." – Unknown
15. "A guy is automatically 10x more attractive if he has morals about respecting women." – Unknown
16. "We have to raise our young boys to respect women and our young girls to demand respect and to get their values from something other than their physicality." – Unknown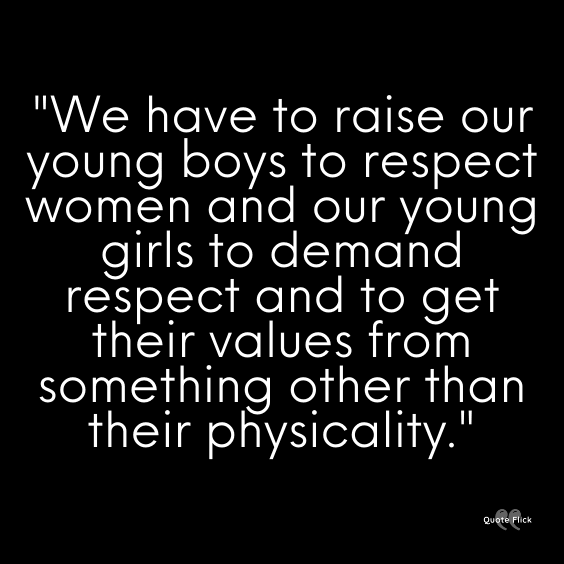 17. "When a woman is talking to you, listen to what she says with her eyes." – Victor Hugo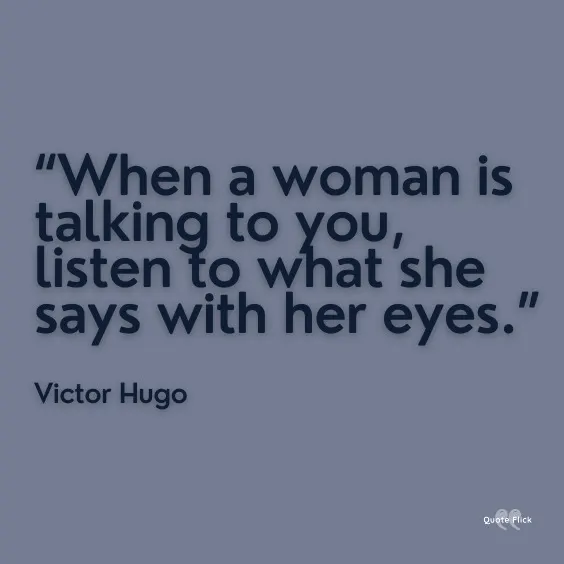 18. "This is not just about women. We men need to recognize the part we play, too. Real men treat women with the dignity and respect they deserve." – Prince Harry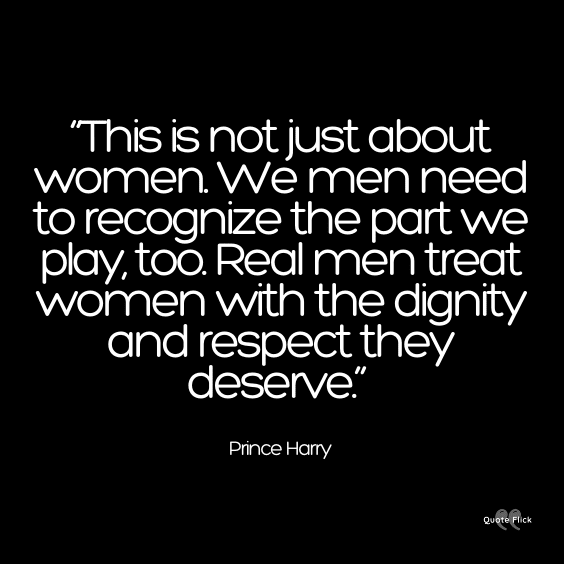 19. "My sisters and mom raised me to respect women and open doors for them." – Milo Ventimiglia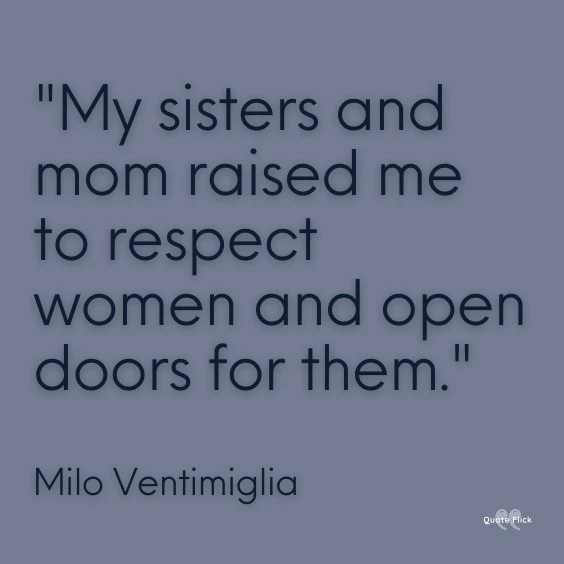 20. "Whenever you think about disrespecting a woman, think about how you were born into this world." – Unknown
21. "How you treat women says a lot about your character." – Unknown
22. "One of the greatest things a father can teach a son is how to treat a woman the way she deserves to be treated – like a queen." – Unknown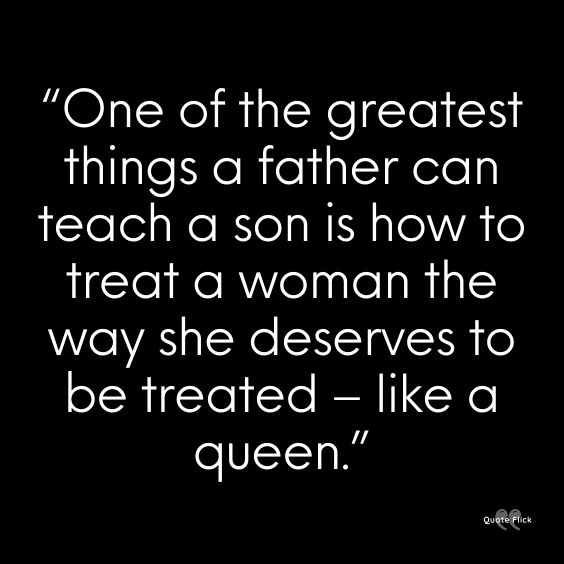 23. "Love and respect your wife with all your heart and soul." – Unknown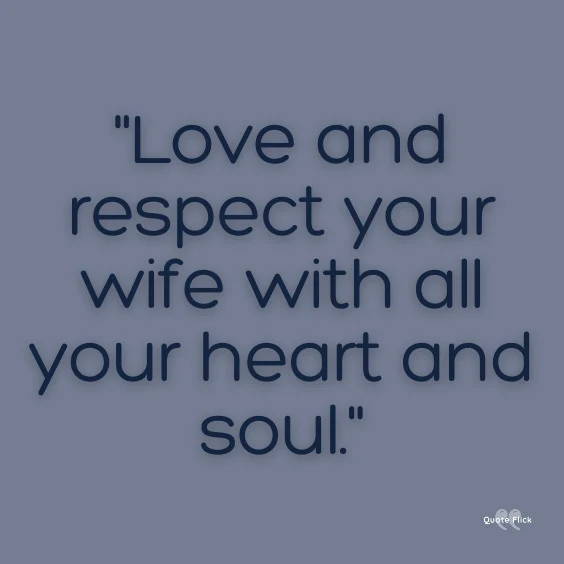 24. "I love and respect women. I work mostly with women." – Alber Elbaz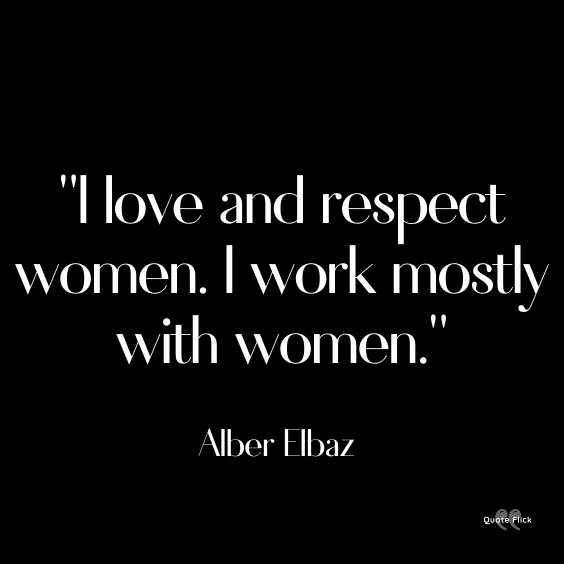 25. "You should express regularly to your wife and children your reverence and respect for her. Indeed, one of the greatest things a father can do for his children is to love their mother." – Howard W Hunter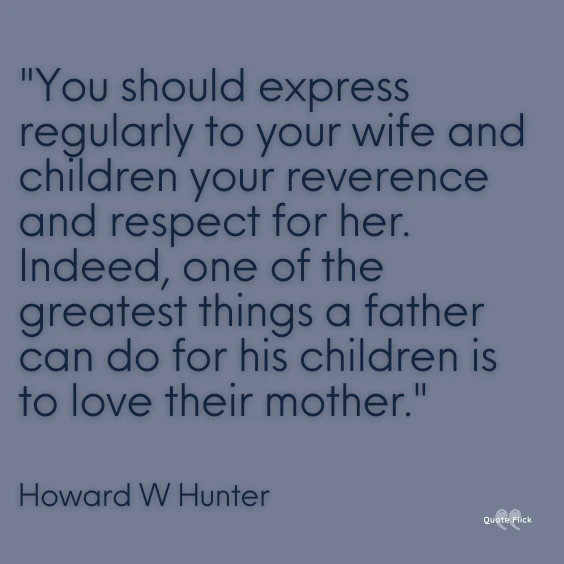 26. "Respect. Your. Girl." – Unknown
27. "A real man should treat his woman the way he would expect another man to treat his daughter." – Unknown
28. "Protect your girlfriend like your daughter, love her life a wife, respect her like your mother." – Unknown
29. "A woman becomes a reflection of how you treat her. If you don't like how she's acting, look at how you're treating her." – Unknown
30. "A gentleman always respects the mother of his child." – Unknown
31. "Being a male is a matter of birth. Being a man is a matter of age. But being a gentleman is a matter of choice." – Drake
32. "There are two sorts of affection – the love of a woman you respect, and the love for the woman you love." – Arthur Wing Pinero
33. "Men who cherish for women the highest respect are seldom popular with them." – Joseph Addison
34. "Every woman deserves a man who appreciates not only her lovely body and homemaking skills but also her witty and intelligent mind." – Unknown
35. "Respect is one of the greatest expressions of love." – Miguel Angel Ruiz
36. "Your biceps, six-pack abs, and daring attitude are of no use if you cannot protect and respect women!" – Avijeet Das
37. "Respect for ourselves guides our morals; respect for others guides our manners." – Lawrence Sterne
38. "If you want to be treated like a king, treat your woman like a queen." – Unknown
39. "A woman brought you into this world, so you have no right to disrespect one." – Tupac
40. What women want is what men want. They want respect." – Marilyn Vos Savant
Holly Jaskolka is a certified Emotional Freedom Technique (EFT) practitioner, yoga instructor, and an impassioned advocate for holistic well-being. Fueled by her love for animals and wanderlust, Holly leads a plant-based lifestyle that she complements with immersive travel experiences. When she's not jet-setting to uncover the world's hidden gems, she's empowering individuals to heal emotionally, particularly those grappling with the aftermath of breakups. Connect with Holly on LinkedIn.