We have 50 beautiful river quotes for you in this collection. The flowing water is mesmerizing and cleansing for the soul. If you're lucky enough to live close to a river you'll know what a lovely experience it is to visit.
These bodies of water can teach us about going with the flow of life, which you'll read about in these river sayings and captions.
Enjoy these quotes about rivers and feel free to share them with a loved one who might need some inspirational words. Adding your favorite image to Pinterest helps us greatly too!
River Quotes
1. "A river seems a magic thing. A magic, moving, living part of the very earth itself."– Laura Gilpin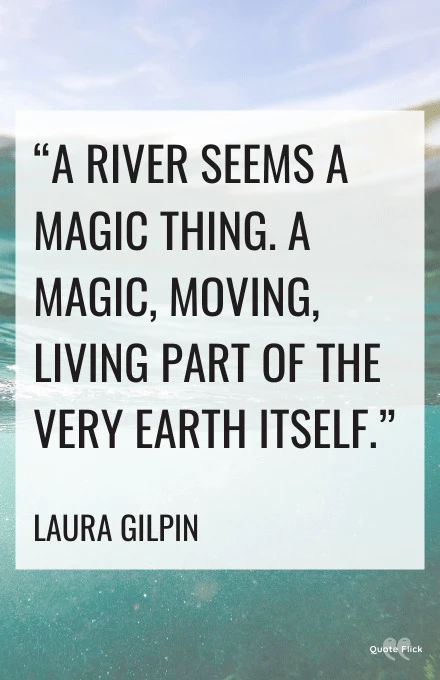 2. "Rivers are places that renew our spirit, connect us with our past, and link us directly with the flow and rhythm of the natural world." – Ted Turner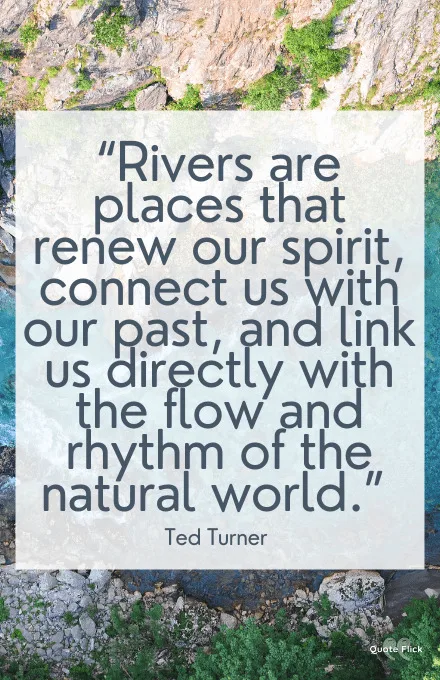 3. "If the earth is a mother then rivers are her veins." – Amit Kalantri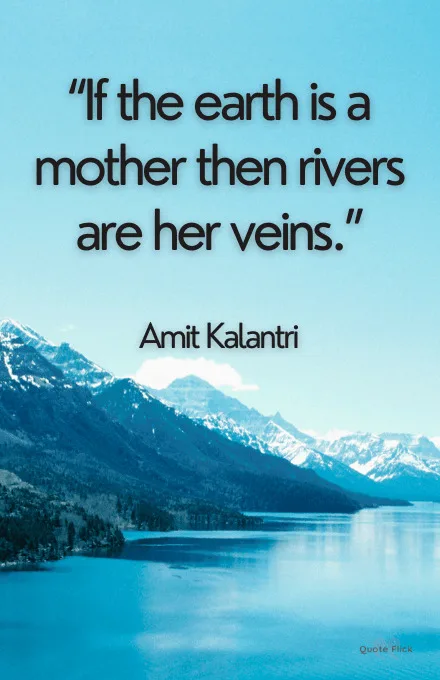 4. "I understand that everything is connected, that all roads meet, and that all rivers flow into the same sea." – Paulo Coelho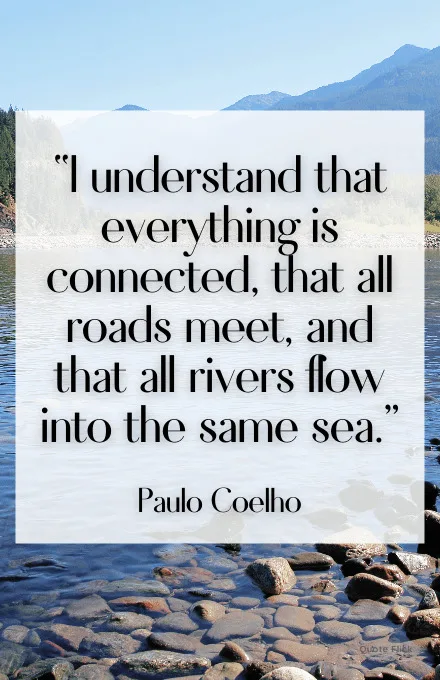 5. "Life is like the river, sometimes it sweeps you gently along and sometimes the rapids come out of nowhere." – Emma Smith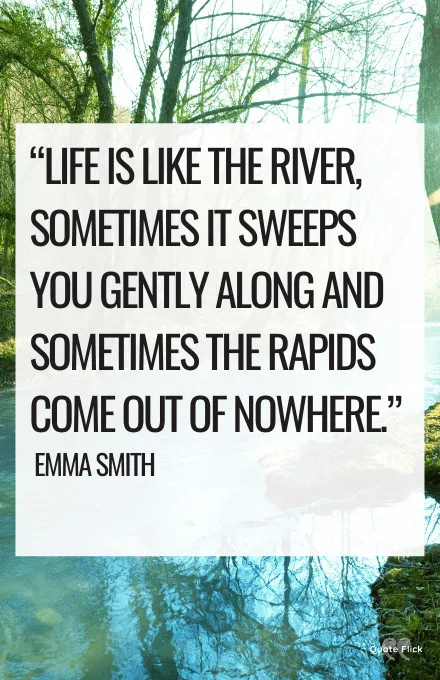 You Might Also Like:
6. "Who hears the rippling of rivers will not utterly despair of anything." – Henry David Thoreau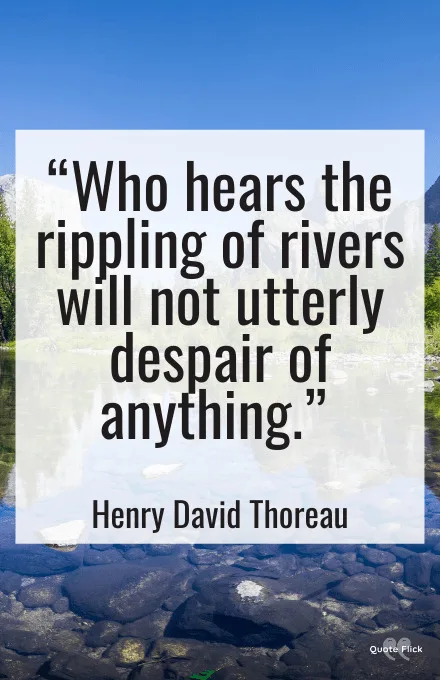 7. "Be like a river. Be open. Flow." – Julie Connor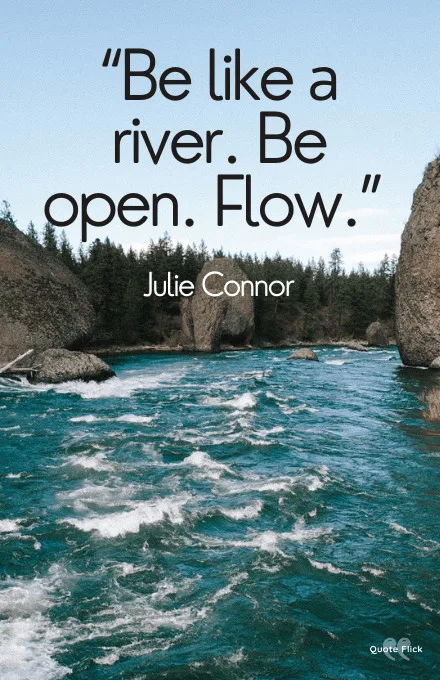 8. "We must begin thinking like a river if we are to leave a legacy of beauty and life for future generations." – David Brower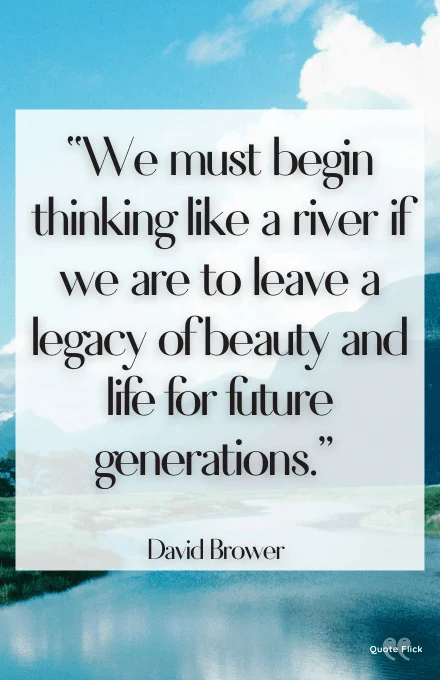 9. "Life is like a river. Let it flow in its own way. Never try to control it." – Shobana Rajasundaram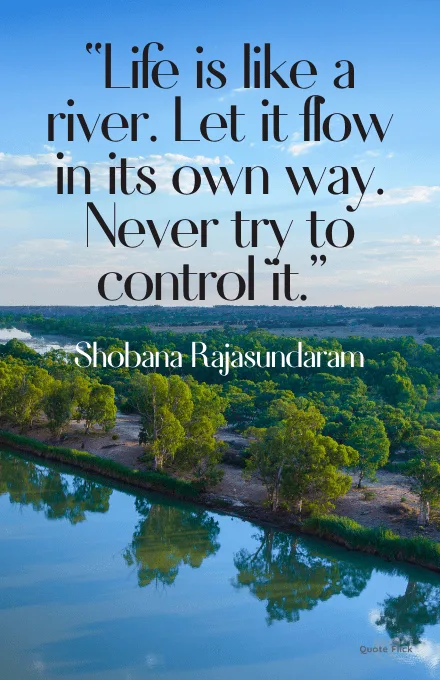 10. "Rivers flow not past, but through us; tingling, vibrating, exciting every cell and fiber in our bodies, making them sing and glide." – John Muir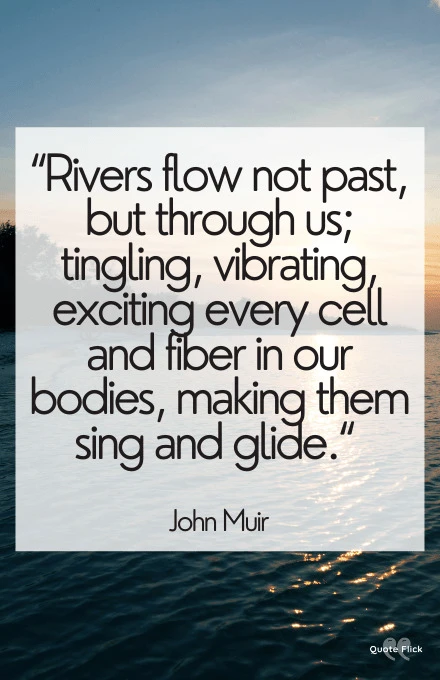 11. "A river is water is its loveliest form, rivers have life and sound and movement and infinity of variation, rivers are veins of the earth through which the lifeblood returns to the heart." – Roderick Haig-Brown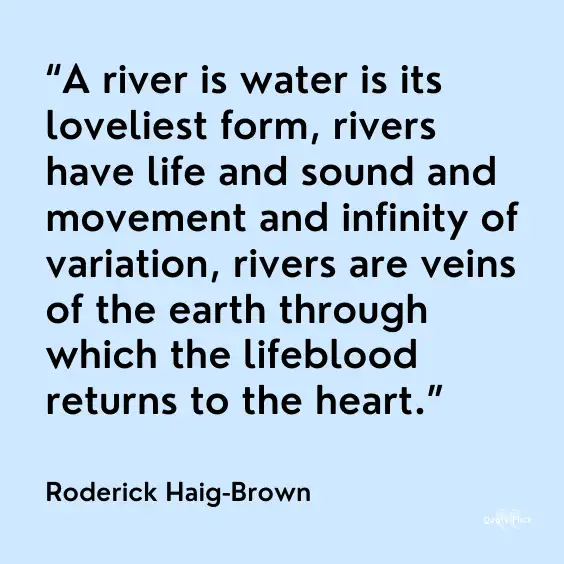 12. "A river cuts through rock, not because of its power, but because of its persistence." – Jim Watkins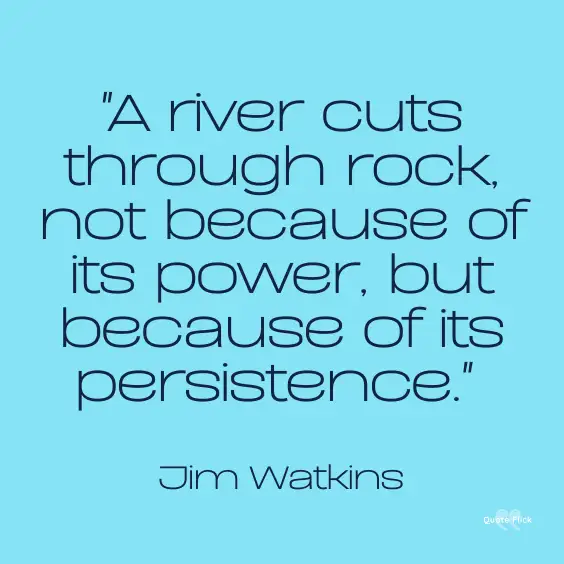 13. "No man ever steps in the same river twice, for it's not the same river and he's not the same man." – Heraclitus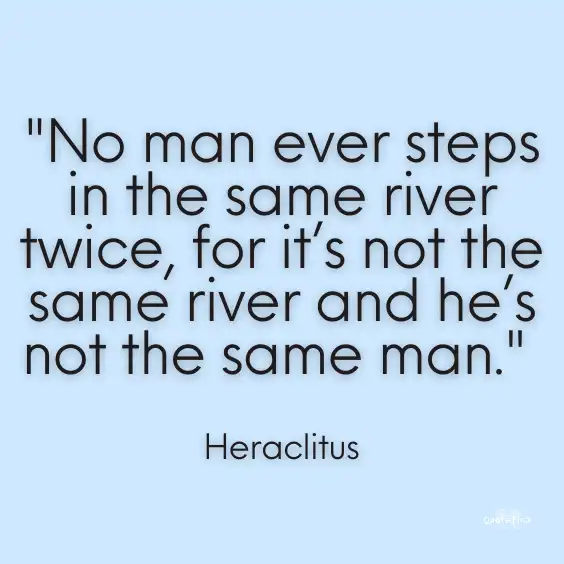 14. "A river has many curves, but it always reaches the ocean." – Donald L. Hicks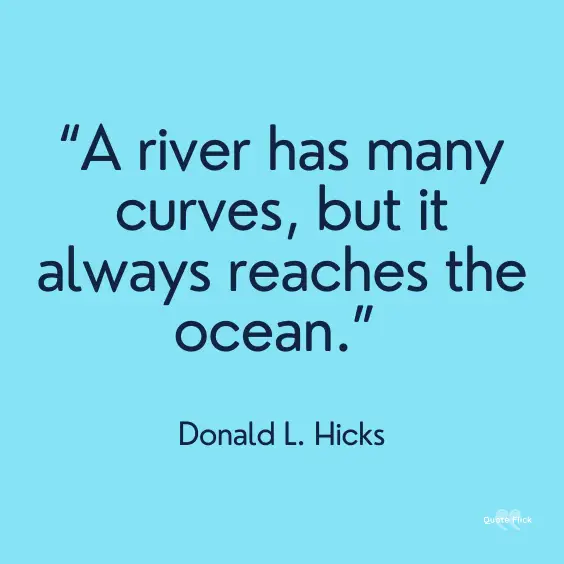 15. "Love is the river of life in the world." – Henry Ward Beecher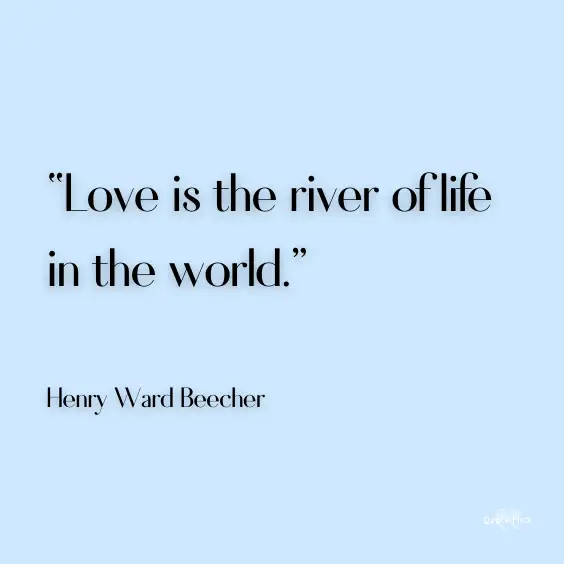 16. "True merit, like a river, the deeper it is, the less noise it makes." – Edward FL Wood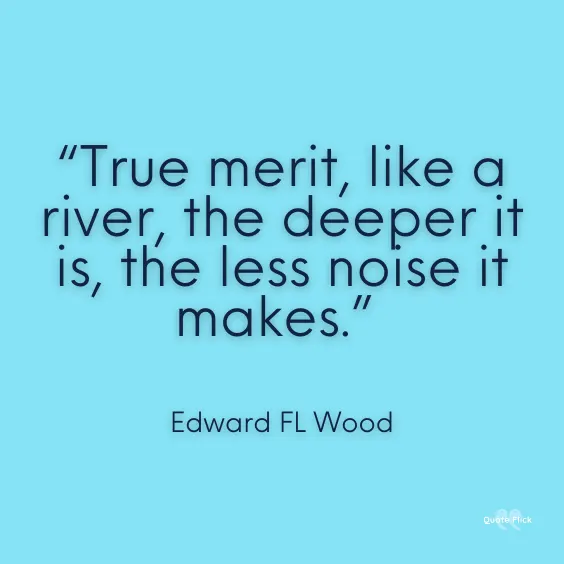 17. "Hitch a ride on the river of life." – Jonathan Lockwood Huie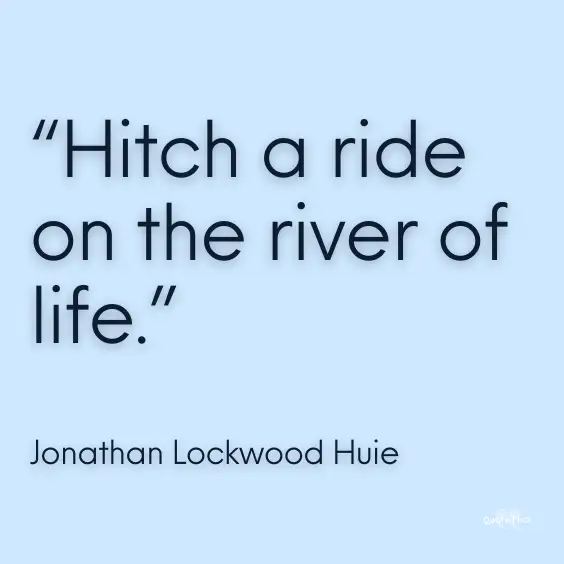 18. "I would love to live like a river flows, carried by the surprise of its own unfolding." – John O'Donohue
19. "Riverside breeze is enough to soothe your mood and soul on a hectic day." – Suleiman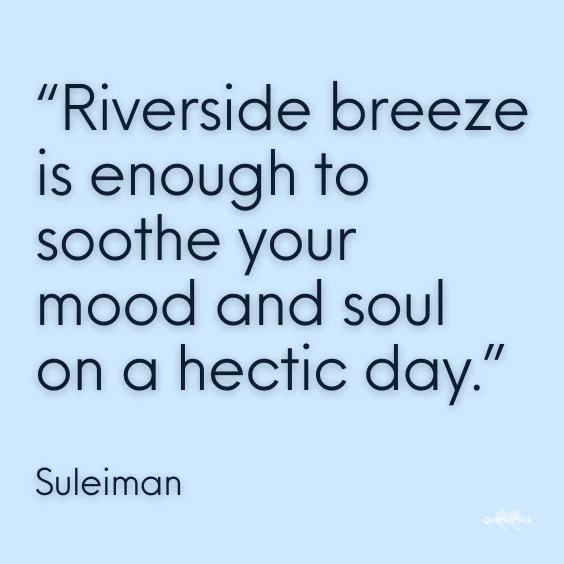 20. "To put your hands in a river is to feel the chords that bind the earth together." – Barry Lopez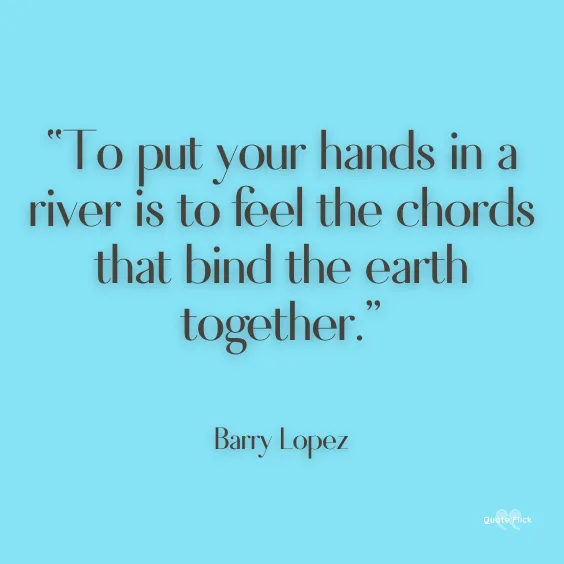 21. "Love, like a river, wil cut a new path whenever it meets an obstacle." – Crystal Middlemas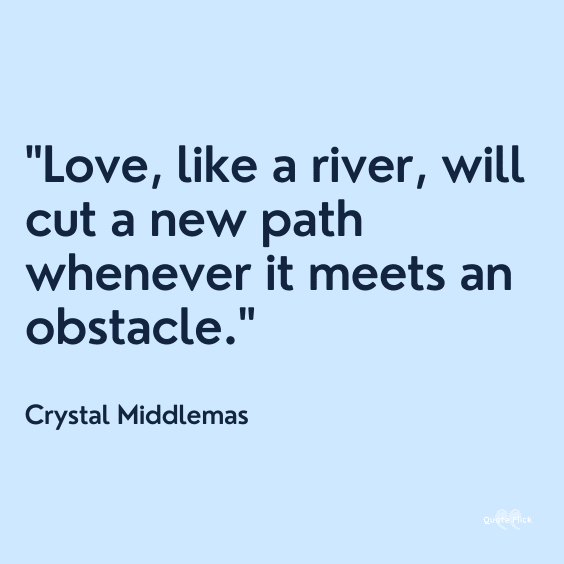 22. "You can't be unhappy in the middle of a big, beautiful river." – Jim Harrison
23. "Be still like a mountain and flow like a great river." – Lao Tse Tung
24. "Don't try to steer the river." – Deepak Chopra
25. "I've got peace, life, and joy like a river in my soul." – Unknown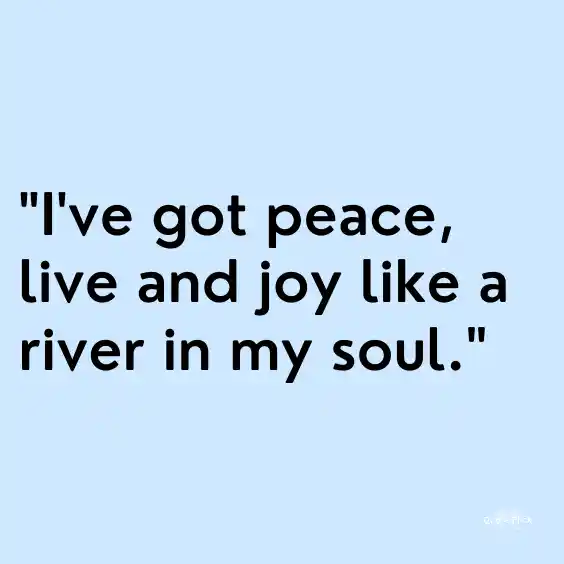 26. "Rivers know this" there is no hurry, we will get there one day." – Winnie The Pooh
27. "A good river is nature's life work in song." – Mark Helprin
28. "I was still water, held by my surroundings. I am now a river, carving my own path."– Scott Stabile
29. "Life is like a river. It will either drag you with its flow, or you can learn to surf. The choice is yours." – Nitin Kishore Rawat
30. "The river has great wisdom and whispers its secrets to the hearts of men." – Mark Twain
31. "The river moves, but it follows a path. When it tires of one journey, it rubs through some rock to forge a new way. Hard work, but that's its nature." – Kekla Magoon
32. "What makes a river so restful to people is that it doesn't have any doubt it is sure to get where it is going, and it doesn't want to go anywhere else." – Hal Boyle
33. "A dream is like a river ever changing as it flows and a dreamer's just a vessel that must follow where it goes." – Garth Brooks
34. "A woman in harmony with her spirit is like a river flowing. She goes where she will without pretense and arrives at her destination prepared to be herself and only herself." – Maya Angelou
35. "Many a calm river begins as a turbulent waterfall, yet none hurtles and foams all the way to the sea." – Mikhail Lermontov
36. "A river or stream is a cycle of energy from sun to plants to insects to fish. It is a continuum broken only by humans." – Aldo Leopold
37. "One takes what the river offers, both good and bad. The joy of living by running water far outweighs the sorrow." – Matthew Goldman
38. "The first river you paddle runs through the rest of your life. It bubbles up in pools and eddies to remind you who you are." – Lynn Noel
39. "To put your hands in a river is to feel the chords that bind the earth together." – Barry Lopez
40. "The river is constantly turning and bending and you never know where it's going to go and where you'll wind up. Following the bend in the river and staying on your own path means that you are on the right track. Don't let anyone deter you from that." – Eartha Kitt
41. "Fame is like a river, that beareth up things light and swollen, and drowns things weighty and solid." – Francis Bacon
42. "Time Flows Away Like the Water in the River." – Confucius
43. "The river of truth is always splitting up into arms that reunite. Islanded between them, the inhabitants argue for a lifetime as to which is the mainstream." – Cyril Connolly
44. "The river was beautiful and wise. There were the two of them being happy in a new way. For here, there was no man, no woman, no master, no yellow, no black, no white. We, we who were, we are the same no longer." – David Paul Kirkpatrick
45. "A dream is like a river ever changing as it flows and a dreamer's just a vessel that must follow where it goes." – Garth Brooks
46. "The only river I would like to drown in is the river filled with the blood of Jesus." – Michael Bassey Johnson
47. "A river sings a holy song conveying the mysterious truth that we are a river, and if we are ignorant of this natural law, we are lost." – Thomas Moore
48. "Time is the substance from which I am made. Time is a river which carries me along, but I am the river; it's a tiger that devours me, but I am the tiger; it's a fire that consumes me, but I am the fire." – Jorge Luis Borges
49. "They can stop a river by building a dam, but I will be damned if they can stop my river of blood flowing through my veins and heart." – Anthony Liccione
50. "The river flows at its own sweet will, but the flood is bound in the two banks. If it were not thus bound, its freedom would be wasted." – Vinoba Bhave