Here we have collected 55 happy Saturday quotes to get you excited about the best day of the week! From lazy Saturday mornings to meals out and celebrations, the first day of the weekend is always fun!
These Saturday morning quotes are sure to have you smiling and beaming with the motivation you need to make the most of your days off.
Rest is so important, and if making the most of Saturday involves doing nothing, then we have sayings encouraging that too!
Maybe you're lying in bed now reading this on a Saturday morning? These Saturday positive quotes are the perfect inspiration to give you ideas of how to spend this beautiful day. 30 of our messages come with images, which are also lovely for sharing with friends and family.
Enjoy, and feel free to comment with your own uplifting Saturday words!
Happy Saturday Quotes
I am starting with the best Saturday quotes that remind us of the beauty of not having to set the alarm in the morning. Saturday is a free day just for us to do nothing and rest, make lots of plans, or simply leave the day for spontaneity!
1. "Saturday provides the first feeling of the week of not having to set an alarm. Bliss." – Unknown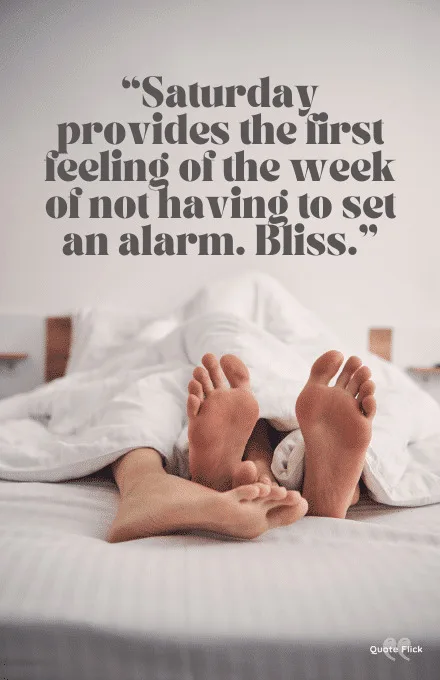 2. Happy Saturday! "Study nature, love nature, stay close to nature. It will never fail you." – Frank Lloyd Wright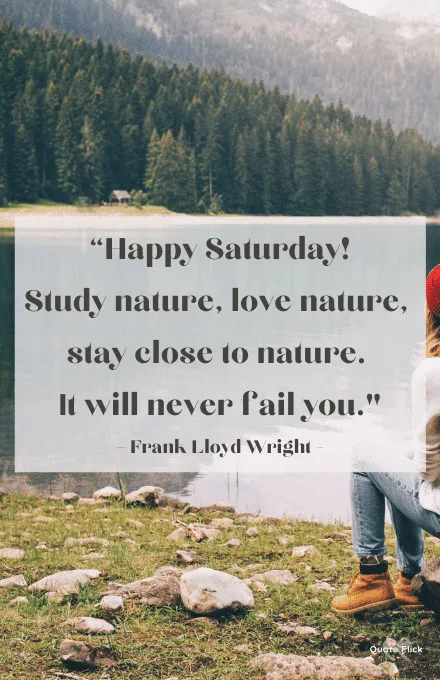 3. "Your body tells you what it needs, and if you sleep past your alarm on a Saturday morning, it's probably because you need the sleep." – Sophia Bush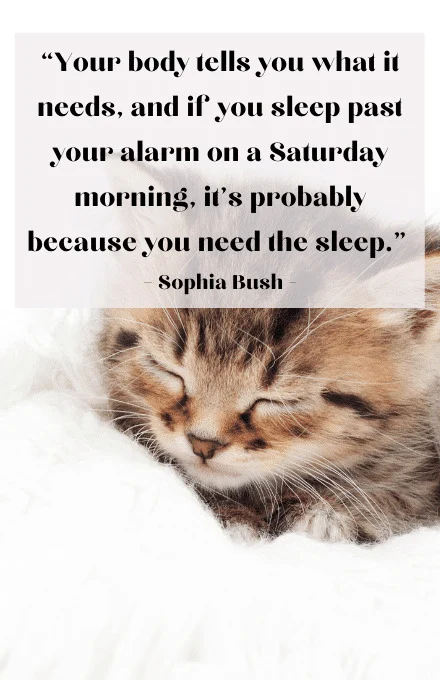 4. "Saturday is my day for inspirational books, long walks, and dancing with friends." – Unknown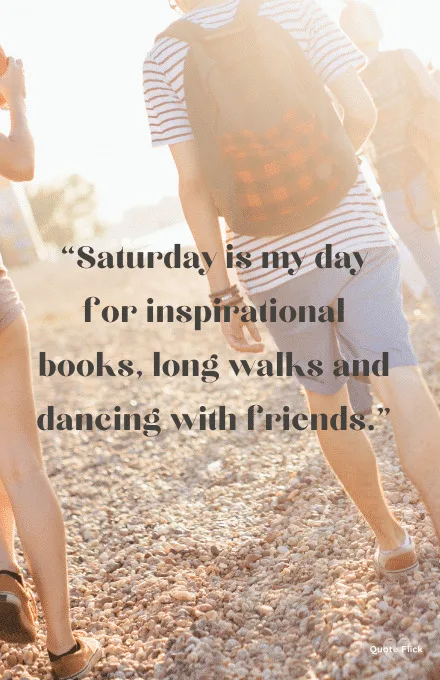 5. "Nothing like a Saturday in bed with a coffee and inspirational documentary." – Unknown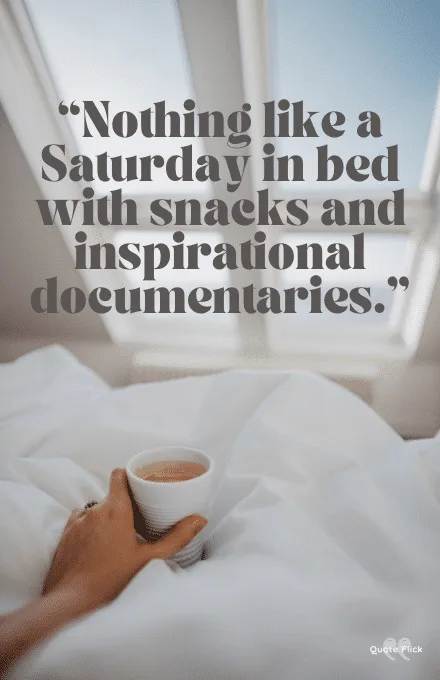 Next:
6. "The best thing about Saturday is that there's still another day of the weekend left." – Unknown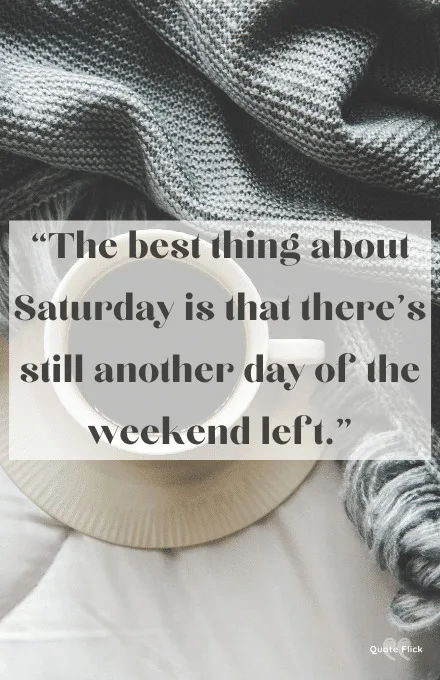 7. "Even when I'm tired from the week, I always save energy for Saturdays." – Unknown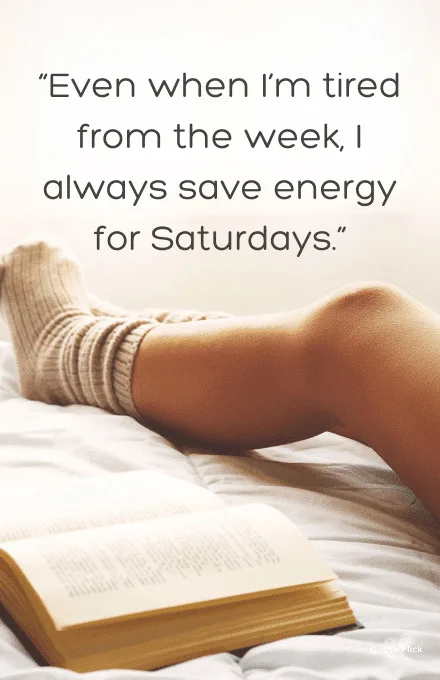 8. "I love spending my Saturday with motivational people, who lift me up and we can talk through until Sunday." – Unknown
9. "Once a month, my Saturday involves a motivational podcast and a journal session, to reflect on my life and my goals." – Unknown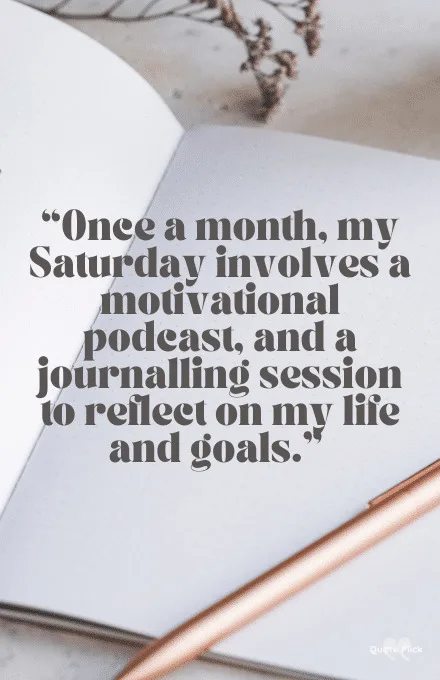 10. "Saturday shines when we let our positive attitude shine through." – Unknown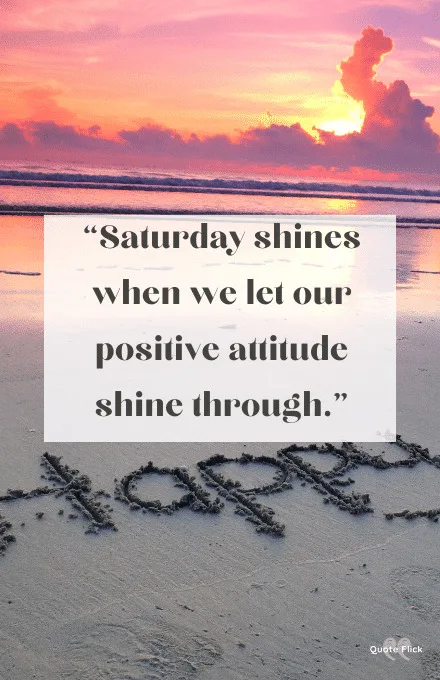 Next:
11. "It's not funny on a Saturday when you have a hangover from Friday. I hate wasting Saturdays, they're too precious!" – Unknown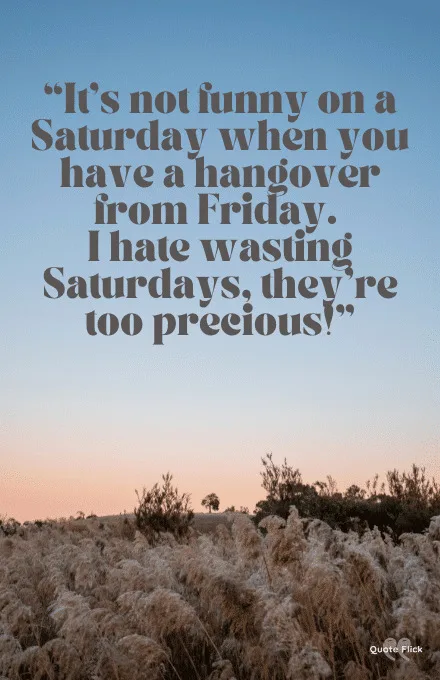 12. "My bedroom wall is full of Saturday night memories and images of my future." – Unknown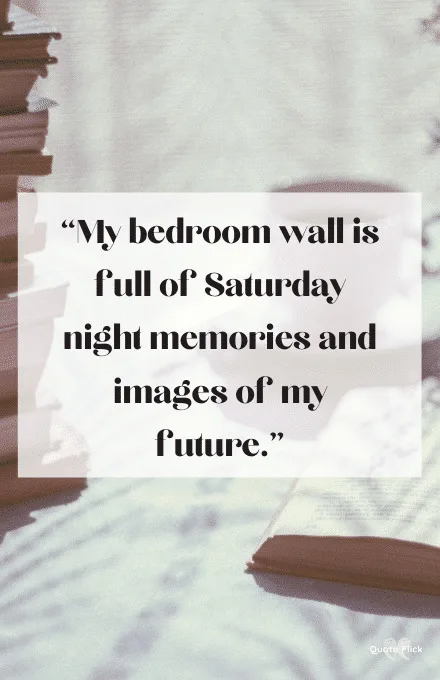 13. "Saturday is all the encouragement you need to make it the best day." – Unknown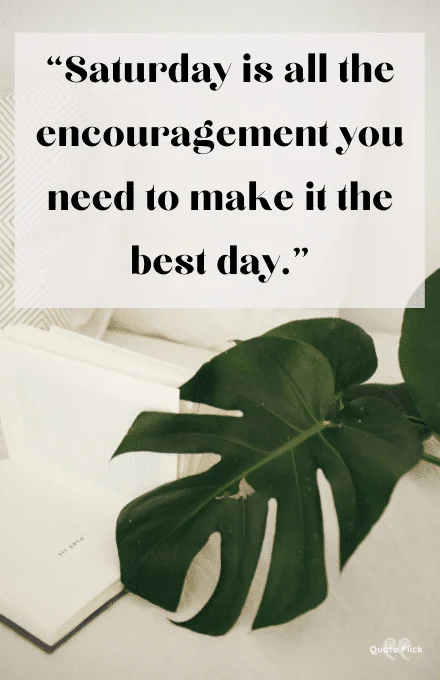 14. "On Saturday morning I have fun, and then I have fun for the rest of the day." – Unknown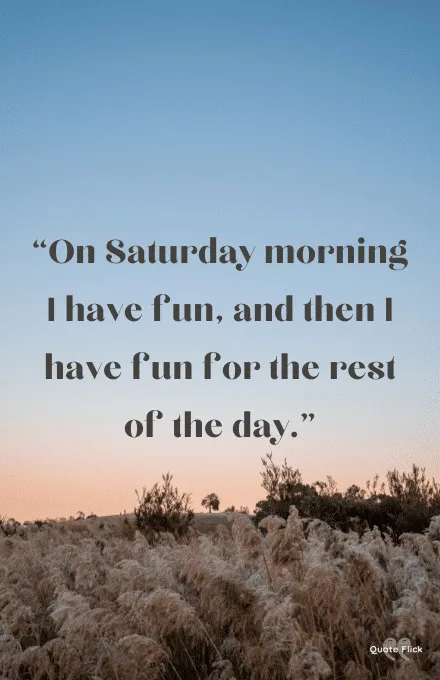 15. "On a Saturday, if your motivation is low, you're allowed to take it slow." – Unknown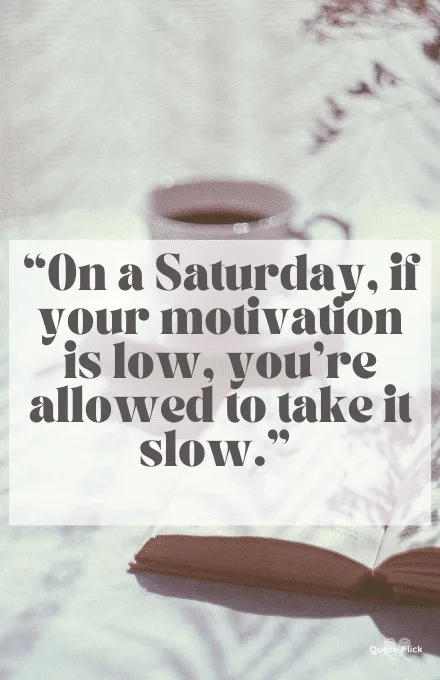 16. "Saturday is the best day for being creative, fun activities, and gathering inspiration for life goals." – Unknown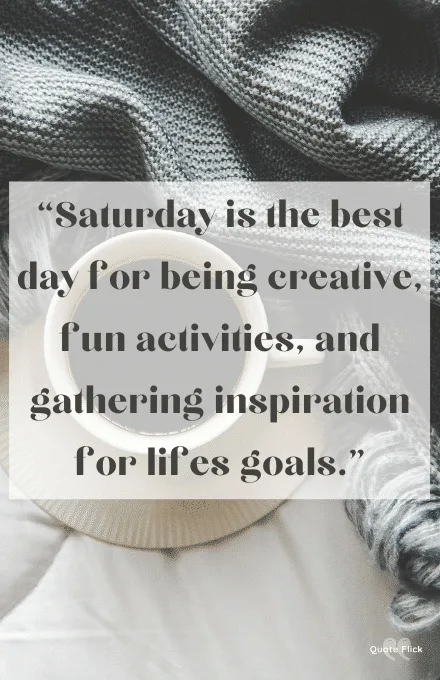 17. "Imagine living a life where every day is your Saturdays and Sundays. Make every day your weekend. Make every day a play-day."– James A. Murphy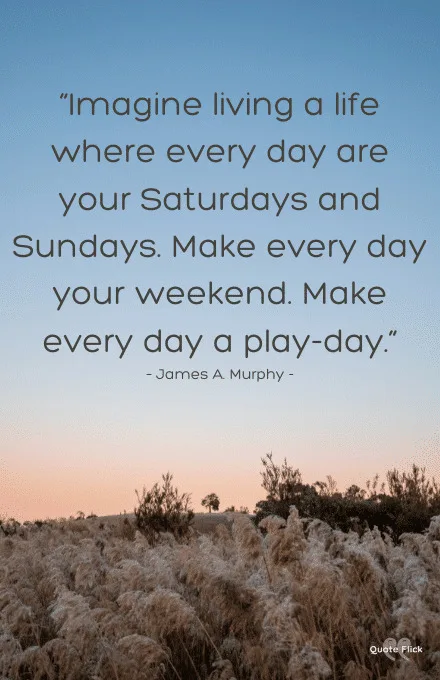 18. "Have a Happy Saturday. Saturdays are for adventures, Sundays are for cuddling." – Unknown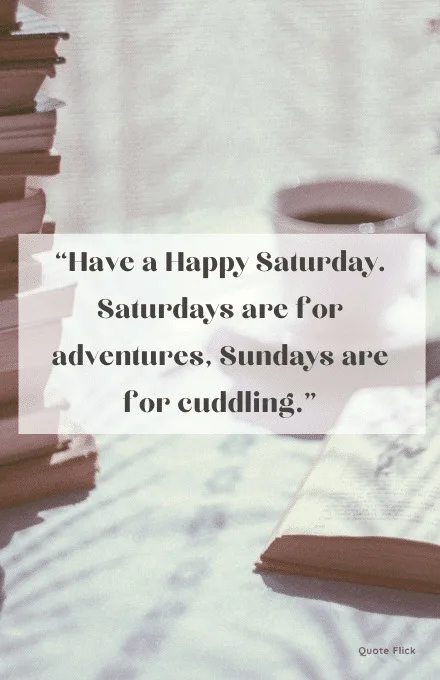 19. "I told myself that I was going to live the rest of my life as if it were Saturday." – Chip Gaines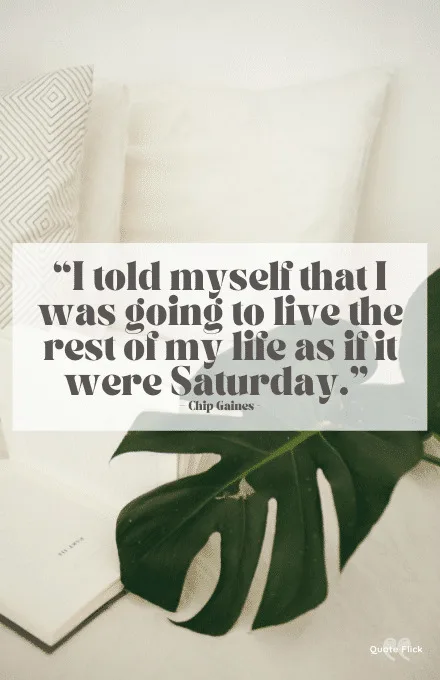 20. "Saturday night is perfect for writers because other people have plans." – Mike Birbiglia
21. "Saturday. Beast mode: OFF." – Unknown
22. "My work is like my vacation, so in a way, every day is like Saturday." – Ludacris
23. "Every man has a right to a Saturday night bath." – Lyndon B. Johnson
24. "Saturday – a day to sleep in past my normal waking hour. A day to relish, enjoy and celebrate the goodness that I have been blessed with." – Unknown
25. "Different cocktails for different Saturday nights." – Drew Barrymore
26. "Oh, my sweet Saturday, I have been waiting for you for six long days." – Charmaine J. Forde
27. "I wish you that this Saturday be your day of days." – Unknown
28. "Love me like Saturday night, like three glasses of champagne, like the room is spinning, like you're drunk on my love." – C.J. Carlyon
29. "On Saturday morning, I like to get up early and go out – TV is banned!" – Debra Stephenson
30. "Your Monday is not going to be like Saturday; the emotions are going to be different." – Jean Grae
31. "May Saturday be a day of happiness, peace, and love." – Unknown
32. "We need the spirit of Sunday carried over to Monday and continued until Saturday." – Edward McKendree Bounds
33. "On a lazy Saturday morning when you're lying in bed, drifting in and out of sleep, there is a space where fantasy and reality become one." – Lynn Johnston
34. "Spirituality is the sacred center out of which all life comes, including Mondays and Tuesdays and rainy Saturday afternoons in all their mundane and glorious detail." – Christina Baldwin
35. "Good morning and have a sweet Saturday. This Saturday is one of my favorite though you can also eat from its cake, is it bad for you?" – Unknown
36. "Welcome this morning with a smile! Happy Saturday! If you don't have a smile, I'll give you one of mine." – Unknown
37. "I have to be alone very often. I'd be quite happy if I spent from Saturday night until Monday morning alone in my apartment. That's how I refuel." – Audrey Hepburn
38. "Make the most of this day! Laugh, love, read, live, love, learns, play dream just be Happy Saturday!" – Unknown
39. "Weekends are a bit like rainbows; they look good from a distance but disappear when you get up close to them." – John Shirley
40. "My Saturday morning attitude is a reflection of the rest of the week gone by. That's why I always aim to end my week on a high note of accomplishment, a goal reached, or, a person encouraged." – Unknown
41. "Middle age is when you're sitting at home on a Saturday night and the telephone rings and you hope it isn't for you." – Ogden Nash
42. "If you work 8-hour days, Mondays to Fridays, then you have to keep Saturdays and Sundays sacred." – Unknown
43. "One thing about Saturday morning is that you can feel relaxed to get wife to prepare some delicious fried eggs, to be eaten along with sliced bread and tea. Hmm… I love that feeling of being with my family on Saturdays." – Unknown
44. "In New York, it seems like there's no Monday or Saturday or Sunday. The town is always moving. The vibe is great." – Thierry Henry
45. "It's Saturday. I plan on doing nothing and plenty of it." – Unknown
46. "I've taken Saturdays to be the day I pull back completely. I do things that are more creative, and I've actually found that helps me when I get back into work to be more thoughtful." – Padmasree Warrior
47. "Hip Hip Hurray! It's Saturday. Good weekend!" – Unknown
48. "This is Saturday, a special day among every other day in the week. No more waking up, bye to work, just enjoyment here and enjoyment there. I love Saturday like never before. Good morning!" – Unknown
49. "I learned that the hardest party to pull off successfully is Saturday night dinner." – Ina Garten
50. "It's Saturday, so turn your magic on!" – Unknown
51. "The dog doesn't know the difference between Saturday, Sunday, and Monday, so I have to walk the dog early those days too." – Donna Shalala
52. "My favorite way to spend Saturday is in and out of bed, watching sports on TV and eating." – Alan King
53. "On the Sixth Day, God created man, the sort of result you often get when you go in to work on a Saturday." – Robert Brault
54. "Ah, Saturday… A day of rest… Rest from doing the laundry, rest from cleaning the house, and rest from all of the other stuff I put off on Friday!" – Unknown
55. "I want to be known for the work I've done, as opposed to where I go on Saturday nights." – Amanda Bynes