Whether you're straight outdoors making snow angels or would rather be cozy indoors with a hot drink, snowy days are magical. These 40 short snow quotes about winter will certainly brighten your mood.
From the nostalgia of playing on the snowy ground to the magnificence of a snowstorm, winter has something for everyone. We hope you love these phrases and sayings, which will get you excited for the winter ahead.
If you love our work, please consider sharing your favorite message with a loved one, it helps us a lot!
Snow Quotes
1. "A lot of people like snow. I find it to be an unnecessary freezing of water." – Carl Reiner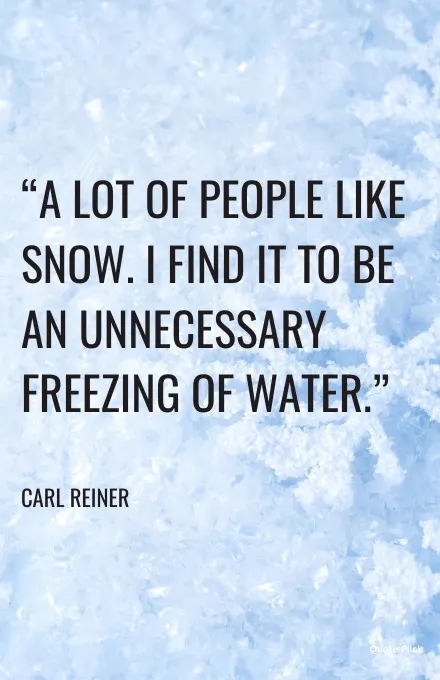 2. "Winter's firstborn snow dots the soul with magic." – Angie Weiland-Crosby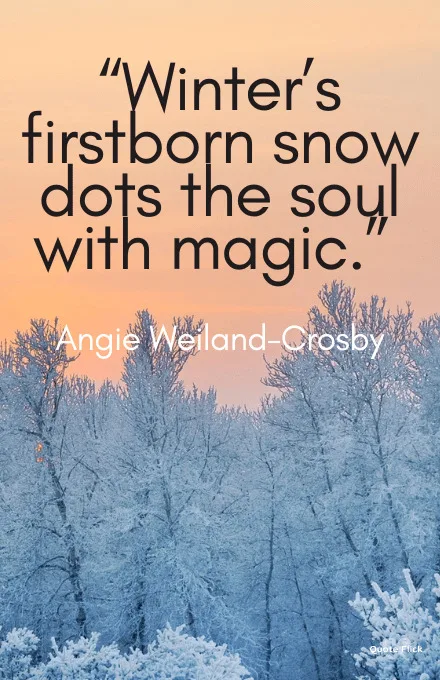 3. "Kindness is like snow. It beautifies everything it covers." – Kahlil Gibran
4. "I love snow for the same reason I love Christmas. It brings people together whilst time stands still." – Rachel Cohn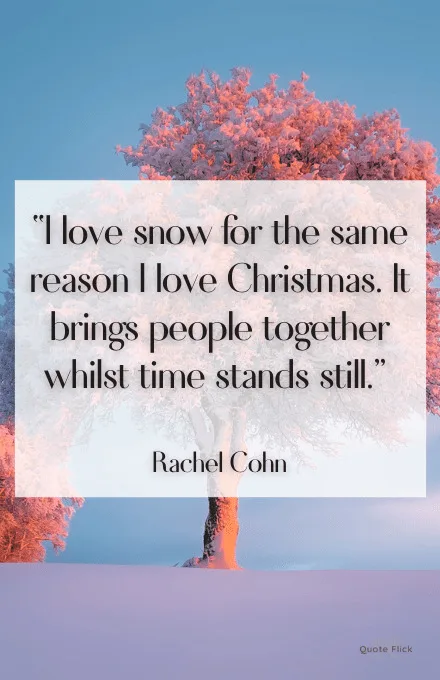 5. "A snowy day freezes my fingers but warms my heart." – Unknown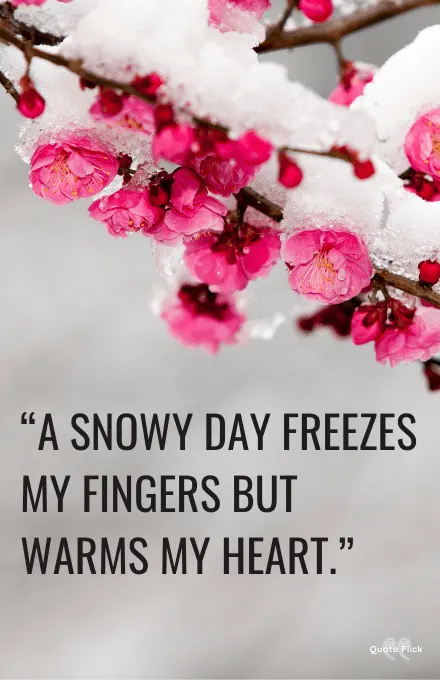 You Might Also Like:
6. "The first fall of snow is not only an event, it is a magical event. You go to bed in one kind of world and wake up in another quite different." – J.B. Priestley
7. "Snowfall rouses your inner child to dream and play once more." – Angie Weiland-Crosby
8. "When snow falls, nature listens." – Antionette Van Kleeff
9. "Snow falling soundlessly in the middle of the night will always fill my heart with sweet clarity." – Novala Takemoto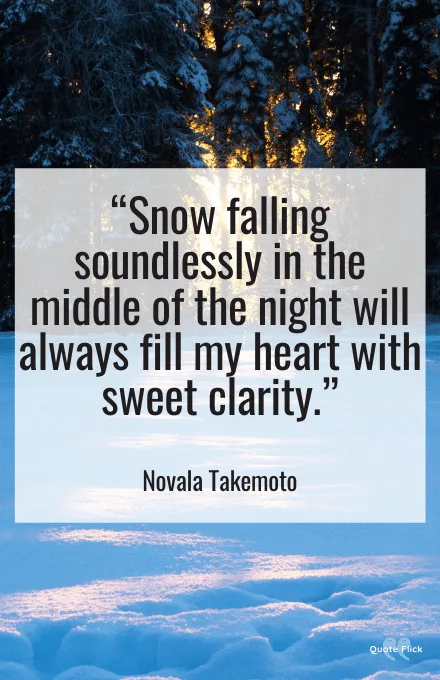 10. "The snow doesn't give a soft white damn whom it touches." – E.E. Cummings
Next: Spring Quotes or Summer Quotes
11. "When there's snow on the ground, I like to pretend I'm walking on clouds." – Takayuki Ikkaku
12. "Happiness is seeing the paw prints of cats in the ground on a snowy day." – Unknown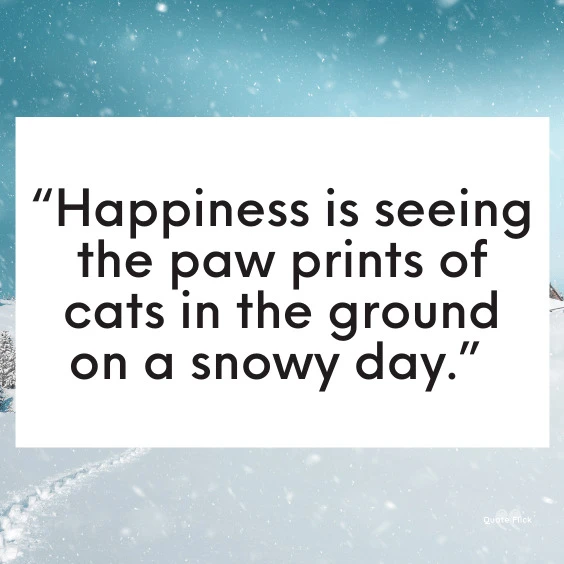 13. "In the depth of winter, I finally learned that there was me in an invincible summer." – Albert Camus
14. "Snowfall gives us the opportunity to slow down, be present and be aware." – Lee Horbachewski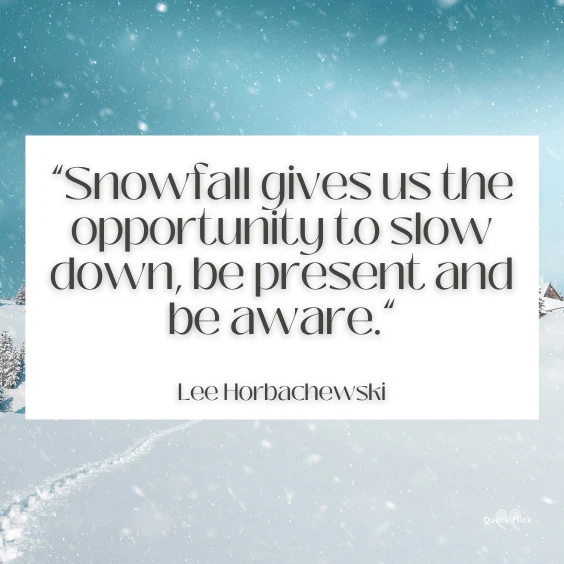 15. "The very fact of snow is such an amazement." – Roger Ebert
Next: Fall Quotes
16. "Winter is a season of recovery and preparation."- Paul Theroux
17. "A snow day literally and figuratively falls from the sky unbidden and seems like a thing of wonder," – Susan Orlean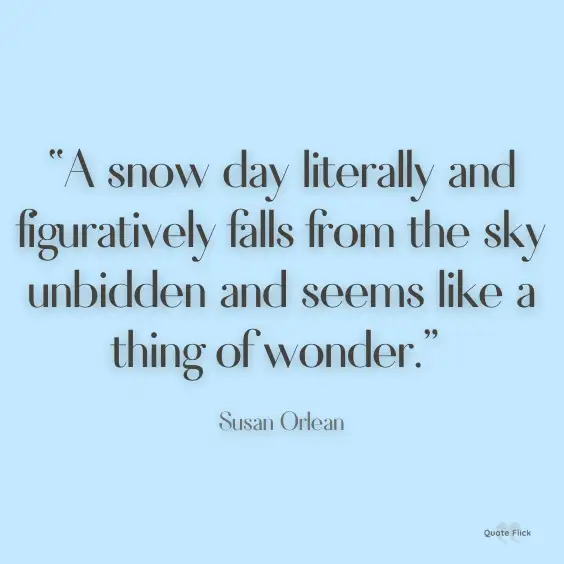 18. "When it snows, you have two choices: shovel or make snow angels." – Unknown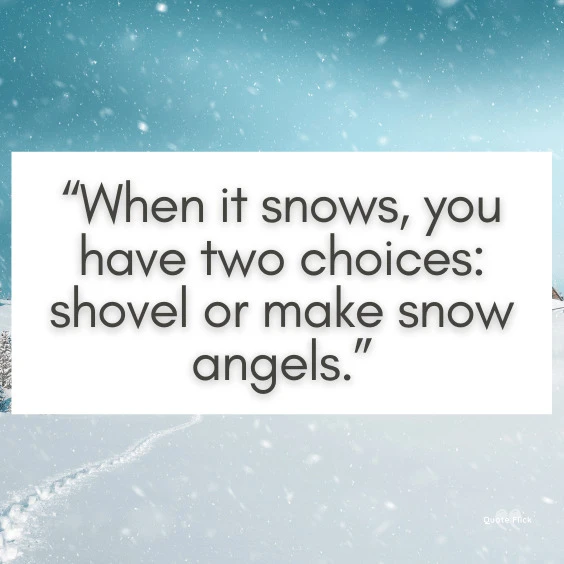 19. "Snow brings a special quality with it, the power to stop life as you know it dead in its tracks." – Nancy Hatch Woodward
20. "The first snow is like the first love." – Lara Biyuts
21. "The future lies before you like a field of snow; be careful how you tread it, for every step will show." – Unknown
22. "I love snowfall and winter because it gives us more reason to cuddle." – Unknown
23. "Though winter is a brittle beast, she snows pure soul in fakes so deep." – Angie Weiland-Crosby
24. "There's just something beautiful about walking on snow that nobody else has walked on." – Carol Rifka Brunt
25. "She loved the snowstorm until she was caught in one." – Parr Winn
26. "With every falling flake, a unique spark of interest falls from heaven." – P. Miller
27. "Snow falling soundlessly in the middle of the night will always fill my heart with sweet clarity." – Novala Takemoto
28. "I love the scents of winter! For me, it's all about the feeling you get when you smell pumpkin spice, cinnamon, nutmeg, gingerbread, and spruce." – Taylor Swift
29. "Powder snow skiing is not fun. It's life, fully lived – a life lived in a blaze of reality." – Dolores LaChapelle
30. "Advice is like the snow. The softer it falls, the longer it dwells upon and the deeper it sinks into the mind." – Samuel Taylor Coleridge
31. "Christmas snow can never disappear completely. It sometimes goes away for almost a year at a time and takes the form of summer rain. But you can bet your boots that when a good, jolly December wind kisses it, it will turn into Christmas snow all over again." – Frosty the Snowman
32. "Silently, like thoughts that come and go, the snowflakes fall, each one a gem." – William Hamilton Gibson
33. "Snowflakes are one of nature's most fragile things, but just look what they can do when they stick together." – Vesta M. Kelly
34. "It was one of those March days when the sun shines hot and the wind blows cold: when it is summer in the light, and winter in the shade." – Charles Dickens
35. "Oh the weather outside is frightful, but the fire is so delightful. And since we've no place to go. Let it snow! Let it snow! Let it snow!" – Sammy Cahn
36. "January brings the snow, makes our feet and fingers glow." – Sara Coleridge
37. "You should see my corgis at sunset in the snow. It's their finest hour. About five o'clock they glow like copper. Then they come in and lie in front of the fire like a string of sausages."– Tasha Tudor
38. "I remember being excited about seeing snow for the very first time." — Thi Bui
39. "Snow provokes responses that reach right back to childhood." – Andy Goldsworthy
40. "The snow began to fall again, drifting against the windows, politely begging entrance and then falling with disappointment to the ground." – Jamie McGuire