Our collection of spring quotes will warm your heart! This time of year welcomes the warmer temperatures, lighter nights and the soft glow of the sunshine to brighten your evenings.
These quotations about spring remind us that this season is a time for new beginnings, when nature revives, and animals awake from hibernation. Flowers blooming in your garden and birds singing are a welcome sight after the cold, dark days of winter.
As you welcome this joyful season, share these spring sayings with loved ones – and pin your favorite image on Pinterest!
Spring Quotes
1. "You can cut all the flowers but you cannot keep spring from coming." – Pablo Neruda
2. "Spring will come and so will happiness. Hold on. Life will get warmer." – Anita Krizzan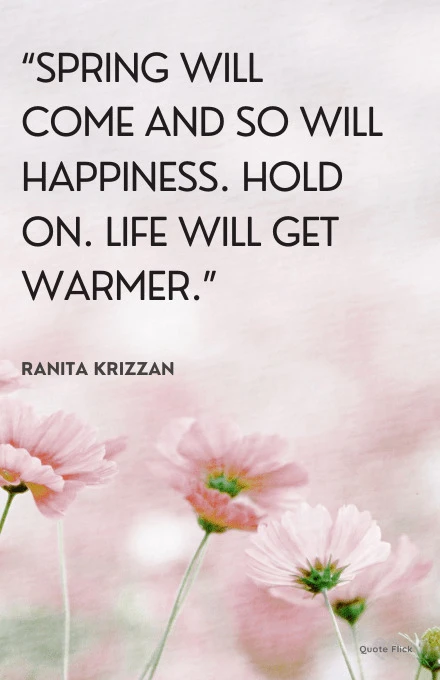 3. "You are reborn with the roses, in every spring." – Juan Ramón Jiménez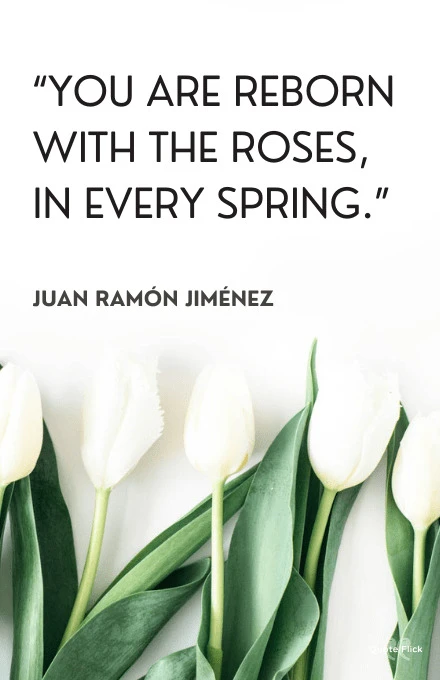 4. "I sit by the window— the spring breeze fills my room with the smell of orange blossoms." – Meeta Ahluwalia
5. "Spring unlocks the flowers to paint the laughing soil." – Bishop Reginald Heber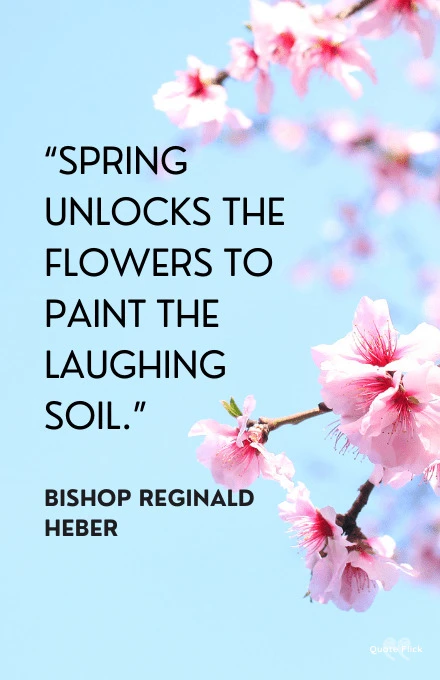 You Might Also Like:
6. "Spring is the best life coach: It gives you all the energy you want, all the positive thoughts you wish and all the boldness you need!" – Mehmet Murat İldan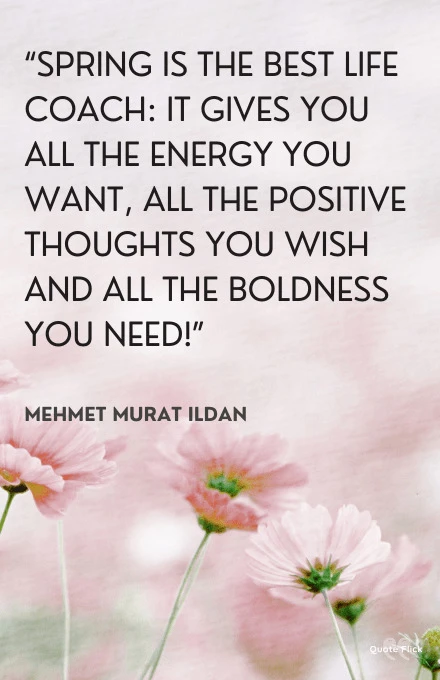 7. "Spring is the fountain of love for thirsty winter." – Munia Khan
8. "Where flowers bloom, so does hope." – Lady Bird Johnson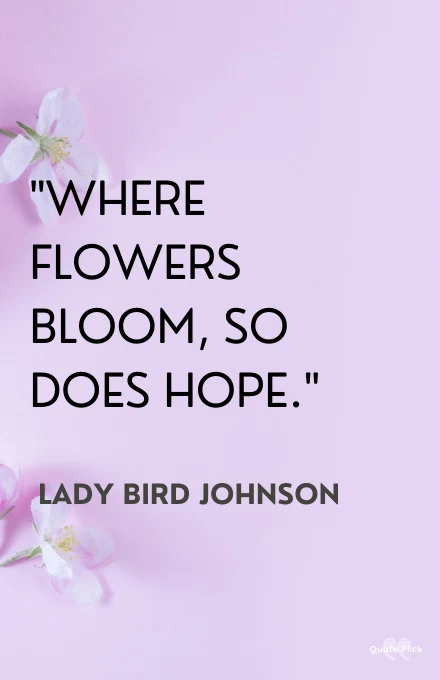 9. "Spring is the time of the year when it is summer in the sun and winter in the shade." – Charles Dickens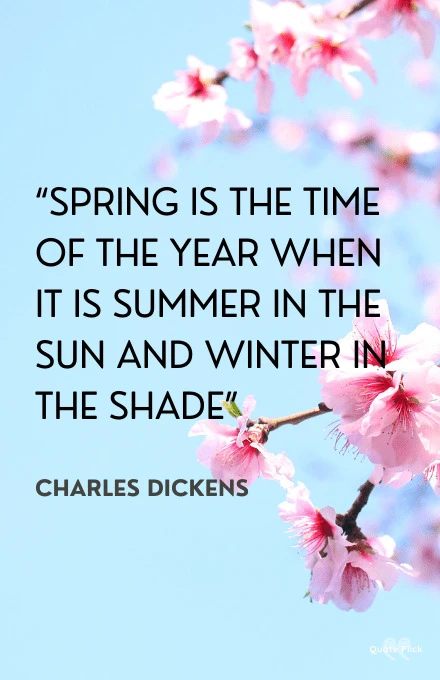 10. "Springtime is the soul of grandeur strength." – Lailah Gifty Akita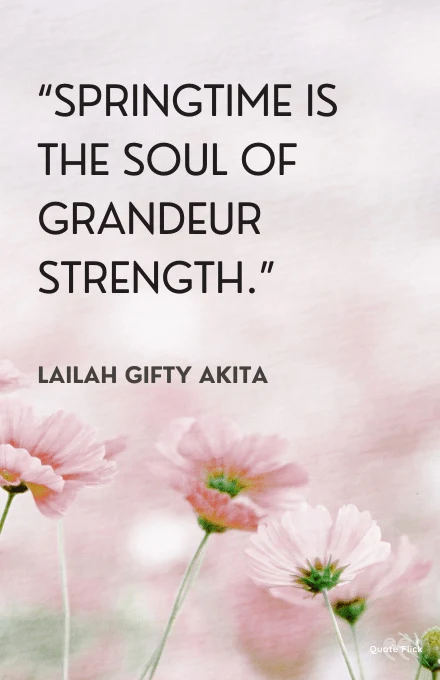 You Might Also Like:
11. "Spring is the time of plans and projects." – Leo Tolstoy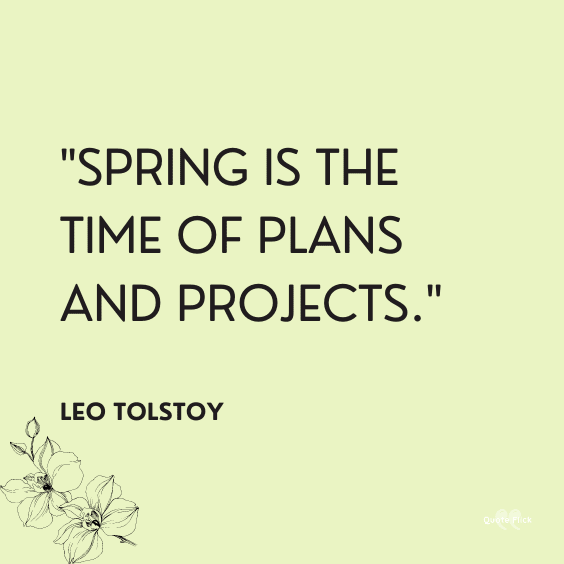 12. "Despite the forecast, live like it's spring." – Lilly Pulitzer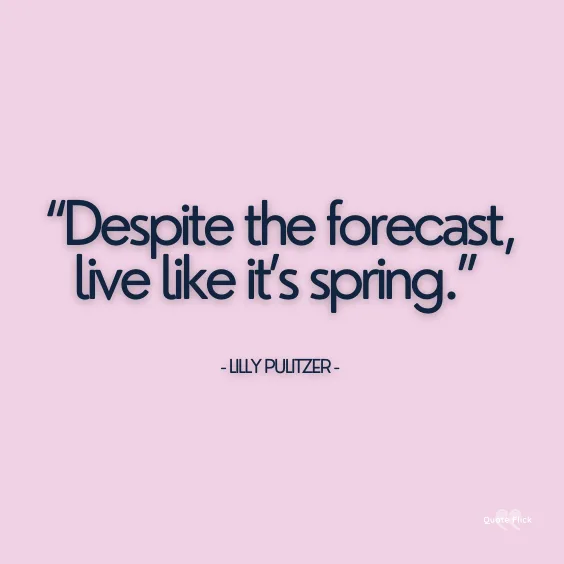 13. "When you smell a spring flower, it's as if the soul of that flower settles inside you! And then you become that flower for a short time!" – Mehmet Murat İldan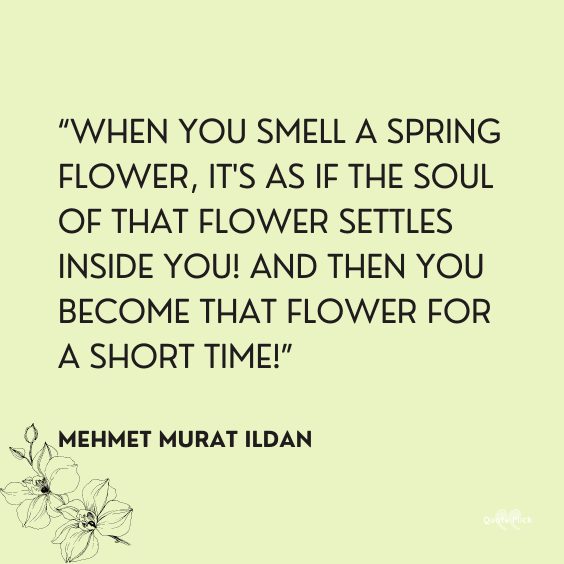 14. "It is spring again. The earth is like a child that knows poems by heart." – Rainer Maria Rilke
15. "The blooming spring is the smile of the ever-joyful nature." – Debasish Mridha
16. "Quiet is the color of midnight, juxtaposing with the silence of an unfolding spring's mood." – Carolyn Riker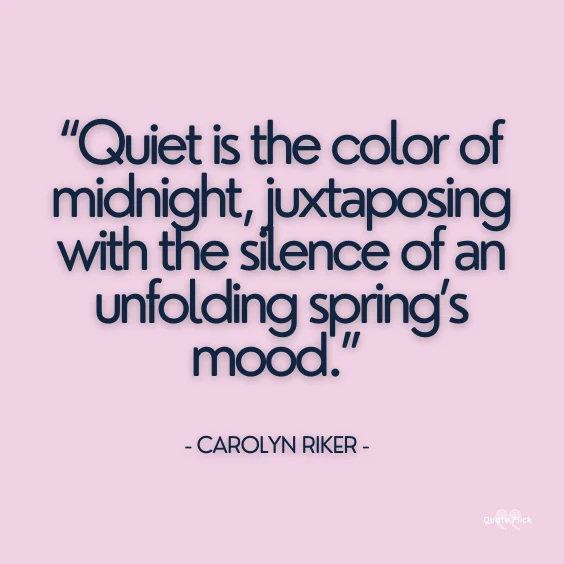 17. "There's nothing more beautiful than watching trees getting dressed up for Spring and Summer." – Charmaine J Forde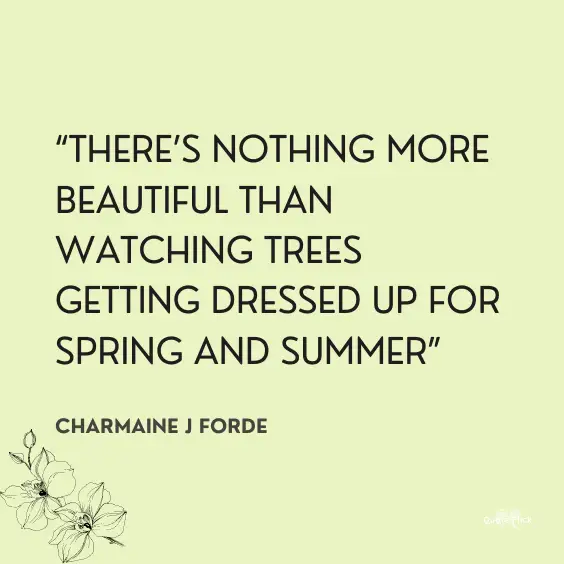 18. "Spring is nature's way of saying, "Let's party!" – Robin Williams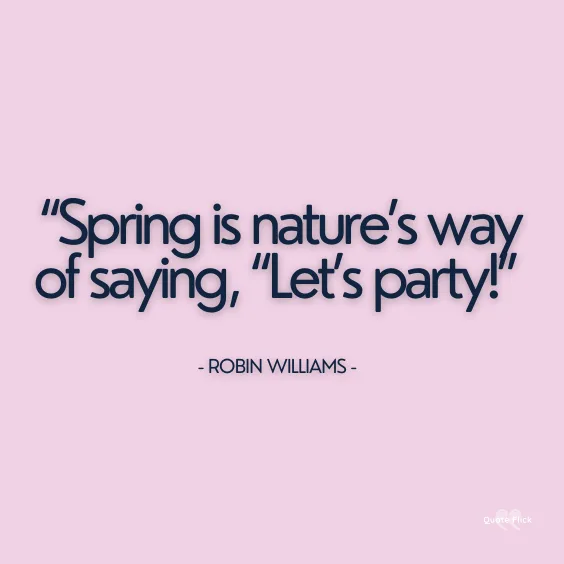 19. "Spring work is going on with joyful enthusiasm." – John Muir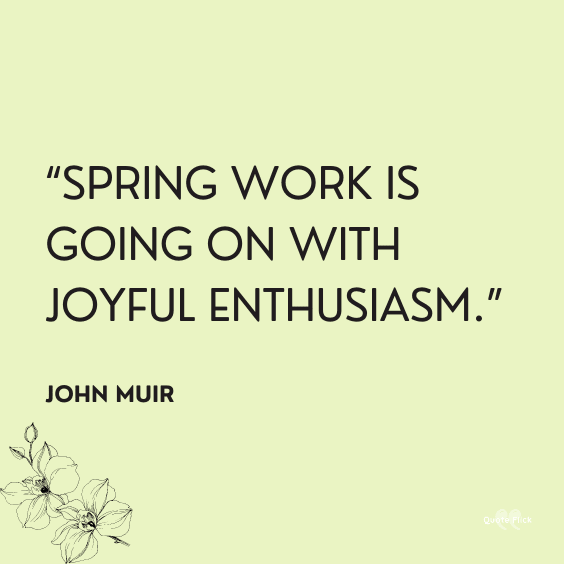 20. "But only a person in the depths of despair neglected to look beyond winter to the spring that inevitably followed, bringing back color and life and hope." – Mary Balogh
21. "Spring has always been the dearest friend to me, with her voice like a feather tossed on the wind. With a tin pail of water in hand, I set out into the gardens grown in her warmth. A straw hat shields my cheek from the rosy stain of her sunlit kiss. When the work of the day is done, I find my little shelter in her embrace." – Erin Forbes
22. "If winter did not exist, the spring would not be so pleasant." – Davan Yahya Khalil
23. "If people did not love one another, I really don't see what use there would be in having any spring." – Victor Hugo
24. "A perfect spring day! Enjoy it while it lasts because you don't know what's coming." – Marty Rubin
25. "Hope sleeps in our bones like a bear waiting for spring to rise and walk." – Marge Piercy
26. "Animate or inanimate, all bodies under the sun give expression to their vitality. Especially on a fine day in spring!" – Henry Miller
27. "I suppose the best kind of spring morning is the best weather God has to offer." – Dodie Smith
28. "Spring is magic sweet to the senses & easy to celebrate." – Susan Branch
29. "From the end spring new beginnings." – Pliny the Elder
30. "The beautiful spring came, and when nature resumes her loveliness, the human soul is apt to revive also." – Harriet Ann Jacobs
31. "Everyday is brightly colored like spring when you meet the right person in life." – Luffina Lourduraj
32. "Spring's greatest joy beyond a doubt is when it brings the children out." – Edgar Guest
33. "Behold, my friends, the spring is come; the earth has gladly received the embraces of the sun, and we shall soon see the results of their love!" – Sitting Bull
34. "Spring is painted in daffodil yellows, robin egg blues, new grass green and the brightness of hope for a better life." – Toni Sorenson
35. "Had I known that you would be my first glimpse of spring, I would've kissed every fallen petal of my hope along the way." – Sai Pradeep
36. "I enjoy the spring more than the autumn now. One does, I think, as one gets older." – Virginia Woolf
37. "Spring adds new life and new beauty to all that is." – Jessica Harrelson
38. "Gather in the summer, gather in the winter; and you will have everything you want in the spring." – Alan Maiccon
39. "The promise of spring's arrival is enough to get anyone through the bitter winter!" – Jen Selinsky
40. "The first blooms of spring always make my heart sing." – S. Brown
41. "People were always the limiters of happiness except for the very few that were as good as spring itself." – Ernest Hemingway
42. "In spring, everything is full of promise…. The child sporting upon the lawn, and the season, sympathize together, and nature rejoices in her virgin loveliness." – Charles Lanman
43. "The point is that the pleasures of spring are available to everybody, and cost nothing."– George Orwell
44. "Spring shows what God can do with a drab and dirty world." – Virgil A. Kraft
45. "In the spring, at the end of the day, you should smell like dirt." – Margaret Atwood
46. "If we had no winter, the spring would not be so pleasant; if we did not sometimes taste of adversity, prosperity would not be so welcome." – Anne Bradstreet
47. "The day the Lord created hope was probably the same day he created spring." – Bern Williams
48. "Spring won't let me stay in this house any longer! I must get out and breathe the air deeply again." – Gustav Mahler
49. "Spring makes its own statement, so loud and clear that the gardener seems to be only one of the instruments, not the composer." – Geoffrey B. Charlesworth
50. "April is the kindest month. April gets you out of your head and out working in the garden." – Marty Rubin