Looking for the perfect quote, phrase, or summer saying to give you that wonderful feeling of the hottest season? You'll love our collection of quotes about summer that's all about those warm, sunny vibes!
These summertime quotes will remind you that this time of year is all about making the most of those long lazy days, vacations, and fun in the sun with loved ones.
Read on to discover these summer quotes and get excited for sun-drenched adventures in warmer temperatures. If you love our work, please share it on social media!
Summer Quotes
1. "I know I am but summer to your heart, and not the full four seasons of the year." – Edna St. Vincent Millay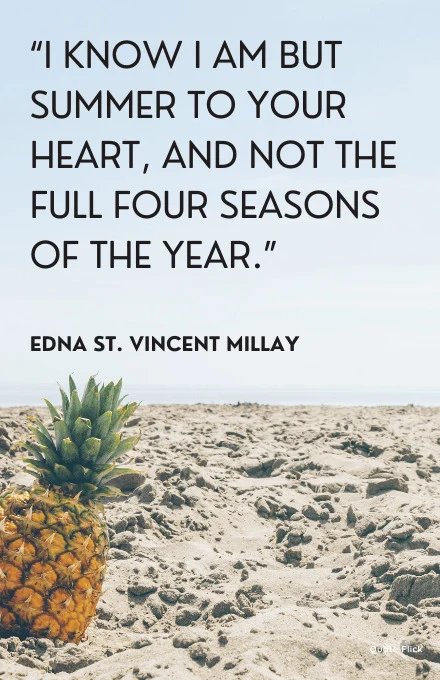 2. "Deep summer is when laziness finds respectability." – Sam Keen
3. "Some of the best memories are made in flip-flops." – Kellie Elmore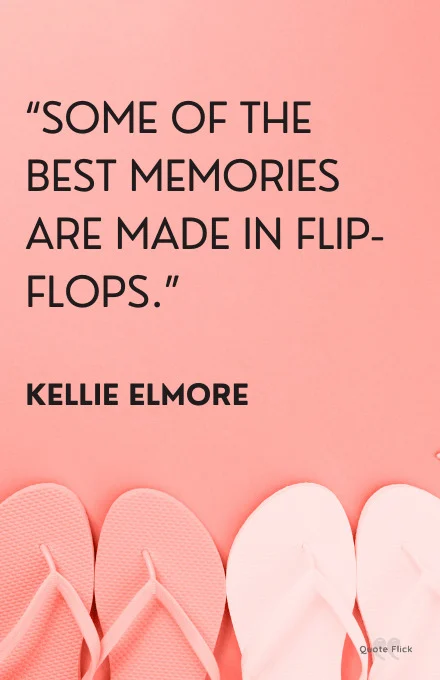 4. "It's a smile, it's a kiss, it's a sip of wine… it's summertime!"- Kenny Chesney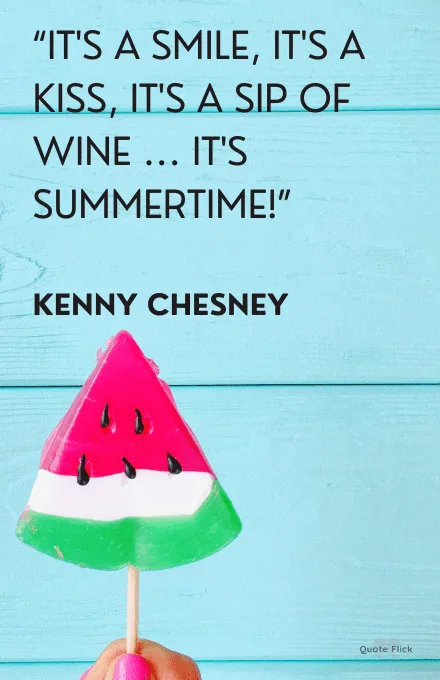 5. "Friends, sun, sand, and sea – that sounds like a summer to me." – Unknown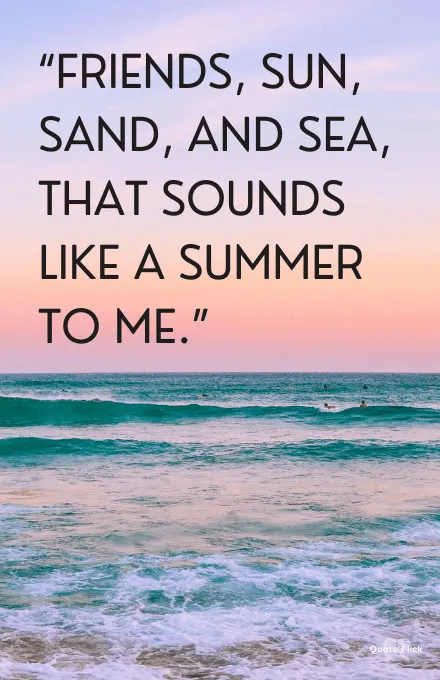 You Might Also Like:
6. "Live in the sunshine. Swim in the sea. Drink in the wild air." – Ralph Waldo Emerson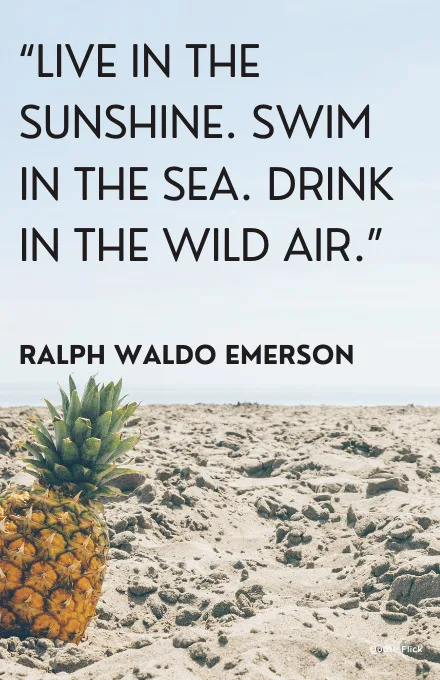 7. "A little bit of summer is what the whole year is all about." – John Mayer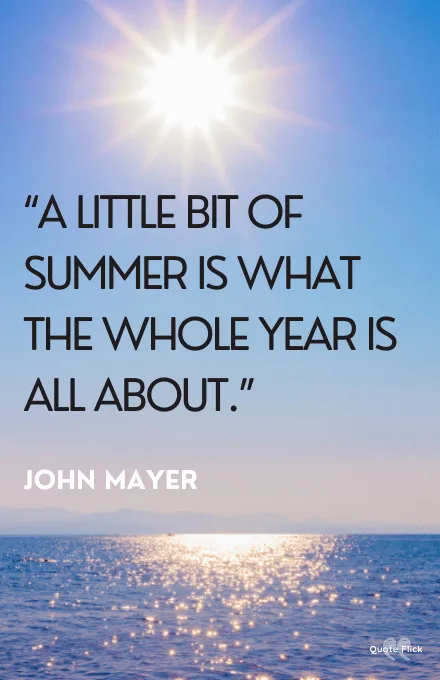 8. "In the mood for summer." – Unknown
9. "A man says a lot of things in summer he doesn't mean in winter." – Patricia Briggs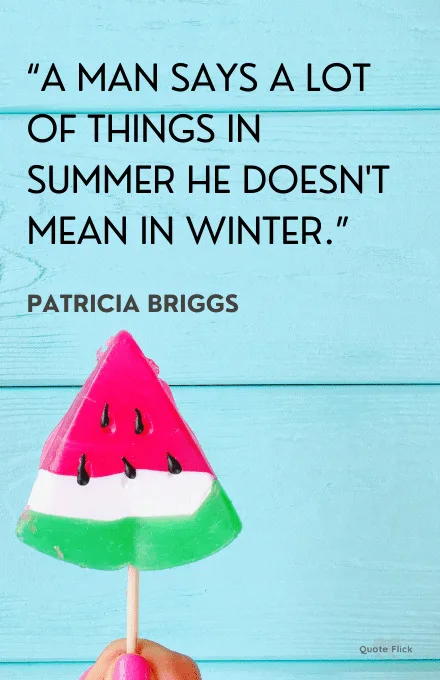 10. "It's a smile, it's a kiss, it's a sip of wine… It's summertime!" – Kenny Chesney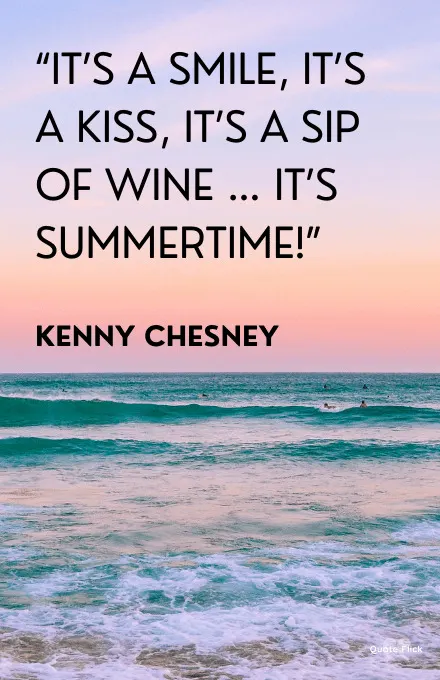 If you're enjoying our collection of Summer Quotes, why not check out Beach Quotes or Vacation Quotes
11. "In summer, the song sings itself." – William Carlos Williams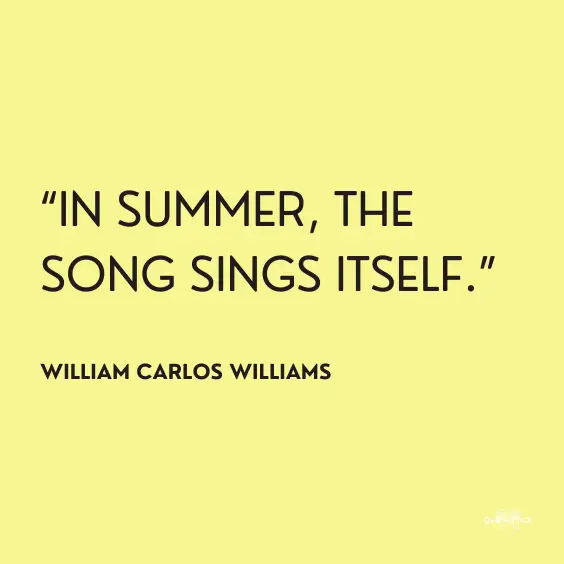 12. "One must maintain a little bit of summer, even in the middle of winter." – Henry David Thoreau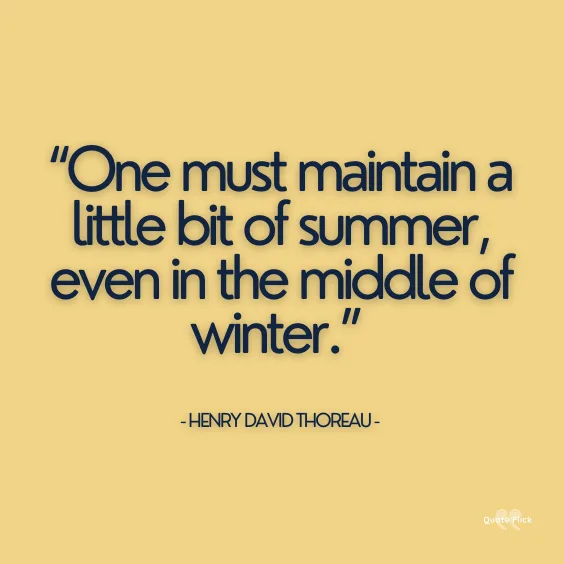 13. "Shall I compare thee to a summer's day?" – William Shakespeare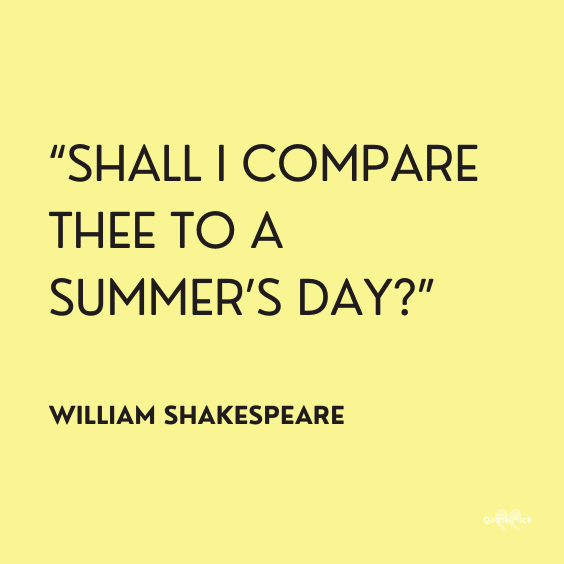 14. "If summer had one defining scent, it'd definitely be the smell of barbecue." –  Katie Lee
15. "It was June, and the world smelled of roses. The sunshine was like powdered gold over the grassy hillside." – Maud Hart Lovelace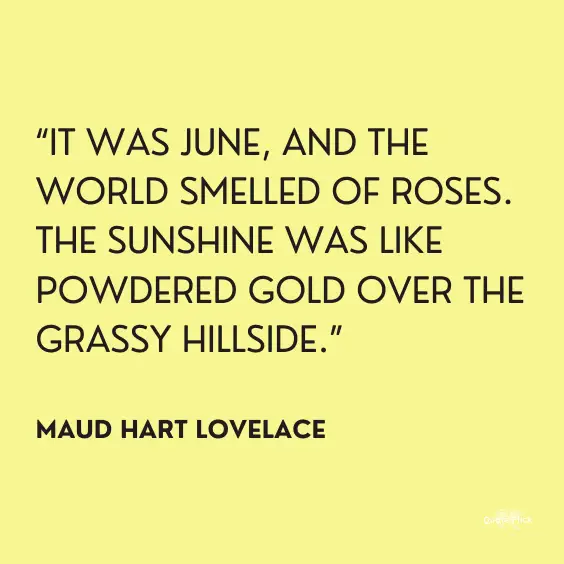 16. "Summertime is always the best of what might be." – Charles Bowden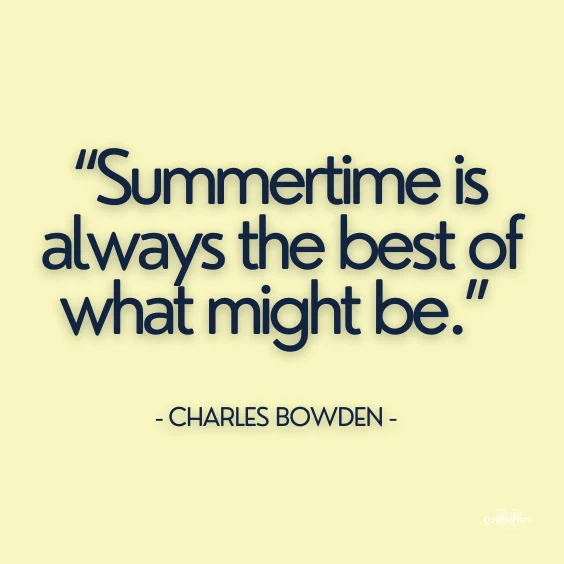 17. "In the summer I was a wild child in the woods, with no shoes, and in the fall it was back to the city, shoe shops and school." – Margaret Atwood
18. "Summer afternoon—summer afternoon; to me those have always been the two most beautiful words in the English Language" – Henry James
19. "I was on the beach every summer. That was the pleasant part of my childhood because we were right by the sea. We'd take a picnic, and I'd spend hours in the water until I turned blue. You couldn't get me out of there." – Olga Kurylenko
Prefer cooler climates? Check out our collection of Fall Quotes and Spring Quotes
20. "And so with the sunshine and the great bursts of leaves growing on the trees, just as things grow in fast movies, I had that familiar conviction that life was beginning over again with the summer." – F. Scott Fitzgerald
21. "Summer passes and one remembers one's exuberance." – Yoko Ono
22. "Oh, the summer night, has a smile of light, and she sits on a sapphire throne." – Bryan Procter
23. "I wonder what it would be like to live in a world where it was always June."- L.M. Montgomery
24. "To see the summer sky is poetry, though never in a book it lie – true." – Emily Dickinson
25. "Why is summer mist romantic and autumn mist just sad?" – Dodie Smith
26. "One benefit of Summer was that each day we had more light to read by." – Jeannette Walls
27. "If it could only be like this always — always summer, always alone, the fruit always ripe." – Evelyn Waugh
28. "Spring being a tough act to follow, God created June." – Al Bernstein
29. "I have only to break into the tightness of a strawberry, and I see summer – its dust and lowering skies." — Toni Morrison
30. "The summer night is like a perfection of thought." – Wallace Stevens
Feeling warmed up by our summer quotes? Check out Hot Weather Quotes
31. "Summer has always been my favorite season. I feel happier." – Zooey Deschanel
32. "I love summertime more than anything else in the world. That is the only thing that gets me through the winter, knowing that summer is going to be there." – Jack McBrayer
33. "Like a welcome summer rain, humor may suddenly cleanse and cool the earth, the air, and you." — Langston Hughes
34. "I almost wish we were butterflies and liv'd but three summer days – three such days with you I could fill with more delight than fifty common years could ever contain." – John Keats
35. "Summer is the annual permission slip to be lazy. To do nothing and have it count for something. To lie in the grass and count the stars. To sit on a branch and study the clouds." – Regina Brett
36. "Everything good, everything magical happens between the months of June and August." – Jenny Han
37. "Summer means happy times and good sunshine. It means going to the beach, going to Disneyland, having fun." – Brian Wilson
38. "When I figured out how to work my grill, it was quite a moment. I discovered that summer is a completely different experience when you know how to grill." – Taylor Swift
39. "A life without love is like a year without summer." – Swedish Proverb
40. "I like summer. I like warmer weather and long days." – Danielle Steel
41. "When the sun is shining I can do anything; no mountain is too high, no trouble is too difficult to overcome." – Wilma Rudolph
42. "She smelled of sun and daisies with a hint of river water." – Katie Daisy
43. "A vacation is having nothing to do and all day to do it in." – Robert Orben
44. "Smell the sea, and feel the sky. Let your soul and spirit fly." – Van Morrison
45. "In the summertime, when the weather is hot, you can reach right up and touch the sky." – Mungo Jerry
46. "I almost wish we were butterflies and liv'd but three summer days – three such days with you I could fill with more delight than fifty common years could ever contain." – John Keats
47. "Keep your face to the sunshine and you will never see the shadows." – Helen Keller
48. "Summer's lease hath all too short a date." – William Shakespeare
49. "Rejoice as summer should…chase away sorrows by living." – Melissa Marr
50. "Summer. When the days get longer, the stars shine brighter, your hair gets lighter, the water gets warmer, the music gets louder, and life gets better." – Unknown
Nothing like catching the sun in its different phases in the summer, as our Sunrise Quotes and Sunset Quotes describe so beautifully!
Holly Jaskolka is a certified Emotional Freedom Technique (EFT) practitioner, yoga instructor, and an impassioned advocate for holistic well-being. Fueled by her love for animals and wanderlust, Holly leads a plant-based lifestyle that she complements with immersive travel experiences. When she's not jet-setting to uncover the world's hidden gems, she's empowering individuals to heal emotionally, particularly those grappling with the aftermath of breakups. Connect with Holly on LinkedIn.