In honor of the most unapologetically lazy and chilled day, we've gathered 60 happy Sunday quotes for you to browse. A relaxing day to end the weekend, many of us spend our Sundays preparing for the big week ahead!
Our happy Sunday images are perfect for spreading positivity. Browse our collection and choose your favorite. If you're feeling blessed following an enjoyable time with your family, you'll love these cute quotes about Sundays.
Save our sayings, share them on social media, or send them to loved ones to bring them a twinkle of positivity and inspiration!
Best Sunday Quotes
The following are our best Sunday quotes, handpicked to bring you words of wisdom, encouragement, and reassurance for whatever Sunday you choose to have. We hope you love the images as much as we enjoyed making them for you.
1. "Sunday. Take it slow and give your soul a chance to catch up with your body." – Unknown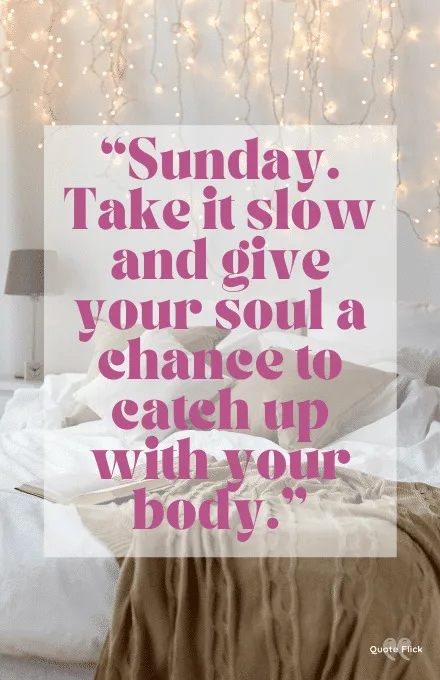 2. "Happy Sunday. It's gonna be a bright, bright Sun-Shiny day." – Unknown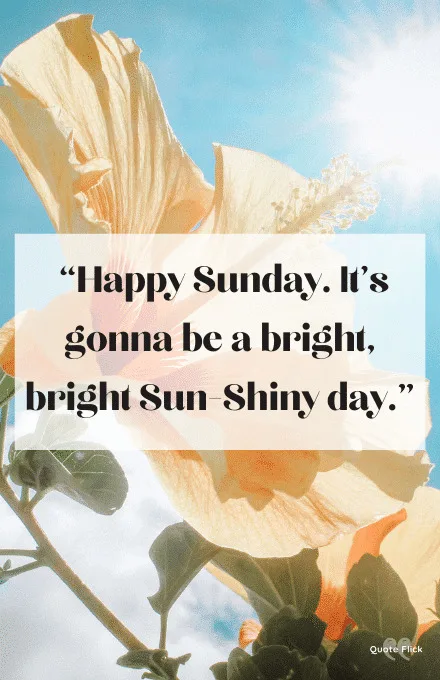 3. "It's a beautiful Sunday morning and a great opportunity to thank the Lord for reminding us how blessed we are." – Unknown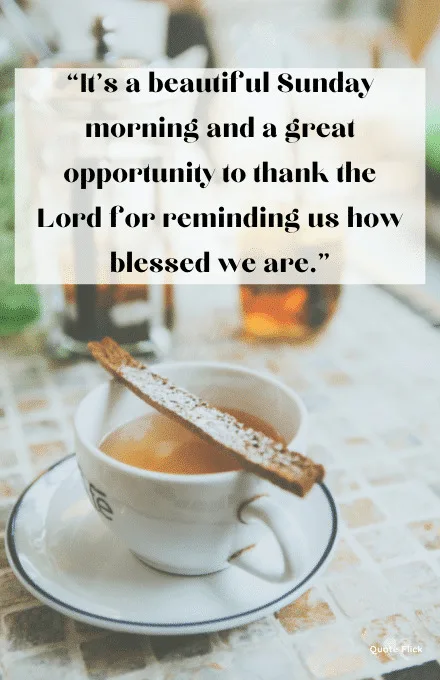 4. "A Sunday can be inspirational if you let it. Time to reflect on the last week, and remember how in charge you are of the week to come." – Unknown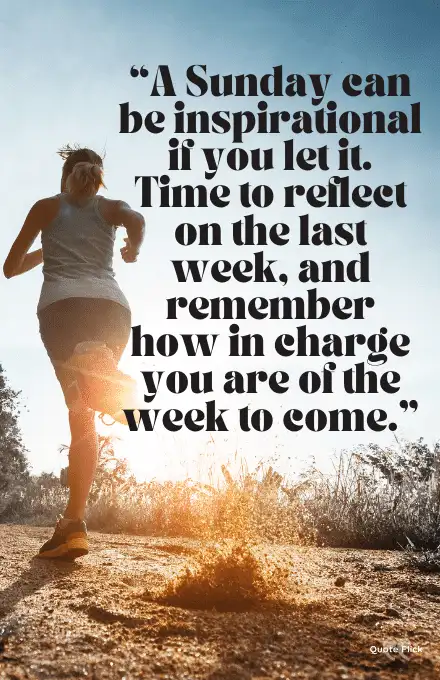 5. "Sunday, the day where you get to choose between your duvet and nothingness, or walks, yoga, and a motivational podcast. Whatever you need to set you up for the week ahead!" – Unknown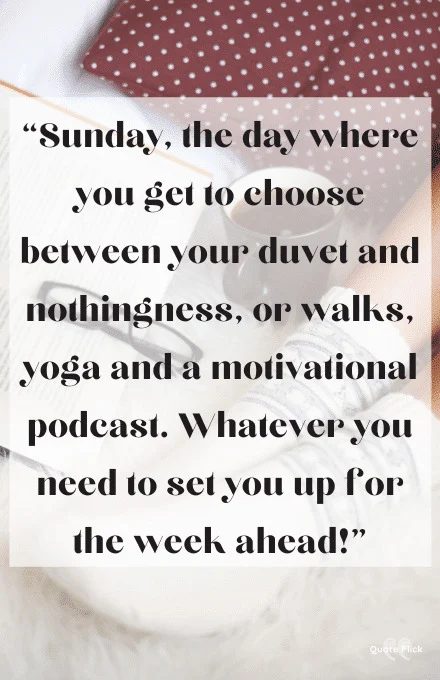 Next: Monday Quotes
6. "I design my Sunday morning to set me up for the most inspirational Mondays." – Unknown
7. "Sunday nights are made for pajamas and hot chocolate." – Unknown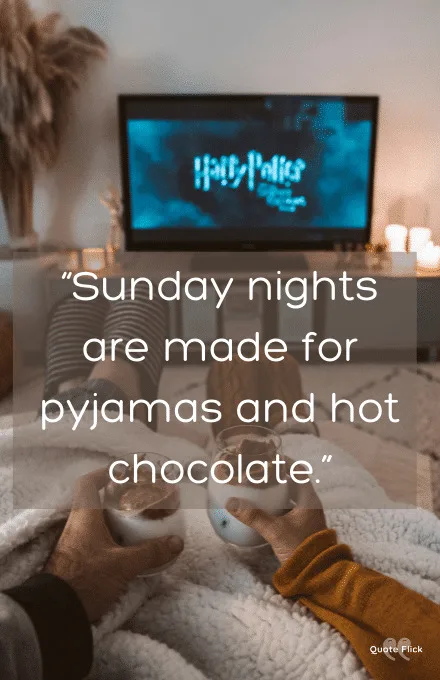 8. "May your Sunday be blessed with love, joy, peace, and happiness." – Unknown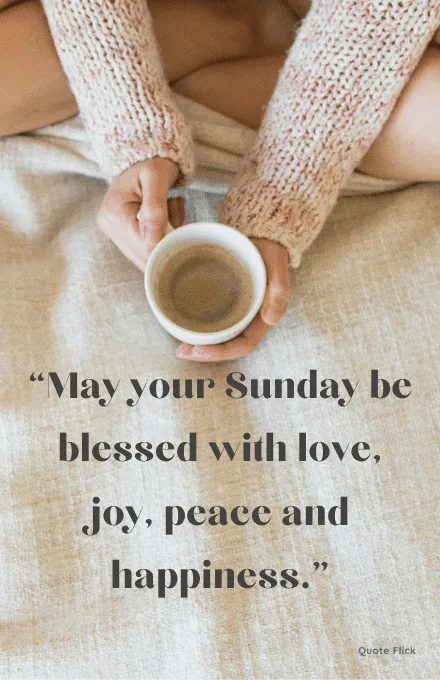 9. "This is your Sunday evening reminder that you can handle whatever this week throws at you." – Unknown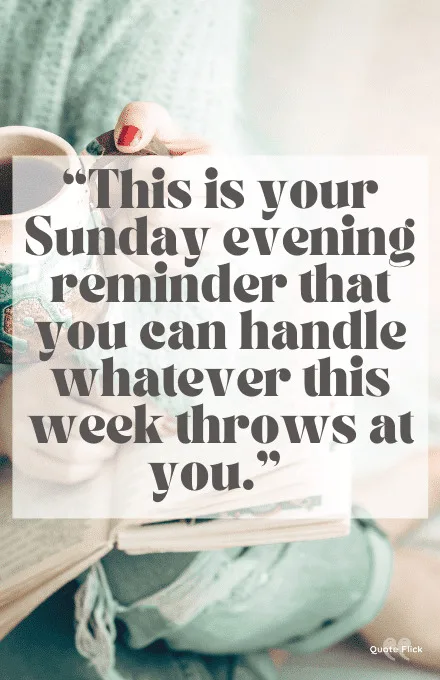 10. "Cuddling was made for Sundays." – Unknown
Next: New Day Quotes
11. "This is your Sunday reminder to do whatever you need today to get the motivation for a big week!" – Unknown
12. "Sunday, I am positive that a Sunday goes quicker than all of the other days!" – Unknown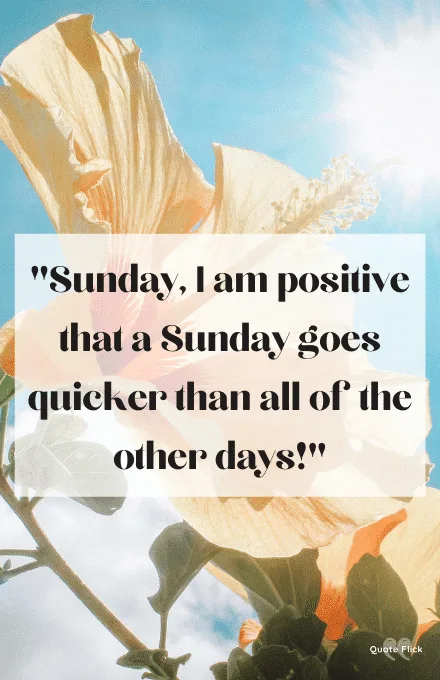 13. "Isn't it funny that a Sunday is totally influenced by the antics of a Saturday or the schedule of a Monday." – Unknown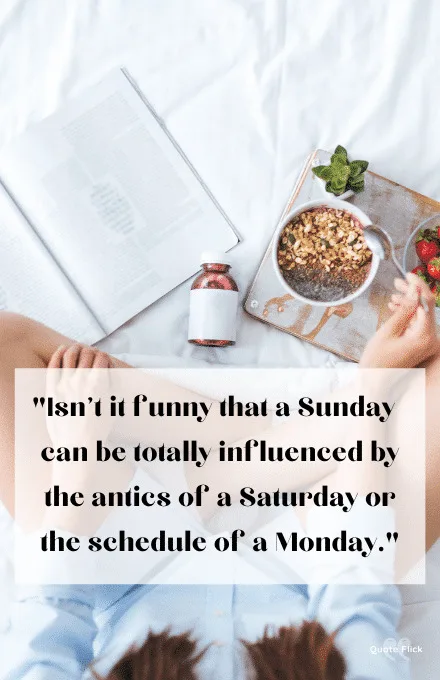 14. "A Sunday well spent brings a week of content." – Unknown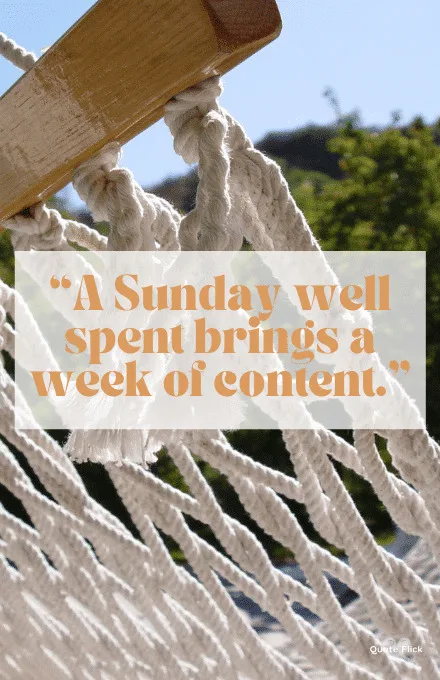 15. "I spend my Sundays having images of Mondays." – Unknown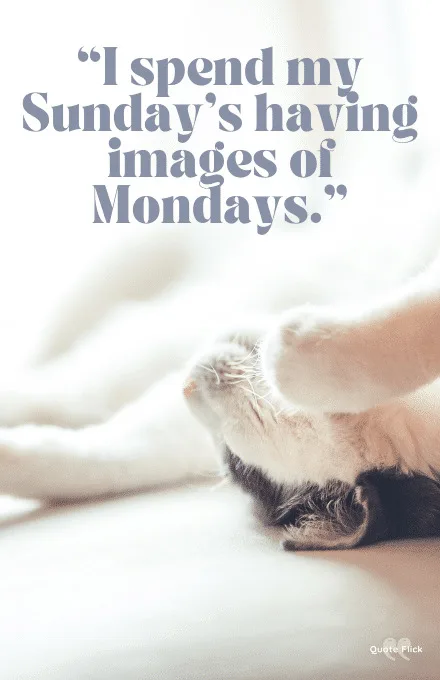 Next: Saturday Quotes
16. "On a Sunday, I need no encouragement to stay in bed all day. I give myself permission to take what I need from today, to have the best week ahead." – Unknown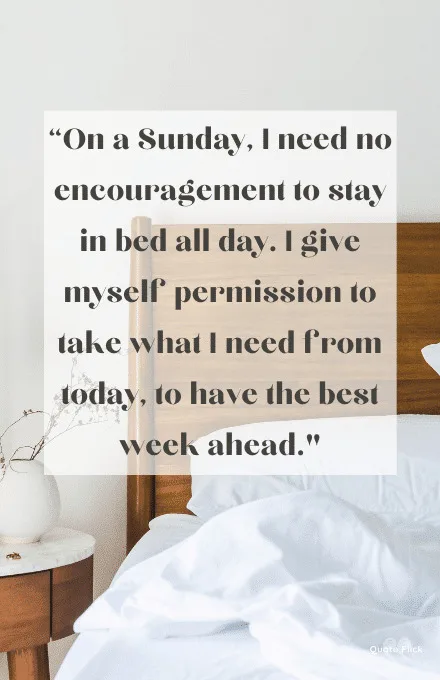 17. "Sunday, the day that clears away the rust of the whole week." – Unknown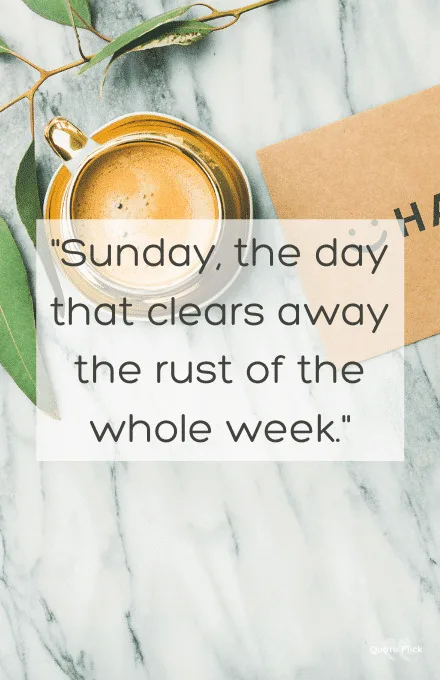 18. "If on a Sunday you lack motivation, don't worry. On Sunday you can get away with it." – Unknown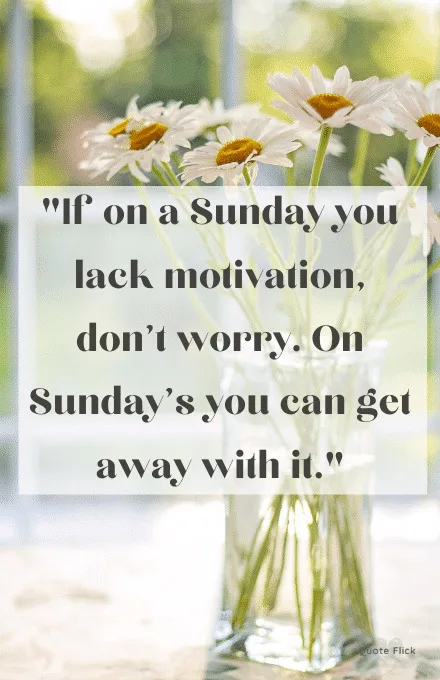 19. "Sunday is my best day, my day to unwind and gather inspiration for the week ahead." – Unknown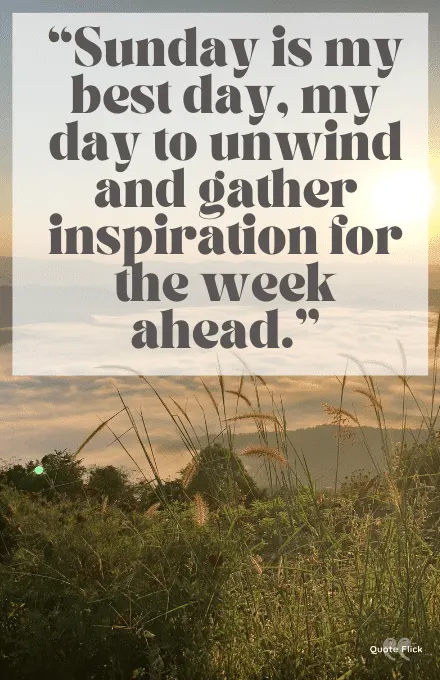 20. "Poetry is truth in its Sunday clothes." – Philibert Joseph Roux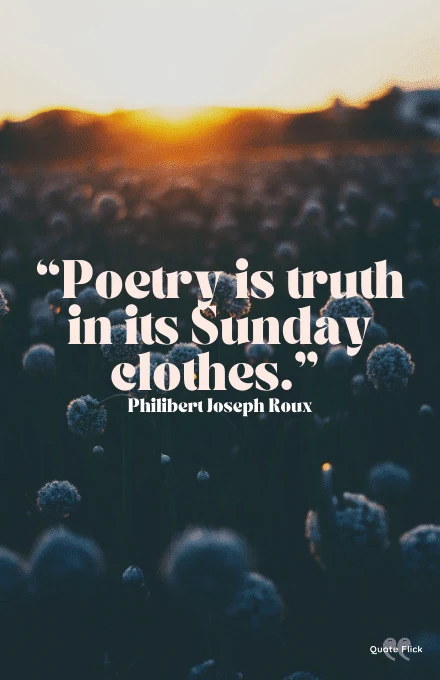 21. "A girl and her bed on Sundays are an endless love affair." – Unknown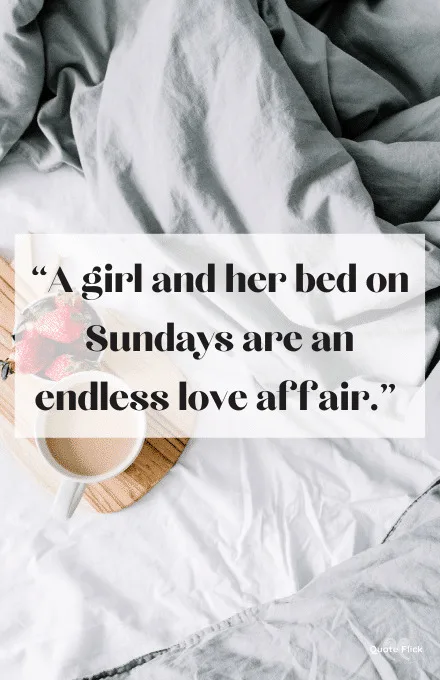 22. "Have the courage to start a new path this Sunday and a miracle will happen." – Unknown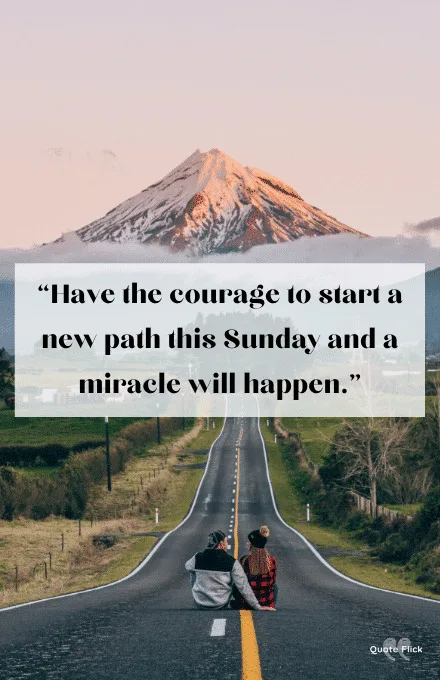 23. "Lust is Saturday night; love is Sunday morning." – Unknown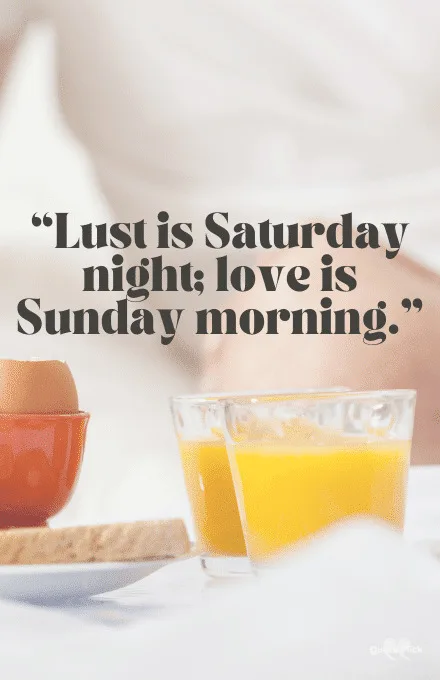 24. "There is always something new to learn and feel each Sunday." – Bishop Gerald Causse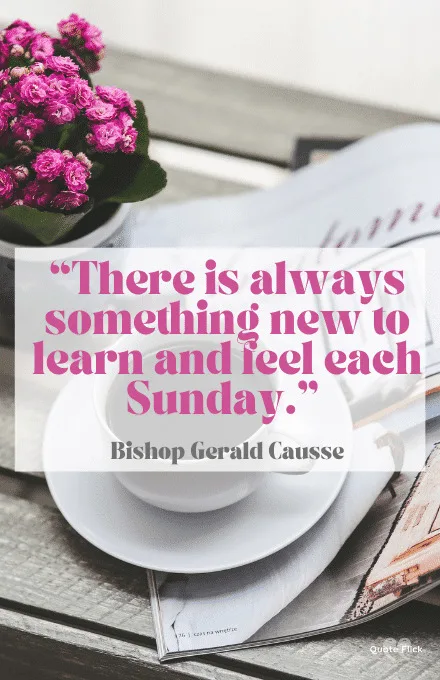 25. "It's Sunday. I don't move on Sundays." – Unknown
26. "If your Sunday doesn't involve wine & yoga pants you're doing it wrong." – Unknown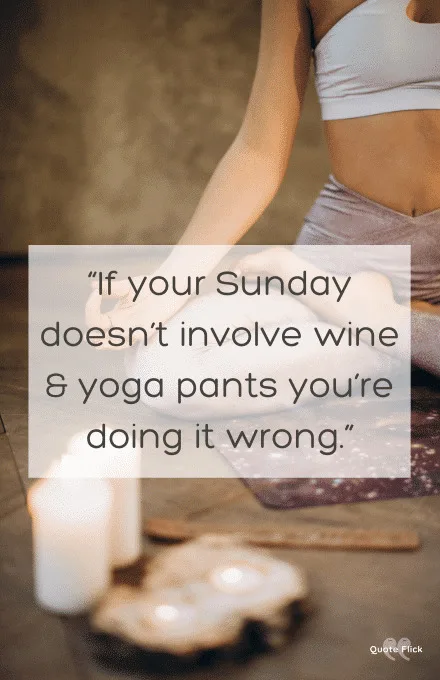 27. "Happiness is a hot bath on a Sunday afternoon." – A.D. Posey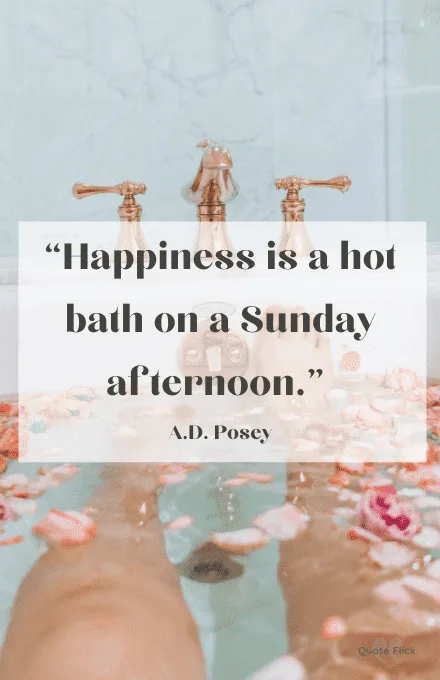 28. "Sunday is the golden clasp that binds together the volume of the week." – Henry Wadsworth Longfellow
29. "Sundays… Sleep until you're hungry. Then eat until you're sleepy." – Unknown
30. "Sunday. Rest day. Snuggle day. Happy day." – Unknown
31. "But nothing beats a Woody Allen film on a Sunday night, with a glass of wine and some leftovers." –Kate Fleetwood
32. "Each morning we are born again. What we do today is what matters most. Happy Sunday." – Unknown
33. "After a week of the contained chaos that is my job, I need some solitary running time. On Sundays, I can unwind and reconnect with the natural world." – Linda Jones
34. "The goal of Sunday is to leave my home as little as possible." – Mark Morris
35. "Sunday is the perfect day to refuel your soul and to be grateful for each and every one of your blessings." Unknown
36. "There are many persons who look on Sunday as a sponge to wipe out the sins of the week." – Henry Ward Beecher
37. "On this Sunday, let us take a few moments to stop and thank God for all of the beauty that is in this world." – Unknown
38. "Happy Sunday. Whatever you've got planned enjoy. Wishing you a restful, peaceful, beautiful day." – Unknown
39. "Do not let Sunday be taken from you. If your soul has no Sunday, it becomes an orphan." – Albert Schweitzer
40. "Sunday checklist: do nothing & chill." – Unknown
41. "Sometimes I have loved the peacefulness of an ordinary Sunday. It is like standing in a newly planted garden after a warm rain. You can feel the silent and invisible life." – Marilynne Robinson
42. "Sunday is the day when I prepare for the week ahead by making improbable To-Do lists and browsing Pinterest for ideas on how to decorate my imaginary mansion." – Nanea Hoffman
43. "There is always something new to learn and feel each Sunday." – Unknown
44. "Sundays tend to be a day where just I do nothing but visit people. It's kind of like trick-or-treating." – Chuck Palahniuk
45. "Lazy Sunday." – Unknown
46. "Sunday is a time when you sit back and reflect on all the blessings that you have received. Smile at all the good things that you are enjoying." – Sera Train
47. "Start this Sunday with a clean heart. No doubt, no tears, no fear, no worry.Thank God for his priceless gifts and miracles throughout the world." – Unknown
48. "Sunday's my day off, where I eat whatever I want. I don't let myself have something. I do love French fries and bread." – Ashley Tisdale
49. "… millions long for immortality who don't know what to do with themselves on a rainy Sunday afternoon." – Susan Ertz
50. "Today, whatever is good for your soul, do that." – Unknown
51. "When I woke up Sunday morning at the Open and stepped outside and felt the wind and rain in my face, I knew I had an excellent chance to win if I just took my time and trusted myself." – Tom Kite
52. "Sunday was always the best of days for being the self you had intended to be, but were not, for one reason or another. " – Jesse Ball
53. "Don't judge men's wealth or godliness by their Sunday appearance." – Benjamin Franklin
54. "It's Sunday, therefore I am 100% motivated to do nothing today!" – Unknown
55. "Weekends don't count unless you spend them doing something completely pointless." – Unknown
56. "Don't waste a single Sunday. If you don't waste Sundays, you will be less likely to waste Mondays, Tuesdays, and Wednesdays." – Unknown
57. "Always take some of the play, fun, freedom, and wonders of the weekend into your week and your work."- Rasheed Ogunlaru
58. "Cheers to Sunday. Snuggle by the fire, read a good book, have a hot cup of coffee (or two), watch an old movie, relax and enjoy the day." – Unknown
59. "I have to be alone very often. I'd be quite happy if I spent from Saturday night until Monday morning alone in my apartment. That's how I refuel." – Audrey Hepburn
60. "Sunday is your best day. You know you had an amazing week. Time to recover and think how you gonna kill the next one." – Unknown
You Might Also Like: