If you have ever seen a sunrise, you will know the warm and uplifting feeling that it gives you to start the day. Each rising sun gives you a different view and a new perspective.
We have gathered the most beautiful sunrise quotes for you to read or use as your next Instagram caption. If you love watching the sun in the morning, you will adore these sunrise sayings and phrases.
Maybe you are needing some inspiration to wake up early so you can catch the sun as it rises to start your day; if so, read on. We have a wide variety of quotes about sunrise to choose from.
Please consider pinning your favorite image to Pinterest if you are a fan of our work as it helps us hugely. Enjoy!
Sunrise Quotes
1. "Every day a million miracles begin at sunrise!" – Eric Jerome Dickey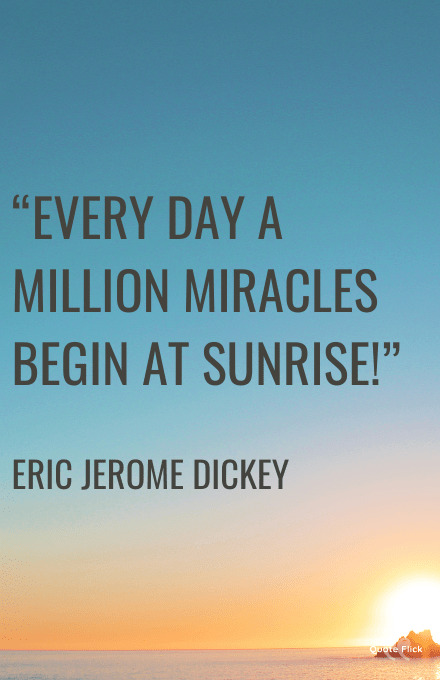 2. "If you are in a beautiful place where you can enjoy sunrise and sunset, then you are living like a lord." – Nathan Phillips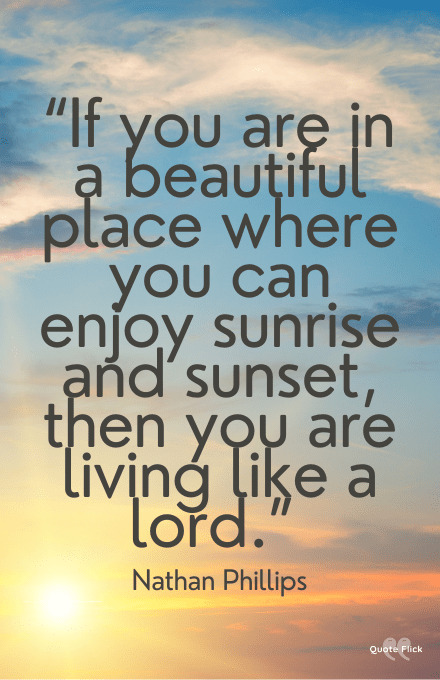 3. "The secret to a good morning is to watch the sunrise with an open heart." – Anthony T. Hincks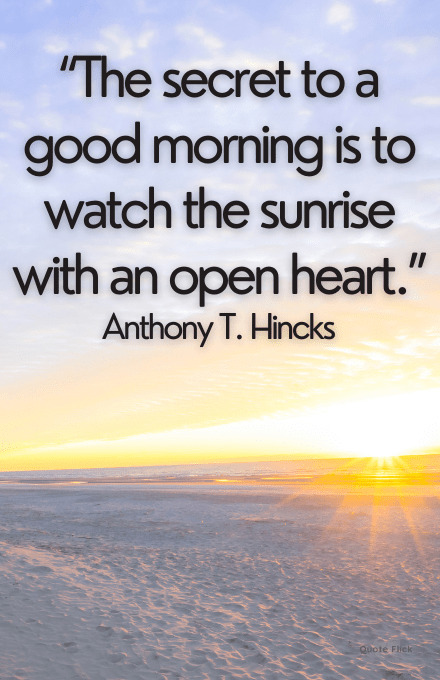 4. "Cherish the times you can watch the sunrise, there's only so many in a lifetime." – Unknown
5. "Climb up on some hill at sunrise. Everybody needs perspective once in a while, and you'll find it there." – Robb Sagendorph
6. "It's almost impossible to watch a sunrise and not dream."- Bernard Williams
7. "Let the beauty of sunrise keep your heart warm." – Lailah Gifty Akita
8. "I love that this morning's sunrise does not define itself by last night's sunset." – Steve Maraboli
9. "We can only appreciate the miracle of a sunrise if we have waited in the darkness." – Sapna Reddy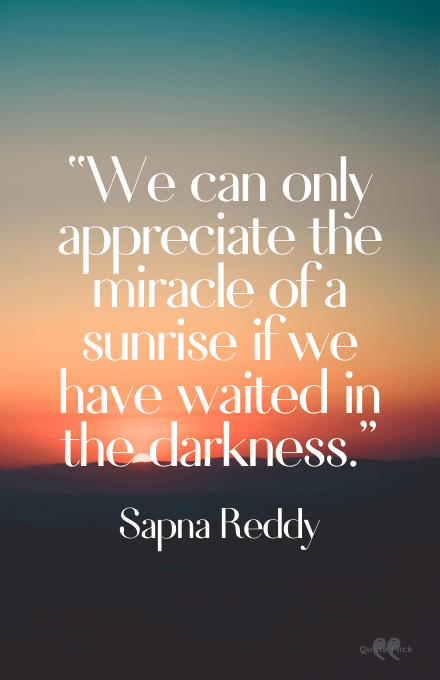 10. "Every sunrise is a new page of the book of your life, don't let it stay blank." – Jaume Puig Costa-Jussà
Check out Sunset Quotes for more beautiful words.
11. "We need to be reminded sometimes that a sunrise lasts but a few minutes. But its beauty can burn in our hearts eternally." – R. A. Salvatore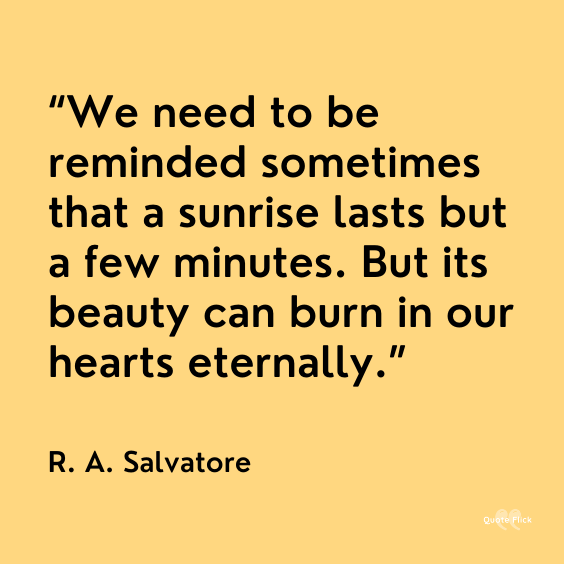 12. "Each time I see a beautiful sunset or sunrise, I have to pinch myself because I can't believe that I'm awake and not dreaming."- Anthony T. Hincks
13. "May every sunrise hold more promise and every sunset hold more peace." – Umair Siddiqui
14. "Even if you cover the whole world with darkness, you can never stop the sun from rising."- Debasish Mridha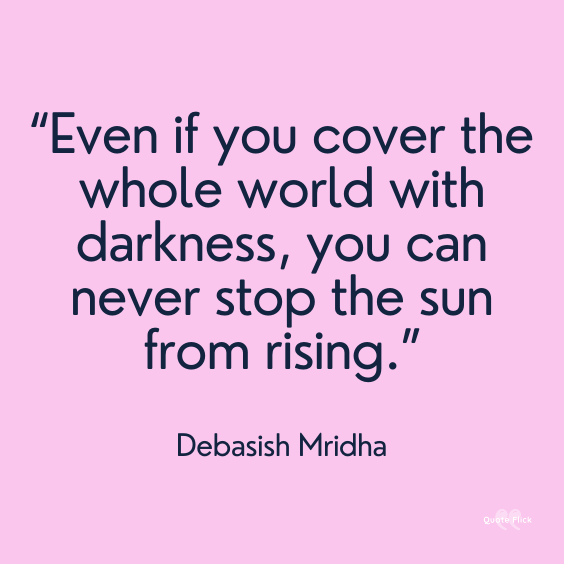 15. "A sunrise is God's way of saying, 'Let's start again."- Todd Stocker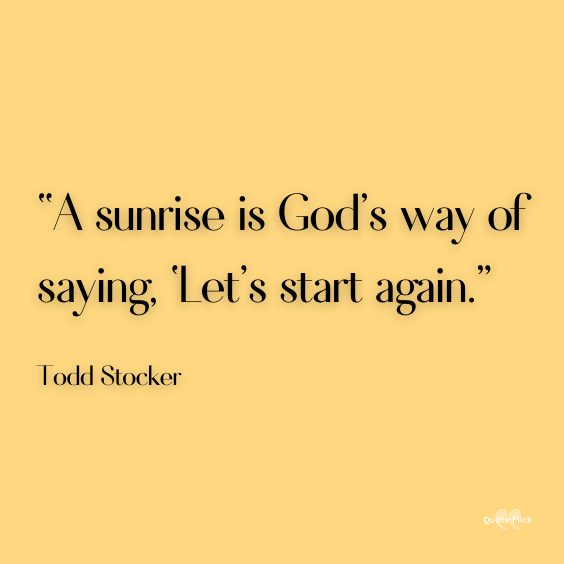 16. "If you want to be reminded of the love of the Lord, just watch the sunrise." – Jeannette Walls
17. "The sunrise, of course, doesn't care if we watch it or not. It will keep on being beautiful, even if no one bothers to look at it." – Gena Amole
18. "Just like the days, no two sunrises are ever the same." – Jonathan P Lamas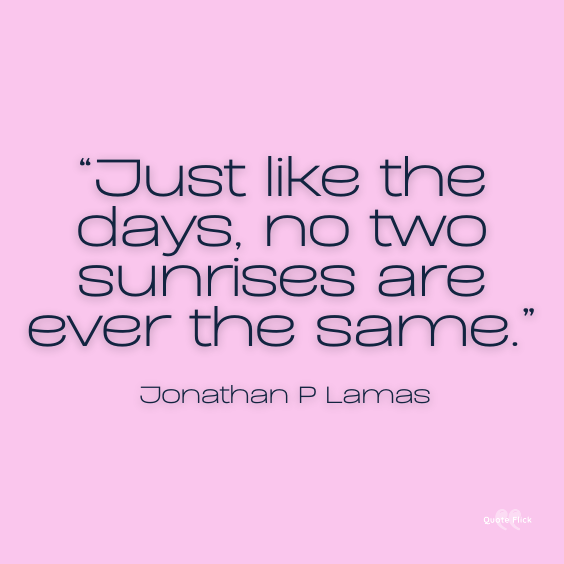 19. "Rest but never quit. Even the sun has a sinking spell each evening. But it always rises the next morning. At sunrise, every soul is born again." – Muhammad Ali
For more words on the beauty of nature and the universe, take a look at Space Quotes or Stars Quotes
20. "O, Sunlight! The most precious gold to be found on Earth." – Roman Payne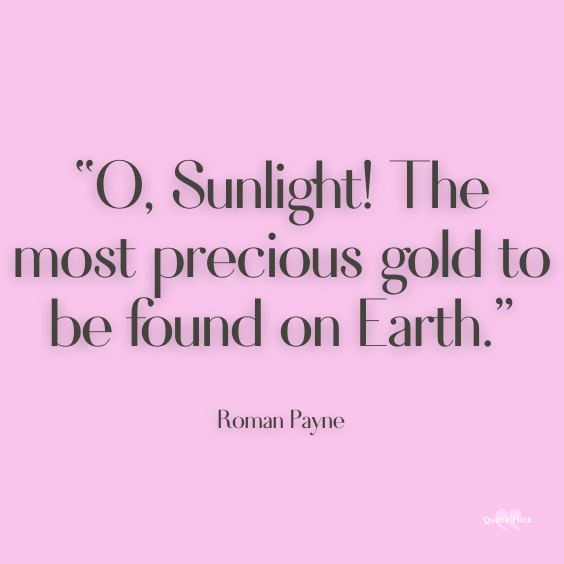 21. "There's always a sunrise and always a sunset and it's up to you to choose to be there for it." – Cheryl Strayed
22. "Sunrise looks spectacular in nature; sunrise looks spectacular in the photos; sunrise looks spectacular in our dreams; sunrise looks spectacular in the paintings because it really is spectacular!" – Mehmet Murat Ildan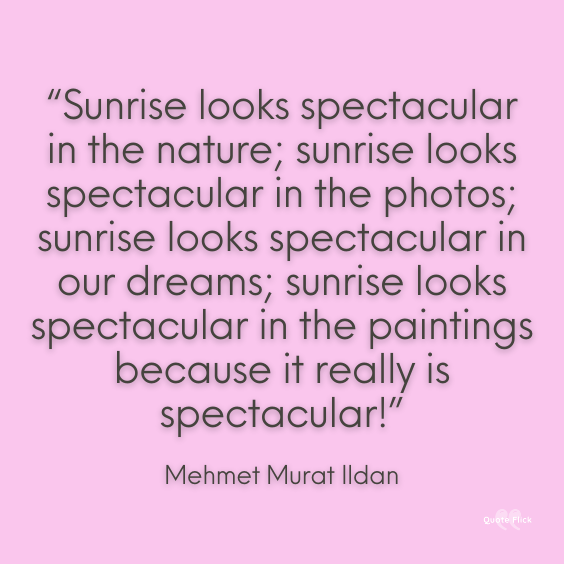 23. "With every rising of the sun, think of your life as just begun." – Unknown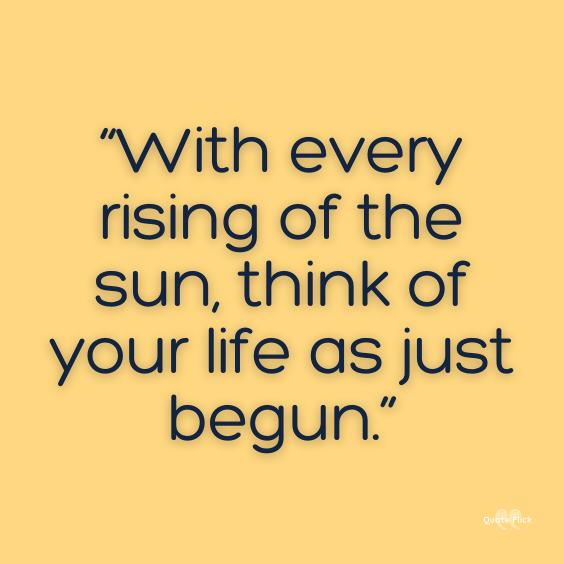 24. "Let the morning sky shade be your favorite color." – Somya Kedia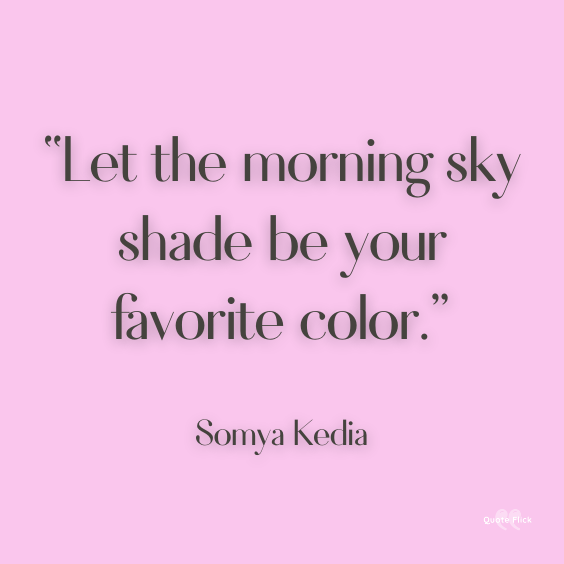 25. "A sunrise is beautiful no matter where I see it." – Unknown
26. "Opportunities are like sunrises. If you wait too long, you miss them." – William Arthur Ward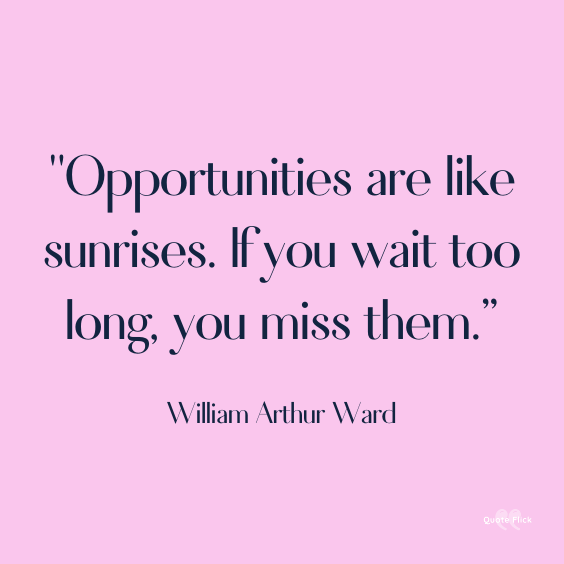 27. "I wanted everybody to see a sunrise and be knocked out by the miracle of it, the world being created every morning."- Mordicai Gerstein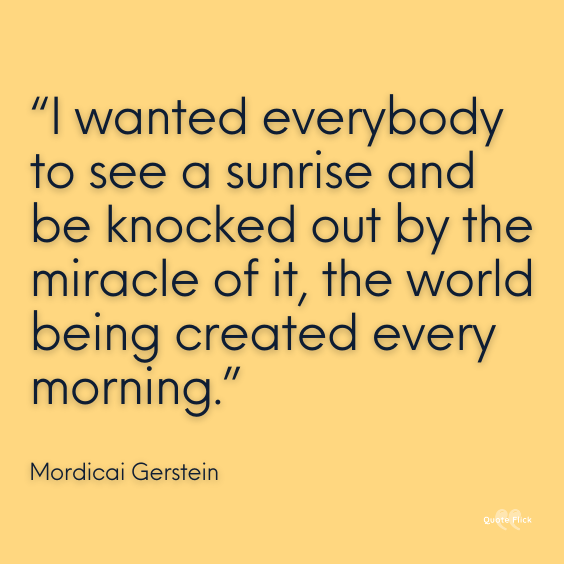 28. "When the sun rises, it rises for everyone." – Cuban Proverb
29. "It was sunsets that taught me that beauty sometimes only lasts for a couple of moments, and it was sunrises that showed me that all it takes is patience to experience it all over again." – A.J. Lawless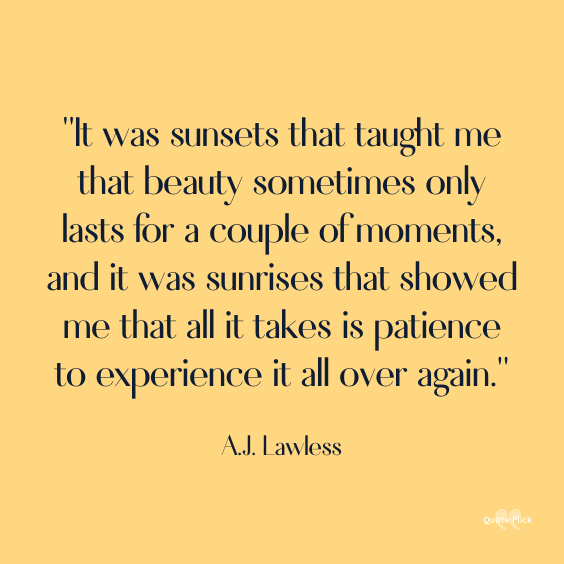 30. "The sun will rise and set regardless. What we choose to do with the light while it's here is up to us. Journey wisely."- Alexandra Elle
31. "A faint blush below the horizon, as the first kiss from the Sun wakes the Earth from its slumber." – Meeta Ahluwalia
32. "Give me odorous at sunrise a garden of beautiful flowers where I can walk undisturbed." – Walt Whitman 
33. "In the twilight of the morning, all life silently waits for the sunrise. Sun must rise for the darkness to sink!" – Mehmet Murat Ildan
34. "Listen to the wind blow, watch the sun rise." – Fleetwood Mac
35. "Dance when the sun comes up." – A.D. Posey
36. "Opportunities are like sunrises. If you wait too long, you miss them." – William Arthur Ward
37. "Oh, sunlight! The most precious gold to be found on Earth." – Roman Payne
38. "Nature unfolds her treasure at the first ray of sunrise." – Kishore Bansal
39. "Another sunrise, another new beginning." – Jonathan Lockwood Huie
40. "Always there was a moment—a quick slip of time—when the sun broke free of the trees and bled from its yolk, spilling in red-orange rivers over the silk." – Terry Kay
41. "As I woke up this morning, and I opened my eyes, I am very grateful to see another sunrise"- Charmaine J Forde
42. "Next time a sunrise steals your breath or a meadow of flowers leaves you speechless, remain that way." – Max Lucado
43. "The sky takes on shades of orange during sunrise and sunset, the color that gives you hope that the sun will set only to rise again." – Ram Charan
44. "Sunrise is the reminder that we can start a new beginning from anywhere." – Rupal Asodaria
45. "Every sunrise is an invitation for us to arise and brighten someone's day." – Jhiess Krieg
46. "What I know for sure is that every sunrise is like a new page, a chance to right ourselves and receive each day in all its glory. Each day is a wonder.'" – Oprah Winfrey
47. "The charm of golden sunrise and sunset does not depend on you, it reflects on you…only if you allow it. So does fleeting moments of joy" – Val Uchendu
48. "I live in the shade created by the sunrise I am waiting for" – Isabelle Razors
49. "I hope you realize that every day is a fresh start for you. That every sunrise is a new chapter in your life waiting to be written." – Juansen Dizon
50. "The block of the sky in our twin high windows became a nectarine, amber and rose pink, and we lay in silence as white sunlight broke." – Aspen Matis
51. "At sunrise, the blue sky paints herself with gold colors and joyfully dances to the music of a morning breeze." – Debasish Mridha
52. "A sunrise or sunset can be ablaze with brilliance and arouse all the passion, all the yearning, in the soul of the beholder." — Mary Balogh
53. "She leaned back in her chair, watching the sunrise as if it were a private performance intended just for her. And for a moment it felt that way: as if the sun was showing off for her benefit, reminding her how wonderful it was to be young and alive." ― Katharine McGee
54. "What breaks in daybreak? Is it the night? Is it the sun, cracked in two by the horizon like an egg, spilling out light?" – Margaret Atwood
55. "A girl in love with sunsets. A man hell-bent on being her sunrise." ― Nitya Prakash
56. "Your choice between sunrise or sunset depends on your attitude." — Ibn Jeem
57. "Dawn and its excesses always reminded me of heaven, a place where I have always known I would not be comfortable." – Marilynne Robinson
58. "Life. This morning the sun made me adore it. It had, behind the dripping pine trees, the oriental brightness, orange and crimson, of a living being, a rose and an apple, in the physical and ideal fusion of a true and daily paradise." – Juan Ramón Jiménez
59. "Sad soul, take comfort, nor forget that sunrise never failed us yet."– Celia Thaxter
60. "There's always a story. It's all stories, really. The sun coming up every day is a story. Everything's got a story in it. Change the story, change the world." – Terry Pratchett