Sunsets are not only stunningly beautiful but they can be reflective of endings in our life and symbolize that a bad day can end in peace. These gorgeous sunset quotes, phrases, and sayings will light you up and bring a sense of calm.
Appreciation for the beauty that the sun brings to the sky at the end of a day is outlined in these quotes about sunsets.
Each setting sun brings us a unique image and feeling, leaving us in awe of nature. As the sun goes down, and the moon comes up, relax with these sunset sayings. Why not share your favorite quote on Pinterest?
Sunset Quotes
1. "It is almost impossible to watch a sunset and not dream." – Bern Williams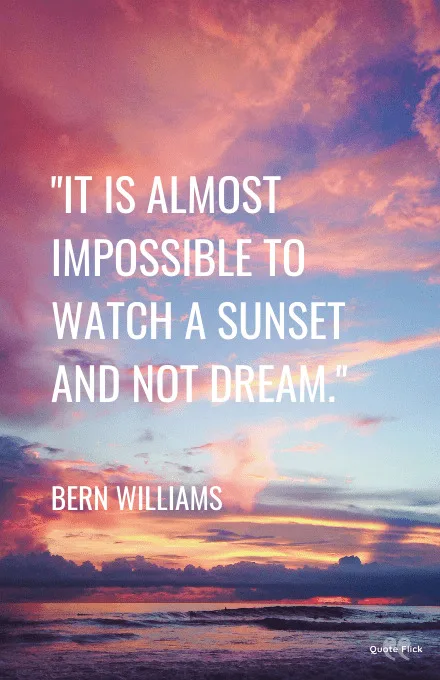 2. "Sunset is so marvelous that even the sun itself watches it every day in the reflections of the infinite oceans!" – Mehmet Murat ildan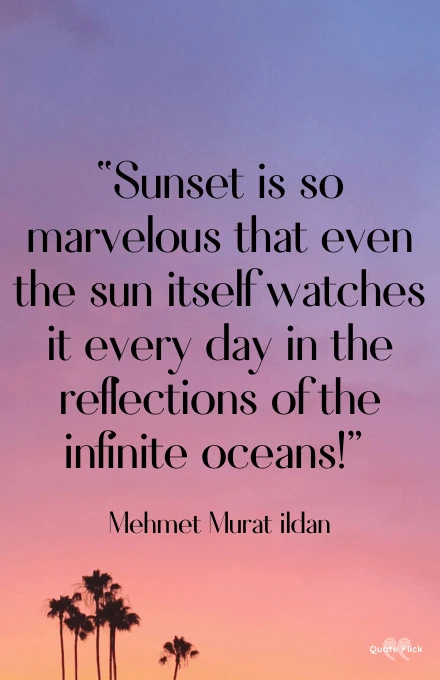 3. "It's not just a sunset; it's a moonrise too." – P. C. Cast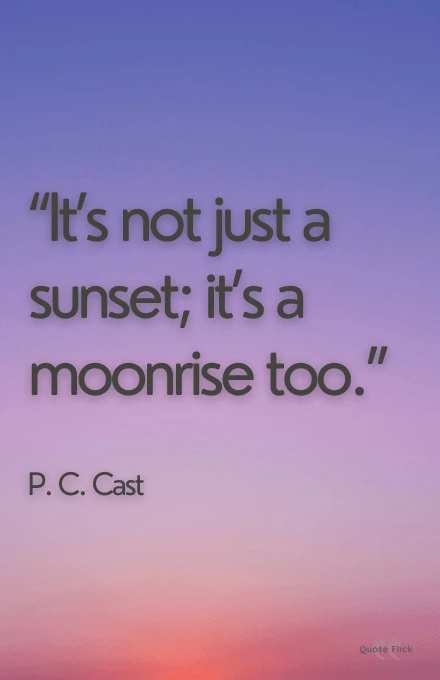 4. "When your world moves too fast, and you lose yourself in the chaos, introduce yourself to each color of the sunset." – Christy Ann Martine
5. "Sunsets are proof that no matter what happens, every day can end beautifully." – Kristen Butler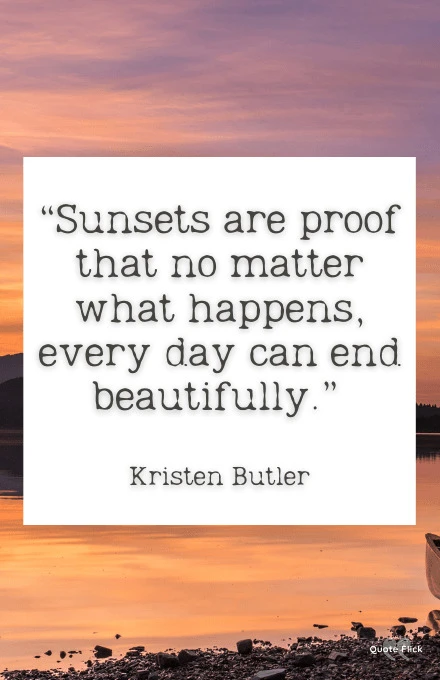 You Might Also Like:
6. "Beautiful sunsets need cloudy skies" – Paulo Coelho
7. "Softly the evening came with the sunset." – Henry Wadsworth Longfellow
8. "Let's go somewhere where the sun kisses the ocean." – Unknown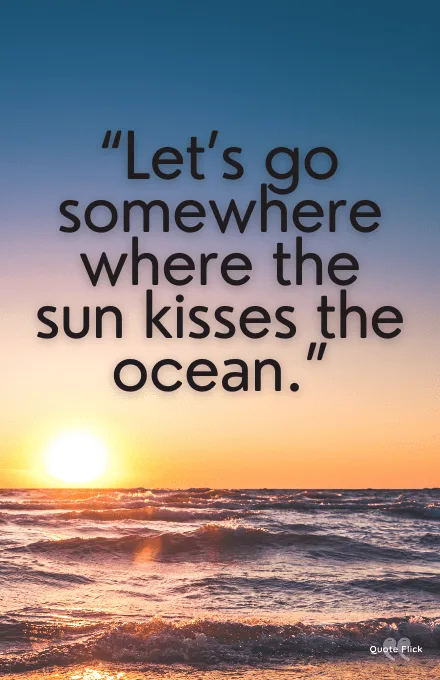 9. "When the sun has set, no candle can replace it." – Unknown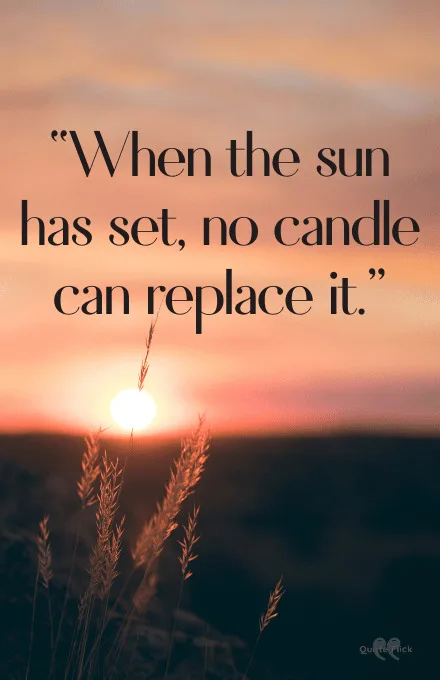 10. "Get outside. Watch the sunrise. Watch the sunset. How does that make you feel? Does it make you feel big or tiny? Because there's something good about feeling both." – Amy Grant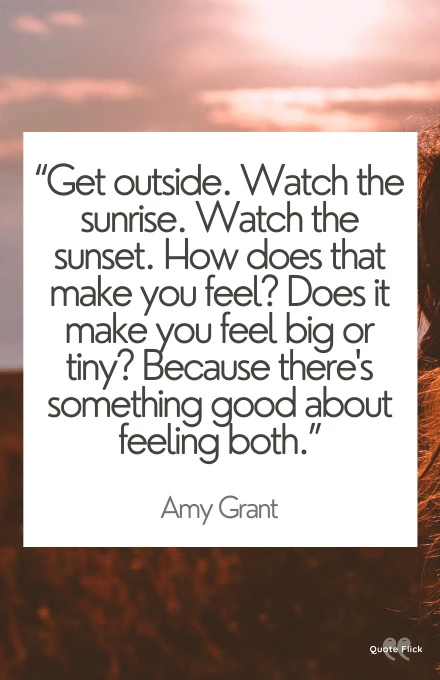 11. "I can count on my fingers the number of sunsets I have left, and I don't want to miss any of them." – Suzanne Collins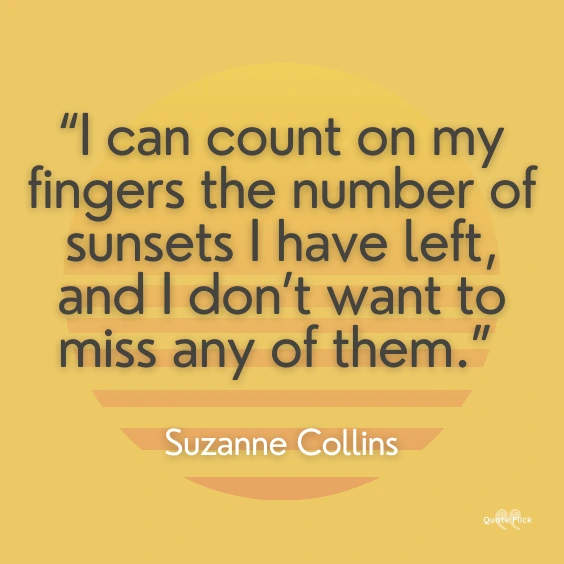 12. "I never met a sunset I didn't like." – Unknown
13. "The water was glassy and calm, still candy-colored in the afterglow of sunset." – Stephen King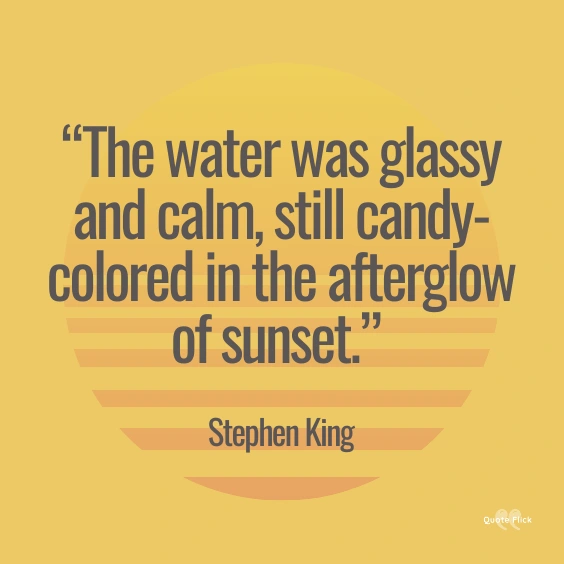 14. "A setting sun still whispers a promise for tomorrow." – Jeb Dickerson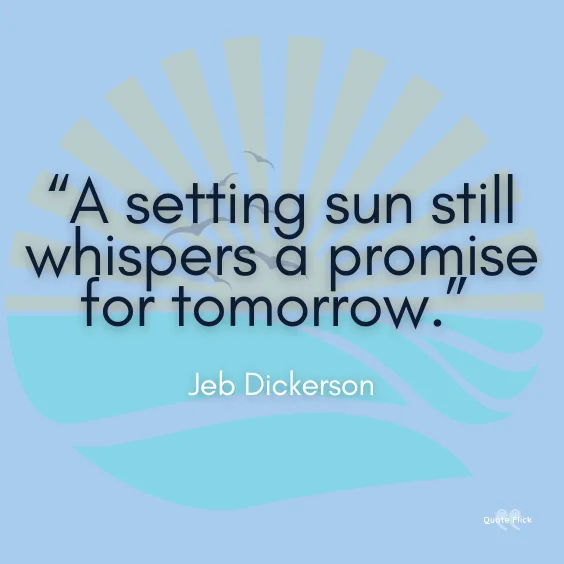 15. "Never waste any amount of time doing anything important when there is a sunset outside that you should be sitting under." – C. JoyBell C.
16. "Foam is white and waves are grey; Beyond the sunset leads my way." — J.R.R. Tolkien
17. "To go out with the setting sun on an empty beach is to truly embrace your solitude." – Jeanne Moreau
18. "Those sundowners whom we met! Made that dusk walk rememberable." – Gautam Luthra
19. "Every sunset is an opportunity to reset." – Richie Norton
20. "I just need you and some sunsets" – Atticus
21. "If you are in a beautiful place where you can enjoy sunrise and sunset, then you are living like a lord." – Nathan Phillips
22. "There's a sunrise and a sunset every single day, and they're absolutely free. Don't miss so many of them." – Jo Walton
23. "See the beauty of a sunset to enjoy the passion of life." – Debasish Mridha
24. "Sunsets are so beautiful that they almost seem as if we were looking through the gates of heaven." – John Lubbock
25. "To watch a sunset is to connect with the Divine." – Gina de Gorna
26. "I climb mountains, so I can see where the sun sleeps." – Unknown
27. "May there be just enough clouds in your life to create a glorious sunset." – Unknown
28. "A day spent with dreaming and sunsets and refreshing breezes cannot be bettered." – Nicholas Sparks
29. "Twilight fell: The sky turned to a light, dusky purple littered with tiny silver stars." – J.K. Rowling
30. "When the sun is setting, leave whatever you are doing and watch it." – Mehmet Murat Ildan
31. "There's a sunrise and a sunset every single day, and they're absolutely free. Don't miss so many of them." – Jo Walton
32. "Sunsets, like childhood, are viewed with wonder not just because they are beautiful but because they are fleeting." – Richard Paul Evans
33. "A sunset is the sun's fiery kiss to the night." – Crystal Woods
34. "Bursts of gold on lavender melting into saffron. It's the time of day when the sky looks like it has been spray-painted by a graffiti artist." – Mia Kirshner
35. "Softly the evening came with the sunset." – Henry Wadsworth Longfellow
36. "Sunset is the opening music of the night." – Mehmet Murat ildan
37. "As angry as the sky looks, it's still full of the colors of love." – Anthony T. Hincks
38. "Ride off into your sunset." – Unknown
39. "I want to see how sunset decorates your hair." – Tyler Knott Gregson
40. "There's always a sunrise and always a sunset and it's up to you to choose to be there for it." – Cheryl Strayed
41. "All I ever wanted was to dream another sunset with you." — Mayday Parade
42. "Sunsets are like God's paintings in the sky." – Unknown
43. "That was her magic – she could still see the sunset, even on the darkest days." – Atticus
44. "Twilight drops her curtain down and pins it with a star." – Lucy Maud Montgomery
45. "The horizon changes but the sun does not." – Joyce Rachelle
46. "Nature is painting for us, day after day, pictures of infinite beauty if only we have the eyes to see them." – John Ruskin
47. "Sunset is still my favorite color, and rainbow is second." –  Mattie Stepanek
48. "A sunset will color your dreams." – Anthony Hincks
49. "Sunsets are just little glimpses of the golden streets of heaven." – Unknown
50. "Her heart was made of liquid sunsets." – Virginia Woolf
51. "Enjoy the beauty of a sunset, nature's farewell kiss for the night." – Sharon Rene
52. "Pour me a sunset, kill the night, and I promise to drink with you forever." – William C. Hannan
53. "You want proof there's a God? Look outside, watch a sunset." – Frank E. Peretti
54. "No sun outlasts its sunset, but will rise again and bring the dawn." – Maya Angelou
55. "Why is sunset more colorful than sunrise? It's an irony of life saying: 'sometimes, good things happen in goodbyes.'" – Unknown
56. "A sunset paints the sky as if there were no tomorrow." – Anthony T. Hincks
57. "The sky broke like an egg into full sunset, and the water caught fire." – Pamela Hansford Johnson
58. "The sunrise paints the sky with pinks and the sunset with peaches." – Vera Nazarian
59. "She was in love with the sunset. No one else ever even stood a chance." – Unknown
60. "Every one of a hundred thousand cities around the world had its own special sunset, and it was worth going there, just once, if only to see the sun go down." – Ryu Murakami
61. "Sunsets are my escape into the reality I want to continuously live." – Rachel Roy
62. "Really appreciate the sunset as you're driving home, cursing all the terrible drivers on the road. Be where you are, when you're there, rather than out there in the future, or back there in the past." – Valerie Harper
63. "Some moments are made of gold and sunsets." – Unknown
64. "My favorite color is sunset." – Unknown
65. "Whenever you want to see me, always look at the sunset; I will be there." – Grace Ogot
66. "The strange thing about the sunset is that we actually don't want the sun to set. We want it to stay right on the horizon – not below it, not above it – just right on it." – Mehmet Murat ildan
67. "There is nothing more musical than a sunset." – Claude Debussy
68. "The sun has gone to bed and so must I." – The Sound of Music
69. "Age is irrelevant. Ask me how many sunsets I've seen, hearts I've loved, trips I've taken, or concerts I've been to. That's how old I am." – Joëlle
70. "Watching sunset makes you feel stronger." – Anamika Mishra
71. "Even the most beautiful days eventually have their sunsets." – Unknown
72. "Never go too long without watching a sunset." – Atticus
73. "The sun ignites the clouds below it as if they, and the water, itself, were on fire." – Anthony T. Hincks
74. "There is never one sunrise the same or one sunset the same." – Carlos Santana
75. "The sunsets are mad orange fools raging in the gloom." – Jack Kerouac
76. "Her heart was made of liquid sunsets." – Virginia Woolf
77. "The only kind of sunsets that I don't like are the ones that I missed." – Unknown
78. "When I admire the wonder of a sunset or the beauty of the moon, my soul expands in worship of the Creator." – Mahatma Gandhi
79. "Sunsets in themselves are generally superior to sunrises, but with the sunset, we appreciate images drawn from departed peace and faded glory." – George Stillman Hillard
80. "It seems there is more interest in sunsets than sunrises. Perhaps because innately, we fear the dark." – Richelle E. Goodrich
Next: Hot Weather Quotes
Holly Jaskolka is a certified Emotional Freedom Technique (EFT) practitioner, yoga instructor, and an impassioned advocate for holistic well-being. Fueled by her love for animals and wanderlust, Holly leads a plant-based lifestyle that she complements with immersive travel experiences. When she's not jet-setting to uncover the world's hidden gems, she's empowering individuals to heal emotionally, particularly those grappling with the aftermath of breakups. Connect with Holly on LinkedIn.