When the sun is shining, everything has a magnificent beauty and the power to lift us into a bright mood. These 30 sunshine quotes will certainly improve your day.
On a sunny day, we enjoy being outdoors. These quotes about sunshine remind us of the beauty and peace that can be felt when the weather is beautiful.
Enjoy these sun quotes, and if you love a particular image, please support us by sharing it on Pinterest!
Sunshine Quotes
1. "Kindness is the sunshine in which virtue grows." – Robert Green Ingersoll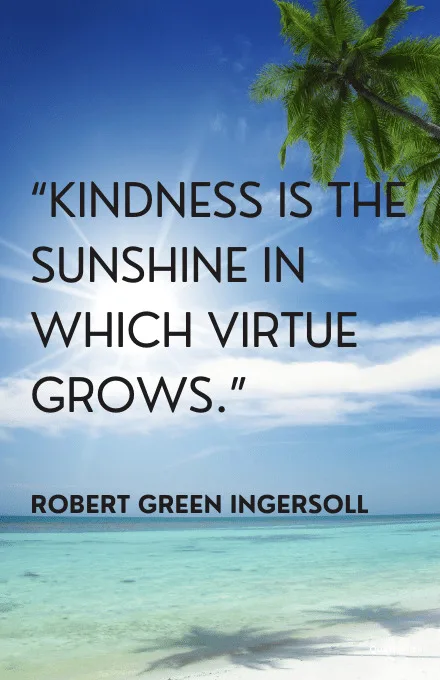 2. "You see but your shadow when you turn your back to the sun." – Kahlil Gibran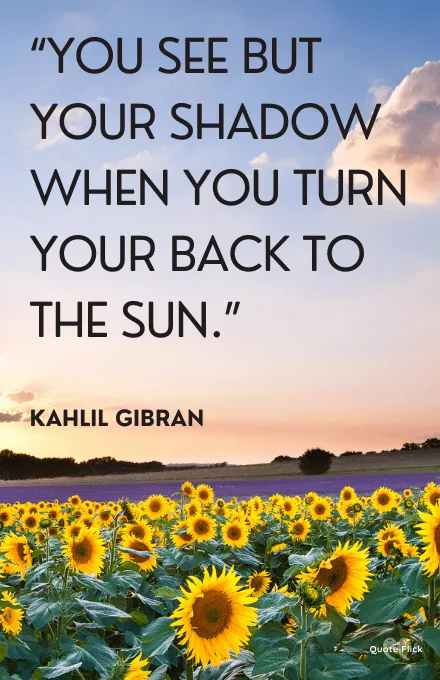 3. "Live in the sunshine, swim the sea, drink the wild air." – Ralph Waldo Emerson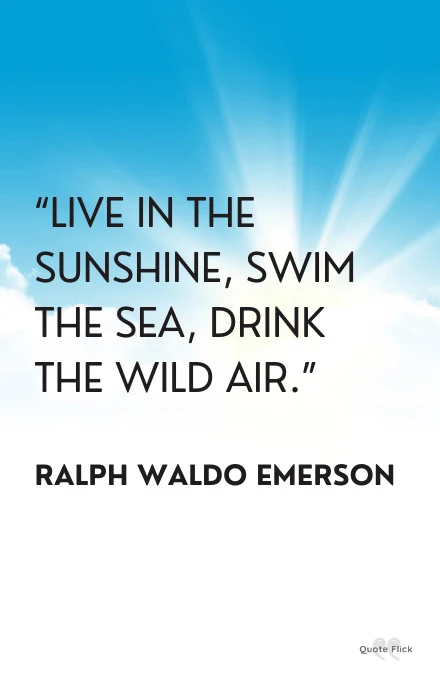 4. "If I do but one thing today may I be human sunshine for someone." – Unknown
5. "I'm 100 percent sunshine." – Lil Yachty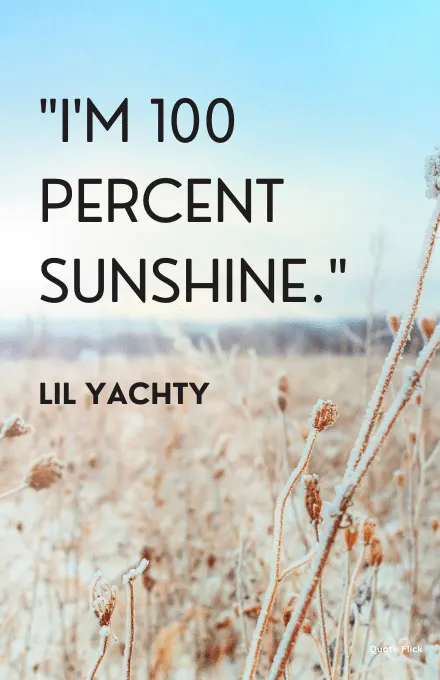 6. "A flower cannot blossom without sunshine, and man cannot live without love." – Max Muller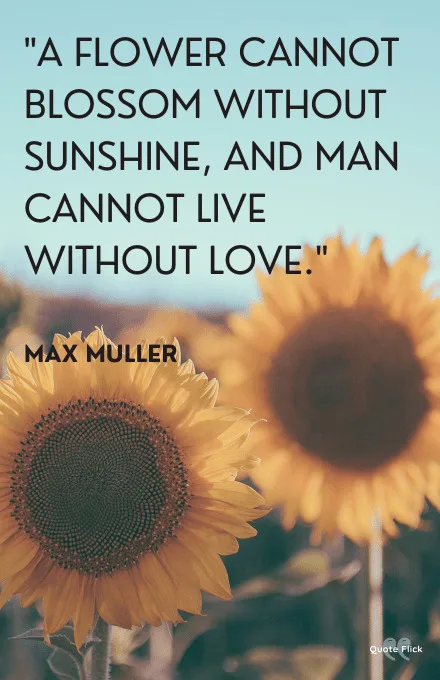 7. "It's the artist's business to create sunshine when the sun falls." – Romain Rolland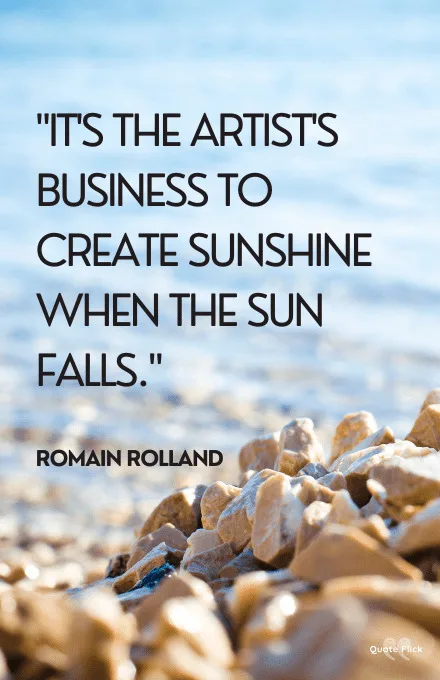 8. "It is such a splendid sunny day and I have to go." – Sophie Scholl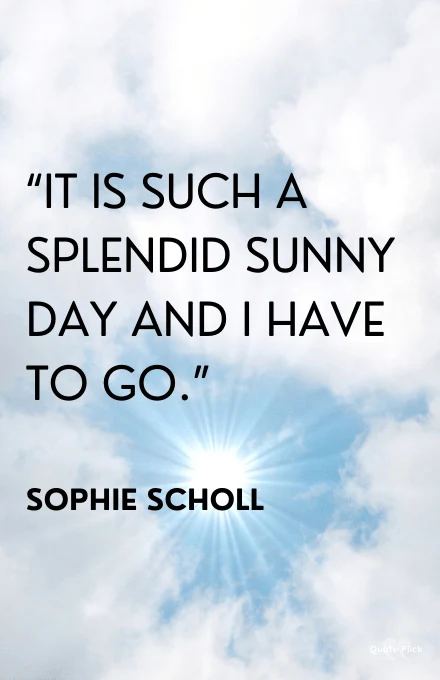 9. "Even when it's raining, the sunshine is still there." – Clare Josa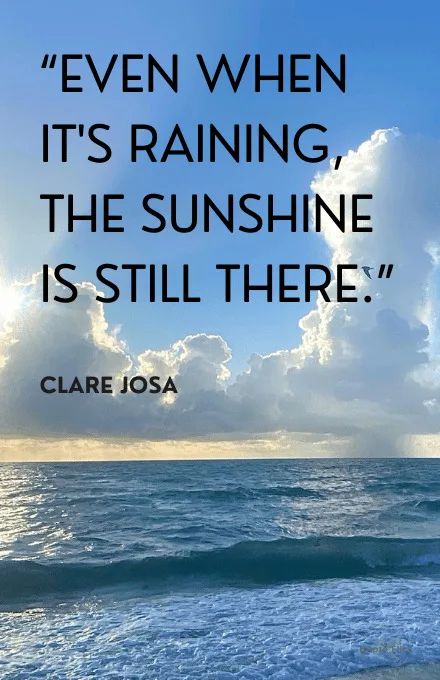 10. "Oh, Sunlight! The most precious gold to be found on Earth." ― Roman Payne
Have you read our Summer Quotes and Beach Quotes?
11. "When the sun is shining I can do anything; no mountain is too high, no trouble too difficult to overcome." – Wilma Rudolph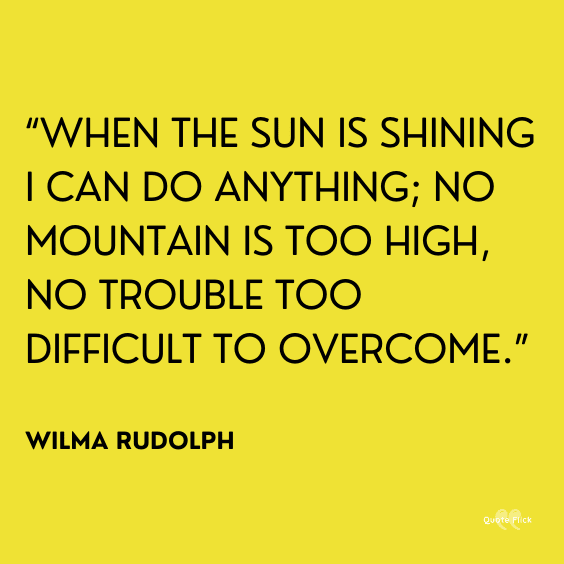 12. "Let us dance in the sun, wearing wildflowers in our hair…" ― Susan Polis Schutz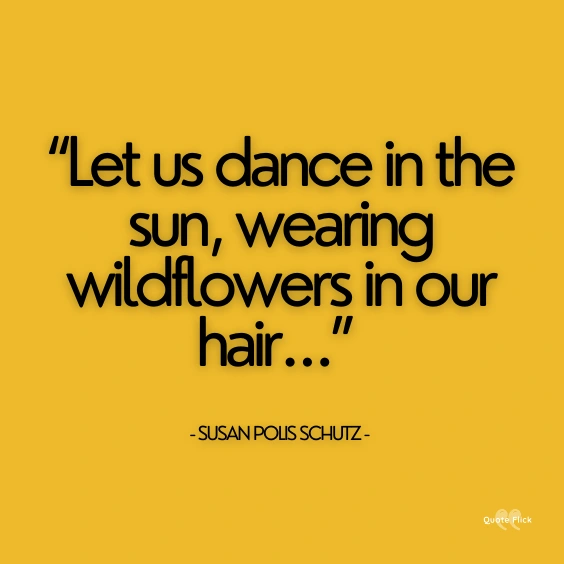 13. "Just living is not enough… One must have sunshine, freedom, and a little flower." – Hans Christian Andersen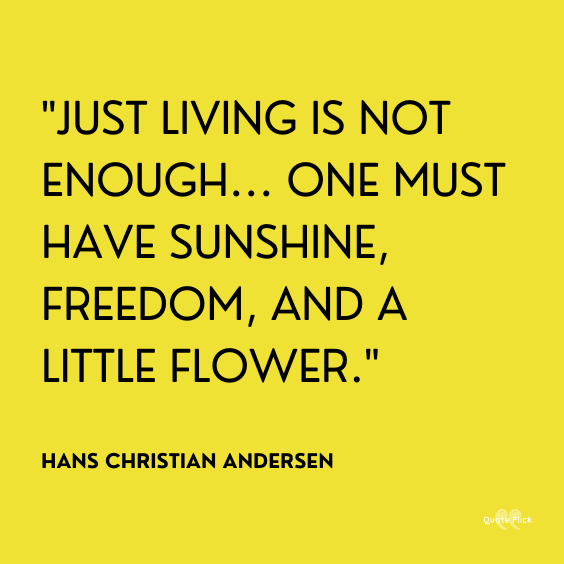 14. "Anyone who says sunshine brings happiness has never danced in the rain." – Unknown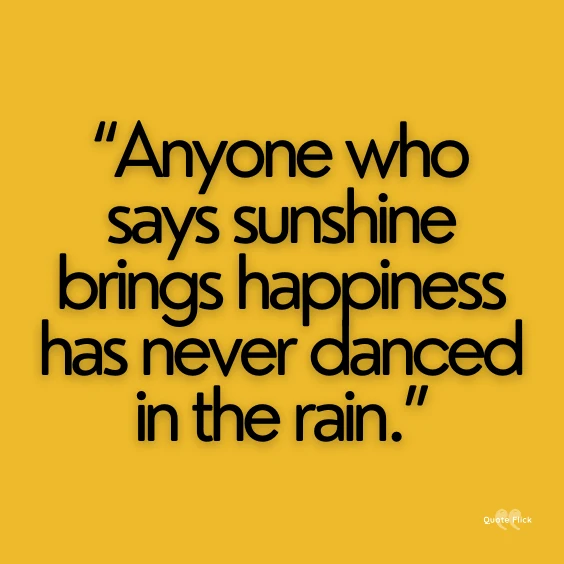 15. "May sunshine surround you each new day. And may smiles and love never be far away." – Catherine Pulsifer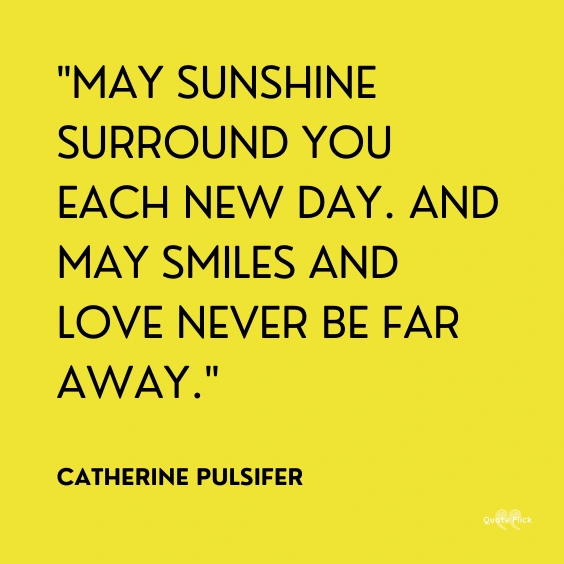 Next:
16. "Love is like sunshine; it nourishes our soul to bloom flowers of happiness." – Debasish Mridha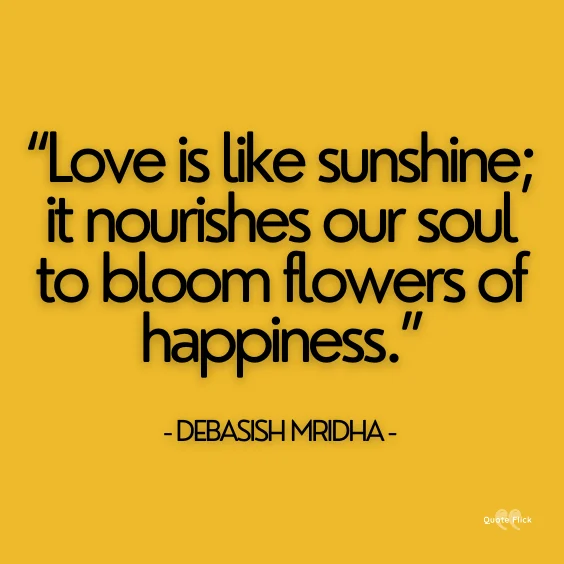 17. "Just one ray of sunshine is enough to dispel millions of shadows." – Francis of Assisi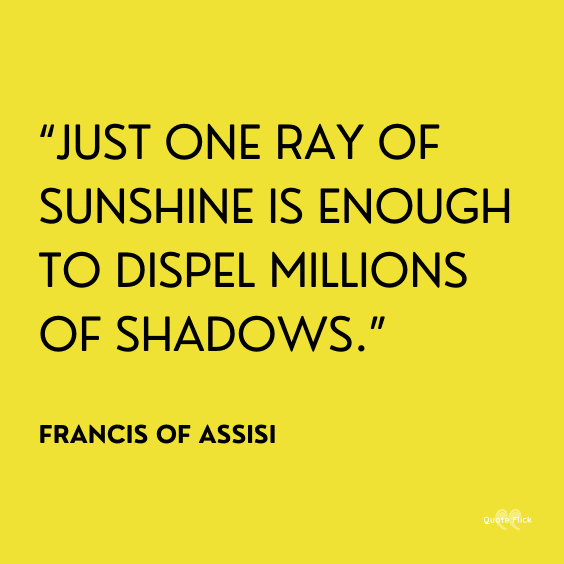 18. "After the rain, the sun will reappear. There is life. After the pain, the storm will still be there." – Walt Disney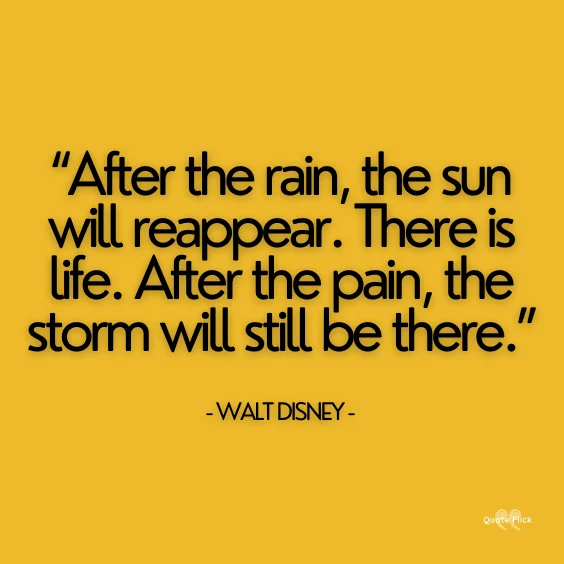 19. "If you dance like raindrops, there will always be sunshine." – Curtis Tyrone Jones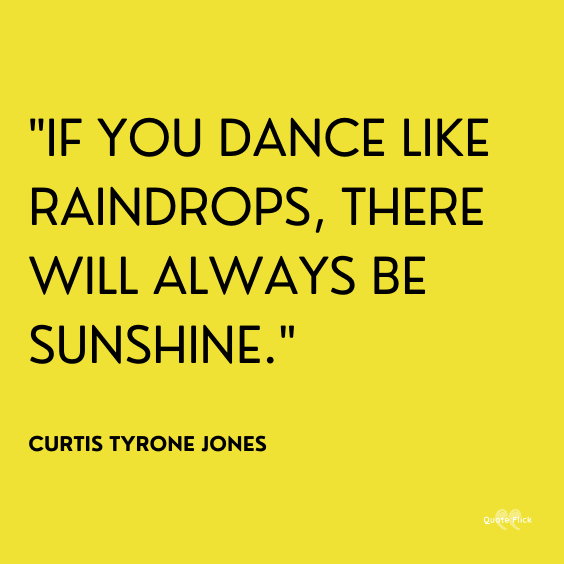 20. "And I am in love with light. Lock me in the sunshine." – Nikki Gemmell
21. "To love and be loved is to feel the sun from both sides." – David Viscott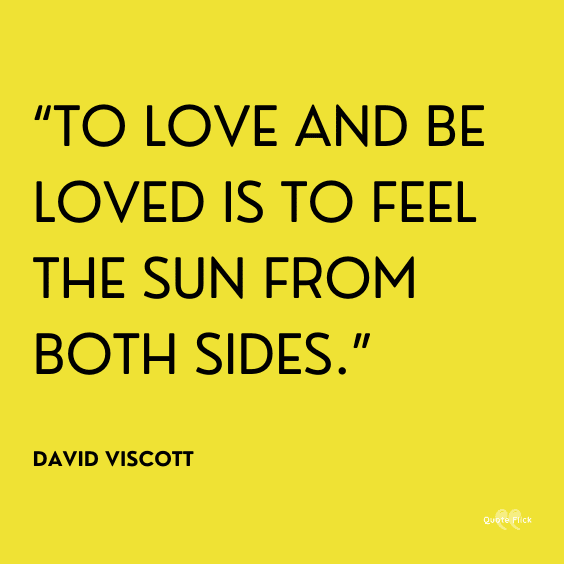 22. "Wherever you go, no matter what the weather, always bring your own sunshine." – Anthony J. D'Angleo
23. "Create your own sunshine." – Unknown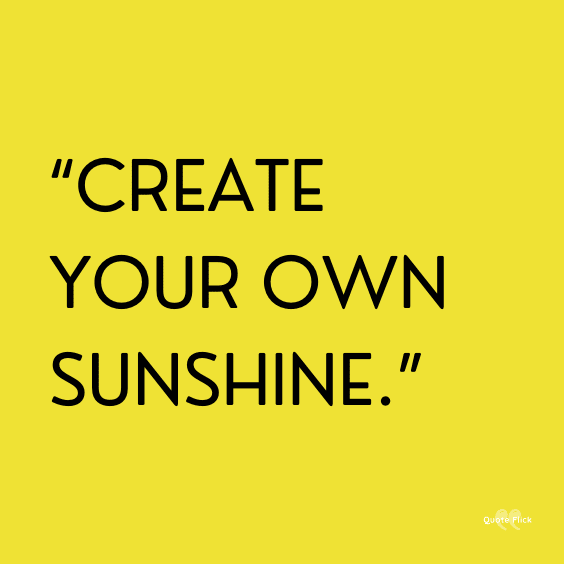 24. "Staring up at the sky on a bright, sunny day makes me dream and gives me ideas." – Marc Jacobs
25. "I don't complain when it's sunny." – Tim Howard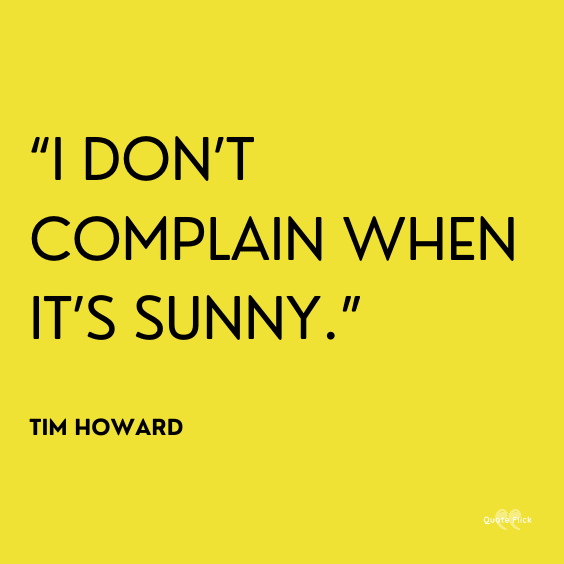 26. "As long as I have beaches, some good friends around me, it's 75 degrees and sunny, I'm good." – Rob Gronkowski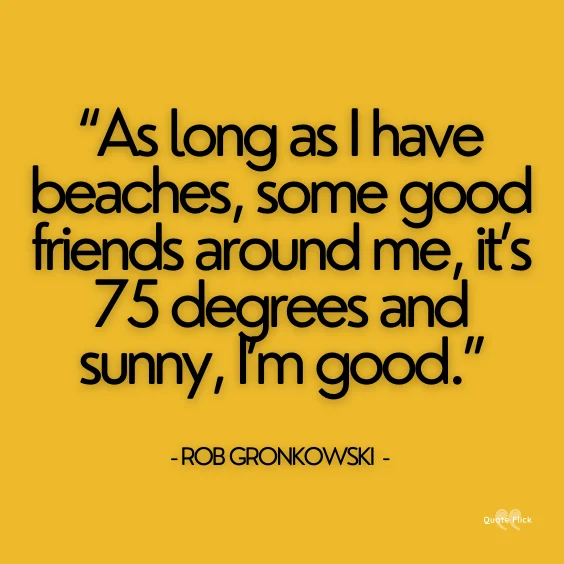 27. "Sunrays must be the sun's way of dancing alone." – Prem
28. "When you can't find the sunshine, be the sunshine." – Unknown
29. "If your life is constantly full of sunshine where each day is transformed into beauty and each worldly gift is yours to use, then you are one of a few." – Byron Pulsifer
30. "The sun shines not on us but in us." – John Muir
If all of these sunshine quotes are getting you in the mood to holiday in the sun, check out our collection of Vacation Quotes.
Holly Jaskolka is a certified Emotional Freedom Technique (EFT) practitioner, yoga instructor, and an impassioned advocate for holistic well-being. Fueled by her love for animals and wanderlust, Holly leads a plant-based lifestyle that she complements with immersive travel experiences. When she's not jet-setting to uncover the world's hidden gems, she's empowering individuals to heal emotionally, particularly those grappling with the aftermath of breakups. Connect with Holly on LinkedIn.