Thanksgiving is a celebration of gratitude and sharing, as these thanksgiving quotes, sayings, and phrases show. As you celebrate this day with your loved ones, why not be inspired by the quotations and send them around to those people that you are grateful for! The quotations about thanksgiving are a lovely reminder that every day we can find things to be thankful for.
1. "Thanksgiving, man. Not a good day to be my pants." – Kevin James
2. "I love Thanksgiving because it is a holiday centered around food and family, two things that are of utmost importance to me." – Marcus Samuelsson
3. "Happy thanksgiving. I love you." – Unknown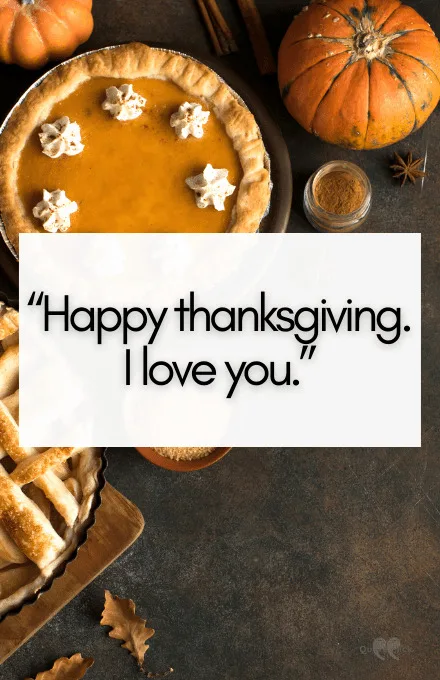 4. "Gratitude is the inward feeling of kindness received. Thankfulness is the natural impulse to express that feeling. Thanksgiving is the following of that impulse." – Henry Van Dyke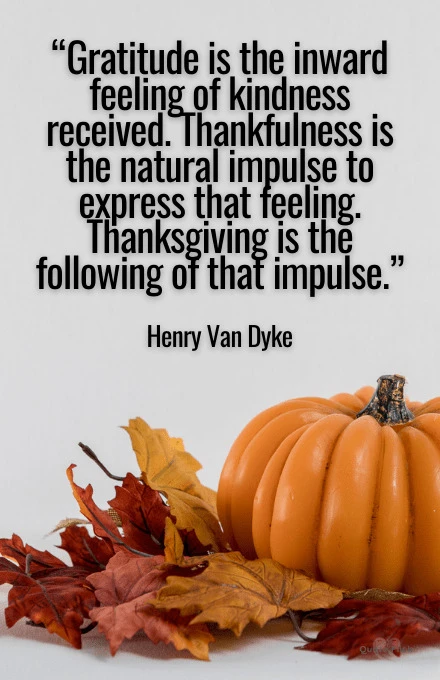 5. "All across America, we gather this week with the people we love to give thanks to God for the blessings in our lives." – George W. Bush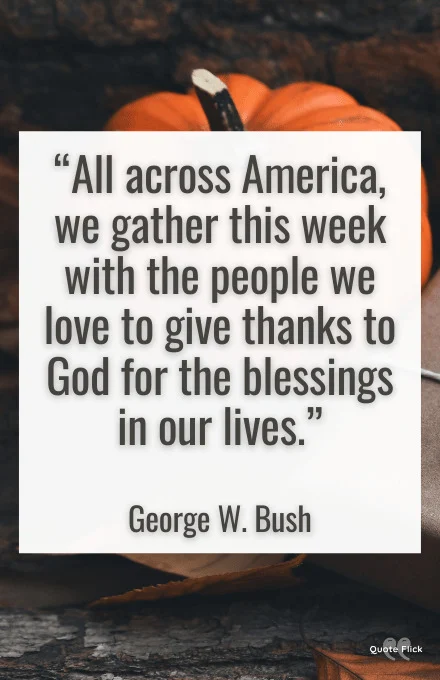 6. "When asked if my cup is half-full or half-empty my only response is that I am thankful I have a cup." – Sam Lefkowitz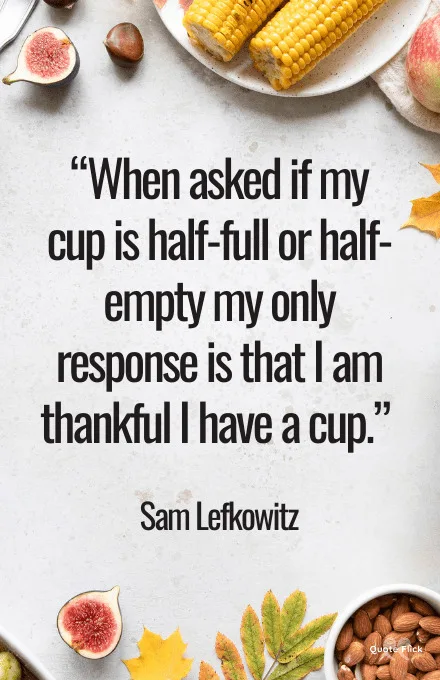 7. "Give thanks not just on Thanksgiving Day, but every day of your life. Appreciate and never take for granted all that you have." – Catherine Pulsifer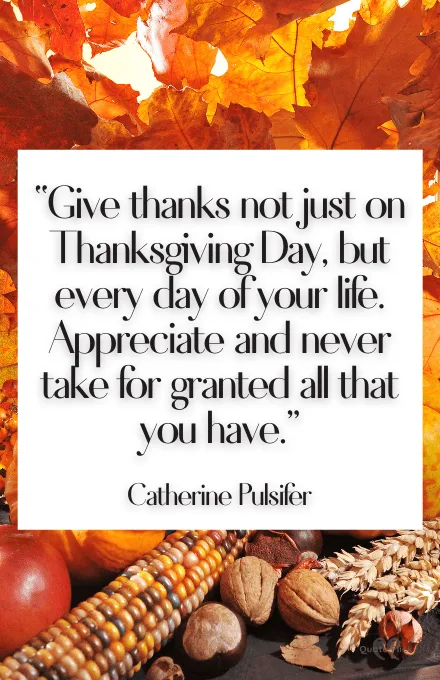 8. "We must find time to stop and thank the people who make a difference in our lives." – John F. Kennedy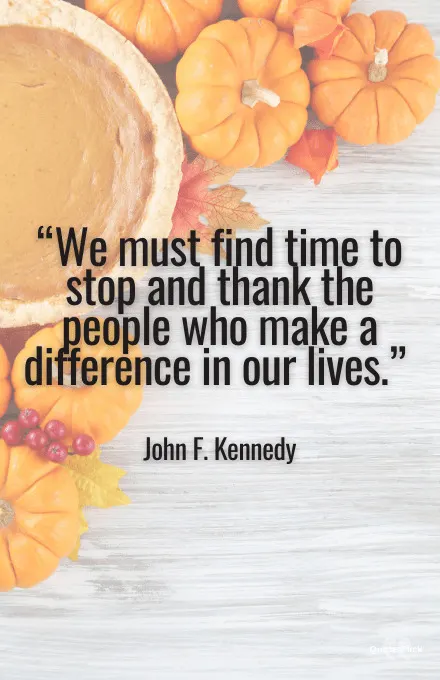 9. "Thanksgiving is an emotional holiday. People travel thousands of miles to be with people they only see once a year. And then discover once a year is way too often." – Johnny Carson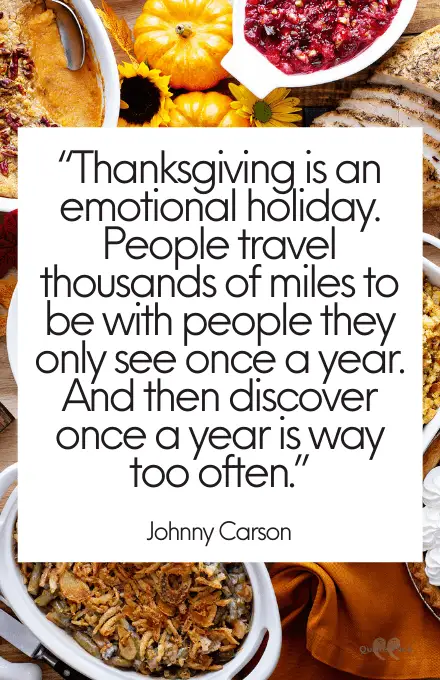 10. "Thanksgiving is a time of togetherness and gratitude." – Nigel Hamilton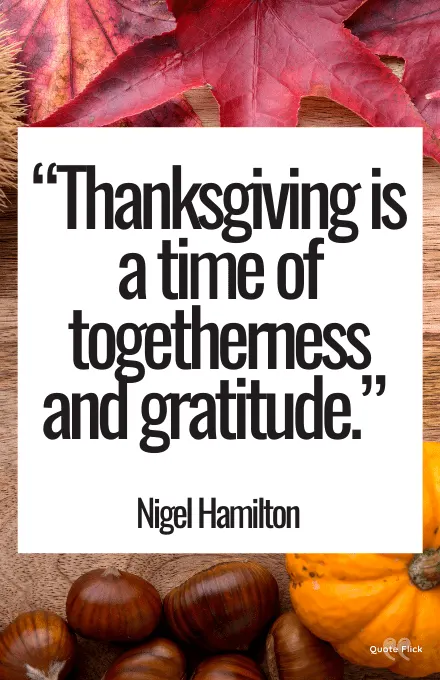 11. "Let us remember that, as much has been given us, much will be expected from us, and that true homage comes from the heart as well as from the lips, and shows itself in deeds." –Theodore Roosevelt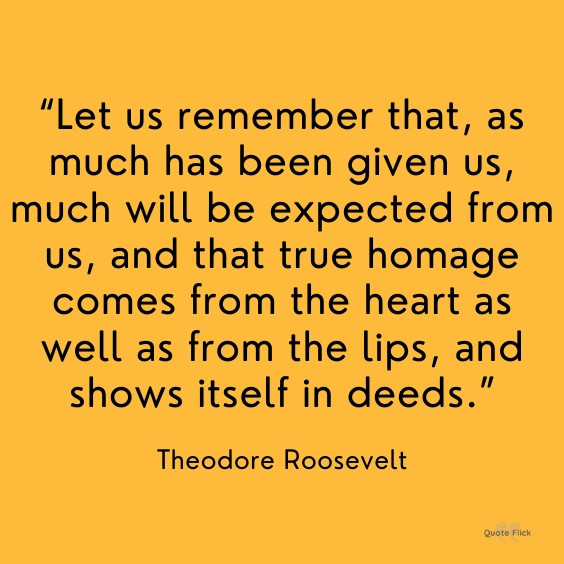 12. "Be thankful for what you have; you'll end up having more. If you concentrate on what you don't have, you will never, ever have enough." – Oprah Winfrey
13. "Thanksgiving was never meant to be shut up in a single day." – Robert Caspar Lintner
14. "Not what we say about our blessings, but how we use them, is the true measure of our thanksgiving." – W.T. Purkiser
15. "Thanksgiving is one of my favorite days of the year because it reminds us to give thanks and to count our blessings. Suddenly, so many things become so little when we realize how blessed and lucky we are." – Joyce Giraud
16. "Reflect upon your present blessings, of which every man has plenty; not on your past misfortunes, of which all men have some." – Charles Dickens
17. "What I love about Thanksgiving is that it's purely about getting together with friends or family and enjoying food. It's really for everybody, and it doesn't matter where you're from." – Daniel Humm
18. "As we express our gratitude, we must never forget that the highest appreciation is not to utter words, but to live by them." – John F. Kennedy
19. "Drink and be thankful to the host! What seems insignificant when you have it, is important when you need it." – Franz Grillparzer
20. "Thanksgiving dinners take eighteen hours to prepare. They are consumed in twelve minutes. Half-times take twelve minutes. This is not a coincidence." – Erma Bombeck
21. "You shouldn't just give during Christmas and Thanksgiving you should be giving all the time." – Alcurtis Turner
22. "I suppose I will die never knowing what pumpkin pie tastes like when you have room for it." – Robert Brault
23. "Thanksgiving Day comes, by statute, once a year; to the honest man it comes as frequently as the heart of gratitude will allow." – Edward Sandford Martin
24. "Forever on Thanksgiving Day the heart will find the pathway home." – Wilbur D. Nesbit
25. "Once you start practicing being grateful and thankful for things, people, and events, you may notice that you start to attract more positive things, people, and events in your life." – Stephanie Conkle
26. "Vegetables are a must on a diet. I suggest carrot cake, zucchini bread, and pumpkin pie." – Jim Davis
27. "A thankful heart is not only the greatest virtue but the parent of all the other virtues." – Cicero
28. "Gratitude opens the door, the power, the wisdom, the creativity of the universe. You open the door through gratitude." – Deepak Chopra
29. "I awoke this morning with devout thanksgiving for my friends, the old and the new." – Ralph Waldo Emerson
30. "The heart that gives thanks is a happy one, for we cannot feel thankful and unhappy at the same time." – Douglas Wood
31. "At some point in life the world's beauty becomes enough. You don't need to photograph, paint, or even remember it. It is enough." – Toni Morrison
32. "Recognizing and leaning into the discomfort of vulnerability teaches us how to live with joy." – Brené Brown
33. "An attitude of gratitude goes a long way when it comes to physical and emotional healing." –Jill Bolte Taylor
34. "If you think about a Thanksgiving dinner, it's really like making a large chicken." Ina Garten
35. "Thanksgiving is the holiday of peace, the celebration of work and the simple life… a true folk-festival that speaks the poetry of the turn of the seasons, the beauty of seedtime and harvest, the ripe product of the year — and the deep, deep connection of all these things with God." – Ray Stannard Baker
36. "It has been an unchallengeable American doctrine that cranberry sauce, a pink goo with overtones of sugared tomatoes, is a delectable necessity of the Thanksgiving board and that turkey is uneatable without it." – Alistair Cooke
37. "He who thanks but with the lips Thanks but in part; The full, the true Thanksgiving Comes from the heart." – J.A. Shedd
38. "But see, in our open clearings, how golden the melons lie; Enrich them with sweets and spices, and give us the pumpkin-pie!" – Margaret Junkin Preston
39. "Thanksgiving Day is a jewel, to set in the hearts of honest men; but be careful that you do not take the day, and leave out the gratitude." – E.P. Powell
40. "To speak gratitude is courteous and pleasant, to enact gratitude is generous and noble, but to live gratitude is to touch Heaven." – Johannes A. Gaertner
41. "Now is no time to think of what you do not have. Think of what you can do with that there is." – Ernest Hemingway
42. "Be consistent in your dedication to showing your gratitude to others. Gratitude is a fuel, a medicine, and spiritual and emotional nourishment." – Steve Maraboli
43. "What we're really talking about is a wonderful day set aside on the fourth Thursday of November when no one diets. I mean, why else would they call it Thanksgiving?" – Erma Bombeck
44. "Gratitude unlocks the fullness of life." – Melody Beattie
45. "We can always find something to be thankful for, no matter what may be the burden of our wants, or the special subject of our petitions." – Albert Barnes
46. "No one has ever become poor by giving." – Anne Frank
47. "Feeling gratitude and not expressing it is like wrapping a present and not giving it." – William Arthur Ward
48. "Give thanks for everything that happens to you, knowing that every step forward is a step toward achieving something bigger and better than your current situation." – Brian Tracy
49. "If the only prayer you ever say in your entire life is thank you, it will be enough." – Meister Eckhart
50. "Remember God's bounty in the year. String the pearls of His favor. Hide the dark parts, except so far as they are breaking out in light! Give this one day to thanks, to joy, to gratitude!" – Henry Ward Beecher
51. "Thanksgiving comes to us out of the prehistoric dimness, universal to all ages and all faiths. At whatever straws we must grasp, there is always a time for gratitude and new beginnings." – J. Robert Moskin
52. "I am grateful for what I am and have. My thanksgiving is perpetual." – Henry David Thoreau
53. "Be present in all things and thankful for all things." – Maya Angelou
54. "Be thankful for what you have; you'll end up having more." – Oprah Winfrey
55. "We make a living by what we get, but we make a life by what we give." – Winston Churchill
56. "Make it a habit to tell people 'thank you'. To express your appreciation, sincerely and without the expectation of anything in return." – Ralph Marston
57. "If everything was perfect, you would never learn and you would never grow." – Beyoncé
58. "At whatever straws we must grasp, there is always a time for gratitude and new beginnings." J. Robert Moskin
59. "Give thanks for a little, and you will find a lot." – Hausa Proverb
60. "I am grateful for the blessings of wealth, but it hasn't changed who I am. My feet are still on the ground. I'm just wearing better shoes." – Oprah Winfrey
Holly Jaskolka is a certified Emotional Freedom Technique (EFT) practitioner, yoga instructor, and an impassioned advocate for holistic well-being. Fueled by her love for animals and wanderlust, Holly leads a plant-based lifestyle that she complements with immersive travel experiences. When she's not jet-setting to uncover the world's hidden gems, she's empowering individuals to heal emotionally, particularly those grappling with the aftermath of breakups. Connect with Holly on LinkedIn.