Some love them, others hate them simply for not being Friday, but with these 50 Thursday quotes, you'll be sure to be smiling about Thursdays by the end of the page! We've gathered what we feel are the best happy Thursday quotes to get you feeling positive and full of motivation.
With Thursdays being so close to the weekend, they can often be wished away. But why not make this Thursday your most wonderful day; picking inspiration from our uplifting sayings below. It is your day, and you get to decide how you want it to be!
Whatever new day it is, there is always an opportunity for excitement, and Thursday mornings are no different. Read through these Thursday motivational quotes to give you a spark of creativity and enthusiasm, and step into the driver's seat of how you want your Thursday to be!
Why not make the most of your day the way you approach a Saturday! Encourage others to do the same by sharing the Thursday inspirational quotes that resonate with you most. Plenty of lovely images to choose from, for you to share on social media or Whatsapp.
Enjoy, and Happy Thursday!
Best Thursday Quotes
You will love these Thursday quotes, as they don't just focus on the fact it's nearly Friday. Sometimes we need a reminder that each day is a precious gift to be made the most of. Own your Thursday and use these words to inspire you!
1. "Thursday is my favorite day to plan how I'm going to get out of the plans I already made for the weekend." – Unknown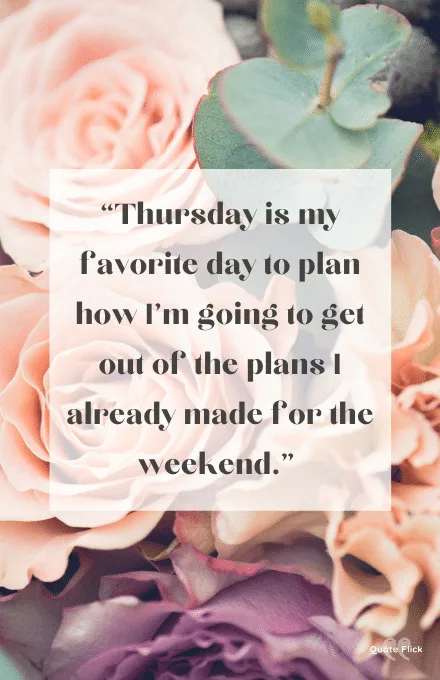 2. "Happy Thursday! Doing a happy dance because tomorrow is Friday!" – Unknown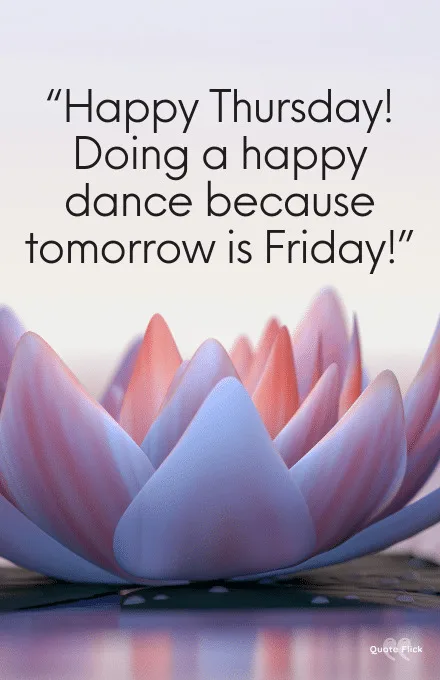 3. "It's Thursday and so here's a motivational quote to celebrate! You've got this!" – Unknown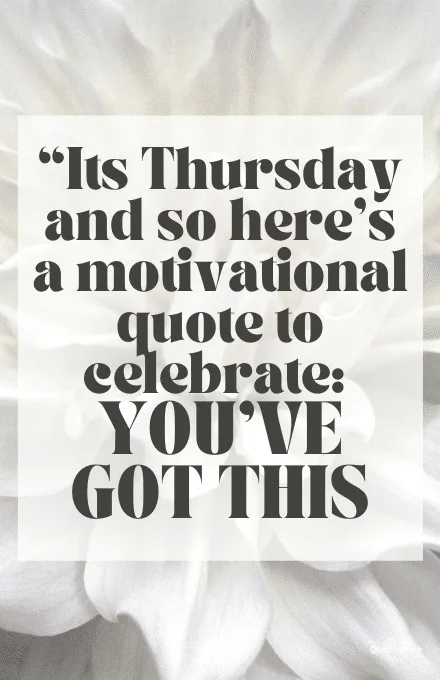 4. "Thursday, the day where we begin to relax for the weekend and end up feeling creative and full of inspirational ideas." – Unknown
5. "Thursday morning, and it's a beautiful one." – Unknown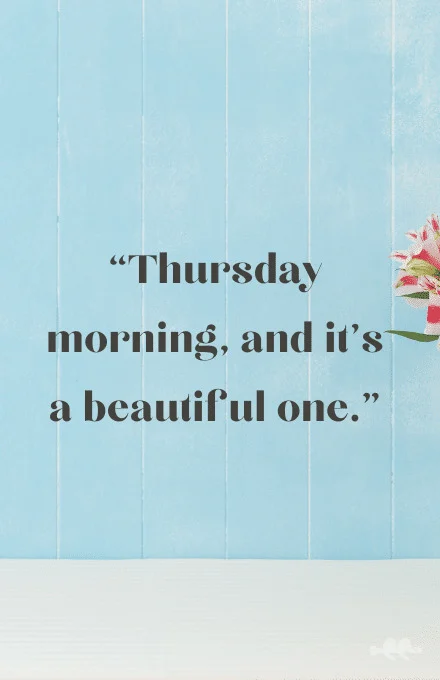 6. "Be thankful it's Thursday. Another day to live and enjoy!!" – Unknown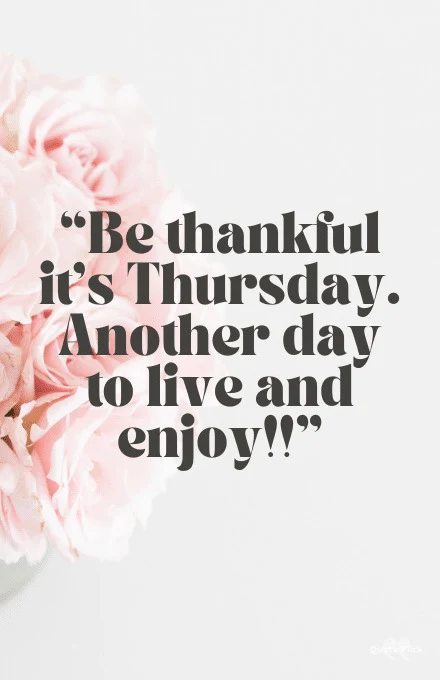 7. "What's great about Thursday's is the opportunity to create whatever day you want to create, just like all the other days!" – Unknown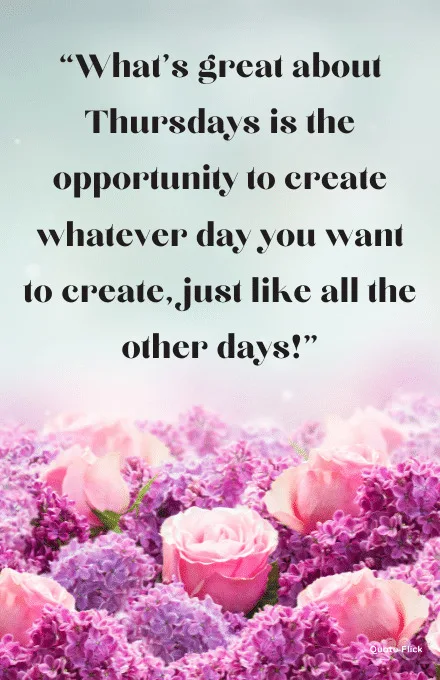 8. "It's Thursday and it really feels like a Thursday. Sometimes things just work out." – Demetri Martin
9. "Be thankful for your Thursday." – Unknown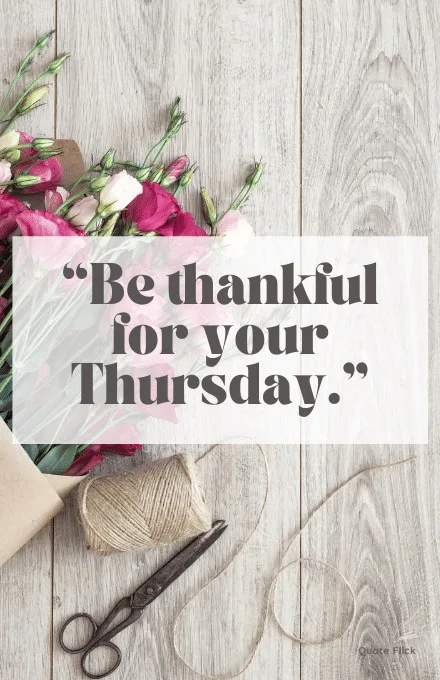 10. "It's Thursday, think positive and positive things will start happening." – Unknown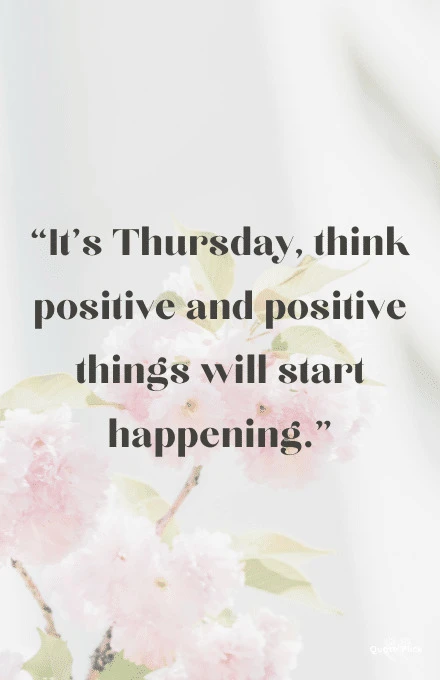 Check out our collection of Monday Quotes and Tuesday Quotes
11. "It's funny on Friday when you realize it's actually Thursday." – Unknown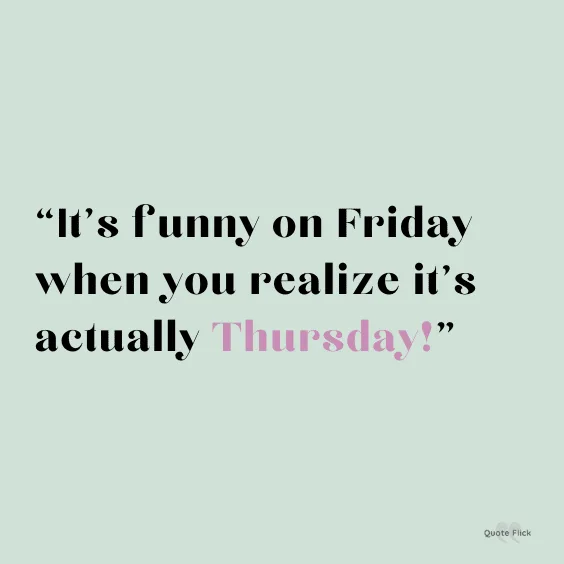 12. "Thursday comes and the week's gone." – George Herbert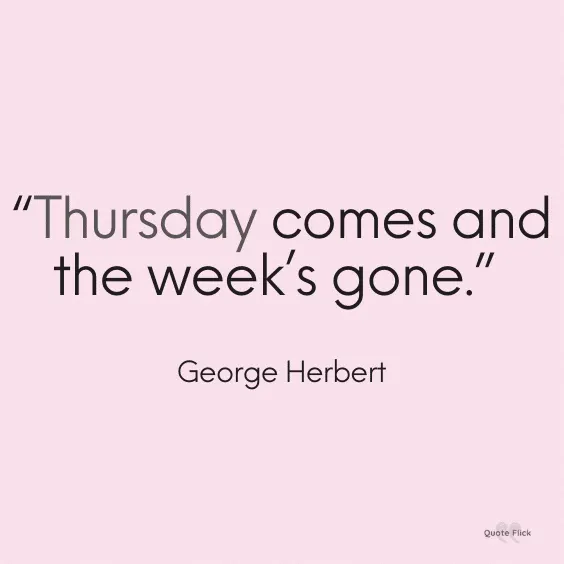 13. "Thursday winddown; images of the weekend on my mind." – Unknown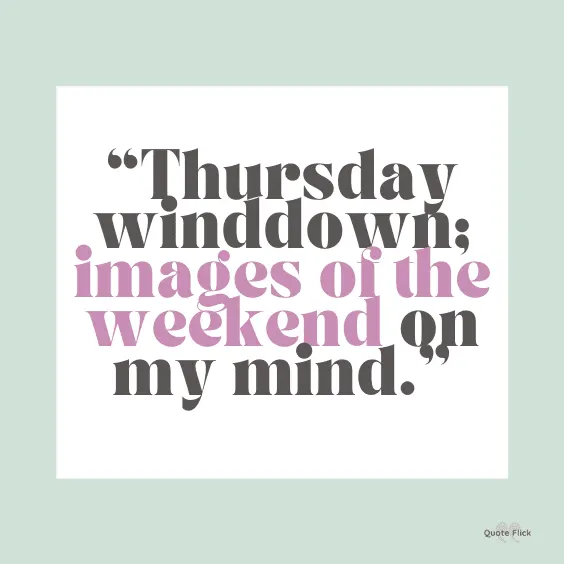 14. "I adore Thursday. I devote it to spreading kindness and encouragement to my loved ones." – Unknown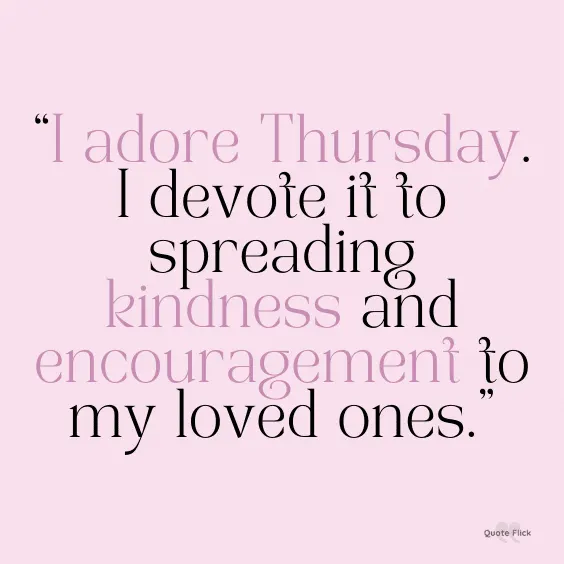 15. "Thursday…the best part of the day is the whole lot. I love it." – Unknown
16. "Happy Thursday. Here's your end of week motivation to have the most amazing day you've ever had!" – Unknown
17. "I wonder how to turn water into wine. Happy thirsty Thursday." – Unknown
18. "Good morning! I hope your day is as amazing as you are! Have a good Thursday- you deserve it!" – Unknown
19. "Happy Thursday! Do the happy dance because tomorrow is Friday!" – Unknown
20. "Thursday is a day to admit your mistakes and try to improve." – Byron Pulsifer
21. "If 40 is the new 30 and 50 is the new 40, why can't Thursday be the new Friday?" – Unknown
22. "One small positive thought in the morning can change your whole day. Happy Thursday!" – Unknown
23. "Make this Thursday your masterpiece." – Unknown
24. "It's Thursday. Rise up and attack the day with enthusiasm." – Unknown
25. "This must be Thursday. I never could get the hang of Thursdays." – Douglas Adams
26. "Some people call it Thursday, I like to call it Friday Eve." – Unknown
27. "Wednesday is hump day which makes Thursday 'I wonder if he'll call' day." – Unknown
28. "I wish you a tolerable Thursday. That's all any of us can hope for." – April Winchell
29. "Start your Thursday with an attitude of optimism. It's going to be a good day!" – Kate Summers
30. "Nothing screws up your Friday like realizing it's Thursday." – Unknown
Enjoying the Thursday quotes? Have you seen our Wednesday Quotes and Friday Quotes?
31. "It's Thursday. I'm breathing. I'm Alive and I'm Blessed. God is Good." – Unknown
32. "I'm from Canada, so Thanksgiving to me is just Thursday with more food. And I'm thankful for that." – Howie Mandel
33. "Thursdays bring a focus to our week to complete all that needs to be done" – Byron Pulsifer
34. "On this Thursday take nothing for granted. Look around and show gratitude for your work, your family, and your friends." – Theodore W. Higginsworth
35. "Dear Thursday are you sure you're not Friday? Because I could really go for it being Friday today! Nothing personal, it's just been a long week." – Unknown
36. "Thursday is perhaps the worst day of the week. It's nothing in itself; it just reminds you that the week has been going on too long." – Unknown
37. "Thursdays are just wannabes. They wannabe Friday but they're not!" – Unknown
38. "Thursday …Nothing more pleasurable than opening our eyes and realizing that every day, God gives us a chance to try again. Of not looking back. To love, smile and live!" – Unknown
39. "Thursday is end day in weekend. Today you are so tired, will think about how your week was, and how will go on Thursday. With everything that has happened to you, you can either feel sorry for yourself, or treat what has happened as a gift. Everything." – Wayne Dyer
40. "Happy Thursday! You're only one day away from being two days away from doing the same work you're doing right now!" – Unknown
41. "There are so many days in a week but my favorite is still Thursday because it is totally fabulous." – Unknown
42. "Good morning dear friend! I wish happy Thursday to you!" – Unknown
43. "To find happiness, focus not on what we want, rather on what we have. Happy Thursday!" – Unknown
44. "Make the most of this day! Laugh, love, read, live, learn, play, dream and just be happy! Live every moment! Happy Thursday!" – Unknown
45. "Happy Thursday! Change your life today; don't gamble on the future, act now without delay." – Unknown
46. "Let this Thursday be filled with possibilities – be aware of the opportunities around you, don't just go through the day, live the day with your eyes and your mind open." – Catherine Pulsifer
47. "Be happy with what you have while working for what you want. Thursday is my favorite day to plan how I'm going to get out of the plans I already made for the weekend." – Unknown
48. "Be in love with every minute of your life – live every day like it's your last. Happy Thursday! Thursday come, and the week's gone." – Unknown
49. "Effort is what is required on Thursday to finish all that needs to be done." – Kate Summers
50. "Thursday…Nothing is more pleasurable than opening our eyes and realizing that every day, God gives us a chance to try again. Of not looking back. To love, smile, and live!" – Unknown
Ready for the weekend? Check out Saturday Quotes and Sunday Quotes