Bring some excitement into your day with these happy Tuesday quotes that we've collected for you. It might not be the stand-out day of inspiration by default, but you can still make a choice to be happy!
With these Tuesday morning quotes, we hope you'll feel uplifted and entertained. It might not be Friday, but your week is in full swing, so why not rise on a Tuesday morning and seize the day?
If you enjoy our Tuesday motivational quotes, please consider sharing your favorite images on Pinterest, this supports us hugely!
Tuesday Quotes
1. "Tuesday isn't so bad. It's a sign that I've somehow survived Monday." – Unknown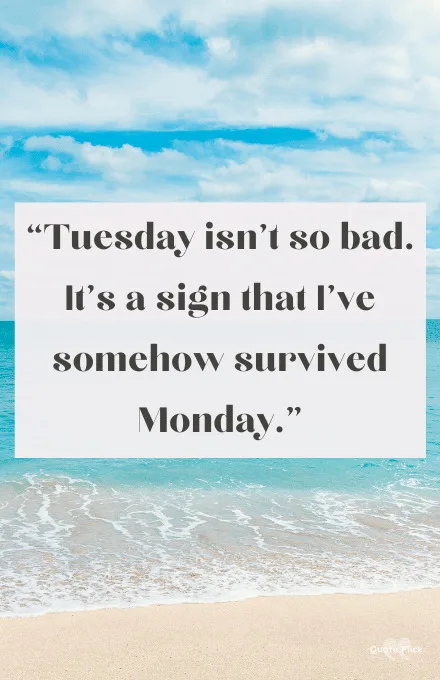 2. "Happy Tuesday! You got to admit, at least it sounds better than happy Monday." – Unknown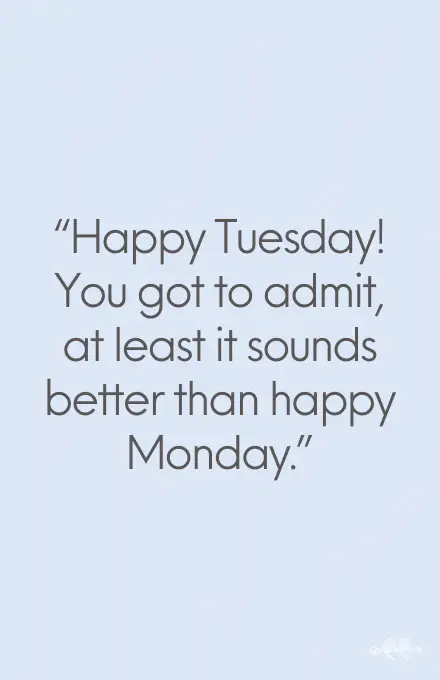 3. "I give myself permission to jump out of bed with a smile this Tuesday morning!" – Unknown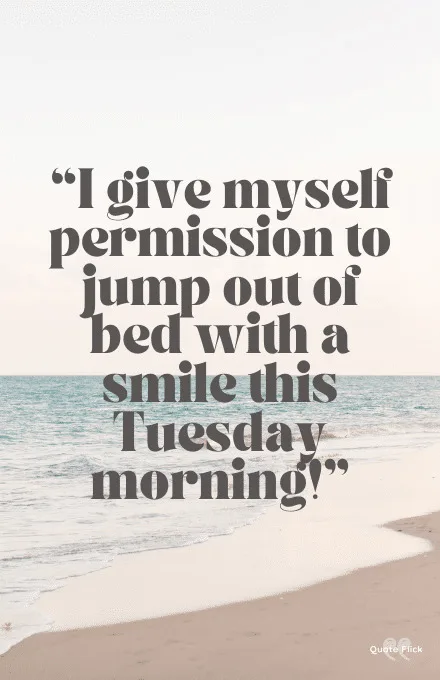 4. "On this Tuesday, remember that an attitude is contagious so remember to have a good one. Share the motivational energy!"- Unknown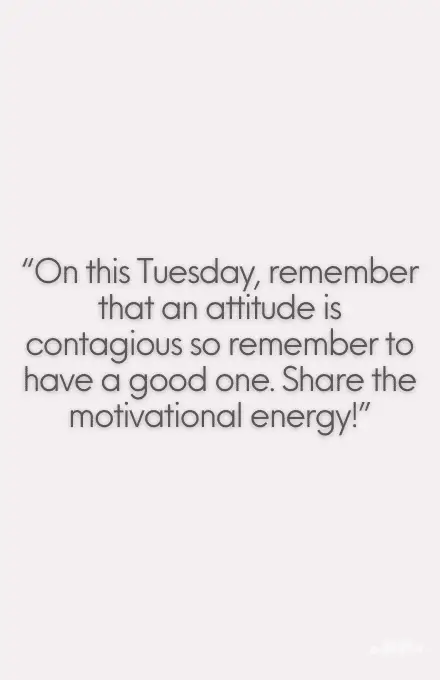 5. "If you're not feeling very uplifted this Tuesday, invite the most inspirational person you know for dinner." – Unknown
You Might Also Like: Inspirational Wednesday Quotes
6. "The key to a happy Tuesday is forgetting about the broken images of Monday and focusing on a new beginning. Tuesday is, in some ways, a bright and promising day."- Unknown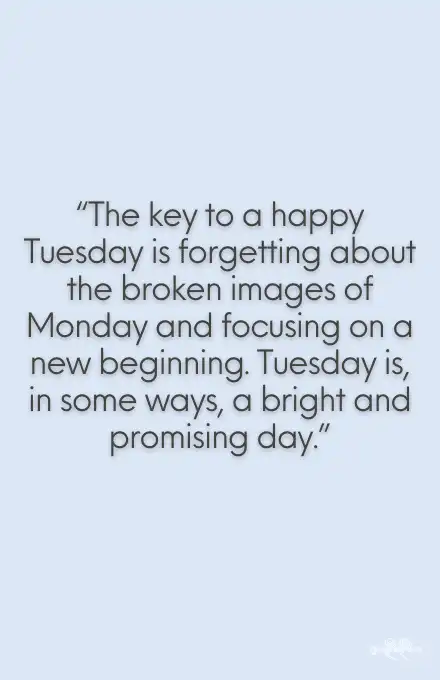 7. "Today is Thoughtful Tuesday. Try doing something nice for someone else whether it is a kind gesture or a positive remark." – Unknown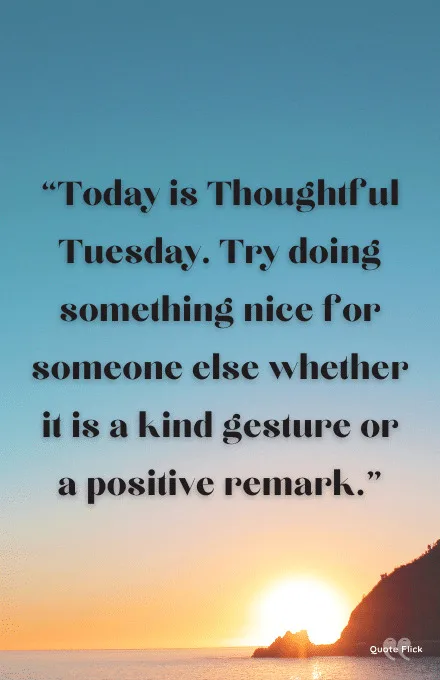 8. "Three horrible facts about Tuesday: 1. Today is not Friday 2. Tomorrow is not Friday 3. Even the day after tomorrow is not Friday." – Unknown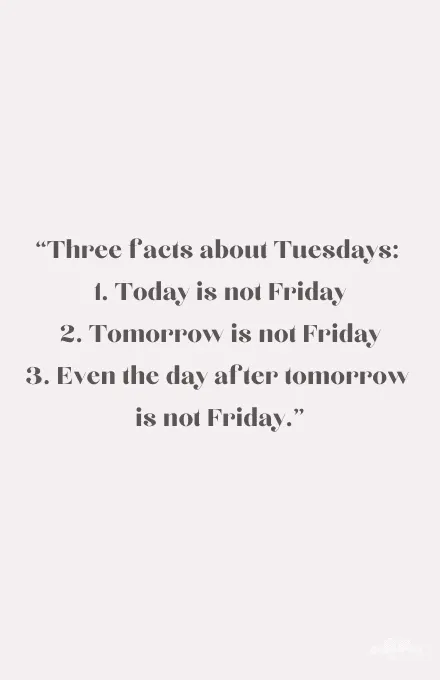 9. "A fresh start, a clean slate, and a lot of potential for great things to come. That is what Tuesdays really are." – Unknown
10. "Tuesday is the most sensible day of the week."- Emily P. Freeman
Next: Awesome Monday Quotes
11. "You can laugh on a Tuesday, things can be funny on a Tuesday. Life can be lived on a Tuesday!" – Unknown
12. "It's coffee and I need some Tuesday." – Unknown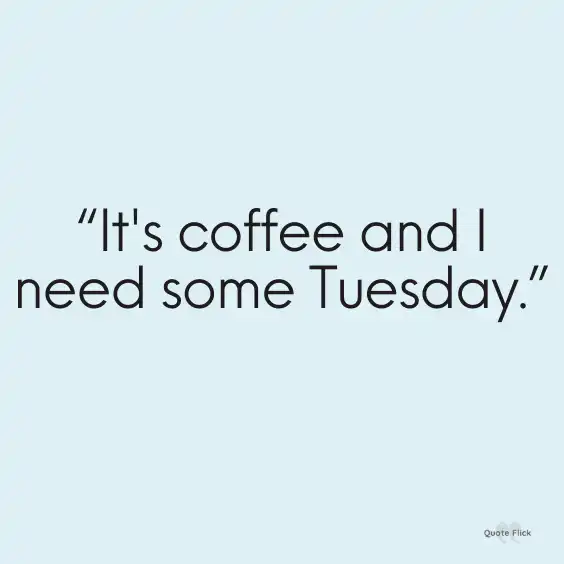 13. "Wisdom tells us that to never enjoy a day because it is called Tuesday is a terrible waste." – Unknown
14. "Today is not just Tuesday, it is Transformation Tuesday. That means that success does not just come to you, you have to go out and get it. So what are you waiting for?" – Unknown
15. "Tuesday is my second favorite day of the week to put off everything until later in the week." – Unknown
Next: New Day Quotes or Inspirational Quotes
16. "If you have no motivation on a Tuesday, just get through it, enjoy yourself as you are." – Unknown
17. "Inspiration on a Tuesday comes from waking up and realizing that you are as alive as you are any other day of the week!" – Unknown
18. "Tuesdays are a chance for a new beginning and a new perspective, so make them count." – Unknown
19. "Tuesday nights are sushi nights, so we go out then." – Al Rocker
20. "Tuesday's child is full of grace." – Unknown
21. "Monday always passes and there will always be a Tuesday with a beautiful blue sky with few clouds." – Unknown
22. "Did someone order a bright and sunny day? Well…here it is. Happy Tuesday!" – Anthony T. Hincks
23. "I don't want it good. I want it Tuesday." – Jack L. Warner
24. "Tuesday is a huge day." – Ian Mcdougal
25. "Tuesday means we're a day closer to a weekend spent dreading Monday." – Unknown
26. "How would your Tuesday be different if you conducted yourself with complete love and consideration?" – Byron Pulsifer
27. "Tuesday is my favorite day of the week. That's cleaning day." – Jim Miller
28. "Tuesday isn't so bad…It's a sign that I've somehow survived Monday." – Unknown
29. "Tuesday is a good day, you survived Monday. And tomorrow is Wednesday, halfway through your work week!" – Kate Summers
30. "Always keep a bottle of wine in the fridge for special occasions. You know, like a Tuesday."- Unknown
31. "I'd take half an argument over half a silence any day. And I'd take peace and quiet over a full-blown argument any other day unless it's Tuesday."- Will Advise
32. "Tuesday is the day I actually start the week, Monday I just deal with the depression of the weekend ending." – Unknown
33. "Tuesdays are really just Mondays dressed in their Sunday best." – Unknown
34. "Happy Tuesday! We are responsible for peace and order in our lives! When your world is CONSTANTLY filled with chaos, then it's time to take a look at SELF!" – Tracey Edmonds
35. "Tuesday: The day after Monday that reminds you that you still have four more days of not trying to slap a fellow co-worker."- Unknown
36. "Good morning Tuesday! Please enter and pour out that shower of blessings into our lives, renew our spirits, our strength, our faith, and our hope." – Unknown
37. "It's only Tuesday and I am already 95% done with this week."- Unknown
38. "Three positive facts are obvious on Tuesday: Tomorrow allows me another day to demonstrate my worthiness to my employer; it is yet another day to influence those around me with encouragement to handle their own trials; and, it is my day to celebrate each small victory of yesterday." – Byron Pulsifer
39. "Tuesday is Monday's ugly sister." – Unknown
40. "After Tuesday, even the calendar goes W – T – F."- Unknown
41. "There is no point in learning on a Tuesday when on a Thursday it might be completely different." – Alycia Debnam-Carey
42. "It's TUESDAY! And since its CHOOSEDAY: Choose to Smile Choose to be Happy Choose to Love Choose to Bless Choose to be a Blessing Choose t be Humble Choose o be Patient Choose to be Kind… and above all Choose God to guide your Life. HAPPY TUESDAY!" – Unknown
43. "Good morning Tuesday! Please enter and pour out that shower of blessings into our lives, renew our spirits, our strength, our faith, and our hope."- Unknown
44. "It's only Tuesday? Monday took so long that I thought it was Wednesday." – Unknown
45. "Among people who really hate Monday, Tuesday seems like a worse version of Monday, because any excuse to not work is no longer valid. Maybe it's true that nobody likes Tuesday, but it is our fault if we don't want to enjoy it. Tuesday is just a day and it is up to us how we spend it." – Unknown
46. "Why does winter feel like one big Tuesday?" – Todd Stocker
47. "Caught between Monday and Wednesday, Tuesday holds the unpleasant task of reminding us that we have things to do and that postponing them only makes our life more difficult. Burdening ourselves with too many tasks on Wednesday is not pleasant." – Unknown
48. "Hold onto positive things that elevate your spirit and be with positive people. Happy Tuesday." – Tracey Edmonds
49. "Most people feel that Tuesday is just a repetition of Monday, which makes it equally depressing. However, Tuesday is more than that because it teaches us how, after a weekend of fun and a day of the dreariness, we are finally free to do meaningful things." – Unknown
50. "It's Tuesday! Worry less, live more"- Unknown