If you're facing a challenge, or looking for some motivational words of wisdom, we've got you covered with our collection of over 70 quotes about warriors.
These warrior quotes explore what it means to be a fighter, champion or hero. Some see a warrior as someone who must conquer their own fears and doubts, while others see them as protectors, using their wisdom or love as their greatest weapons.
Whether fighting on the battlefield or within themselves, these warrior phrases and sayings remind us of the strength and determination needed to overcome obstables. Unleash your inner warrior and keep pushing through!
If you enjoy these quotes, please send your favorite to your fellow warriors and share on Pinterest!
Warrior Quotes
1. "Courage, above all things, is the first quality of a warrior." – Carl von Clausewitz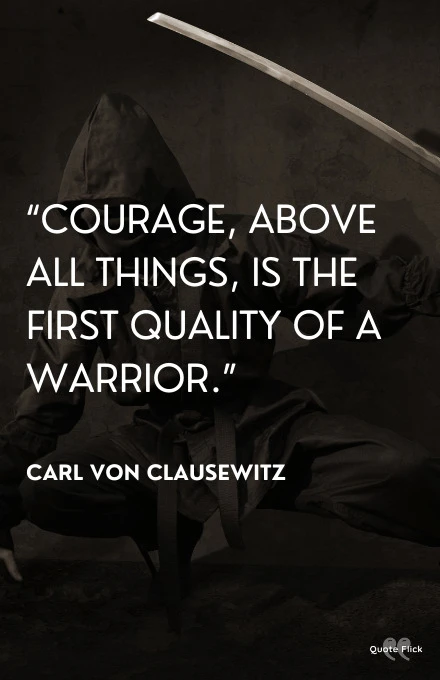 2. "Every victorious warrior draws his strength from the highest source; his love." ― Tapan Ghosh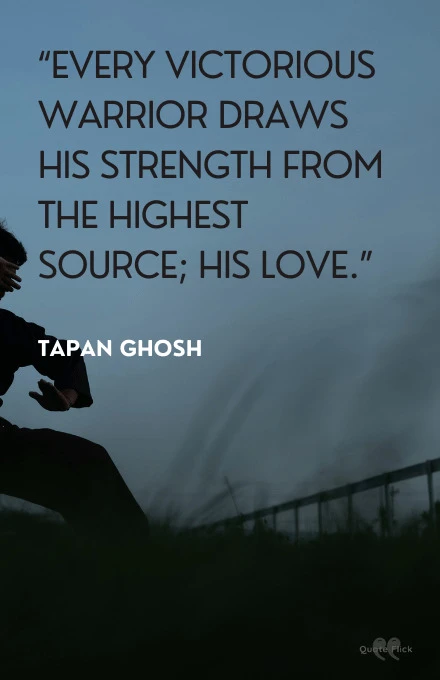 3. "Warriors want a worthy opponent. There is no redress in fighting the pathetic." – Donna Lynn Hope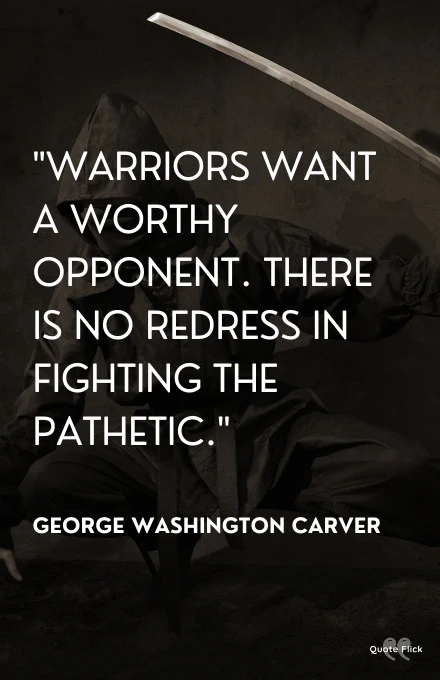 4. "Cowards shrink from challenges, weaklings flee from them, but warriors wink at them." – Matshona Dhliwayo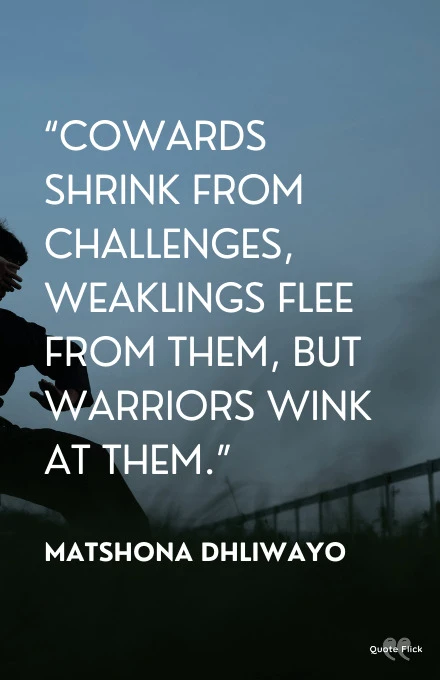 5. "The two most powerful warriors are patience and time." – Leo Tolstoy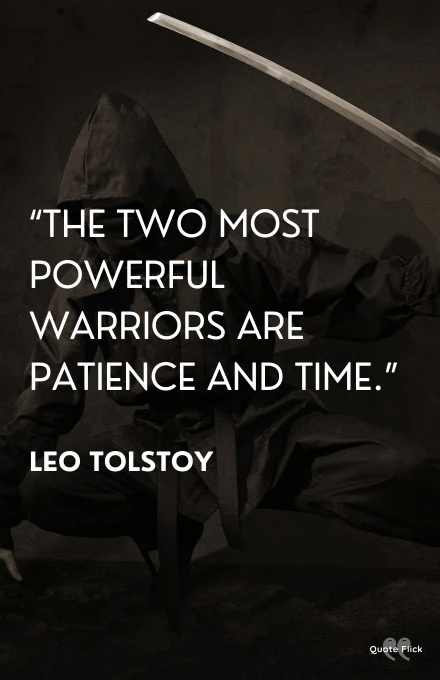 You Might Also Like:
6. "Warriors should suffer their pain silently." – Erin Hunter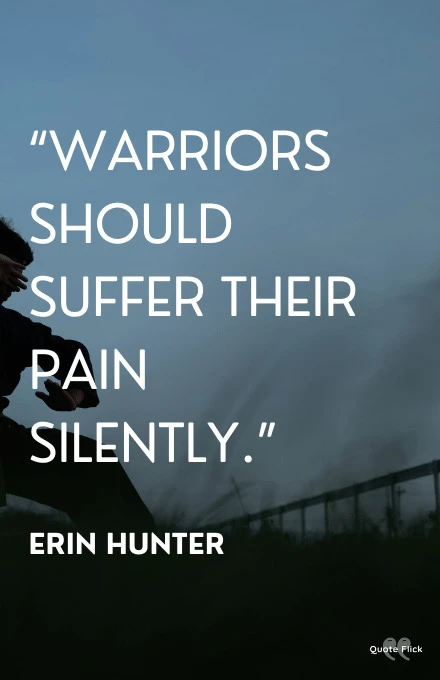 7. "I call myself a peaceful warrior. Because the battles we fight are on the inside." – Socrates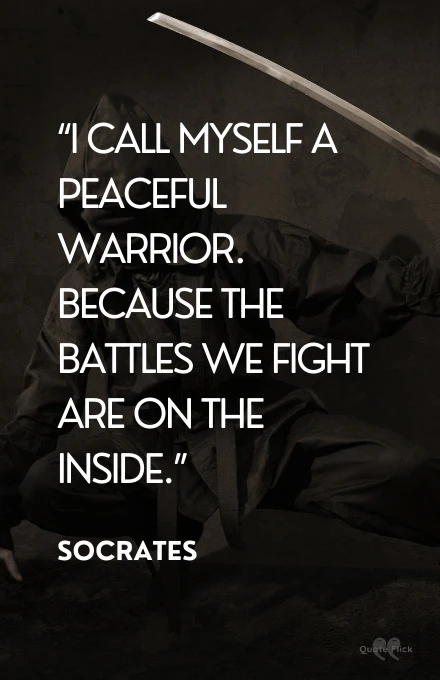 8. "To be a warrior is to learn to be genuine in every moment of your life." – Chogyam Trungpa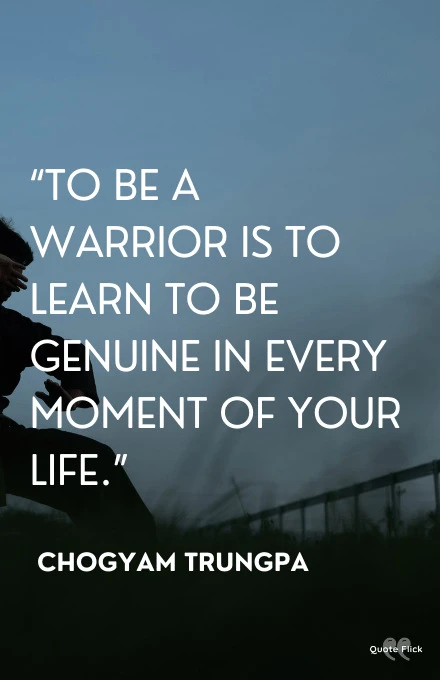 9. "There is no greater warrior than a mother protecting her child." – N. K. Jemisin
10. "Victorious warriors win first and then go to war, while defeated warriors go to war first and then seek to win." – Sun Tzu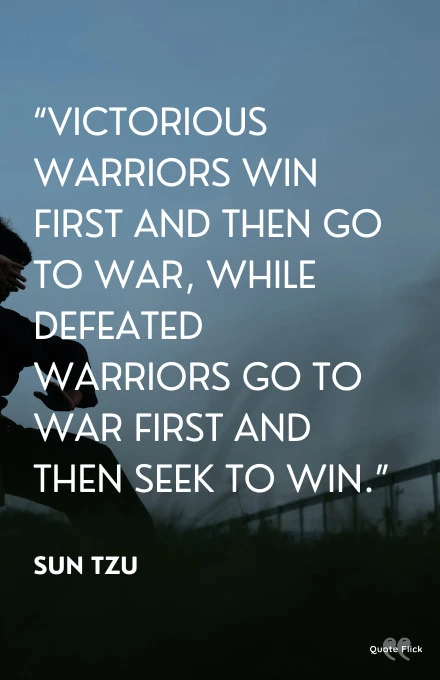 You Might Also Like:
11. "The Warrior fights before he's taught how. He just fights, and if you hit him he steps forward towards you" – Karl Wiggins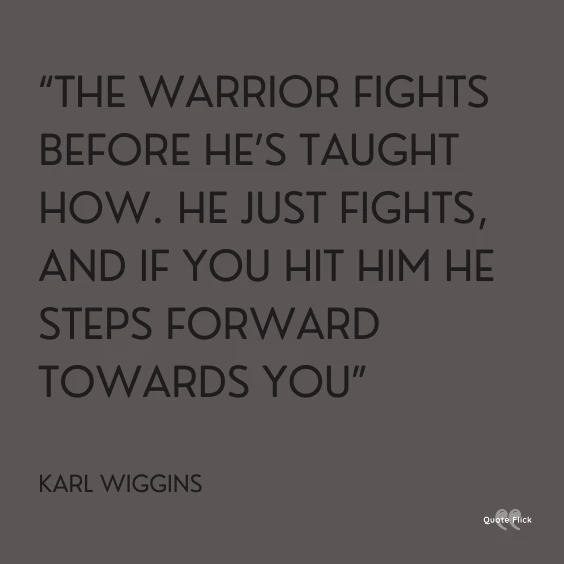 12. "You're the hunter, the warrior. You're stronger than anyone else here, that's your tragedy." – Anne Rice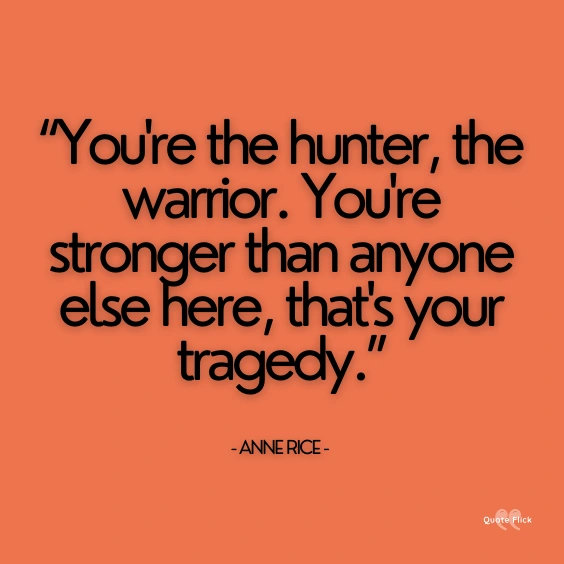 13. "A warrior lives by acting, not by thinking about acting, nor by thinking about what he will think when he has finished acting." – Carlos Castaneda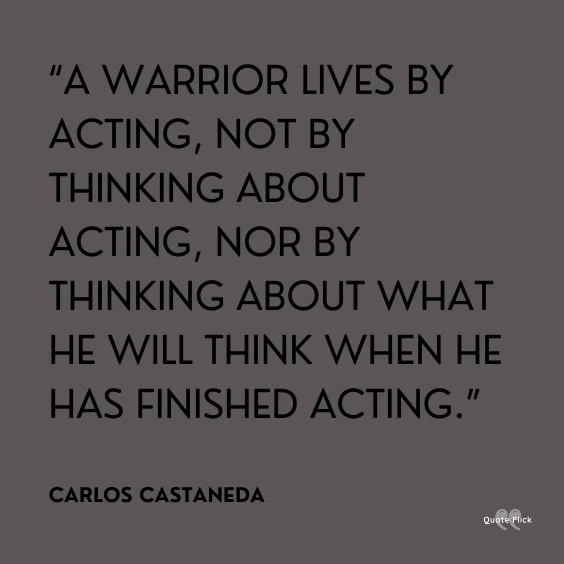 14. "A warrior does not give up what he loves, he finds the love in what he does" – Dan Millman
15. "The successful warrior is the average man, with laser-like focus." – Bruce Lee
16. "The fiercest warriors, do not carry a sword to the battlefield; instead, they are armed with wisdom." – RJ Intindola quotes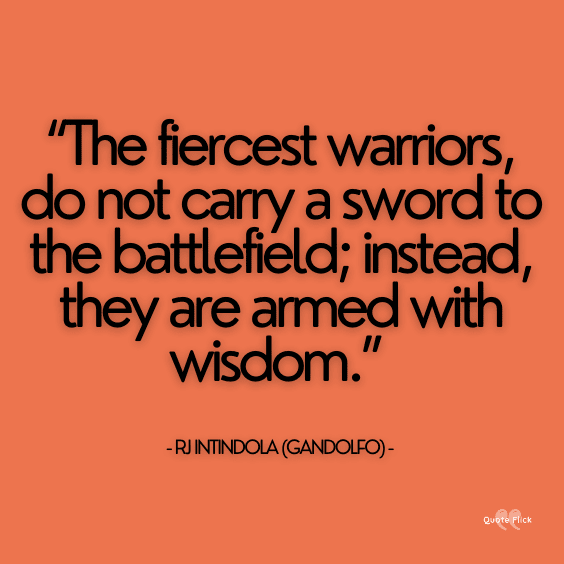 17. "I'm a warrior for the middle class." – Barack Obama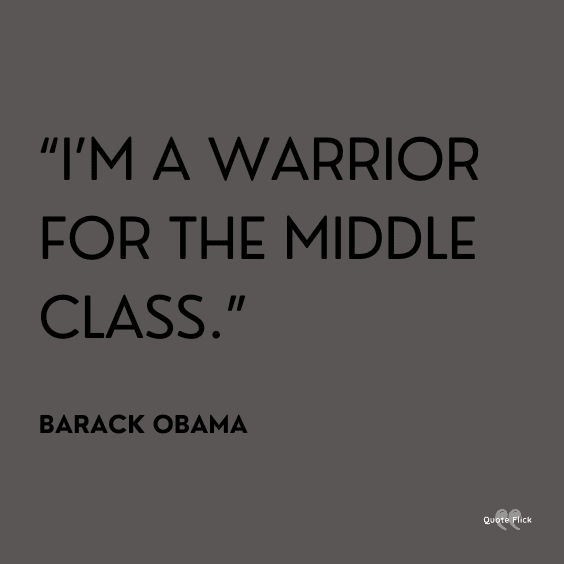 18. "A Warrior that speaks truth cuts sharper than winter cold." – Kevin Anytime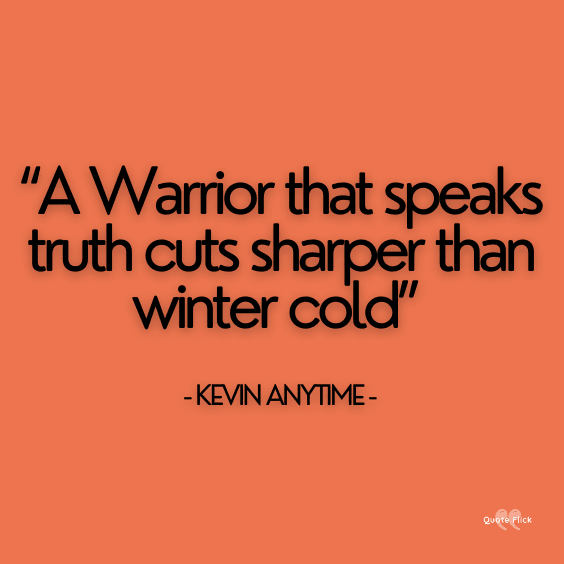 19 "And now, born from the ashes, she's a warrior in bloodied black." – Amie Kaufman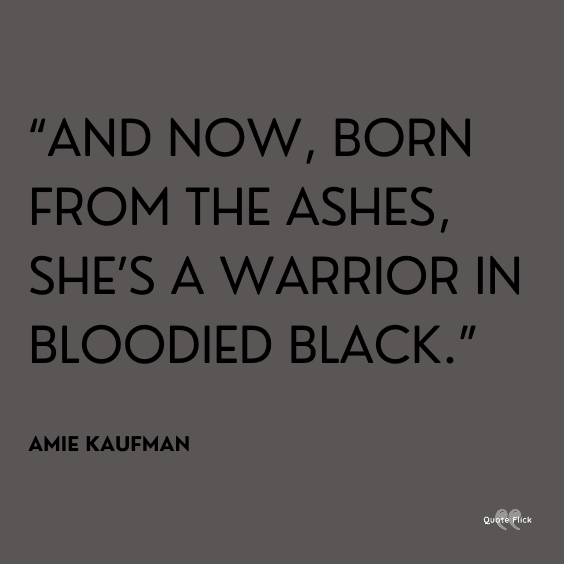 20. "He who conquers himself is the mightiest warrior." – Confucius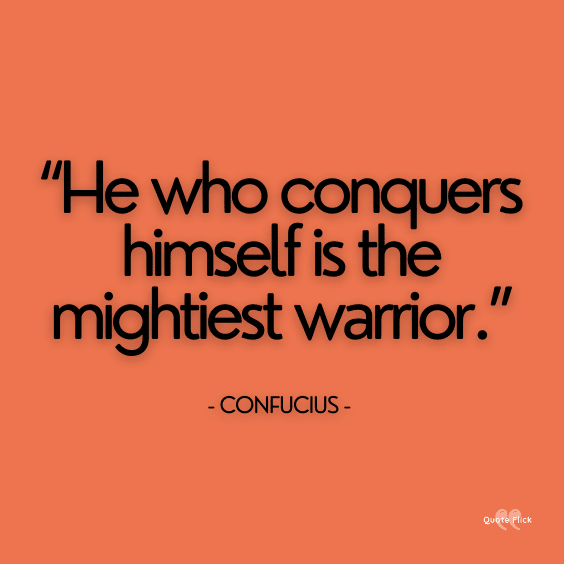 21. "I do what I do because it is the right thing to do. I am a warrior, and it is the way of the warrior to fight superior odds." – Paul Watson
22. "The true soldier fights not because he hates what is in front of him, but because he loves what is behind him." – G.K. Chesterton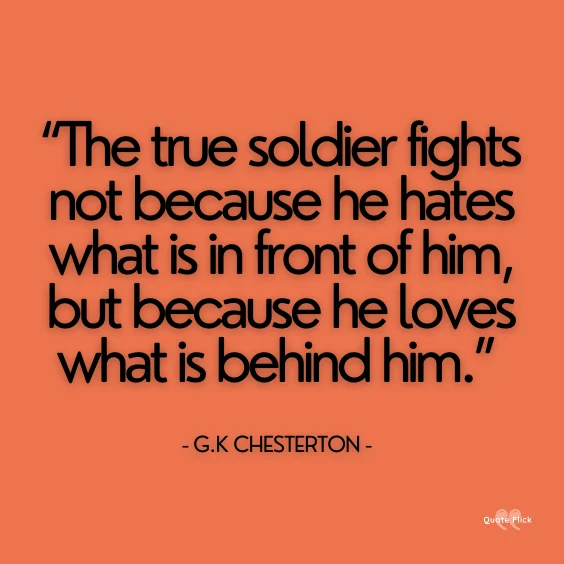 23. "The warrior stands, ready to defend, ready to fight for those he serves. He is a warrior of virtue, A knight of conscience. He is who we all wish to be." – Anthony T. Hincks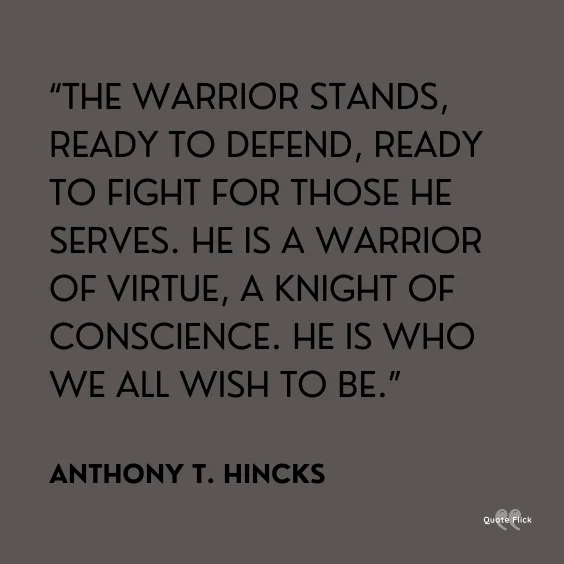 24. "A wild animal will fear for your crackers but not a warrior." – P.S. Jagadeesh Kumar
25. "A warrior does not give up what he loves, he finds the love in what he does." – Dan Millman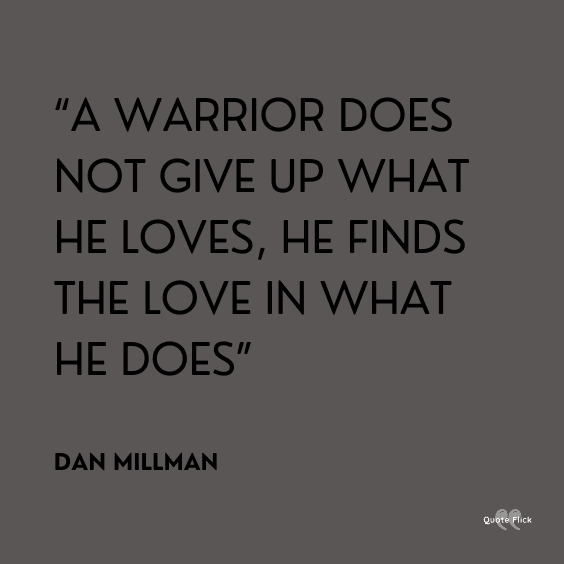 26. "I know what I'm capable of; I am a soldier now, a warrior. I am someone to fear, not hunt." – Pittacus Lore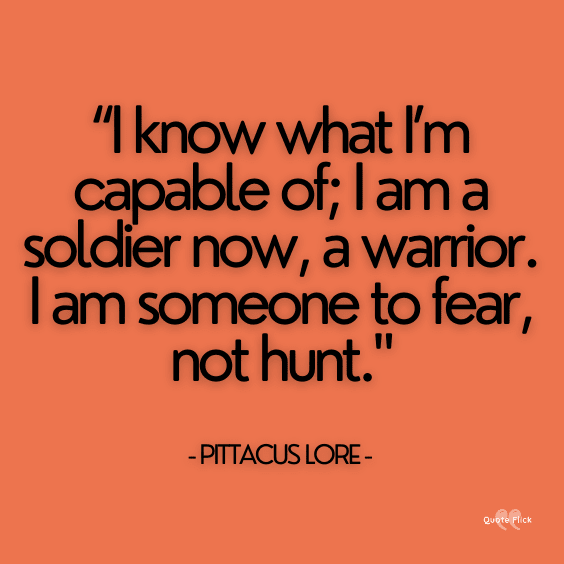 27. "Fate whispers to the warrior, 'You can not withstand the storm.' The warrior whispers back, 'I am the storm.'" – Jake Remington
28. "Weapons may be carried by creatures who are evil, dishonest, violent or lazy. The true warrior is good, gentle and honest. His bravery comes from within himself; he learns to conquer his own fears and misdeeds." – Brian Jacques
29. "Resilience is, of course, necessary for a warrior. But a lack of empathy isn't." – Phil Klay
30. "Every single girl, whether we want to recognize it or not, is a warrior." – Marjorie Liu
31. "After paying the toll for life's demanding price, will the dead descend or will warriors rise?" – Reena Doss
32. "A warrior…must believe in his strength of will, of purpose, of heart and soul." – David Gemmell
33. "There's more to being a warrior than killing. A true warrior — the best warrior — isn't cruel or mean. He doesn't claw an enemy who can't fight back. Where's the honor in that?" – Erin Hunter
34. "The basic difference between an ordinary man and a warrior is that a warrior takes everything as a challenge while an ordinary man takes everything as a blessing or a curse." – Carlos Castaneda
35. "You see me. What you see is what you get. You get real martial arts, you get real fighting, you get a real warrior mentality. Some people aren't mature enough to handle it." – Nick Diaz
36. "A warrior has to believe, otherwise, he cannot activate his intent positively." – Théun Mares
37. "A warrior with a cause is the most dangerous soldier of all." – Michael Scott
38. "Generally speaking, the Way of the warrior is resolute acceptance of death." – Miyamoto Musashi
39. "When a warrior fights not for himself, but for his brothers, when his most passionately sought goal is neither glory nor his own life's preservation, but to spend his substance for them, his comrades, not to abandon them, not to prove unworthy of them, then his heart truly has achieved contempt for death, and with that he transcends himself and his actions touch the sublime. That is why the true warrior cannot speak of battle save to his brothers who have been there with him. The truth is too holy, too sacred, for words." – Steven Pressfield
40. "Be a warrior when it comes to delivering on your ambitions. And a saint when it comes to treating people with respect, modeling generosity, and showing up with outright love." – Robin S. Sharma
41. "To be exceptional you have to be alone, that's the life of a warrior." – Chris Eubank Sr.
42. "The more you sweat in training, the less you will bleed in battle." – Motto of Navy Seals
43. "I'm a warrior when it comes to pursuing roles." – Daniel Day-Lewis
44. "Hardships will push you harder to slump in deep dejection but you, the warrior will erase its intent by your tenacity." – Spriha Kant
45. "We chose whether to be warriors or to be ordinary." – Carlos Castaneda
46. "There are things in the universe that are simply and purely evil. A warrior does not seek to understand them, or to compromise with them. He seeks only to obliterate them." – Timothy Zahn
47. "Out of every one hundred men, ten shouldn't even be there, eighty are just targets, nine are the real fighters, and we are lucky to have them, for they make the battle. Ah, but the one, one is a warrior, and he will bring the others back." – Heraclitus
48. "A woman can be demure, lady-like, and the most prim and proper character, and still have a toughness and resiliency as apparent as a superhero-type female character or a warrior or soldier type. It's all about the story, the character, and the course of events in that piece of work and how that character is presented." – Katherine McNamara
49. "A warrior seeks to act rather than talk." – Carlos Castaneda
50. "A warrior must only take care that his spirit is never broken." – Shissai
51. "We are all warriors. Each of us struggles every day to define and defend our sense of purpose and integrity, to justify our existence on the planet and to understand, if only within our own hearts, who we are and what we believe in." – Steven Pressfield
52. "A warrior's greatest enemy can also be his greatest teacher." – Taran Matharu
53. "You don't have to look like a warrior in every role." – Prabhas
54. "If you're a true warrior, competition doesn't scare you. It makes you better." – Andrew Whitworth
55. "Every great warrior must learn to endure and overcome the adversities of life." – Lailah Gifty Akita
56. "Love is a greater warrior than hate." – Matshona Dhliwayo
57. "Any great warrior is also a scholar, and a poet, and an artist." – Steven Seagal
58. "There are three qualities that every individual must have to achieve success: a Monk's patience, a Warrior's courage, a Child's imagination." – Sharad Vivek Sagar
59. "Luck is simply the advantage a true warrior gains in executing the correct course of action." – R.A. Salvatore
60. "It will always be relevant and always be inspiring to see somebody turning themselves into a warrior." –  Phoebe Waller-Bridge
61. "Go to the battlefield firmly confident of victory and you will come home with no wounds whatsoever." – Uesugi Kenshin
62. "The only thing a warrior cannot fight is her own fierce nature." – Bianca Marais
63. "A gardener tending to his flowers is as noble as a warrior battling his opponents." – Matshona Dhliwayo
64. "We must be warriors in the struggle against ignorance." – Maya Angelou
65. "A warrior of the Light is never in a hurry. Time works in his favor; he learns to master his impatience and avoids acting without thinking." – Paulo Coelho
66. "You may encounter many defeats, but you must not be defeated. In fact, it may be necessary to encounter the defeats, so you can know who you are, what you can rise from, how you can still come out of it." – Maya Angelou
67. "Let us form one body, one heart, and defend to the last warrior our country, our homes, our liberty, and the graves of our fathers." – Tecumseh
68. "All men are warriors. And life for everything in our universe is nothing but war." – David Zindell
69. "Ideas are the great warriors of the world, and a war that has no idea behind it is simply a brutality." – James A. Garfield
70. "Truth is my weapon. Knowledge is my armor. Wisdom is my strategist. Love is my warrior." – Matshona Dhliwayo
71. "We need courage and strength, a kind of warrior spirit. But the place for this warrior strength is in the heart. We need energy, commitment, and courage not to run from our life nor to cover it over with any philosophy-mate rial or spiritual. We need a warrior's heart that lets us face our lives directly, our pains and limitations, our joys and possibilities." – Jack Kornfield
72. "May the Warrior grant me a smooth course and a quick victory." – George R.R. Martin
73. "The essence of warriorship, or the essence of human bravery, is refusing to give up on anyone or anything." – Chogyam Trungpa
74. "There are no contests in the Art of Peace. A true warrior is invincible because he or she contests with nothing. Defeat means to defeat the mind of contention that we harbor within." – Morihei Ueshiba
75. "For us, warriors are not what you think of as warriors. The warrior is not someone who fights, because no one has the right to take another life. The warrior, for us, is one who sacrifices himself for the good of others. His task is to take care of the elderly, the defenseless, those who can not provide for themselves, and above all, the children, the future of humanity." – Sitting Bull
76. "Warriors want a worthy opponent. There is no redress in fighting the pathetic." – Donna Lynn Hope
Holly Jaskolka is a certified Emotional Freedom Technique (EFT) practitioner, yoga instructor, and an impassioned advocate for holistic well-being. Fueled by her love for animals and wanderlust, Holly leads a plant-based lifestyle that she complements with immersive travel experiences. When she's not jet-setting to uncover the world's hidden gems, she's empowering individuals to heal emotionally, particularly those grappling with the aftermath of breakups. Connect with Holly on LinkedIn.