Happy hump day all! Are you in need of some Wednesday motivation? You've made it to the middle of the week. Love it or hate it, these Wednesday quotes are sure to uplift your spirits.
'Hump day' has been used since the 1950s to signify getting over the 'hump' (or middle) of the working week, taking you on the journey to the weekend.
Wednesday is exciting as it signifies finally making it closer to the weekend. This collection of Wednesday motivational quotes is the perfect way to inspire you to keep going until you get there!
Why not choose your favorite from this list of hump day quotes and share them on social media? If you find a quote you love, please consider sharing it on Pinterest and supporting us!
Wednesday Quotes
1. "It's Wednesday! I'm breathing. I'm healthy. I'm truly blessed. I'm grateful for this day." – Unknown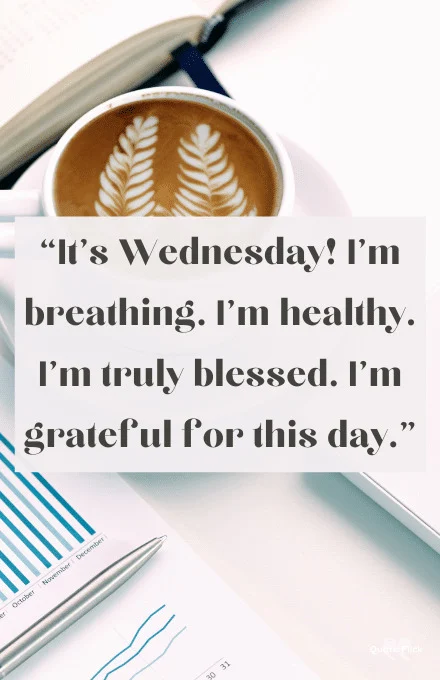 2. "Go, Hump Day, go!" – Unknown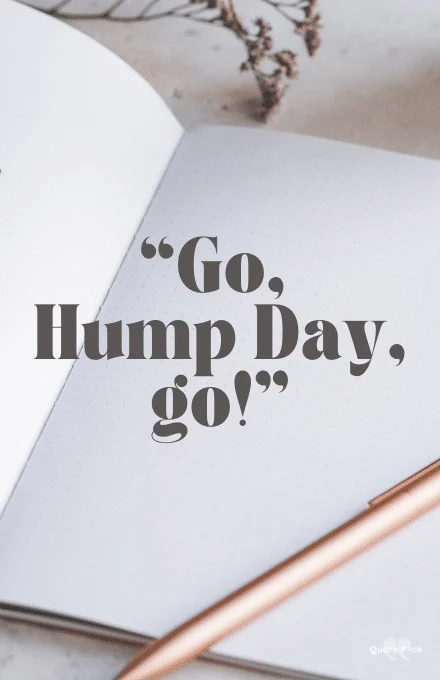 3. "A Wednesday motivational quote: "You miss 100% of the shots you don't take." – Wayne Gretzky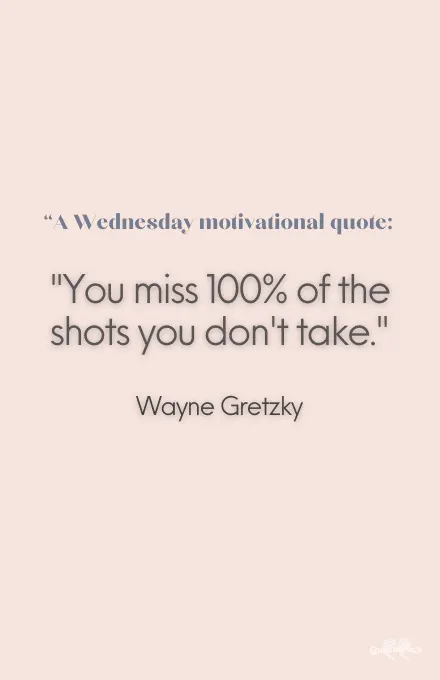 4. "Wednesday: a day to be inspirational." – Unknown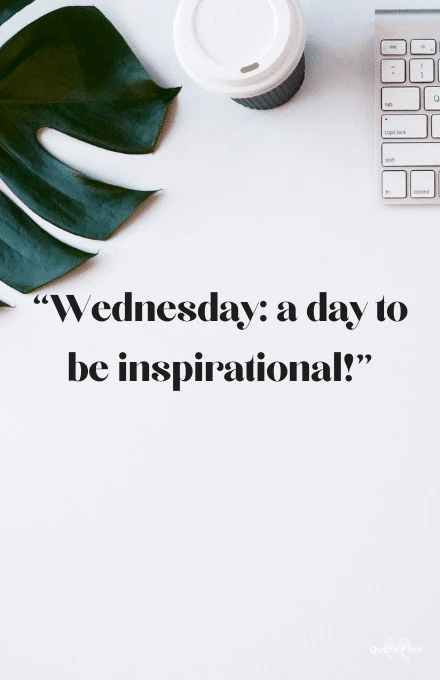 5. "Happy Wednesday! Love all, trust a few, do wrong to none." – William Shakespeare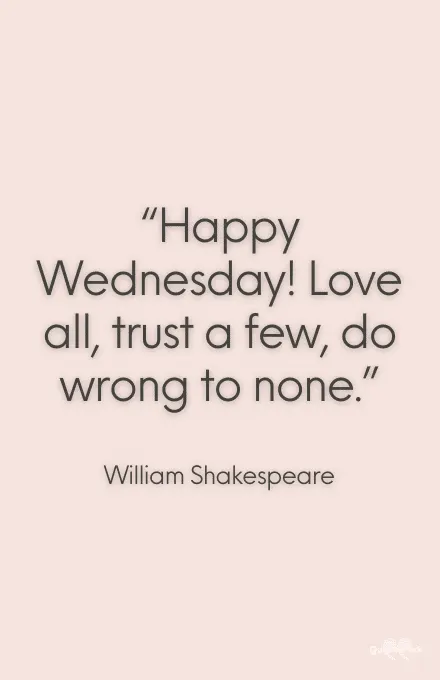 Next: Thursday Quotes
6. "Each morning is the open door to a new world – new vistas, new aims, new plans, new things…Wednesday morning is no less." – Unknown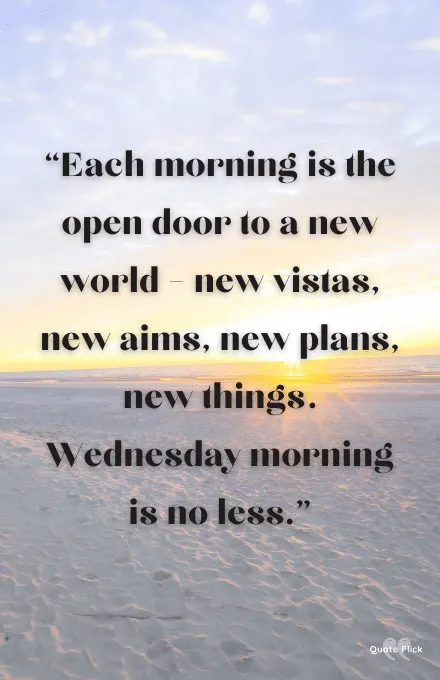 7. "A Wednesday with no rain is a dry hump day." – Demetri Martin
8. "Focus on good thoughts and good things will happen. Happy Wednesday stay positive. Think positive. Do positive a very good morning." – Unknown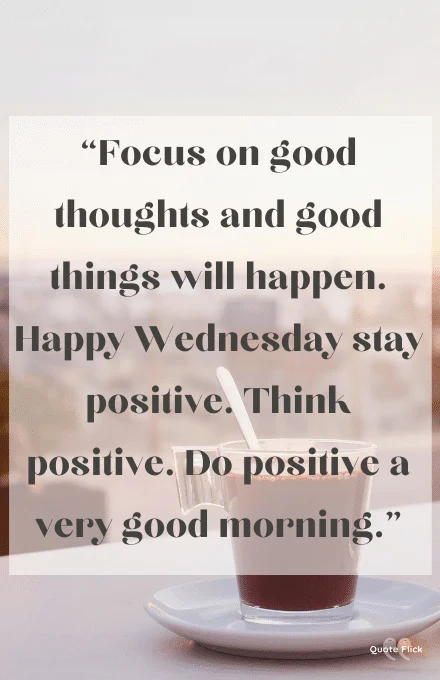 9. "The thing about Wednesdays: they're almost, sorta, kinda, close to, nearly the weekend." – Unknown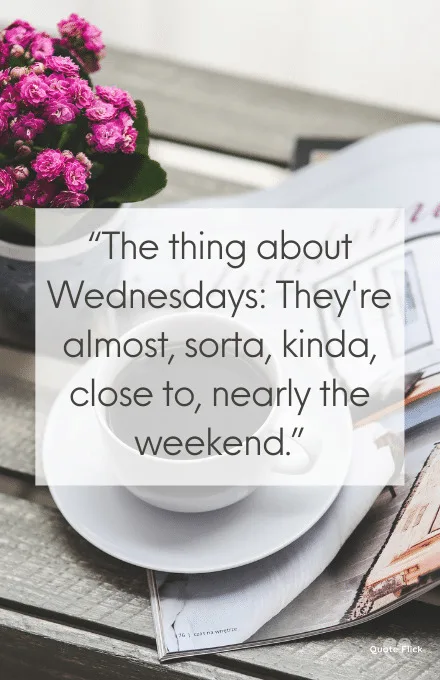 10. "Fennel, which is the spice for Wednesdays, the day of averages, of middle-aged people. . . . Fennel. . . smelling of changes to come." – Chitra Banerjee Divakaruni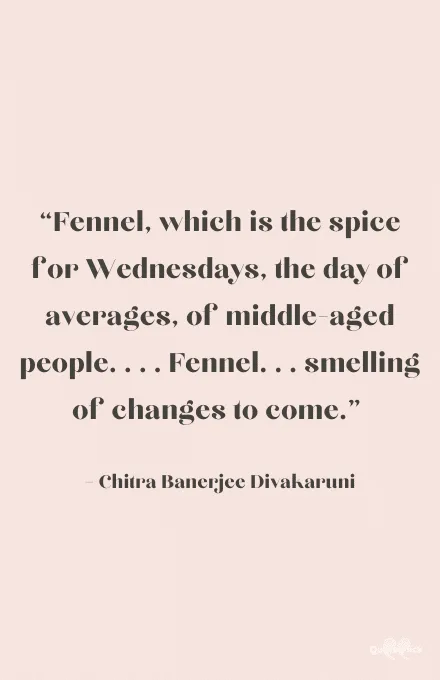 You Might Also Like: New Day Quotes or Words of Encouragement
11. "On Wednesday, when the sky is blue, and I have nothing else to do. I sometimes wonder if it's true, that who is what and what is who." – Winnie the Pooh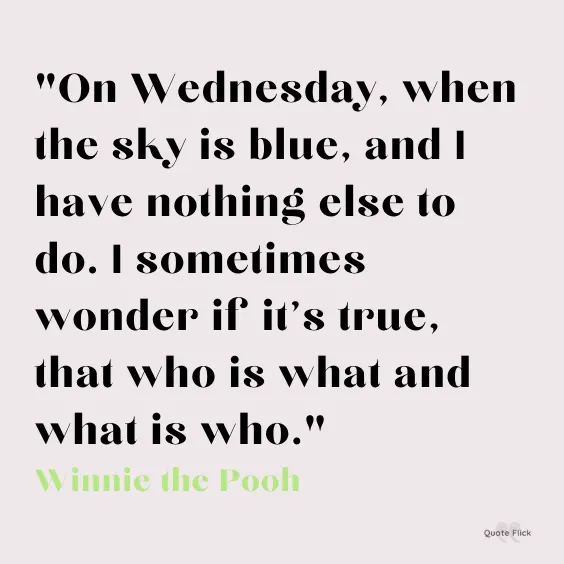 12. "It's a funny old world, and a funny old Wednesday." – Unknown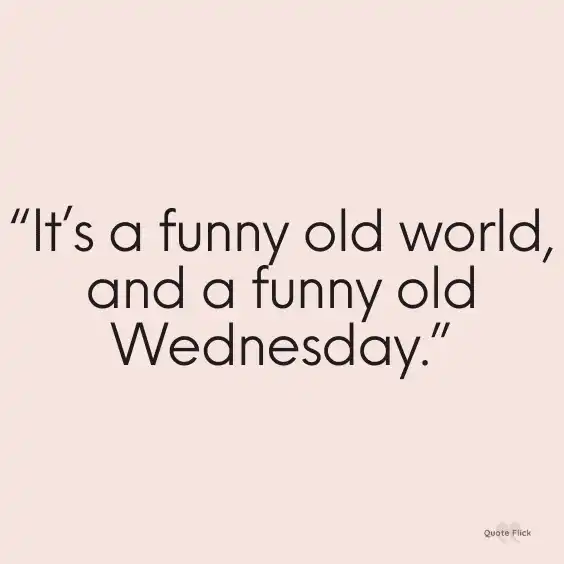 13. "Wednesday is a perfect day to reflect, stay true to you, and tap into your inner wisdom." – Unknown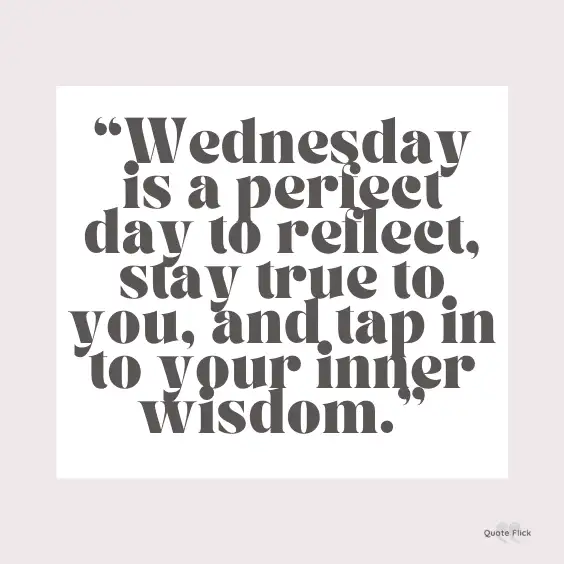 14. "Wednesday is the day where images of the last weekend fade and visions of the next one get brighter." – Unknown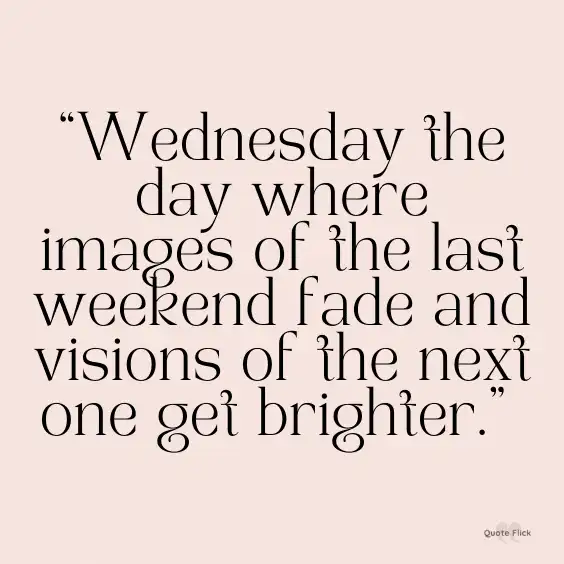 15. "This Wednesday, remember that a word of encouragement during a failure is worth more than an hour of praise after success." – Unknown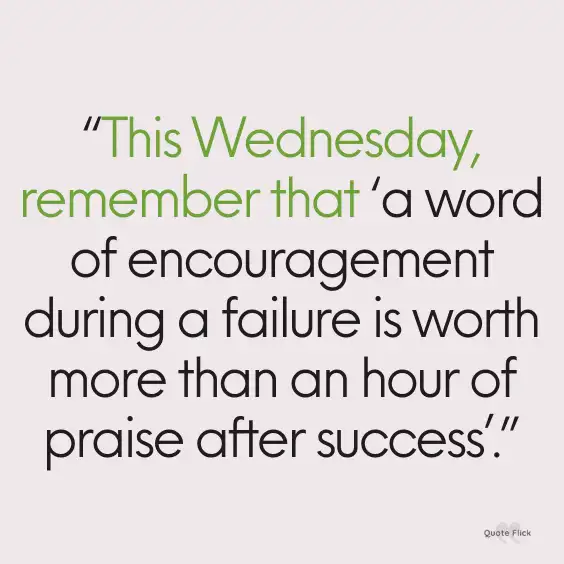 16. "Here's a Wednesday quote of the day to tell you how magical and powerful you are. Believe in yourself! Happy Wednesday!" – Unknown
17. "Happy Wednesday. Envision your future you, and be your own motivation." – Unknown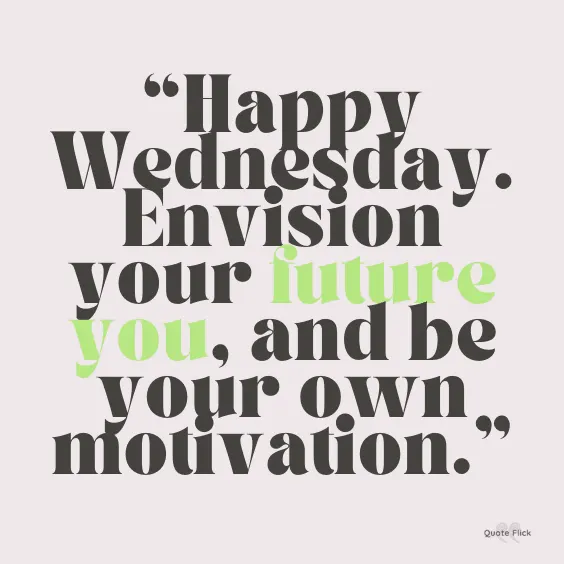 18. "You're my inspiration, happy Wednesday beautiful human." – Unknown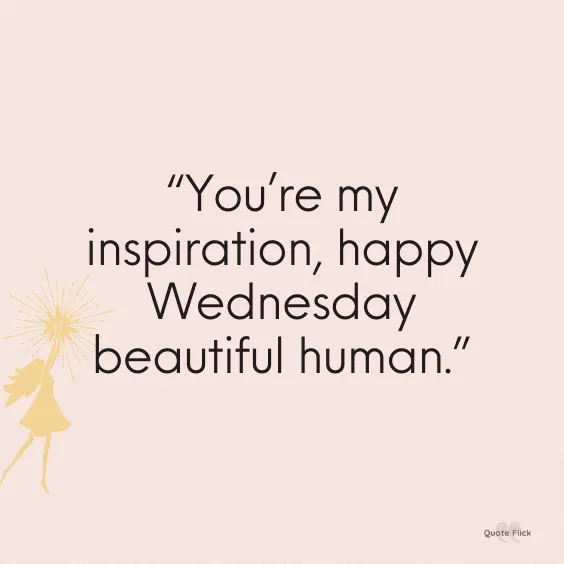 19. "To some, it's Hump Day. To us, it's Wednesday's getting its ass kicked and Thursday just asking Friday to switch places." – Dwayne Johnson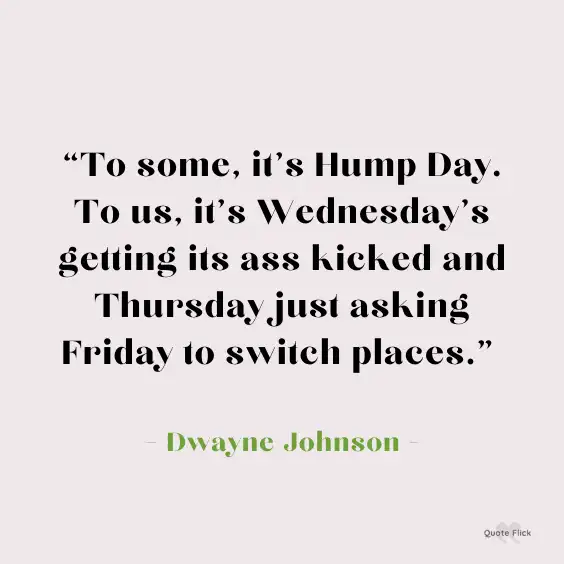 20. "It's Wednesday, mid-week. So Wednesday is like the middle finger of the week." – Unknown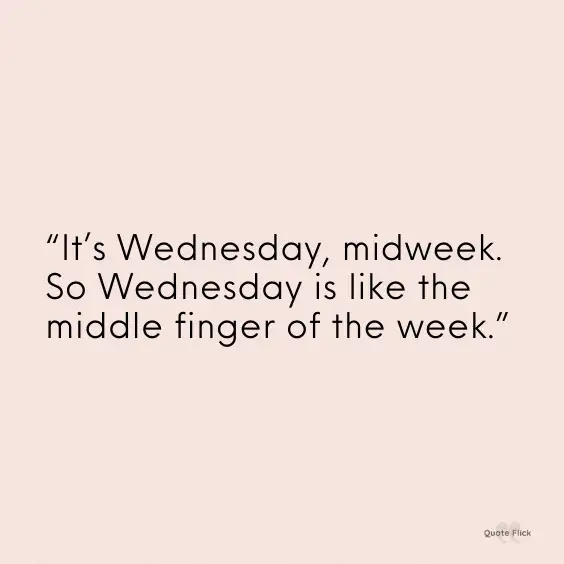 21. "On Wednesdays we wear pink." – Mean Girls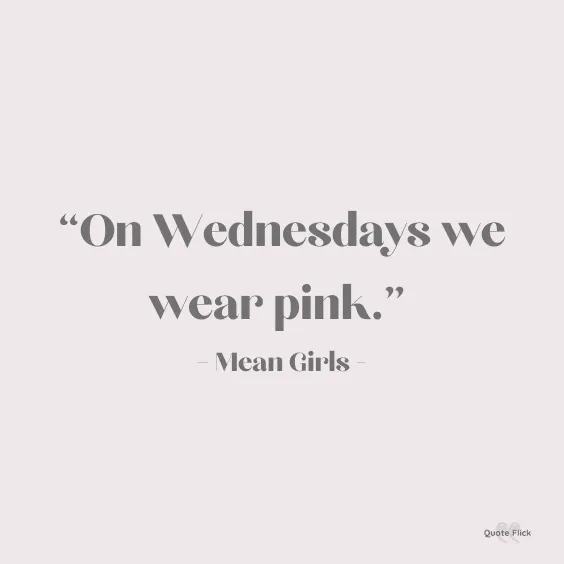 22. "Forget hump day. It's Winesday." – Unknown
23. "The real hump is spelling Wednesday." – Unknown
24. "Wednesday is a day to help others celebrate life. You and only you are accountable for what you extend and give to others. One smile not only increases your value but it gives joy to each person you meet." – Byron Pulsifer
25. "Heaven knows the difference between Sunday morning and Wednesday afternoon. God longs to speak as clearly in the workplace as He does in the sanctuary." – Max Lucado
26. "Happy Wednesday just sending a little love your way pass it on." – Unknown
27. "Wednesdays are like Mondays in the middle of the week!" – Lee Fox Williams
28. "A blessing for Wednesday: may you have blue skies and love and laughter to brighter your day." – Unknown
29. "Make a wish, it's Wednesday." – Unknown
30. "Wednesday: Halfway to the weekend! Enjoy your day!" – Unknown
31. "When a day that you happen to know is Wednesday starts off sounding like Sunday, there is something seriously wrong somewhere." – John Wyndham
32. "Forget about Hump Day. Let's make today Wellness Wednesday, Wine Wednesday, Wholesome Wednesday, and Willpower Wednesday." – Unknown
33. "Wednesdays were the best thing about Atlantis. The middle of the week was a traditional holiday there. Everyone stopped work and celebrated the fact that half the week was over." – Walter Moers
34. "Wonderful Women Wednesday. To every strong and powerful woman reading this right now, have a wonderful day." – Unknown
35. "Elephants love Wednesday, and so will you." – Anthony T. Hincks
36. "Stopping in to wish you a happy Wednesday." – Unknown
37. "If all our national holidays were observed on Wednesdays, we could wind up with nine-day weekends." – George Carlin
38. "Love, hug, prayers with Wednesday blessings you are special." – Unknown
39. "They didn't want it good, they wanted it Wednesday." – Robert A. Heinlein
40. "Monday for wealth, Tuesday for health, Wednesday the best day of all. Thursday for crosses, Friday for losses, Saturday no luck at all." – English Proverb
41. "Happy Wednesday! Cast your love to all, trust in the team to which you are joined, and do not do wrong to others for your own self-gratification." – Byron Pulsifer
42. "Today is Wednesday which means tomorrow is pre-Friday which means the next day is Friday, so it's basically Friday." – Unknown
43. "I think vestigially there's a synesthete in me, but not like a real one who immediately knows what color Wednesday is." – A. S. Byatt
44. "Help! Why is Wednesday spelled like that?" – Unknown
45. "Wednesdays will always bring smiles for the second half of the week." – Anthony T. Hincks
46. "Hey, guess what day it is! Wine Wednesday." – Unknown
47. "Happy Wednesday, you can almost see the weekend from here." – Unknown
48. "Thought I'd stop by with a smile and brighten up your Wednesday a while!" – Unknown
49. "It will not be lonely on Wednesday when it has all around it." – Anthony T. Hincks
50. "Happy Wednesday! Be happy with who you are and what you and you can do anything you want." – Unknown
51. "My job is to give people who work hard all week something to enjoy on Saturdays and Wednesdays." – Arsene Wenger
52. "Better Wednesday than Monday." – Unknown
53. "Wednesdays are to be treasured. They're basically a small Friday." – Unknown
54. "Keep Calm. It's only Wednesday. We still have 2 more days to go." – Unknown
55. "Wednesday: ('wenzdei) noun: Still not Friday." – Unknown
56. "There are more myths about Black Wednesday than the Greeks ever created." – John Major
57. "Wednesday is Latin for "almost Friday." – Unknown
58. "On Wednesday afternoons I could be practically anything." – Kit Williams
59. "This is my 'It's only Wednesday' face." – Unknown
60. "Wednesday will be amazing so wake up and smile." – Unknown
61. "Nothing screws up your Friday more, than realizing it's Wednesday."
62. "Happy Wednesday! You are who you are; be happy with what you are called to do. Do not pretend to be like someone else for your gifts are unique to help lead you to the success as only you can define. Have a good day." – Byron Pulsifer
63. "Wednesday means we're halfway through half-assing our work for the week."
64. "Wednesday can only dream of becoming Thursday." – Anthony T. Hincks
65. "It's winning Wednesday!" – Unknown
66. "It's wellness Wednesday. Take care of yourself, stay refreshed and stress less." – Unknown
67. "Happy Wednesday. Make today so awesome, yesterday gets jealous." – Unknown
Next: Determination Quotes or Friday Quotes