If you are trying to lose weight, perhaps you are striving to make some healthier choices and exercise more. Well, why not add weight loss affirmations into your routine to help you to love your body no matter what! In adding positive repeated statements to your day, you begin by default to shift your subconscious mind and take actions that complement your words.
Simply choose the words that speak to you, and repeat them often, write them down, say them out loud; whatever works for you! A helpful tip is to record yourself on your voice note app and then listen to yourself when you are exercising! But remember to love yourself no matter the number on the scales, that is the most important thing!
Weight Loss Affirmations
1. Every day I show up for myself and make healthy choices
2. I am worthy of looking after myself
3. I am capable of getting to a weight that is healthy for me, in a healthy way
4. I love myself through this whole journey
5. If I have a slow, rested day and don't do much, I still love myself
6. If the scales aren't moving how I expect, I am still kind to myself
7. I am embodying a healthy and radiant person, who is comfortable with their weight
8. I drink plenty of water to keep myself hydrated
9. I am here for this, I am here for me
10. I am dedicated to my goals, I can achieve my wildest dreams
11. It is healthy for me to want to be healthier, and I approach it in a healthy way
12. I lose excess weight with ease, this experience doesn't have to be a struggle
13. I expect magnificence for myself
14. I am working towards my dream body, and the process is fun
15. My body is perfect as it is, and yet it is safe for me to strive for better health
16. I have the power to see what my body can do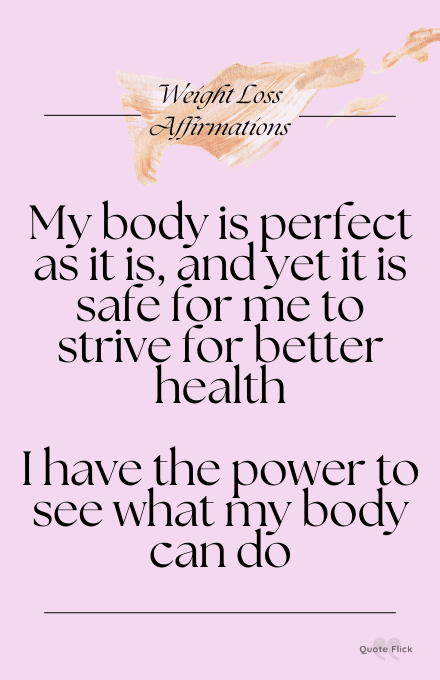 17. As my body evolves, I honor and respect every part of me
18. I enjoy exercising, it brings me happiness and calm
19. Moving my body is good for me and I love it
20. Eating healthy foods is nourishing for my body and my soul
21. I am excited to make healthy changes for myself
22. I am choosing a healthier path, and I am proud of myself
23. Health is my goal, the numbers don't matter
24. I am not defined by my weight, I love myself anyway
25. I love eating healthy foods, I love drinking water
26. As I lose weight, I thank my body for releasing any excess it didn't need
27. I am committed to my wellbeing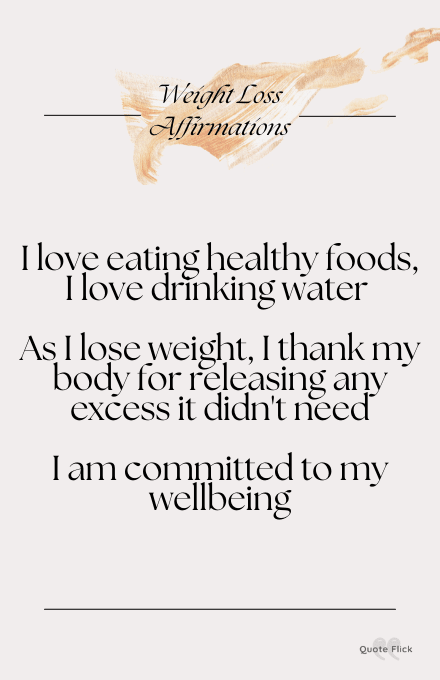 28. Even if I don't lose weight, I still love myself anyway
29. I am feeling the benefit of shifting excess weight that my body didn't need
30. My fitness journey is fun and exciting
31. I am on an exciting journey right now, I am here for it
32. I believe in my ability to smash my fitness goals
33. I choose to eat foods that nourish and energize me
34. I am healthy, happy, and radiant
35. I glow, I glow from the inside and it shows in how I look
36. I truly love myself for who I am
37. I let go of any guilt around the food choices that I make
38. I am grateful for the magnificence that is my body
39. I am committed to my goals, and I love myself throughout
40. My body is a magical vessel that supports me
41. It is important to me to find joy and excitement in looking after myself
42. I am creating a healthy routine for myself
43. I am in flow with looking after myself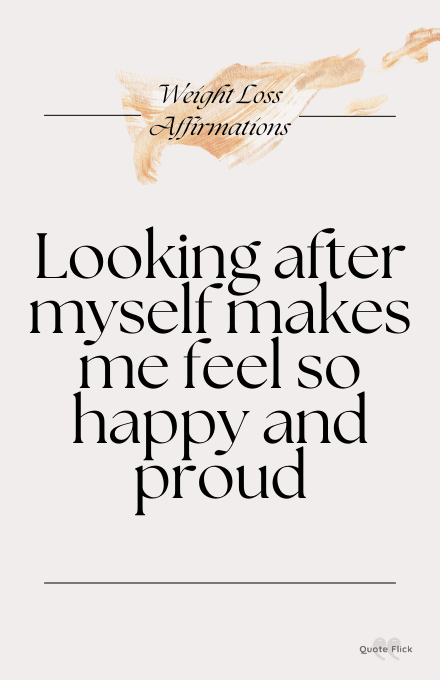 44. Looking after myself makes me feel so happy and proud
45. Every single day, I have fun with how look after myself
46. I get to look after myself
47. I find so much pleasure in caring for my body
48. I give myself permission to rest and relax, this is just as important
49. My health is my main priority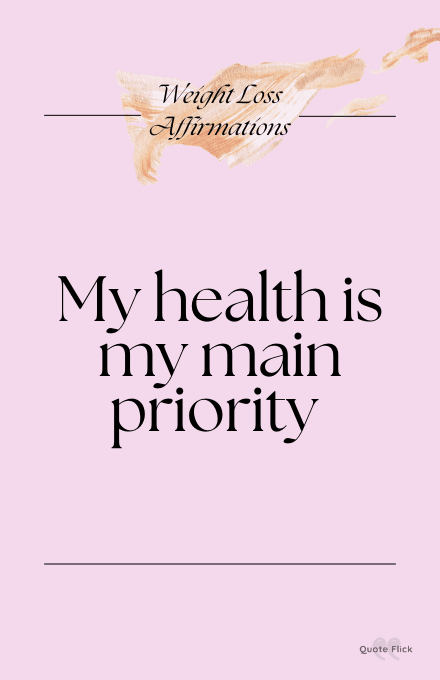 50. I am excited for what I can achieve
Holly Jaskolka is a certified Emotional Freedom Technique (EFT) practitioner, yoga instructor, and an impassioned advocate for holistic well-being. Fueled by her love for animals and wanderlust, Holly leads a plant-based lifestyle that she complements with immersive travel experiences. When she's not jet-setting to uncover the world's hidden gems, she's empowering individuals to heal emotionally, particularly those grappling with the aftermath of breakups. Connect with Holly on LinkedIn.