Need a boost of determination for your work commitments? We hope you love this collection of the 75 BEST work ethic quotes to get you laser-focused. Dedication to your goals can be challenging at times, but as the quotes say; with a strong work ethic, hard work, and perseverance, you can achieve your wildest dreams.
If you love our motivational quotes about work ethic, and our general work ethos, please consider sharing your favourite image on your social media channels or on Pinterest. This would be massively appreciated! Enjoy!
"I have a work ethic. If I say I am going to do something, I do it." –Viggo Mortensen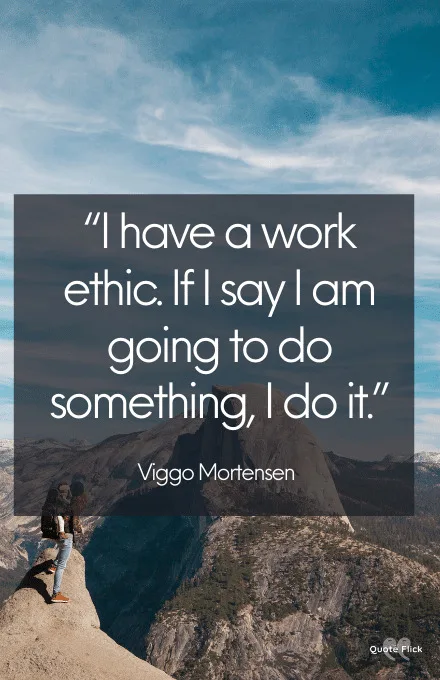 2. "If you've got the confidence and the work ethic, you can make any dream come true." – Bret Har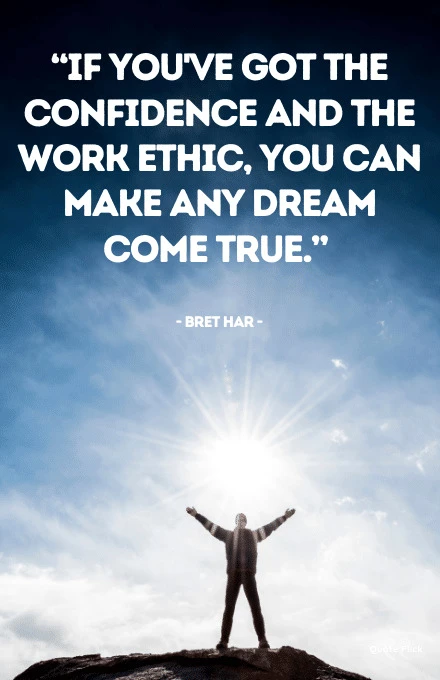 3. "Everyone talks about age, but it's not about age. It's about work ethic. Winning never gets old." – Lisa Leslie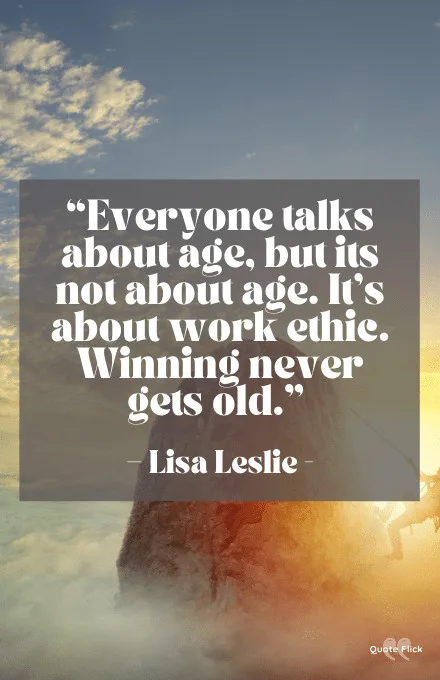 4. "Insane work ethic and hard work beat talent all the time." – Unknown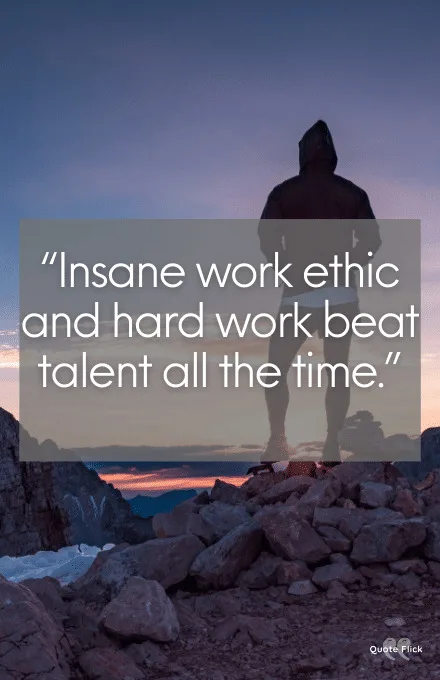 5. "Your character, integrity, work ethic, and hard work will bring you more in life than anything else." – Jason Poston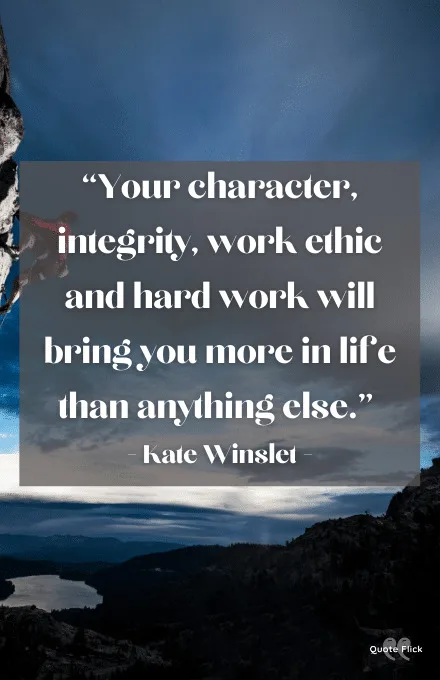 6. "You can't have a million dollar dream on a minimum wage work ethic." – Unknown
7. "When there is no consequence for poor worth ethic, and no reward for good work ethic, there is no motivation." – Unknown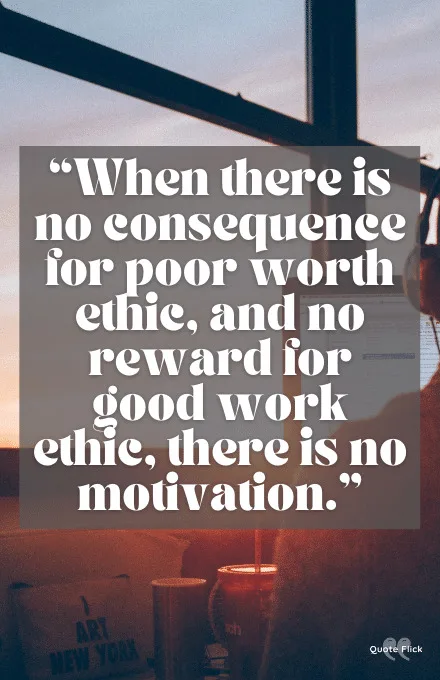 8. "Work ethic is the most important component of being successful." – Unknown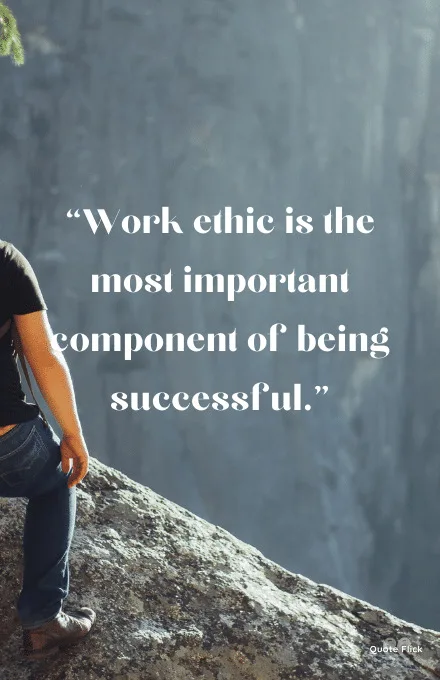 9. "If people don't know you for your work ethic, you ain't working." – Grant Cardone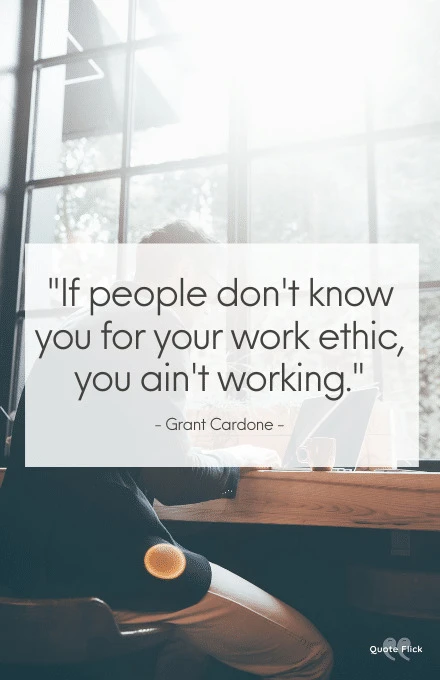 10. "Face your problems head-on. Do what you have to do to take care of it. Develop a good work ethic." – George Chuvalo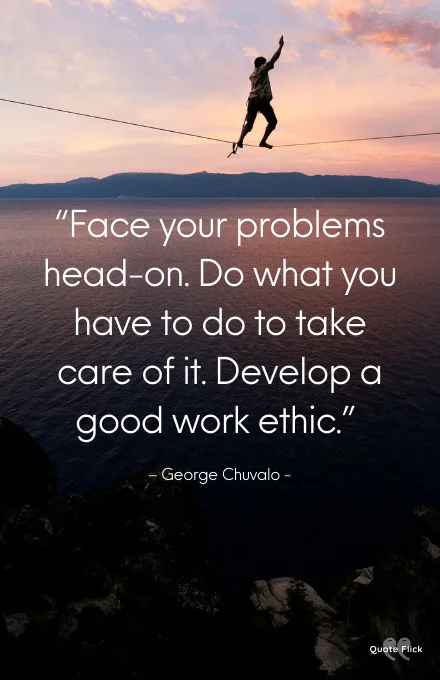 11. "Don't wish it were easier. Wish you were better." – Jim Rohn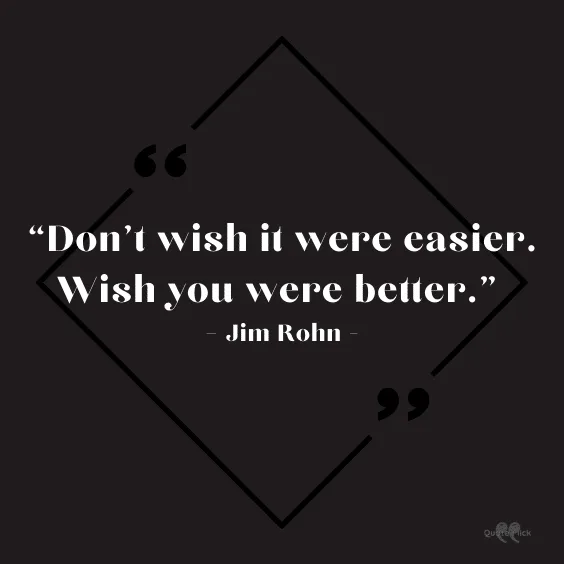 12. "The best way to learn is by doing. The only way to build a strong work ethic is getting your hands dirty." – Alex Spanos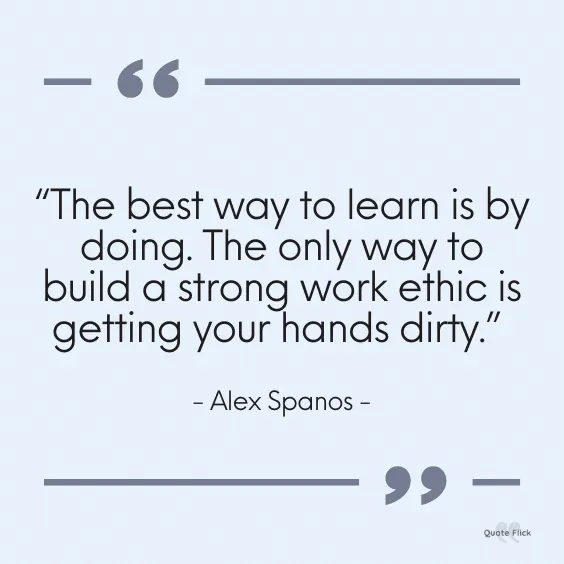 13. "We didn't have a lot when I was growing up, and it's the best thing that happened to me because I appreciate everything. I developed a strong work ethic, and I don't take anything for granted." – Sarah-Jessica Parker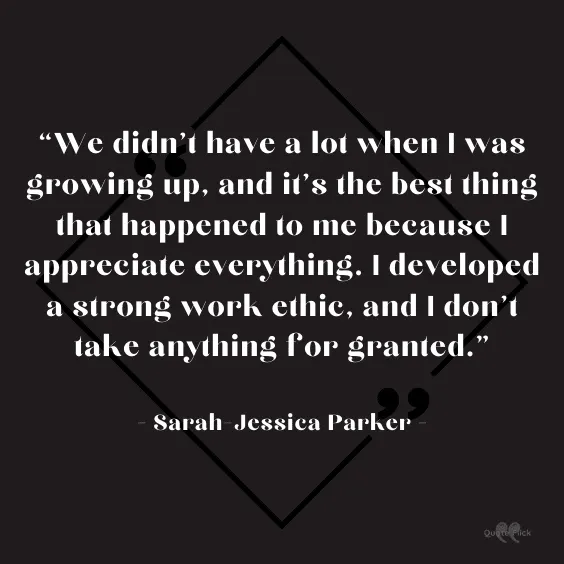 14. "If your actions inspire others to dream more, learn more, do more and become more, you are a leader." ~ John Quincy Adams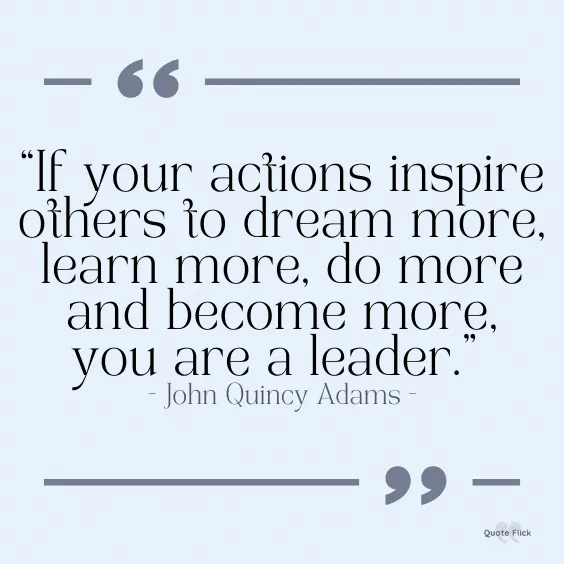 15. "A man is worked upon by what he works on. He may carve out his circumstances, but his circumstances will carve him out as well." ― Frederick Douglass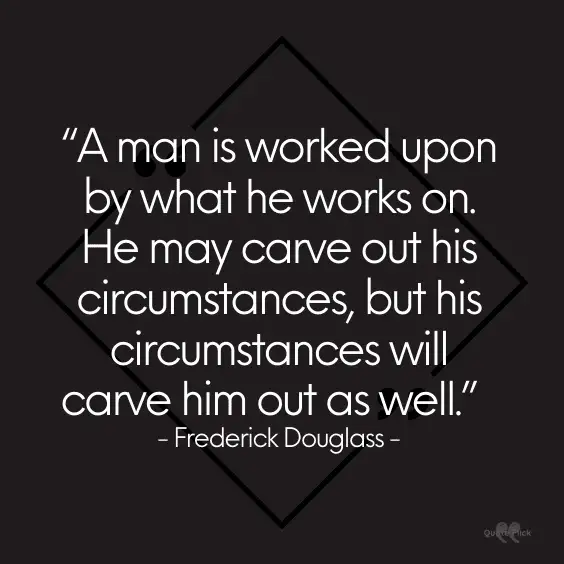 16. "Be a yardstick of quality. Some people aren't used to an environment where excellence is expected." – Steve Jobs 
17. "Three rules of work: 1. Out of clutter, find simplicity. 2. From discord, find harmony. 3. In the middle of difficulty lies opportunity." – Albert Einstein
18. "Success isn't owned. It's leased, and rent is due every day." – J. J. Watt
19. "Real integrity is doing the right thing, knowing that nobody's going to know whether you did it or not." ― Oprah Winfrey
20. "I'm a great believer in luck, and I find the harder I work the more I have of it." – Thomas Jefferson
21. "Patience, persistence, and perspiration make an unbeatable combination for success." ― Napoleon Hill 
22. "You might well remember that nothing can bring you success but yourself."
– Napoleon Hill
23. "Plan your work for today and every day, then work your plan." ― Margaret Thatcher 
24. "Keep working even when no one is watching." – Alex Morgan
25. "The harder I work, the luckier I get." ― Samuel Goldwyn 
26. "A good example has twice the value of good advice." – Albert Schweitzer
27. "I never took a day off in my twenties. Not one." – Bill Gates 
28. "All wealth is the product of labor."  –  John Locke
29. "Good, better, best. Never let it rest. Until your good is better and your better is best." ― Tim Duncan
30. "Diamonds are nothing more than chunks of coal that stuck to their jobs."  –  Malcolm Forbes
31. "No ethic is as ethical as work ethic." – John Kenneth Galbraith
32. "Opportunities are usually disguised as hard work, so most people don't recognize them." – Ann Landers
33. "Hard work beats talent when talent fails to work hard." – Kevin Durant
34. "I never feared about my skills because I put in the work. Work ethic eliminates fear. So if you put forth the work, what are you fearing? You know what you're capable of doing and what you're not." – Michael Jordan
35. "It doesn't matter how many sit-ups you do, your work ethic. I know when I land that punch, and I'm on balance, they're going to feel it regardless of how strong their core is." – Errol Spence Jr.
36. "There's a difference between interest and commitment. When you are interested in doing something, you do it only when it's convenient. When you are committed to something, you accept no excuses; only results." ― Kenneth Blanchard
37. "Do it from the heart or not at all." – Jeanette Winterson,
38. "I hated every minute of training, but I said, 'Don't quit. Suffer now and live the rest of your life as a champion.'" – Muhammad Ali
39. "My work ethic is the single most important factor in all of my accomplishments.  Everything else is secondary.  To me, a forty-hour workweek is a 40 percent effort.  It may be satisfactory, but that's another word for mediocrity.  Don't settle for a forty-hour workweek.  There are 168 hours in a week!  That means you have the hours to put in that extra time at work without skimping on your exercise.  It means streamlining your nutrition, spending quality time with your wife and kids.  It means scheduling your life like you're on a twenty-four-hour mission every single day." – David Goggins
40. "It is for us to pray not for tasks equal to our powers, but for powers equal to our tasks, to go forward with a great desire forever beating at the door of our hearts as we travel toward our distant goal." ― Helen Keller 
41. "Trying hard and working hard is its own reward. It feeds the soul. It affirms your will and your power. And it radiates from you, lighting the way for all those who see you." – Charles M. Blow
42. "There's a difference between interest and commitment. When you are interested in doing something, you do it only when it's convenient. When you are committed to something, you accept no excuses; only results." – Kenneth Blanchard
43. "Big jobs usually go to the men who prove their ability to outgrow small ones." ― Ralph Waldo Emerson 
44. "My work ethic is crazy. I'm a producer, an artist, and a video director." – Travis Scott
45. "Work miracles by setting a good example. Others will catch your spirit! The power of a good example is the greatest miracle-working power of all." – Wilferd Peterson
46. "Your work is going to fill a large part of your life, and the only way to be truly satisfied is to do what you believe is great work. And the only way to do great work is to love what you do." – Steve Jobs
47. "Plans are only good intentions unless they immediately degenerate into hard work."  – Peter Drucker
48. "I hated every minute of training, but I said, 'Don't quit. Suffer now and live the rest of your life as a champion.'" – Muhammad Ali 
49. "If you train hard, you'll not only be hard, you'll be hard to beat." – Hershel Walker
50. "Our deep respect for the land and its harvest is the legacy of generations of farmers who put food on our tables, preserved our landscape, and inspired us with a powerful work ethic." – James H. Douglas, Jr.
51. "If you have built castles in the air; your work need not be lost; that is where they should be. Now put the foundations under them." – Henry David Thoreau 
52. "You need lofty goals. Then cement it with a great work ethic." – Jerry West
53. "I've got a theory that if you give 100 percent all of the time, somehow things will work out in the end." – Larry Bird
54. "When I was young, I observed that nine out of ten things I did were failures. So I did ten times more work." – George Bernard Shaw
55. "Genius begins great works; labor alone finishes them." – Joseph Joubert
56. "You can control two things: your work ethic and your attitude about anything." – Ali Krieger
57. "Your reputation is more important than your pay check, and your integrity is worth more than your career." – Ryan Freitas 
58. "I'm proud of my hard work. Working hard won't always lead to the exact things we desire. There are many things I've wanted that I haven't always gotten. But, I have a great satisfaction in the blessings from my mother and father, who instilled a great work ethic in me both personally and professionally." – Tamron Hall
59. "All growth depends upon activity. There is no development physically or intellectually without effort, and effort means work." – Calvin Coolidge
60. "In looking for people to hire, you look for three qualities: integrity, intelligence, and energy. And if they don't have the first, the other two will kill you." – Warren Buffet

61. "If you work hard enough and assert yourself, and use your mind and imagination, you can shape the world to your desires." – Malcolm Gladwell, Outliers
62. "All roads that lead to success have to pass through hard work boulevard at some point." – Eric Thomas
63. "The difference between try and triumph is just a little umph!" – Marvin Phillips
64. "I'm overly confident. I believe in myself 100 percent. I believe in my game, and I believe in my work ethic." – Jaylen Brown
65. "How you climb a mountain is more important than reaching the top." ― Yvon Chouinard
66. "It's easy to work with someone who shares your same work ethic, who likes to create like you do." – Ozuna
67. "Things may come to those who wait, but only the things left by those who hustle." – Abraham Lincoln
68. "I don't know what your future is, but if you're willing to take the harder way, the more complicated one, the one with more failures at first than successes, the one that has ultimately proven to have more meaning, more victory, more glory—than you will not regret it." – Chadwick Boseman
69. "While others were out partying, I was training. While they were out dancing at the clubs, I was training… and training… and training." – Arnold Schwarzenegger
70. "Each problem has hidden in it an opportunity so powerful that it literally dwarfs the problem. The greatest success stories were created by people who recognized a problem and turned it into an opportunity." – Joseph Sugarman
71. "I have met many entrepreneurs who have the passion and even the work ethic to succeed – but who are so obsessed with an idea that they don't see its obvious flaws. Think about that. If you can't even acknowledge your failures, how can you cut the rope and move on?" – Kevin O'Leary
72. "Striving for success without hard work is like trying to harvest where you haven't planted." – David Bly
73. "The dictionary is the only place that success comes before work. Work is the key to success, and hard work can help you accomplish anything." ― Vince Lombardi 
74. "My routine was grueling. It involved early mornings and late nights. It involved stretching, lifting, training, hooping, recovery, and film study. It involved putting in a lot of work and hours. It's—no lie—tiring. For that reason, a lot of players pare down their lifting and training during the season. They try conserving their energy. Not me, though. I found that, yes, this work might be strenuous on the day-to-day, but it left me stronger and more prepared during the dog days of the season and the playoffs." – Kobe Bryant
75. "If you're going to preach dedication, work ethic, teamwork, unselfishness, and being part of a team to accomplish a common goal, you have to live it – you can't just talk about it." – Chris Mullin
Holly Jaskolka is a certified Emotional Freedom Technique (EFT) practitioner, yoga instructor, and an impassioned advocate for holistic well-being. Fueled by her love for animals and wanderlust, Holly leads a plant-based lifestyle that she complements with immersive travel experiences. When she's not jet-setting to uncover the world's hidden gems, she's empowering individuals to heal emotionally, particularly those grappling with the aftermath of breakups. Connect with Holly on LinkedIn.