In order to get things done, talk just isn't enough, and these 25 Actions Speak Louder Than Words Quotes will remind you of just that. It is great to have dreams and vision, but all talk and no action will never get you anywhere.
Either this article will inspire you to take more action, rather than simply dreaming and talking about goals. Or, it will give you a nudge to approach someone who you feel is 'all talk and no action'. Either way, you're here for a reason, and we trust that these sayings, quotes, and phrases will make it crystal clear that the 'doing' is far greater than what we say we will do.
All quotes about actions speaking louder than words, come with an image. If one stands out to you, why not Pin it to Pinterest or send it to a loved one. Share away and spread the inspiration!!
1. "Actions speak louder than words. Words cost nothing. Actions can cost everything." – Aleksandra Layland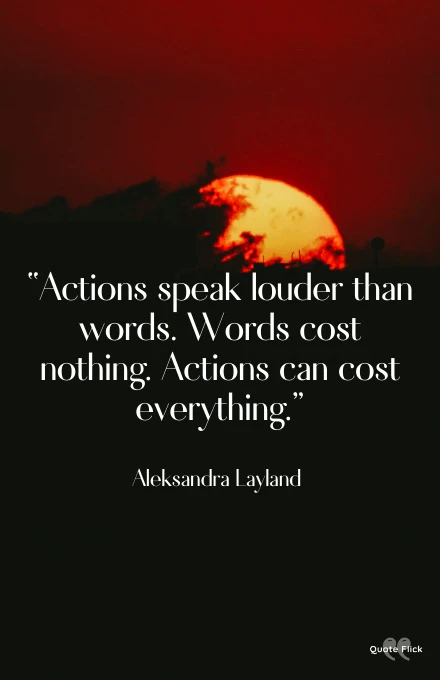 2. "Actions speak louder than words, and it's no more true than with your kids." – Brad Pitt
3. "Actions over words. If you apologize and keep repeating what you said you wouldn't, your words are meaningless." – Unknown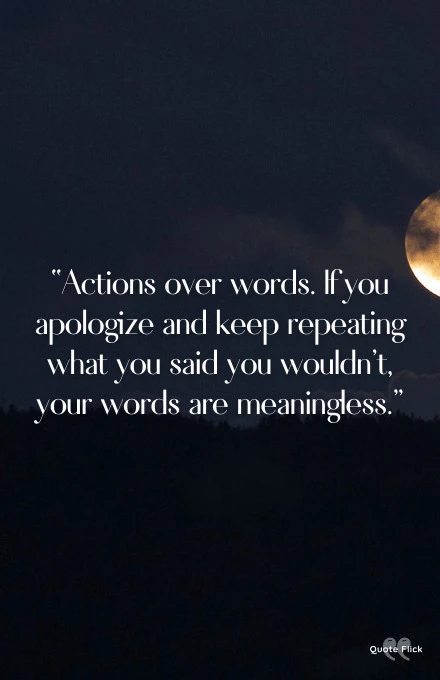 4. "Actions prove who someone is, words just show who they want to be." – Unknown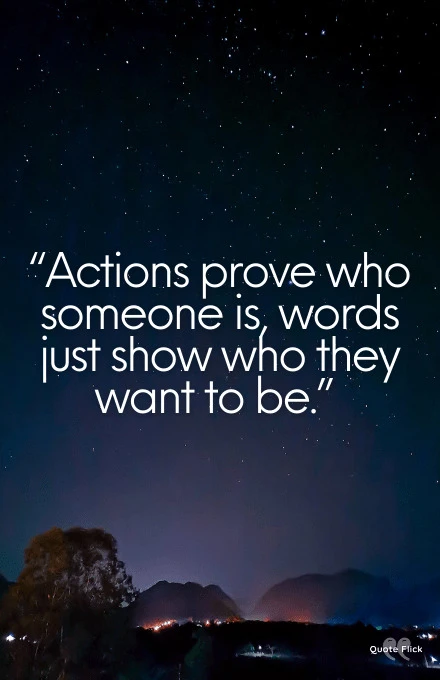 5. "If your actions do not prove your words, then your words are nothing more than lies." – Unknown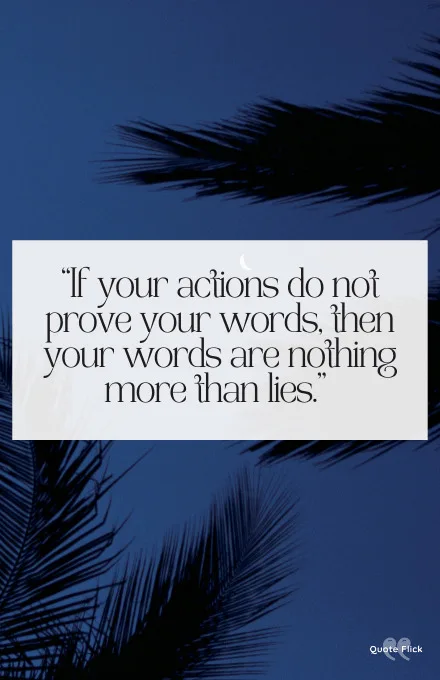 6. "It is always actions vs words. I will be excited by what you say, but know who you are by what you do." – Unknown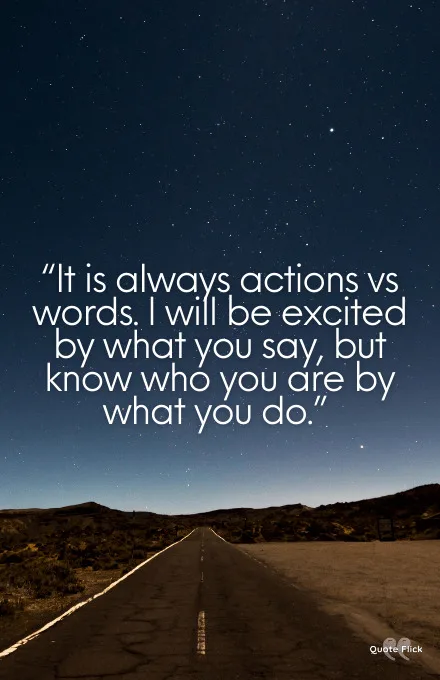 7. "Action really does speak louder than words. Don't be fooled by words when there is no action to follow." – Unknown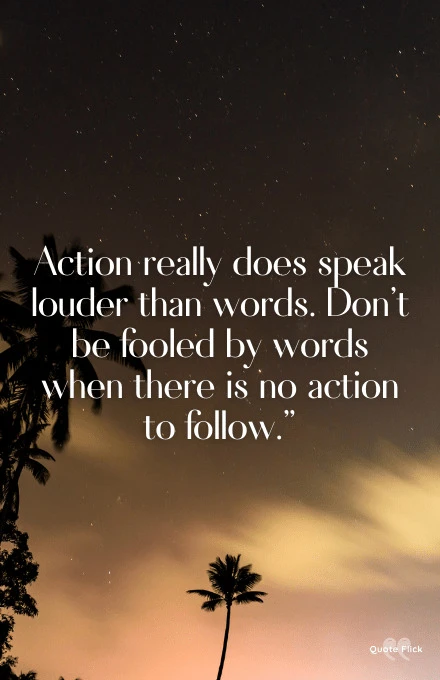 8. "You can say a million things to get me interested, but it is your actions over your words that will keep that interest maintained." – Unknown
9. "I love actions over words. I love words yes, but I love actions more." – Unknown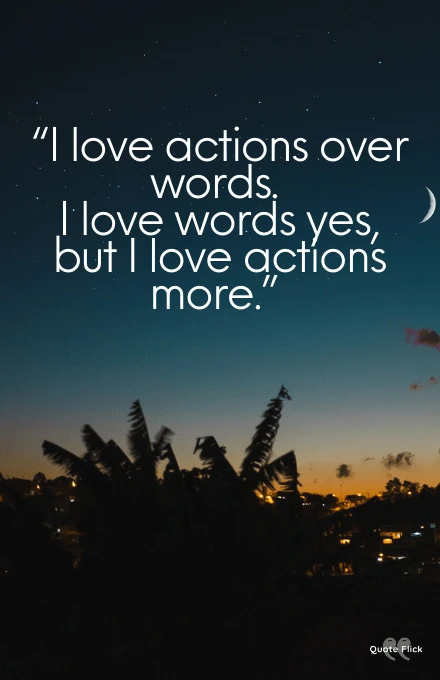 10. "Trust words only if actions follow." – Unknown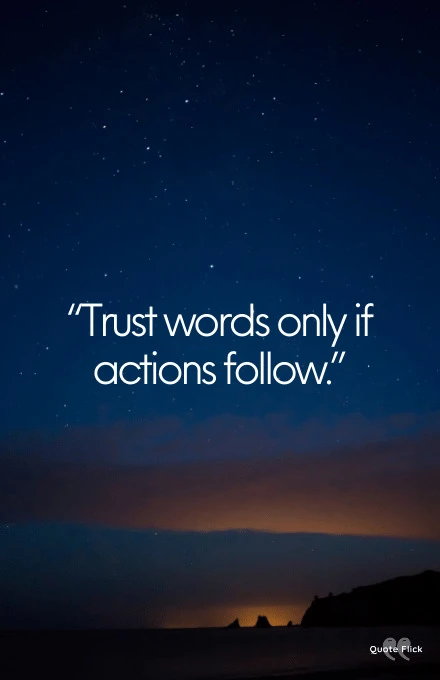 11. "People listen to the words you say, but your actions always speak louder." – Unknown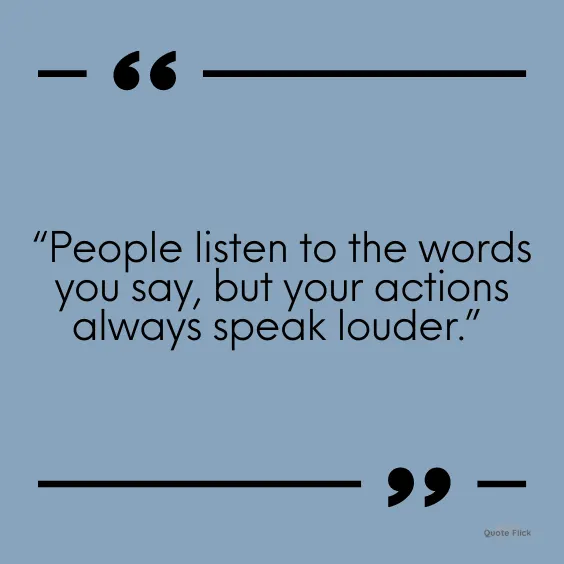 12. "Action speaks louder than words, but not nearly as often." – Unknown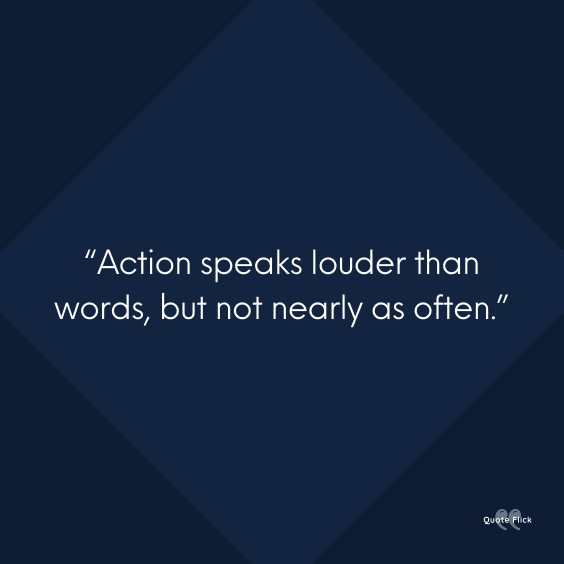 13. "If your actions don't live up to your words, then you have nothing to say." – Dashanne Stokes
14. "You are what you do, not what you say you'll do." – Unknown
15. "The superior man acts before he speaks, and afterwards speaks according to his actions." – Confucius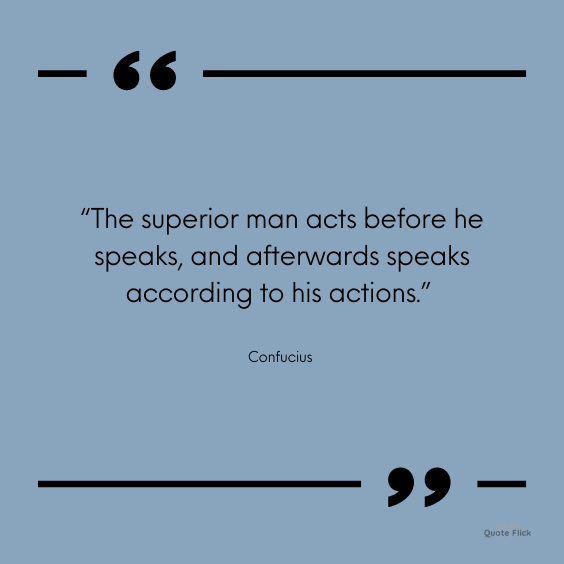 16. "A lot of people are all talk, what they say and what they do are two different things. As the saying goes, talk is cheap. Without actions behind the talk, it is all useless." – Catherine Pulsifer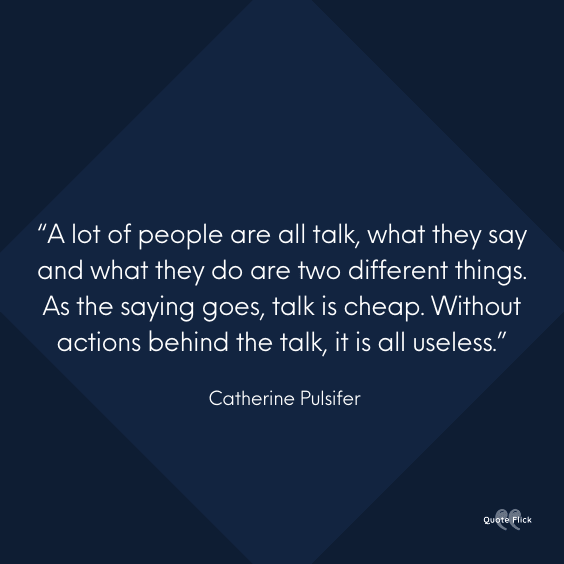 17. "Words can be said easily, but one can't fake actions." – Jewel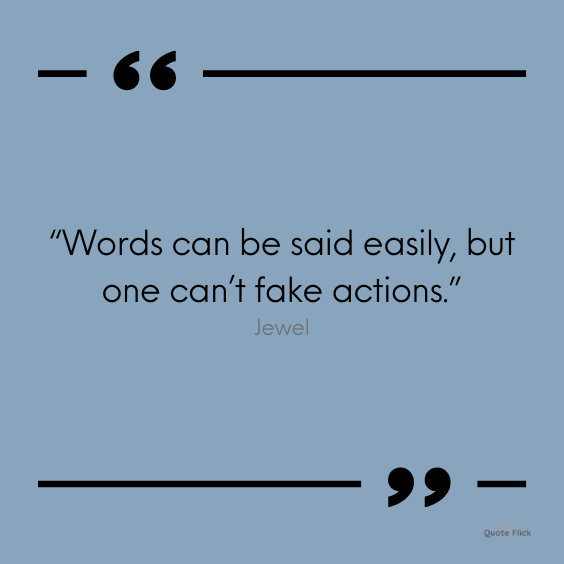 18. "You do not write your life with words, you write it with actions. What you think is not important. It is only important what you do." – Patrick Ness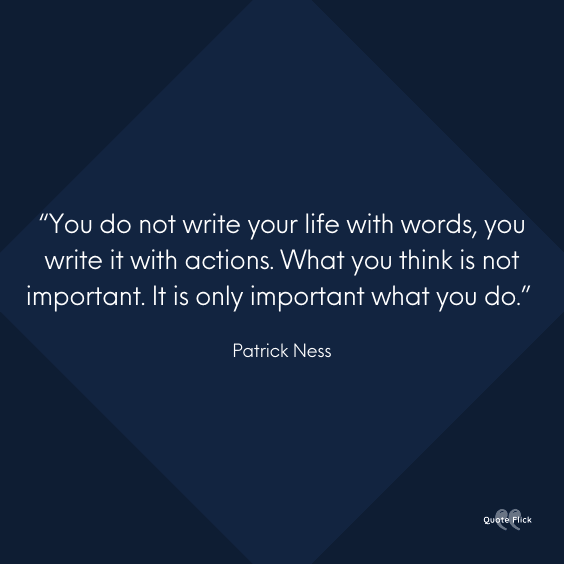 19. "Words will hold some water, but actions carry buckets full." – Christine Szymanski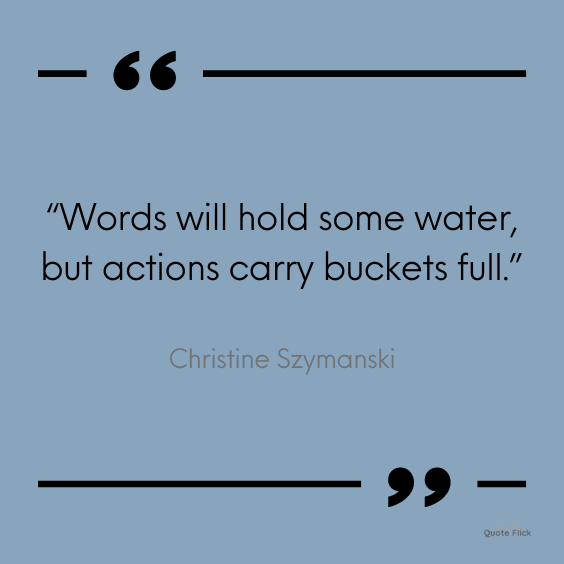 20. "People may doubt what you say, but they will believe what you do." – Lewis Cass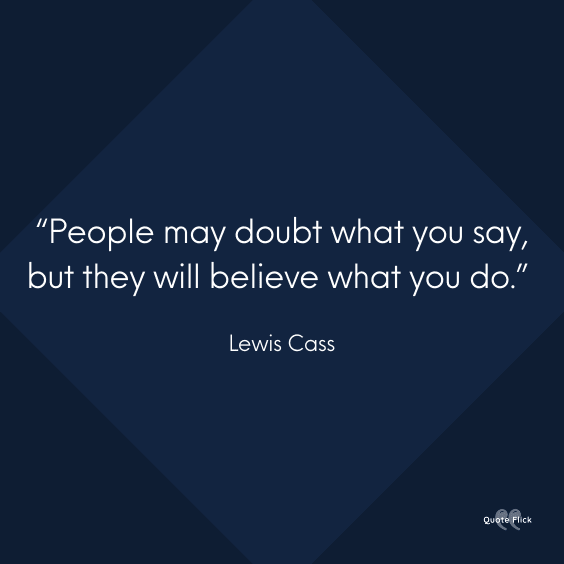 21. "While others are dreaming and talking, you can be taking action and preparing for opportunities that are just over the horizon." – Catherine Pulsifer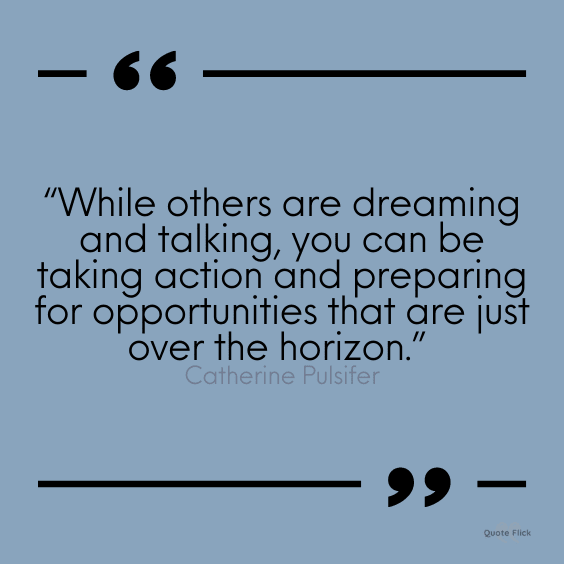 22. "Actions speak louder than thoughts – it's what you do when presented with the opportunity that showcase your love, or lack of." – Anna Shine
23. "I never listen to what a person says. I look at what a person does because what they do tells me who they really are." – Patty Houser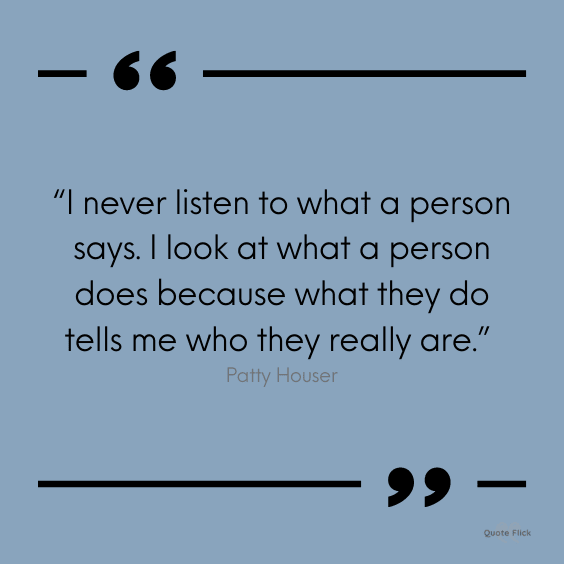 24. "A tongue doesn't get things done." – Amit Kalantri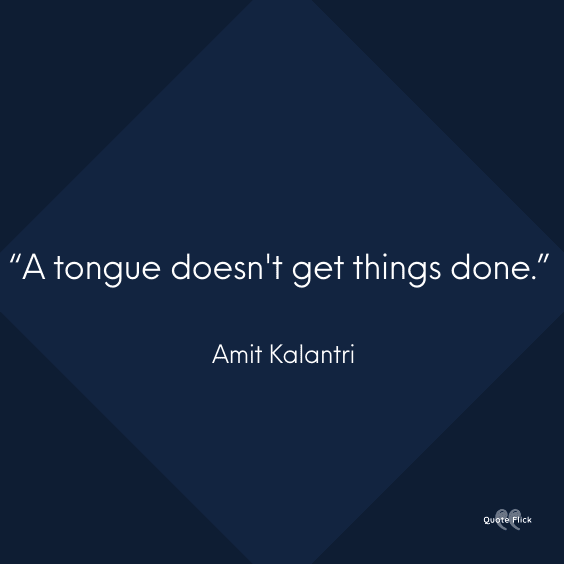 25. "In leadership, life, and all things, it's far wiser to judge people by their deeds than their speech, their track record rather than their talk." – Rasheed Ogunlaru