If you're feeling disappointed by a situation or let down by somebody, read this collection of disappointment quotes to help you to navigate this challenging time. Disappointing outcomes in our lives really do shake us up, but as the quotations and phrases below point out, we can learn valuable lessons in our sadness and troubles.
Share with loved ones who are experiencing disappointment or feeling sad, and if you have Pinterest, please support us by sharing your favorite image on there!
1. "Disappointment is the nurse of wisdom." – Sir Bayle Roche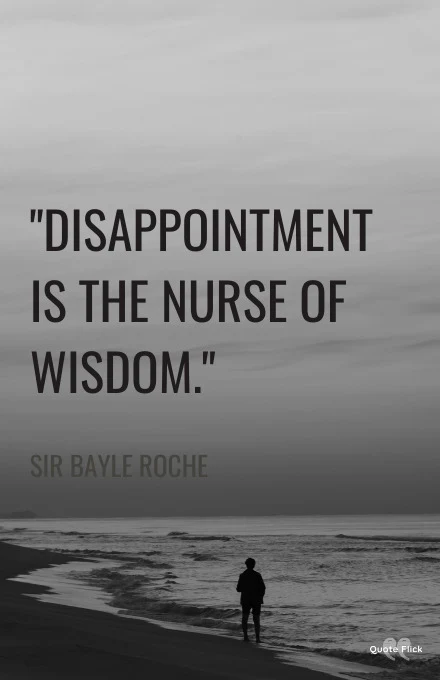 2. "Blessed is he that expects nothing, for he shall never be disappointed." – Benjamin Franklin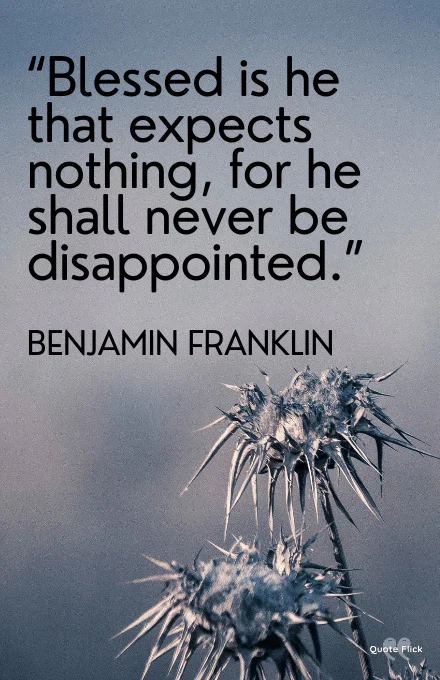 3. "If you are waiting for the perfect spouse, you are waiting for the perfect disappointment." – Matshona Dhliwayo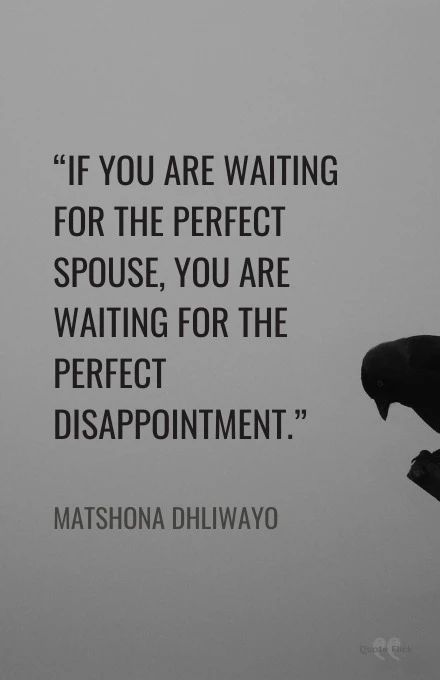 4. "We must accept finite disappointment, but never lose infinite hope." – Martin Luther King, Jr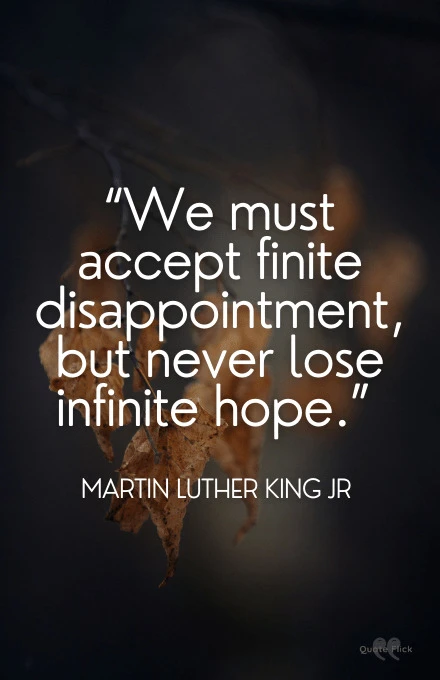 5. "Sometimes when you get disappointment it makes you stronger." – David Rudisha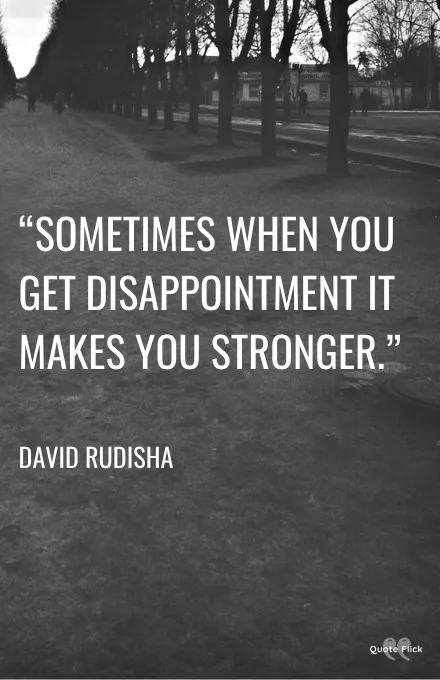 6. "One cannot feel true disappointment until the very end, and even then, it is only another beginning." – Unknown
7. "As someone who has dealt with his fair share of disappointment, I've learned the best way to cope with trouble is to approach every situation with eyes wide open; focused and determined." – Carlos Wallace
8. "Life is not always a celebration; so be ready to courageously face disappointments when they come, and be sure to grow stronger and wiser from them." – Edmond Mbiaka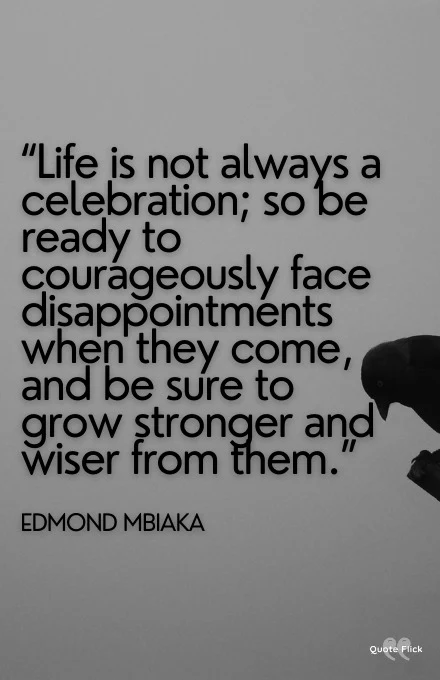 9. "Assuming is the root of all disappointments." – Rogienel Reyes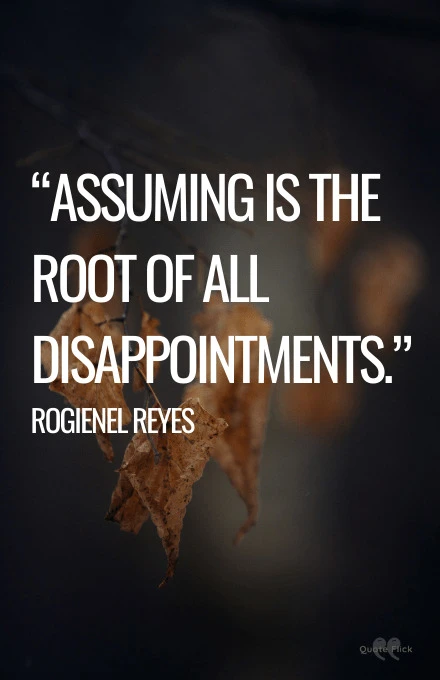 10. "It is better to know and be disappointed than to not know and always wonder." – Oscar Wilde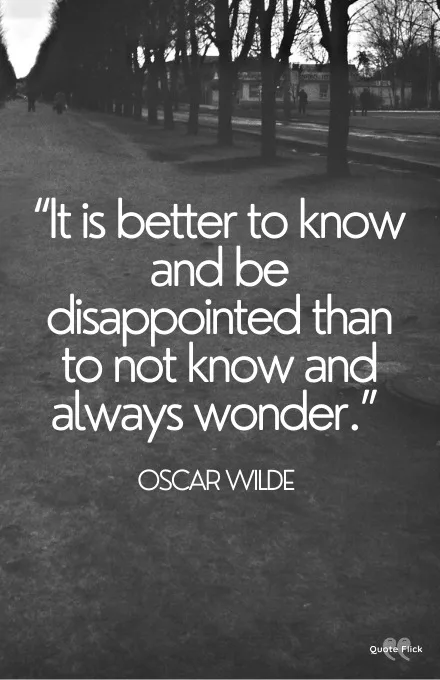 11. "If you want to know the real character of man, intentionally and timely give him the test of 3d's; delay, denial and disappointment" – Ernest Agyemang Yeboah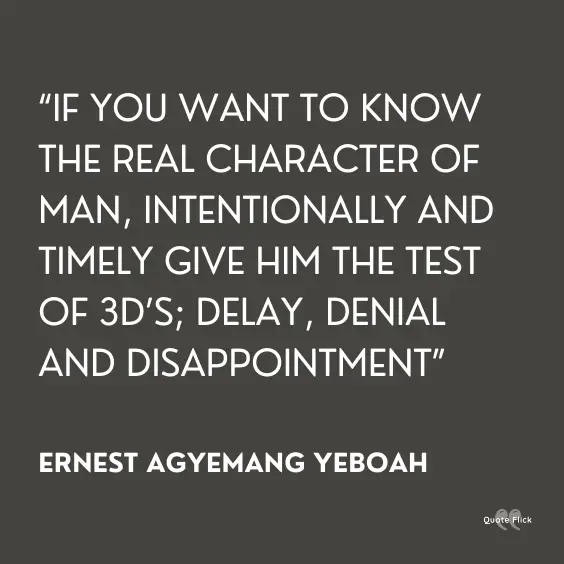 12. "Disappointment is really just a term for our refusal to look on the bright side." – Richelle E. Goodrich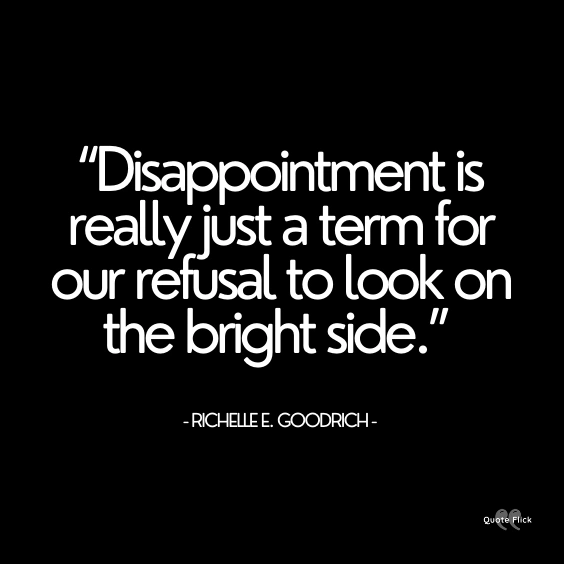 13. "One's best success comes after their greatest disappointments." – Henry Ward Beecher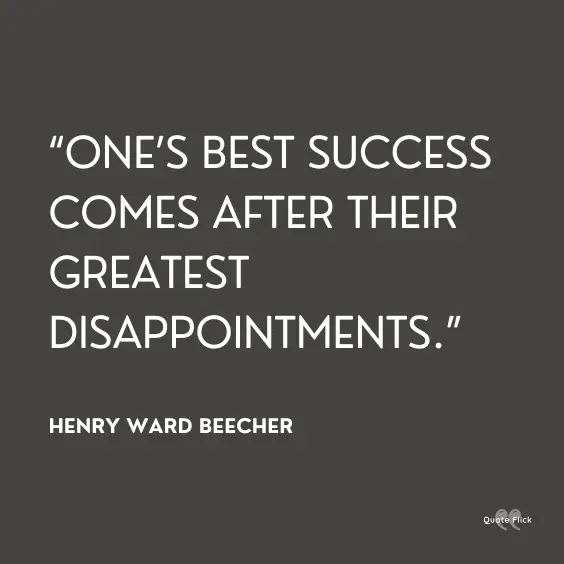 14. "The simple solution for disappointment depression: Get up and get moving. Physically move. Do. Act. Get going." – Peter McWilliams
15. "We are never disappointed with people we think little of, those who disappoint us are thus by definition of importance to us." – Lamine Pearlheart
16. "Disappointment to a noble soul is what cold water is to burning metal; it strengthens, tempers, intensifies, but never destroys it." – Eliza Tabor
17. "The size of your success is measured by the strength of your desire; the size of your dream; and how you handle disappointment along the way." – Robert Kiyosaki
18. "Marriages that end in disappointment happens when each other's expectations are not put on the table." – Unknown
19. "There comes a time we must rebel against the no's, rejections, or disappointments we experience so to make things happen in our lives." – Naide P Obiang
20. "You may be disappointed if you fail, but you are doomed if you don't try." – Beverly Sills
21. "If I am to meet with a disappointment, the sooner I know it, the more of life I shall have to wear it off." – Thomas Jefferson
22. "Disappointment is a sort of bankruptcy the bankruptcy of a soul that expends too much in hope and expectation." – Eric Hoffer
23. "Sometimes we create our own heartbreaks through expectation." – Unknown
24. "Despair and disappointment are the parent of countless inspired, inspiring, triumphant creations" – Rasheed Ogunlaru
25. "Use disappointments as material for patience." – Unknown
26. "Disappointment is just the action of your brain readjusting itself to reality after discovering things are not the way you thought they were." – Brad Warner
27. "Sometimes Good Things Fall Apart So Better Things Can Fall Together." – Marilyn Monroe
28. "Disappointments are to the soul what a thunderstorm is to the air." – Friedrich Schiller
29. "The greatest disappointment is winning all the battles then losing the war"– Mouloud Benzadi
30. "Anytime you suffer a setback or disappointment, put your head down and plow ahead." – Les Brown
31. "Most things disappoint till you look deeper." – Graham Greene
32. "If we will be quiet and ready enough, we shall find compensation in every disappointment." – Henry David Thoreau
33. "Real love sits and waits at the top of disappointments. You just have to keep on climbing." – Mitta Xinindlu
34. "What do you do when disappointment comes? When it weighs on you like a rock, you can either let it press you down until you become discouraged, even devastated, or you can use it as a stepping-stone to better things." – Joyce Meyer
35. "Suspense is worse than disappointment." – Robert Burns
36. "Disappointment is inevitable. But to become discouraged, there's a choice I make." – Charles Stanley
37. "Setbacks and disappointments prepare you for greater success in life. Get ready to rise up out of the ashes. New levels are coming." – Germany Kent
38. "God makes the life fertile by disappointments, as he makes the ground fertile by frosts." – Henry Ward Beecher
39. "It was one of those times you feel a sense of loss, even though you didn't have something in the first place. I guess that's what disappointment is- a sense of loss for something you never had." – Deb Caletti, the Nature of Jade
40. "The principles of living greatly include the capacity to face trouble with courage, disappointment with cheerfulness, and trial with humility." -Thomas S. Monson
41. "Those who seek happiness in marriage always come back with disappointments." –  Mwanandeke Kindembo
42. "We must all suffer one of two things: the pain of discipline or the pain of regret or disappointment." – Jim Rohn
43. "There's only so many times you can allow someone to let you down before you will no longer tolerate being disappointed. When things go wrong between two people, something has got to give. You get to the point where you get tired of being the only one trying to fix things, it's not giving up, it's realizing you had enough. You've got to do what's right for you, even if it hurts." – Brigitte Nicole
44. "Disappointment is a tiny sign that leads you to an evil path." -Unknown
45. "Disappointment forever lurked just beyond the edges of her joy, ready to spring like a ravenous cougar." – Kathleen Rice Adams
46. "Disenchantment, whether it is a minor disappointment or a major shock, is the signal that things are moving into transition in our lives." – William Throsby Bridges
47. "Nothing hurts more than being disappointed by the single person you thought would never hurt you." – Unknown
48. "The importance we give our disappointment is what turns it into a tragedy." – Nitya Prakash
49. "When people give you disappointment, don't worry; they are only showing you this- appointment. Just look and see." – Ernest Agyemang Yeboah
50. "Perfectionism rarely begets perfection, or satisfaction – only disappointment." – Ryan Holiday
51. "Disappointment is an endless wellspring of comedy inspiration." – Martin Freeman
52. "If you're betrayed, release disappointment at once. By that way, the bitterness has no time to take root." – Toba Beta
53. "Greet disappointment with cheerfulness. There is nothing like a spring in your step to dispel the ugly gloom." – Unknown
54. "A disappointment is merely an assignment for your next appointment." – Kayambila Mpulamasaka
55. "Disappointment is a festering infected disease that takes out the joy from your soul and the smile from your heart." – Unknown
56. "Disappointment, when it involves neither shame nor loss, is as good as success; for it supplies as many images to the mind, and as many topics to the tongue." – Samuel Johnson
57. "Disappointment has quite a penchant for taking one by surprise." – Pawan Mishra
58. "It is our fate in life to be disappointed. The human mind is so vast and full of imagination that real life will never live up to its expectations." – Unknown
59. "The beauty is that through disappointment you can gain clarity, and with clarity comes conviction and true originality." – Conan O'Brien
60. "In that moment of disappointment, pause and remember that GOD has a better plan for you." – Maria Koszler
61. "One suffers from disappointment, which is to say like every pain, it may be cured." – Unknown
62. "The more we shelter children from every disappointment, the more devastating future disappointments will be." – Fred G. Gosman
63. "Disappointment is a sticky one, because no one can steal contentment, joy, gratitude, or peace – we have to give it away." – Kristin Armstrong
64. "It's easy not to be disappointed when you're always wading in the shallow end of feelings." – Maurene Goo
65. "Sometimes you don't need to hear their excuses or what they have to say for themselves because their actions already spoke the truth." – Unknown
66. "The best way to deal with disappointment is to acknowledge and work through the feelings it induces." – Noaman Kaysingwala
67. "You have to learn to not let little disappointments get you down and to stay focused on the big picture." – Gillan Tans
68. "Disappointment had to be postponed, hope kept alive as long as possible." – Graham Greene
69. "Nothing annoys me more than when someone expects you to be okay with something that they wouldn't be okay with if you did it." – Unknown
70. "Expectation is the only seed of disappointment." – Mokokoma Mokhonoana
71. "You can't please everyone, but you can't not please everyone either." – Joyce Rachelle
72. "Don't let today's disappointments cast a shadow on tomorrow's dreams." – Unknown
73. "Disappointments are a result of failed expectations. To have less disappointments, either expect less from other people or demand more from yourself." – Kevin Ngo
74. "You just cannot have the same thing twice without being disappointed." – Vann Chow
75. "Disappointment is a disease that starts with malaise in one's heart and spreads to those around them."- Unknown
76. "See your disappointments as good fortune. One plan's deflation is another's inflation." – Jean Cocteau
77. "You say you are disappointed with life. But maybe it is life that' is disappointed with you." – Marty Rubin
78. "Disappointment is a beautiful sadness, a fitting end to a tragic tale of expectation." – Unknown
79. "We simultaneously feel relieved and disappointed when someone sees through our facade and sets us straight." – Unknown
80. "Whenever I experienced some disappointment in my life, it was always laughter that came to my rescue." – Marty Rubin
81. "The sudden disappointment of a hope leaves a scar which the ultimate fulfillment of that hope never entirely removes." – Thomas Hardy
82. "Maturity' really means: being very unsurprised by, and calm around, pain and disappointment." – Alain de Botton
83. "Hope is tomorrow's veneer over today's disappointment." – Evan Esar
84. "Do not dwell on your loss. Look forward with bright new hopes." – Lailah Gifty Akita
85. "Maturity is a bitter disappointment for which no remedy exists, unless laughter could be said to remedy anything." – Kurt Vonnegut
86. "Evil lurks where disappointment lodges." – George Foreman
87. "There's always failure. And there's always disappointment. And there's always loss. But the secret is learning from the loss, and realizing that none of those holes are vacuums." – Michael J. Fox
88. "Beware of wallowing in disappointment for it is in this state that depression creeps from behind." – Unknown
Holly Jaskolka is a certified Emotional Freedom Technique (EFT) practitioner, yoga instructor, and an impassioned advocate for holistic well-being. Fueled by her love for animals and wanderlust, Holly leads a plant-based lifestyle that she complements with immersive travel experiences. When she's not jet-setting to uncover the world's hidden gems, she's empowering individuals to heal emotionally, particularly those grappling with the aftermath of breakups. Connect with Holly on LinkedIn.