As these gratitude quotes show, being thankful for the things you have in your life is thought to bring happiness, and welcome more beauty into your life. We have collected the best quotes about being grateful, to help you to get this practice of thankfulness into your life. Try giving thanks with the help of these quotations and messages as guidance, and see what a difference this makes for you.
If you are happy with and thankful for our work, please consider sharing your favorite image on Pinterest, we are extremely grateful for this, and appreciate your support!
1. "I am happy because I'm grateful. I choose to be grateful. That gratitude allows me to be happy." – Will Arnett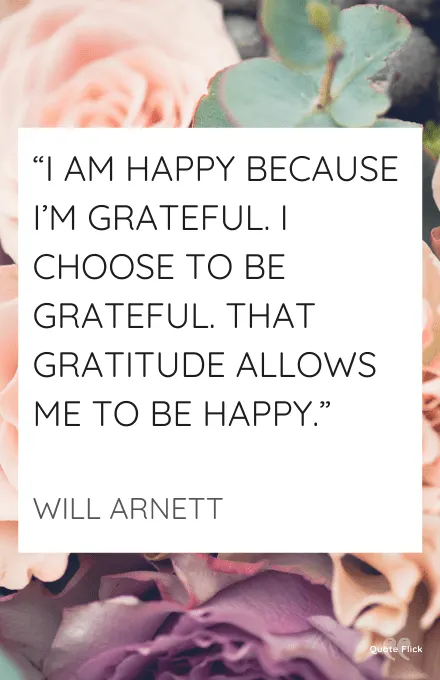 2. "Develop an attitude of gratitude, and give thanks for everything that happens to you, knowing that every step forward is a step toward achieving something bigger and better than your current situation." – Brian Tracy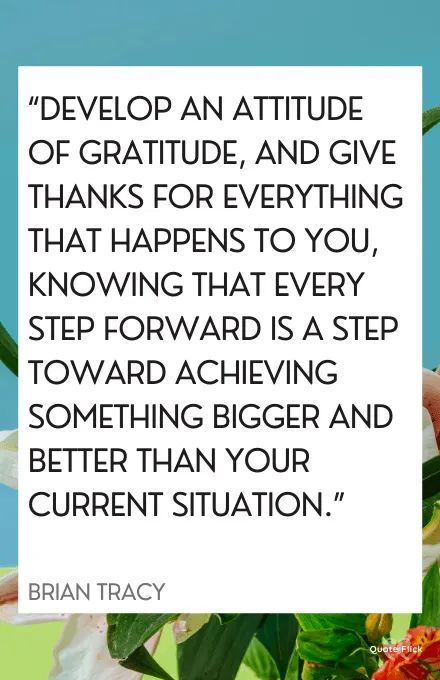 3. "Joy is the simplest form of gratitude." – Karl Barth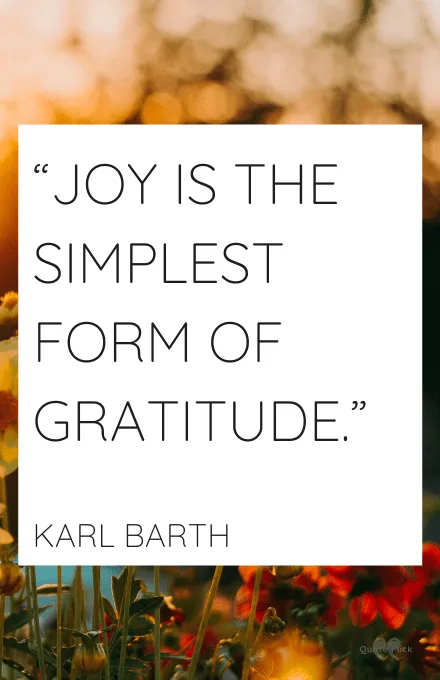 4. "I would maintain that thanks are the highest form of thought, and that gratitude is happiness doubled by wonder." – Gilbert K. Chesterton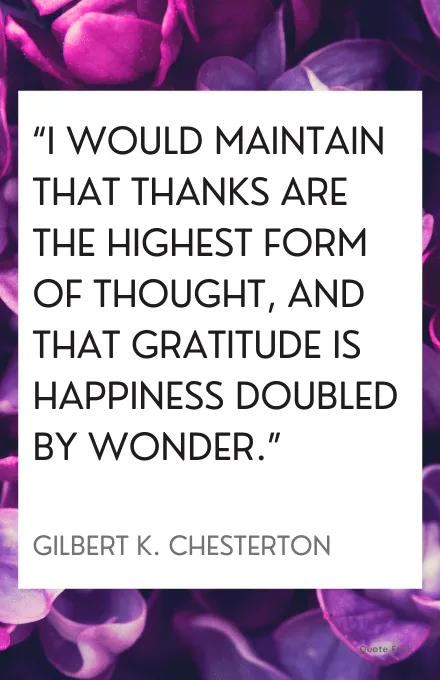 5. "Gratitude, like faith, is a muscle. The more you use it, the stronger it grows." – Alan Cohen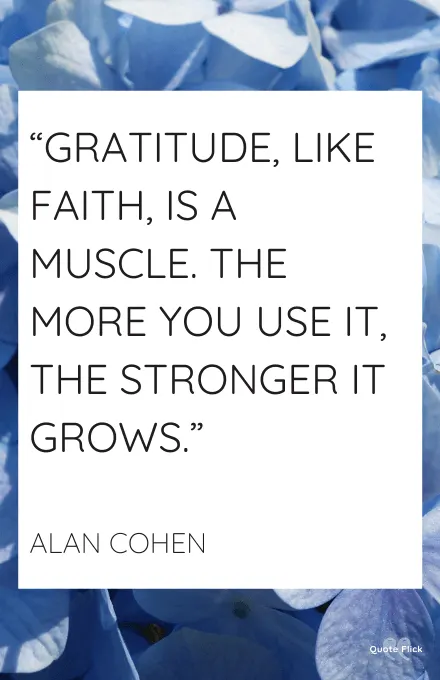 6. "If forgiveness is medicine for the soul, then gratitude is vitamins." – Steve Maraboli
7. "Live a life full of humility, gratitude, intellectual curiosity, and never stop learning." – GZA
8. "As we express our gratitude, we must never forget that the highest appreciation is not to utter words, but to live by them." – John F. Kennedy
9. "No one who achieves success does so without the help of others. The wise and confident acknowledge this help with gratitude." – Alfred North Whitehead
10. "Gratitude is the healthiest of all human emotions. The more you express gratitude for what you have, the more likely you will have even more to express gratitude for." – Zig Ziglar
11. "Gratitude unlocks the fullness of life. It turns what we have into enough, and more. It turns denial into acceptance, chaos to order, confusion to clarity. It can turn a meal into a feast, a house into a home, a stranger into a friend." – Melody Beattie
12. "Always have an attitude of gratitude." – Sterling K. Brown
13. "Gratitude can transform common days into thanksgivings, turn routine jobs into joy, and change ordinary opportunities into blessings." – William Arthur Ward
14. "We often take for granted the very things that most deserve our gratitude." – Cynthia Ozick
15. "Learn to be thankful for what you already have, while you pursue all that you want." – Jim Rohn
16. "Cultivate the habit of being grateful for every good thing that comes to you, and to give thanks continuously. And because all things have contributed to your advancement, you should include all things in your gratitude." – Ralph Waldo Emerson
17. "We learned about gratitude and humility – that so many people had a hand in our success." – Michelle Obama
18. "Gratitude is a currency that we can mint for ourselves, and spend without fear of going broke." – Fred De Witt Van Amburgh
19. "Gratitude helps you to grow and expand; gratitude brings joy and laughter into your life and into the lives of all those around you." – Eileen Caddy
20. "Be thankful for what you have; you'll end up having more. If you concentrate on what you don't have, you will never, ever have enough." – Oprah Winfrey
21. "Gratitude makes sense of our past, brings peace for today, and creates a vision for tomorrow." – Melody Beattie
22. "Gratitude is nutrition for every relationship." – Priyanshu Singh
23. "Everything we do should be a result of our gratitude for what God has done for us." – Lauryn Hill
24. "When we focus on our gratitude, the tide of disappointment goes out and the tide of love rushes in." – Kristin Armstrong
25. "The more grateful I am, the more beauty I see." – Mary Davis
26. "Thank you is the best prayer that anyone could say. I say that one a lot. Thank you expresses extreme gratitude, humility, understanding." – Alice Walker
27. "Acknowledging the good that you already have in your life is the foundation for all abundance." – Eckhart Tolle
28. "When I pray, I always thank Mother Nature for all the beauty in the world. It's about having an attitude of gratitude." – Miranda Kerr
29. "Feeling gratitude and not expressing it is like wrapping a present and not giving it." – William Arthur Ward
30. "Got no checkbooks, got no banks, still I'd like to express my thanks. I got the sun in the morning and the moon at night." – Irving Berlin
31. "Thankfulness is the beginning of gratitude. Gratitude is the completion of thankfulness. Thankfulness may consist merely of words. Gratitude is shown in acts." – Henri Frederic Amiel
32. "Piglet noticed that even though he had a Very Small Heart, it could hold a rather large amount of Gratitude." – A. A. Milne
33. "The struggle ends when gratitude begins." – Neale Donald Walsch
34. "Gratitude is riches. Complain is poverty." – Doris Day
35. "There is no such thing as gratitude unexpressed. If it is unexpressed, it is plain, old-fashioned ingratitude." – Robert Brault
36. "No duty is more urgent than giving thanks." – James Allen
37. "Enjoy the little things, for one day you may look back and realize they were the big things." – Robert Brault
38. "Showing gratitude is one of the simplest yet most powerful things humans can do for each other." -Randy Pausch
39. "Gratitude is the place where all dreams come true. You have to get there before they do." – Jim Carrey
40. "I think gratitude is a big thing. It puts you in a place where you're humble." – Andra Day
41. "There is always something to be grateful for." – Rhonda Byrne
42. "Gratitude for the present moment and the fullness of life now is the true prosperity." – Eckhart Tolle
43. "The way to develop the best that is in a person is by appreciation and encouragement." – Charles Schwab
44. "Wear gratitude like a cloak and it will feed every corner of your life." – Rumi
45. "The way to move out of judgment is to move into gratitude." – Neale Donald Walsh
46. "Appreciation is a wonderful thing. It makes what is excellent in others belong to us as well." – Voltaire
47. "Be present in all things and thankful for all things." – Maya Angelou
48. "Being thankful is not always experienced as a natural state of existence, we must work at it, akin to a type of strength training for the heart." – Larissa Gomez
49. "When I started counting my blessings, my whole life turned around." – Willie Nelson
50. "Everyday, think as you wake up, today I am fortunate to be alive, I have a precious human life, I am not going to waste it." – Dalai Lama
Holly Jaskolka is a certified Emotional Freedom Technique (EFT) practitioner, yoga instructor, and an impassioned advocate for holistic well-being. Fueled by her love for animals and wanderlust, Holly leads a plant-based lifestyle that she complements with immersive travel experiences. When she's not jet-setting to uncover the world's hidden gems, she's empowering individuals to heal emotionally, particularly those grappling with the aftermath of breakups. Connect with Holly on LinkedIn.