This collection of 50 teamwork quotes are perfect for the workplace, to share with coworkers or employees. You might have an outing with family or friends, or be going through something that involves a need to come together. When we work together in collaboration, we can achieve so much more than if we work alone, but sometimes we just need a reminder of why a team is so important.
We hope you love these quotations and sayings, and please remember to share your favorite image with loved ones, coworkers or on social media as this helps us massively!
1. "Coming together is a beginning; keeping together is progress; working together is success." – Henry Ford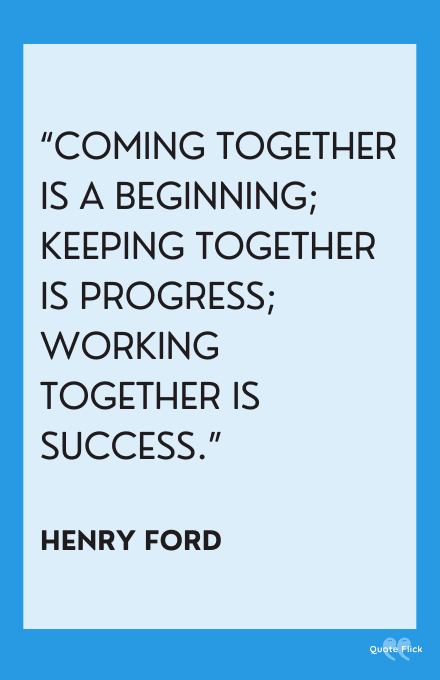 2. "Talent wins games, but teamwork and intelligence win championships." – Michael Jordan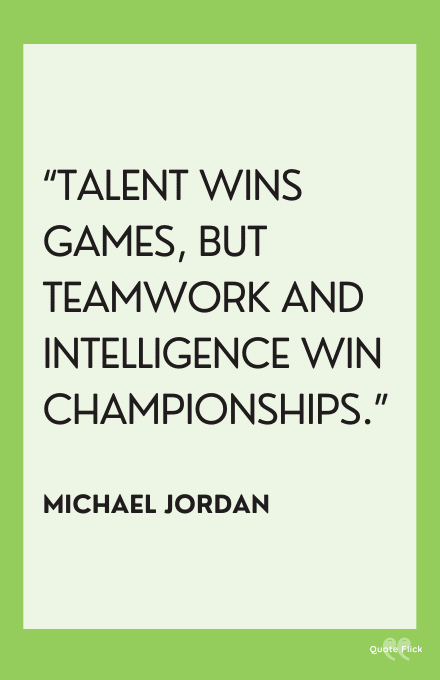 3. "Alone, we can do so little; together, we can do so much." – Helen Keller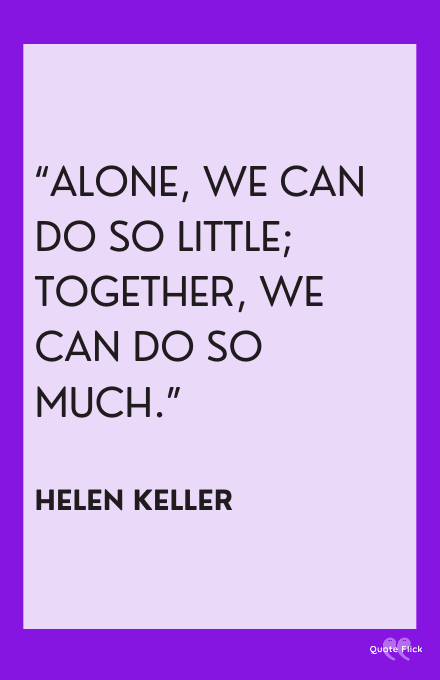 4. "Teamwork begins by building trust. And the only way to do that is to overcome our need for invulnerability." – Patrick Lencioni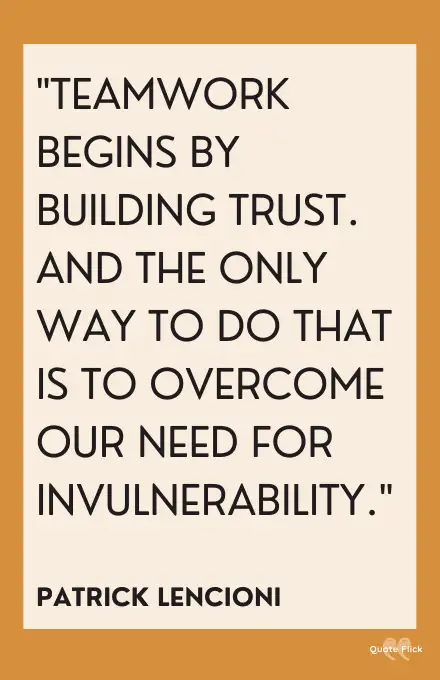 5. "The strength of the team is each individual member. The strength of each member is the team." – Phil Jackson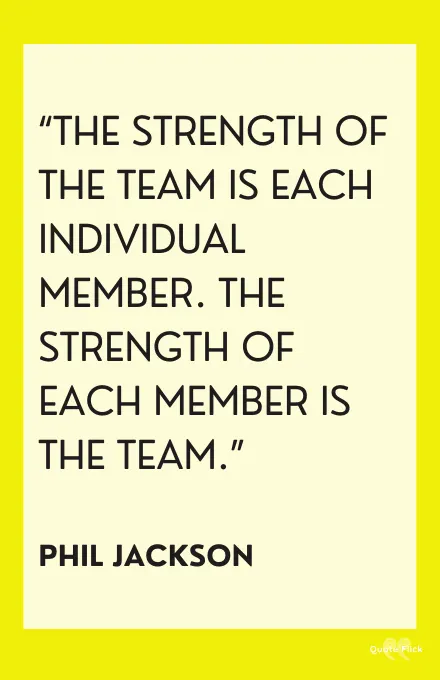 6. "Great things in business are never done by one person, they're done by a team of people." – Steve Jobs
7. "To me, teamwork is the beauty of our sport, where you have five acting as one. You become selfless." – Mike Krzyzewski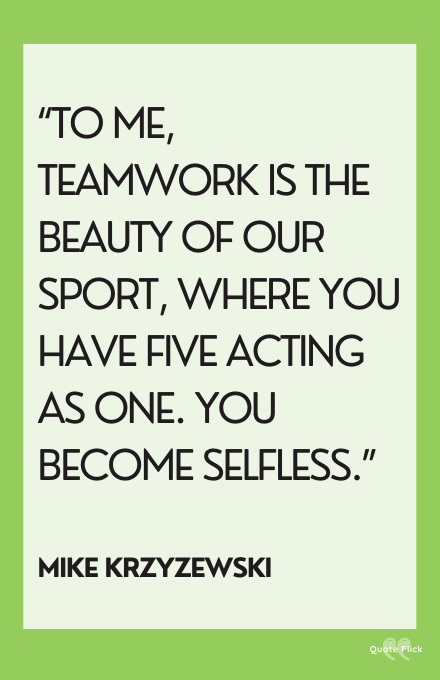 8. "If you can laugh together, you can work together." – Robert Oren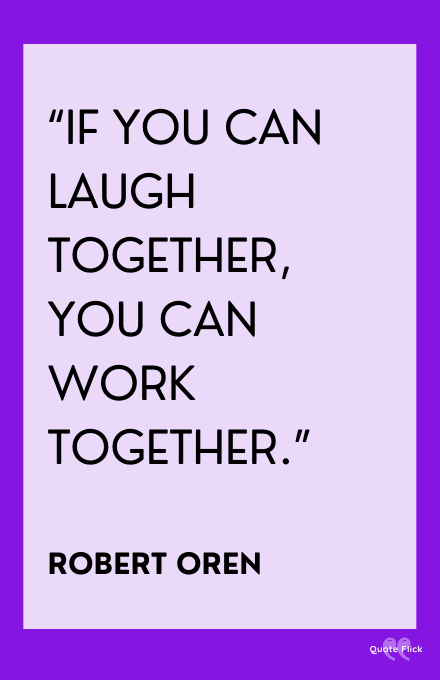 9. "Individual commitment to a group effort: That is what makes a team work, a company work, a society work, a civilization work." – Vince Lombardi
10. "It is literally true that you can succeed best and quickest by helping others to succeed." – Napolean Hill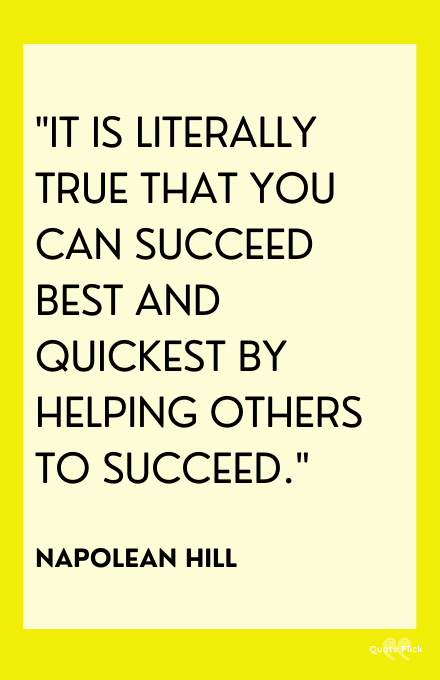 11. "A team is not a group of people that work together. A team is a group of people that trust each other." – Simon Sinek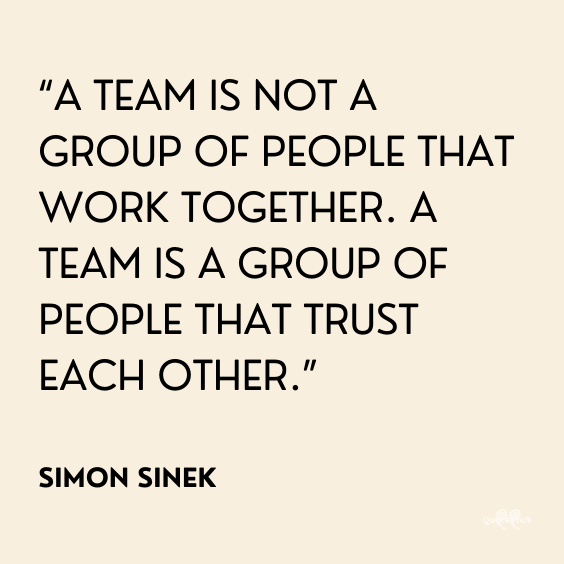 12. "I invite everyone to choose forgiveness rather than division, teamwork over personal ambition." – Jean-Francois Cope
13. "There is no such thing as a self-made man. You will reach your goals only with the help of others." – George Shinn
14. "None of us is as smart as all of us." – Ken Blanchard
15. "No one can whistle a symphony. It takes a whole orchestra to play it." – H.E. Luccock
16. "If you want to lift yourself up, lift up someone else." – Booker T. Washington
17. "On our own, we are marshmallows and dried spaghetti, but together we can become something bigger." – C.B. Cook
18. "By working together, pooling our resources and building on our strengths, we can accomplish great things." –  Ronald Reagan
19. "Collaboration allows teachers to capture each other's fund of collective intelligence." – Mike Schmoker
20. "Being in the same room with people and creating something together is a good thing." – Robin Williams
21. "The best teamwork comes from men who are working independently toward one goal in unison." – James Cash Penney
22. "None of us, including me, ever do great things. But we can all do small things, with great love, and together we can do something wonderful." – Mother Teresa
23. "Snowflakes are one of nature's most fragile things, but just look what they can do when they stick together." – Vesta M. Kelly
24. "Good teams become great ones when the members trust each other enough to surrender the Me for the We." – Phil Jackson
25. "It takes two flints to make a fire." – Louisa May Alcott
26. "The way a team plays as a whole determines its success. You may have the greatest bunch of individual stars in the world, but if they don't play together, the club won't be worth a dime." – Babe Ruth
27. "Never doubt that a small group of thoughtful, committed people can change the world. Indeed. It is the only thing that ever has." – Margaret Mead
28. "In teamwork, silence isn't golden. It's deadly." – Mark Sanborn
29. "Many ideas grow better when transplanted into another mind than the one where they sprang up." – Oliver Wendell Holmes
30. "Teamwork gives you the best opportunity to turn vision into reality." – John C. Maxwell
31. "Unity is strength. . . when there is teamwork and collaboration, wonderful things can be achieved." – Mattie Stepanek
32. "The main ingredient of stardom is the rest of the team." – John Wooden
33. "A group becomes teammates when each member is sure enough of himself and his contribution to praise the skills of the others." – Norman Shidle
34. "No one can whistle a symphony. It takes a whole orchestra to play it." – H.E. Luccock
35. "Synergy – the bonus that is achieved when things work together harmoniously." – Mark Twain
36. "Teamwork is the ability to work together toward a common vision. The ability to direct individual accomplishments toward organizational objectives. It is the fuel that allows common people to attain uncommon results." – Andrew Carnegie
37. "Find a group of people who challenge and inspire you, spend a lot of time with them, and it will change your life." – Amy Poehler
38. "What separates the good players from a great player is that a great player is willing to give up their own personal achievement for the achievement of the group." – Kareem Abdul-Jabbar
39. "It is the long history of humankind (and animal kind, too) that those who learned to collaborate and improvise most effectively have prevailed." – Charles Darwin
40. "If your actions inspire others to dream more, learn more, do more and become more, you are a leader."- John Quincy Adams
41. "Bad attitudes will ruin your team." – Terry Bradshaw
42. "If you take out the team in teamwork, it's just work. Now who wants that?" – Matthew Woodring Stover
43. "The nicest thing about teamwork is that you always have others on your side." – Margaret Carty
44. "Effectively, change is almost impossible without industry-wide collaboration, cooperation, and consensus." – Simon Mainwaring
45. "The key to teamwork is to learn a role, accept a role, and strive to become excellent playing it." – Pat Riley
46. "It is amazing what you can accomplish if you do not care who gets the credit." – Harry S Truman
47. "You are either supporting the vision or supporting division." – Saji Ijiyemi
48. "Teamwork is the secret that makes common people achieve uncommon results." – Ifeanyi Enoch Onuoha
49. "Interdependent people combine their own effort with the efforts of others to achieve their greatest success." – Stephen Covey
50. "The ratio of We's to I's is the best indicator of the development of a team." – Lewis B. Ergen
Holly Jaskolka is a certified Emotional Freedom Technique (EFT) practitioner, yoga instructor, and an impassioned advocate for holistic well-being. Fueled by her love for animals and wanderlust, Holly leads a plant-based lifestyle that she complements with immersive travel experiences. When she's not jet-setting to uncover the world's hidden gems, she's empowering individuals to heal emotionally, particularly those grappling with the aftermath of breakups. Connect with Holly on LinkedIn.